Ready in 20 minutes, this yellow rice is quick and easy and packed with savory flavor! It's the perfect side dish for busy weeknight dinners.
Oh, the things you can do with rice! Rice is something we all typically have on hand,and can easily be enhanced with just a few simple ingredients. If you're looking for more side dishes to accompany all of your favorite dinners, try this cilantro lime rice, Greek lemon rice, and Mexican rice! They are all super easy to make and so tasty!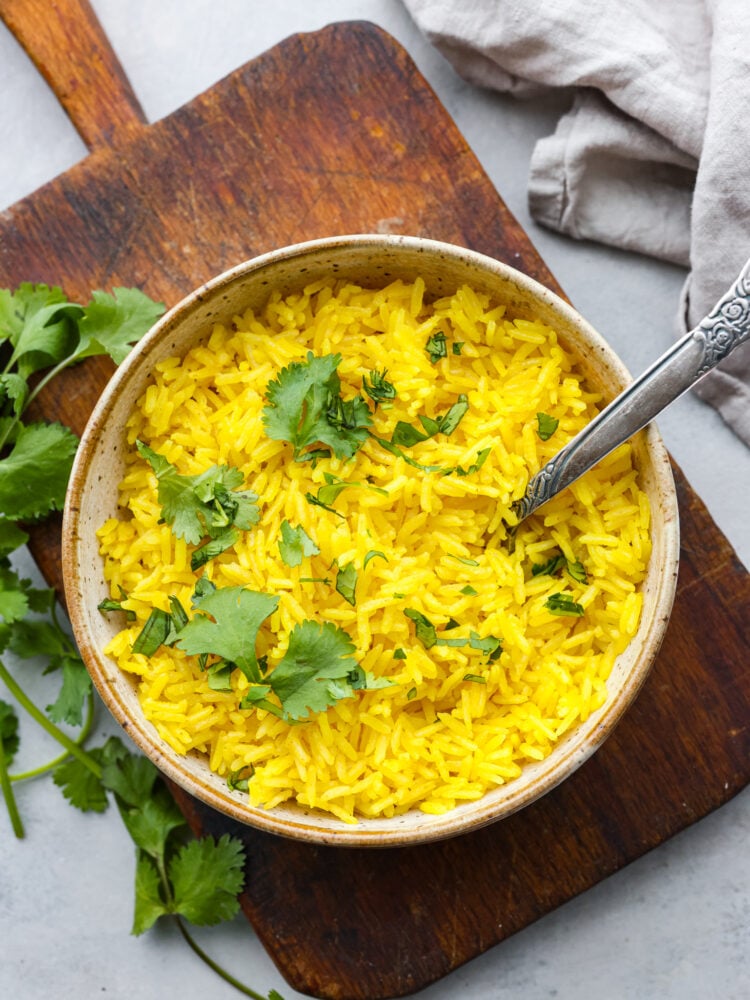 Quick and Easy Yellow Rice Recipe
Yellow rice is a side dish commonly found in Spanish, Indian, South African, Mediterranean, and Mexican cuisine. Turmeric gives it its signature color! My take on this recipe is inspired by the Spanish and Mexican versions of the dish. It's savory and flavorful with a touch of turmeric for a hint of bright, peppery spice. The whole family is going to love it. With how easy it is to make, you'll love it too!
Cook the basmati rice in chicken broth with butter, onion and garlic powder for the perfect rich and savory flavor. As the yellow rice cooks, it absorbs all of the delicious flavor! It's soft and buttery and perfect for serving up with some chicken and shrimp! Yellow rice works alongside any entrée, really. It has a really versatile flavor! The options are endless. Use it in lettuce wraps, burrito bowls, alongside pork chops, roasted chicken, you name it! If you're not already convinced, yellow rice also makes great leftovers. It's perfect for heating up and reusing!
What is Yellow Rice Made of?
This recipe will change slightly depending on the region it's from, but here's what I used! It's sooo simple! I found everything needed to make it in my pantry. Check out the recipe card below for exact measurements!
Butter: Adds richness and flavor to the yellow rice. You can also use olive oil or ghee!
Basmati Rice: I used basmati rice to keep this recipe more on the traditional side, but long-grain white or brown rice also work! Long-grain jasmine rice is another great option.
Water: For cooking the rice in. You can also use chicken broth.
Chicken Bouillon: Chicken bouillon is a must-add because it packs so much flavor into each bite. You can use either paste or powder here. If you don't have any chicken bouillon on hand, you can also use chicken broth. Use it in place of the water.
Garlic and Onion Powder: Both add the perfect savory flavor to this yellow rice!
Kosher Salt: Adjust to taste. I prefer using kosher salt over regular table salt because it doesn't have a bitter aftertaste.
Ground Turmeric: Time to break out that spice rack! A touch of turmeric gives this rice its gorgeous yellow color and also adds flavor.
Cilantro: (Optional) For garnish.
How to Make Yellow Rice
It only takes 20 minutes to make yellow rice from start to finish! It's such an easy side dish. Perfect for serving up with Instant Pot lemon chicken! You'll have dinner ready in less than 30 minutes. With how good it tastes, no one will know!
Heat Butter: Heat the butter or oil in a large pot over medium heat.
Add Cooked Rice: Pour the rice into the pan then stir to coat the rice well with the melted butter. Then cook and stir for about 2 minutes.
Add Seasonings: Next add the water, chicken bouillon, garlic powder, onion powder, salt, and turmeric. Stir until combined and then bring to a boil.
Cover and Simmer: Reduce the heat to a simmer and then cover the pot with a lid.
Cook: Allow the rice to simmer for about 12-15 minutes until the rice is fully cooked and plump.
Serve: Fluff with a fork, then transfer the rice to a bowl and serve.