Vadilal Ice-Cream was setting up a chain of outlets for its products to be served and for takeaways under its SCOOPSHOP brand. Vadilal Scoop Shops are exclusive ice cream parlours offering finest scoops in varied flavours. Vadilal Scoop Shop themed with scoop to swirl concept, is where ice-cream is served with style and joy! We wanted to make this emotion a visible and symbolic identity of the outlets with its energy and warmth evolving into the SWIRL that embodies all this.
Vadilal Scoop Shop Themed With Scoop To Swirl Concept | Studio invoke
visit : Studio invoke
As a design concept we took scoop as the visual form and the movement of scooping as an inspiration, which transformed in to a huge "swirl" symbol. It conveys the spirit of the outlet with its vibrancy and exuberance to make it a major element for expressing the ambience. This feeling will be experienced in all the outlets of the chain.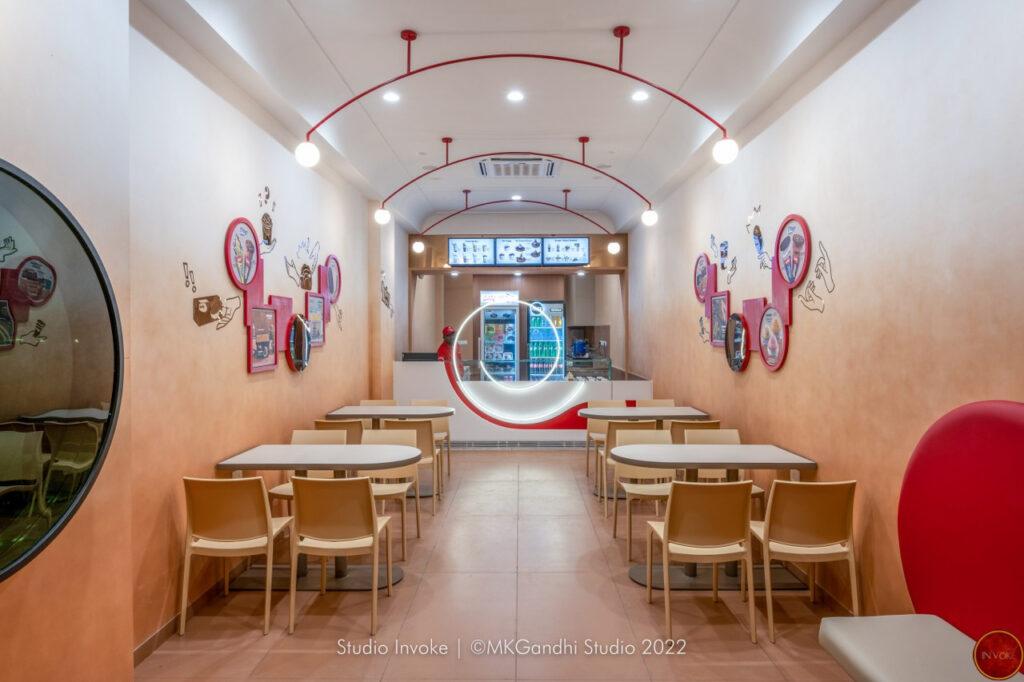 The "swirl" is key element of the design, which is derived from golden proportion ratio, which depicts constant growth. It has been designed in reference to human scale such as it doesn't obstruct the view of normal human height.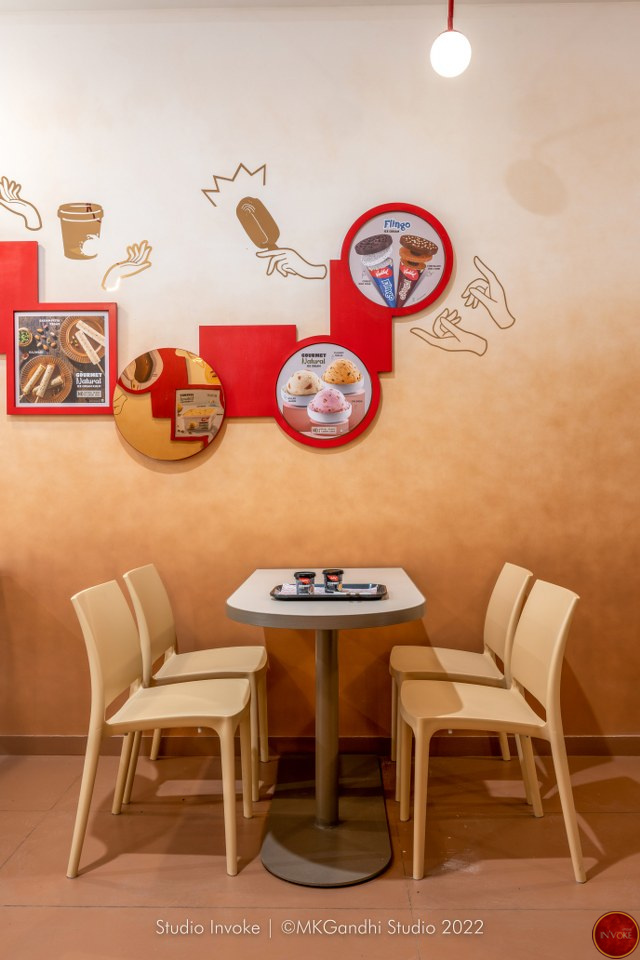 The size of the swirl is fixed regardless of the size of the shop. We also kept in mind that the motif can be utilized in same size in different scale of the shop to give a consistent identity that defines a chain. It is visible from the façade itself in each parlor.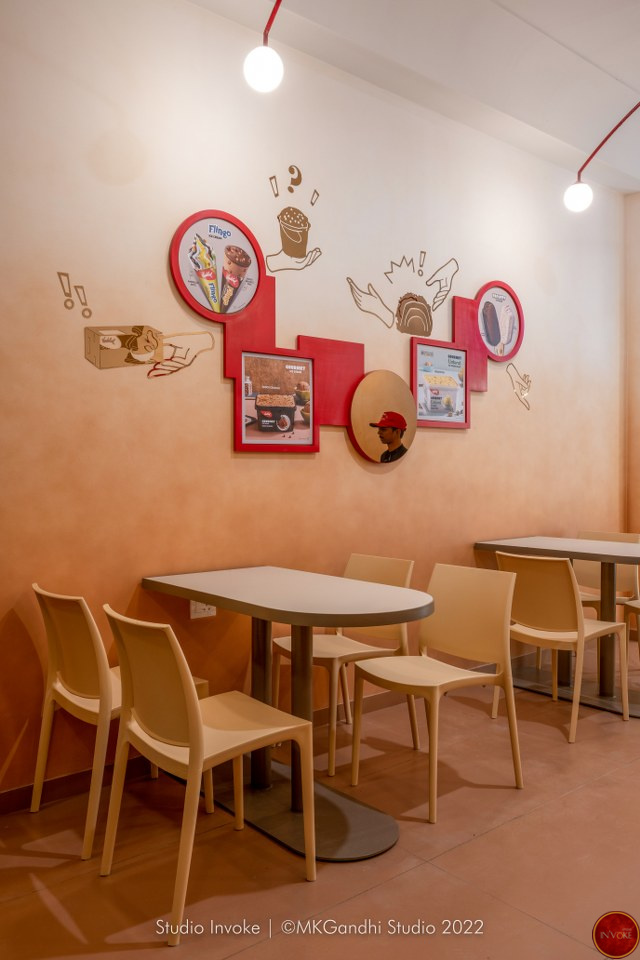 Overall interior palate is warm, cozy and eye catchy. The use of bold carmel (rust orange) tiles, ombre texture on wall , red branding on wall, counter metal lit swirl and red metal hanging lights in ceiling ties the interior together.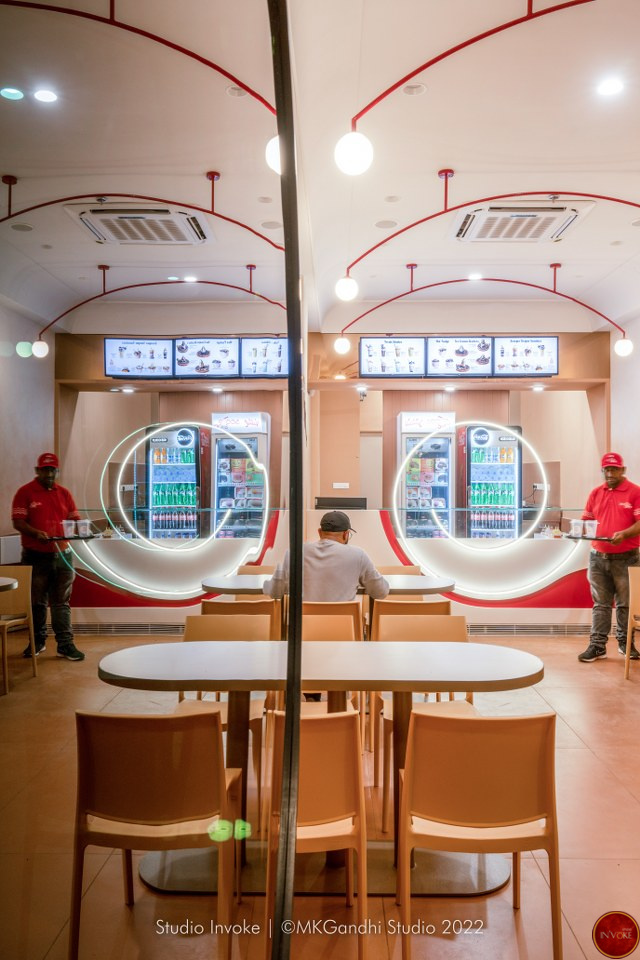 The infinity mirror is a value added element in space. The installation depicts icecream products on periphery reflects multiple times and gives infinite product range for the parlour. The bold bench against the installation is for people to take selfies and group pics.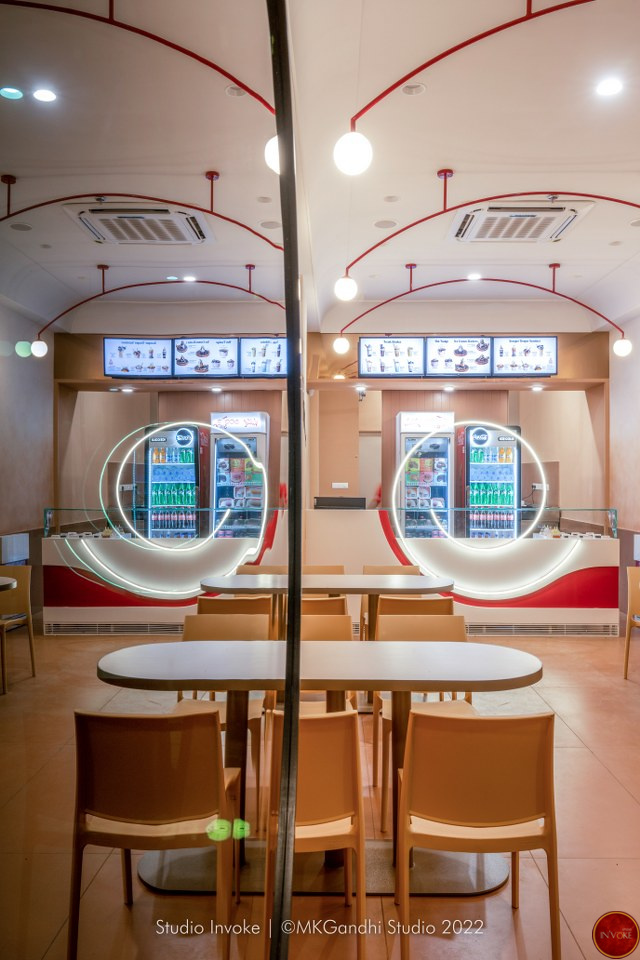 The wall branding wall that highlights the products and its emotions from the users with juxtapose basic shapes. Bronze acrylic also reflects the environment that keep on changing along with users movement.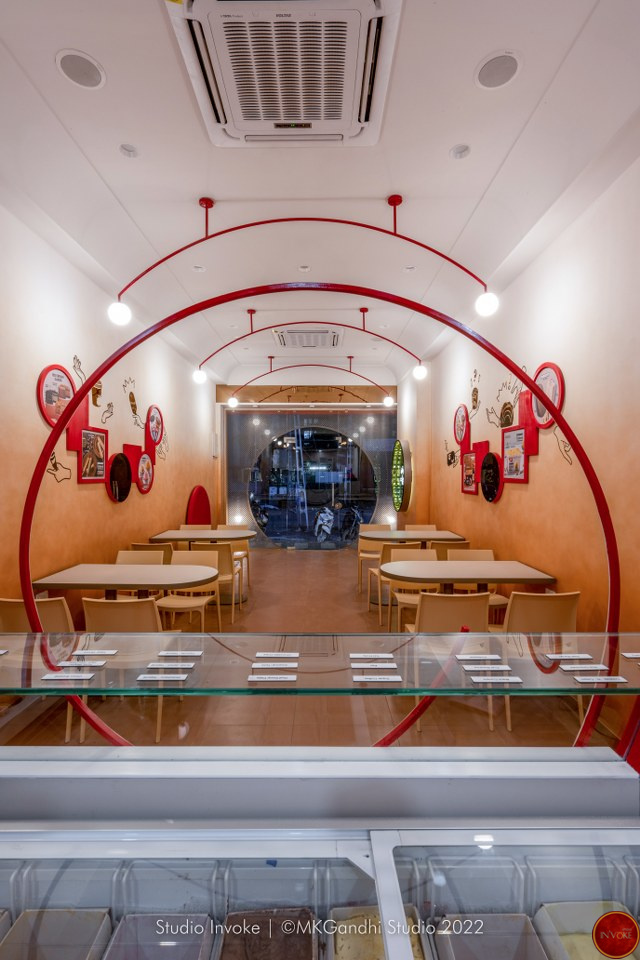 The façade is designed from the form of scoop. What if you are entering in larger scoop of icecream. To take this concept further we took façade as a key factor. Taking circular shape of the icecream scoop on façade with waffle print.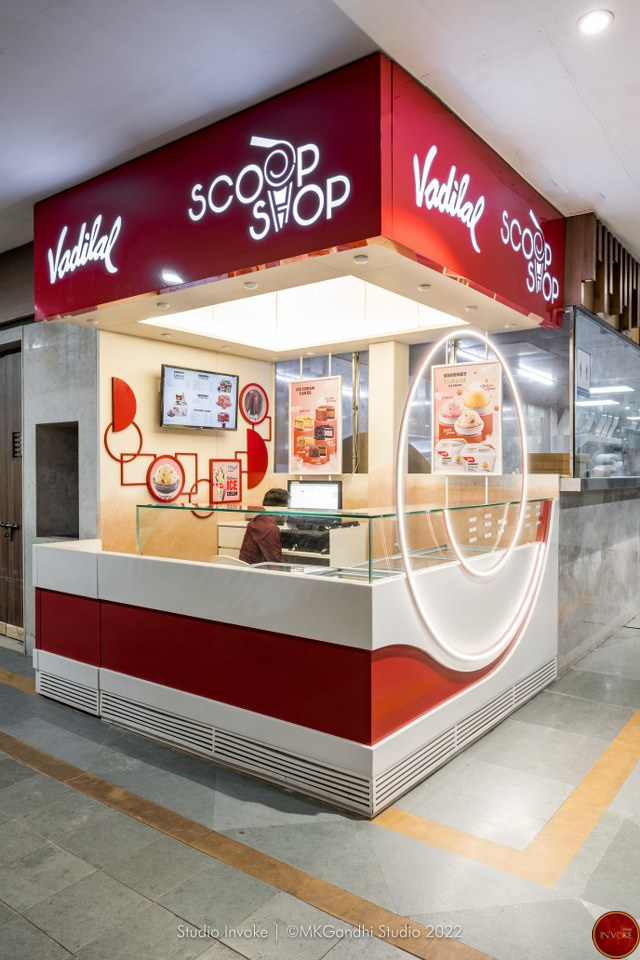 The façade it self becomes identity for this particular brand. In non ac parlour we have designed a metal grill with the same form. The main point to develop façade is to highlight the shop in busy neighbourhood, to attract the target audience.
The façade form, arched ceiling light and swirl syncs with each other so well that it creates harmony. The Vadilal SCOOP outlet is a place for fun with family and friends. It should have become the place of delight and happiness and offer some new and exciting events.
We have designed and put up an intriguing visual experience that challenges the mind and fulfills the heart. It also becomes a great place for selfies. Vadilal's ' SCOOP to SWIRL ' is an ambience that is in harmony with its value of delighting the customer in all ways.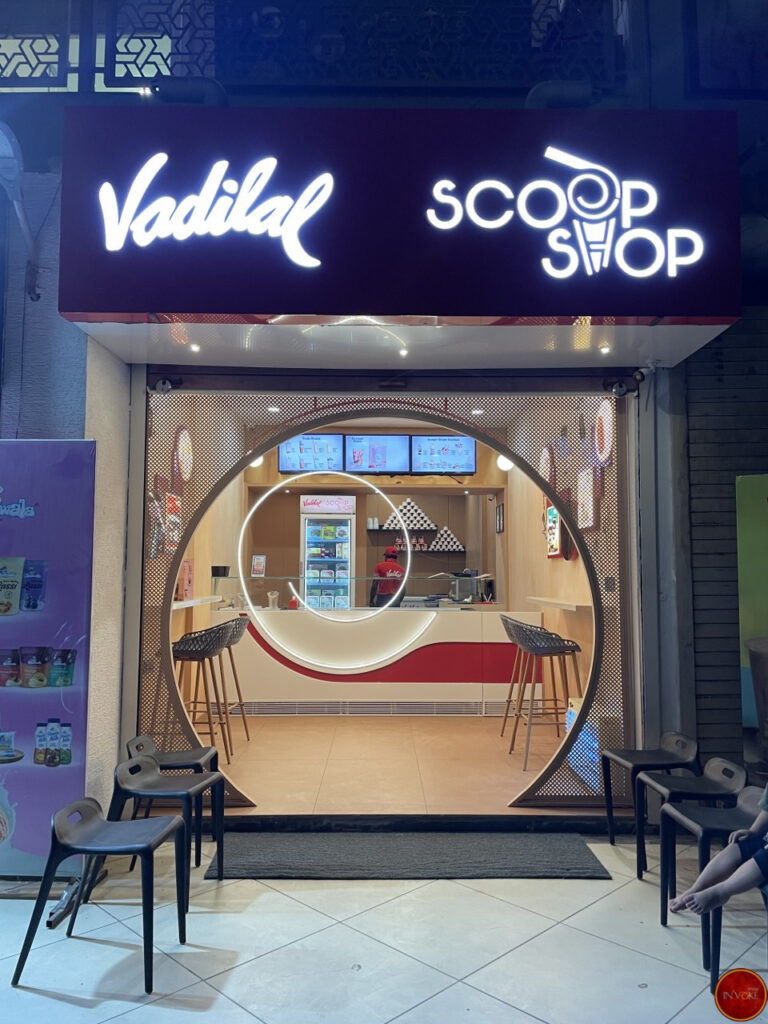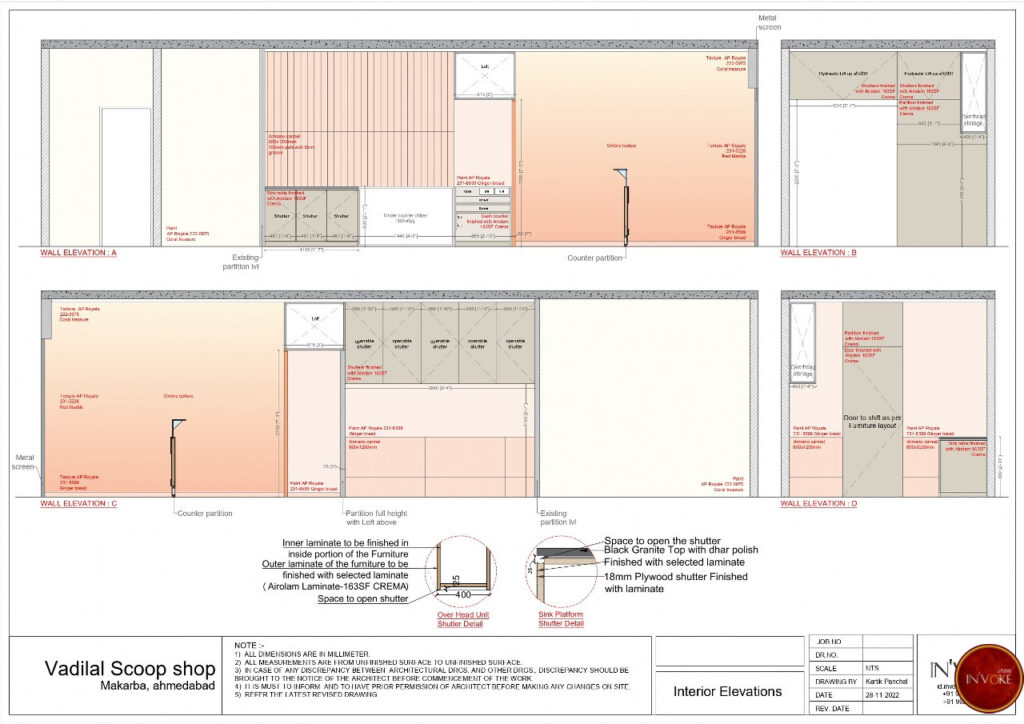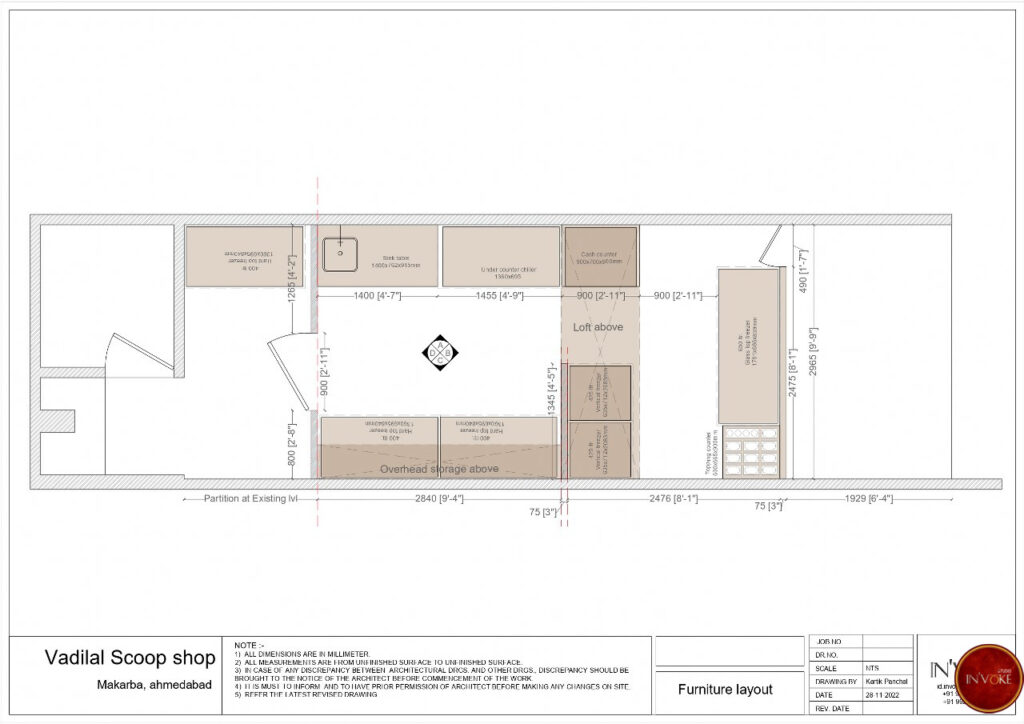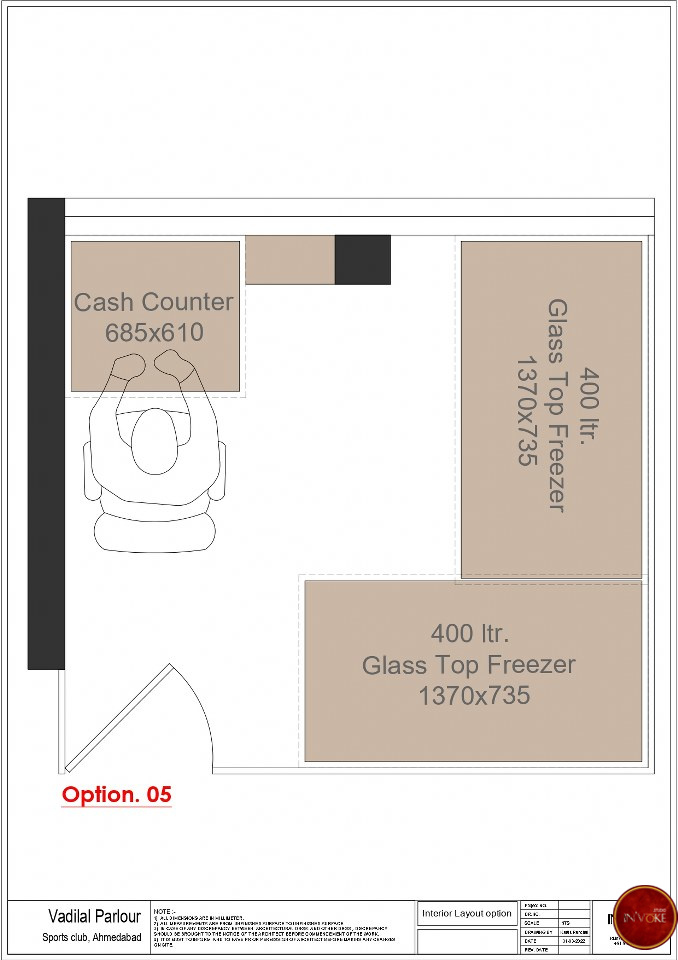 FACT FILE
Designed by : Studio invoke
Project Type : Restaurant/Bars/Cafes
Project Name : Scoop to Swirl ( Vadilal Scoop Shop)
Location : Various parts of Ahmedabad – South Bopal, Makarba, Prahladnagar, Vadaj
Year Built : 2022
Project Size : 150 till 700 sq.ft
Project Cost Appx : 10-15 lacs
Principal Designer : Anushi Shah & Ravi Dave
Team Design Credits : Kartik Panchal
Photograph Courtesy : Murtaza Gandhi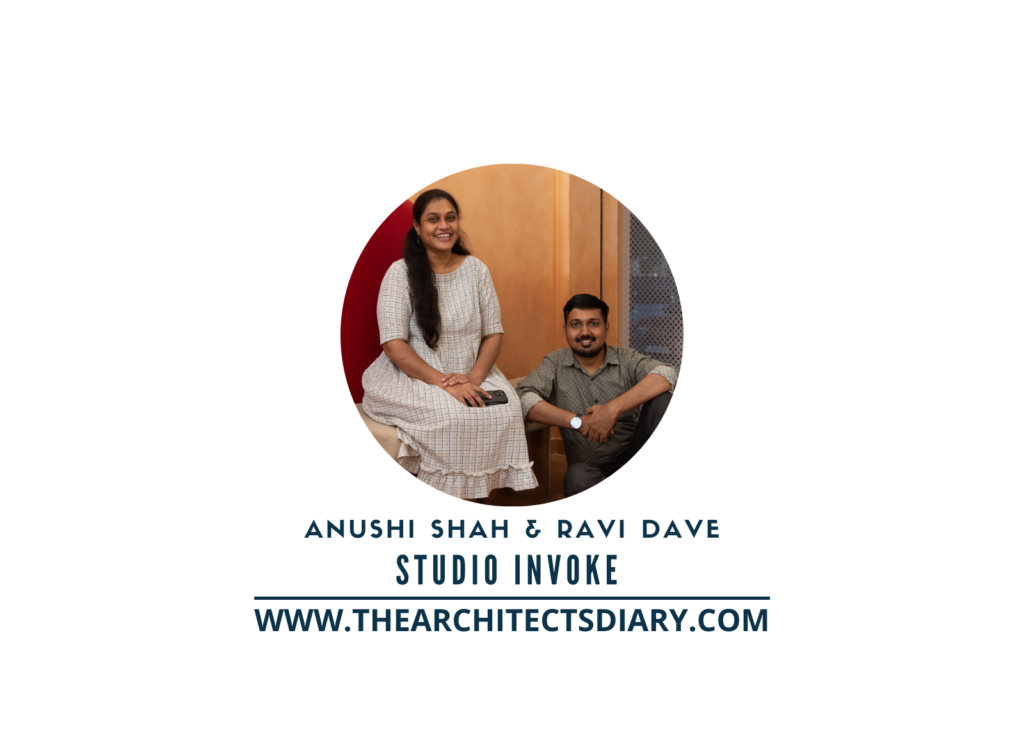 Firm's Instagram Link : Studio invoke
For Similar Project >> ECLECTIC MÉLANGE OF ANTIQUITY AND MODERNITY | BEHOLD DESIGN STUDIO
The post Vadilal Scoop Shop Themed With Scoop To Swirl Concept | Studio Invoke appeared first on The Architects Diary.