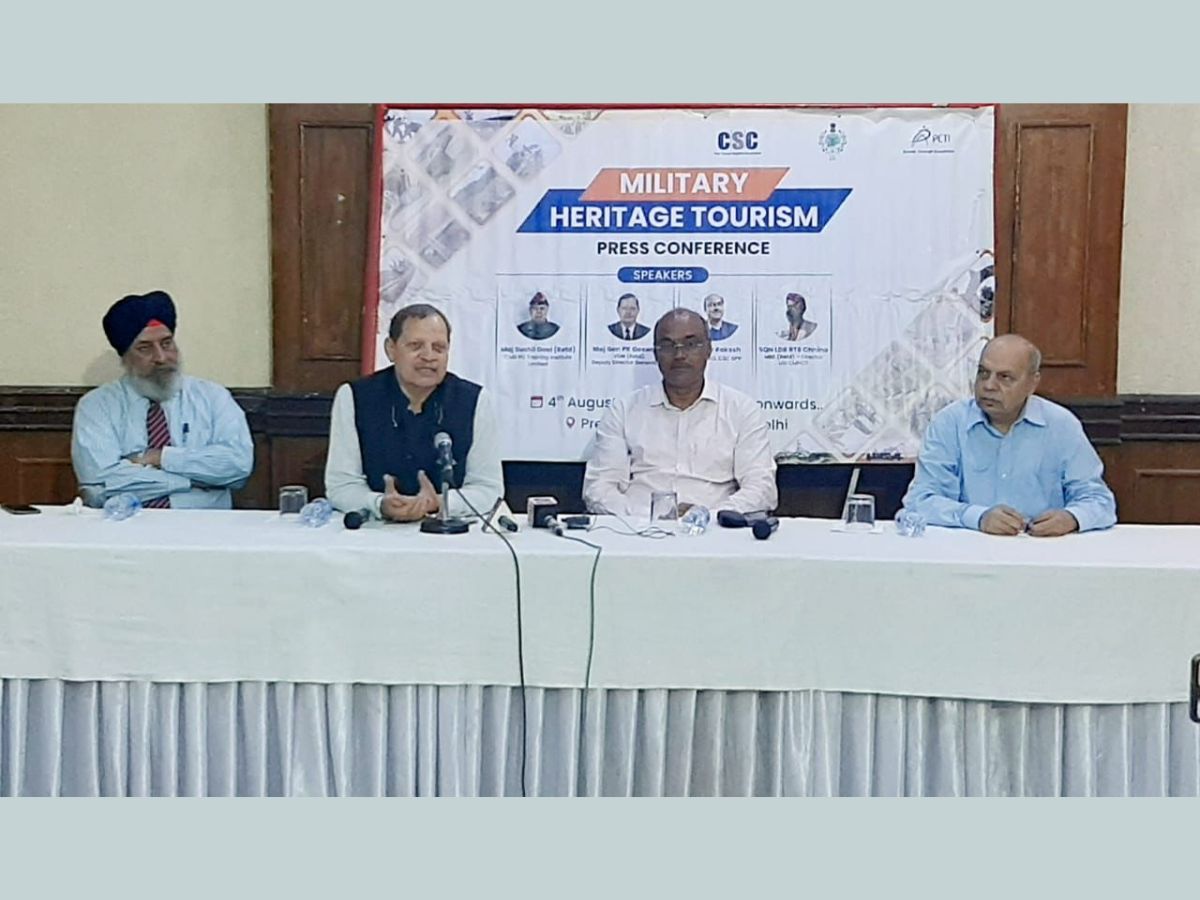 New Delhi (India), August 7: The United Services Institution of India (USI), the country's oldest and prestigious National Security and Defence Services think tank, in collaboration with CSC-e-Governance and PCTI, will facilitate the exploration, development, and provision of guided tours for military heritage tourism in the country. The initiative will commence with a tour of Hussainiwala in Punjab, scheduled to begin on August 12 from Delhi.
To effectively accomplish this objective, USI, PCTI, and CSC-e-Governance Services India Limited have signed a Memorandum of Understanding (MoU). As per the agreement, USI will identify potential tourist destinations and document them. PCTI will oversee the organization of the tours, while CSC-SPV will provide local support through its Common Service Centres.
Major General (Retd) Bal Krishna Sharma, Director General, USI, provided information in this regard. According to him, "A large segment of domestic and foreign tourists wants to understand and take pride in the military achievements and historical events (wars, etc.) of the country. Our military heritage tourism will attract domestic and international tourists interested in history, military affairs, and cultural heritage. Besides, it will also attract ex-servicemen and their families who have an emotional attachment to these places."
According to Mr. Sanjay Kumar Rakesh, Managing Director, CSC-SPV, "The military heritage sites provide an opportunity for tourists to explore the military history of the country, learn about important battles and wars, and witness architectural marvels of the past. The country has a long and varied military heritage, with various dynasties and empires leaving behind a wealth of historical sites and artifacts. Additionally, India has several war memorials and museums dedicated to honouring the sacrifices of soldiers and showcasing their stories."
Some of the potentially popular military heritage sites in India include Imphal (Manipur), Kohima (Nagaland), Guwahati (Assam), Tawang (Arunachal Pradesh), some parts of Jammu and Kashmir, Kargil (Ladakh), Pathankot and Ferozepur in Kartarpur Corridor (Punjab), Longewala in Jaisalmer (Rajasthan), Delhi and its surrounding areas, and Mhow (Dr. Ambedkar Nagar near Indore.
According to Major (Retd) Sushil Goyal, Director, PCTI, "These places are still visited by people, but they need to be maintained, and people need to be informed about them. That's why, along with proper conservation and maintenance of historical places, there is also a need for effective marketing and promotional strategies. It is also necessary to ensure objective and accurate information about the place, event, and characters. Additionally, tourism infrastructure and the safety of tourists are also important factors that we target and prepare for."
Under this initiative, Hussainiwala in Ferozepur district in Punjab has been identified as the first circuit, where historic battles took place in the 1965 and 1971 wars. Although Hussainiwala is a village, it holds its own historical and tourist importance. The great sons of the country and revolutionaries Bhagat Singh, Rajguru, and Sukhdev ji were cremated here. There is a National Martyr's Memorial commemorating their sacrifice, featuring a tall tower with a continuously burning flame in their honor. Hussainiwala is also the site of the famous Hussainiwala Border Retreat Ceremony, which takes place every evening. This border retreat symbolizes peaceful coexistence and friendly relations between India and Pakistan.
Another attraction of Hussainiwala is the Hussainiwala Barrage, which is a dam on the Sutlej River. It serves as a source of irrigation for the surrounding agricultural land and presents a picturesque sight to visitors. Additionally, Hussainiwala is known for its serene environment, making it an ideal destination for those seeking peace and relaxation away from the hustle and bustle of city life. The village, surrounded by lush green fields, offers visitors a chance to experience rural life in Punjab.
If you have any objection to this press release content, kindly contact pr.error.rectification@gmail.com to notify us. We will respond and rectify the situation in the next 24 hours.