The design of this office space was to aim for a modern and visually stimulating environment that promotes productivity and collaboration. Unique textures and bold colors makes this modern office design visually exhilarating, as they help to create a dynamic and engaging atmosphere.
Unique Textures And Bold Colors Make This Modern Office Design Visually Exhilarating | Projected Rays Design
Visit : Projected Rays Design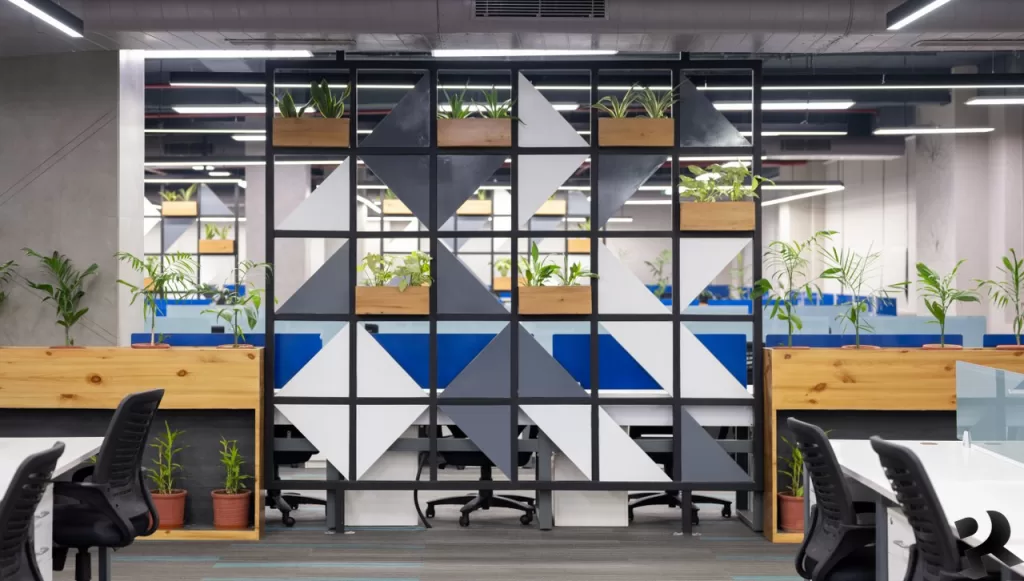 The decision to place all 400 workstations in one zone, with glass cubicles or discussion rooms in the middle, WAS an interesting choice. This layout helps to foster collaboration and communication among employees, as they are all working in close proximity to each other.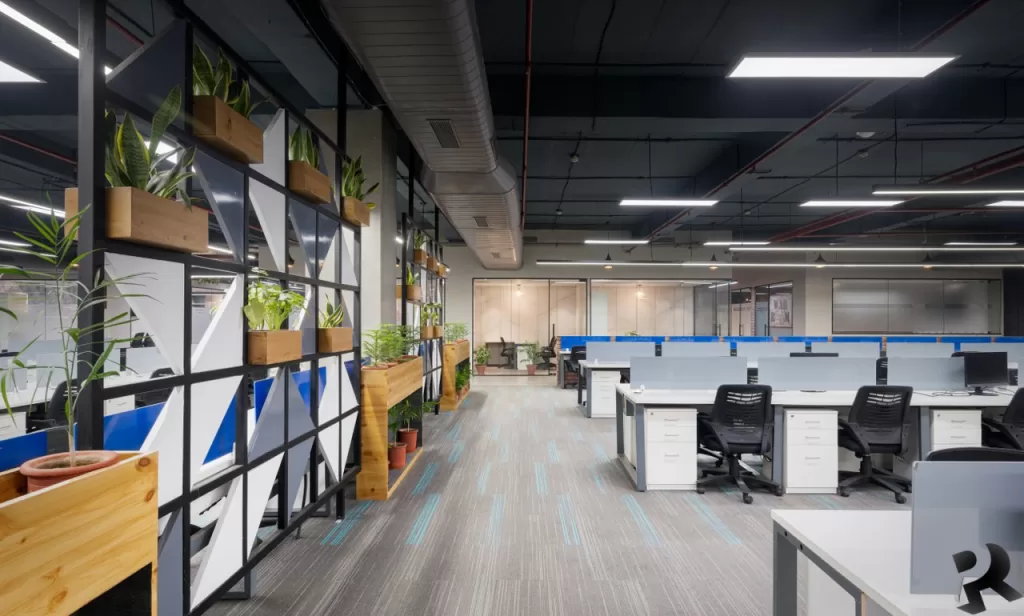 The use of planters and geometric screens is an effective way to add visual interest and variety to a space that might otherwise feel repetitive or monotonous. By breaking up the array of tables, these elements help to create a sense of movement and flow, while also providing a subtle way to delineate different areas within the larger space.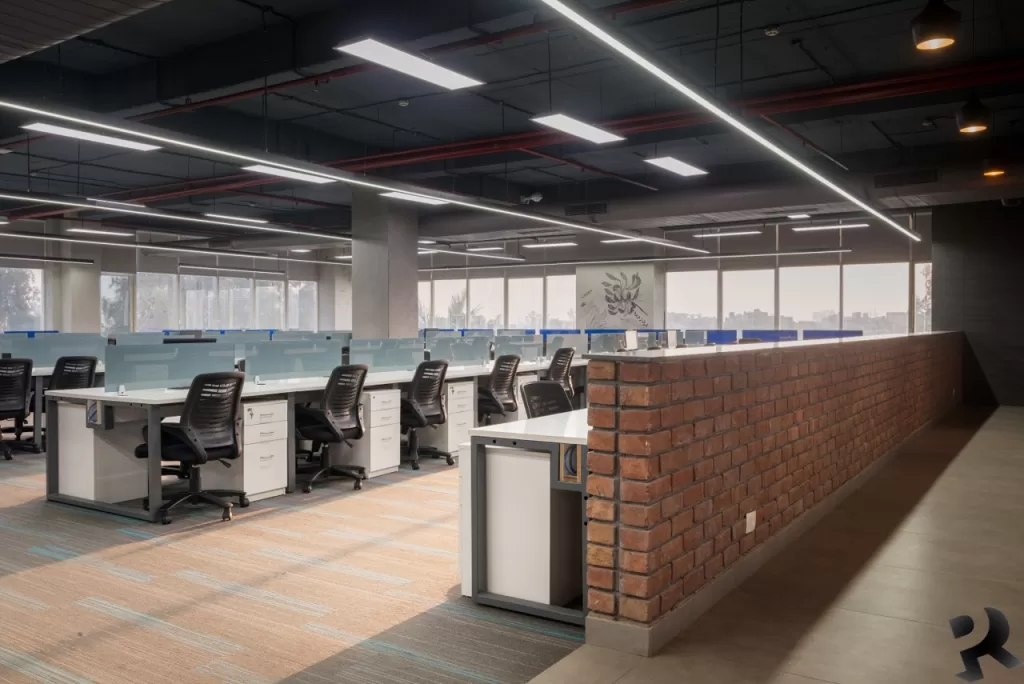 Overall, the idea of this office space design is seeking to strike a balance between functionality and aesthetics. By incorporating unique textures, bold colors, and an emphasis on natural light, it was planned to provide a workspace that is both visually interesting and conducive to productivity.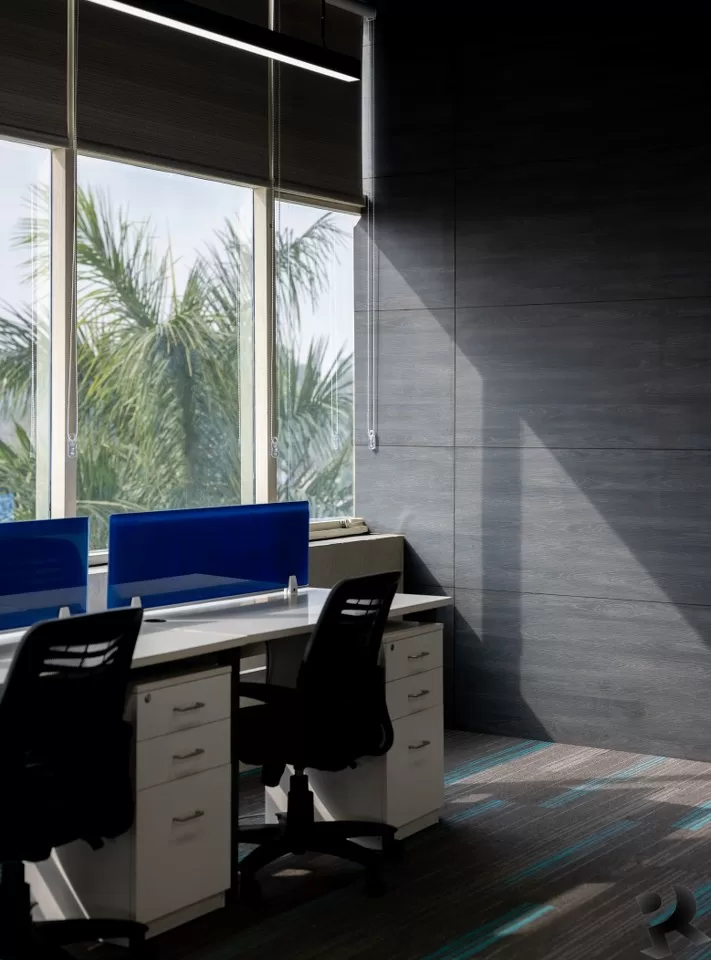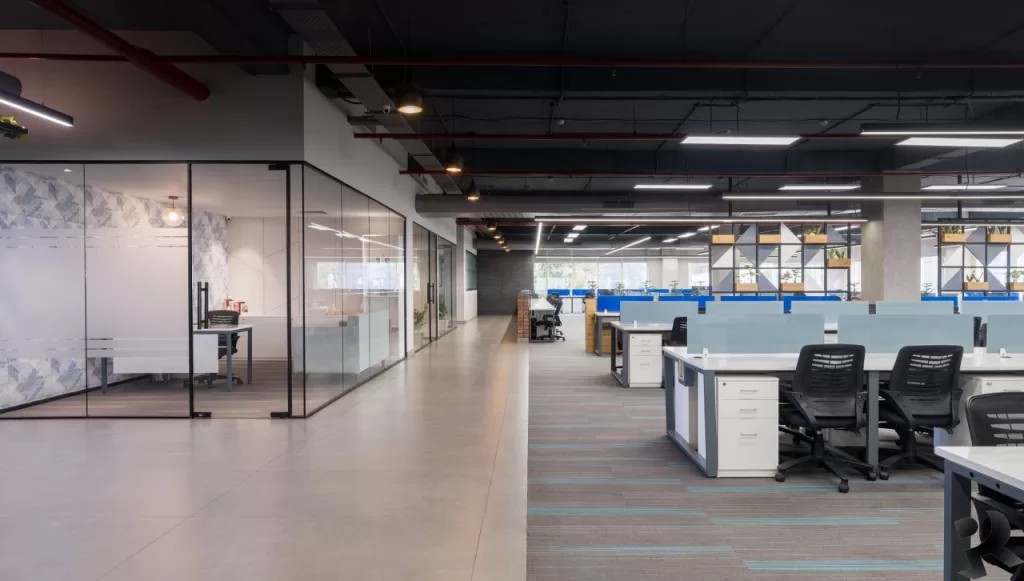 The lighting fixtures help give direction and purpose to the overall space. By highlighting certain areas or features, they help draw people's attention and create a sense of visual hierarchy. In this way, lighting has been used to guide people through a space and create a sense of order and purpose.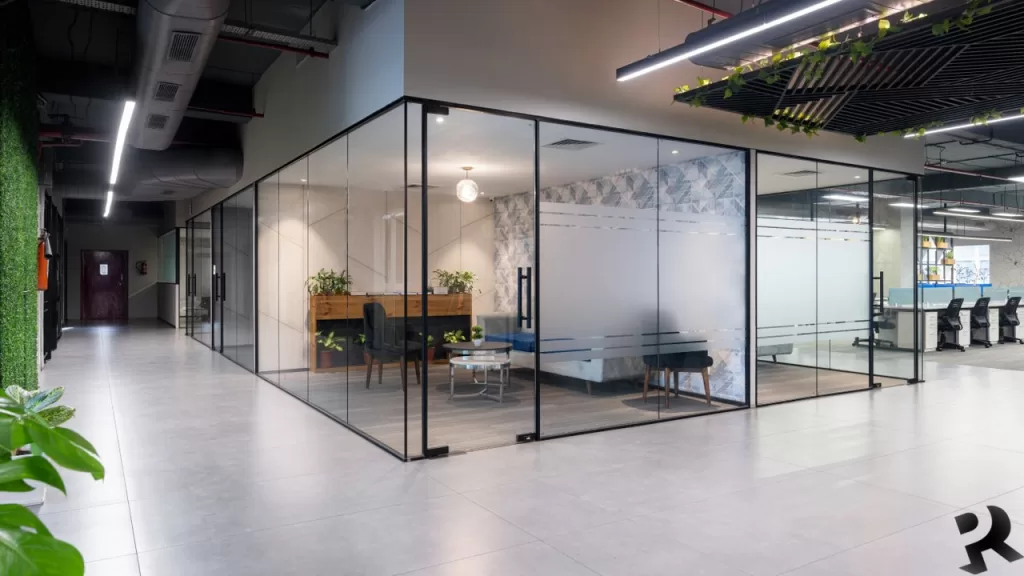 The introduction of a low brick wall was strategically done to define the circulation spine and separate the workstation area from enclosed meeting rooms. By using a physical barrier, this wall helps create a sense of privacy and focus within the meeting rooms, while also providing a subtle visual cue to people moving through the space.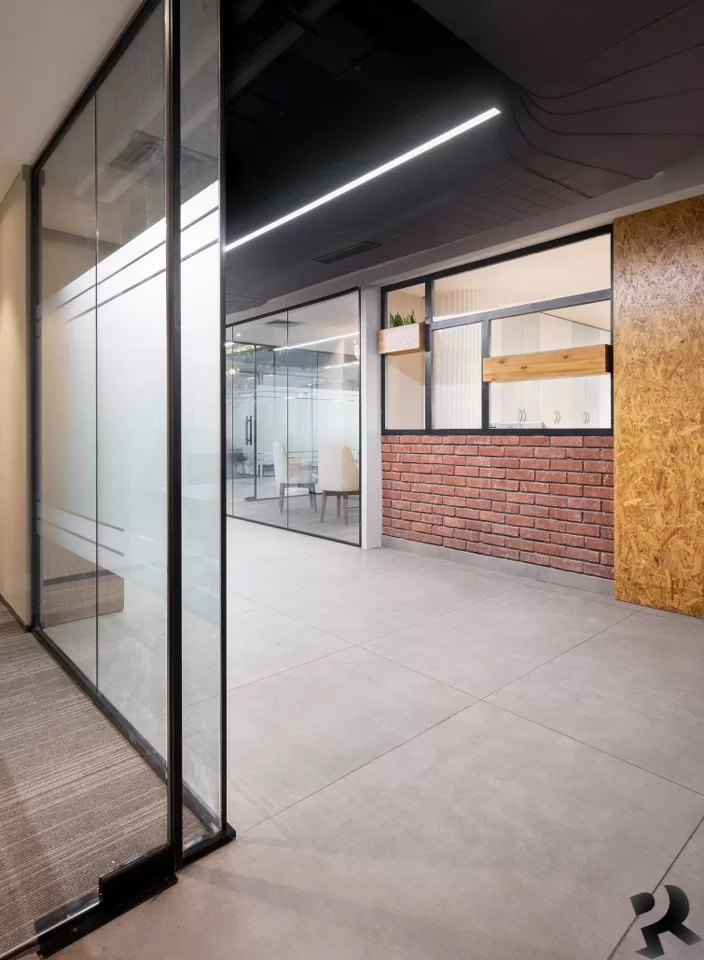 Finally, the use of brick and straw wood walls further helps to add texture and vibrancy to a space that might otherwise feel sterile or dull. By introducing these elements, we tried to create a sense of warmth and depth that can help offset the monochromatic grays of the floor, ceiling, and columns.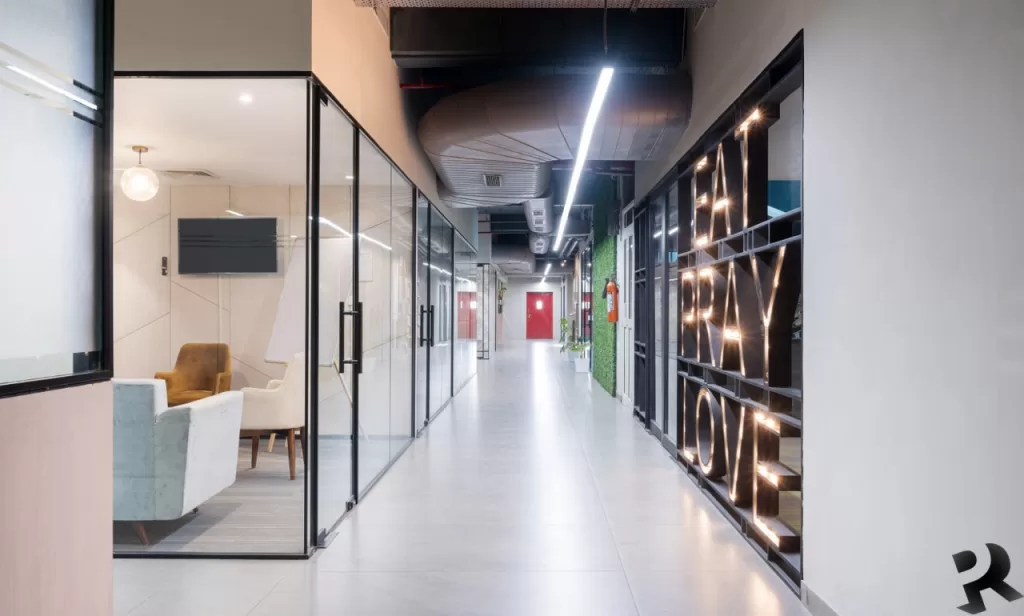 The entrance to the café is marked by three essential words that inspire and motivate: "eat, pray, love." These words are displayed using text art and lighting that blends seamlessly with the transparent interior of the café. As you step inside, you are greeted by stunning blue colored angular wedged boxes on ceiling that stands out against a white background.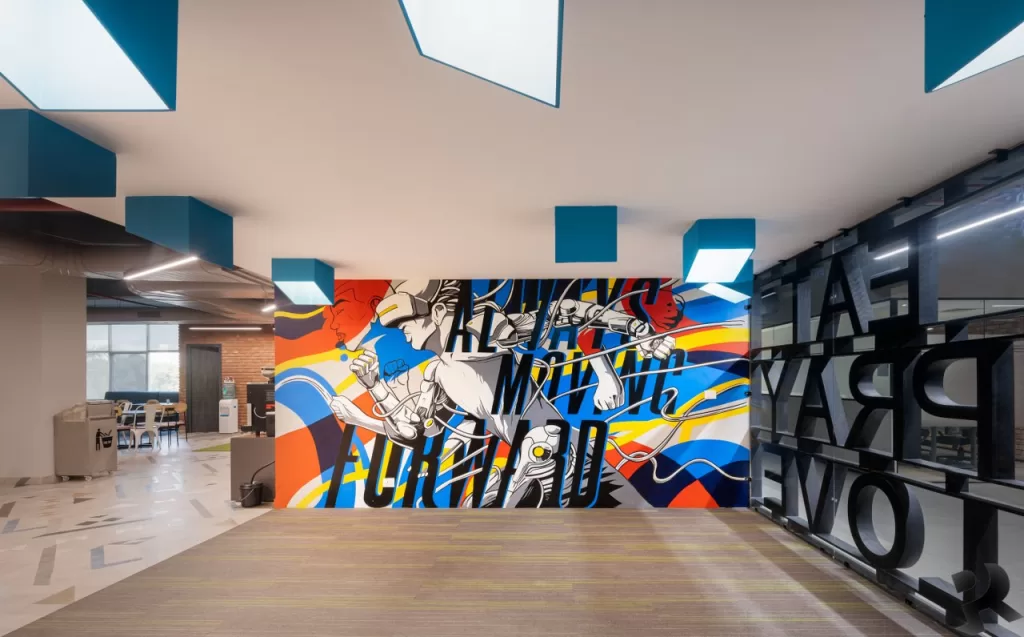 On one of the walls, a bold multicolor graffiti showcases the spirit of the company and the rising pattern of its employees. The goal of this foyer is to create an energizing space that inspires creativity and attracts top talent. The vibe is vibrant, transparent, and productive.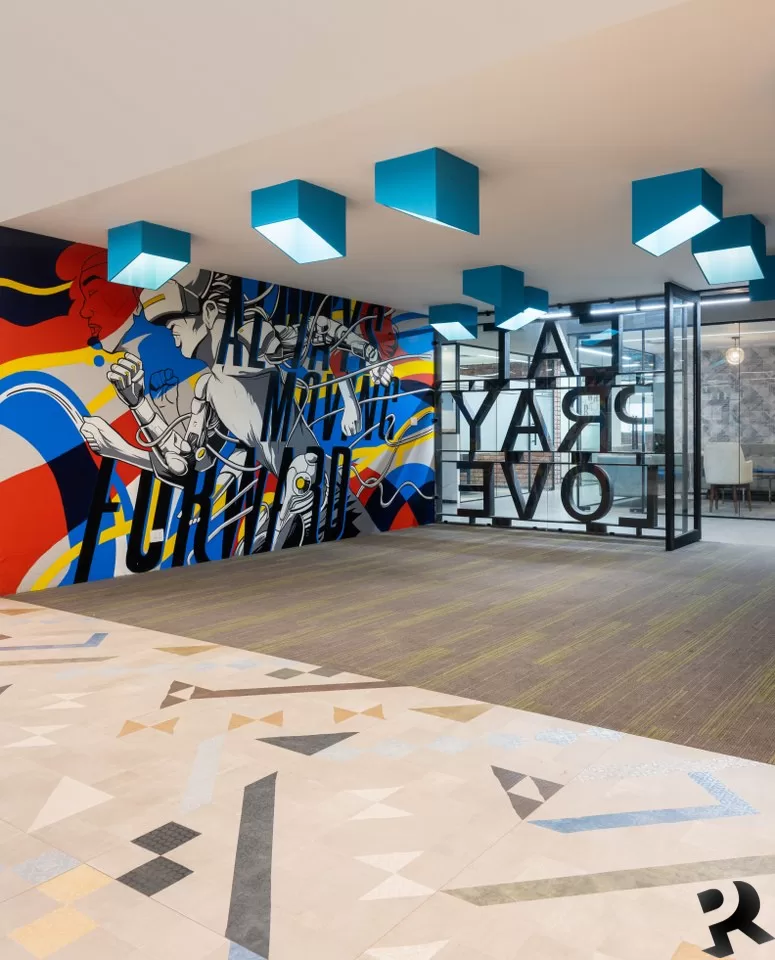 One of the most unique and eye-catching features of the café is the graphic portraits on the rustic wooden background. The multi colored wooden crate ceiling adds to the trendy and dramatic look of the space.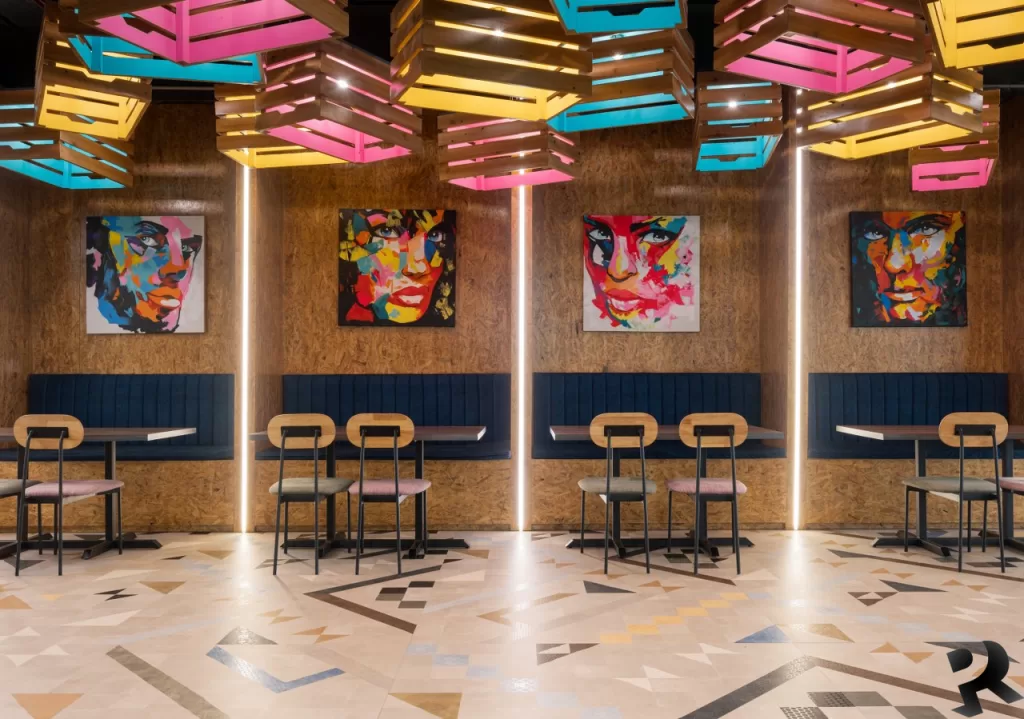 The cafeteria is designed to be a space where employees can unwind and relax. This is achieved through the use of color and form, which is expressed in the ceiling, flooring, furniture, and walls. The space is inviting, comfortable, and encourages social interaction.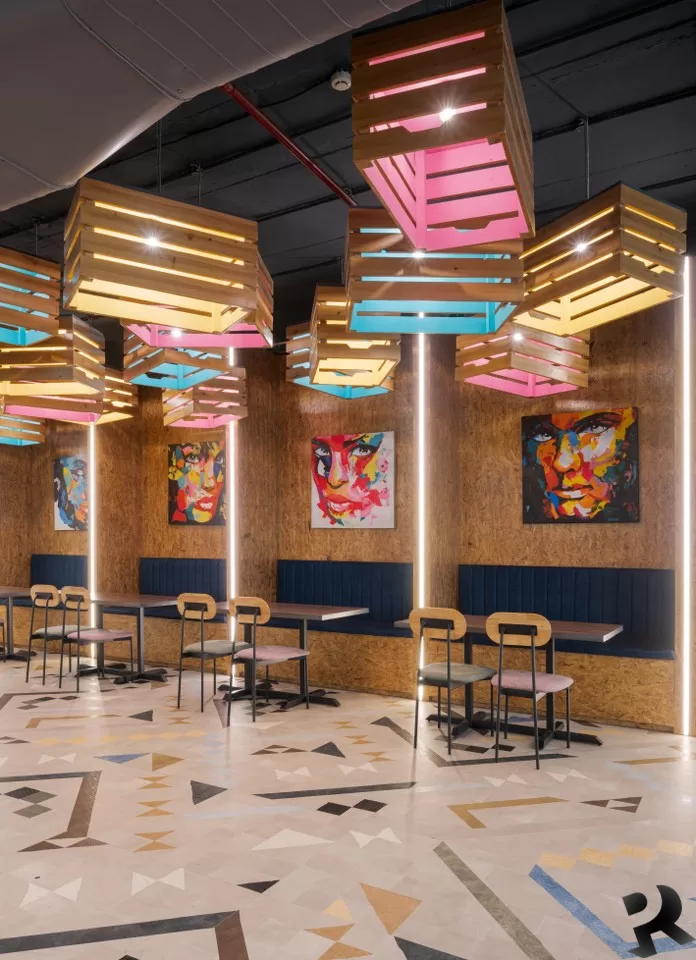 Overall, these design choices work together to create a cohesive and inviting space that is both functional and visually engaging.
Fact File
Designed by : Projected Rays Design
Project Type : Office Interior Design
Project Name : Prepladder Office
Location : Chandigarh
Year Built : 2022
Duration of the project : 4 Months
Project Size : 17000 Sq.ft
Project Cost : 2.50 Lakhs
Principal Architect : Ar. Rohan Jain
Photograph Courtesy : Vaibhav Passi
Products/Materials/Vendors : Wallcovering / Cladding – Simpolo Tiles / Lighting – Qulite / Doors and Partitions – Upcountry / Sanitaryware – Kohler / Furniture – Ambience Furniture / Flooring – Simpolo Tiles / Paint – Asian Paint.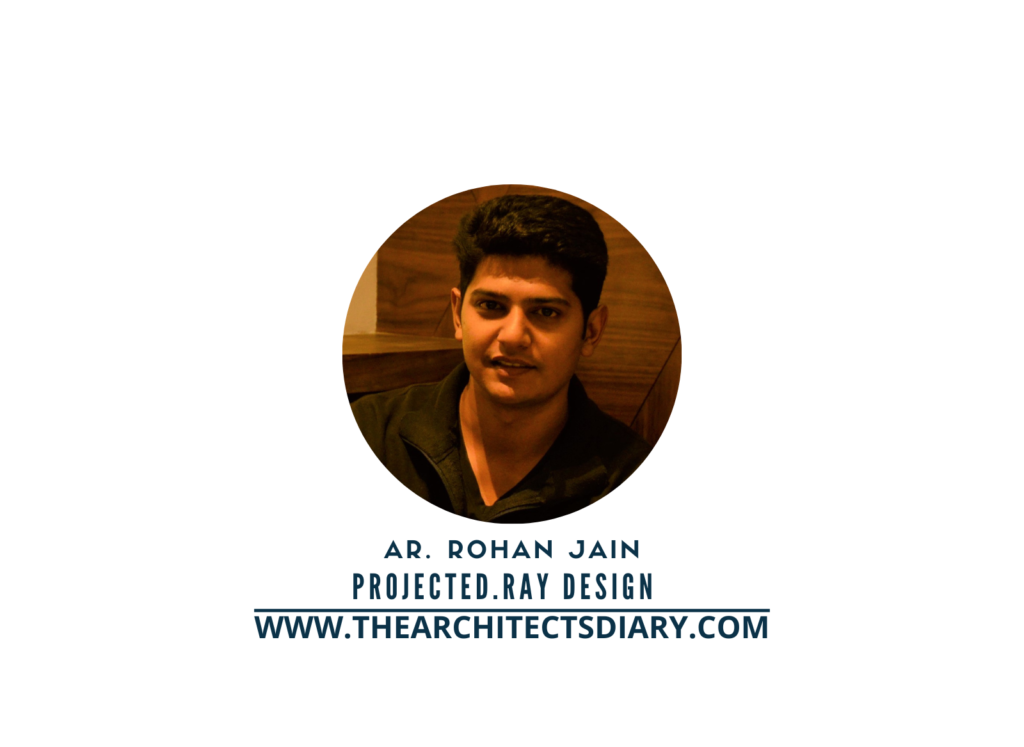 Firm's Instagram Link : Projected Rays Design
For Similar Project >>> Office Space For Greencross Export Pvt. Ltd., A Pharmaceutical Manufacturing Company
The post Unique Textures And Bold Colors Make This Modern Office Design Visually Exhilarating | Projected Rays Design appeared first on The Architects Diary.