In the bustling city of Mumbai lies this twin apartment that shows its fascination towards luxurious living.
Twin Apartment that unravels luxurious living | Design Storie
This interior project exclusively designed and entirely customized on site for client, Mr. Milind Patel and his family (6 members in total) aims to create a luxurious and stylish living space within a 7 BHK house converted to 5BHK (3 BHK + 3 BHK combined) with a lavish area of 2700 sq ft located in the heart of Mumbai at Bhoomi Celestia, Malad.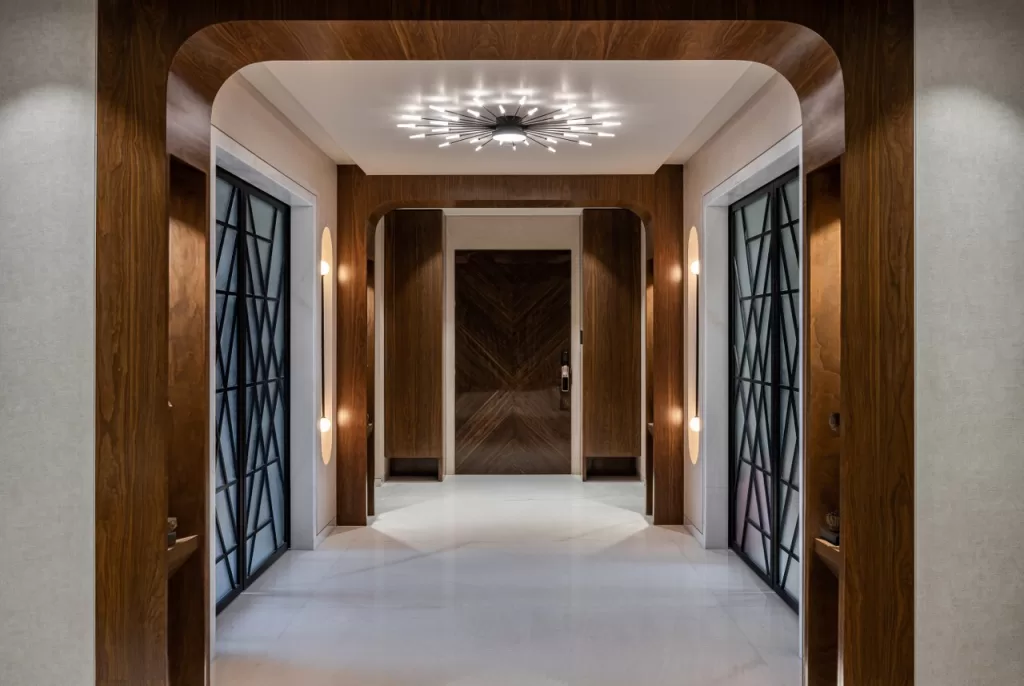 This project focuses on creating a truly luxurious living room that exudes elegance, sophistication, and comfort. The design revolves around a combination of opulent materials, exquisite furniture pieces, refined color palettes, and strategic lighting to create a visually stunning and inviting space.
Foyer
The grand foyer features a spacious and luxurious entrance area in our twin apartment. The flooring is made of high-quality marble, while the walls showcase paneled concealed doors with large mirrors and impressive sculptures are placed in the arched niches adding a touch of grandeur.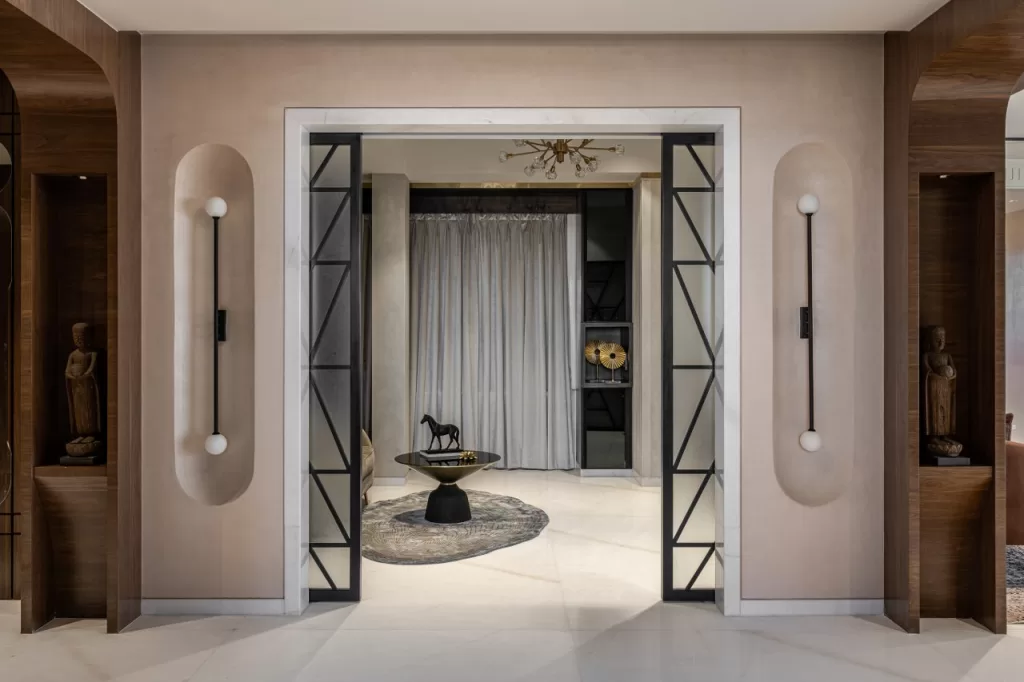 Additionally, well-placed lighting fixtures and sconces create a warm and inviting atmosphere, making the space feel inviting and sophisticated. Flanked by customized geometric design sliding doors to kitchen on one side and den on the other side, the foyer definitely makes a lasting impression on visitors as they enter this 7 BHK apartment.
Kitchen
A harmonious blend of neutral tones creates an inviting and timeless atmosphere in the kitchen. Soft pale taupe coloured upper cabinetry seamlessly complements the off-white texture of quartz countertops and backsplash, while the wooden lower cabinets add a touch of texture.
All appliances discreetly integrate into the space, enhancing its modern appeal. The overall design exudes a sense of calm sophistication, making it a versatile and elegant culinary haven. A window is added above the service platform for ease of service to the dining area from the kitchen.
Den
The den area facing the kitchen is a family room or a cozy retreat which involves creating a comfortable and functional space where family members can relax, unwind, and spend quality time together. Entire room has walls paneled in fluted design textured paint with a gold metallic border adding the touch of luxury.
The TV wall is the focal point of the den with an entirely customized TV unit console below it and all cables concealed within the panels. This TV unit complements the overall modern design style. The cozy vibe of the den is enhanced with furniture pieces like the organic design sofa with soft textures and a center table with a plush rug under it that complements the seating area.
Living room
Combining two living rooms of both apartments to create a larger living space offered exciting possibilities for a modern interior design that seamlessly merged the two units while maintaining four distinct zones – a lounging area, a dining space, a mandir/temple area, and a reading nook.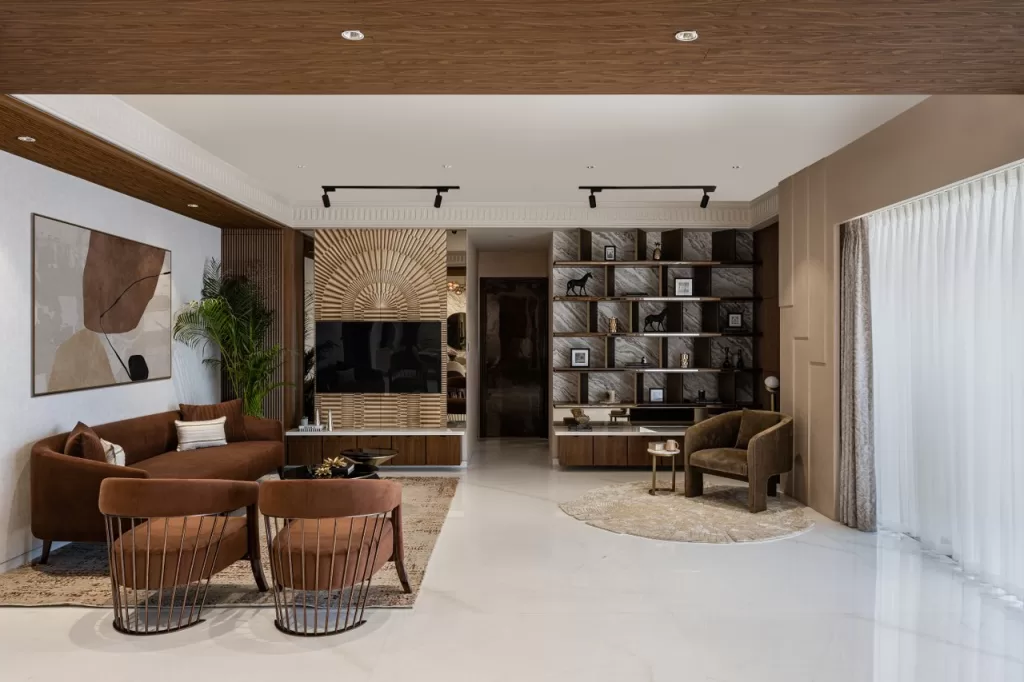 Elements like bronze mirror, stone veneer, black and brown veneer, and CNC router cut MDF panels are combined to add depth and interest and keep all four wall designs in sync. The interiors emphasize elegance, opulence, and a welcoming atmosphere by including high ceilings, panel details on ceiling and stepped design paneling framing the window view in the front and directing one's attention to the grand open view.
Natural light coming into the living room is maximized with sliding glass shutter windows that open on either side. This enhances the sense of openness and connects the interior with outdoor views and gives a grand look to the living room. A neutral color palette serves as the foundation, with shades gray, wood, taupe, and off-white creating a harmonious backdrop. This palette is versatile and allows for bold accents in furniture and curtains to stand out.
Dining corner
The dining space has a bespoke chandelier sourced from 'The White Teak Company' suspended above the dining table which adds an element of glamor to every meal. The table itself, crafted from a fusion of wood and marble, comfortably accommodates eight, making it an ideal setting for intimate dinners or grand celebrations.
A customized crockery storage unit is placed behind the dining area and below the kitchen serving window cut-out to ensure enough storage is provided to host guests during parties.
A large sink with a faucet is placed on the ledge platform behind the dining table and a circular mirror is fixed on the stone veneer wall above to add reflections to the living room.
TV lounge corner
The TV lounge area is strategically positioned within the living room, creating a designated zone for entertainment while maintaining an open and inviting atmosphere. The 3D design wall is panel customized using CNC router cut technique and texture painted to match with the diagonally opposite mandir backdrop. The TV is carefully placed on this panel which is a focal wall that's easily visible from various seating spots and from the dining area as well. This arrangement allows family members and guests to engage in conversation, while still enjoying a great view of the screen. A comfortable sectional sofa upholstered in orange fabrics with a set of cozy armchairs forms the core of the seating arrangement.
Books and artifacts shelves
The full-height bookshelves and artifacts shelves is an inviting and visually appealing space that offers a seamless blend of functionality and aesthetics, creating a cozy enclave for both reading and display. It is a captivating showcase of literary treasures and cherished artifacts with thoughtfully designed bookshelves and artifacts nook. Horizontal floating bookshelves span from one end to the other to give a modern touch and concealed profile lighting is incorporated under every shelf to add a back glow to books and artifacts, thus highlighting marble texture stone veneer sheets. Vertical partitions in metallic texture are fixed at varying angles in a visually pleasing manner to accommodate books of varying sizes and to create a dynamic visual rhythm for placement of artifacts within the nooks.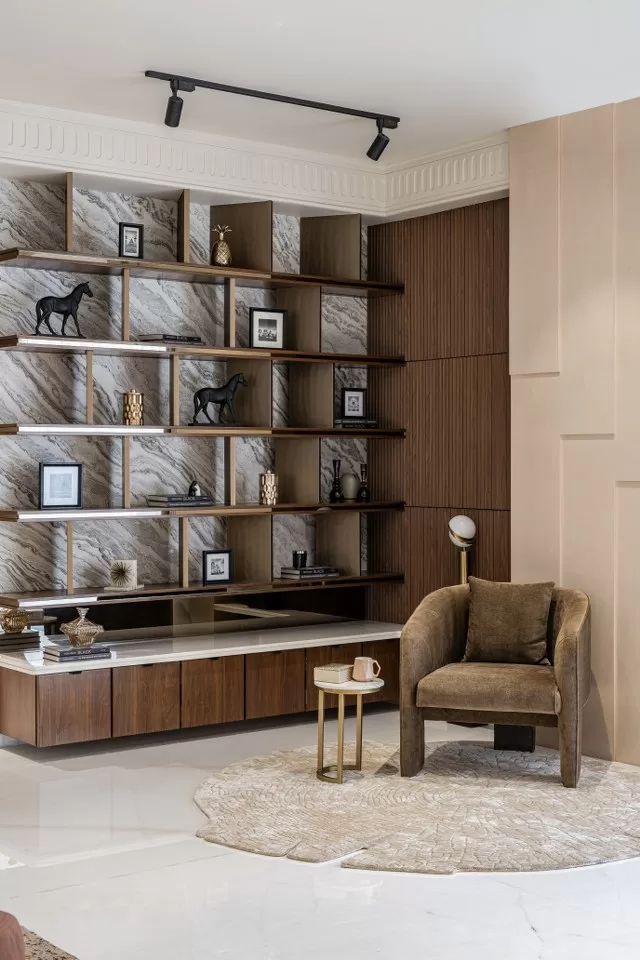 A comfortable reading spot is created adjacent to the bookshelves and artifacts by placing a plush armchair with a cushioned seat with a rug and a side table to hold a cup of tea or coffee and indulge in book reading. The bookshelves and artifacts corner adds a touch of curated elegance to this spacious living room, turning a corner into a haven of literary exploration and visual delight.
Mandir corner
Designing a mandir in the living room allowed us to infuse the space with a sense of sacredness and devotion. The North-east corner placement ensures that the mandir remains Vastu compliant and stands out as a prominent feature while seamlessly blending with the overall décor. The backdrop is a customized CNC-router cut design made by joining two MDF sheets which gives that semi-traditional touch to the living room without disturbing the modern look of the living room.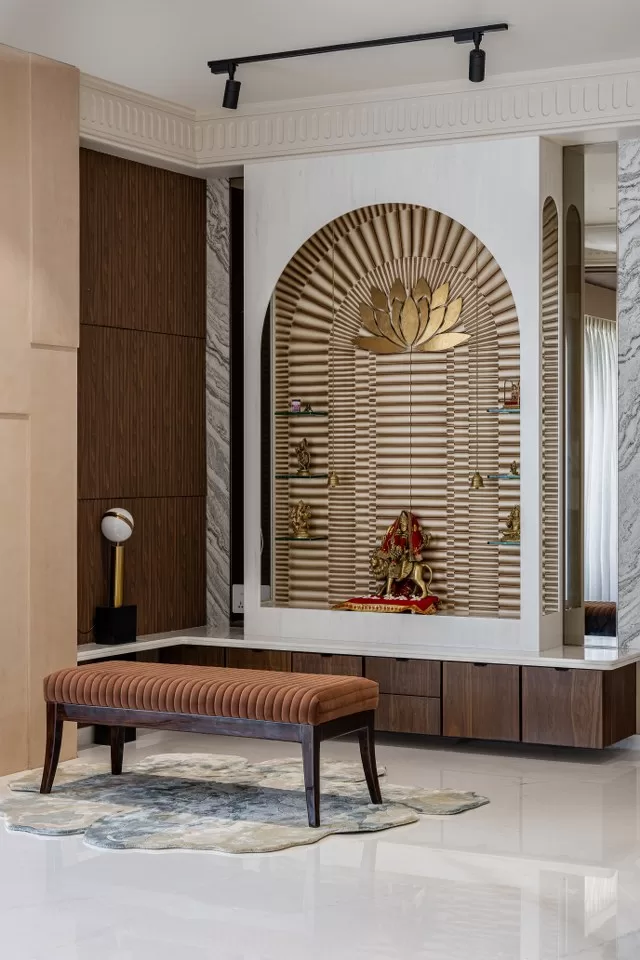 The main Goddess idol is placed on the mandir's main raised platform and other idols are staged on different glass shelves on the sides. Proper lighting is incorporated and concealed within the grand arched frame to highlight the idols and create an ethereal ambiance. By combining detailed elements and traditional aesthetics, we created a mandir that not only honors your spiritual practices but also adds a touch of timeless elegance to the living room. A comfortable seating bench is included near the mandir area where family members can sit and engage in prayer or contemplation. A small rug is placed under the bench that adds to the comfort and invites moments of reflection.
Balcony
Nestled seamlessly against the living room, the attached balcony with mosaic design tile flooring is a harmonious extension of indoor sanctuary, inviting the outside world in. A carefully chosen array of outdoor cane furnishings and a swing graces the balcony. Two comfortable lounge chairs offer a serene spot to curl up with a book or simply soak in the sunlight. A small table, strategically placed nearby, provides a convenient surface for the morning coffee or an evening glass of wine.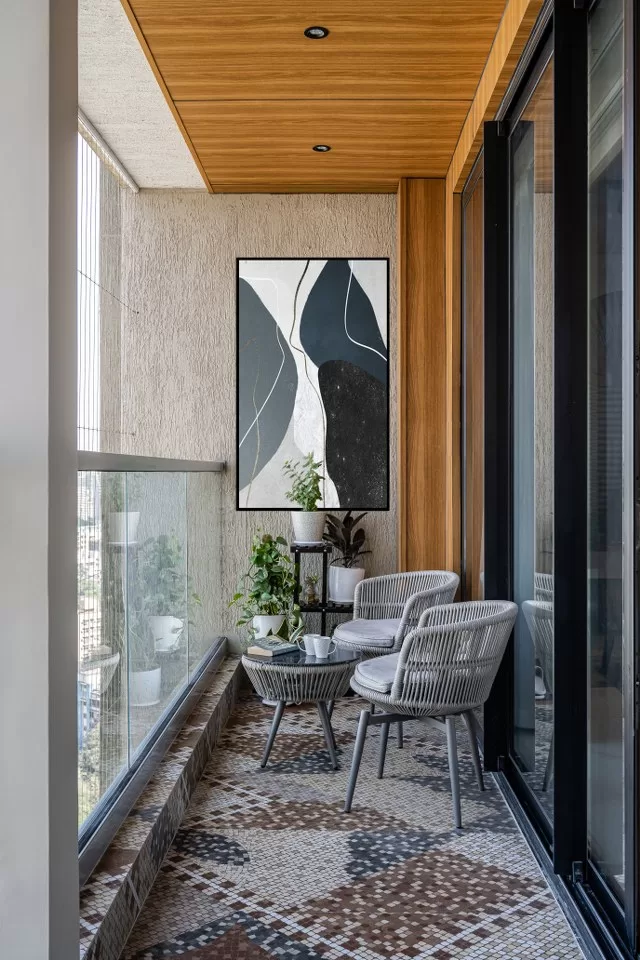 Master bedroom/ Parents' bedroom
The master suite is a retreat within itself, occupying the space of two former bedrooms. Creating a transitional style master bedroom for the owner involved blending classic and contemporary design elements to achieve a harmonious and timeless look. An expansive king-sized bed takes center stage, dressed in sumptuous linens, a dark grey curved headboard flanked by two customized design side tables and surrounded by tasteful accent furnishings.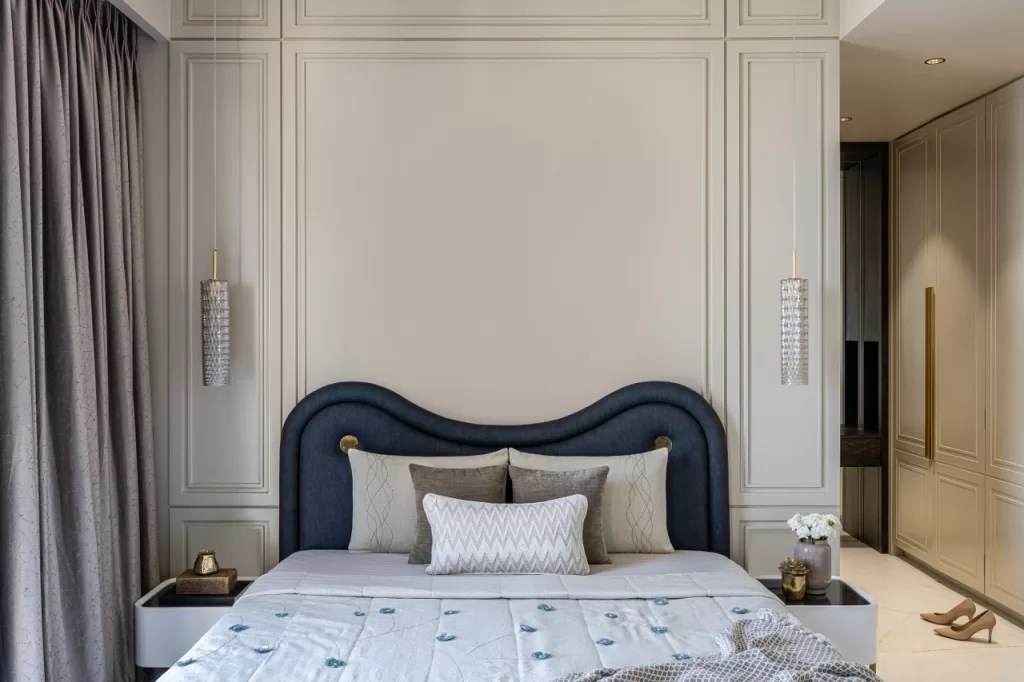 A neutral color palette with a mix of warm and cool tones was opted for this bedroom. Shades of greige and taupe, and ivory on walls serve as a base that allows us to introduce subtle pops of color through accessories and textiles and a stark texture of dark veneer on furniture.
The light gray marble toilet with wooden slatted false ceiling seamlessly combines the sleek elegance of gray marble with the warmth of natural wood, creating a harmonious and inviting space. The careful balance between the cool marble surfaces and the organic wood textures transforms this bathroom into a haven of serenity and refinement, offering a truly elevated bathing and grooming experience.
Kids' bedroom
The Dino Adventure Kids' master Bedroom is a captivating haven where the boys' dreams of exploring a world filled with majestic dinosaurs came to life. Every detail of this whimsical space has been carefully crafted to create an enchanting atmosphere that nurtures creativity and play. Upon entering, the room transports its young occupants to a lush dinosaur habitat.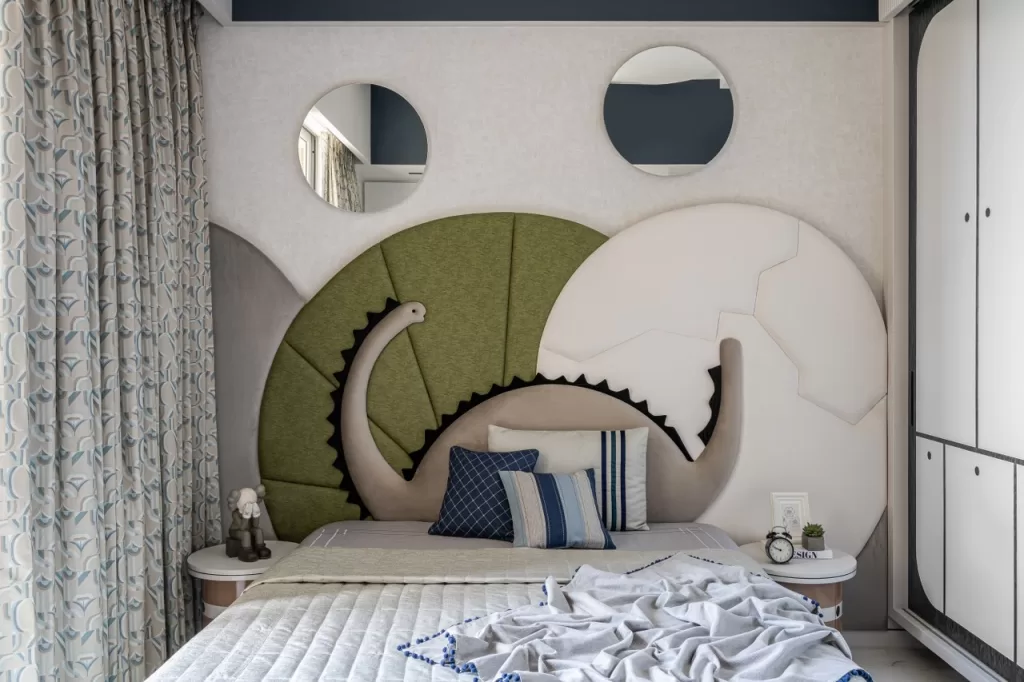 The vivid colors like blues, greens and white and artistic renderings provide an immersive experience that makes every bedtime a thrilling adventure. The headboard features cleverly positioned dinosaur-themed decor, including a dinosaur model, its green habitat and a cracked egg with backlit mirrors above. The overall effect is a balance between educational and entertaining elements that spark curiosity and wonder.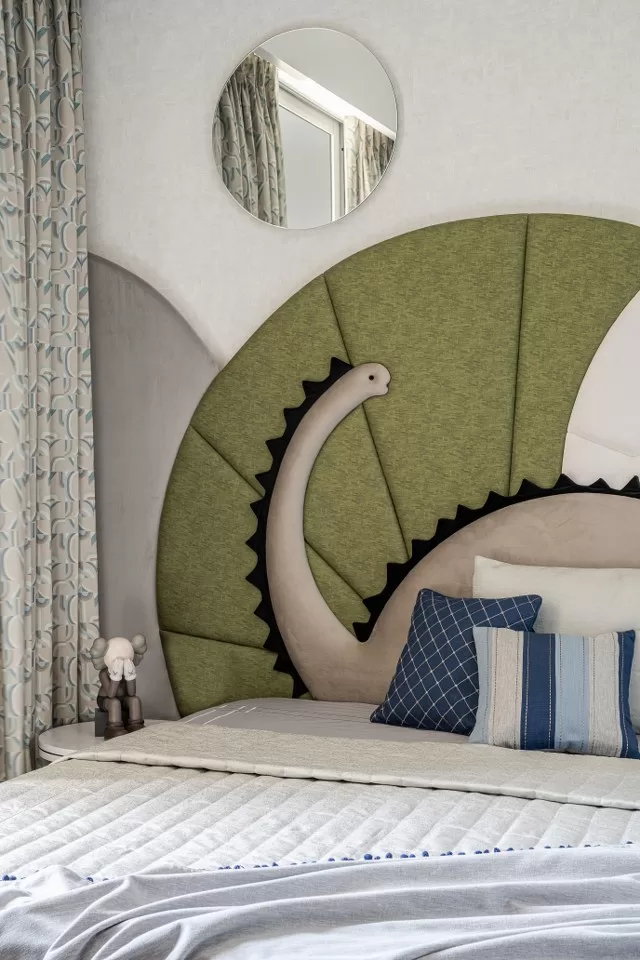 Incorporating a Jungle Oasis theme into kids' toilet design offered a unique and immersive experience that would transport them to a vibrant rainforest paradise. With its attention to detail like the customized barrisol print ceiling light, organic textures and colors in tiles, and carefully curated decor, this jungle-inspired toilet design transformed an everyday space into a captivating escape for the senses.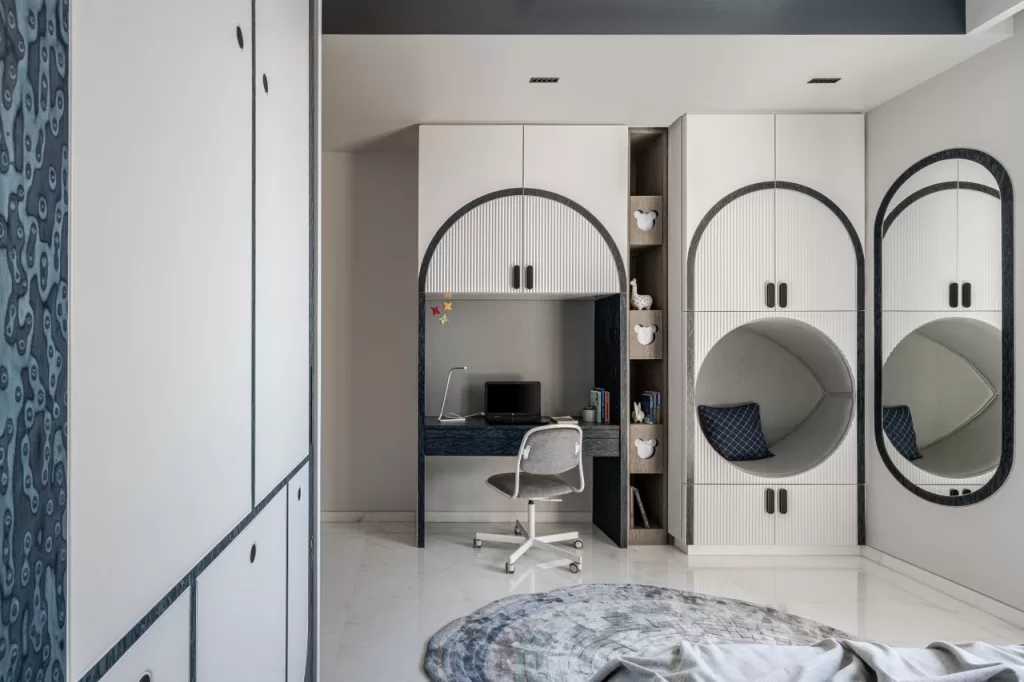 Grandparents' bedroom
The minimalist master bedroom design for parents was created by joining two former bedrooms. It combines the natural elegance of wood with modern aesthetics to create a warm and inviting space. The veneer bedroom interior design aims to strike a balance between the timeless beauty of wood and contemporary design elements, creating a tranquil retreat that feels both modern and nature-inspired. The walls feature light-colored veneer panels that add a touch of texture and warmth. The focal point is a sleek veneer bed frame with clean lines and a matt finish.
Complementing the bed, a matching veneer dresser area with back painted black side mirrors, TV panel and floating nightstands offer both functionality and style. To enhance the cozy ambiance, soft textiles are used in plush area rugs, comfortable bedding, throw pillows in earthy tones and furniture are incorporated. Ambient lighting from pendant lights cast a gentle glow, emphasizing the natural patterns in the veneer.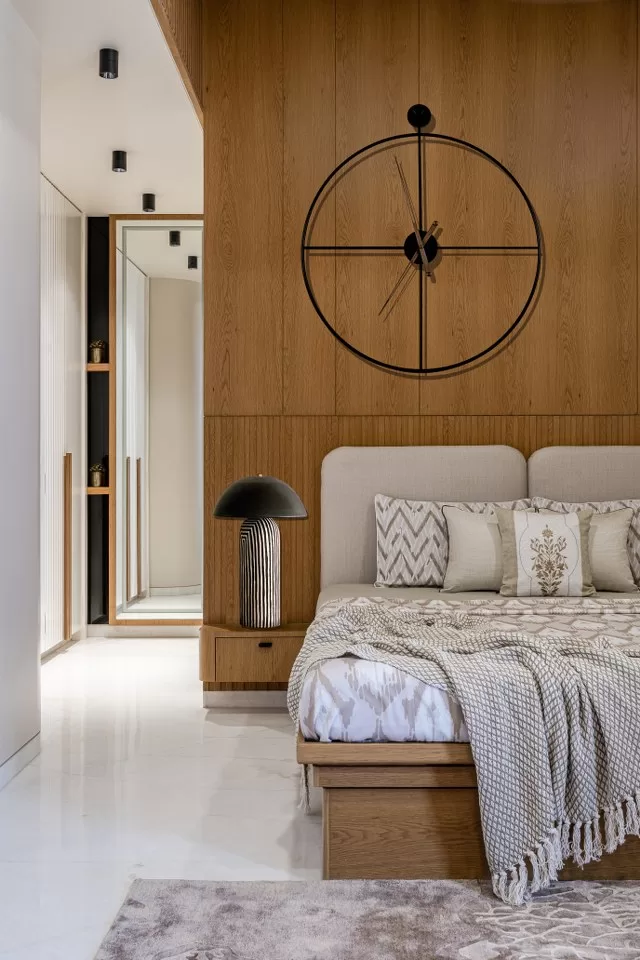 The toilet interior showcases a luxurious ambiance with its elegant beige marble and wooden theme. The walls are adorned with large, polished beige marble slabs with niches for display of artifacts that exude a sense of opulence and refinement. The floor features the same marble, offering both visual interest and a smooth surface with joint lines aligned. The toilet itself is a modern fixture with clean lines, seamlessly integrated into the design. The soft, warm tones of the marble create a soothing atmosphere, while the sleek sanitary fittings and fixtures add a contemporary touch.
Guest bedroom
A neutral and peaceful tropical theme guest bedroom has hanging pillows on a rod fixed as cushioning for the curved backlit paneled veneer headboard to create a unique and cozy look. This adds visual interest and a touch of whimsy to the headboard while providing a convenient way to store extra pillows. The colors and texture of the pillows and duvet match the overall tropical bedroom design for a cohesive look with the mauve wall shade.
The toilet attached to the bedroom features a harmonious blend of beige and copper elements, creating an elegant and warm ambiance. The walls are adorned with a soft earth beige tone tile, providing a soothing backdrop, while copper accents in highlighter bands add a touch of luxury and sophistication.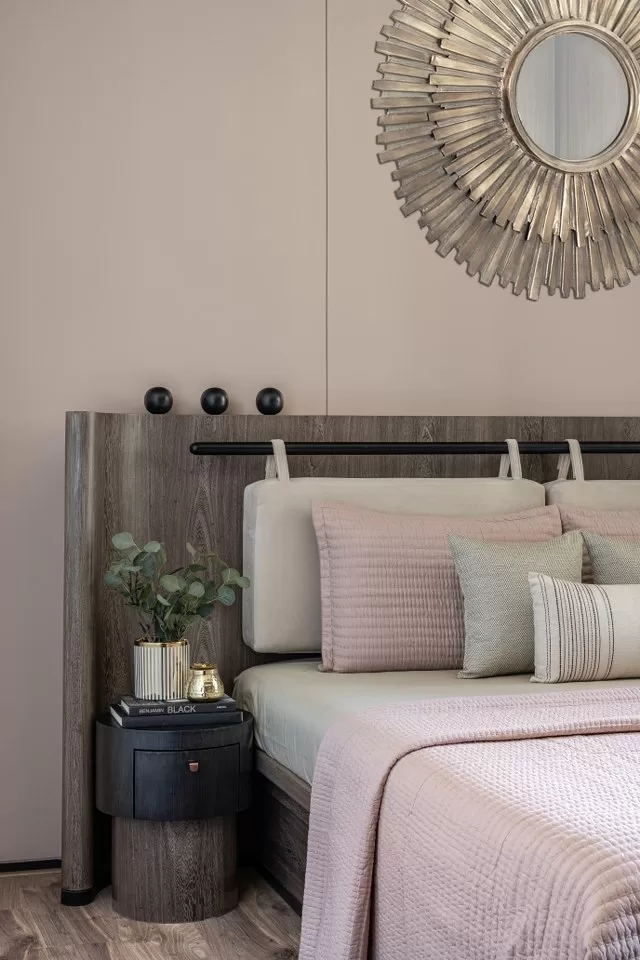 By judiciously repurposing space, harmonizing luxurious elements, and upholding a refined sense of style, this residence redefines urban living. It's a sanctuary where modern functionality and timeless aesthetics merge seamlessly, offering an exquisite living experience that truly transcends the ordinary.
Fact File
Designed by: Design Storie

Project Type: Apartment Interior
Project Name: Twin Apartments
Location: Mumbai, India
Year Built: 2023
Project Size: 2700 sq. ft.
Project Cost: 1.5 crores
Principal Architect: Ar. Janvi Mehta
Team Design Credits: Mansi Doshi
Photograph Courtesy: Noaidwin Sttudio (Instagram link)
Photograph Courtesy: Noaidwin Sttudio (Website link)
Products / Materials / Vendors: Finishes – veneer from Veneer Spot / Wallcovering / Cladding – Jainuine marble / Construction Materials – Marble, tiles, laminated flooring, plywood + veneer /PU paint / textured paint / lamination on veneers, slated wood, bronze tinted mirrors, barrisol, marble textured corian, MDF 3D engraved sheets etc. / Lighting – The White Teak Company / Doors and Partitions – Customised by team on site / Sanitaryware – Kohler + Aquant + Jaquar from bath Décor / Windows – Domal / Furniture – Living room and den furniture from Sanjar, rest of the furniture is customised on site / Flooring – Balcony tiles from Bath Décor shop / Kitchen – Carpenter-made and hardware + appliances from Hafele / Paint – By contractor's painters / Artefacts – By Stylist Shreya Bhimani / Wallpaper – iDecorwala / Hardware – Hafele / Rugs – Mirzapur rugs / Kitchen countertop and wall cladding – Classic Marble Company – Kalingastone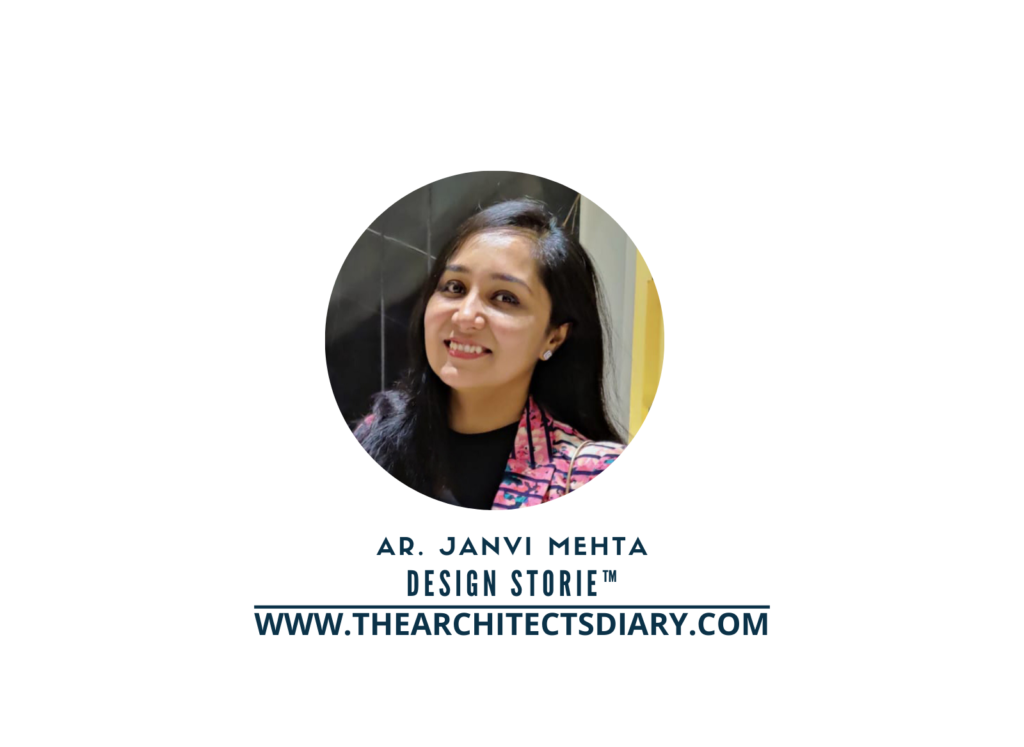 Consultants for the Project: Interior Designers – Ar. Janvi Mehta, Ms. Mansi Doshi / Interior Styling – Shreya Bhimani
Firm's Website Link: Design Storie

Firm's Instagram Link: Design Storie

Firm's Facebook Link: Design Storie

For Similar Projects >> A Mumbai Apartment that Aims to Create a Visually Stunning and Inviting Space | Design Storie

The post Twin Apartment that Unravels Luxurious Living | Design Storie appeared first on The Architects Diary.