Stonex: India's Leading Exquisite Marble Brand | The Definition Of Luxury Which Integrates Sustainable Measures To Embrace Design And Art.
"Our main focus has been to build remarkable culture and commit to integrity."
Founded in 2001, Stonex India stands unparalleled in the business of exquisite imported marble, today. The organization endeavors excellence and numerous milestones by continuously adapting to change and embracing new standards of technology, equipment, and innovation.
The Architect's Diary, being a leading architectural digital media company, aspires to highlight all the unique aspects of the two-day exclusively organized FAM trip at Kishangarh, Rajasthan, where the manufacturing and processing unit of the company is located. The campus is a beautifully designed architectural piece with brilliant use of materials; equally aesthetic, something that is rarely seen in industrial typologies. An experience gallery is erected for people to witness the raw and finished products. It is indeed a true instance of sensory experience catering to all the human senses.
There's a unique appeal to every piece of marble, with distinct textures, colors, and finishes. The company has brilliantly incorporated marble in various architectural and interior elements across the campus, which is adorned with art installations, art pieces, and meaningful sculptures. The culmination of art, craft, architecture & design, and an environmentally sound approach makes Stonex as one of a kind company in the market.

In conversation with the Ar. Kamalaja Tamboli, Editor of 'The Architect's Diary',
Mr. Gaurav Aggarwal, MD of Stonex India, and Mr. Sushant Pathak, CMO of Stonex Group, take us through the ideas and philosophies that the company takes on every step while revealing their upcoming goals and plans for the future of the company.
Mr. Gaurav Aggarwal, MD of Stonex India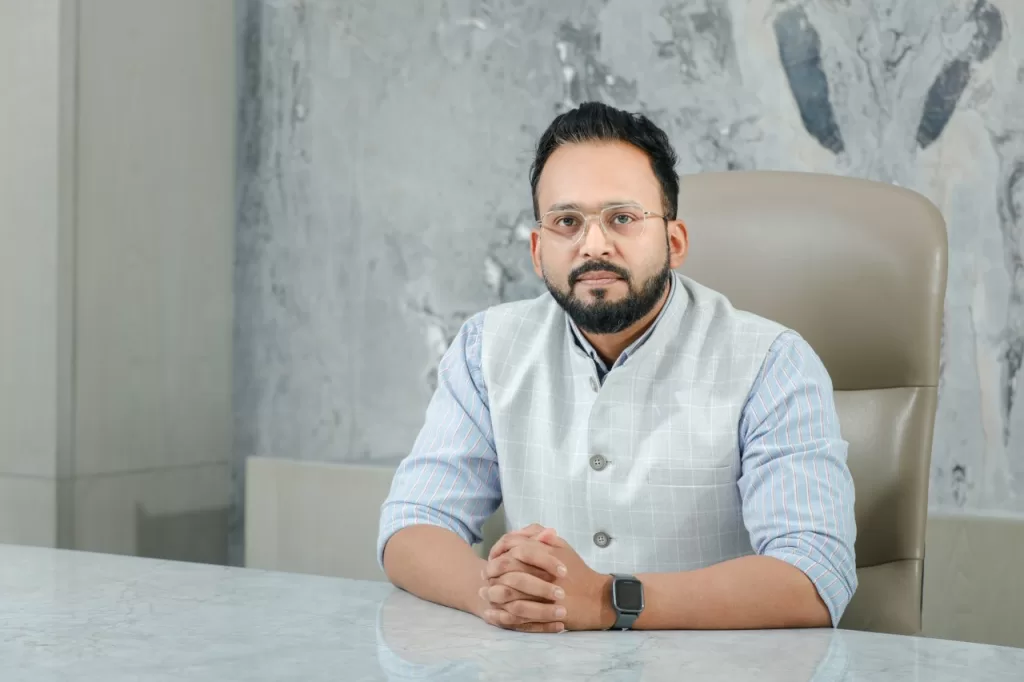 Mr. Sushant Pathak, CMO of Stonex Group
Our hearty congratulations to the entire Stonex team for the unique architecture of the campus and the exquisite product designs. How has the natural stone market in India evolved over the years and how has Stonex adapted to these changes in the field of interior design?
Mr. Gaurav Aggarwal: In the last 20 years, the development of new houses and construction has not been city agnostic. Before it used to be a metropolitan city, now it is going into two-tier, three-tier, and even villages because the money is being floated. Consumerism is increasing in and out in every part of the country so the demand is huge. Since we started this company, the industry has now grown three times. Every home has been using marble, floor to wall. Not just in India, but even globally, I haven't come across a substitution for flooring or walls when it comes to marble. The only reason is that marble is a very novel material. It has been used for centuries and the Taj Mahal is a great example of it. Artificially created materials like wood, vinyl, ceramics, etc. will never be able to take the place of marble. So if you ask me about the stone industry's growth, it's been phenomenal because of the increase in consumerism and construction. And it's only going to grow more in the next 20-30 years.
Mr. Sushant Pathak: To add to this, boundaries are very thin right now, thanks to globalization. Multiple things have happened in the last 10 years. There has been an influx of OTT at this point. People are seeing from a remote part of the country, what is happening globally. So a lot of things are happening from a macroeconomic standpoint. All these things are having an impact on the appreciation people have in terms of design. So people are more exposed, people are getting more discerning. But as and when you get more discerning, this is a trend that we have seen because as a part of the organization, we keep on doing these multiple types of research. So we go to multiple markets and talk to customers and ask about their sensibility when they decide to buy. Especially when it comes to interior design we like to know what they choose, and what they don't use. So authenticity and choosing something which comes from Mother Earth is something which is a key trend. And that is something that is here to stay. And that is what makes our organization or even the category itself so much stronger.
What sets Stonex apart from other marble and stone companies? What factor makes it "THE" Stonex and why should the industry choose you over the other competitors?
Mr. Sushant Pathak: Our foundation for creating world-class customer service is that if you become a luxury brand, people won't compare you to other marble companies. They start comparing you across the categories. To become a luxury brand, your competition is not just limited to the category. And what we aspire to become is a company that is comparable to global luxury brands. So if you ask me what my competition is right now, it's not limited to a marble company but other lifestyle luxury brands.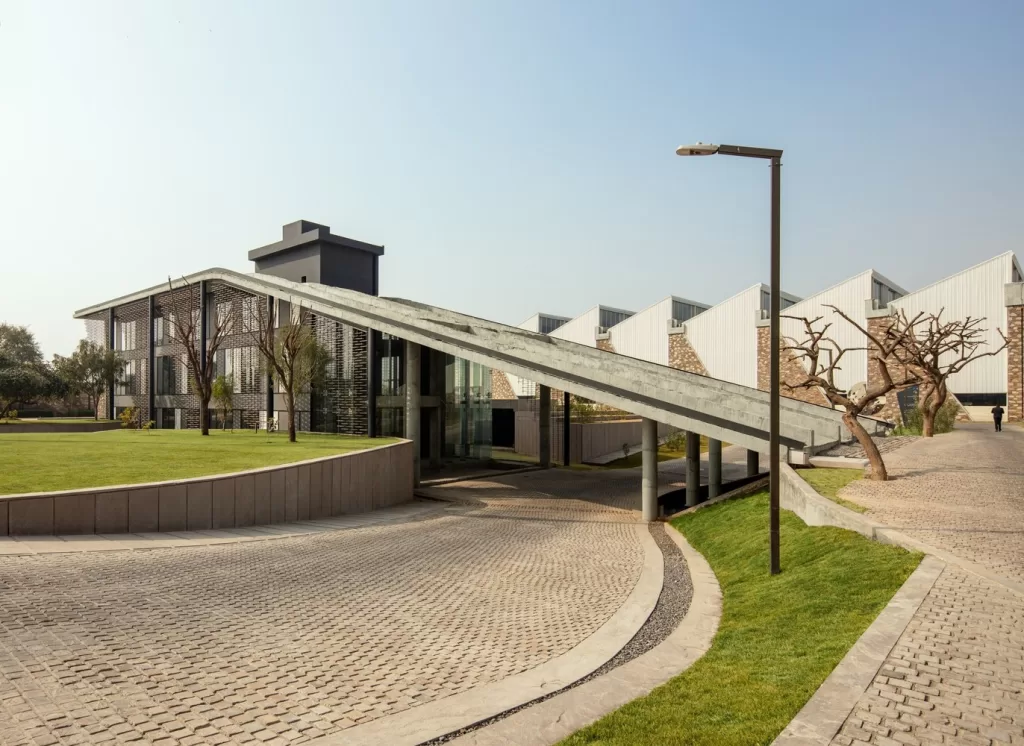 What kinds of trends are you enforcing for the luxury of interior designing?
Mr. Gaurav Aggarwal: Design elements have become very inclusive. What we see as the future of our luxury brand when we speak to our architects and designers is that there is a lot of exchange of data, so designs in luxurious interiors are not limited to design cells now. Anything that gives you a feeling of achieving the ultimate is a luxury for us.
Mr. Sushant Pathak: If you also see, the actual innovation or challenge of the paradigm is happening at the upper end of the strata. It is about feeling the space and coming up with ways to replicate it.
Mr. Gaurav Aggarwal: Now the customers are not limited to a design sense. They want a personal signature and emotional reflection of their personality in their space. To deliver that, one must be very sensible.
Green-certified buildings aren't seen in the industrial area. What do you have to say about that now that you are proposing a green-certified building and how has that impacted your consumer demand?
Mr. Gaurav Aggarwal: To date, India has been in a mode of survival. It has been a mindset for many companies to take a shortcut. If a fairly successful company says that they don't mind a cut of 5% of profit if it saves the environment, how will the smaller companies get inspired? Coming to the question of consumer demand, the next generation is going to be very sensitive about it. We feel that the next generation will prefer Stonex because we are mindful of the environment. To build up a formidable luxury brand, the value system should be good.
Mr. Sushant Pathak: If you look at the way the organizations are heading right now, one way is to become a profitable organization. But we just don't want to be a profit-making organization by not taking care of the world around us. So the idea was that whatever we do as a company we will ensure that we have chosen intelligent design, be it in the current building or the new building which is coming up in Delhi. It is going to be a LEED platinum-certified building by IGVC. So combining art, architecture, and innovation is what our design motto is.
What are some unconventional or innovative ways in which you have seen marble being used?
Mr. Gaurav Aggarwal: So, when we started 40 years back the surface of marble was only seen as polished. We used to say marble has to be shiny. If you ask today about an unconventional way of using marble, first of all, the finishes of marble have become enormous. There are leather finishes, rough finishes, fluting, and other finishes available. So that is the big change we have seen. Now, marble is no more a commodity to be consumed as it is. It has been included in many forms. We are cutting marbles up to a very thin thickness. So thin that it has been used in furniture. For furniture, in many places, there are marble, and vanilla veneers available that can be used in place of stone veneers. So marble now is breaking all the boundaries because of technological interventions. It has to deal with a lot of sensibilities, with so much innovative technology now, it can be consumed in any form, it can take many shapes, and it can be transformed and infused in different materials together to create furniture, to create a lifestyle. So in this way, marble has a lot of diversified usages.
Mr. Sushant Pathak: It's a very versatile product. I just want to take one example of what we did recently. We did this ID exhibition show wherein the brief to our designer was to take a piece of marble and take inspiration from one of the regions from where we source the marble. But limiting yourself to a pattern was not a choice. We had to think about the art of that region, culture, cuisine, and music of that region. After that Exhibition, we were approached by so many architects coming and telling us about the art embedded in the physical nature of the marble in the market. People want to buy that story.
As a supplement to this, how has your strategy shifted to luxury and what was your thought behind it?
Mr. Gaurav Aggarwal: Right now, all over the world, marble is seen as a very undervalued material. It is seen in the conventional use of walls and flooring. There are reasons why we are going towards luxury. One, because even after 75 years of the country's independence, there isn't a single luxury brand that India has produced. Hospitality chains such as Taj and Oberois are identified as luxury brands but they don't have a major global footprint yet. We are associated with a material that has the potential to bring luxury. If we can achieve what we envision by making it a lifestyle and using it in furniture then marble will become a global luxury commodity. As far as we know, none of the companies until now have done this. As an Indian company, knowing that it is a super-financial and manufacturing power, it is a responsibility that we make the first luxury brand from India of marble.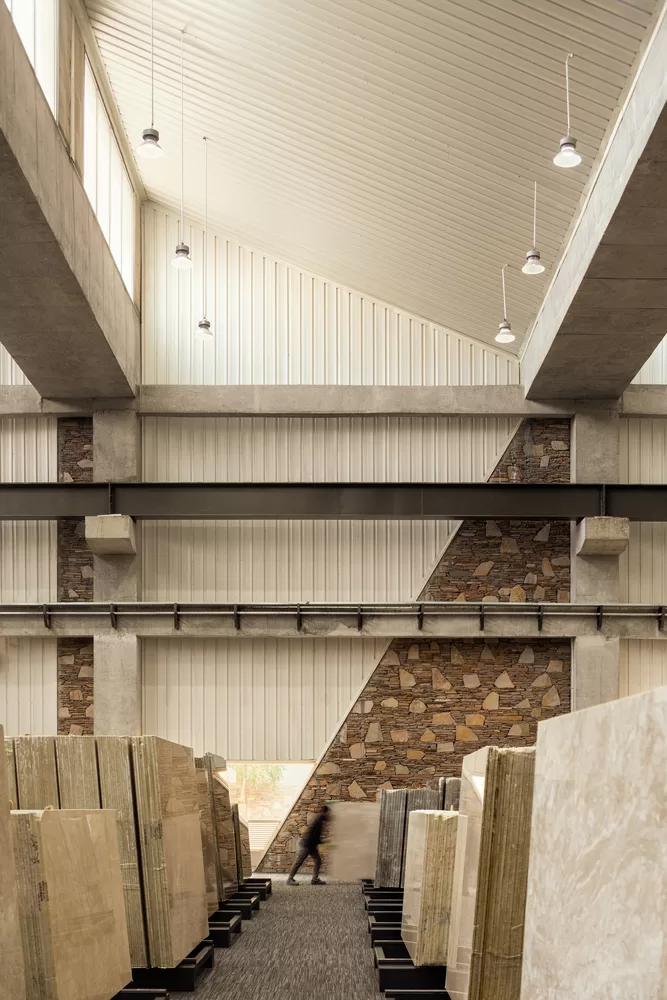 In terms of valuation and pricing, what are you looking for when you shift to the luxury sector?
Mr. Gaurav Aggarwal: Marble is still a luxury, it is not for everyone. It has a certain financial value to it. But for a luxury brand, it will transform from a commodity to a lifestyle product. We want people to know the story behind it. For Stonex to be a luxury brand, people should appreciate what they are going to buy. The statement we wish to hear is 'I bought it because I aspire to buy it' and not 'I bought it because I needed it.'
Mr. Sushant Pathak: Also, every brand or category doesn't have the potential to be a luxury brand. To become a luxury brand, there are some norms and codes which are prevalent. For example, the origin of the material is very important. Luxury brands like Louis Vuitton talk a lot about the history and origin of their products and materials. Every brand cannot talk in that language. Similarly, craftsmanship, artisanship, innovation, and clarity are some of the things that are already intrinsic to a brand. We firmly believe we have the potential to tell in the right fashion because a consumer doesn't only buy a product, they are also buying the stories attached to it.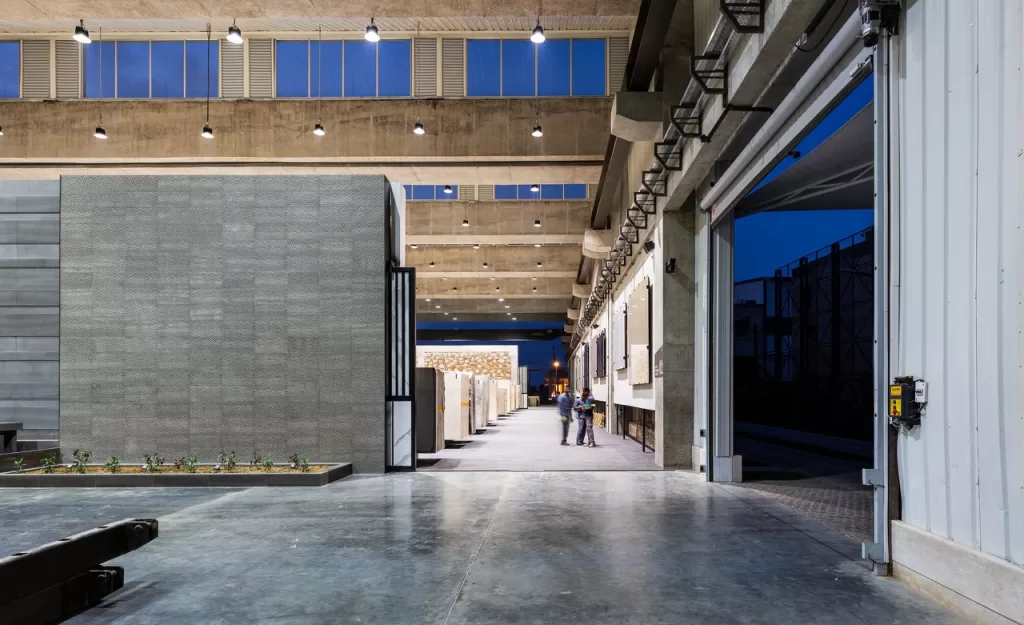 The term "Go Green" has become the need of the hour! How does Stonex approach sustainability and environmentally friendly practices?
Mr. Sushant Pathak: We firmly believe that design has to be intelligent and not just good-looking. Now what makes the design intelligent is one, obviously the aesthetics, two, the art and artifact and three, the important factor is sustainability. A very good testament to what philosophy Stonex follows is this Kishangarh experience. The entire boundary wall of the experience center is made of Gurbani stone, which acts as a natural insulator. The harsh summers of Rajasthan don't have any effect inside the center. The entire building is built on a special design which is the usage of the north light. It is about studying the movement of the sun around the plot area and then understanding how we can maximize the flow of natural light inside the building while avoiding harsh light. It helps in keeping the temperature cool but at the same time brings in natural light. Also, we are using significant technology which has been used for years. We have designed wind tunnels in the experience center where we have put windows and louvers at strategic locations to allow the flow of air in the center. There is no air conditioning in the experience center and yet the temperature is comfortable. The idea is to bring in as much innovation as we can to have the least impact on the environment.
Mr. Gaurav Aggarwal: The facility consumes 60lac. units out of which 14lac. units are received from the rooftop where we have put solar panels. To get one step ahead we have put up a 1.5-megawatt plant of a windmill in Madhya Pradesh where we create 30lac. units of energy. We have almost reached 75% of producing renewable energy. By 2026, because we are expanding the factory, we will be putting 2 megawatts of solar power here. At the end of 3 years, the aim is to make the company energy-positive. We will be producing more energy or electricity than we will be consuming.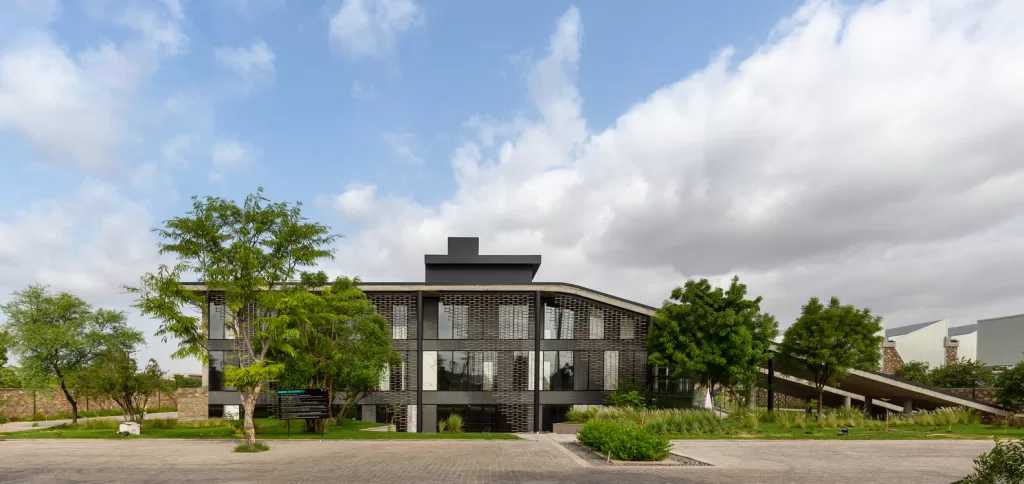 Tell us more about the green materials that you are using in your buildings and company centers.
Mr. Sushant Pathak: See, Gurbani stone keeps the temperature intact. Similarly, the pathways are made of cobbled stone where no cement is used. Cobbled pathways also keep the temperature cool. Apart from this, there are measures that we have taken in the field of conserving water. We have ten water harvesting pits in the experience center. If we are consuming 100 L, we are giving back 344 L of water. We are ensuring that the water table in the area moves up. The water used in the cutting and finishing of the stone is recycled.
Mr. Gaurav Aggarwal: 95% of water is recycled and re-consumed in the same facility. A 6% loss is seen in our daily usage so we have put a vacuum filter press for marble slurry which squeezes out whatever amount of water is present in the slurry. We get back at least 3% back from the slurry and that goes to the system. Hence, at the end of the day, we are losing only 3% of every day's consumption. So technically, the water table has improved over the last five years.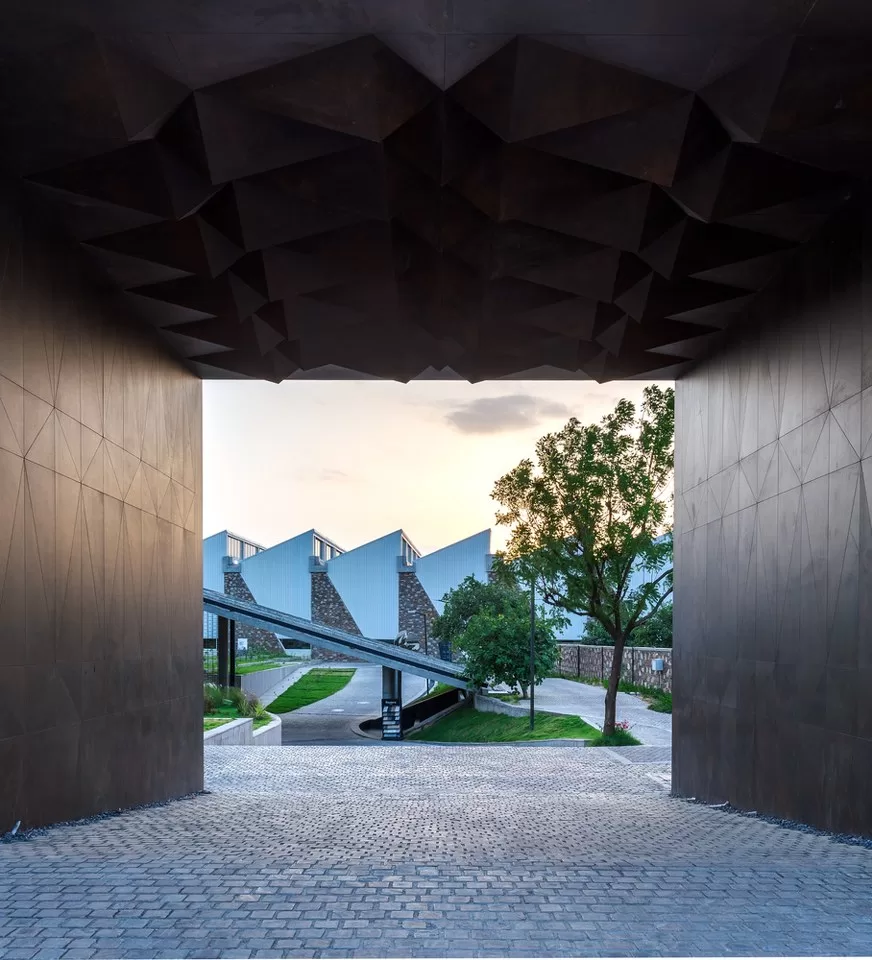 Do share with us your experience of working with Architects and Interior Designers. Are there any measures taken to achieve their vision for a project?
Mr. Gaurav Aggarwal: Architects and designers are highly creative mindset people. They think beyond what is present. They always think about the non-tangible aspect. Marble is a natural and flexible material and there are a lot of dimensions attached to it. Stonex deals with most of the marble from the world. We allow architects and designers to try new colors, designs, and finishes. And we can provide that because we have a strong R&D in the house. As a company, we keep on traveling and collecting data as to how new designs are evolving and developing, and how the stone is consumed in different forms and ways. We translate this to our architects and interior designers and give them a canvas to design something of their own while partnering with them in creativity. There is also room for failure and that's why Stonex stands out in this arena. We are significantly contributing to the fraternity in this way and we are receiving great responses. Right now, we are one of the biggest exporters of natural marble in the country, and we are distributing marble all over the country. So we have got different mindsets and different architectural and interior design senses and hence we also have the opportunity to try different materials. Other companies might not have been able to do that because they might have limited scope.
It's appreciable how much thought you have put into the sensory experience in the center and product display. Amazingly, you have given a bigger thought to your products. Any interesting upcoming release that we should hold our breath for?!
Mr. Gaurav Aggarwal: What we have done until now is only 20% of it. We have recently involved a company named Wasawe. They are a Singapore-based company and they are the leading experience creators in the world. They have worked with Apple, and Louis Vitton to create their sensory experiences. They are creating an exclusive experience for Stonex consumers and that experience will be the same for all outlets of Stonex across India. Every year they have at least 25 projects to choose from and they chose Stonex because they also saw the potential that this product withholds. Shortly, Stonex will be seen as one of a kind brand and will serve individual experiences.
You are looking at getting a lifestyle, something that is quite unruly. What are some of the risks and challenges that you have faced?
Mr. Sushant Pathak: Anything we do isn't driven by our gut feeling. Everything is data-driven and in line with the consultation of the consumers. So when we decided to enter the functional and aesthetic art of luxury, we spoke to our clients, architects, consumers, and influencers and asked them if Stonex were supposed to become a luxury brand, would they buy it? Because that is a fundamental thing. And thankfully, they have pointed out that no one is better than Stonex to have authority in terms of natural stone. So we will never move away from being the pioneer of the natural stone industry and functional art will always be at the core.
Mr. Gaurav Aggarwal: Something to add to this, is for any new brand investing in technology, machinery, and infrastructure carries its set of risks. Luckily, the company is been doing well for many years. We have a runway to take that type of risk but as a brand, we firmly believe that if we decide to do anything correctly and stick to our roots, we will end up doing it fantastically well. And with the data we gather from architects and consumers, we take our steps accordingly. We are not doing this only for the sake of profit. We do see Stonex as a luxury brand, not only limited to buying and using it for flooring and walls. So it is an investment for us, to make it a brand.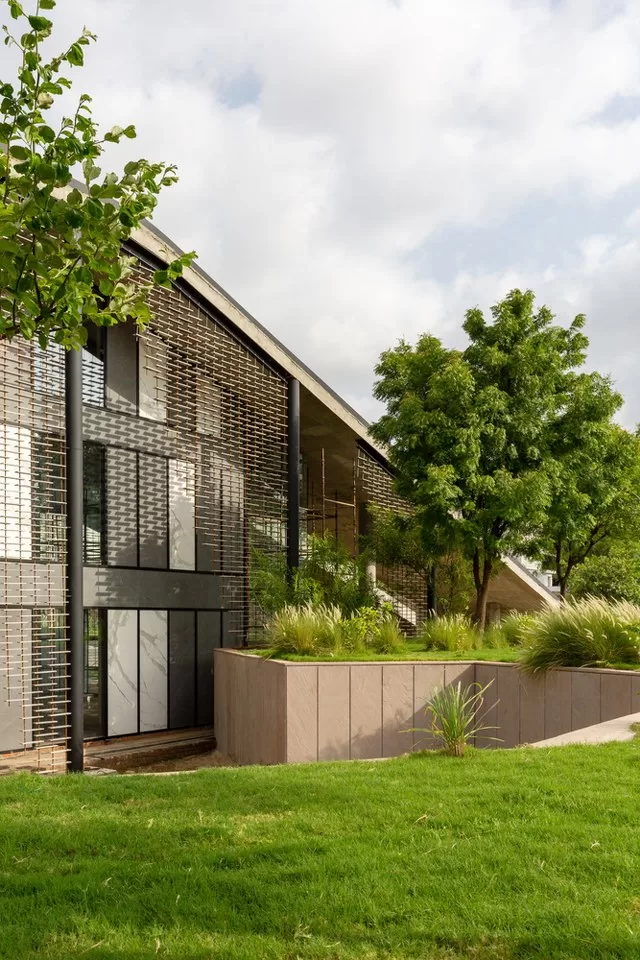 As an appreciation note, I would like to point out how wonderfully you have grown your term. They seem invested in what you are doing as a company and it seems very much effortless.
Mr. Gaurav Aggarwal: It is effortless. Things flow from top to bottom, and layers are added organically. It's not art or science anymore, it naturally flows. I am very proud to say that we have built a great team. We were not able to tell our stories because we didn't know how to but we have created a deep value system that is so strong that now building up a brand is possible because the foundation is laid very well.
When you talk about exclusivity, what are your plans for the future of Stonex Marble Company?
Mr. Gaurav Aggarwal: This year, financially we are at 450 cr, and by 2026, we are targeting an amount of 1000 cr. for the luxury unit. We are anticipating growth because India is soaring in luxury consumerism. We are starting a new business of luxury branding because we have certain numbers behind us. You know, for a new company to try something new and for a smaller company to try something new in this category of functional art is a huge investment. It's only possible for us because we have a certain number and type of consumers with us.
Mr. Sushant Pathak: The brand is moving in a direction that is very unexpected because up till now, marble as a sector was considered a commodity. So if you ask me what's going to happen to the brand in a couple of years, we have this mission to become a complete lifestyle brand. We just don't want to be limited as a marble company. Two years down the line when people think about Stonex, they think about it as a lifestyle. And that will predominantly happen by putting a lot of focus on the kind of verticals that we are building up within the organization. For example, aesthetic art and functional art are two very strong verticals that will come up at the same time. A lot of initiatives will be given to the customer experience. So, just to give you a glimpse, right now we are working with certain experts who combine brand, neuroscience, and marketing. They put all these three buckets together and create a phenomenal customer experience. So we are working in that direction wherein we are building a very comprehensive customer experience. Thus, it's not just about building a powerful product or a unique product, but we also aim to give a phenomenal experience so that a customer knows that their lifestyle is going to transform once they enter the universe of Stonex.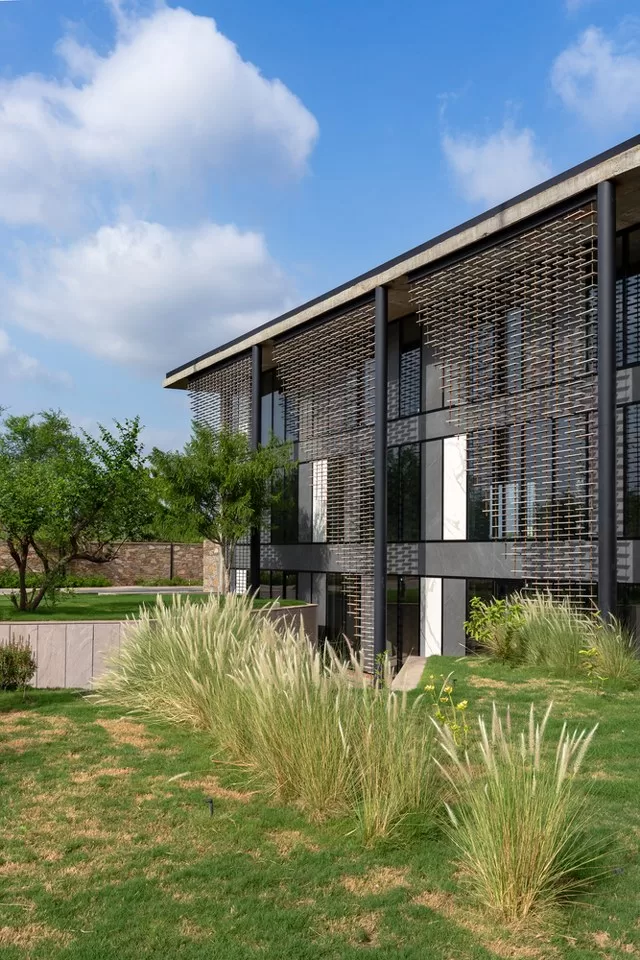 What amount of significance do you give to the digital presence of your company in India?
Mr. Sushant Pathak: That is very important and keen for us. As we mentioned, we are working towards a comprehensive customer experience. We are working in a direction where we can see that work in the digital platform also. As a brand, if we communicate with a customer whether it is an offline or digital medium, we want to ensure that the brand speaks the same language. We have people in the company meant for data transformation. So there would be people who would pick up the customer data and derive insights into it and plug it into the system and forward it to the business development team or the marketing team. So there are specialists in the organization just for that. We also have a team for digital transformation where the customer journey and experience standpoint are considered and worked on.
What kinds of trends are you enforcing for the luxury of interior designing?
Mr. Gaurav Aggarwal: Design elements have become very inclusive. What we see as the future of our luxury brand when we speak to our architects and designers is that there is a lot of exchange of data, so designs in luxurious interiors are not limited to design cells now. Anything that gives you a feeling of achieving the ultimate is a luxury for us.
Mr. Sushant Pathak: If you also see, the actual innovation or challenge of the paradigm is happening at the upper end of the strata. It is about feeling the space and coming up with ways to replicate it.
Mr. Gaurav Aggarwal: Now the customers are not limited to a design sense. They want a personal signature and emotional reflection of their personality in their space. To deliver that, one must be very sensible.
Please share your keynotes for the young entrepreneurs of our nation.
Mr. Sushant Pathak: One thing I can say is that I always like to challenge myself. If a certain thing is done in a particular manner, I have a habit of asking myself, 'Why not the other way?'. I believe that the newer generation should start seeing things from different perspectives. Try to think about how things can be done in a completely different way. It has been my driving force!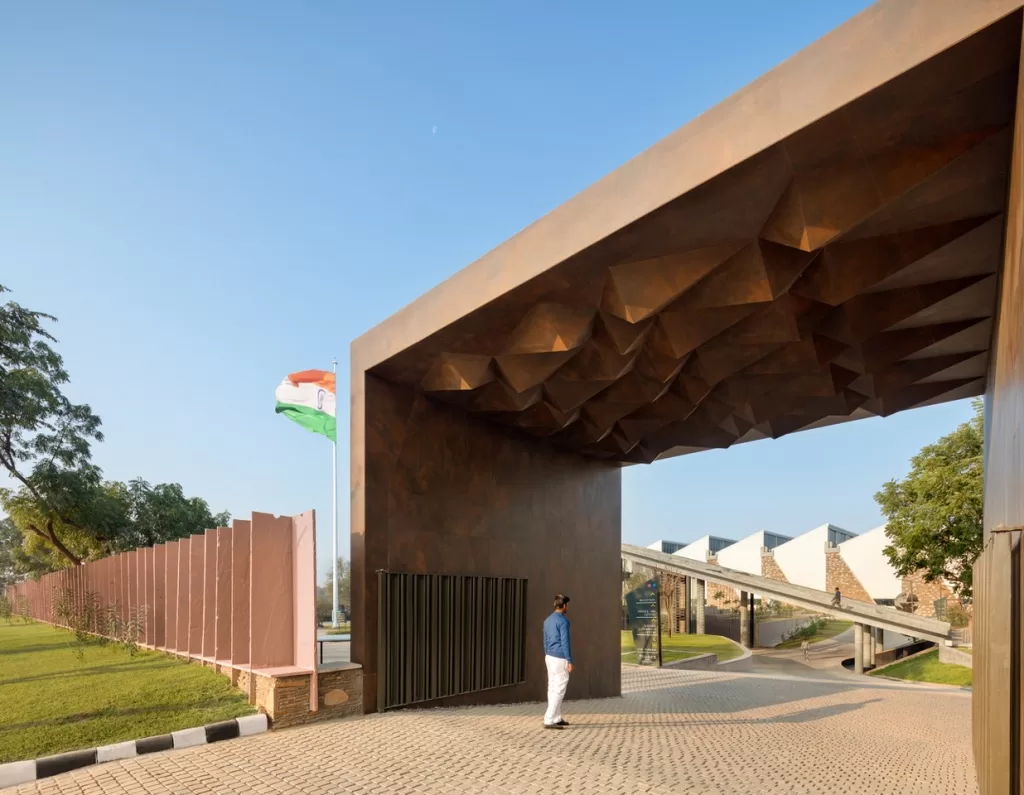 The post Transforming Spaces With Sustainability And Quality | A Sneak-Peak Into The Stonex Legacy appeared first on The Architects Diary.