Delhi, the bustling capital city of India, is a hub of architectural wonders. From historical monuments to modern skyscrapers, the city boasts a diverse range of architectural styles. Behind these masterpieces are of the best Architects in Delhi, rather some of the best in the country who have created stunning designs that stand the test of time. Their innovative ideas, creative solutions, and attention to detail have transformed the skyline of the city. In this blog, we will take a closer look at the Top 25 Architects in Delhi, India who have left their mark on the city's landscape. We will explore their unique styles, notable works, and the impact they have had on the architecture industry.
Check out The Architect's Diary's other exclusive blogs on top Architects and Interior Designers in
Amit Khanna graduated from the School of Planning & Architecture, New Delhi in 2002, followed by a Master in Sustainable Urban Development from the University of Oxford. He is a recipient of the Moira Barrie Award (UK) & held the Kellogg Scholarship at the University of Oxford. He founded and is the design principal of AKDA, a globally recognized multidisciplinary architecture & design firm, based in New Delhi, India. He combines a deep involvement in design with his primary responsibility for the strategic direction of the practice.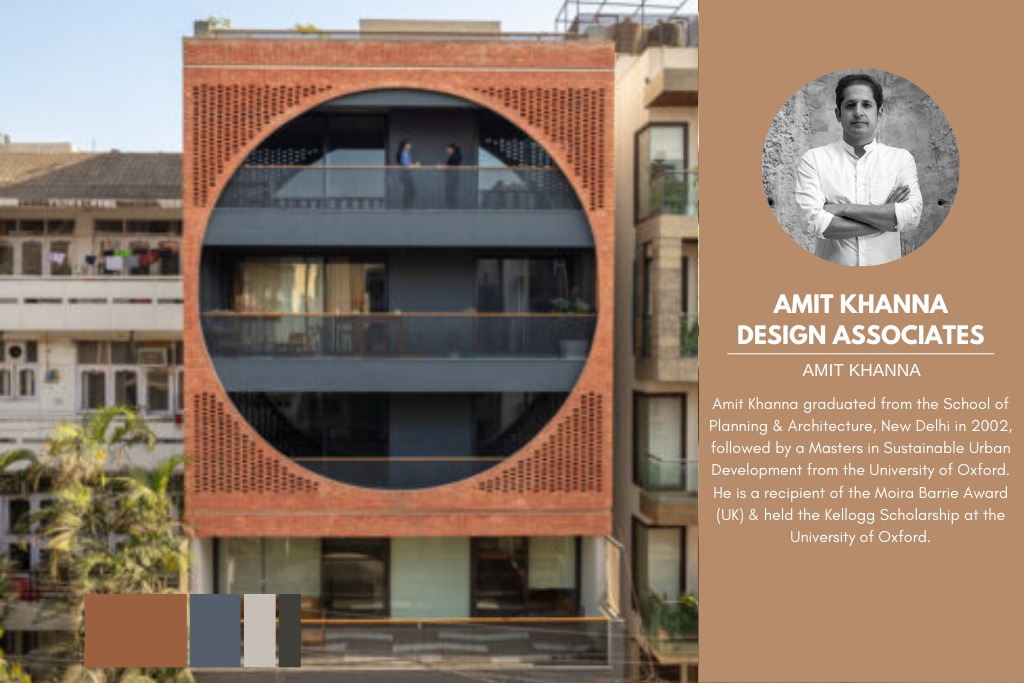 Firm Name: Amit Khanna Design Associates
"An-V-Thot" is a hybrid of two words Anvit (Sanskrit) & thought (English). "Anvit" means followed by so, it's actually a studio followed by a thought.
With numerous awards and international recognition across leading media platforms, Delhi-based Studio AVT is the face of an immense passion-driven team of young designers tethered & focussed towards the craft of making lives more LIVEABLE through their designs.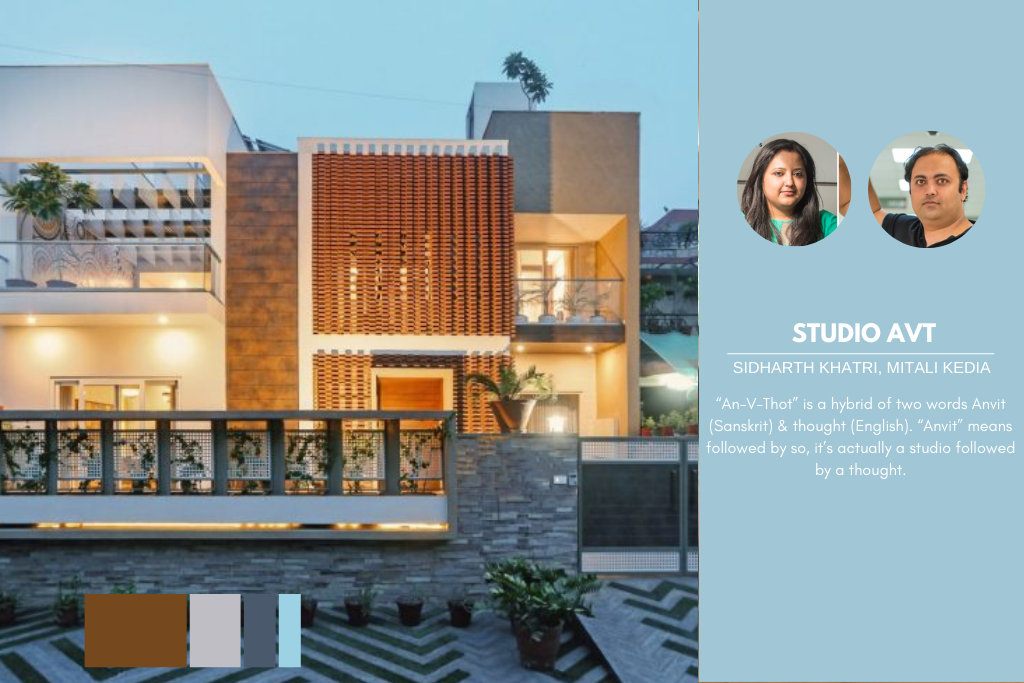 Firm Name: Studio AVT
Studio Symbiosis is an architectural, master planning & interior design studio based in Stuttgart Germany, and Delhi NCR India involved in projects of various scales and sectors. The design philosophy is to create integrated design solutions imbibing amalgamated, efficient, robust, and sustainable designs leading to performative architecture. The research and intent of the practice are to create a performance as a design driver, to achieve Sustainable and Smart buildings.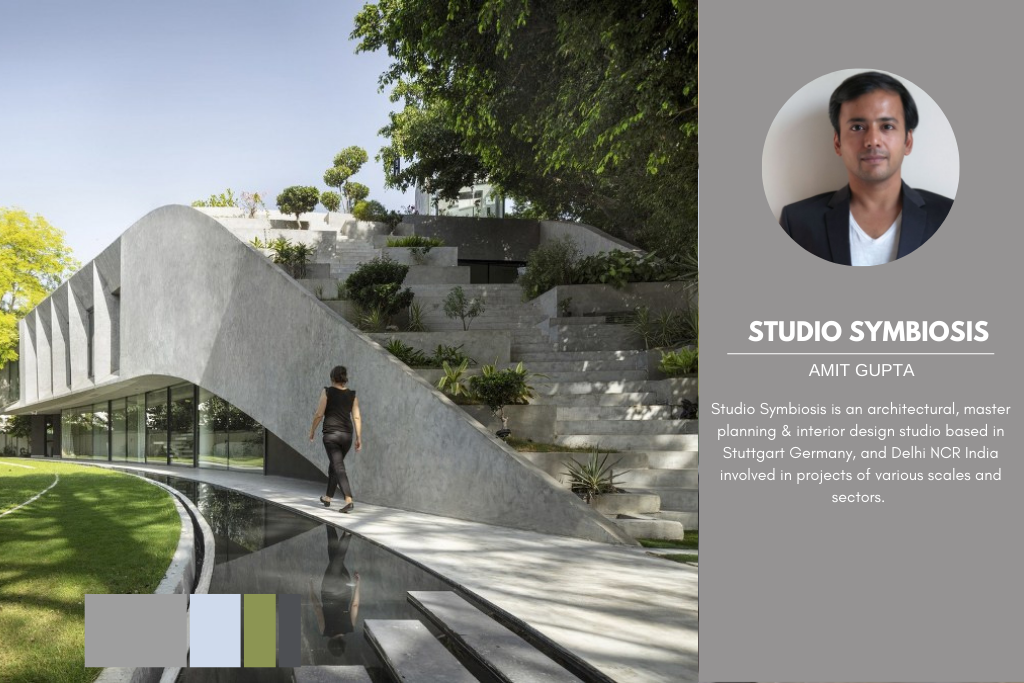 Firm Name: Studio Symbiosis
Started in 1969 with a vision to redefine architecture and planning in India, CPKA is one of the most revered architectural firms in the country. A multidisciplinary Architectural firm based in New Delhi, India, we have a portfolio of 1000+ projects, 200 + employees, and have worked with clients from more than 30 countries in the last 50 years of practice. Our firm is ranked among the Top 100 architecture firms in the world and the Top 5 in Asia.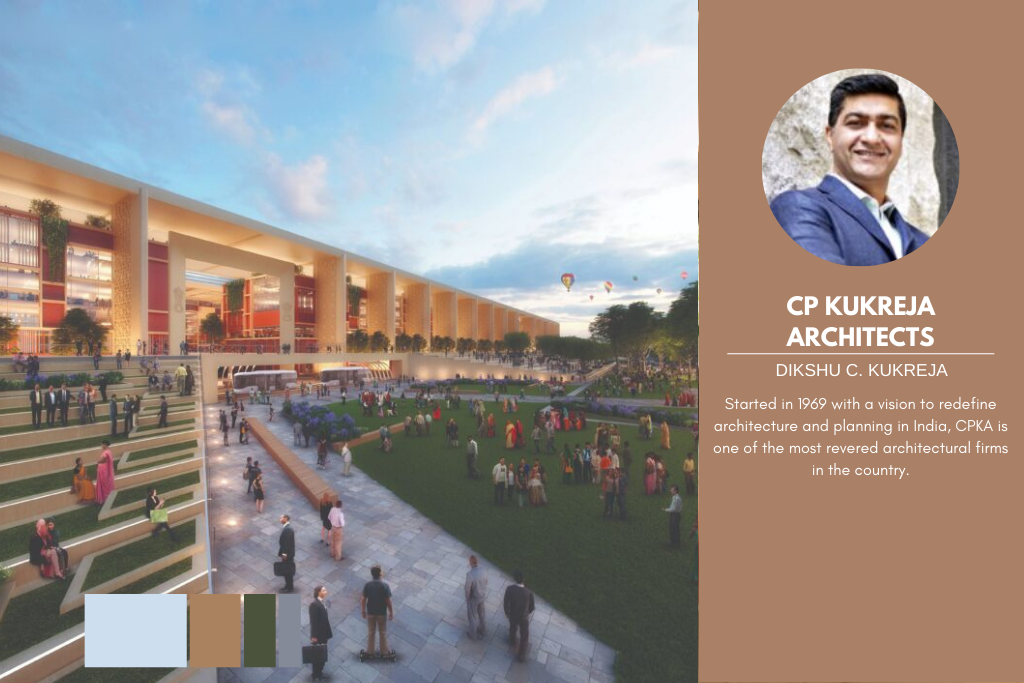 Firm Name: CP Kukreja Architects
Creative Designer Architects (CDA) is an interdisciplinary architectural practice that is an established design leader in healthcare, commercial, and retail projects. With an international team that has successfully delivered over 150 projects, CDA has a trusted clientele of more than 120 entities that continue to engage in fruitful partnerships with the firm. The design process across projects is driven by a core purpose: integrating innovation, adaptability, and sustainability to create transformative spaces for people, organizations, and businesses.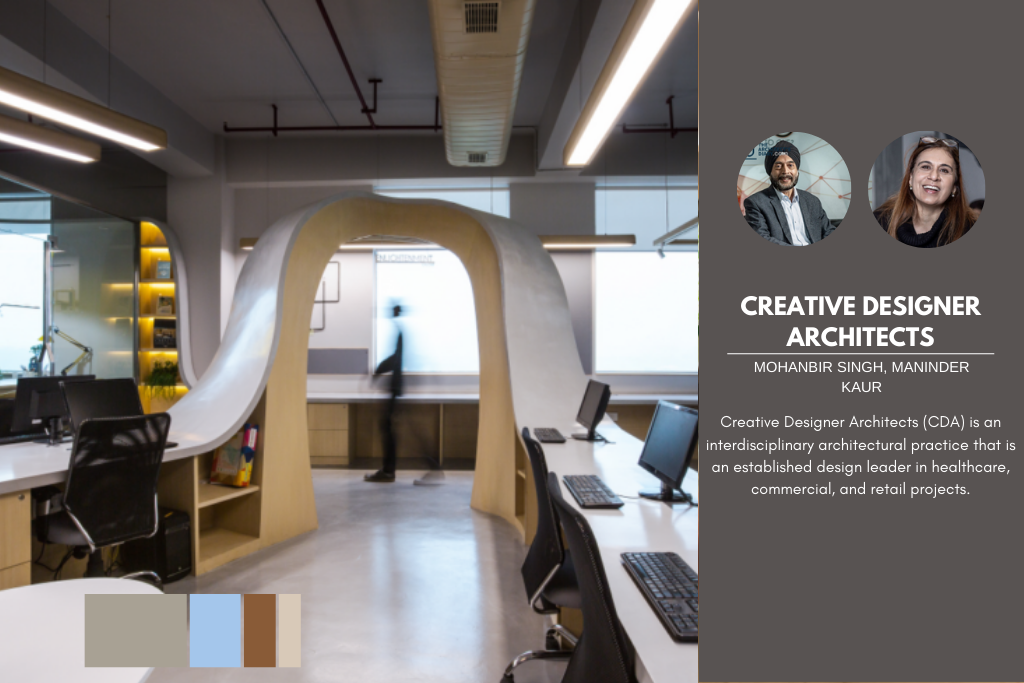 Firm Name: Creative Designer Architects
Studio IAAD is an award-winning architecture and interior design firm located in India's millennium city, Gurugram. Founded in 2007 by Rachna Agarwal, Co-Founder, and Principal Architect. We are a multi-disciplinary practice committed to creating memorable spatial experiences. The studio has provided lauded interior space articulation for a diverse range of projects, including offices, retail stores, experience centers, hospitality spaces, clubs, cinemas, institutes and residences. Our design philosophy is centered around seamlessly blending function and aesthetics, and evolving our design's past established paradigms to best fulfill our client's visions.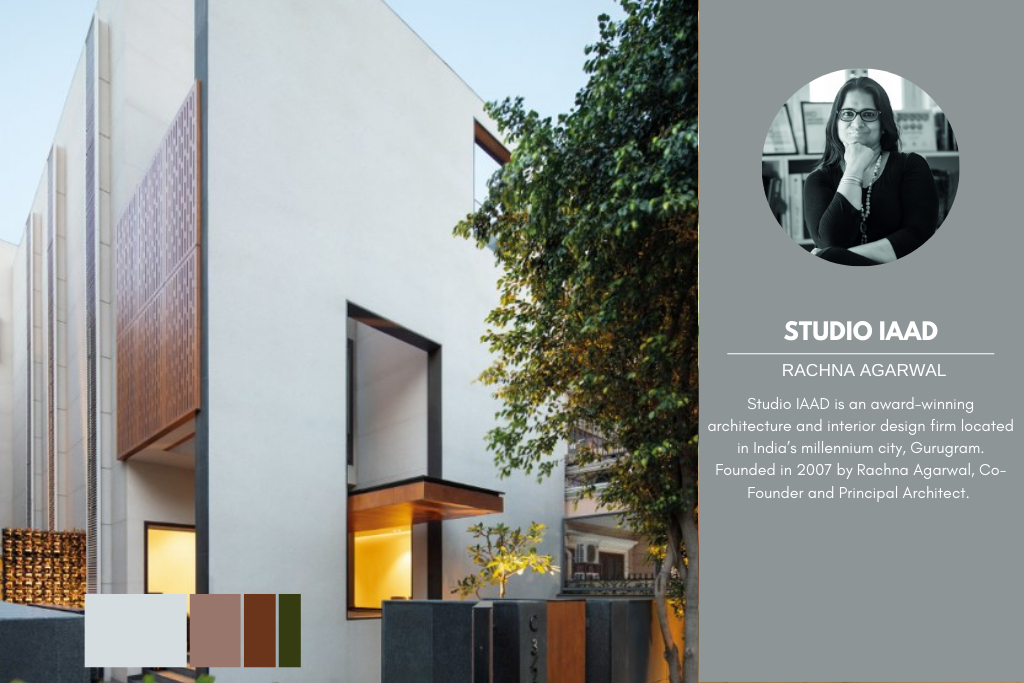 Firm Name: Studio IAAD
The urge to be applicable, to eliminate monotony, and attention to detail is of utmost importance to us. We at Riwaas intend to transform the lives of its clients by providing a space that is wonderful, luxurious, and comfortable yet practical with the only constant being luxury and elegance.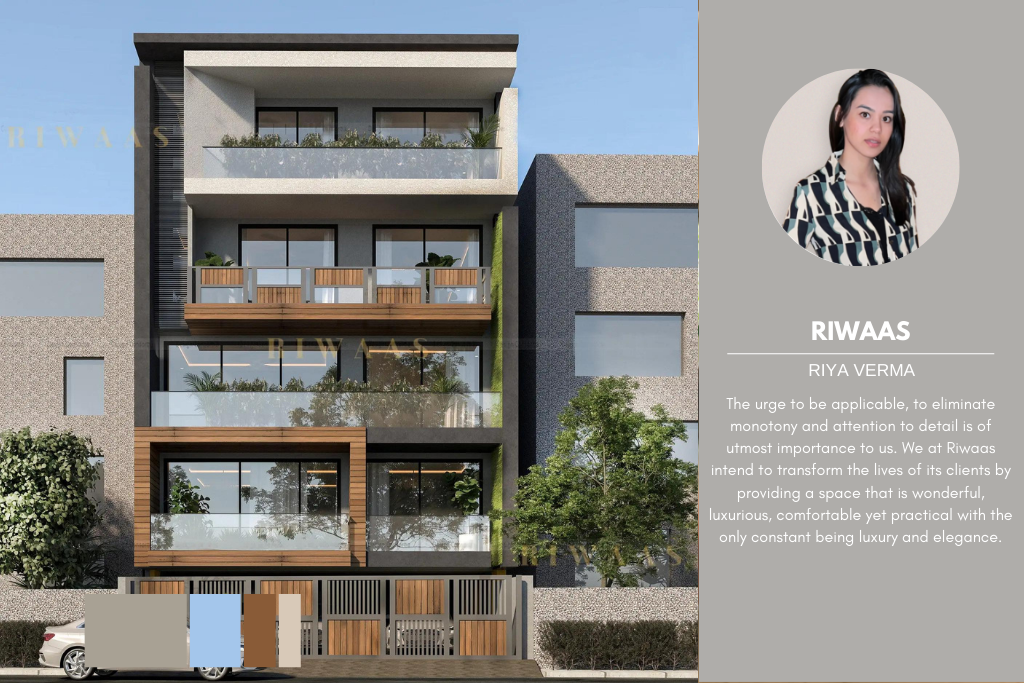 Firm Name: Riwaas
Studio Ma:Ya is a young dynamic studio in New Delhi delivering ambitious living spaces that combine functionality, sustainability, and aesthetics with elegance. The studio relishes current trends, and lifestyle patterns and amalgamates them into day-to-day living scenarios. We as a studio fulfill the requirements of the clients in a symbolic manner to stand as a landmark at a spatial scale.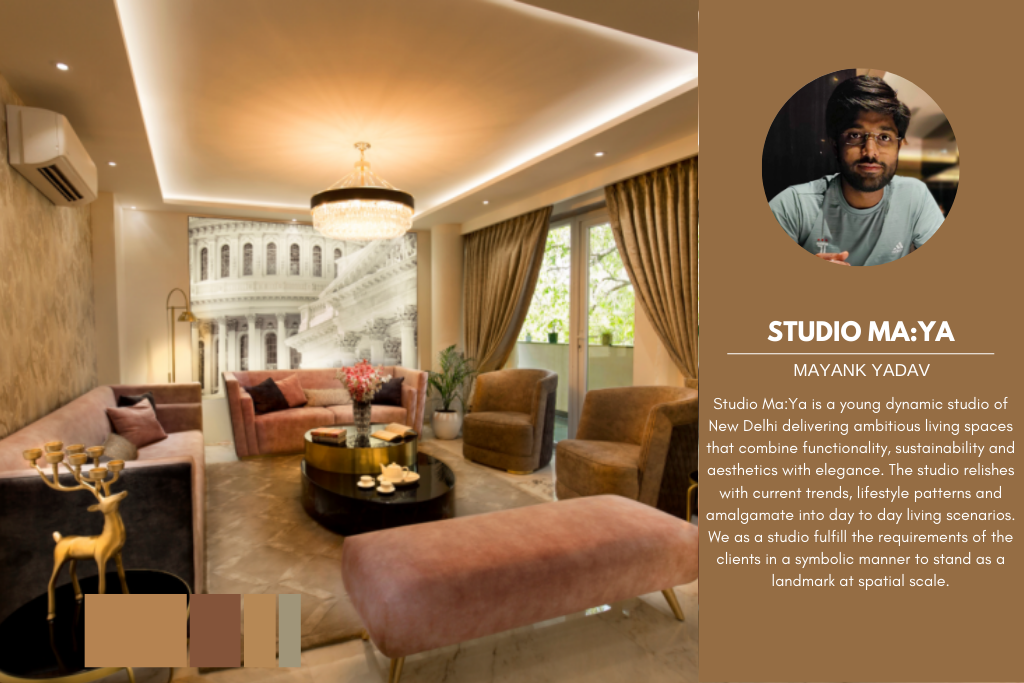 Firm Name: Studio Ma:Ya
We are specialized in High-End B2B projects such as innovative offices, experience centers, and hospitality and boutique retail chains. We offer global turnkey processes from conceptual design to execution at the site, including technical development and production. We maintain a close working collaboration with the different stakeholders, involved with us on the building sites.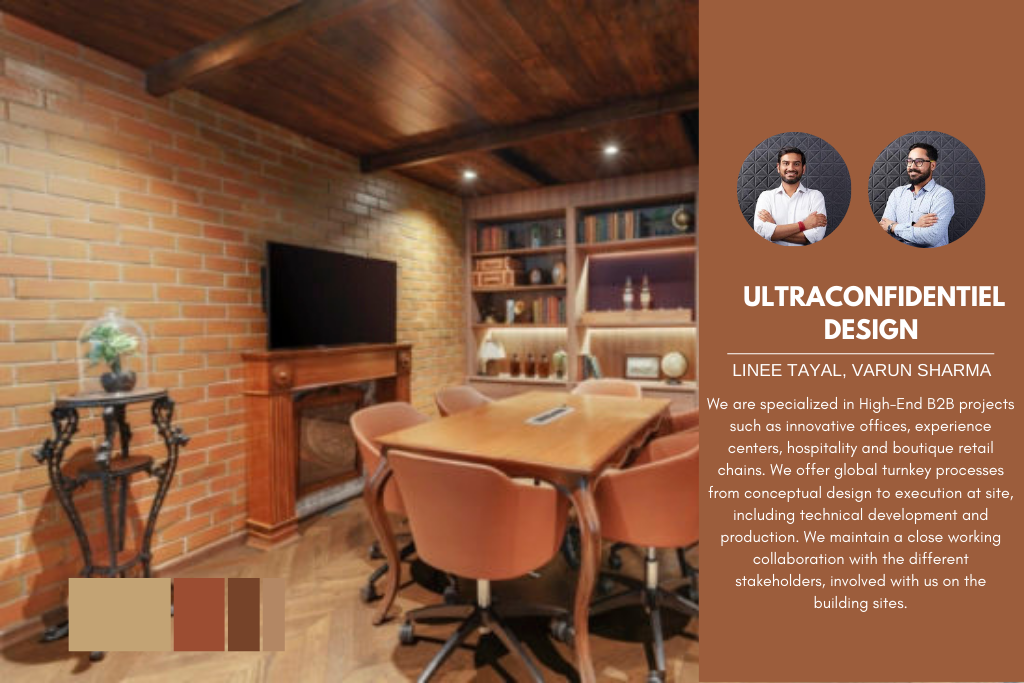 Firm Name: Ultraconfidentiel Design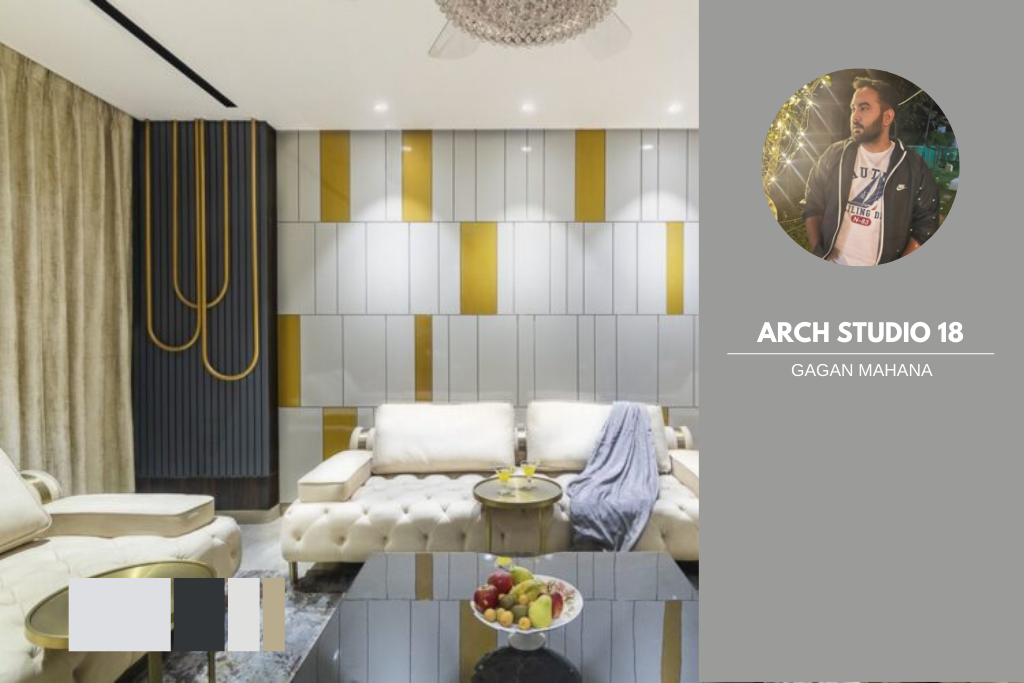 Firm Name: Arch Studio 18
We specialize in telling a brand's story to its consumers using the art and science of design thinking, architecture, interior design, visual merchandising, communication, phy-gital technology, and engineering and assist in realizing them in its environment.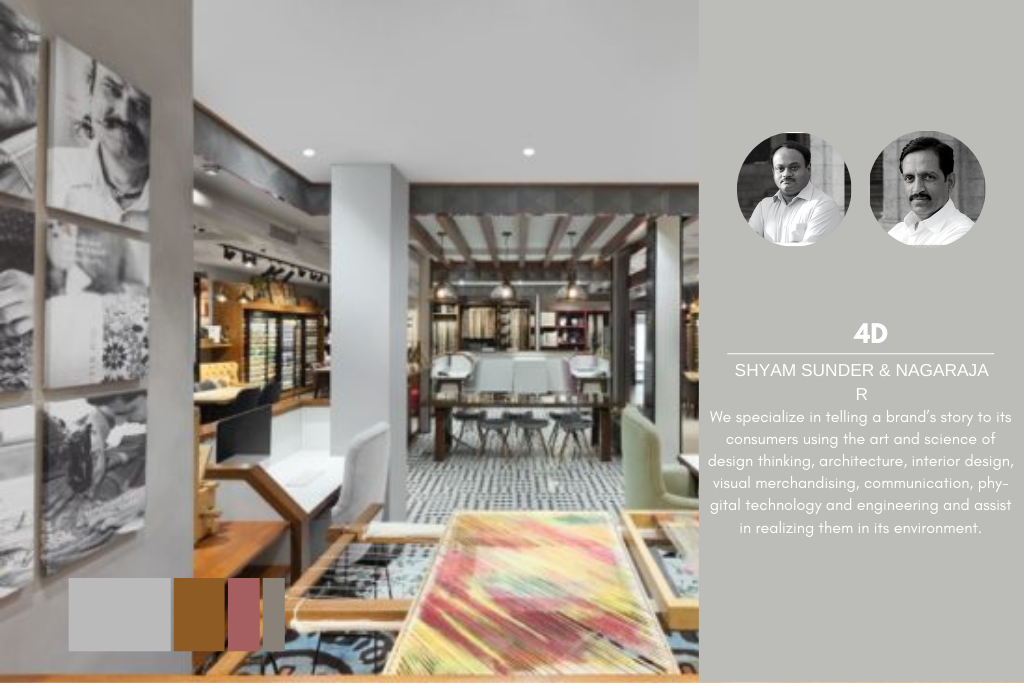 Firm Name: 4D
Cityspace' 82
Sumit Dhawan, the Principal Architect of Cityspace' 82 has been a forerunner in residential and commercial design across India. Known for his eclectic facades, his aesthetic sensibility has found its way to design the celebrity homes of cricketer Yuvraj Singh, Gautam Gambhir, etc.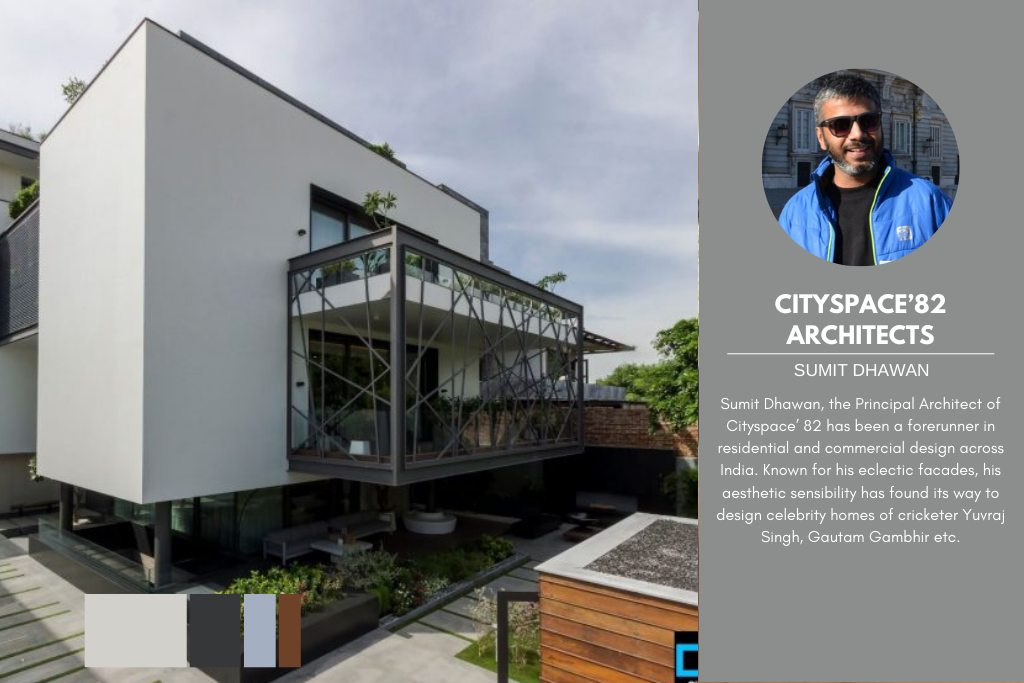 Firm Name: Cityspace' 82
Inspired by modern and eclectic design, we unite different ideas to produce unique, serene interiors that elevate the meaning of Luxury.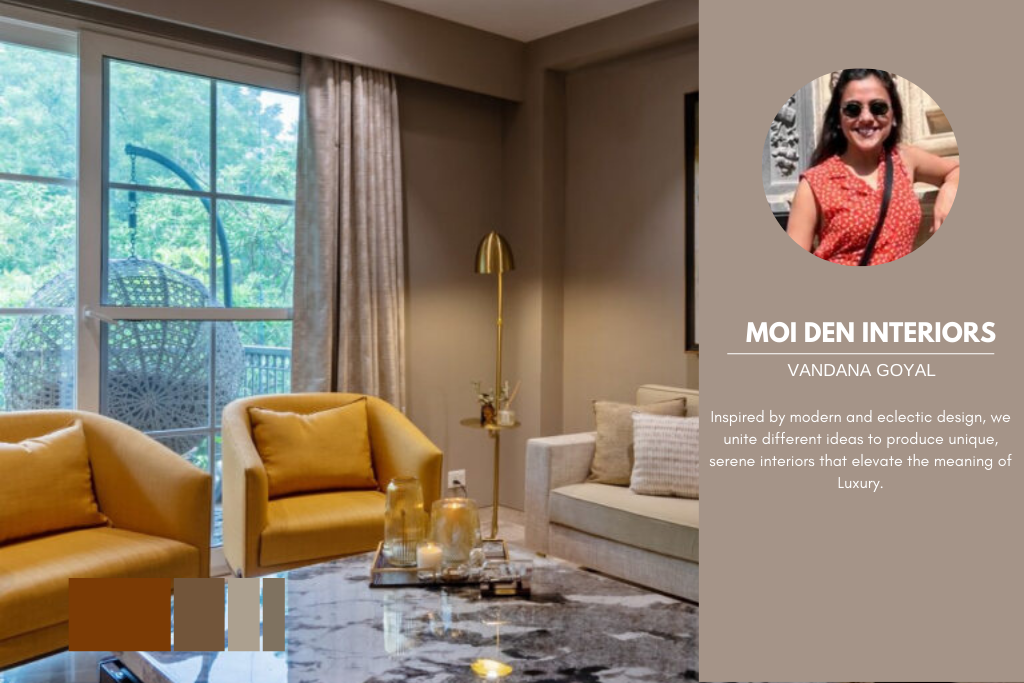 Firm Name: Moi Den Interiors
We see a successful design as being equally responsive to programmatic fit, aesthetic values, and an informed position in the world of ideas. The lively interaction between these must be carried out through a process of communication that involves all, to result in a robust design.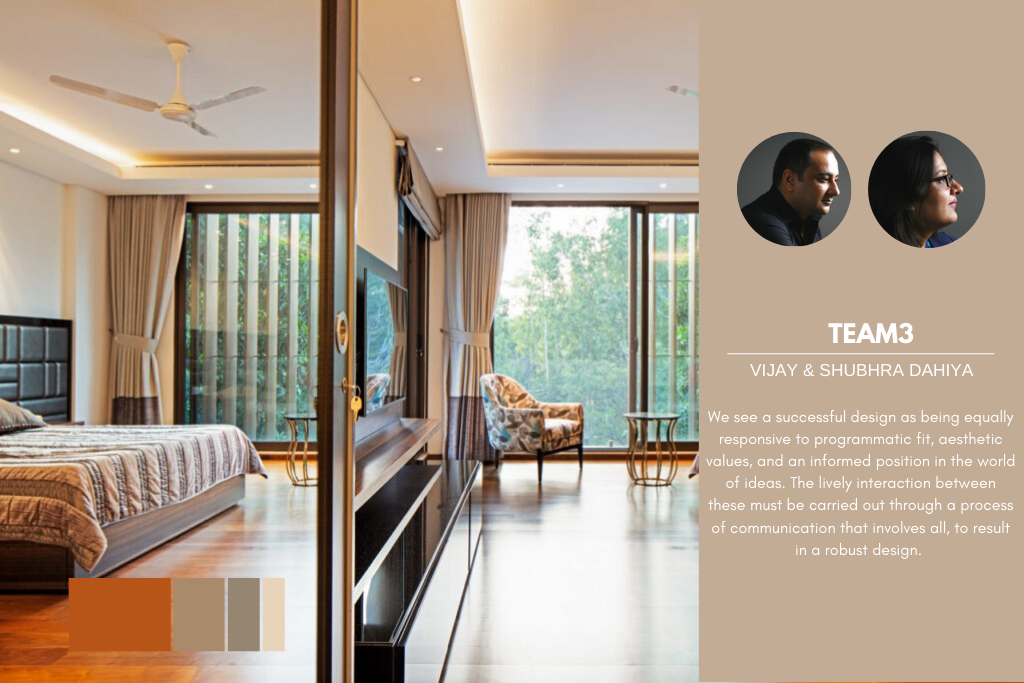 Firm Name: Team3
BDAA Architects was established in 2017 in Noida, India. It was born out of a passion to transform spaces of any scale, friendly to the user and the environment. Our aim is to find balance in a space that responds to the user and its surroundings. In addition to projects of Residential, Industrial, retail, and workspaces, we are also passionate about creating public spaces to complement the Urban fabric of that space.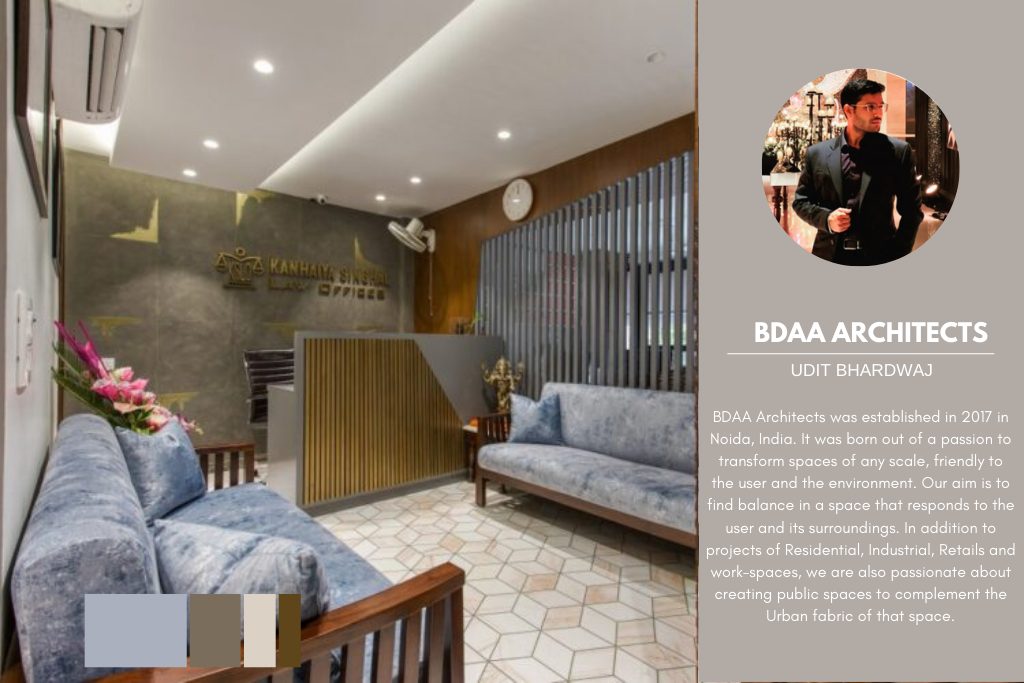 Firm Name: BDAA Architects
Our team at Portal 92 desires to create works to defy stylistic categorization, focused on creative solutions and innovations centered around Architecture Design, Landscape Design, and Interior Design. Founded by Sagar Goyal and Aanchal Sawhney, The studio combines architectural research, practice, and artistic expression to provide bespoke holistic/design Solutions.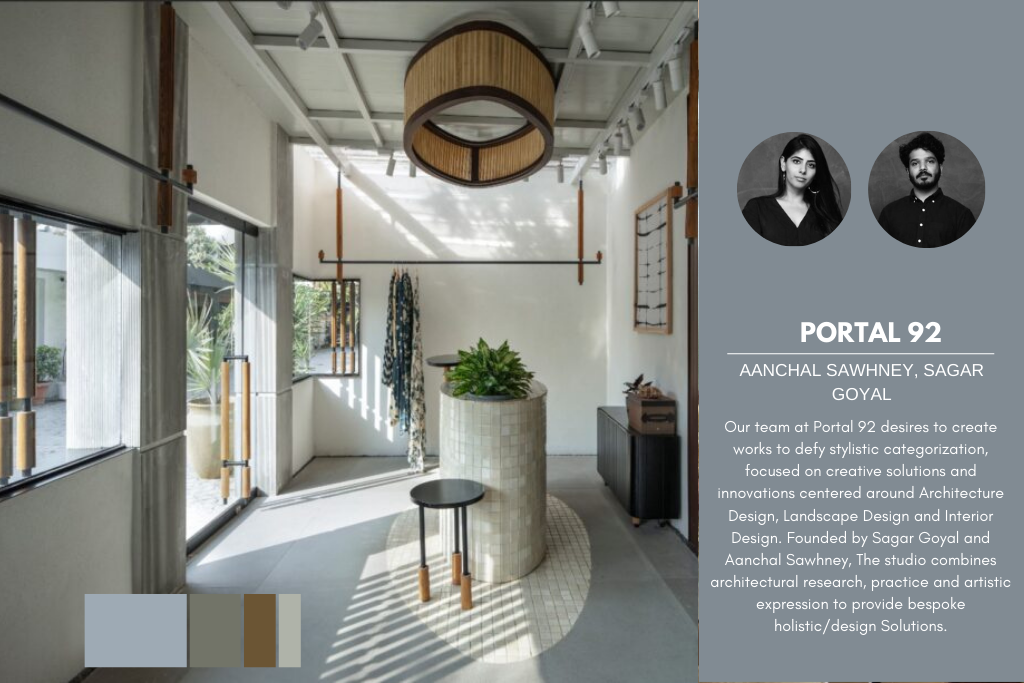 Firm Name: Portal 92
Hashu Associates each project as a new design exercise that requires a fresh perspective and an open mind. our design approach is also towards vastu and reconnecting architecture with nature, making optimum use of space, natural materials, lighting & landscape to reinvent and transform living environments and urban spaces.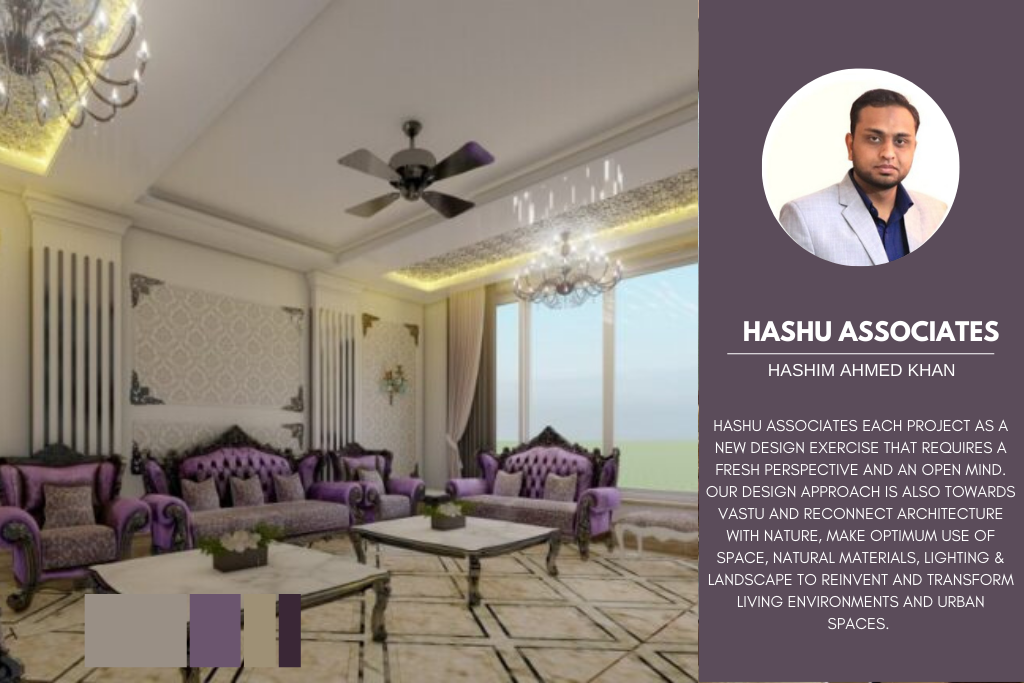 Firm Name: Hashu Associates
We are a Delhi-based Architecture and Interior Design Firm.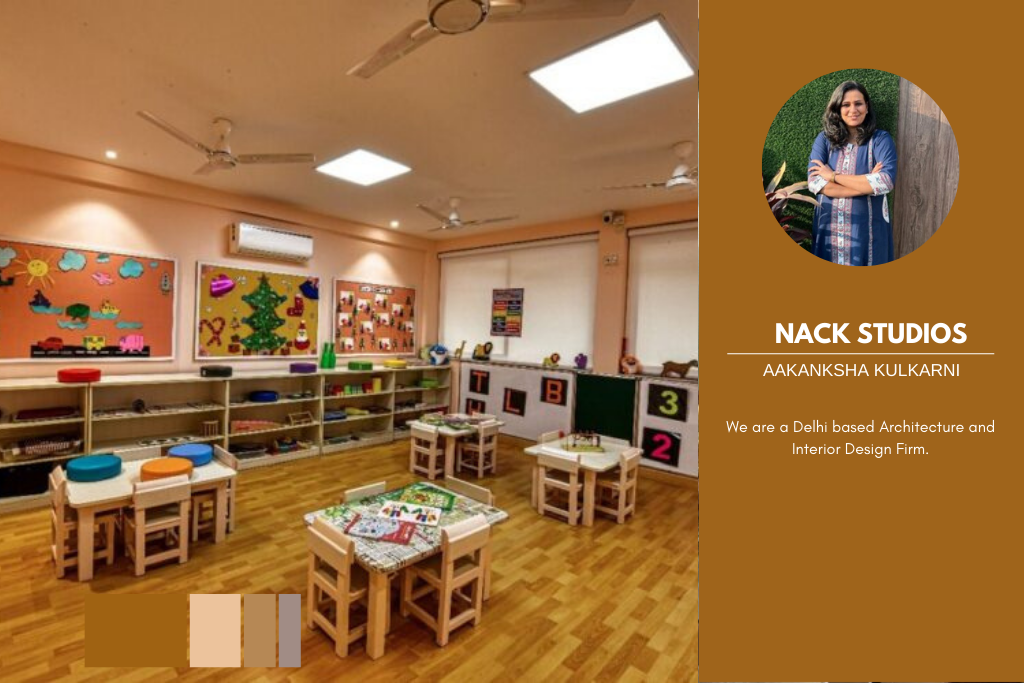 Firm Name: Nack Studios
Design Pendulum is a spatial design firm providing housing, architecture, interior design, and exhibition design consultancy. The firm is also engaged in related design disciplines at the ends of the scale spectrum, namely landscape urbanism and furniture design.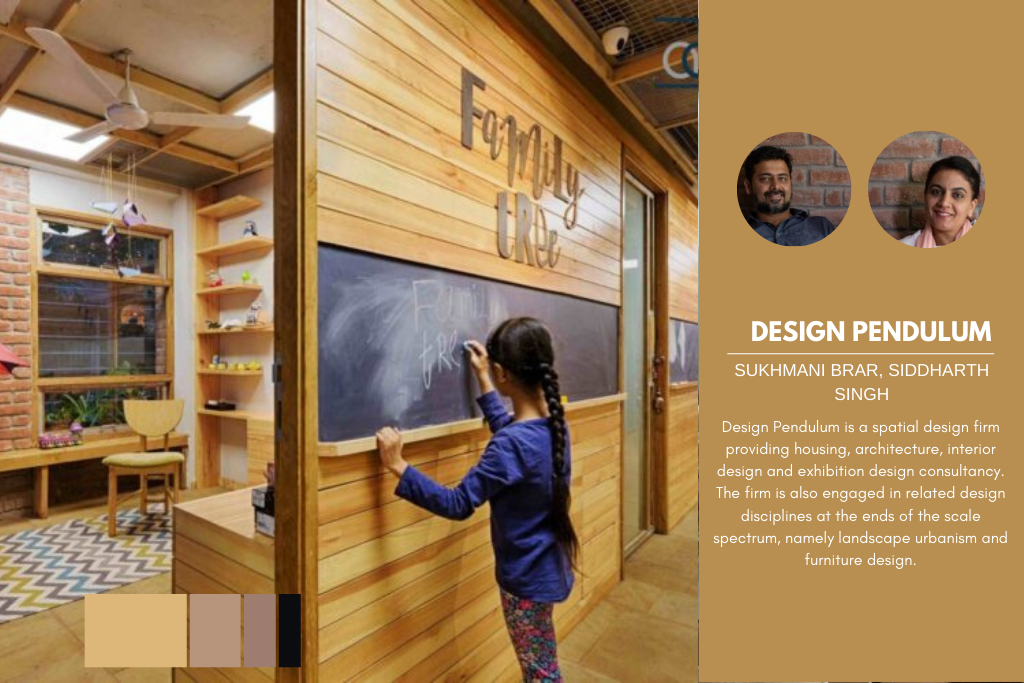 Firm Name: Design Pendulum
Commencing formal operations in 2007, Envisage was formed by two partners – Meena Murthy Kakkar and Vishal Kakkar, graduates of the esteemed School of Planning and Architecture, Delhi. As an interior and architecture firm that specializes in Design and Build projects, the firm offers turnkey solutions from conceptual design to execution.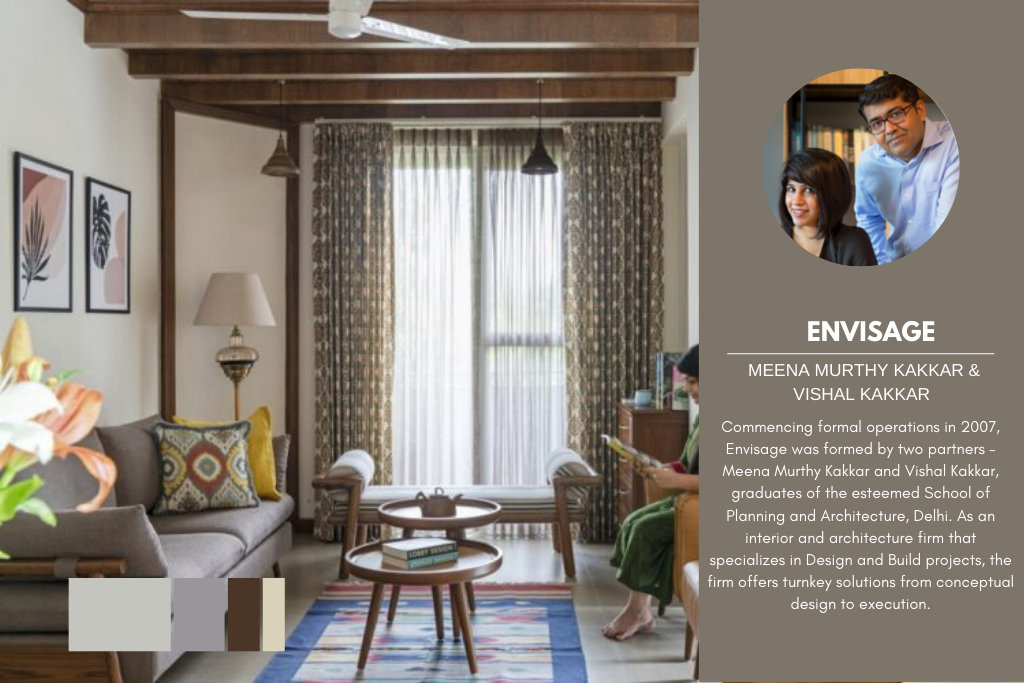 Firm Name: Envisage
Since its inception in the year 1996, group DCA has been focused on its approach as a skillful balance of talent, experience, and hard work. The studio provides services in Architecture, Interior design, and Design Coordination across a wide range of building types including Workspaces, Residences, Retail, and Hospitality.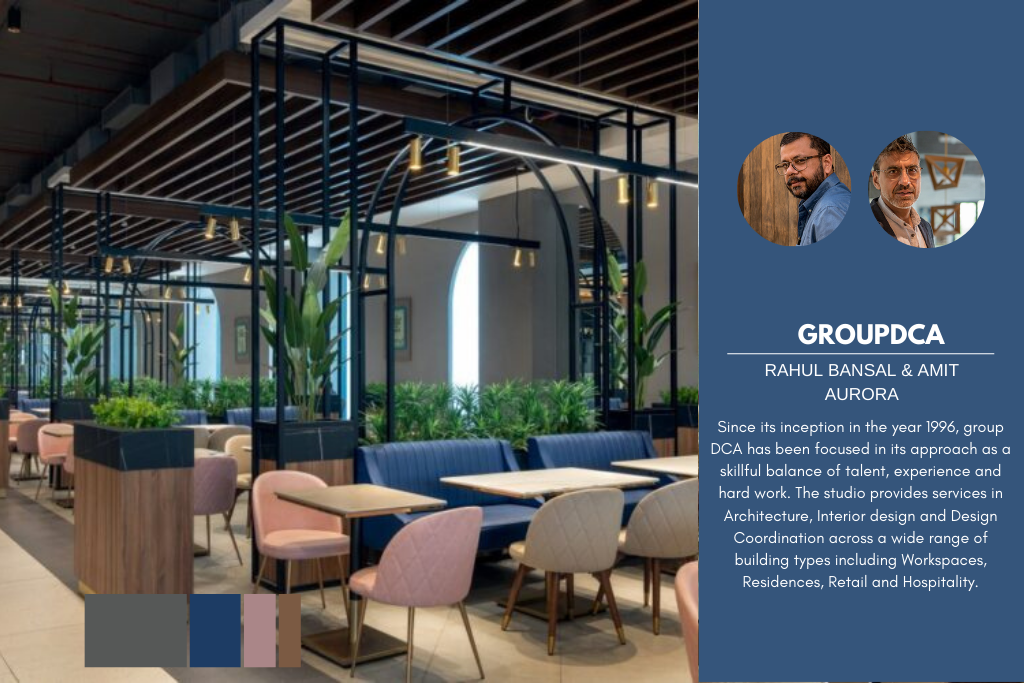 Firm Name: groupDCA
flYingseeds is a pragmatic practice by an aspired interdisciplinary team of young Architects and designers who are passionate about innovation in designing and crafting spaces for living, work, and leisure. We learn and share.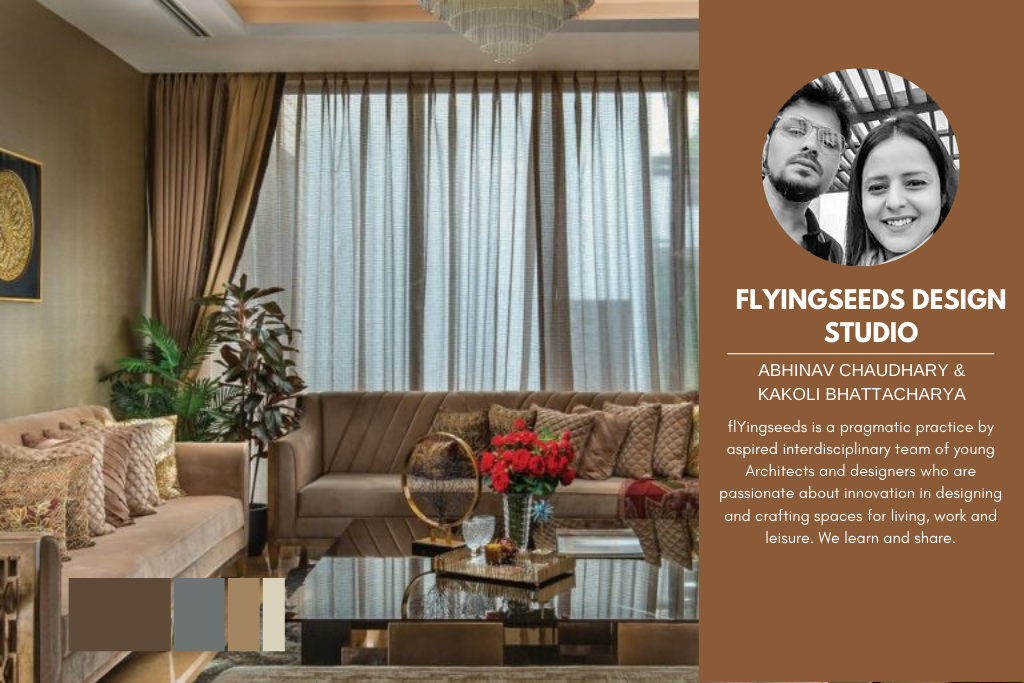 Firm Name: Flyingseeds design studio
Firm Name: GeoGreen Architects
J+AM STOREY is a multidisciplinary design practice based out of New Delhi, led by Architects Amit Bhatia and Jaanshi Bhatia. Our pallet of work covers a variety of commercial, residential, and office projects. Team J+AM incorporates a pool of talented architects, skilled site supervisors, and interior designers who practice comprehensive design and are committed to producing innovative works.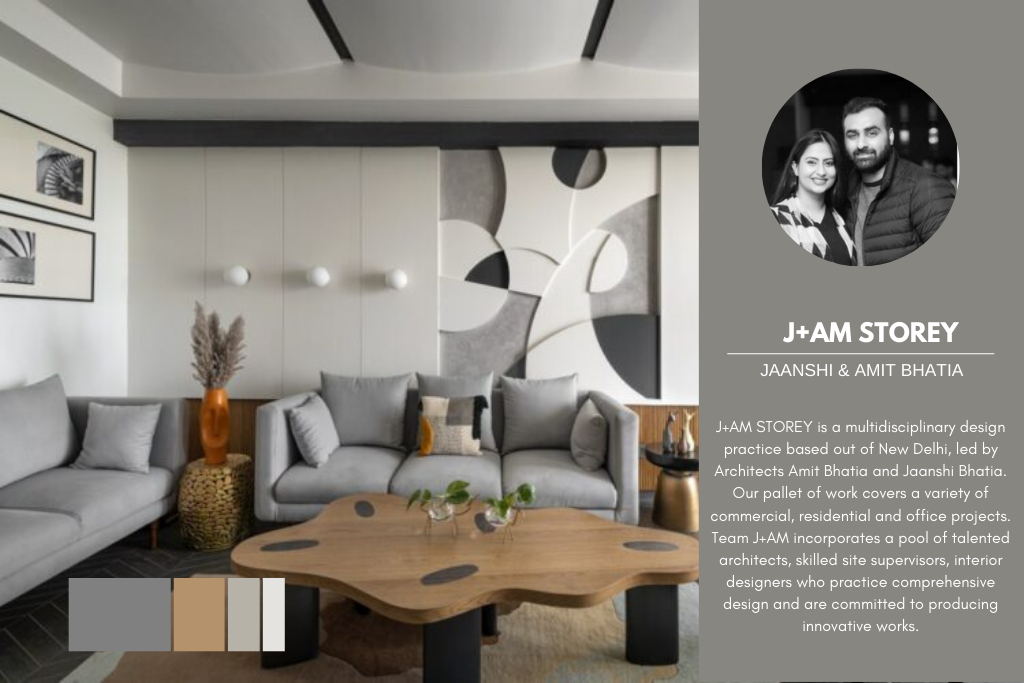 Firm Name: J+AM storey
Design Ethics Architecture Studio
At DE studio, we all come to work every day because we love to get involved in the design process. We offer design solutions based on an unbiased perspective and strive to inculcate essential aspects by putting ourselves in the shoes of the end user. We give thoughtful insight into our daily experiences.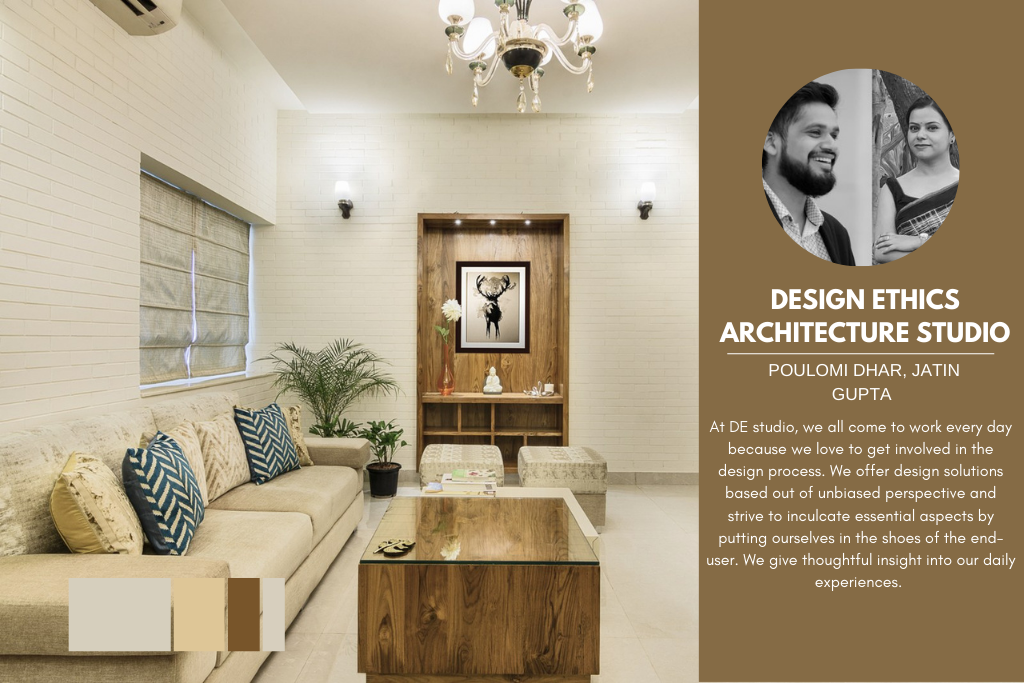 Firm Name: Design Ethics Architecture Studio
This feeling of balancing our opposing personalities and design styles is what led us to call ourselves Studio Bipolar. We are an award-winning architecture & interior design firm focused on creating spaces that are living art.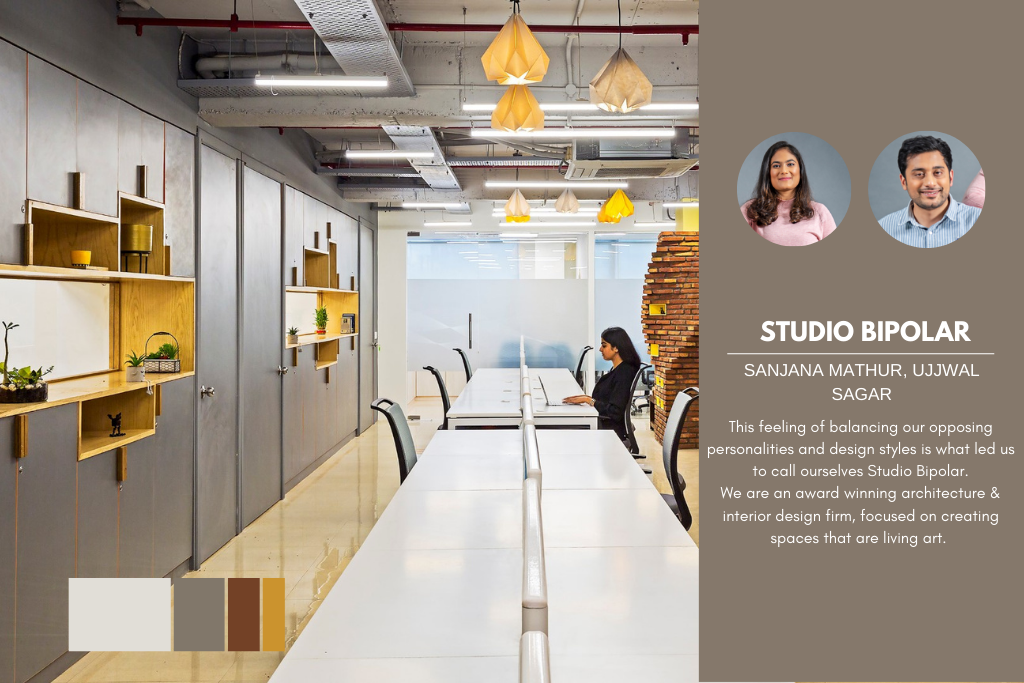 Firm Name: Studio Bipolar
Delhi Collective is a young multi-disciplinary design studio started by Sidharth Khatri and Mitali Kedia. The studio works across various scales and disciplines. We actively solve problems through design thinking and develop human-centered design solutions. Our philosophy is to create adaptive and sustainable designs with respect to their socio-cultural context. We offer total design services customized and accommodated to clients' requirements.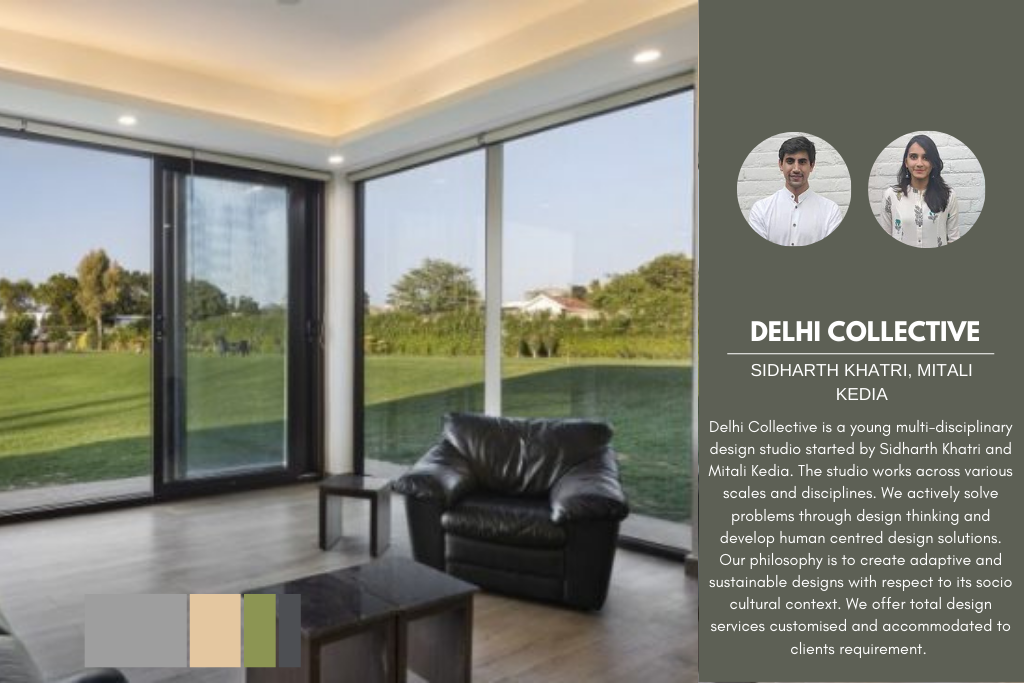 Firm Name: Delhi Collective
In conclusion, the leading architects in New Delhi have made a significant impact on the architectural landscape this year. They have pushed the boundaries of creativity and design, bringing a fresh perspective to the industry. With their innovative use of materials and incorporation of sustainable practices, they have created architectural masterpieces that not only look aesthetically pleasing but also serve a functional purpose. These projects have become a source of inspiration for many aspiring architects and have set a new standard for future developments in the region. It is evident that the work of these leading architects will continue to shape the architectural landscape of New Delhi for years to come.
Check out The Architect's Diary's other exclusive blogs on top Architects and Interior Designers in
Content Curated By Ankita Sharma, Editorial Team, The Architects Diary
The post Top 25 Architects in Delhi, India appeared first on The Architects Diary.