This weekend house is an epitome of refined & stylized simplicity with contemporary design. This 2BHK getaway designed by "Design Salt Studio" is glamorous in all its glory and greys. Resided within a rich splendour of greenscapes, serving as backdrops to outdoor semi open spaces such as bar & kitchen and a gazebo to enjoy and experience the nature around.
This Weekend House An Epitome Of Refined & Stylized Simplicity With Contemporary Design | Design Salt Studio
VISIT : Design Salt Studio
Drawing inspiration from brutalist architecture, the design of this house sees a lot of lines, extruded voids & rigid geometry, to create an unique juxtaposition with its rather organic surround.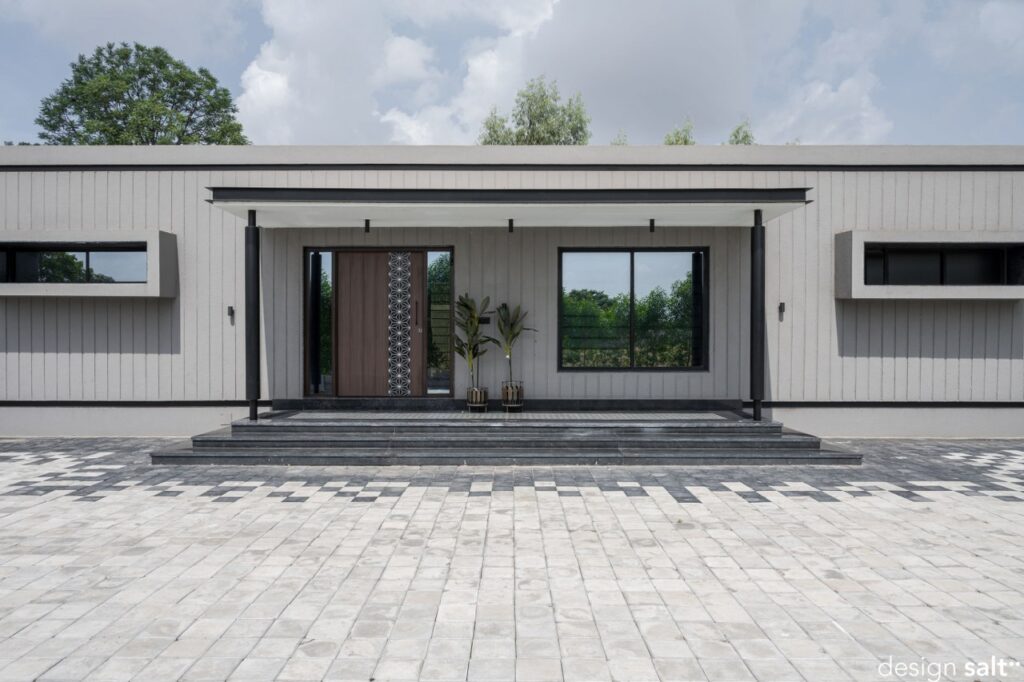 A grey haven within a green setting – the landscape design in response to the architecture of the solid structure is planned consciously to accentuate the built form.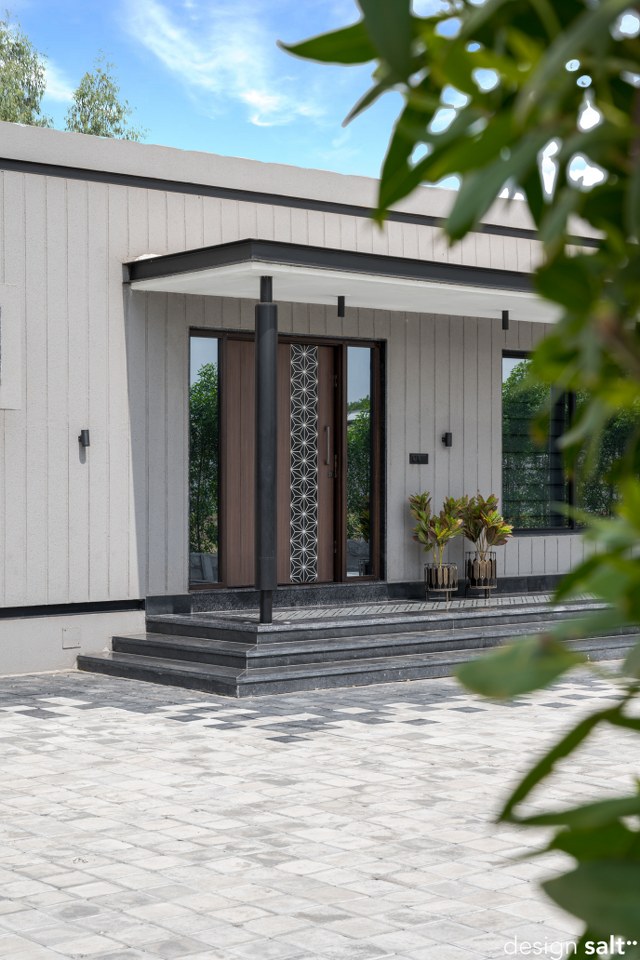 The interior design of the house at its first glance resonates to contemporary design which is revealed at the simple yet solid living space. Written with the hues of white, the space carries a careful balance of colours and materials.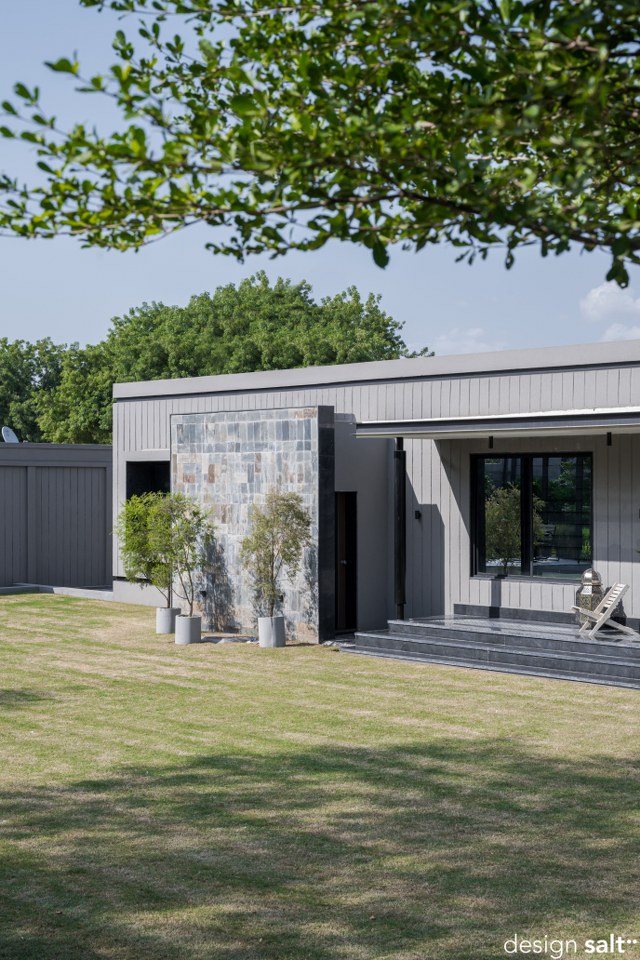 The outdoor bar and kitchen are an eventful extension of their internal counterparts. Studded in black, greys & white – the semi open space becomes the centre stage for any and every gathering.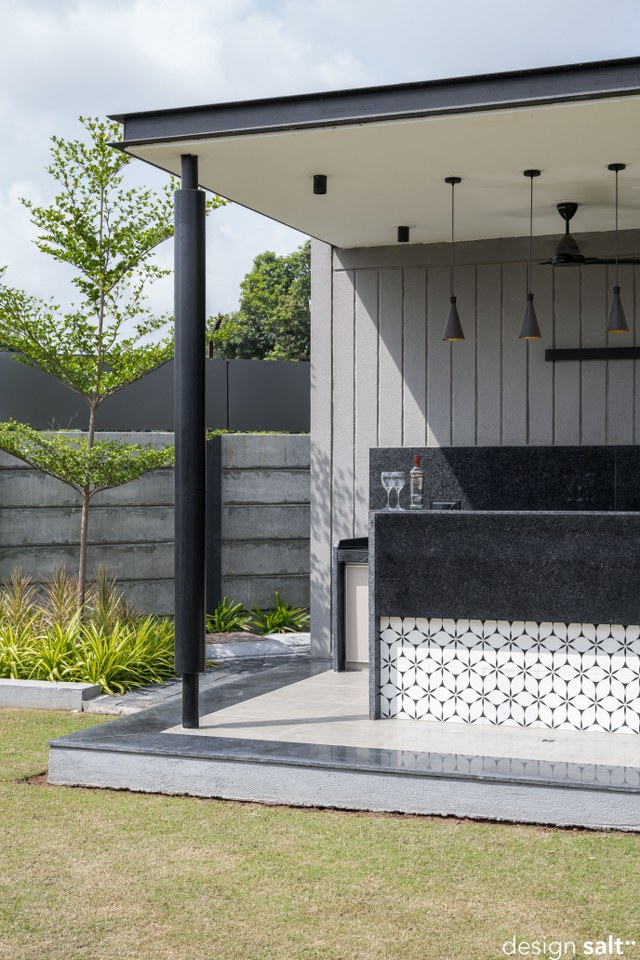 The kitchen and dining is designed as a medium to fan the client's trait to host. The lively and mod kitchen sets an ambience to enjoy a meal, gather for potlucks and spill some laughs. The irregularity of teak contrasts and compliments the linear ribbed envelope of the kitchen.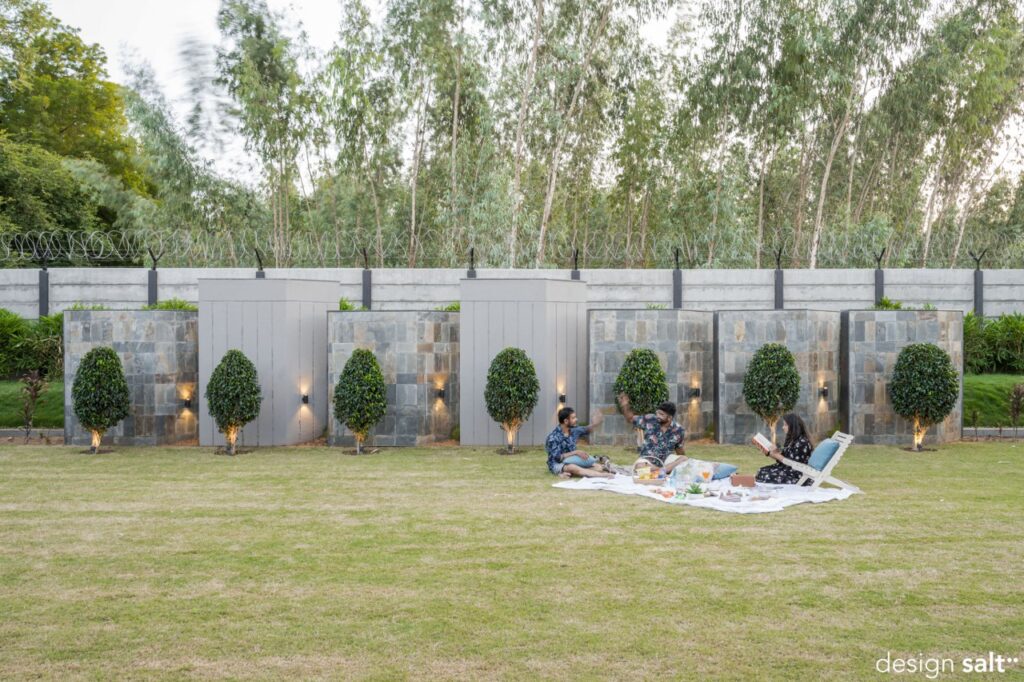 The resin table top for the dining is the focal attraction accompanied by stylish armchairs. The space in entirety sets a vibe of resemblance and familiarity to make one sit and savour through all the senses.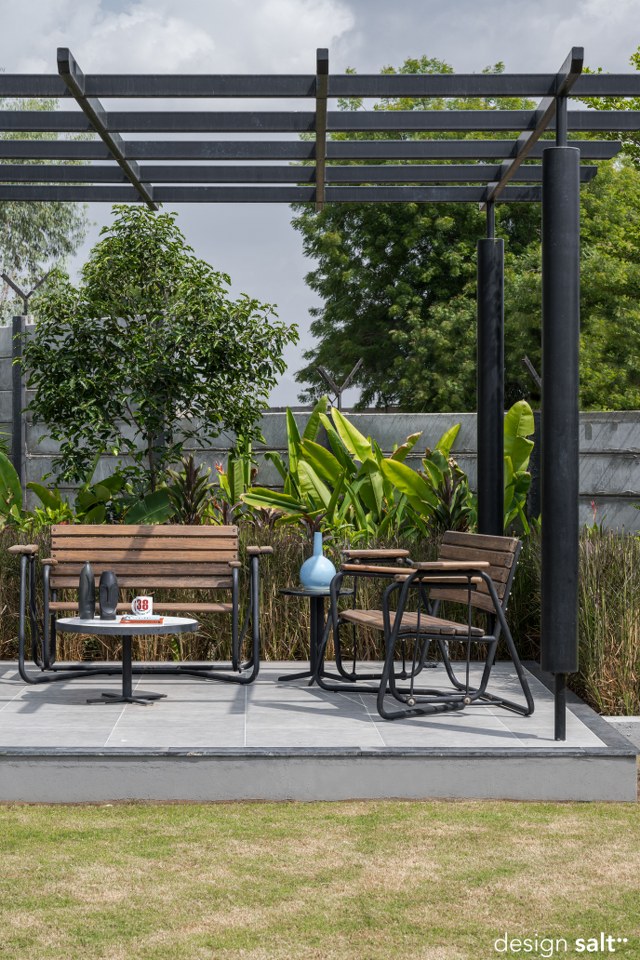 One of the outdoor spaces of this blissful weekend house is a gazebo. The shaded structure stands tall yet becomes one with its context & landscape, presenting a multivalent pocket for the residents to have evening chai or to just simply unwind.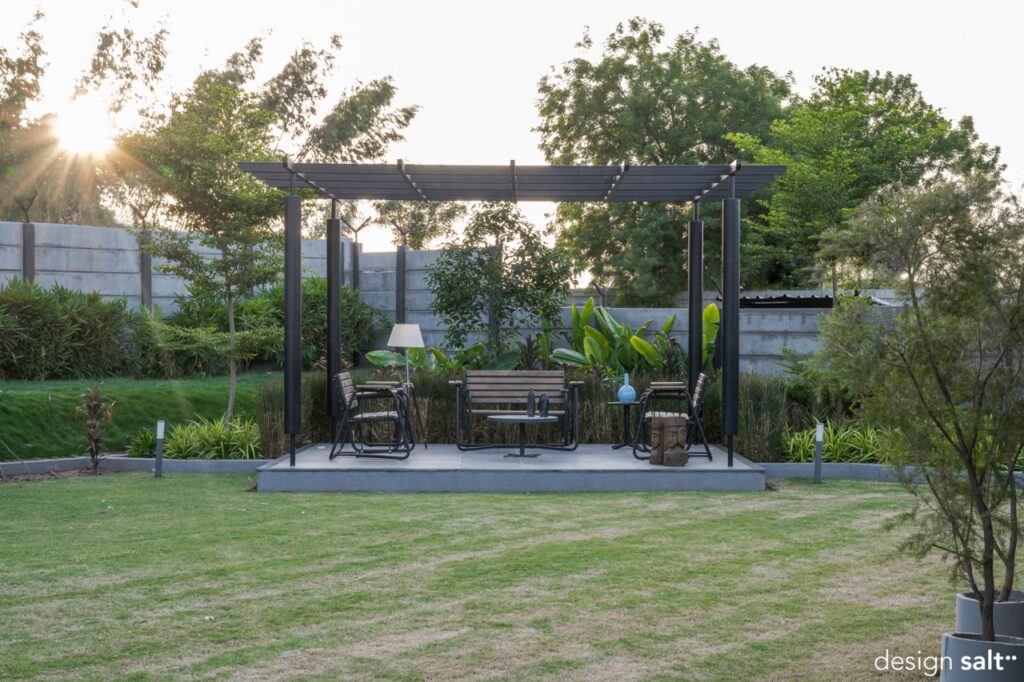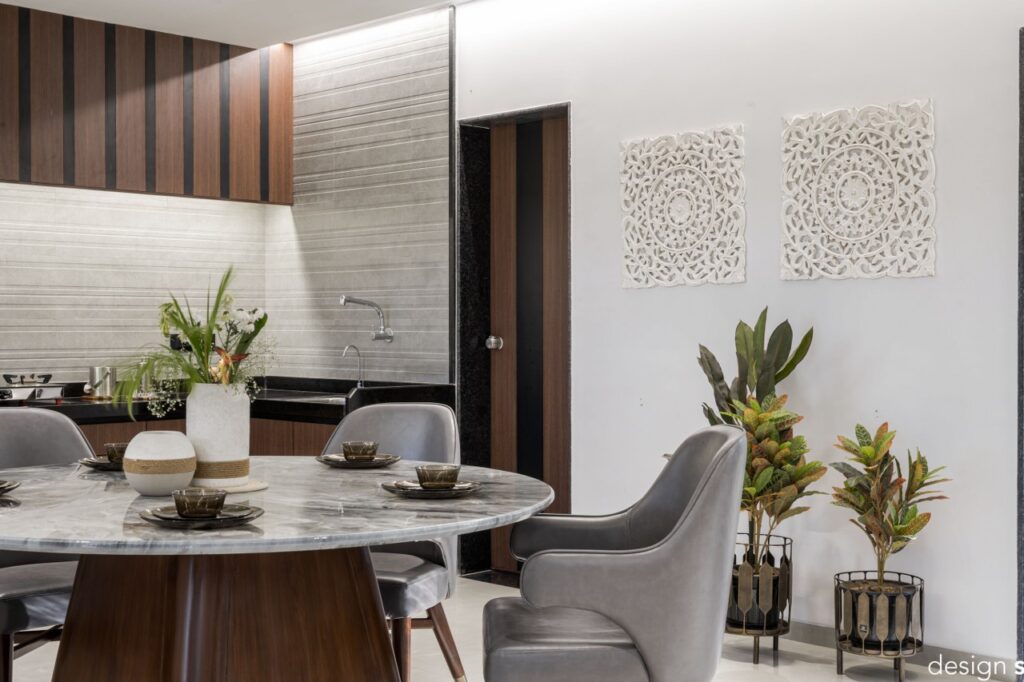 Master room of this residence is a space tailored to align with the client's aesthetics to perfection. A humble yet stylish private enclosure set in the palette of neutrals – to correlate with the collective residence.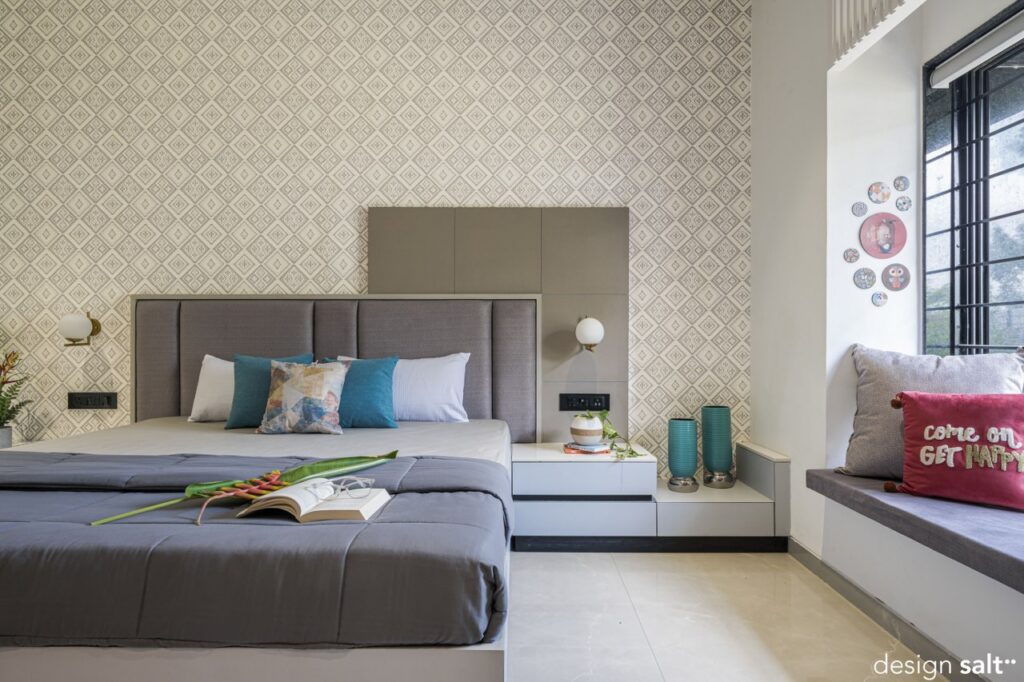 With patterned wallpaper, mellow greys and minimalistic light fixtures this room is kept comparatively warmer. The niche at the window forms a space in itself, a cosy corner for the residents to ponder, converse and make memories.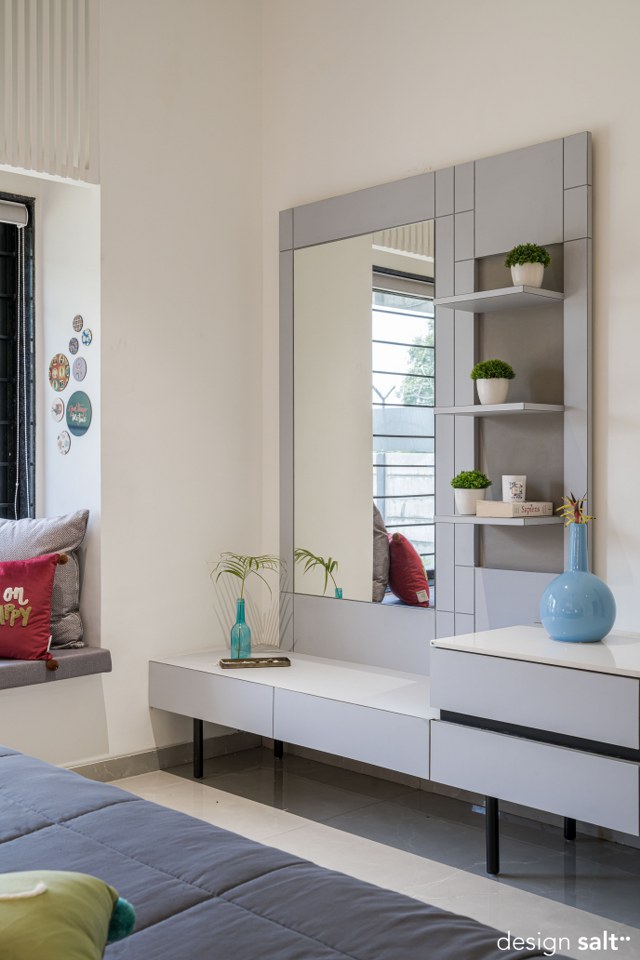 The bedroom here thrives in the classic harmony of neutrals. The panelling and bed structure are a monolith of teak with touches of black – a timeless design statement.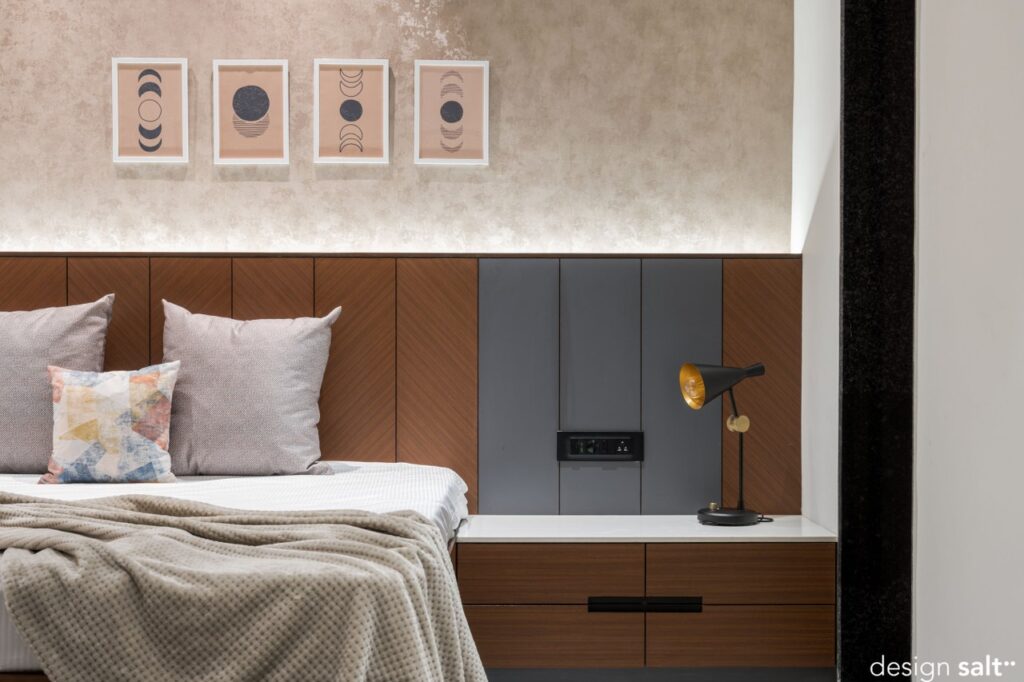 The blue accents add a newness to the space and makes it unique and the play of lights on the accent wall adds a degree of drama.
The sharpness and stability of natural stone studded floor and table tops is in a constant conversation with the softness and feel of faux leathers and velvets of the furnishings. The space is rendered with ample natural light through the apertures during the day and by the accent lights through the night.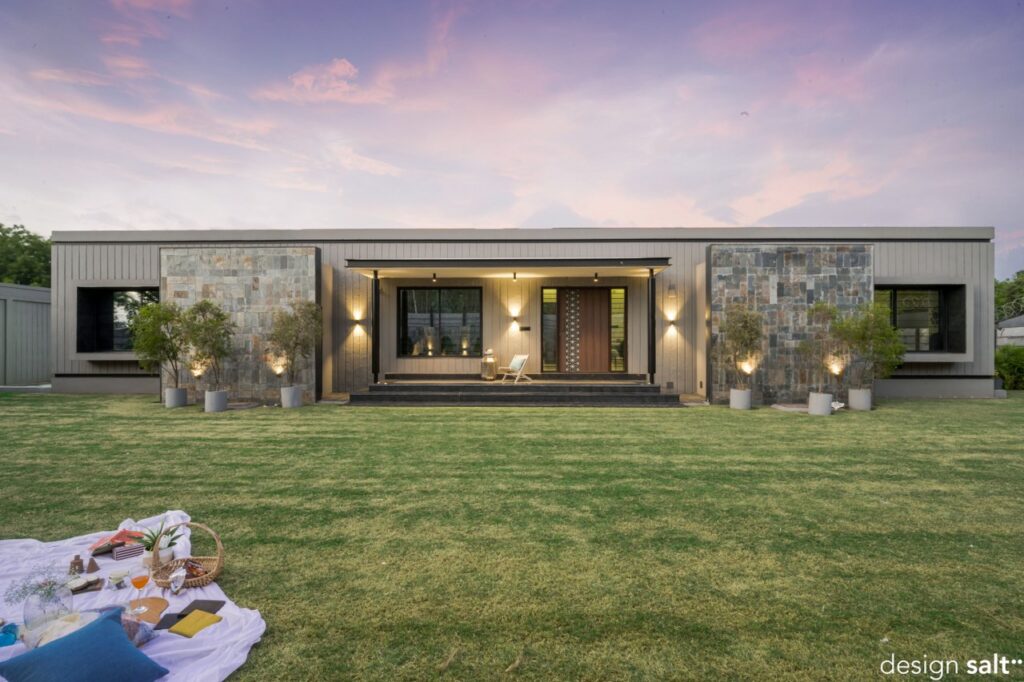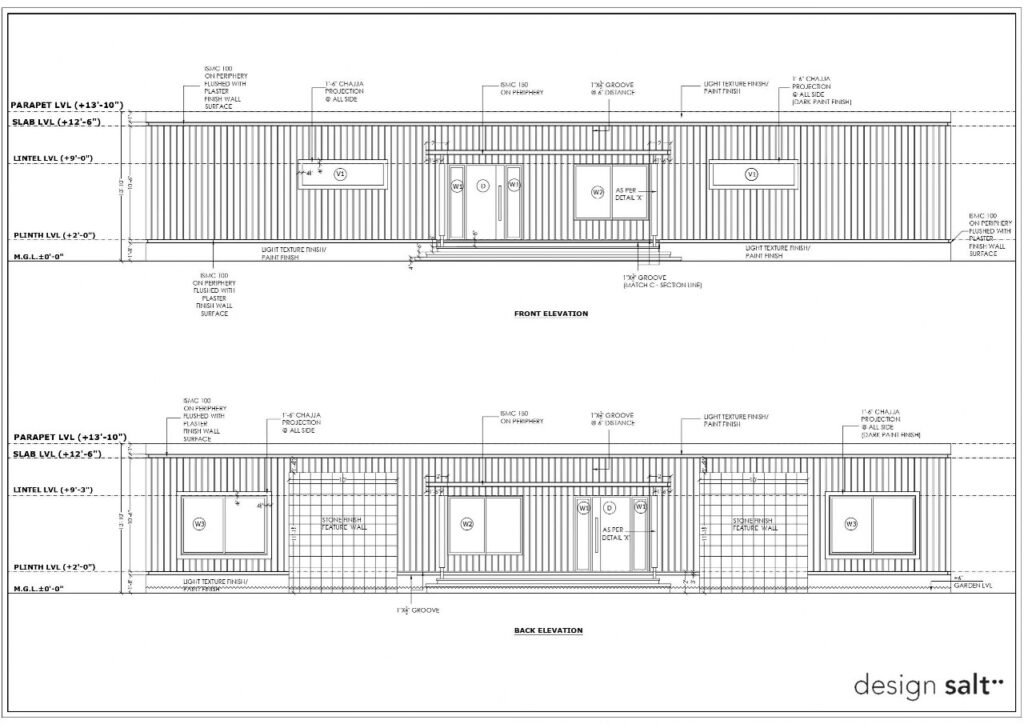 This residence by Design Salt testifies how simplicity can be moulded into luxury, comfort and style meanwhile adhering to the functional needs of a design.
FACT FILE
Designed by : Design Salt Studio
Project Type : Residential – Farmhouse
Project Name : Grey Haven
Location : Khambholaj, Gujarat
Year Built : 2022
Duration of project : 1 year
Plot Area : 12,000 sq.ft
Built up : 1500 sq.ft
Project Size : 12,000 sq.ft
Project Cost : 50 LACS
Principal Architect : Gopal Patel
Team Design Credits : Dipalee
Photograph Courtesy : Murtaza Gandhi
Products / Materials / Vendors : Finishes – alltech texture finish for exterior surfaces with slate stone cladding / Wallcovering / Cladding – textured paint finish exterior walls, slate stone finish feature walls Construction Materials – Plaster finish brick walls, Metal poles, metal structured shed for gazebo/ Lighting – Exterior- black bollards, spike lights, wall lights (brand: Hybec), Interior- black surface mounted lights, down lights (brand: Hybec), Decorative wall lights, hanging lamps (brand: geo liting) / Doors and Partitions – Veneer and tiles finished flush doors / Sanitary ware – Jaguar basins, showers and other sanitary ware / Windows – Aluminium windows / Furniture – all the furniture were made in-house with the base materials of ply & mdf (veneer, laminate and tiles finish) / Flooring – Natural stone, patterned tiles (brand: decora) / Paint – Interior- White colored walls (Asian paints), Exterior- grey textured walls (Asian paints) / Artefacts – all the artefacts were from Greenwood, Anand. / Wallpaper – Nilaya by asian paints / Hardware – hettich.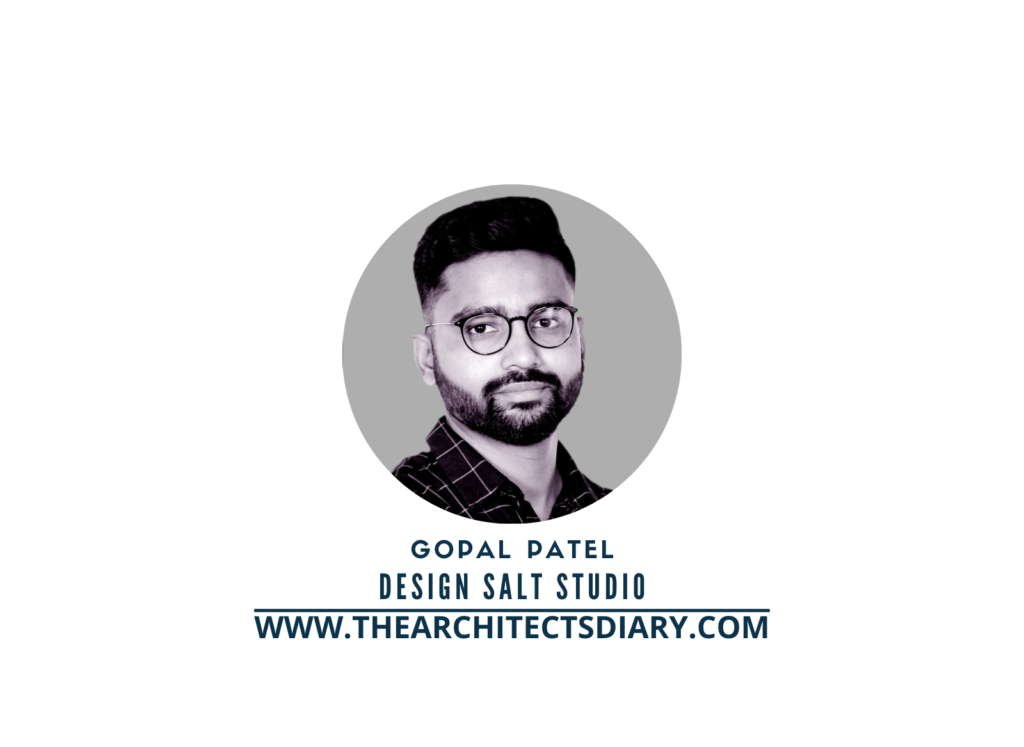 Firm's Instagram Link : Design Salt Studio
Firm's Facebook Link : Design Salt Studio
For Similar Projects >> AN INTENTIONALLY THERAPEUTIC ENVIRONMENT BUILT IN THIS FARM HOUSE
The post This Weekend House An Epitome Of Refined & Stylized Simplicity With Contemporary Design | Design Salt Studio appeared first on The Architects Diary.