The firm was approached by the client Mr. Chordia for modern and rich interiors, who purchased 4 flats on tenth floor in the apartment Roop Madhuban, located in Shobhagpura, Udaipur. His idea was to have flat like safe residence. Out of which, 3 flats were designed for immediate use accounting to appx. 6000 sq.ft, with 6 bedrooms, living, dining, by their family, including his parents, wife and a toddler daughter and one flat was kept for future intervention, for his brother, who resides in Mumbai. The concept for this Udaipur home has rich interiors in neutral colours embraces elegance and sophistication. Hence the spaces had to be reworked and customized to match with required design. Being a pioneer in Italian marble industry, the client was inclined to have his business material explored sensibly.
This Udaipur Home has Rich Interiors in Neutral Colours and Embraces Elegance and Sophistication | Design Inc.
Visit: Design Inc.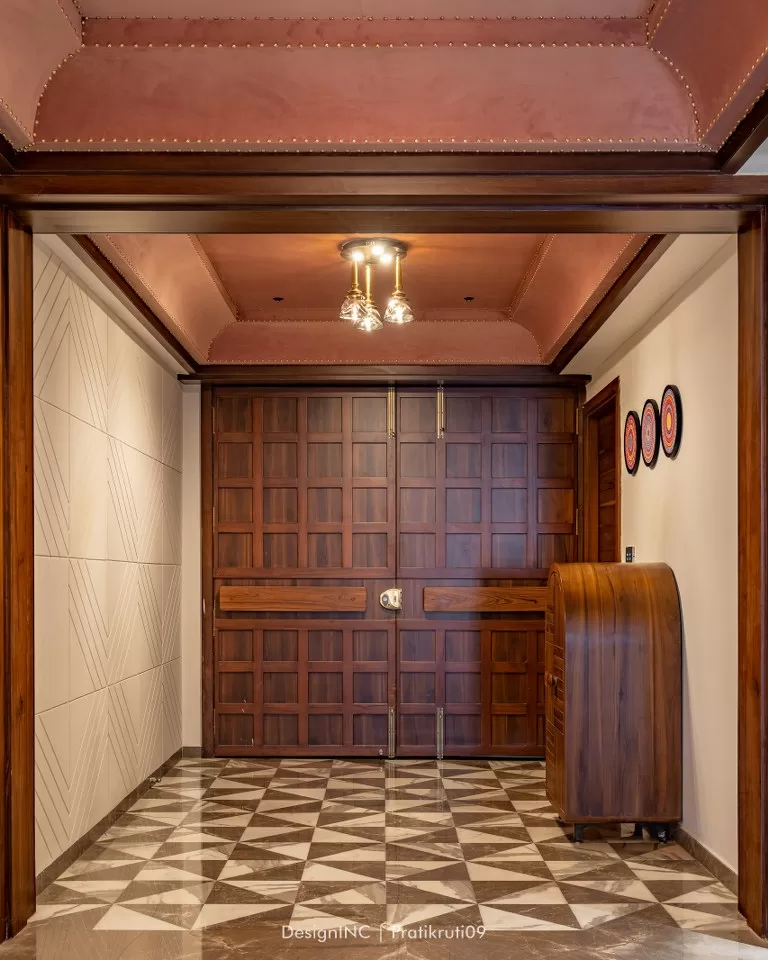 The design focuses on creating a serene and timeless ambiance by utilizing a palette of neutral tones such as soft creams, warm beiges, and subtle greys. Plush textures and luxurious materials like velvet, and marble elevate the space, while vibrant accents add a touch of glamour.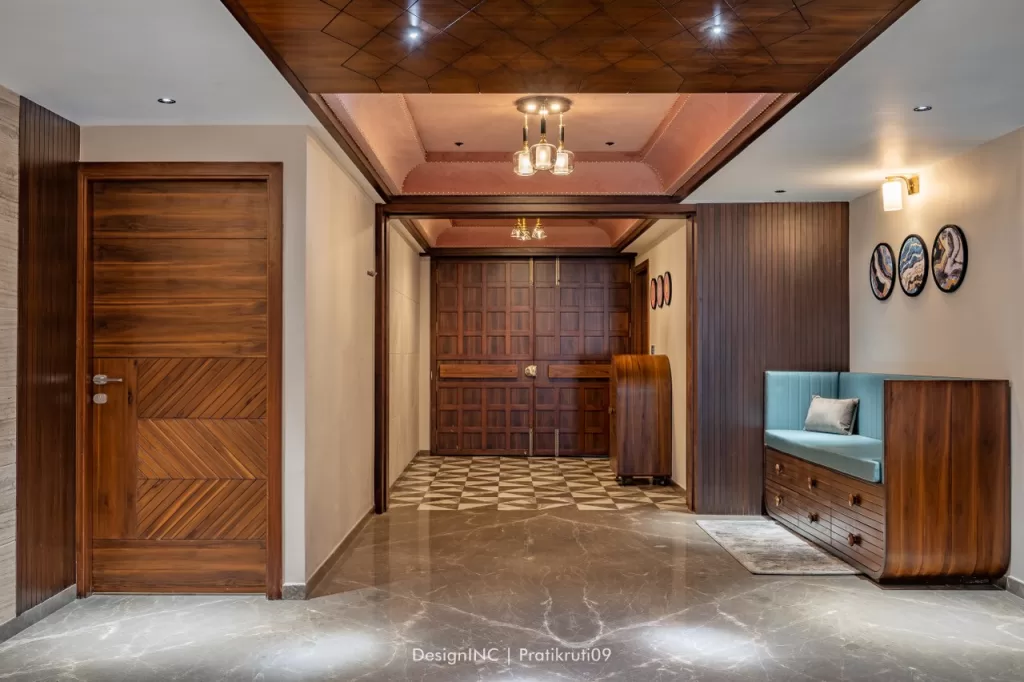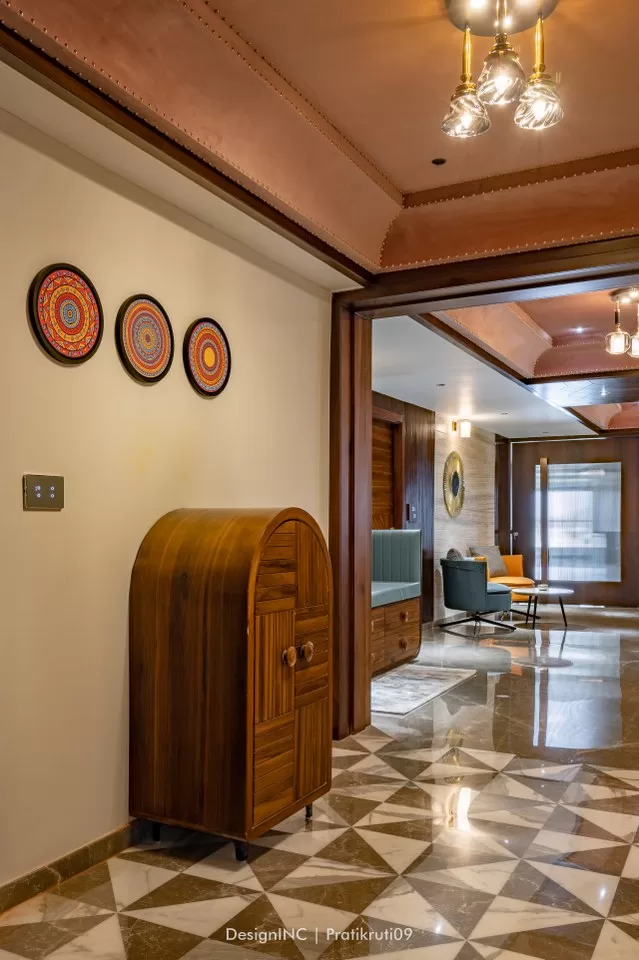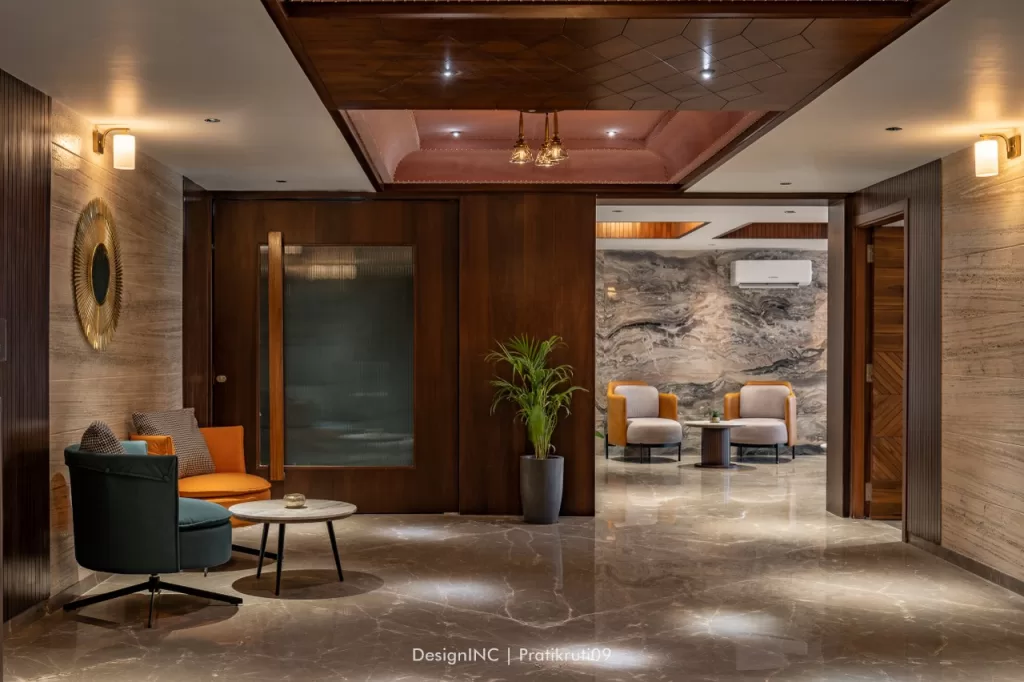 Thoughtfully curated artwork and statement lighting fixtures provide focal points and enhance the overall aesthetic. The result is a harmonious blend of understated luxury, creating a haven of tranquillity and refinement in every corner of the flat.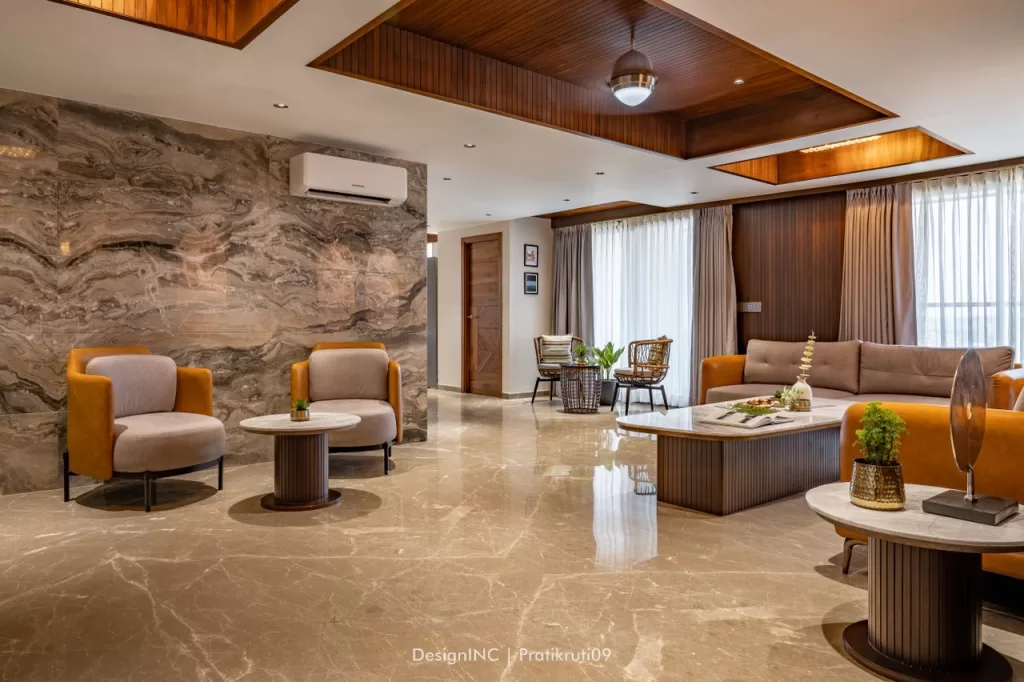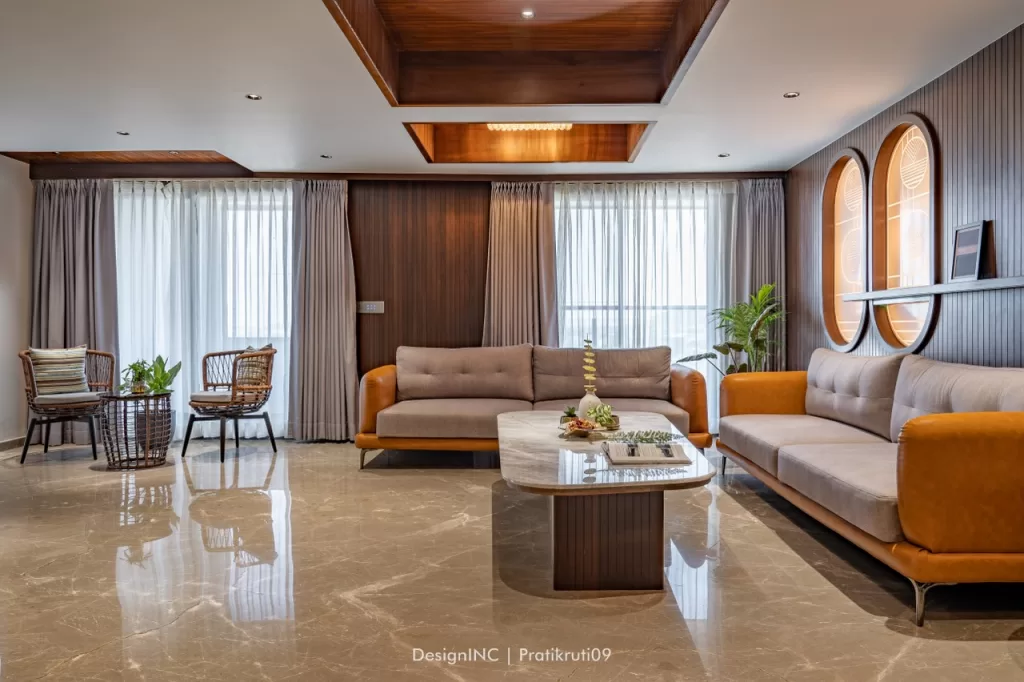 1. Colour Scheme:
Neutral Shades: neutral colour palette has been taken up as the base. Use of shades like white, cream, beige and light grey on the walls and larger surfaces has been used to create a calm and timeless ambiance.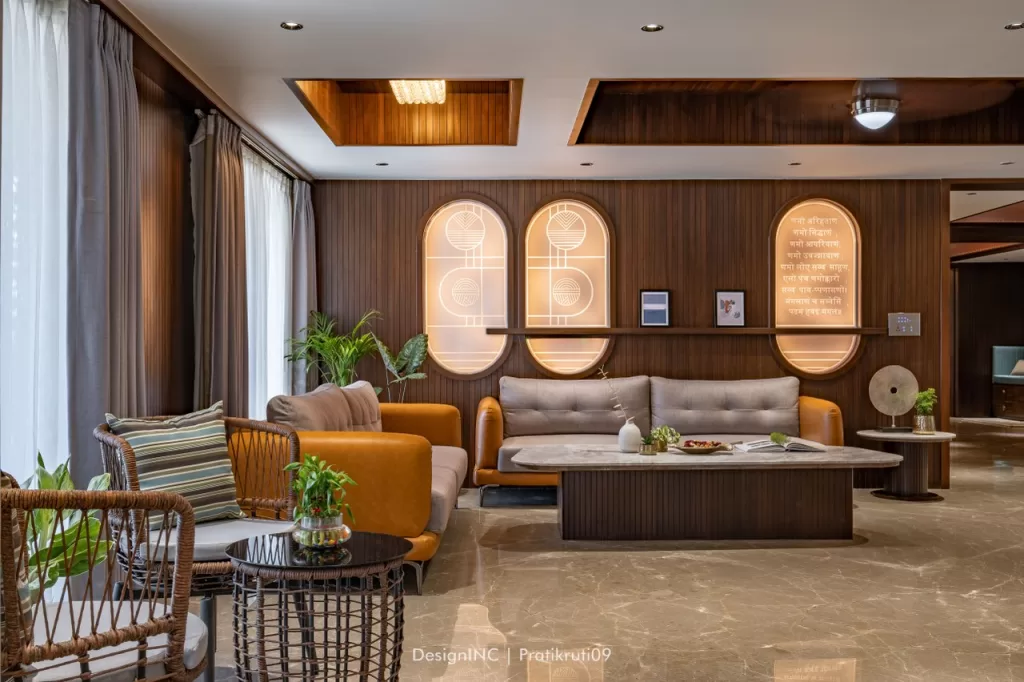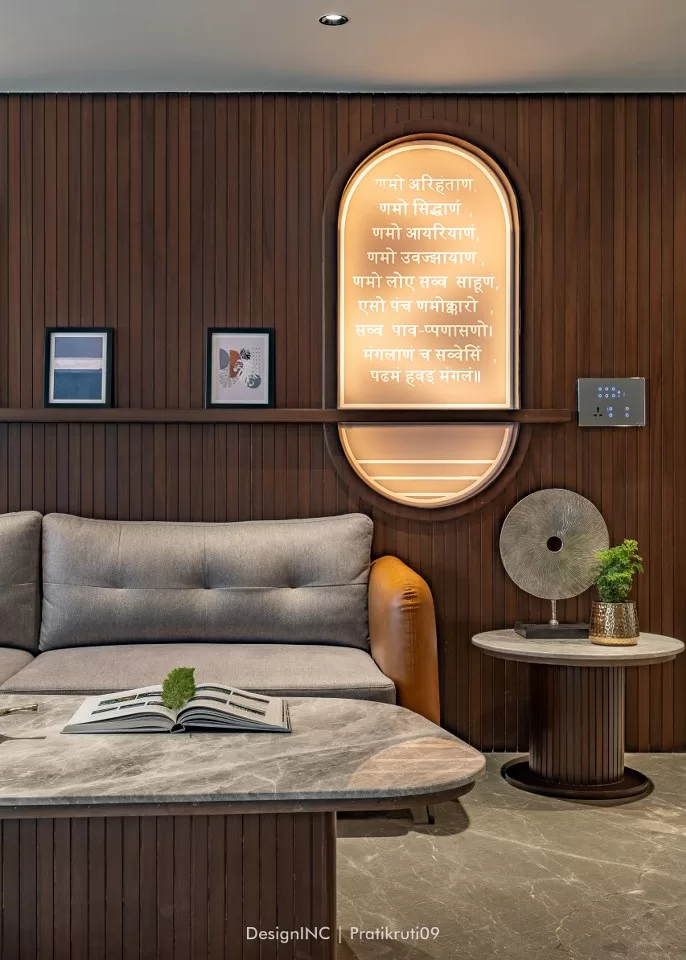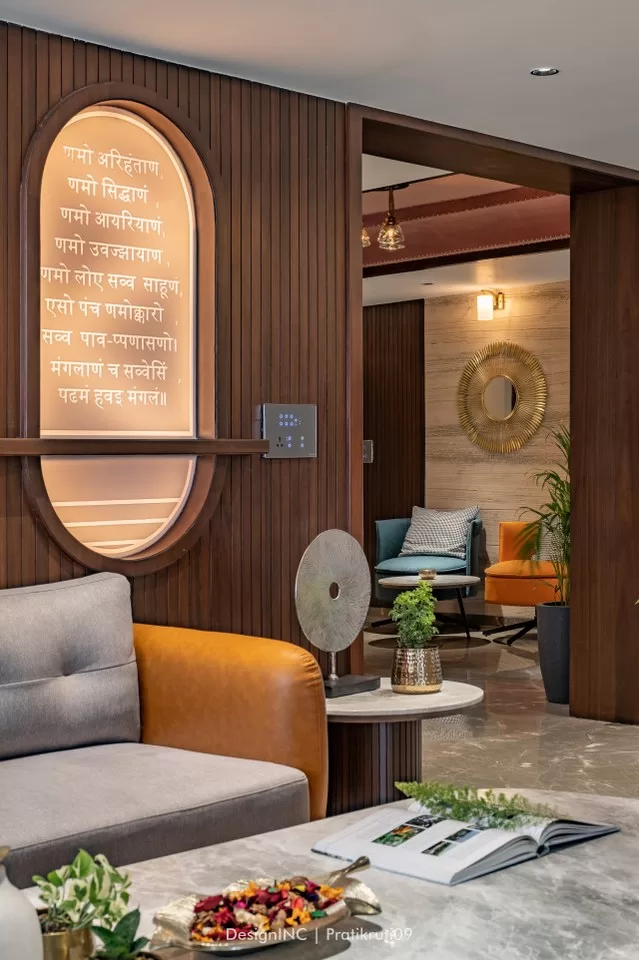 Dark Contrast: Introduction of dark colours as a contrasting element has been used to add visual interest. Usage of these hues in floor, furniture, accessories, and accent walls has created a focal point.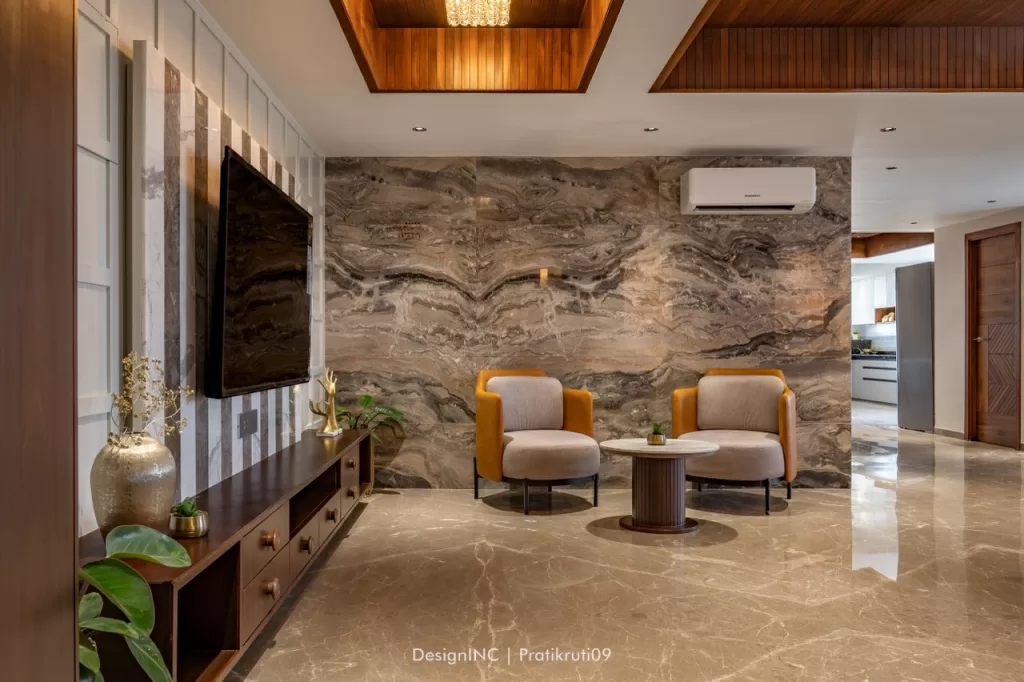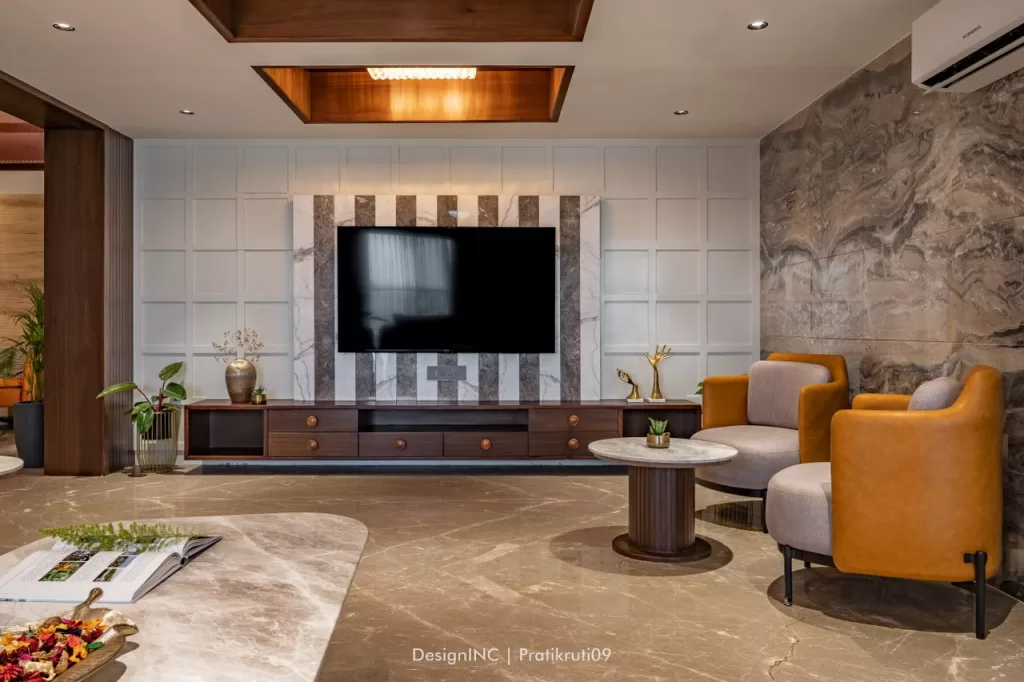 2. Wooden Ceiling:
Rich and warm wood material, such as walnut, is used extensively for the ceiling. The natural tones and textures of the wood have added warmth and depth to the space, with velvet fabric in entrance lobby ceiling has added to drama in the residence.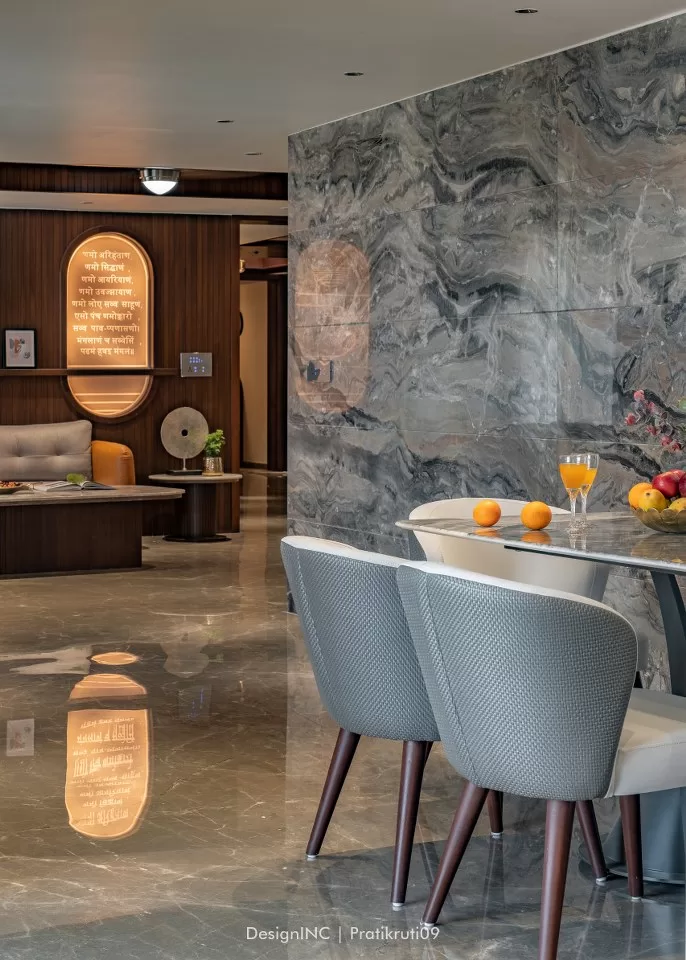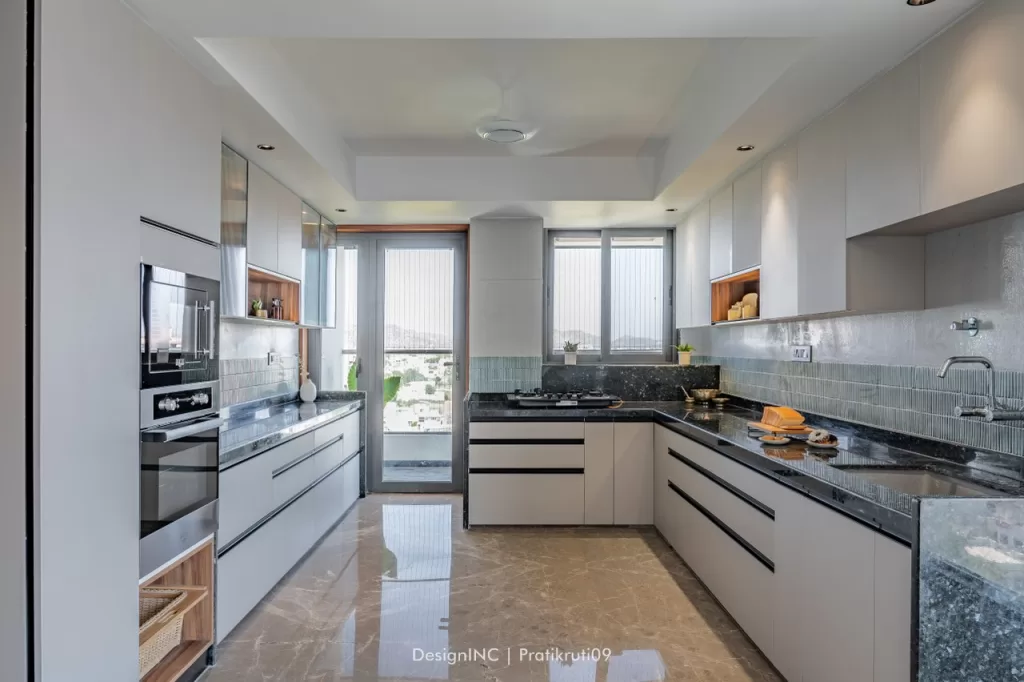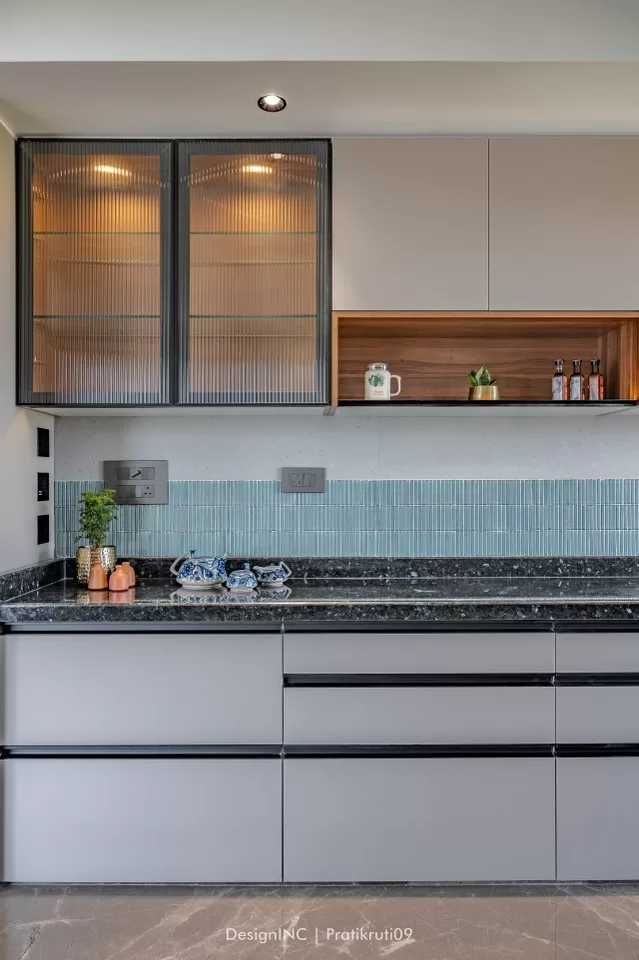 Installation of exposed wooden beams and coffered ceiling design has enhanced architectural interest. Application of a clear sealant and a light varnish is added to preserve the natural beauty of the wood while adding a subtle sheen.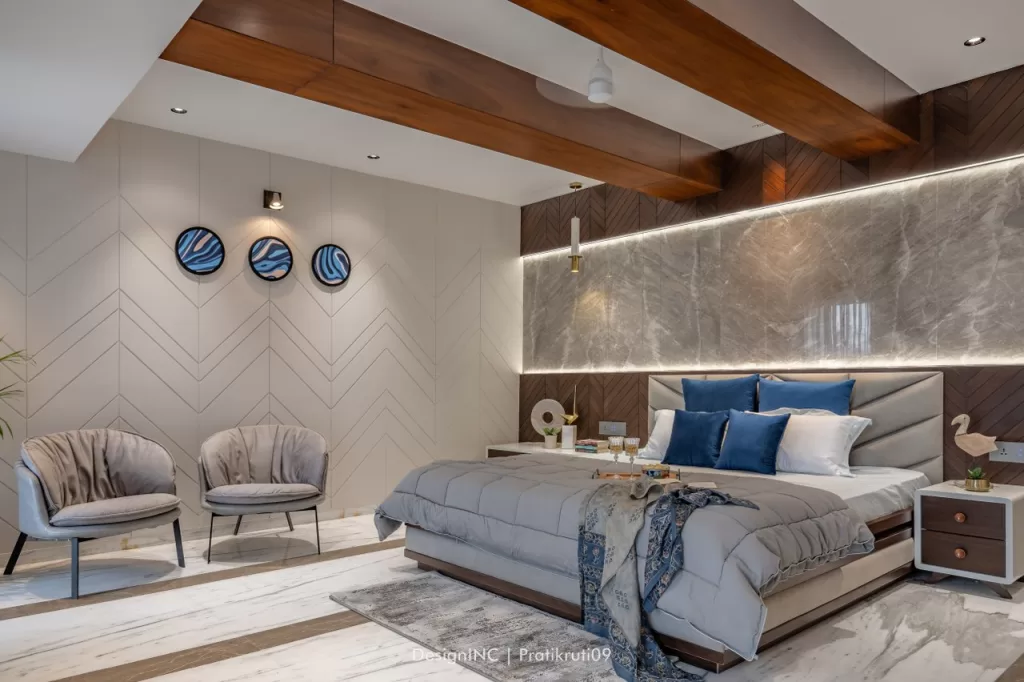 3. Engraved Wall Panels:
Bespoke decorative wall panels with geometric wood, POP engravings, 3-D stone panels, have embellished a touch of elegance and texture to the space.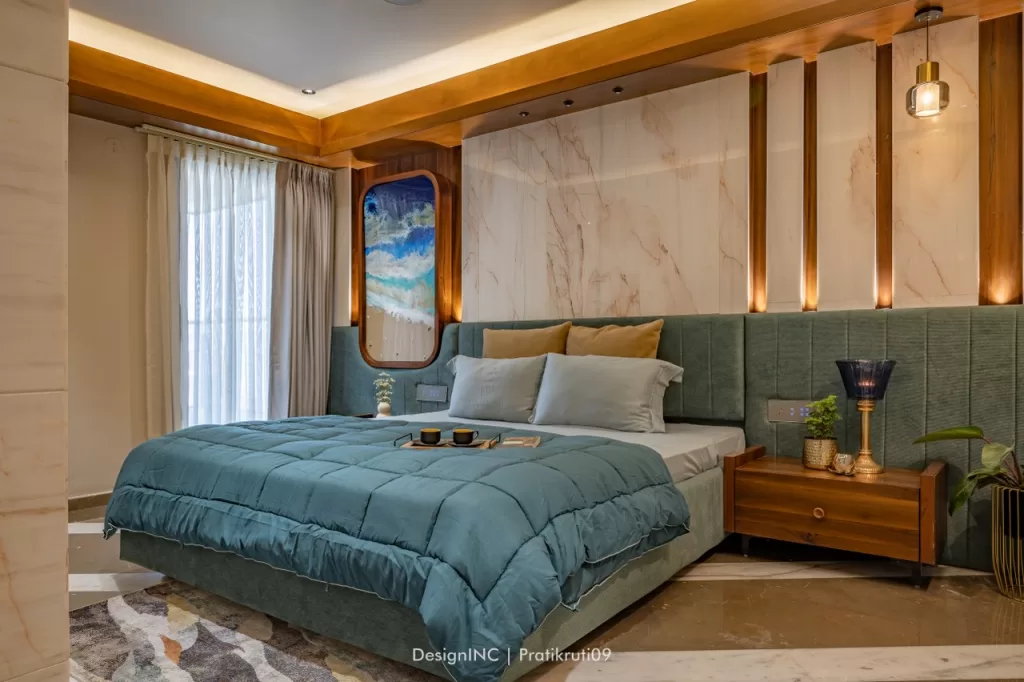 Placement of the engraved wall panels strategically in areas like the main entrance, feature walls, and behind key furniture pieces like the bed and sofa sets have added to the ambience.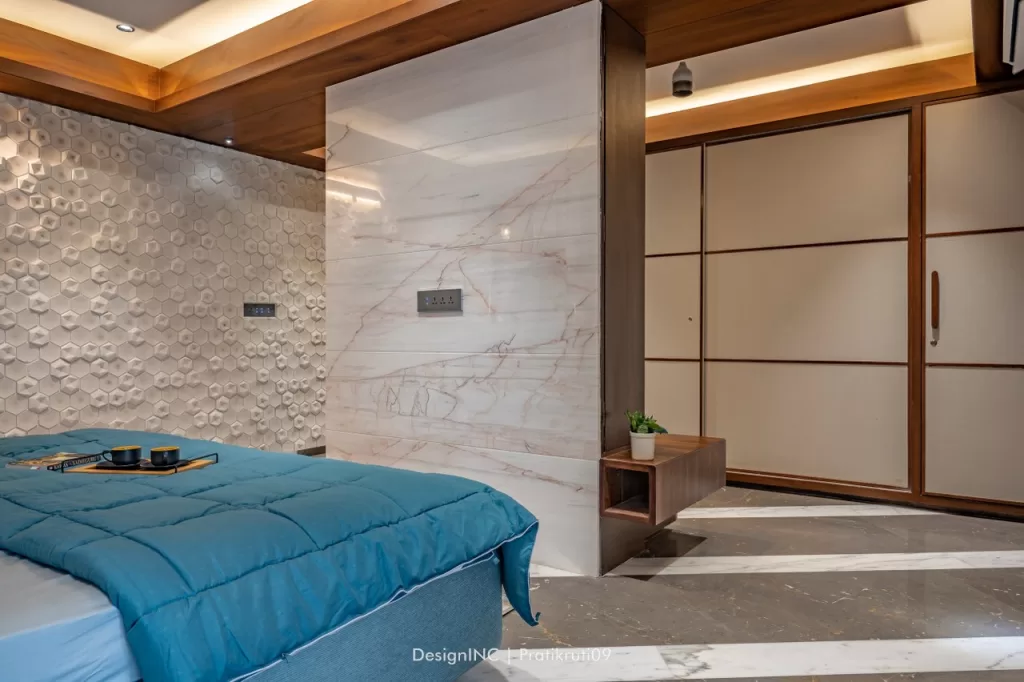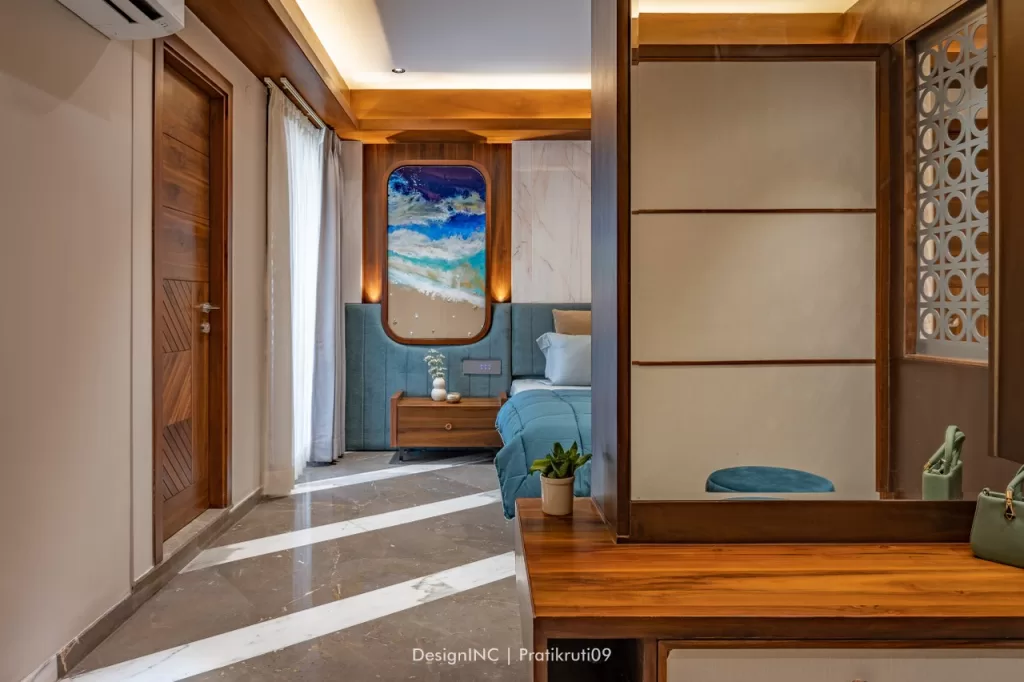 Integration of subtle concealed lighting fixtures has been used extensively, to highlight the engraved details and create a warm ambiance.
4. Furniture and Accessories:
Furniture pieces are handpicked of vibrant colour palette of colours like orange, grey, blue and beige that aligns with the neutral colour scheme, maintaining the overall balance.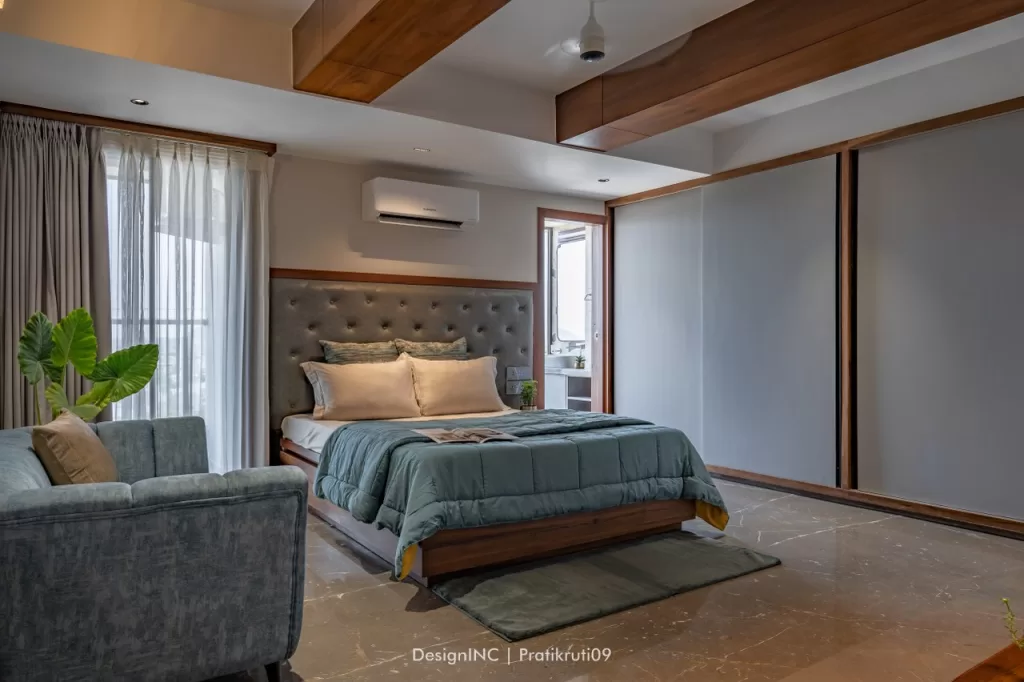 Usage of accents through cushions, throws, or decorative items like vases, artwork, or rugs, adds to the richness of space. These pops have created a cohesive look and tie in with the contrasting elements.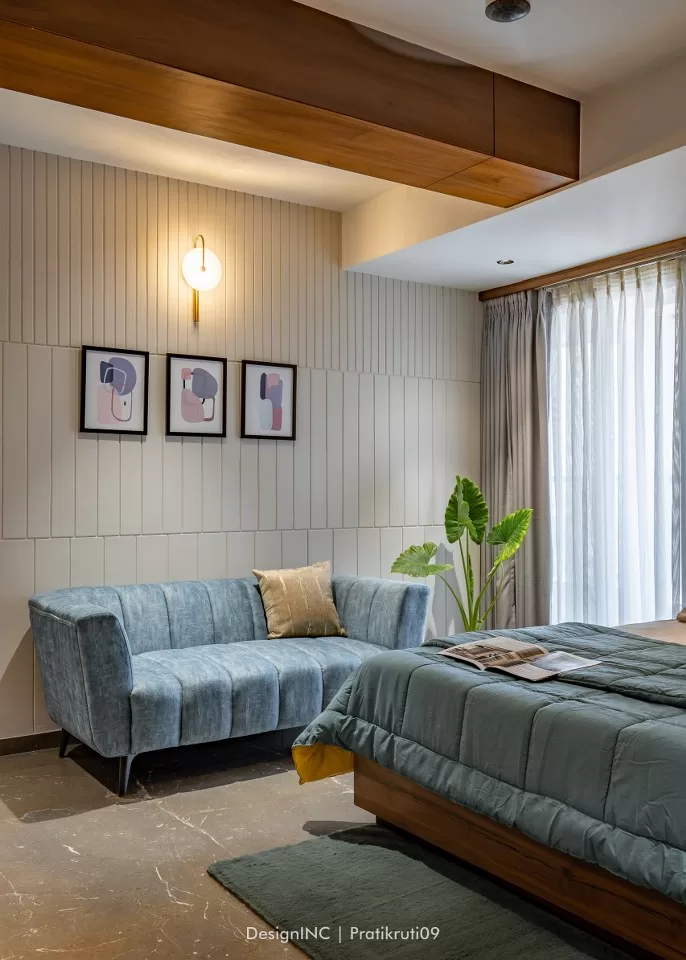 Incorporation of wooden furniture pieces does complement the wooden ceiling. Wooden chairs, tables, or shelves with warm wood finishes to bring a sense of continuity to the space. Exclusive wooden gate with CNC jali marks remembrance to entrance.
5. Lighting:
Utilization of a combination of natural and artificial lighting has been used to create an inviting atmosphere.
Maximal usage of large windows, allowing ample natural light into the space during the day, has been driving factor. Consideration of sheer curtains and blinds in order to control the amount of light and privacy, have been used strategically.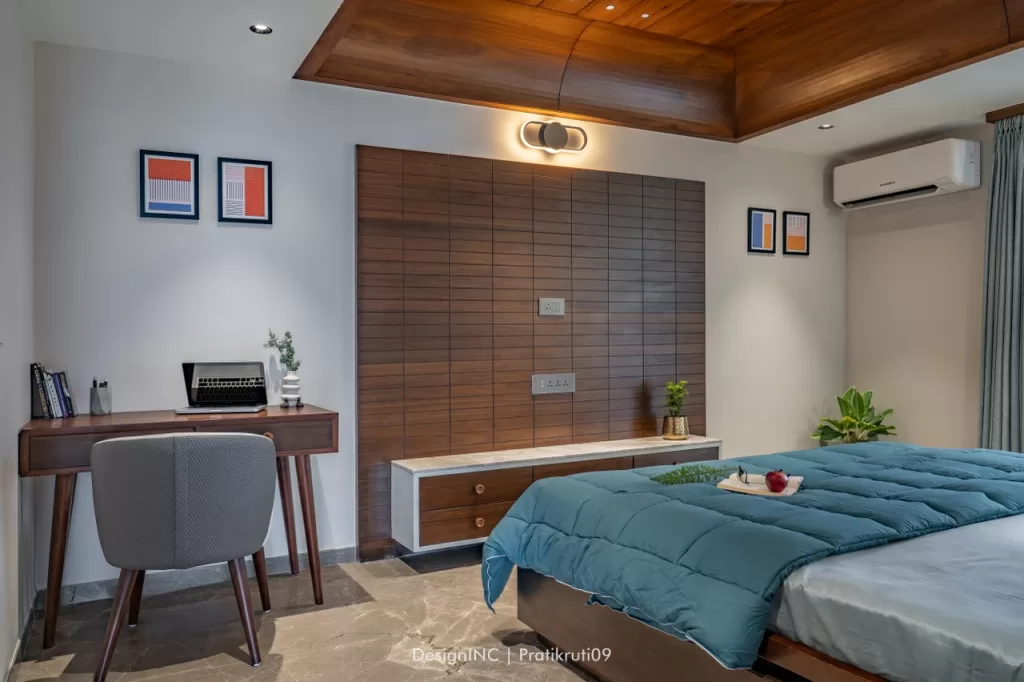 Installation of a combination of ceiling lights, pendant lights, and floor and table lamps provide layered and adjustable lighting throughout the floor. Warm white and soft yellow light bulbs have enhanced the cozy ambiance.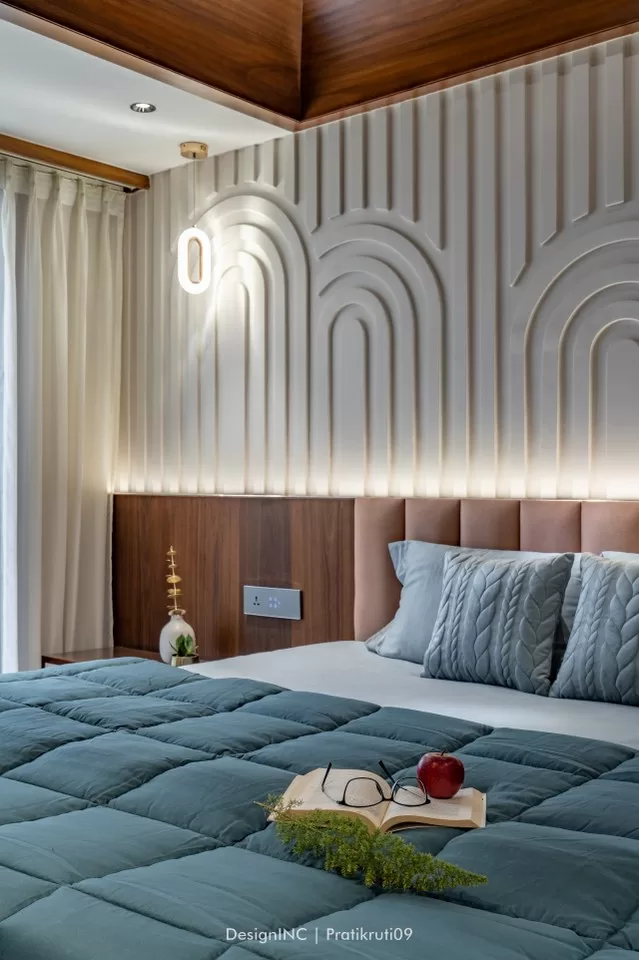 Fact File
Designed by: Design Inc.
Project Type: Residential Interior Design
Project Name: Chordia House
Location: Udaipur, Rajasthan
Year Built: 2023
Duration of the project: 8 Months
Project Size: 4660 sq.ft
Project Cost: 1.5 Crores
Principal Architects: Ar Sandeep Jain & Ar Anup Murdia
Team Design Credits: Akshi Jain & Ankita Bhanawat
Photograph Courtesy: Pratikruti09
Products/Materials/Vendors: Finishes – D Decor / Wallcovering / Cladding – Dhanuka Marble Construction Materials – Dhanuka Marble / Lighting – Hybec / Doors and Partitions – Greeenply Sanitaryware – Kohler / Windows – Khirki ki Pathshala / Furniture – Furniture Studio / Flooring – Dhanuka Marble / Kitchen – Grass, Arihant Lifestyle / Paint – Asian Paints / Artefacts – Casadecor, Westside / Hardware – Hafele.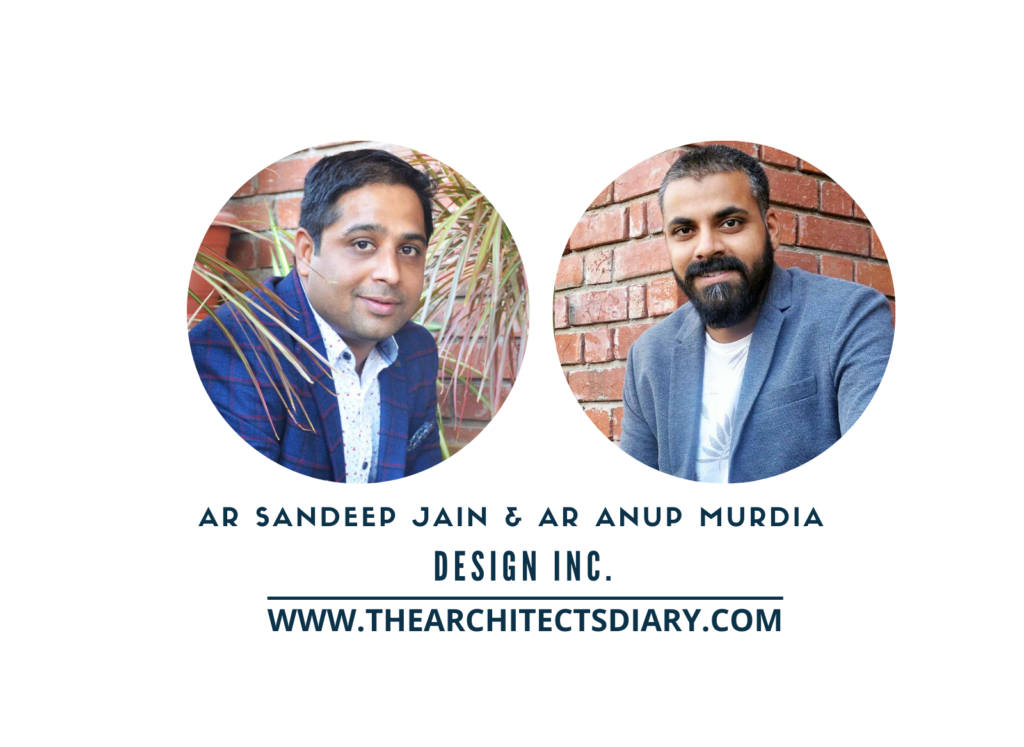 Firm's Website Link: Design Inc.
Firm's Instagram Link: Design Inc.
Firm's Facebook Link: Design Inc.
For Similar Projects >> An Interplay Between Light and Materiality Manifests to Create this Modern Family Home
The post This Udaipur Home has Rich Interiors in Neutral Colours and Embraces Elegance and Sophistication | Design Inc. appeared first on The Architects Diary.