Our brief from the client for this project was to achieve a space that is calm and fresh to work. This Office Interior is designed with a mix of colours, textures and emotions of client and the designers. This project is designed for Charted Accountant Mr. & Mrs. Deshpande. The workspace designed in 700 Sq.Ft. most developed commercial area in Savedi , Ahmednagar, Maharashtra.
This Office Interior Is Designed With A Mix Of Colours, Textures And Emotions | H & S Muley Associates
Visit : H & S Muley Associates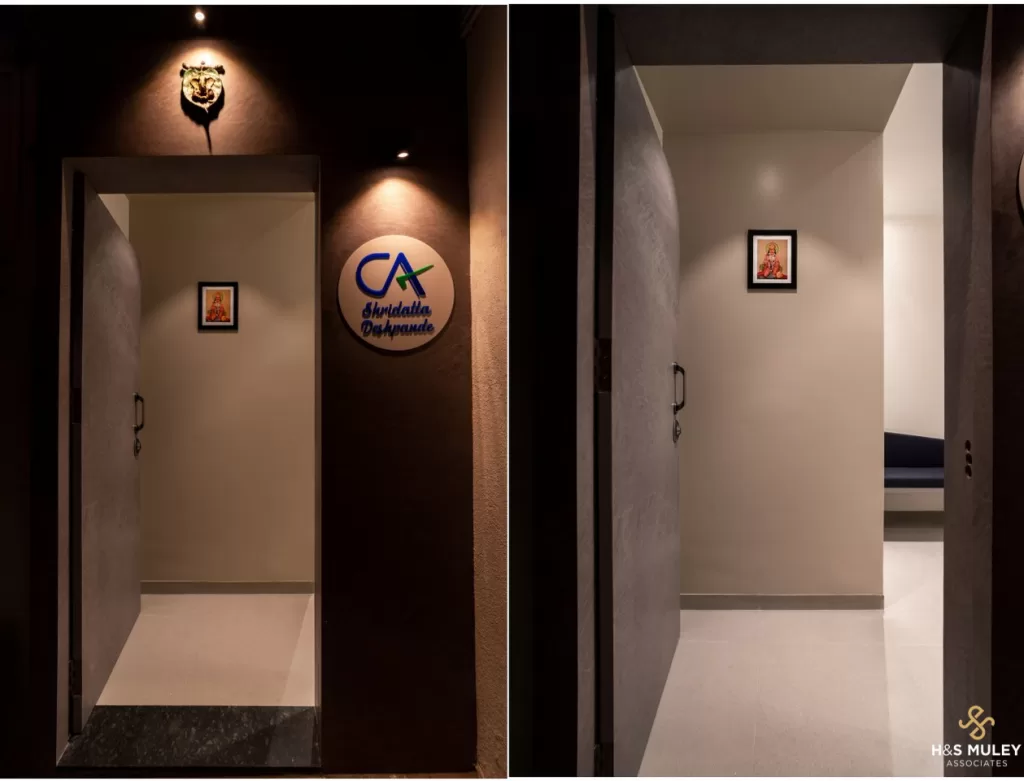 You get welcomed with such a beautiful nameplate which is made by acrylic and pleasing metal art piece of Lord Ganesha.
After you enter you spot a pleasant and powerful painting of Lord Hanuman which we made it on canvas. Then, there is a waiting area which gives a vibe of peace and calmness to your eyes.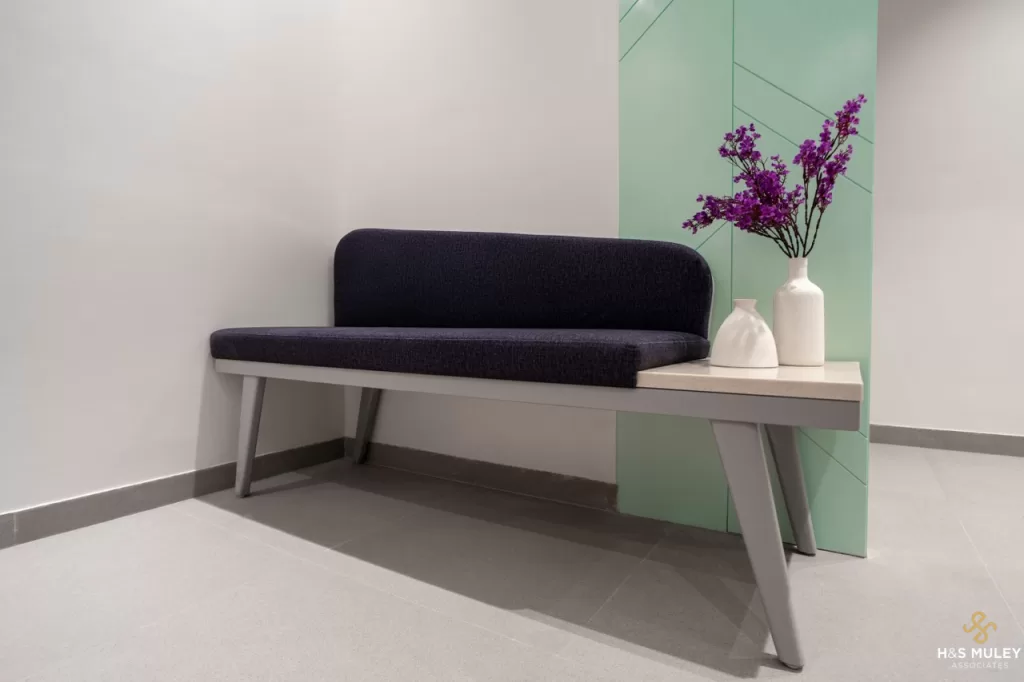 There are two benches which gives the complete look to the waiting area. This benches are good example of product design which is designed by our office staff.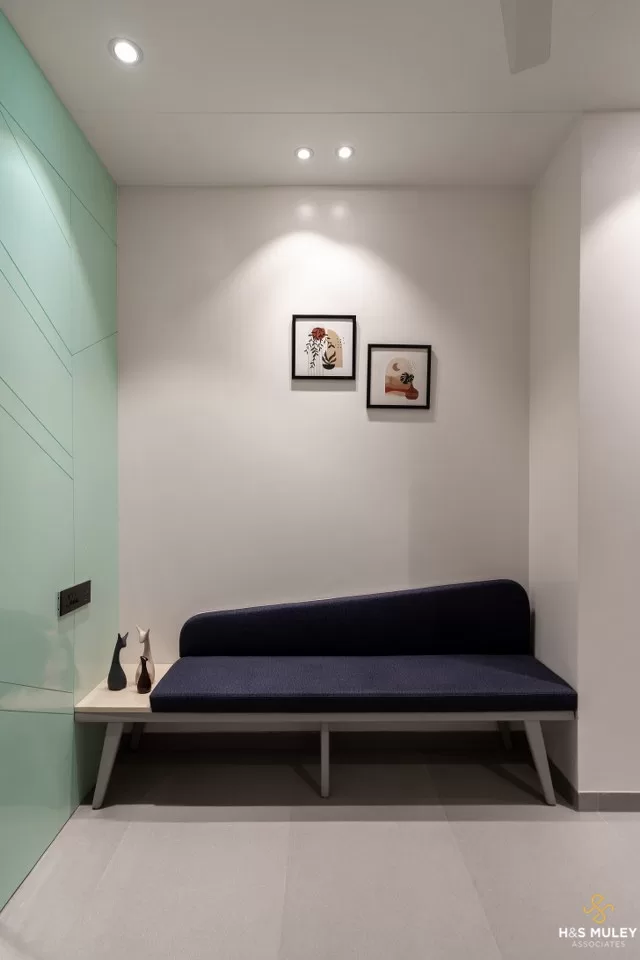 As you enter the cabin encompassed by toughen glass with partly frosted film, the backdrop appears with vertical and diagonal grooves carved in MDF painted with alpha azure (Deco paint) highlights the position of CA's post and gives the feeling of superiority to the CA.
The louvers on the table create an illusion which is visually appealing to the visitor.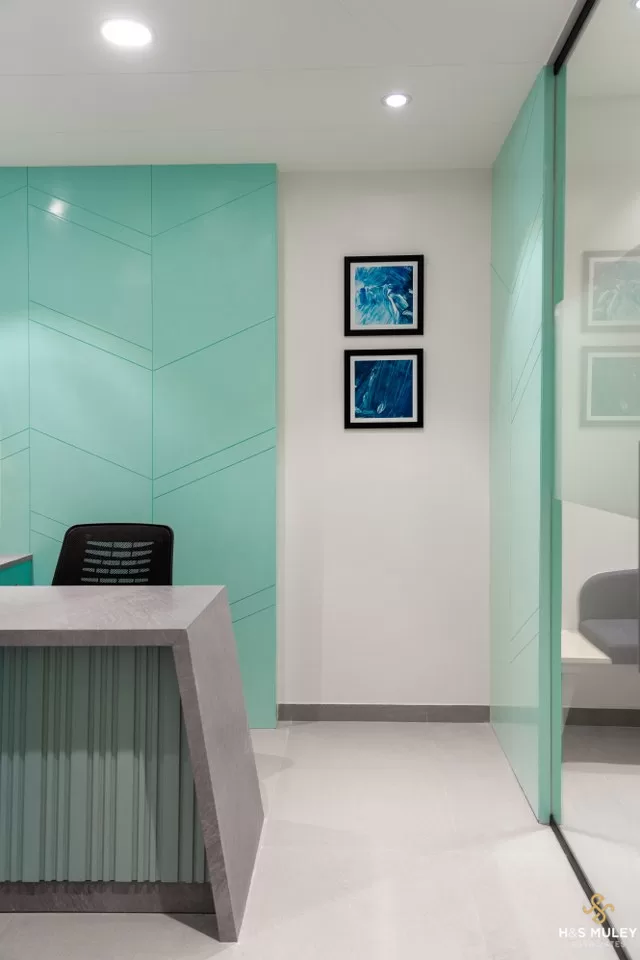 The design for the office was initiated by keeping the essence of modernity with the help of sleek straight and diagonal lines. Furniture is aligned with smooth space circulation and it is presented with vertical and horizontal lines acquired by louvers as well as profile lights. Wall and furniture are presented with fresh colours that are visual appeal and give a soothing effect to the subject. False ceiling is presented with straight and diagonal lines with matches with the grooves of partitions.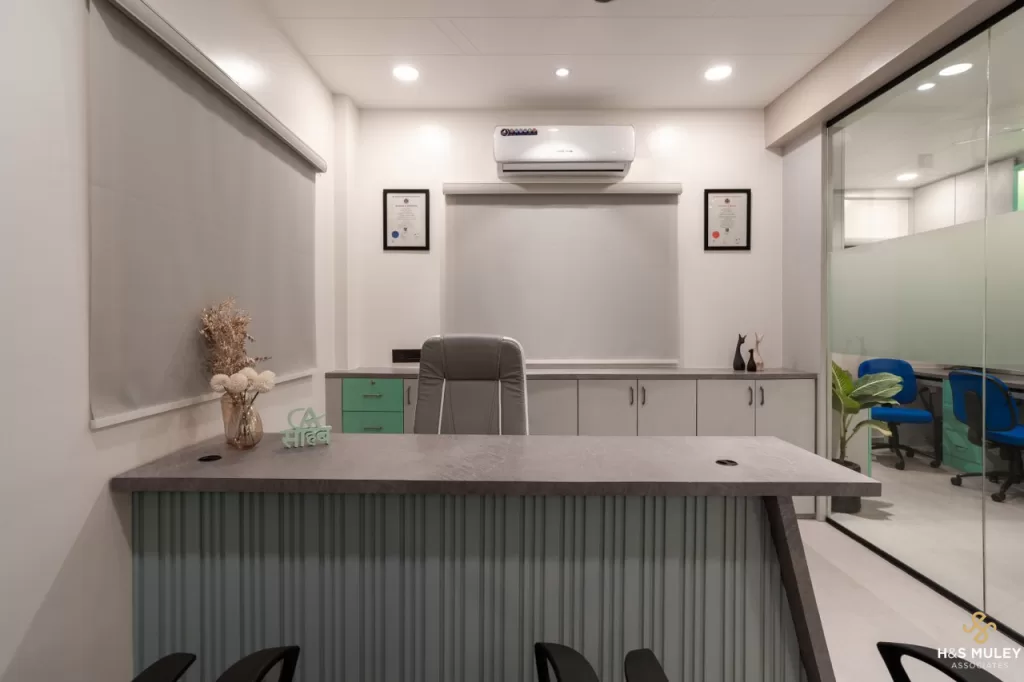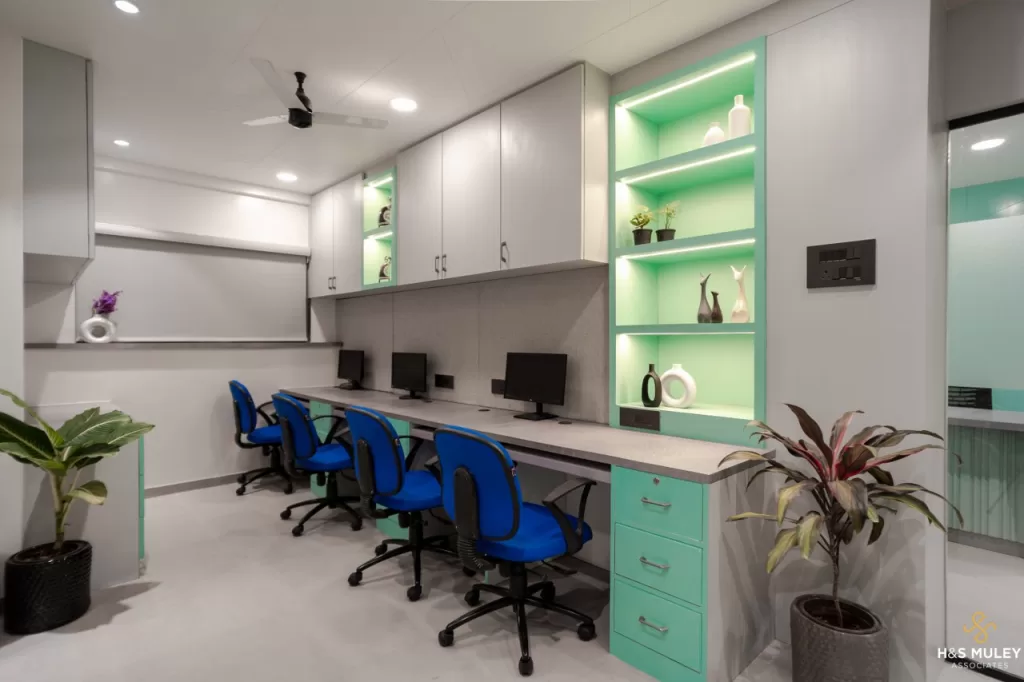 An interestingly done up work space of staff acts like a beating Heart of the office. The space has a new working environment which stimulates and facilitates a healthy lifestyle among employees.
Fact File
Designed by : H & S Muley Associates
Project Type : Office Interior Design
Project Name : CA Office
Location : Savedi Naka, Ahmednagar, Maharashtra
Duration of the project : 3 Months
Built-up Area : 768 Sq.ft
Project Size : 700 Sq.ft
Project Cost : 16 Lakhs
Principal Designers : Harshad Muley & Shweta Waalke Muley
Team Design Credits : Akanksha Ganar, Sakshi Ugale & Manav Bhalerao
Photograph Courtesy : Manish Suryawanshi
Products / Materials / Vendors : Construction Materials – Sand, Cement and Bricks / Lighting – Kolor & Great White / Sanitary ware – Asian Make / Windows – Jindal Make- Aluminium window (Anodised) / Furniture – Chairs – Creative Sales Corporation, Benches – Sheela Decors / Flooring – Ambika Tiles / Paint – Asian Paints / Artefacts – Nukkad Tales / Hardware – Godrej, Europa & Quba.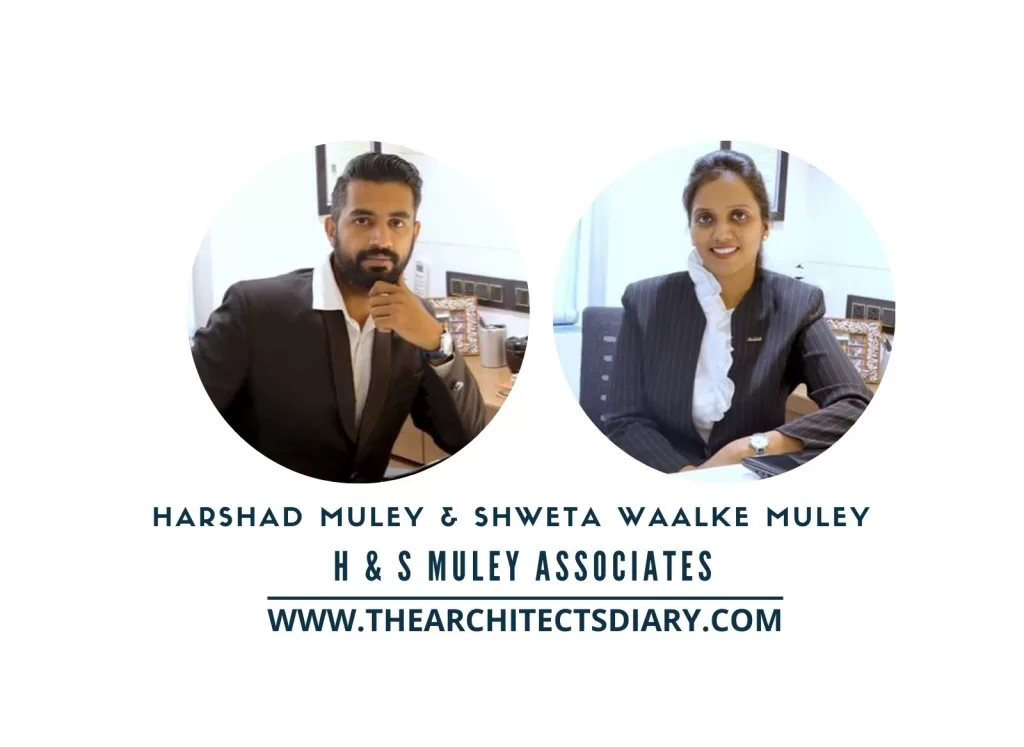 Firm's Website Link : H & S Muley Associates
Firm's Instagram Link : H & S Muley Associates
Firm's Facebook Link : H & S Muley Associates
For Similar Project >>> Unique Textures And Bold Colors Make This Modern Office Design Visually Exhilarating
The post This Office Interior Is Designed With A Mix Of Colours, Textures And Emotions | H & S Muley Associates appeared first on The Architects Diary.