For Snehal Shah and his family, their path has eventually led them to a serene and spacious retreat, which they have lovingly named as "Ghar". Sitting idyllically in the landscape and far from the hustle-bustle of the city, this Modern Bungalow interacts with its surroundings with its balanced and neutral insertions. It respectfully aligns with nature by using the rustic charm of natural wood in the design. 
This Modern Bungalow Interacts With It's Surroundings With It's Balanced And Neutral Insertions | K.N. ASSOCIATES
visit : K.N. ASSOCIATES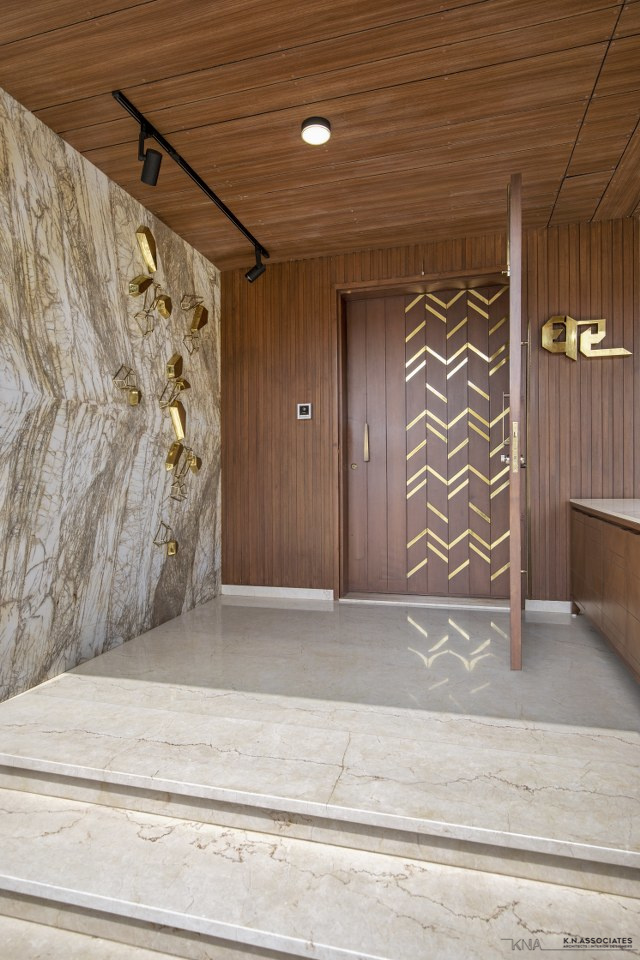 Given the challenge to come up with interiors that evoke modern vibes, KNA, carefully infused the calm and serene setting with restraint and a considered contemporary approach. And this magic is evident as soon as you step forward at the entrance.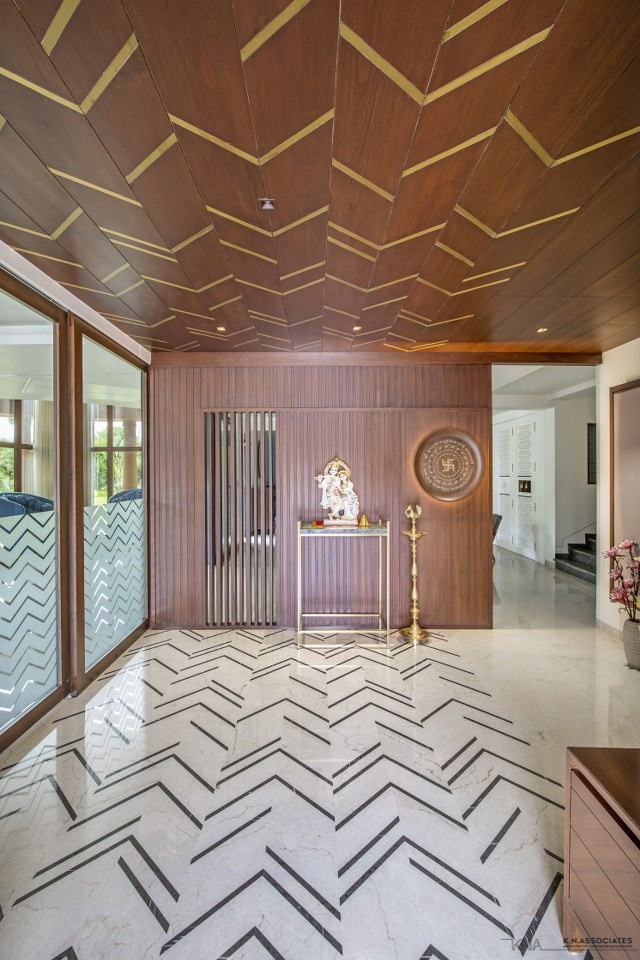 The "Gateway to Ghar" is adorned with Italian stone wall cladding and brass murals that exude affluence. The Golden streaks at the door welcome and draw you in towards the holy sanctum. The foyer is made exquisite with Black Italian marble inlay in Beige Italian marble. A minimal wooden frame with glass sliding doors and see-through batons separates the foyer & living area.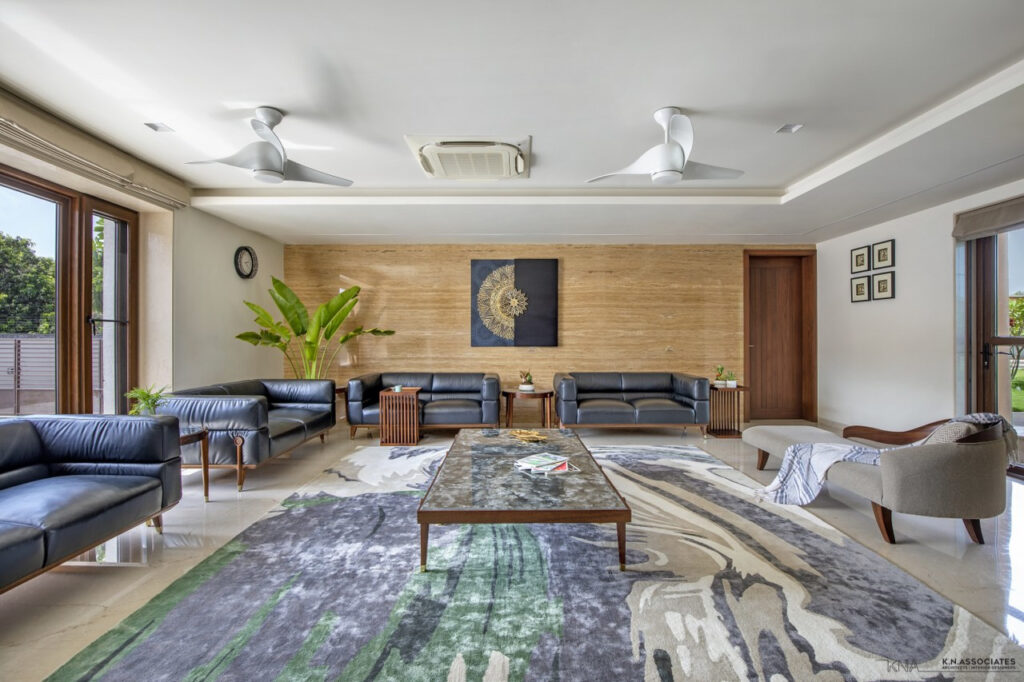 The showstopper of this bungalow is surely the Living Room. This magnanimous space is synonymous with a "darbar" of an emperor. Oozing class in every square inch, the living room interiors have some of the finest Italian marble, Italian stone walls, statement-making rugs from Udaipur and customized paintings by artist Avinash Gondaliya.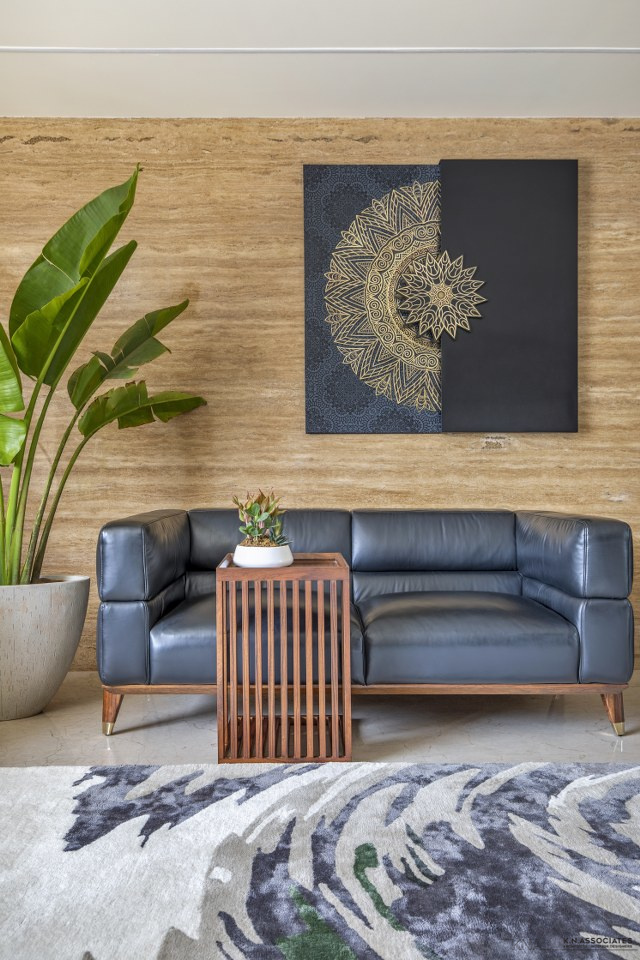 The regal aura is heightened by the presence of double-height spaces and the towering chandelier designed by Kaanch that hangs tall. All in all – "Impress" at first sight kind of vibes in the living room.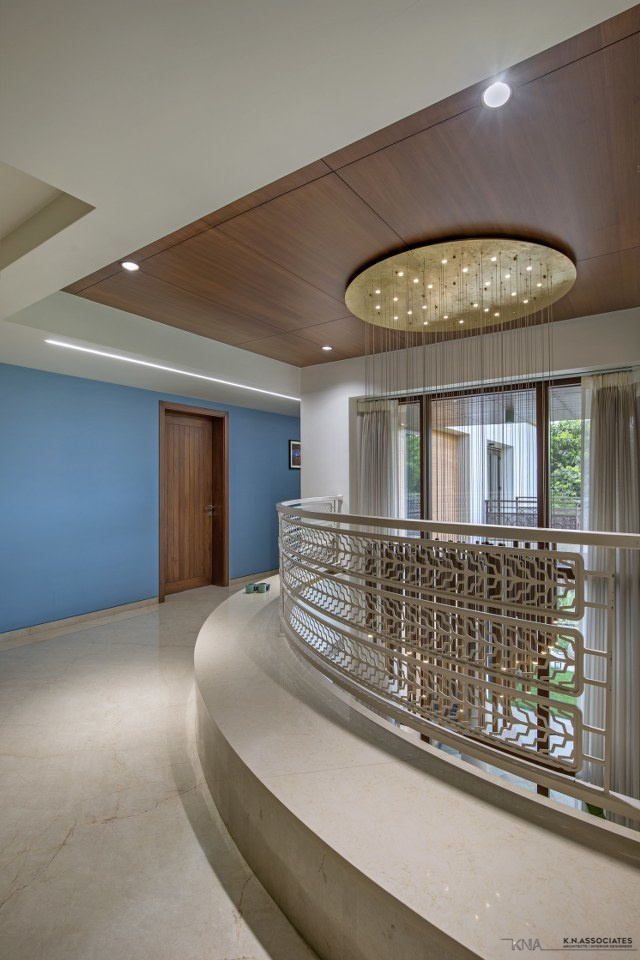 The Family Sitting and Dining is where all the conversations are meant to brew and laughs to echo. Natural lighting fills up this space to make it light, airy and soothing. The large wall with wooden panelling complemented by an azure wall on the opposite makes for a beautiful contrast.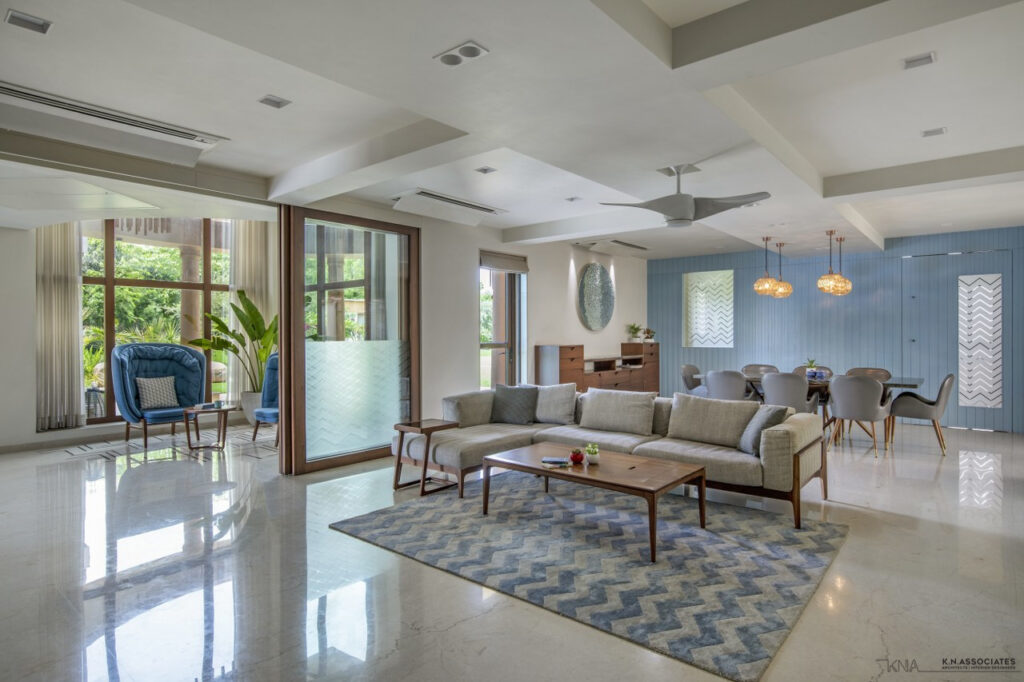 Big glass doors are installed next to the windows creating direct visual access to the lawn while limiting visual intrusions into the otherwise abstracted space.The growing importance of sustainability has influenced architects as well.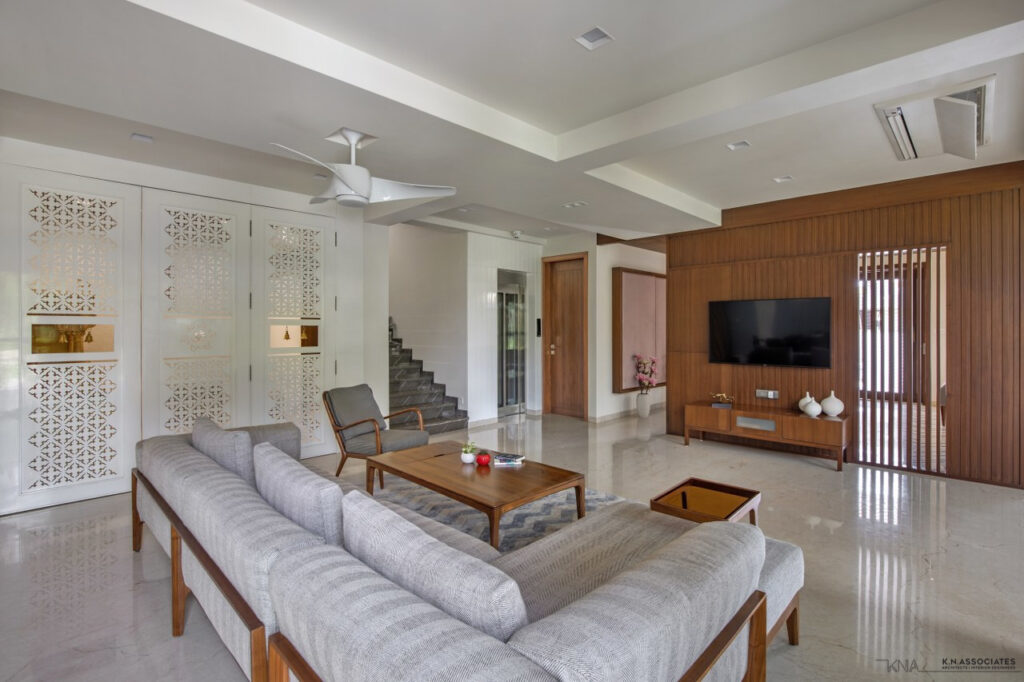 Aligning our working philosophy with sustainable practices, we have incorporated biophilic design principles in interior design. The use of plants and wooden accents brings nature right into the living space. The son's bedroom opens up to a beautiful terrace garden. Outline Studio Architects have put their hands up and done a fabulous job with the landscaping.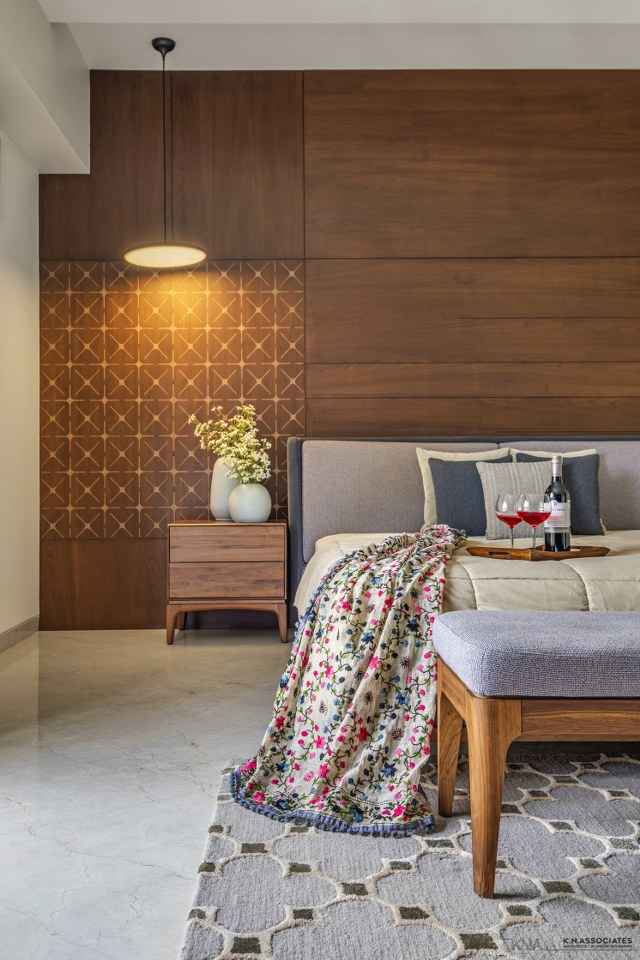 Up on the first floor is where the teenagers have their own "space to chill" aka bedrooms. While the daughter's bedroom dons the finest Italian marble, handmade rug and wooden niche.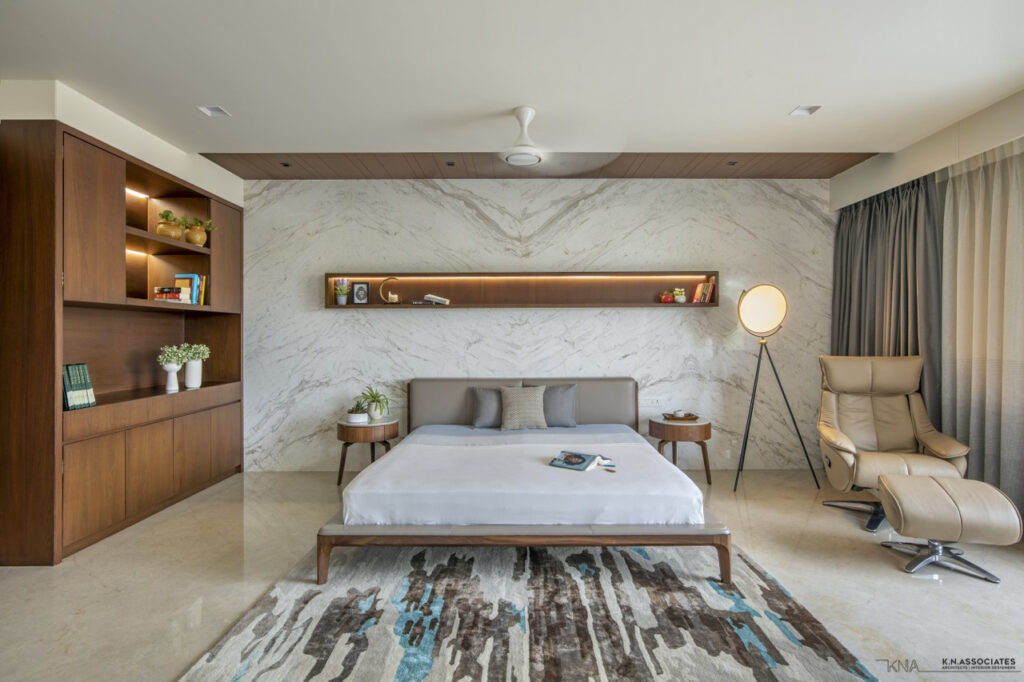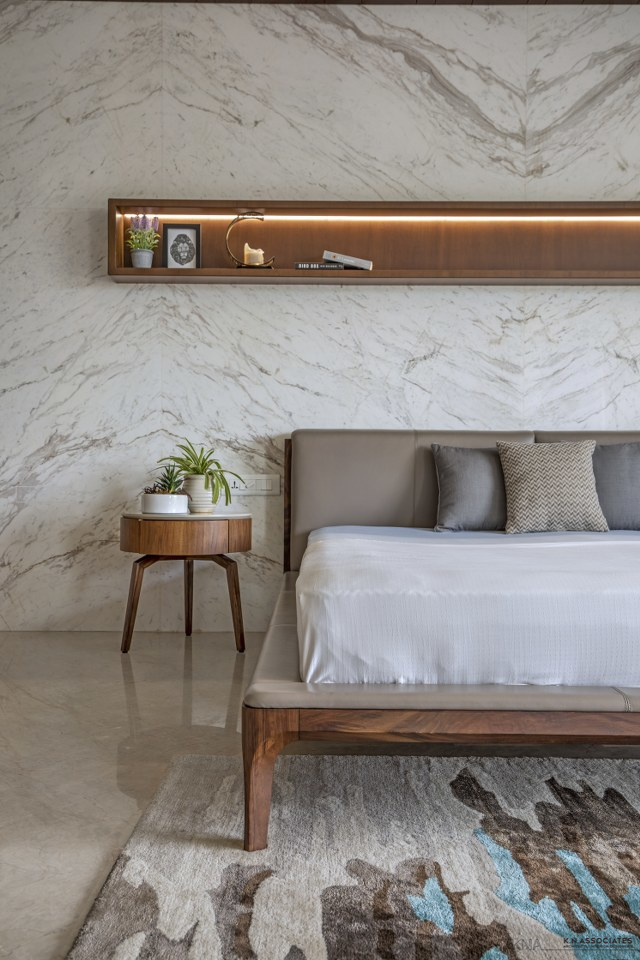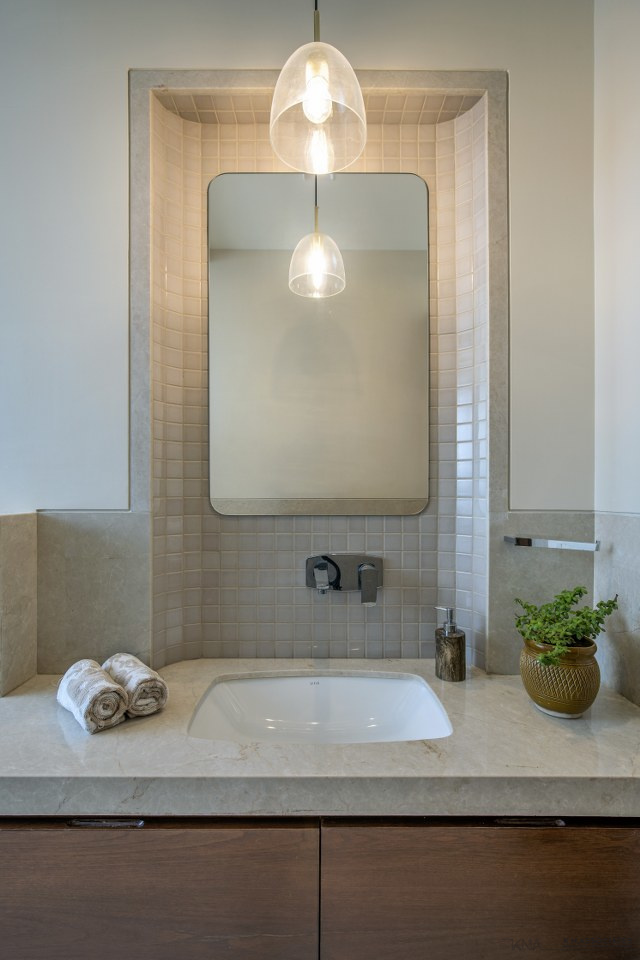 The master bedroom has curated veneer panelling and opens up to a lovely garden with breathtaking views to behold. At "Ghar", wood plays an indispensable part in the interiors. The timeless charm, integrity and versatility of wood add warmth and soothing touch to the space.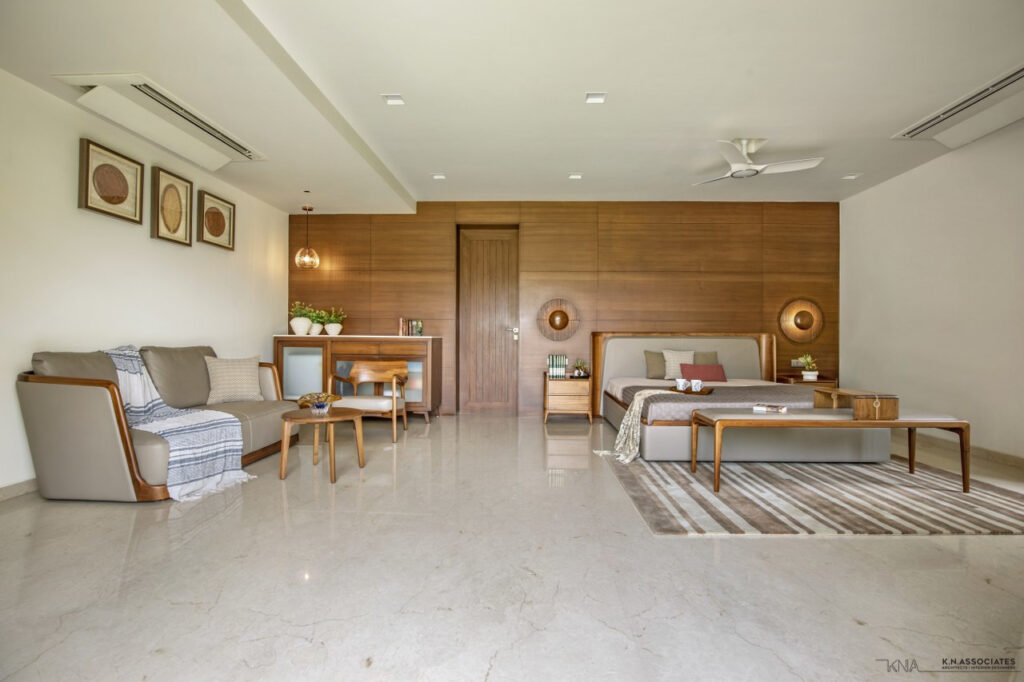 Enriching the space, the use of wood effortlessly adds contemporary flair to the interiors. From chairs and cabinets to wall panelling and bedroom bench, wood is the unsung hero of the interiors.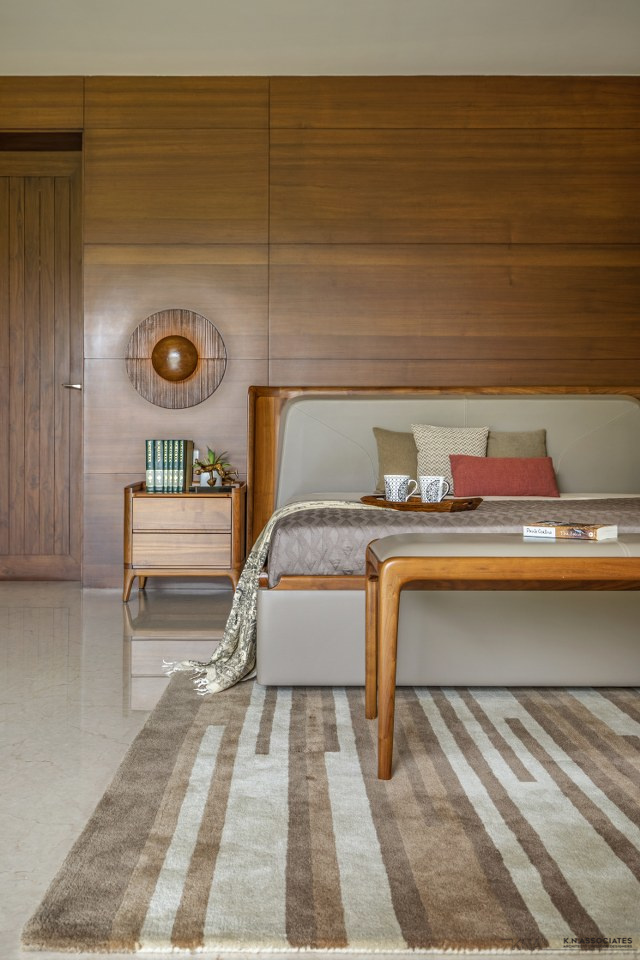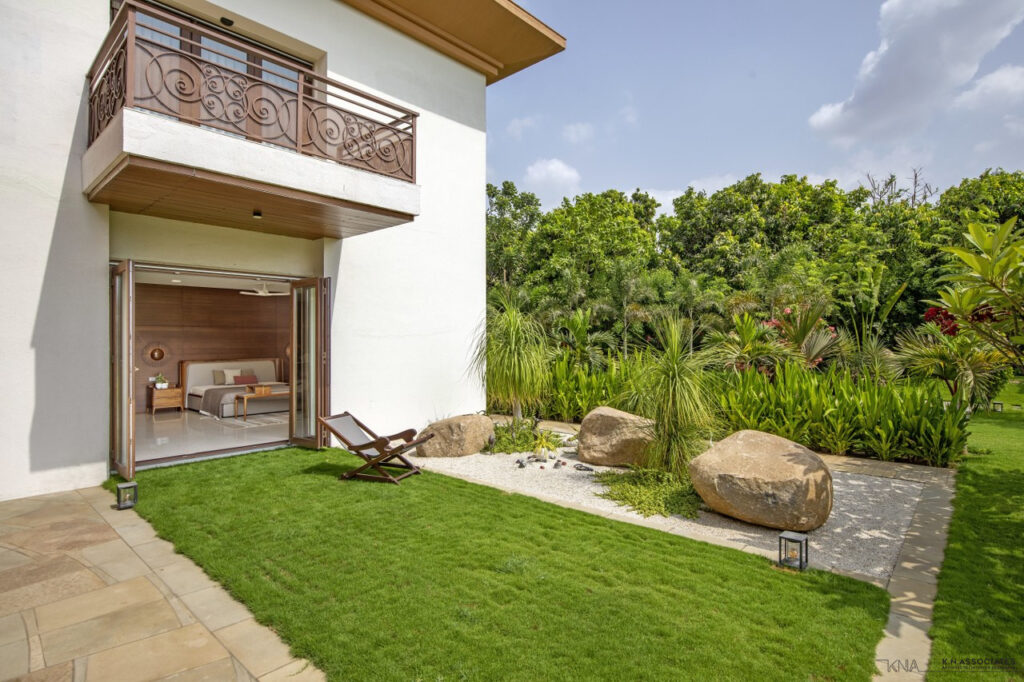 Gardens infuse a breath of fresh air in the spaces while making for a visually stunning backdrop. At "Ghar", we have created this scintillating space of dry landscape, walkways, stepping stone pathways, indigenous flora, palm area and a special little promenade along the waterbody for "Walks to Remember". The landscaping is done keeping in mind the finer details, including styling, plant selection, grass species and soil quality among others.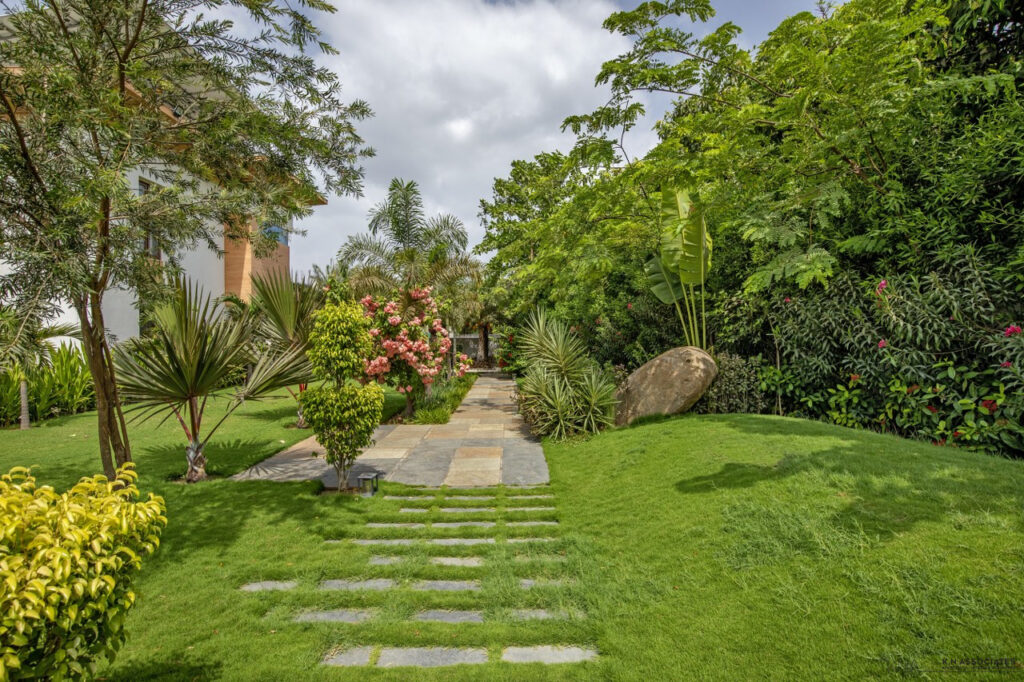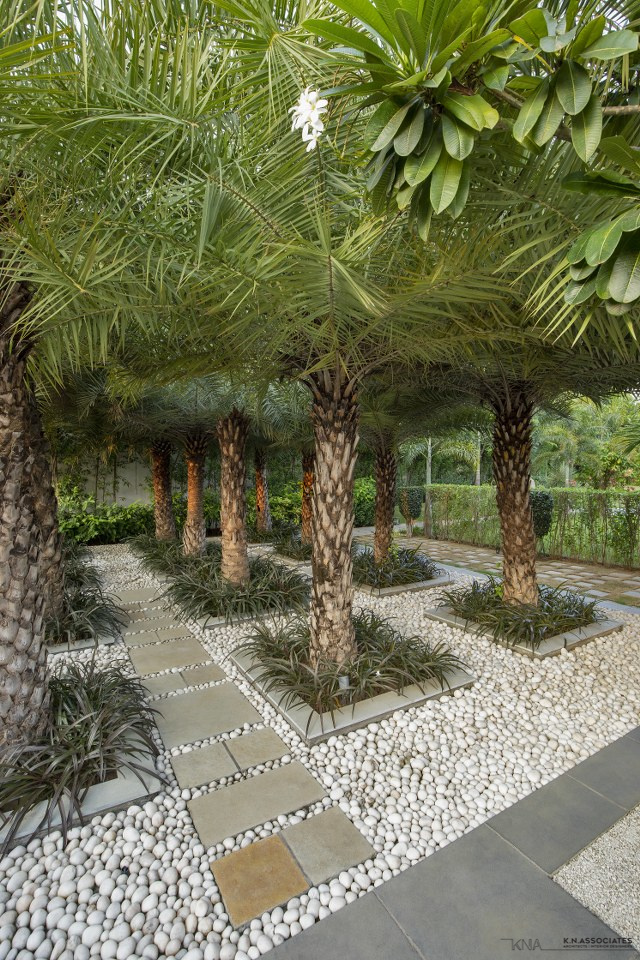 The Shahs were simply in awe of the space. Expressing his delight, Mr. Snehal Shah says, "We could not have dreamt of a better home than 'Ghar'. The space exudes contemporary class and comfort at the same time. We knew Narendra Joshi would fulfill our expectations. But we were proven wrong. He, along with his team, went beyond the call of duty and engaged with us at every stage to deliver a space that is beyond our expectations. We are over the moon and can't thank him enough for doing this. Cheers!"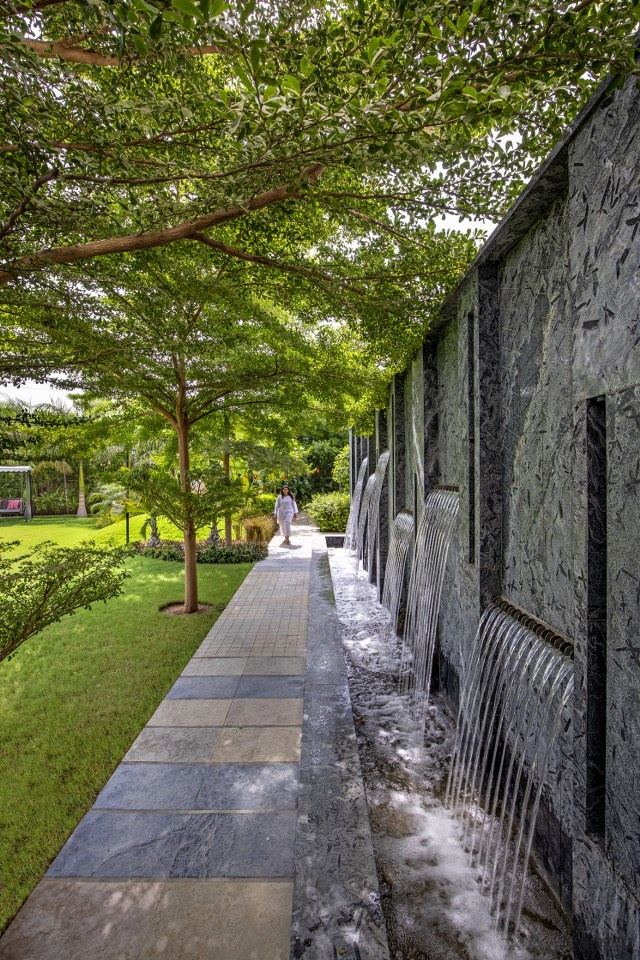 Ghar is intricately designed to offer inner suburban living. It combines functional design seamlessly with beautiful aesthetics. You can notice details that arouse visual interest everywhere you look in this scintillating space.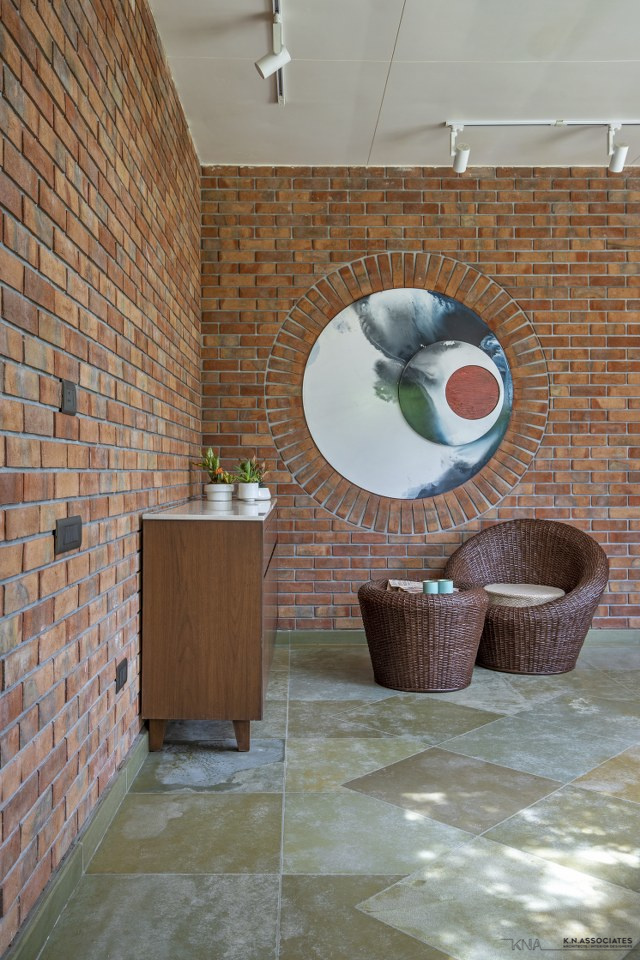 Herringbone-patterned door and foyer, customized rugs by Dhurrie Store, handpicked rocks in the garden, comfy lounge chairs, custom paintings, bespoke accessories and other unique elements combine to make the interiors enthralling.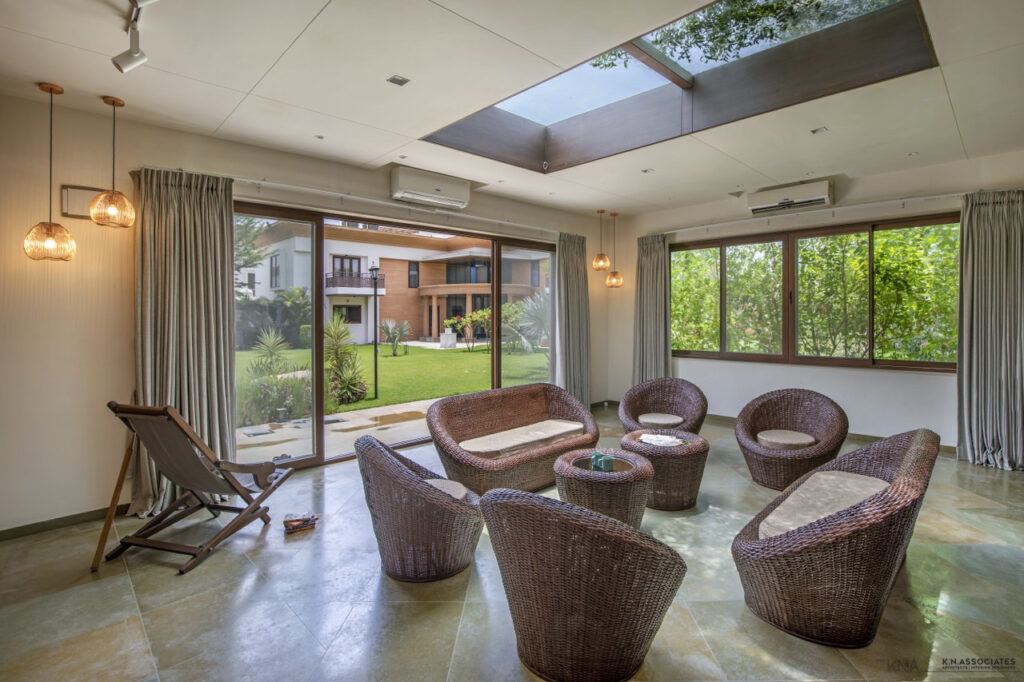 Narendra Joshi reckons that "Ghar" was a challenging project, He says, while quoting Steve Jobs, that, "Simple can be harder than complex: You have to work hard to get your thinking clean to make it simple. But it's worth it in the end because once you get there, you can move mountains." He further adds, "Our team moved mountains to get the finer details absolutely spot on and it is evident with the outcome. Shahs love their place and that was our ultimate aim."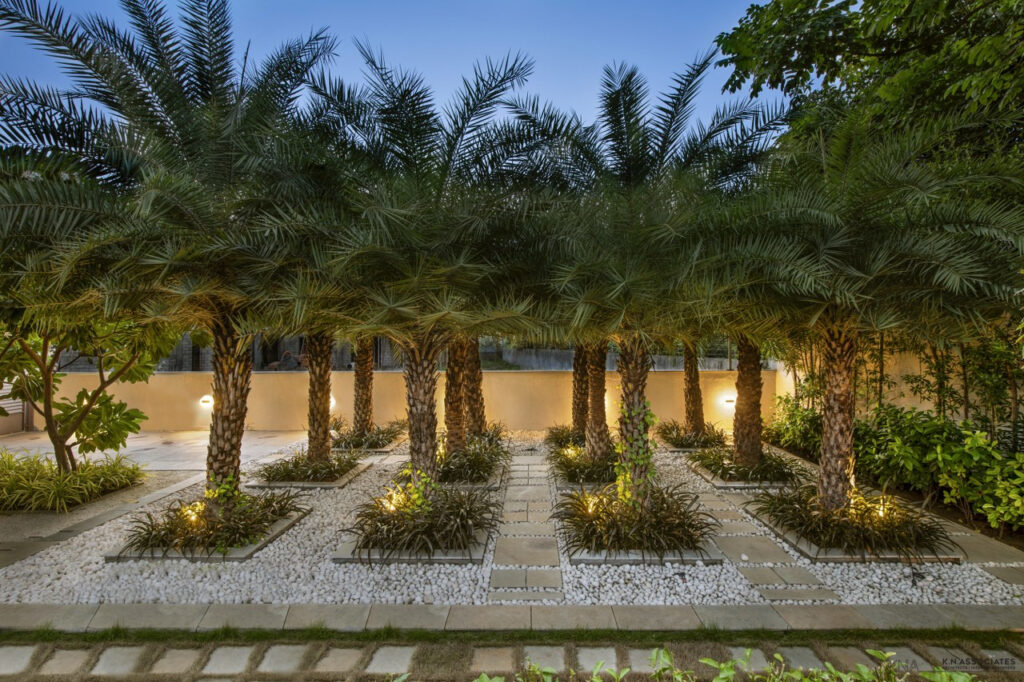 "Ghar" is a very special project and very close to our hearts. It was a pure joy to design the interiors in collaboration with the client, who had an eye for detail and our relationship simply blossomed over time. The natural aesthetics of wood, the calmness of the hushed color palette, thoughtfully curated lighting and scattered chevron patterns make for pastoral settings. Just the kind of space our client desired to return to after a long day of hustle.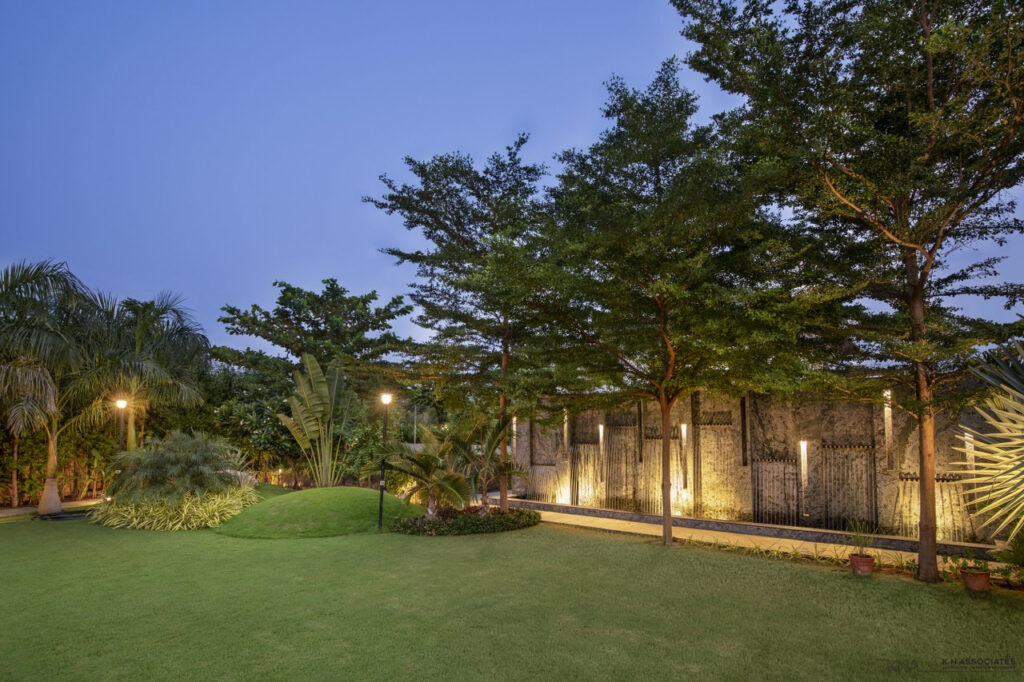 FACT FILE
Designed by : K.N. ASSOCIATES
Project Type : RESIDENTIAL INTERIOR
Project Name : GHAR
Location : VADODARA, GUJARAT
Year Built : 2022
Plot Area : 21900 Sq.ft
Project Size : GF – 3980 Sq.ft / FF – 2990 Sq.ft
Project Cost : 2.5 CR
Principal Architects : AR. NARENDRA JOSHI & AR. PRITESH PATEL
Team Design Credits : NIDHI SHAH & FARHEEN LANEWALA
Write – UP Courtesy : PRIYANKA CHITRE
Photograph Courtesy : Tejas Shah
Products / Materials / Vendors : Finishes – VENEER / Wallcovering / Cladding – STONE CLADDING Lighting – LIGHTWAVE SOLUTIONS / Flooring – ITALIAN MARBLE & BRASS INLAY / Artefacts & Paintings – AVINASH GONDALIYA.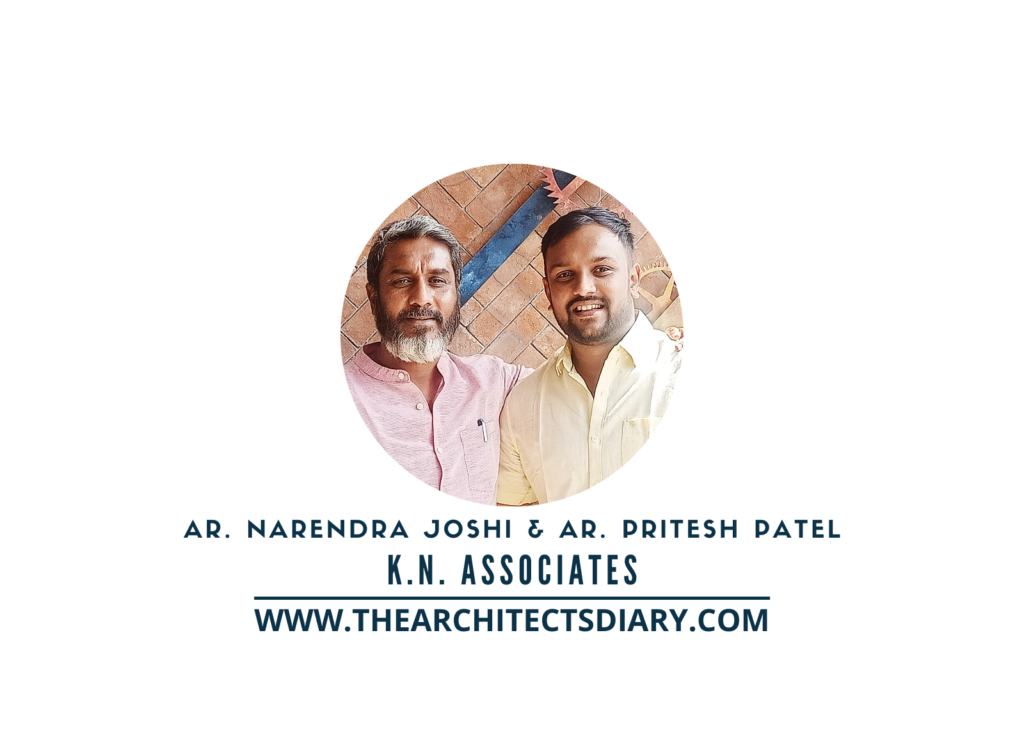 Firm's Website Link : K.N. ASSOCIATES
Firm's Instagram Link : K.N. ASSOCIATES
Firm's Facebook Link : K.N. ASSOCIATES
For Similar Projects >> A RESIDENCE HAVING MINIMAL AESTHETICS AMALGAMATED WITH STARK TRADITIONAL DETAILS
The post This Modern Bungalow Interacts With It's Surroundings With It's Balanced And Neutral Insertions | K.N. Associates appeared first on The Architects Diary.