The main door and the safety door are finished in light tones and walnut veneer, which are further adorned with a grey customized metal grill to stand different from the boring CNC cut pattern for safety jali. The safety door seamlessly merges with exterior paneling décor with deeping pattern of lotus and Shree Kantha. This space also features a cabinet which looks elegant with the stand décors in open boxes. Step inside this modern apartment interiors invites a vibrant ambiance with an elegant living room.
This Modern Apartment Interiors Invites a Vibrant Ambiance with an Elegant Living | Cosynest Interior
Visit: Cosynest Interior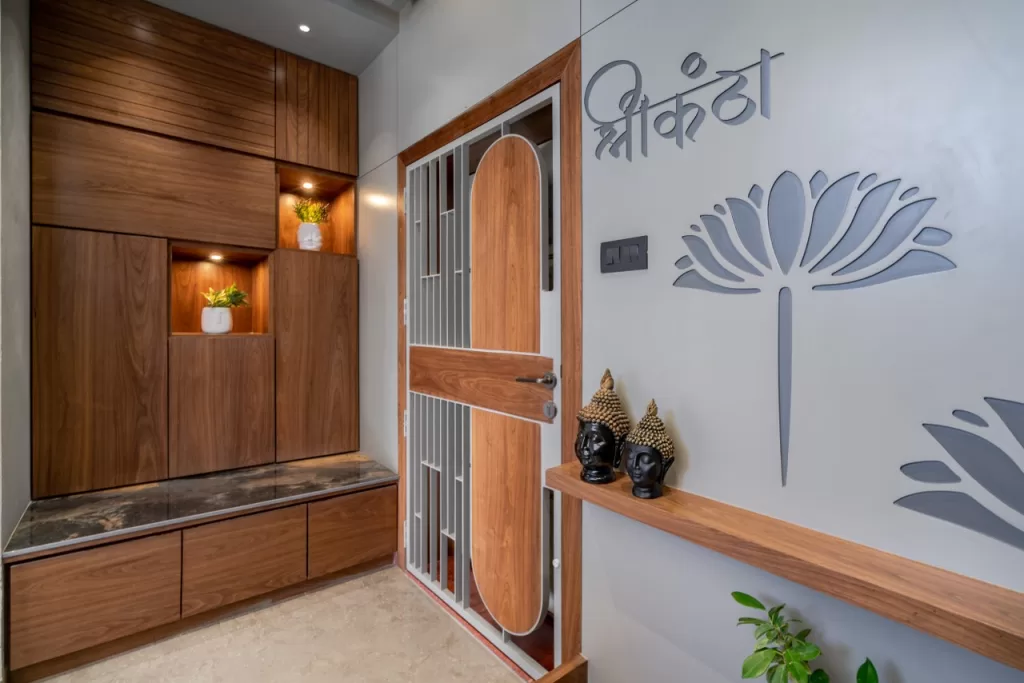 As soon as guests enter the house, the first thing that strikes them is the beautiful blue sofa While the modern centre table and TV console unit add allure to the décor. The sober ceiling was intentionally left very minimal and it is a great way to make the living room look more spacious.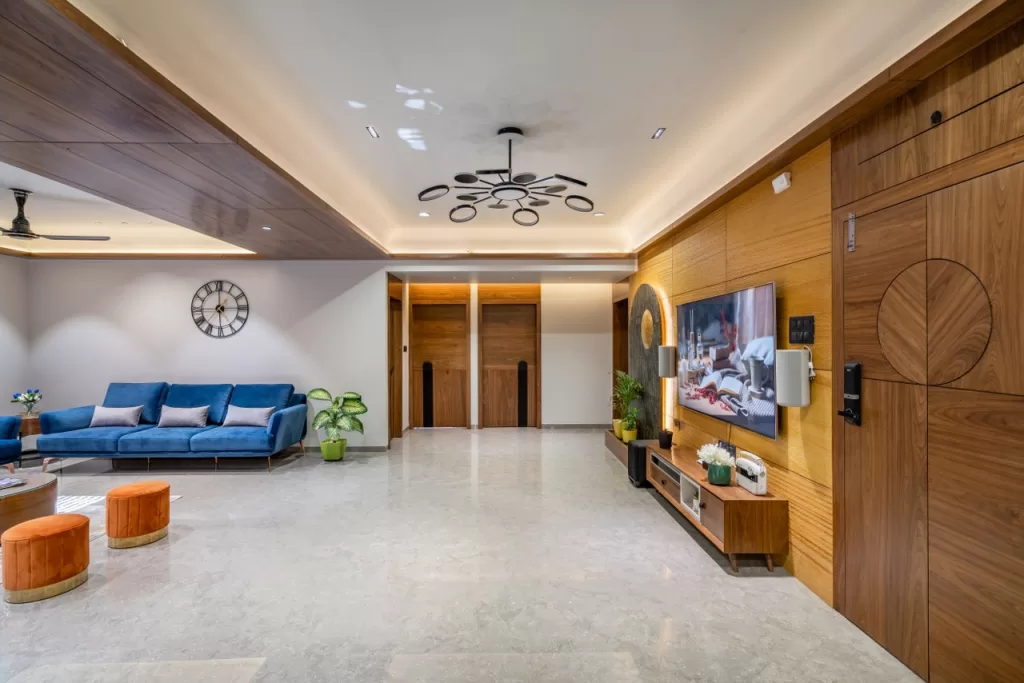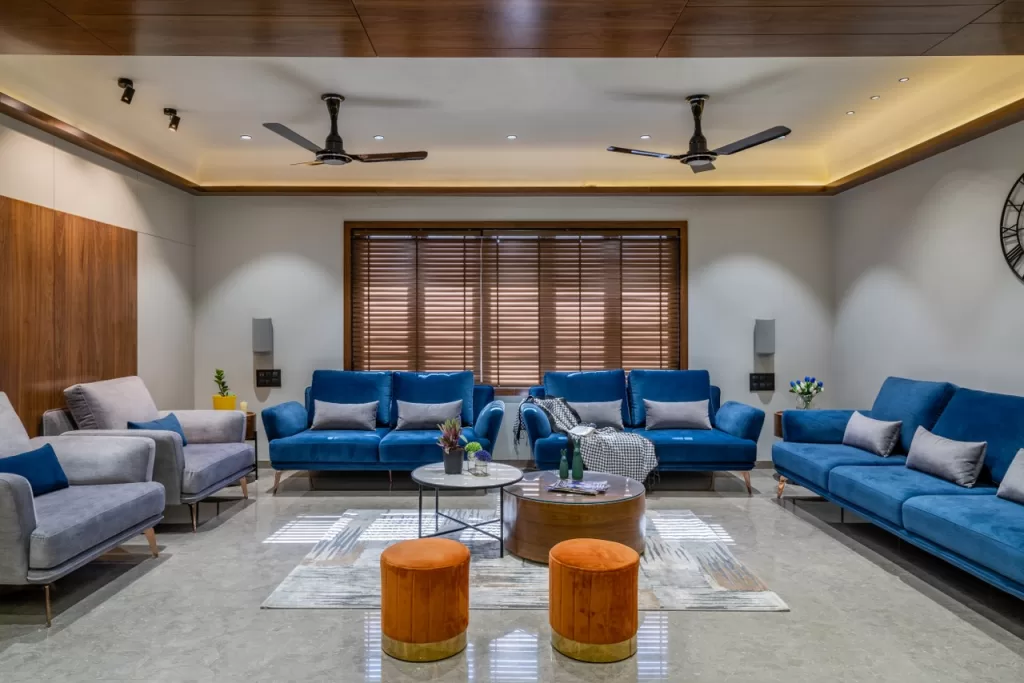 The colour sage yellow and black with a pinch of gold leafing in the tv unit is often associated with smoothness, decency, luxury, and ambition. The decor in the TV unit shows the client's deep love for lord shiva.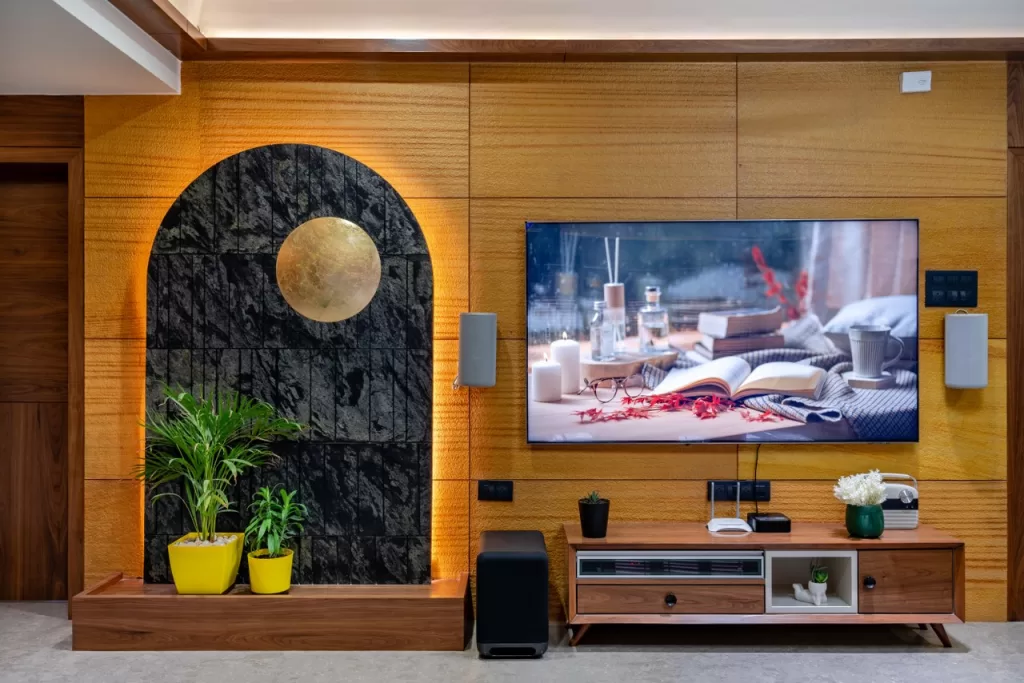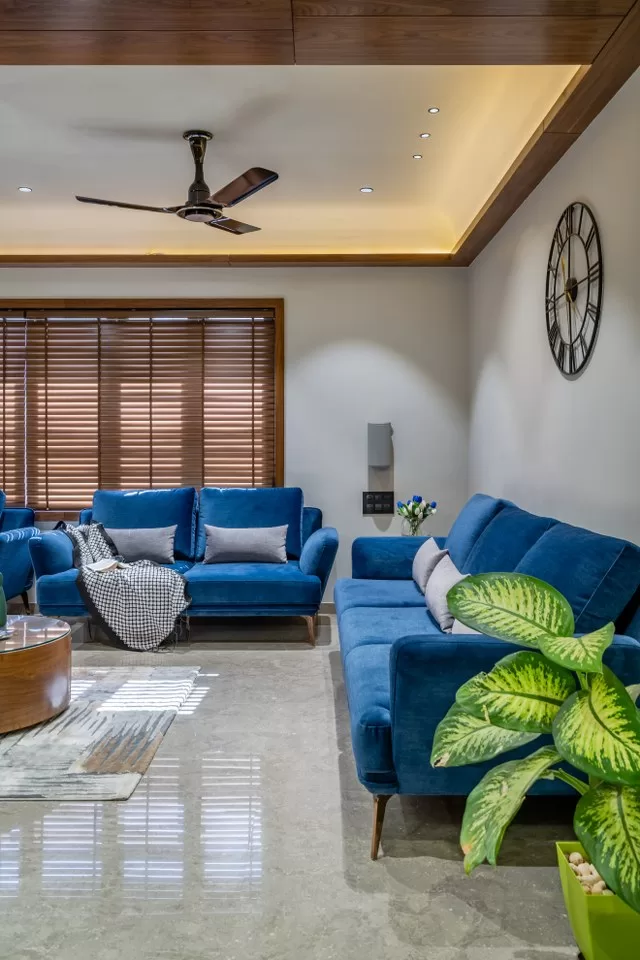 The stunning design of the tv unit with ridges of dark grey speckles stone veneer thrown on a beautiful shimmering yellow teak stone veneer and gold leafing texture on a parametric circle.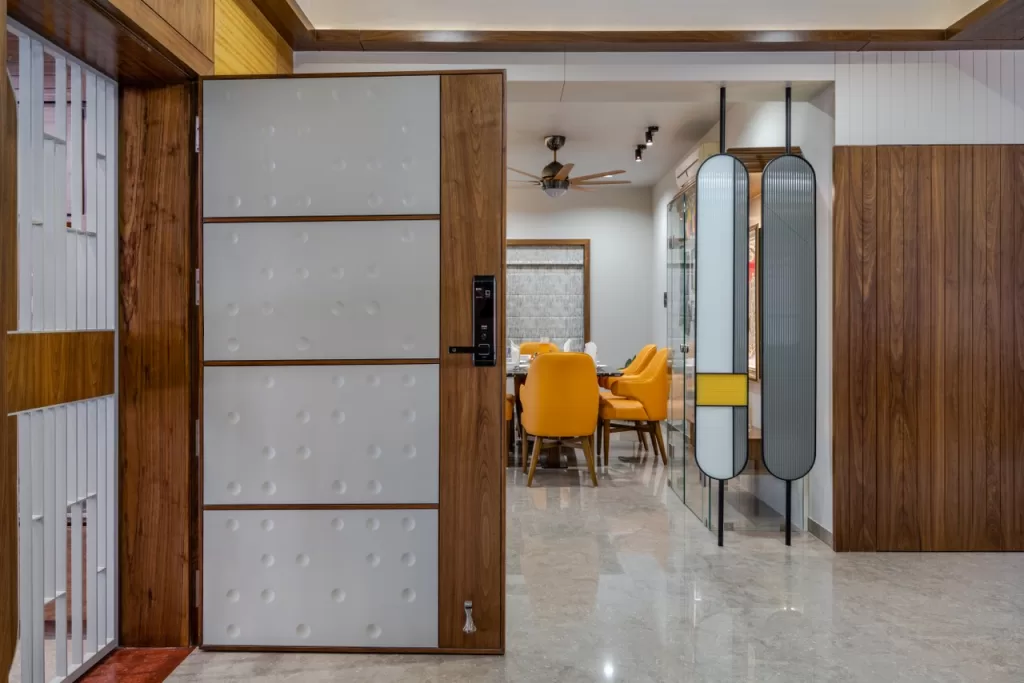 Kitchen
The kitchen is the grasp centre where you can sense the accomplishment with a thru view of the living and dining space. The colour palette was little different here as the client's love for black and tint's of black. Matt black glass profiles are used for shutters to complement The I-land platform made from colour body slab tiles, less maintenance and gives tremendous look to Modern kitchen.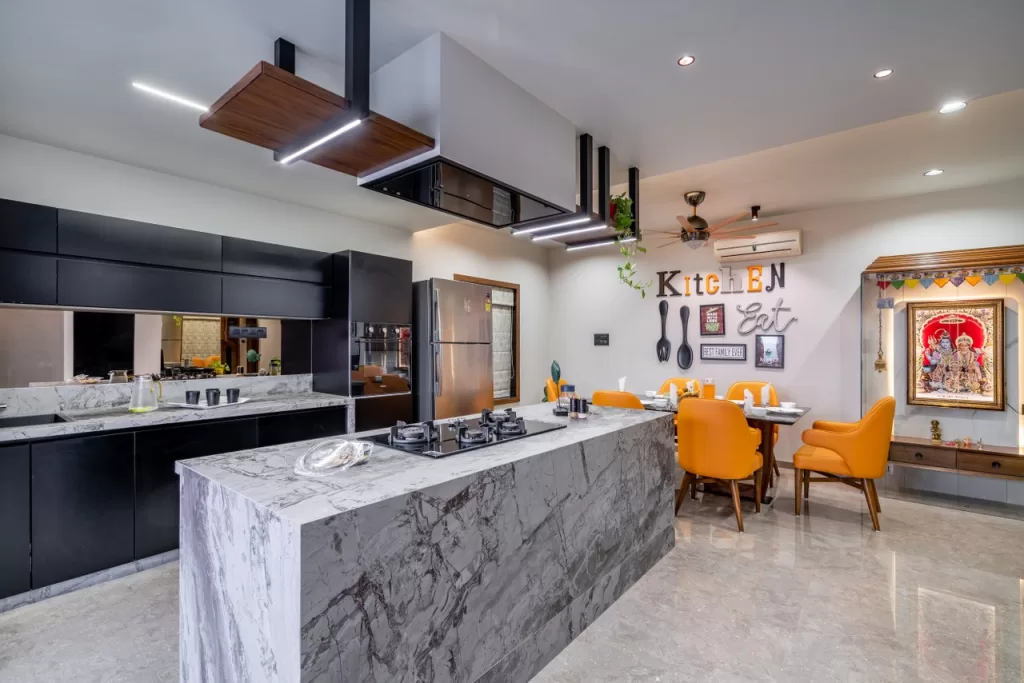 Same way serving platform made with the same slab tiles and dado made with bronze mirror so that kitchen looks more spacious & suspended structure from ceiling parallel to chimney bring a touch of elegance with a striking design to this modern kitchen.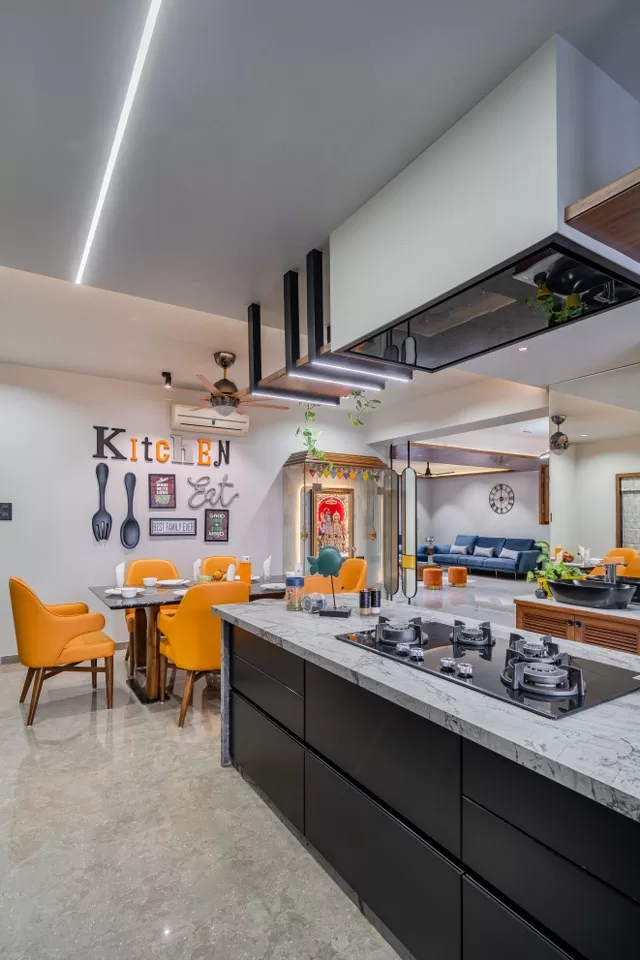 Master Bedroom
In the master bedroom, The vibrancy and energy were the core consideration for designing this bedroom. The exposed RCC texture and wooden step-up for bed felt neutral but rested to its true magic once combined with different elements finishing.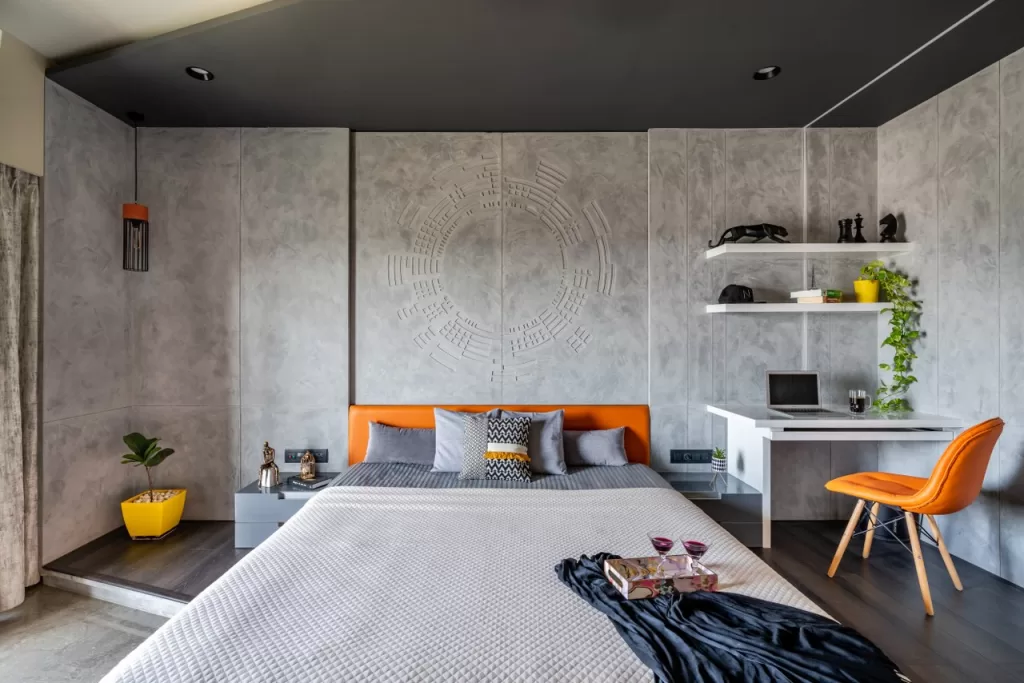 The orange pop up trendy colour was included to throw a glimpse of liveliness in the room. The mirror placed near the bedroom entrance is customised in metal which is accentuated curated for décor of light grey wall.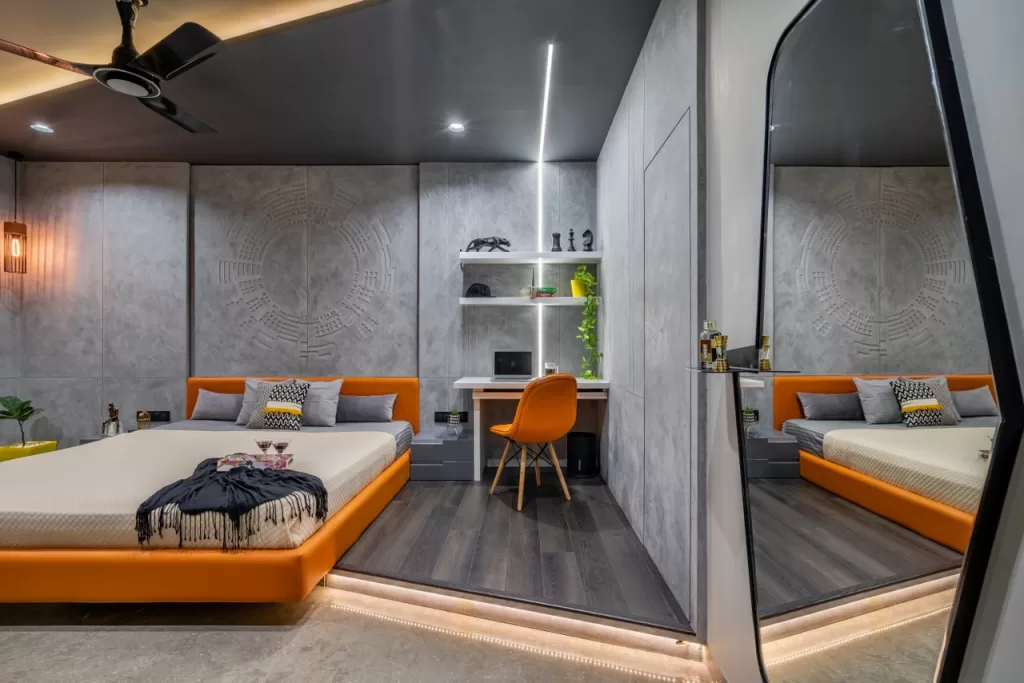 The back wall of a modern bed décor is circular Deeping pattern in mdf sliding shutters, this whole structure is created to hide windows behind the bed back and which slide behind the panel when they want natural air circulation brings out the unique style and refined style of the bedroom. All the elements like curtains, hanging light, and furnishing emphasize each other.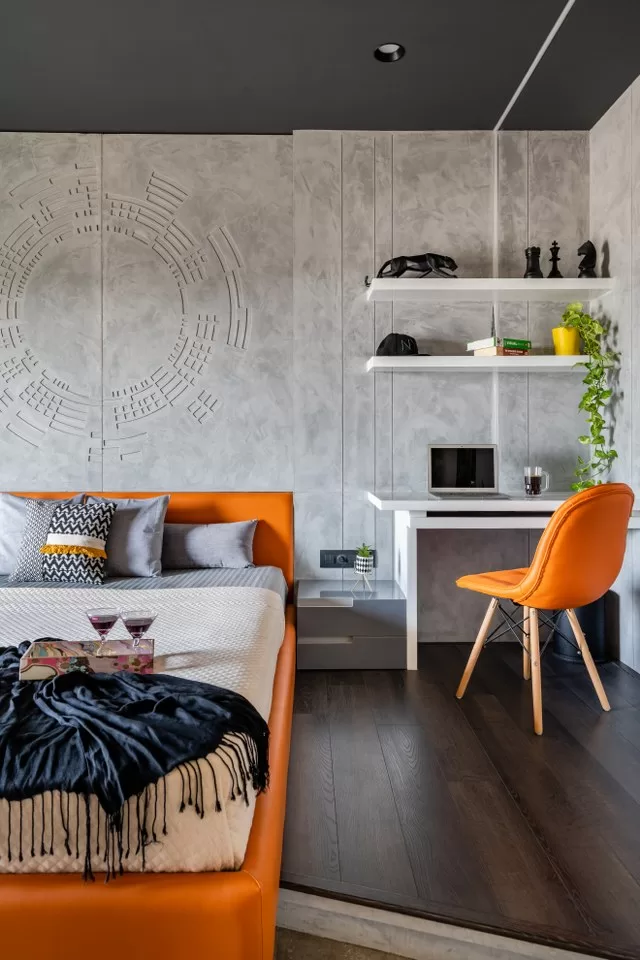 Parent's Bedroom
Parent's room design with the owner's love for a combination of black and teak wood is reflected in the design of the room. Over all every corner of the room is kept simple in design as well as in colour pallet. Ultimately Parent's want a room where they can recharge their soul and space which is timeless and soothing.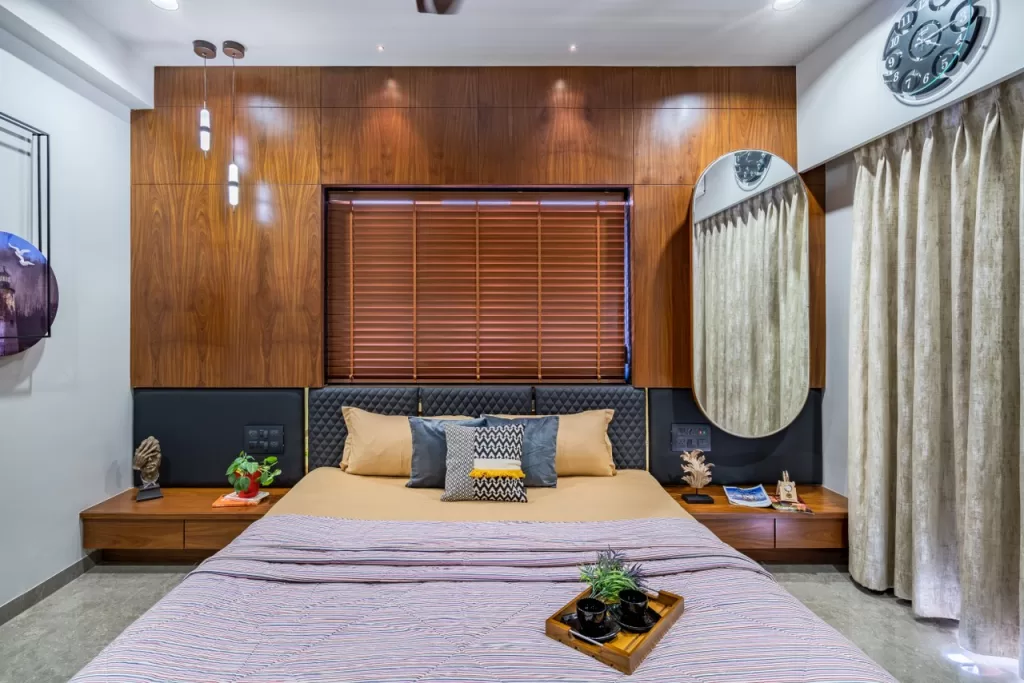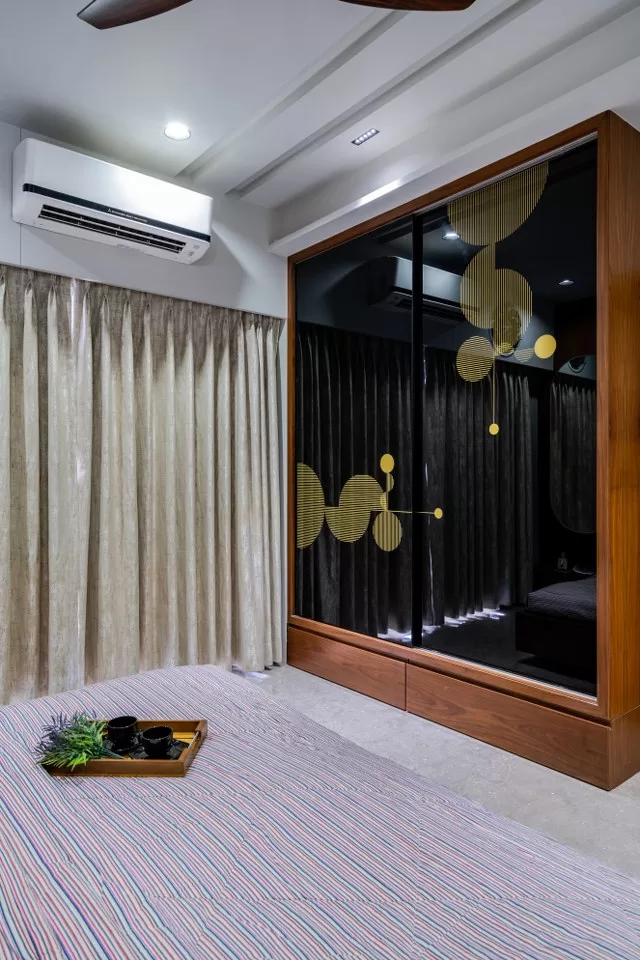 Sister's Bedroom
This trend never took a backseat to defining breeze in areas of other bedrooms. The bedroom was envisioned for teenage girl in a monochromatic theme in shades of earthy and pinch of peach.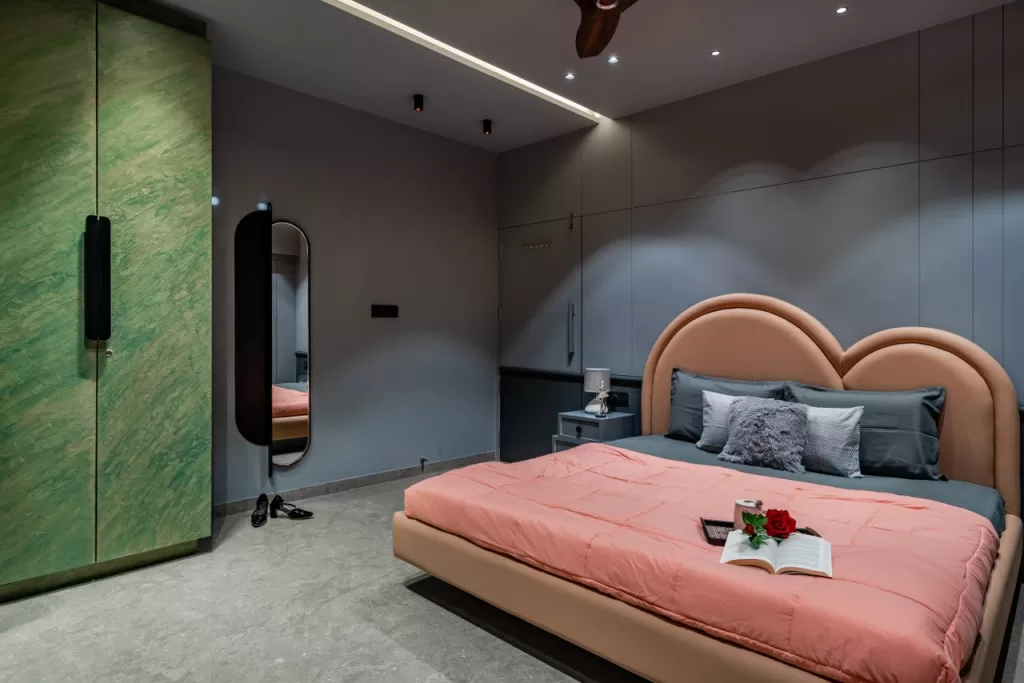 The bed's back wall & side wall is adorned with vertical lines. The high headboard & bed is in peach leather upholstery which gives a statement look to the room.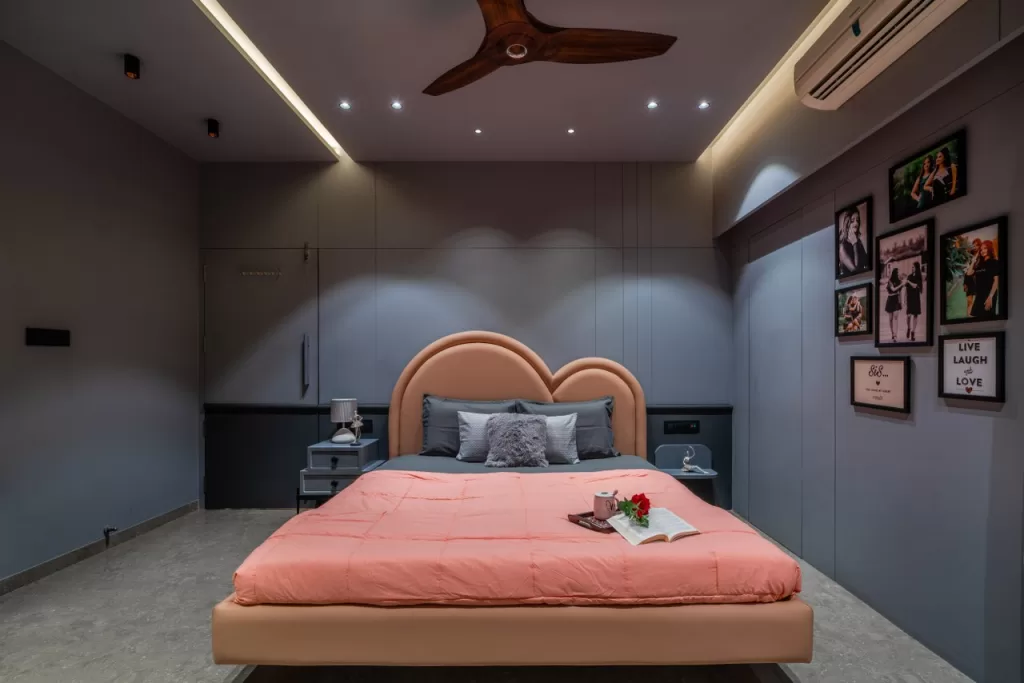 The customized mirror hits a striking shape & colour combination. The wardrobe is designed in a simple but elegant look by travertine golden wax texture on mdf base shutters.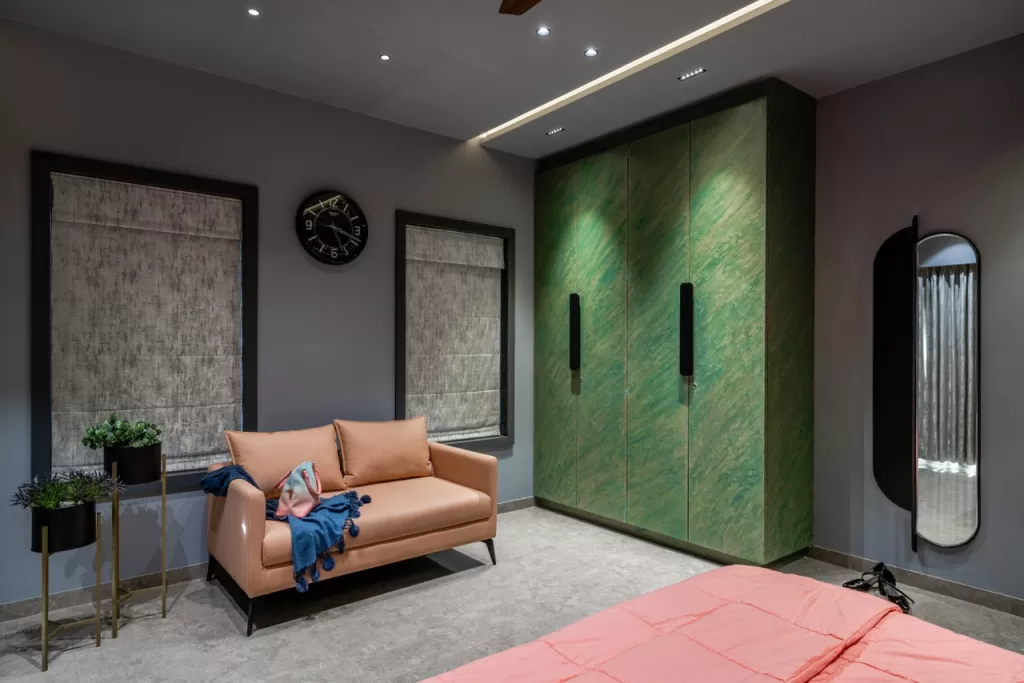 Fact File
Designed by: Cosynest Interior
Project Type: Residential Interior Design
Project Name: Shree Kantha
Location: Morbi, Gujrat
Year Built: 2021
Duration of the project: 8 Months
Project Size: 1651 Sq.ft
Project Cost: 55 Lakhs
Principal Designers: Sadhana Gautam Desai & Umang Makasana
Team Design Credits: Sumit Vara & Team
Photograph Courtesy: Inclined studio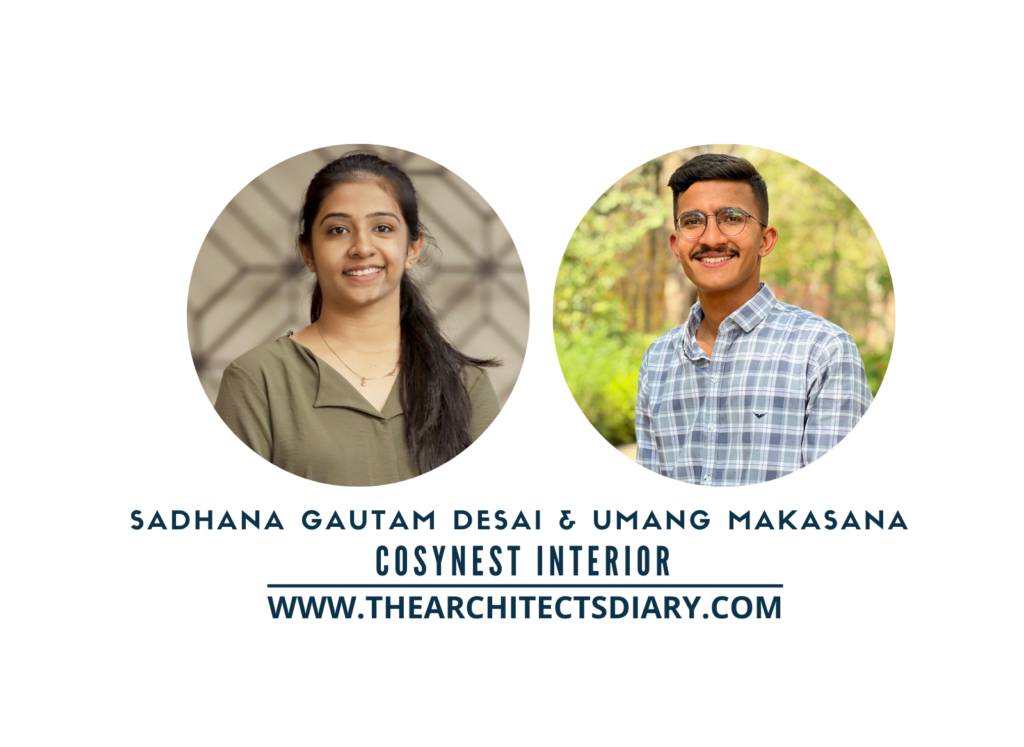 Firm's Instagram Link: Cosynest Interior
Firm's Facebook Link: Cosynest Interior
For Similar Projects >> An Artistic Expression of the Homeowners' Individuality and Appreciation for Indian Culture
The post This Modern Apartment Interiors Invites a Vibrant Ambiance with an Elegant Living | Cosynest Interior appeared first on The Architects Diary.