When we first met our discerning client, their desire for a truly exceptional residence was evident, and we were determined to exceed their expectations.
This Meticulously Designed Gurgaon 4BHK Home is a Testament to Luxury and Elegance | The Space Affair
Visit: The Space Affair
In this meticulously designed Gurgaon 4BHK home is a testament to luxury and elegance where we divided the foyer area into two sections to maximize functionality and aesthetics. The first section was transformed into a serene mandir, while the other part was retained as a welcoming foyer. For the mandir area, we incorporated a clever hidden door that seamlessly integrates with the wall, providing a discreet and elegant entrance to the sacred space. This design choice ensures that the mandir remains a peaceful and sacred corner of the home.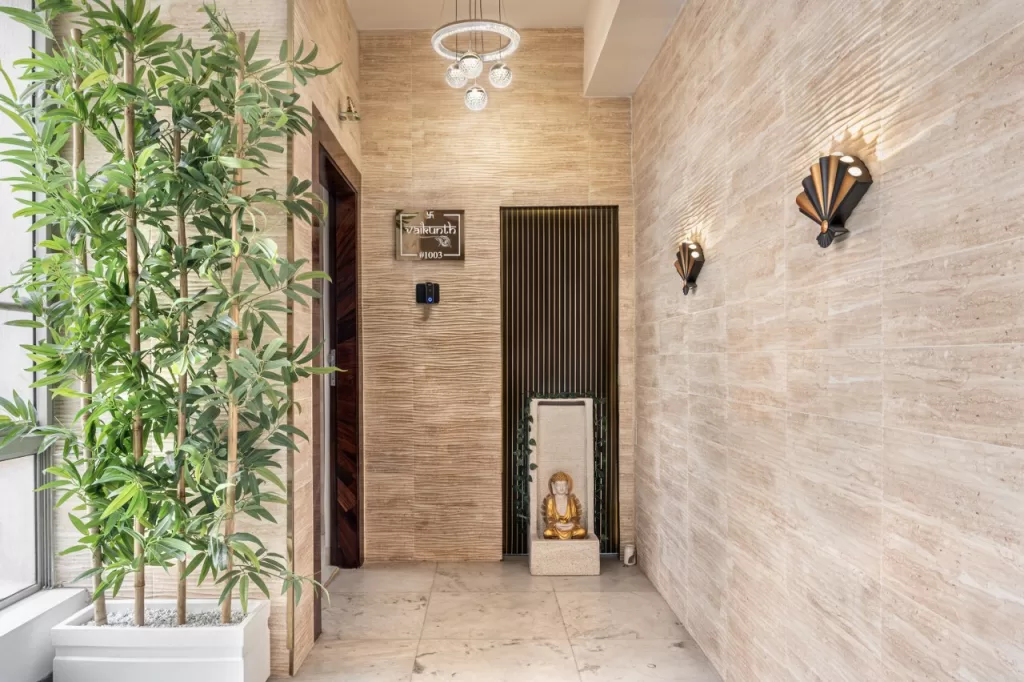 In the living area, we dedicated a specific space for decorative elements, creating a harmonious balance between style and comfort. The combination of brown and orange hues in the sofa selection adds a warm and inviting touch, contrasting beautifully with the cream feature wall.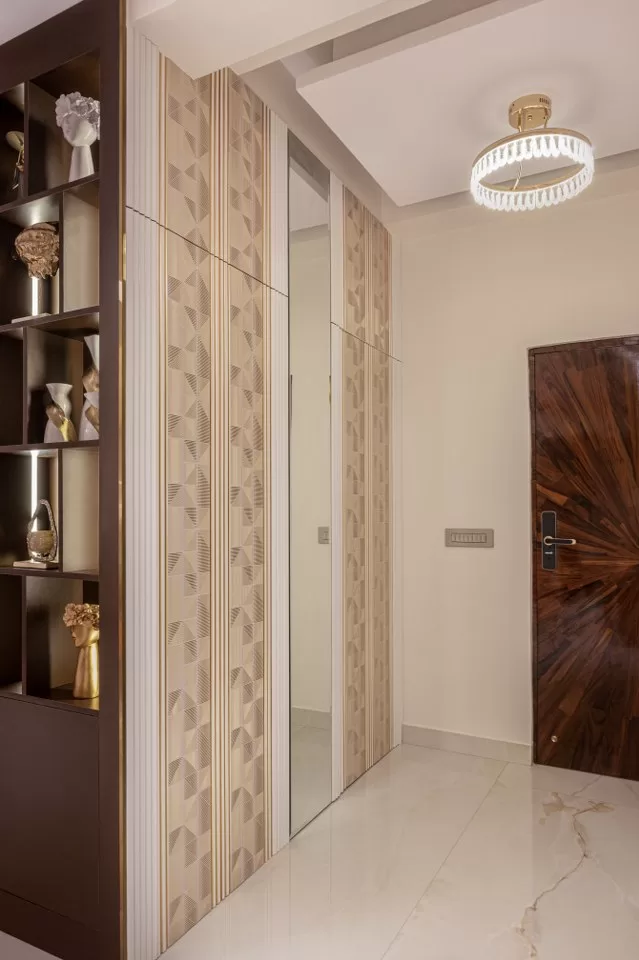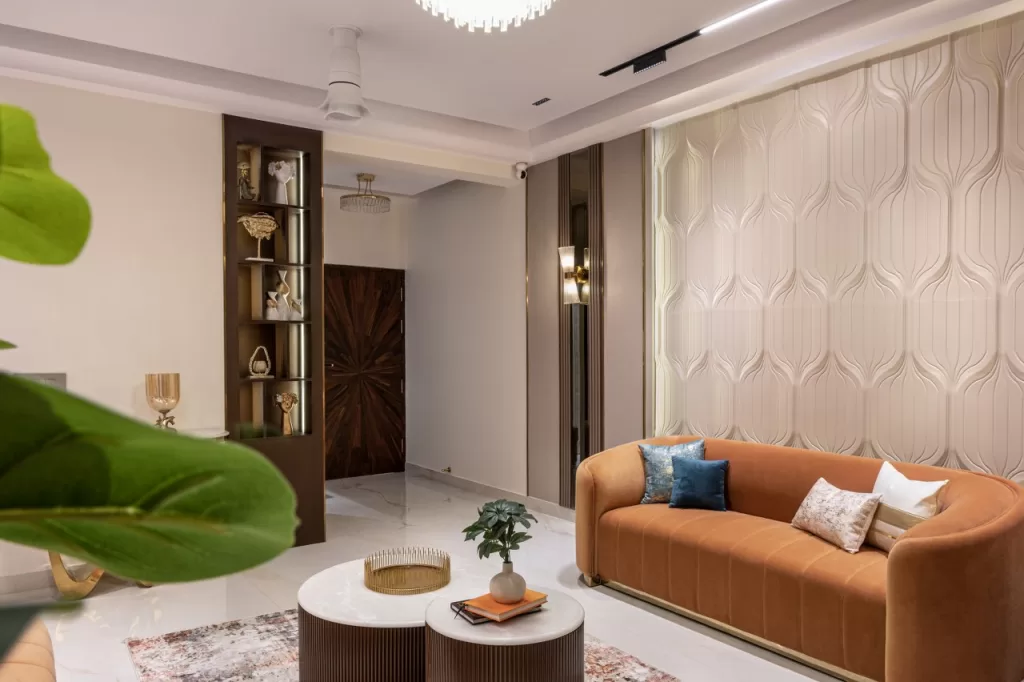 The feature wall in the living area is a true showstopper, designed with precision using CNC technology. It features a stunning combination of louvers and mirrors on both sides, adding depth and dimension to the room.
The louvers create an interesting interplay of light and shadow, and the mirrors reflect the room's elegance, making the living space feel more open and spacious.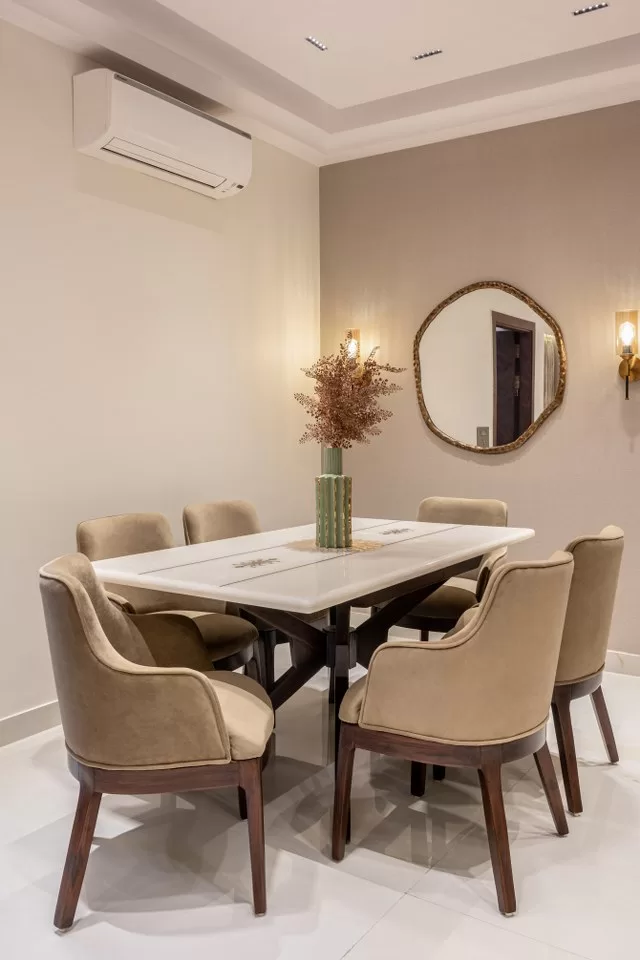 Kitchen done in off-white acrylic finish gives it a clean and elegant look, complemented by the warm light brown subway dado tiles. With sleek black appliances, we've got a modern and chic vibe going on. And let's not forget our favourite spot – the small breakfast counter, perfect for those cozy mornings.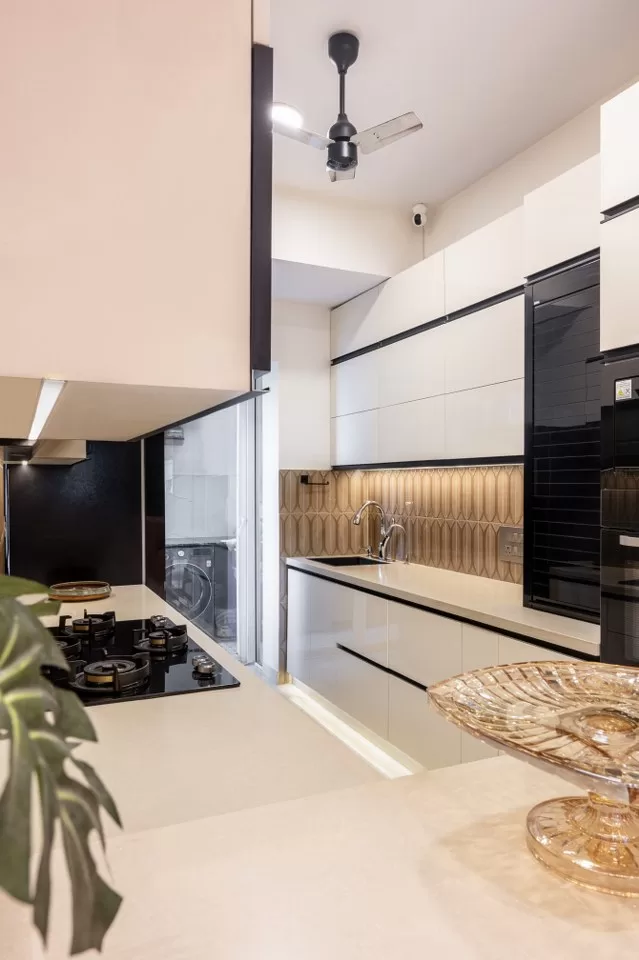 In the parents' room, a unique challenge presented itself. The client's wish to reuse a black and brown bed became the cornerstone of the room's aesthetic. To make the most of this opportunity, we incorporated the half-moon mirror, strategically placed to create an illusion of space and openness. The result is a room that feels expansive and welcoming while harmonizing with the existing bed.
The master bedroom serves as a tranquil and luxurious retreat within the home. This sanctuary of sophistication is adorned with the warm embrace of wooden accents, complemented by an off-white laminate, and adorned with delicate hints of gold.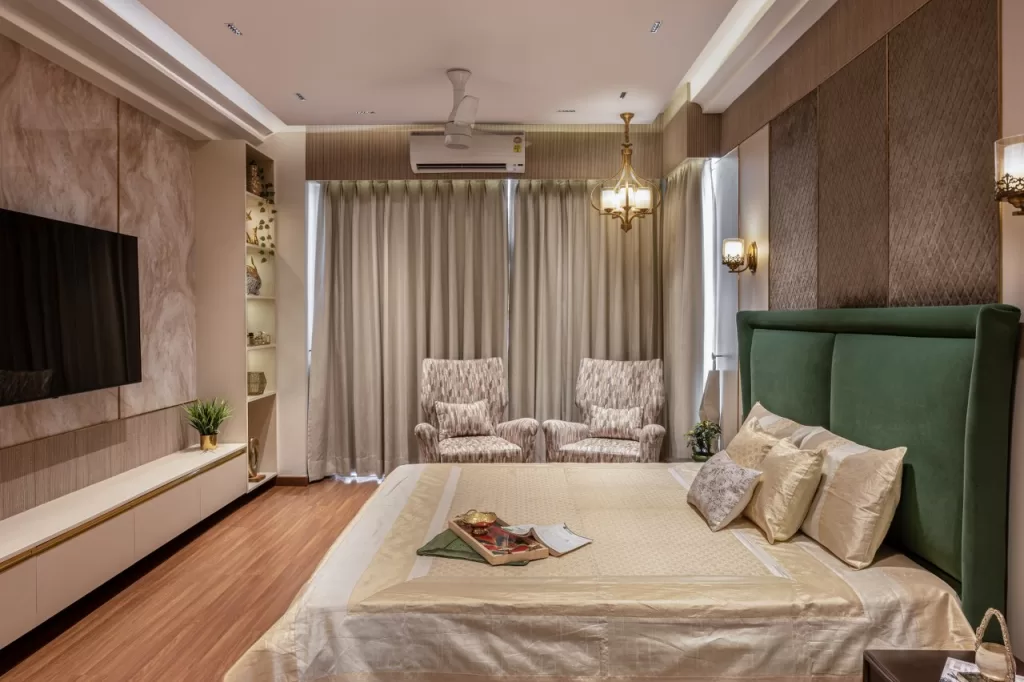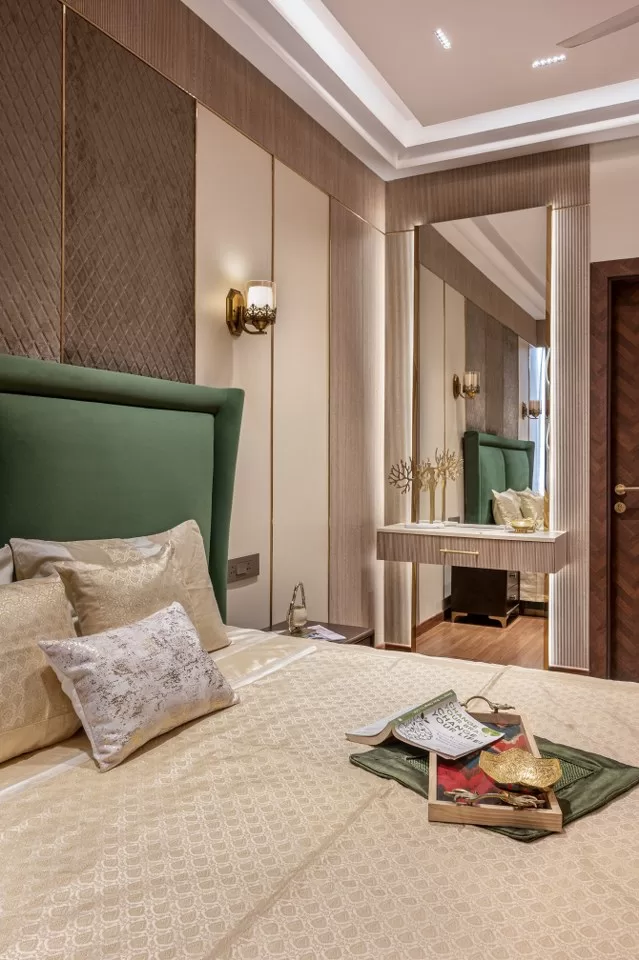 The centre piece of this opulent space is the majestic green bed, making a bold statement and transforming the room into a grand retreat.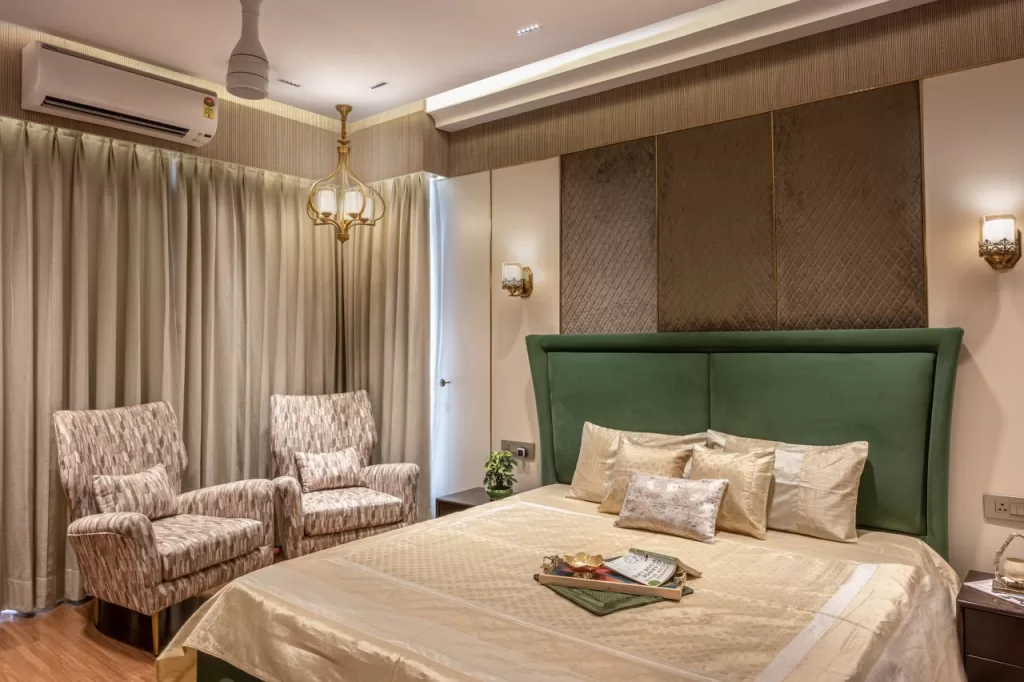 The dressing corner, complete with a cove mirror, and the TV panel with a stone look laminate is a work of art meticulously curated to ensure that every detail exudes an air of luxury and refinement.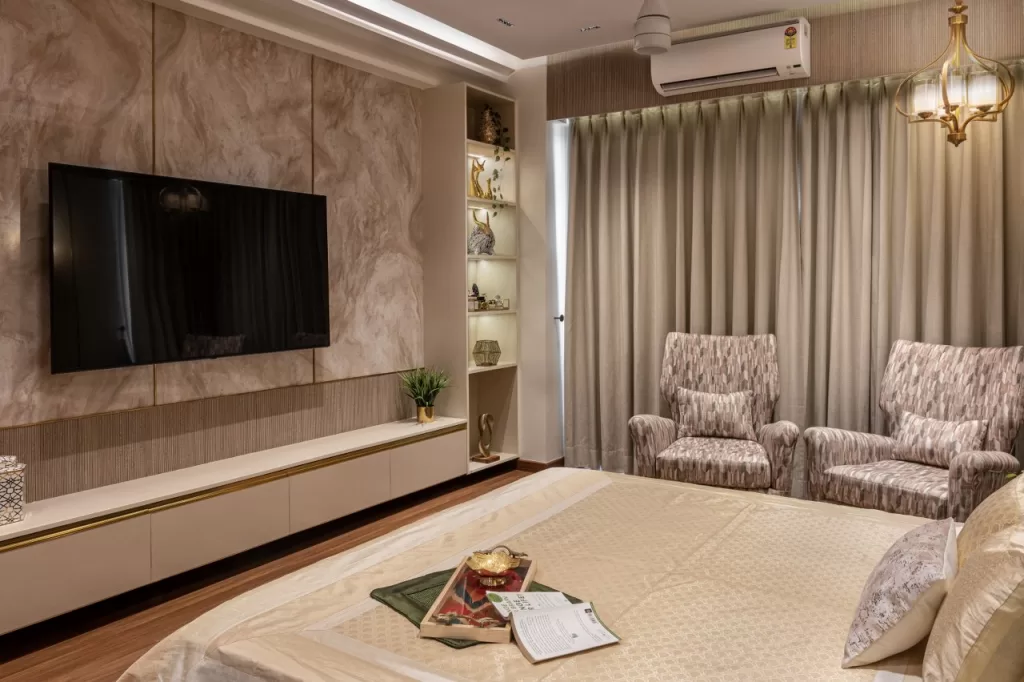 As we move to the guest room, subtlety meets charm. Soft tones of blush create a soothing ambiance, and a carefully selected wallpaper adds a touch of uniqueness without overwhelming the room's simplicity. The curtains, thoughtfully chosen, infuse the space with colour and character, making it truly special for any guest.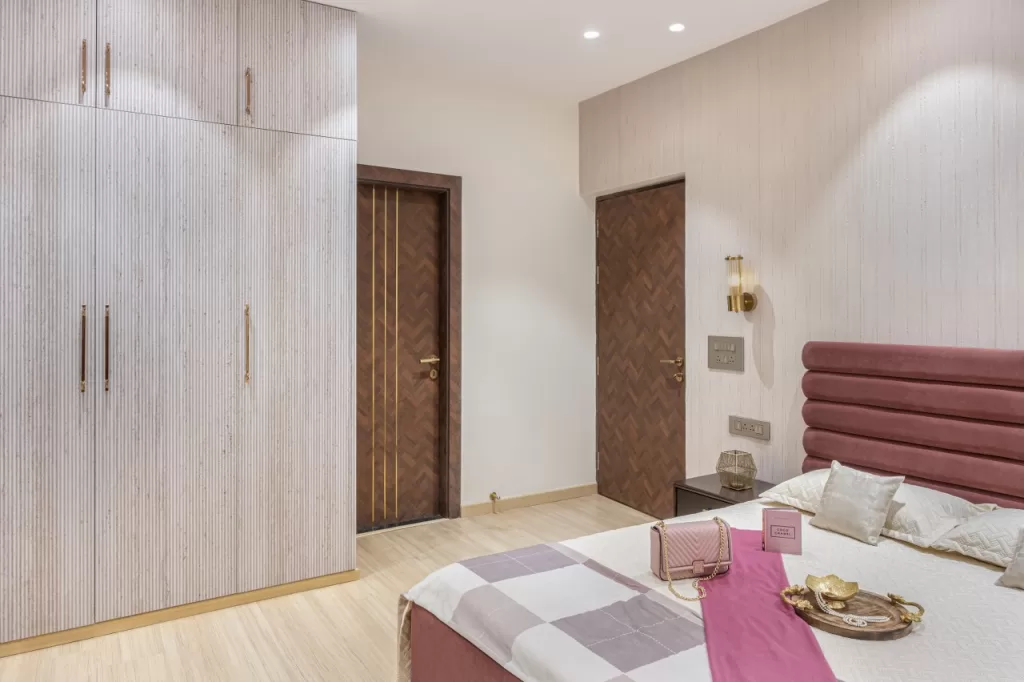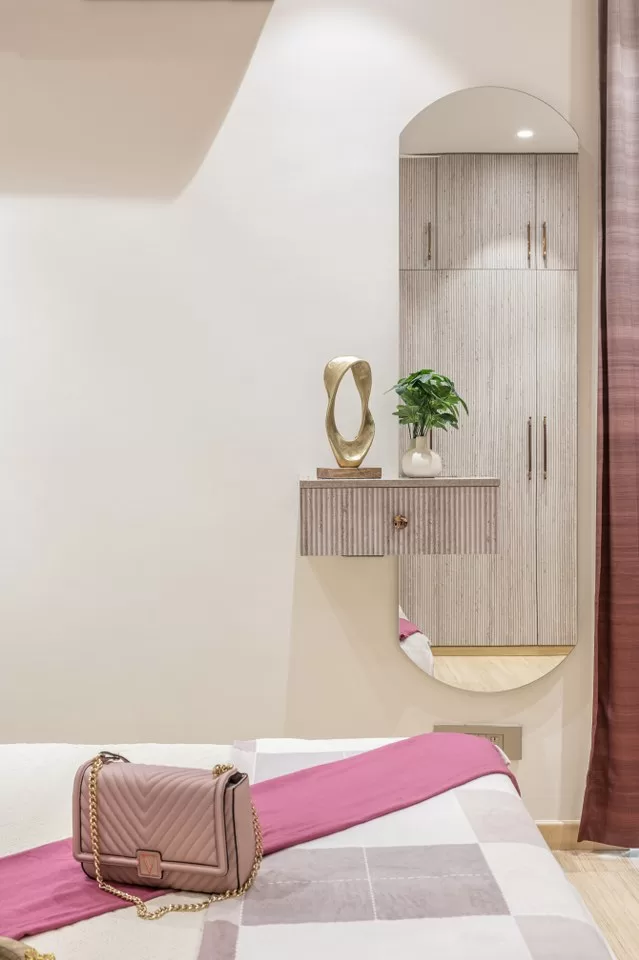 The kids room specially curated for a ten-year-old guitar player is a harmonious blend of functionality and creative expression. It provides a welcoming and inspiring environment for both play and relaxation. Direct your gaze upwards, and you'll be greeted by a delightful surprise – a guitar suspended from the ceiling, serving as a unique focal point of the room. In a display of space-conscious design, the room maximizes every inch with intelligent storage solutions.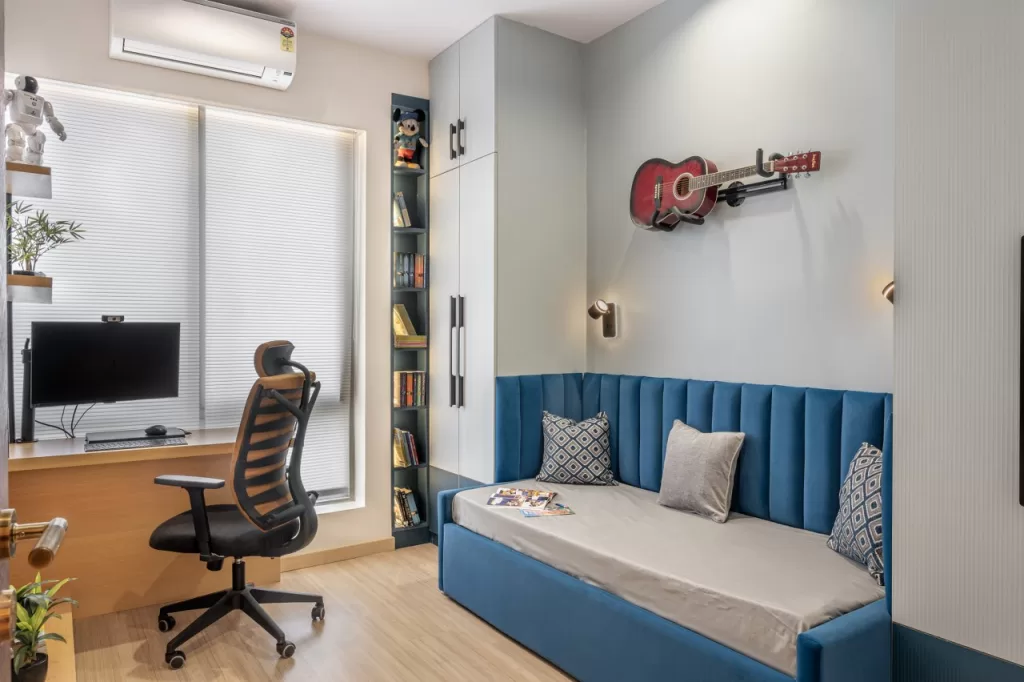 At every turn, our design choices were guided by the vision of creating a home that embodies opulence and individuality, a place where luxury meets personal style. It's a testament to our commitment to delivering not just a house, but a haven of sophistication and comfort.
Fact File
Designed by: The Space Affair
Project Type: Residential Interior Design
Project Name: Plush Haven
Location: Gurugram
Year Built: 2023
Duration of the project: 8 Months
Project Size: 2438 Sq.ft
Principal Designer: Palvi Sachdeva
Photograph Courtesy: Anmol Wahi Chhabra
Products / Materials / Vendors: Wallcovering / Cladding – Euro pratik chisels and louvers / Laminates from Royal touche / Sanitaryware – Jaquar and Kohler / Furniture –Ivy plum / Paint –Asian paints Royale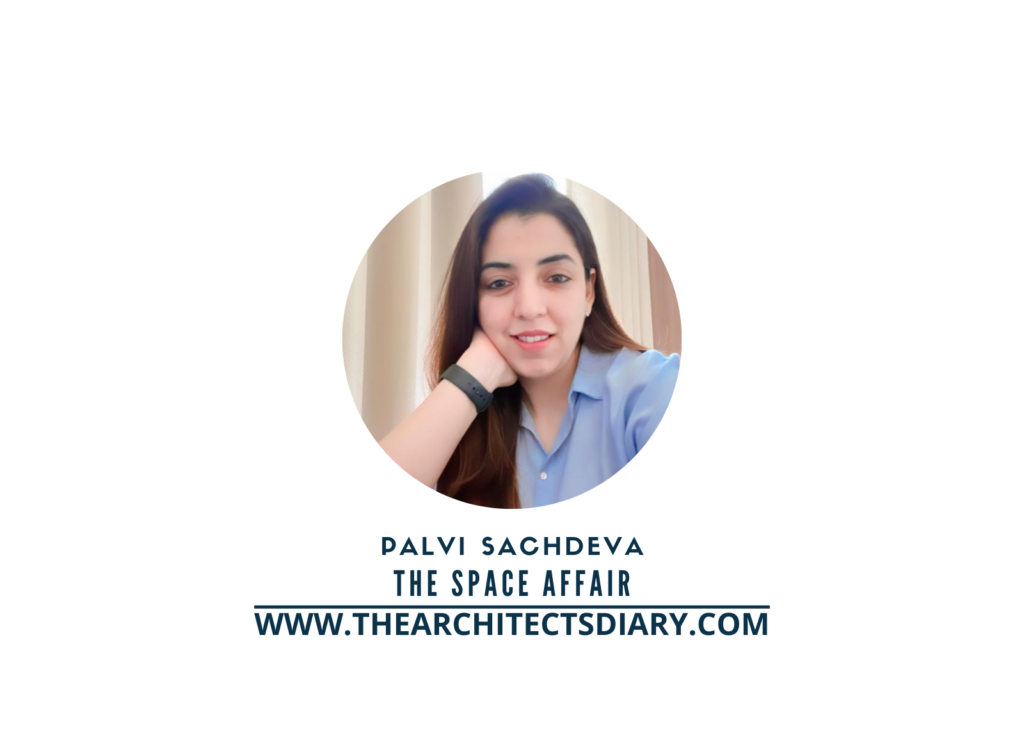 Firm's Instagram Link: The Space Affair
Firm's Facebook Link: The Space Affair
For Similar Projects >> Uptown Suite Exemplifies Understated Luxury While Touching New Spheres of Charming Interiors
The post This Meticulously Designed Gurgaon 4BHK Home is a Testament to Luxury and Elegance | The Space Affair appeared first on The Architects Diary.