Based in Raipur city, this master bedroom design is warm & inviting and oozes earthy goodness. The design journey of a spacious 450 Sq.ft master suite was to thread on a minimalistic approach.
This Master Bedroom Design Is Warm & Inviting And Oozes Earthy Goodness | Rawdraft Project
Visit : Rawdraft Project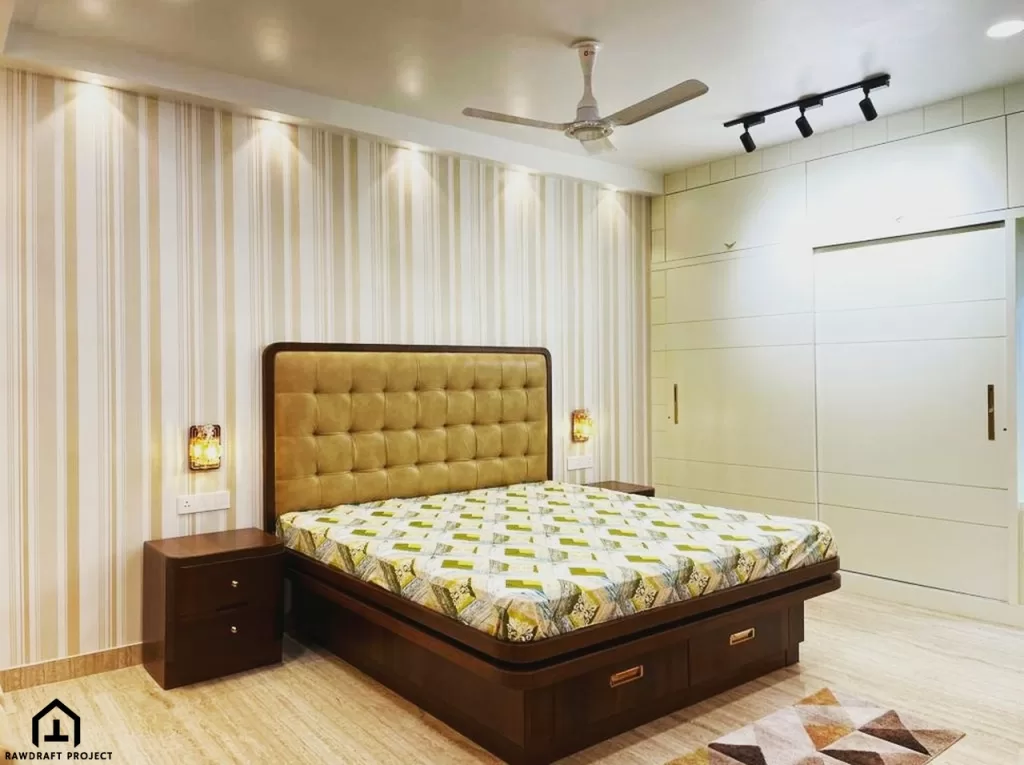 The context of the minimal narrative is to give a clean and pared-down aesthetic, the layout is dominated by bespoke furniture with low maintenance cost. Accordingly, achieving an end harmony with a visual color palette of warm wood tones, shades, and hues of ivory, gold and that are soothing to your eyes and soul.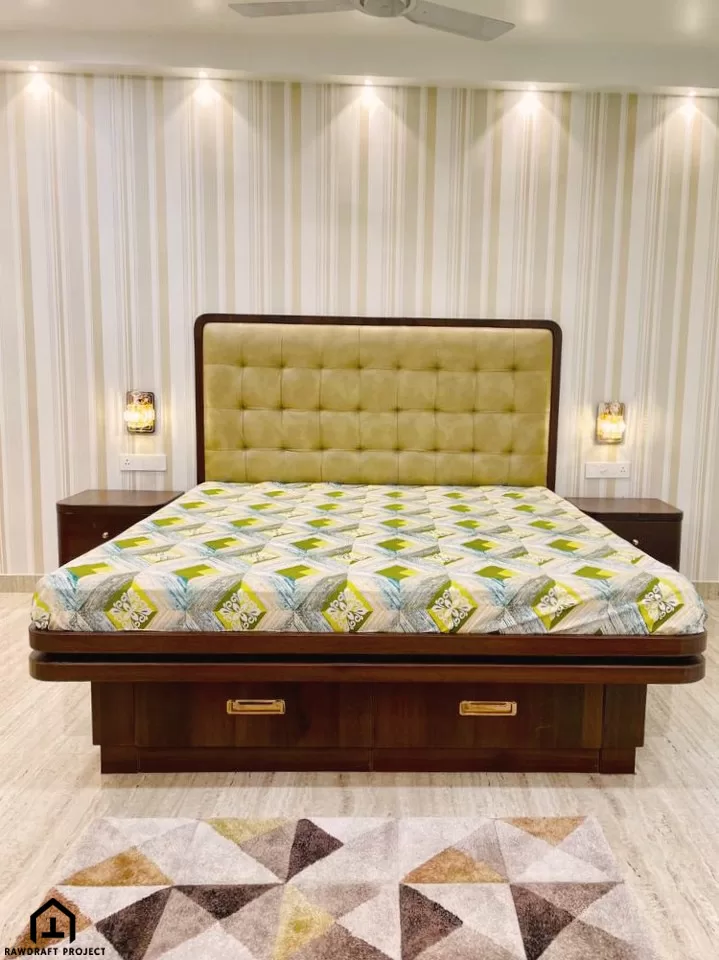 The character of the bedroom was developed with bespoke furniture and definite, beigetoned vitrified tiles that match the aesthetic fittingly. With the Concept of curves, the focal point is the constructive details with stability and functionality.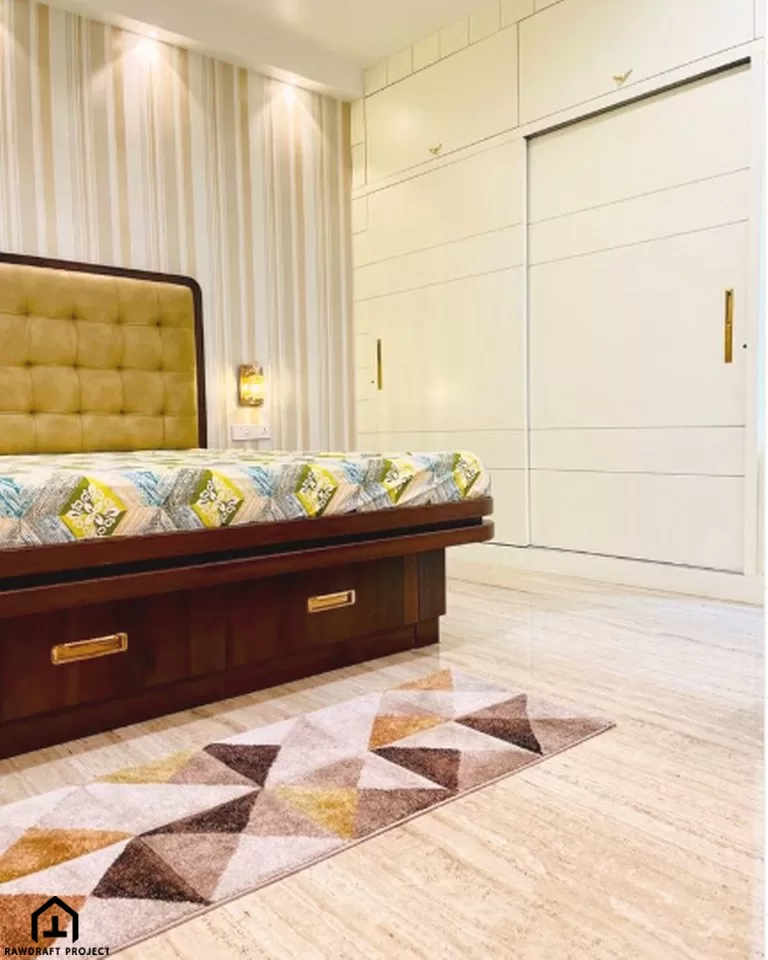 The bed and bedside table are custom-made in rich smoke oak veneer and gold hardware with a carpentry aesthetic. Adjacent to the bedside table, a duo of tufted ottomans in rich velvet fabric was introduced into the layout.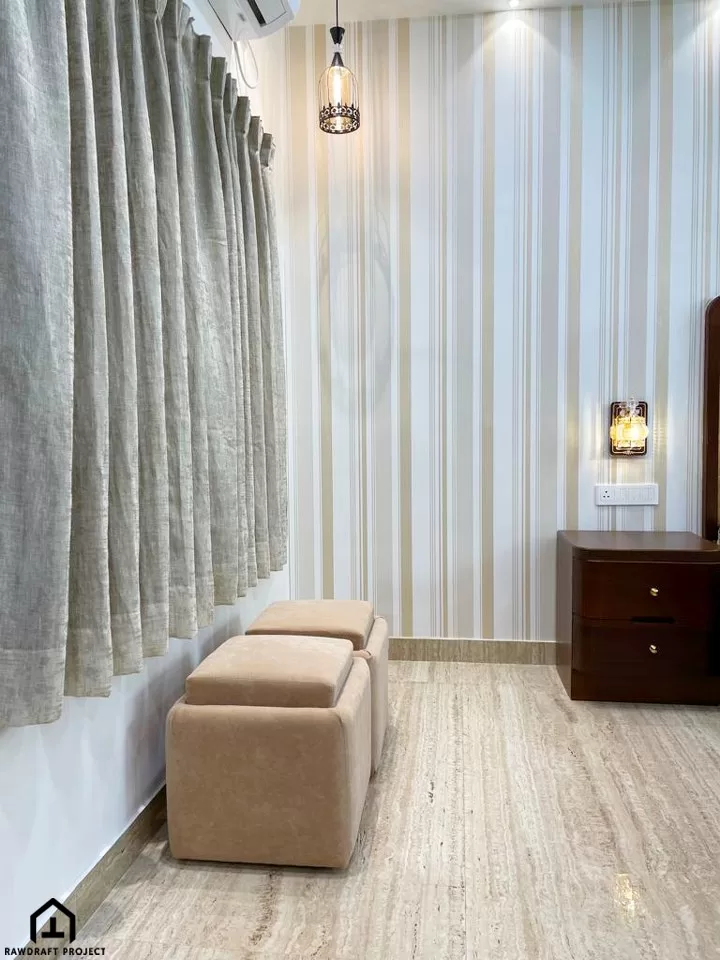 The wall behind the bed is finished with wallpaper. The striped vignette features a neutral background adorned with gold and ivory shades which forms the ideal background for the contrasting suede-toned leatherette tuft and needle-designed headboard. It is further graced by a pair of solid crystal lamps giving a luminous ambiance to the bedroom.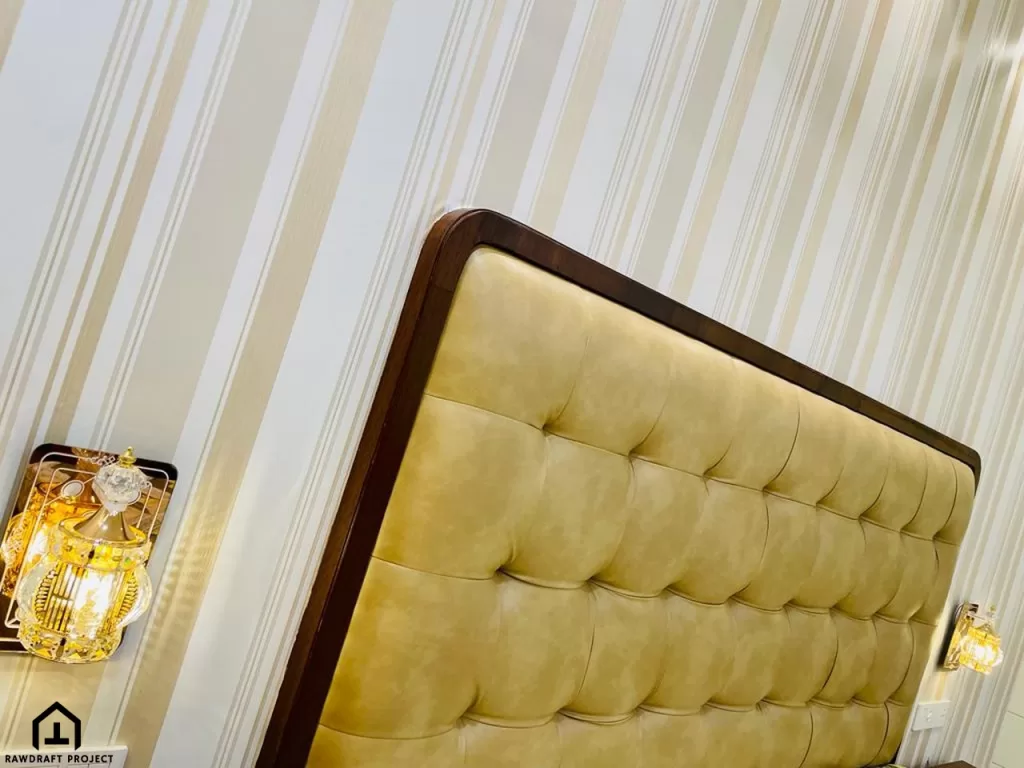 Keeping the space clutter-free, the custom wardrobe has a crisp and refined horizontal and vertical groove design and is topped off in a repose green gold-hued Duco shade, customized glass cube bronze tint dresser mirror, and gold hardware.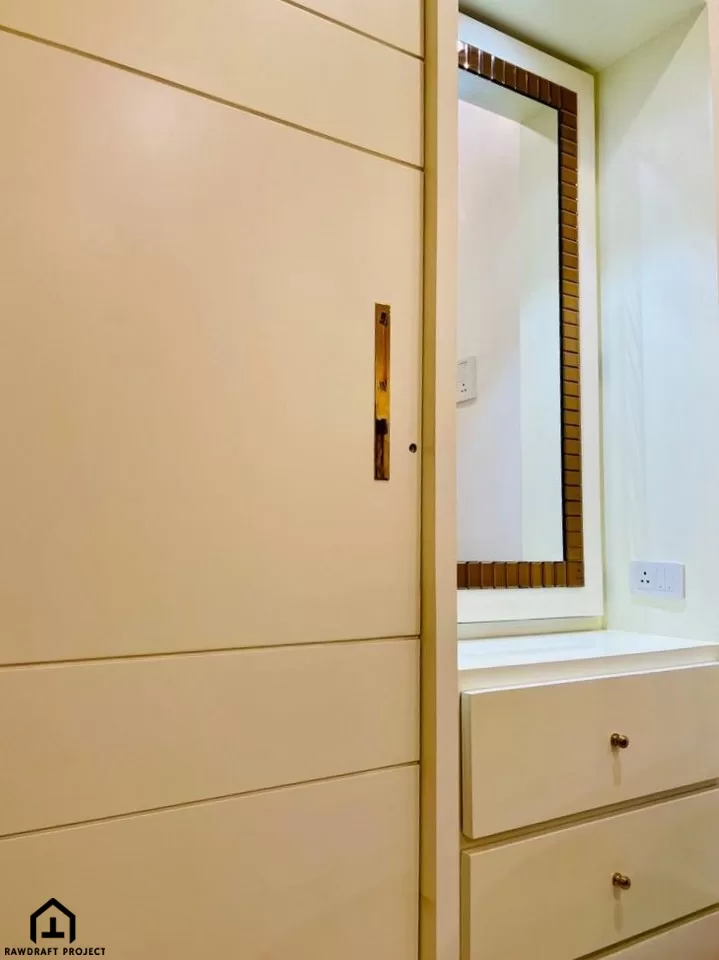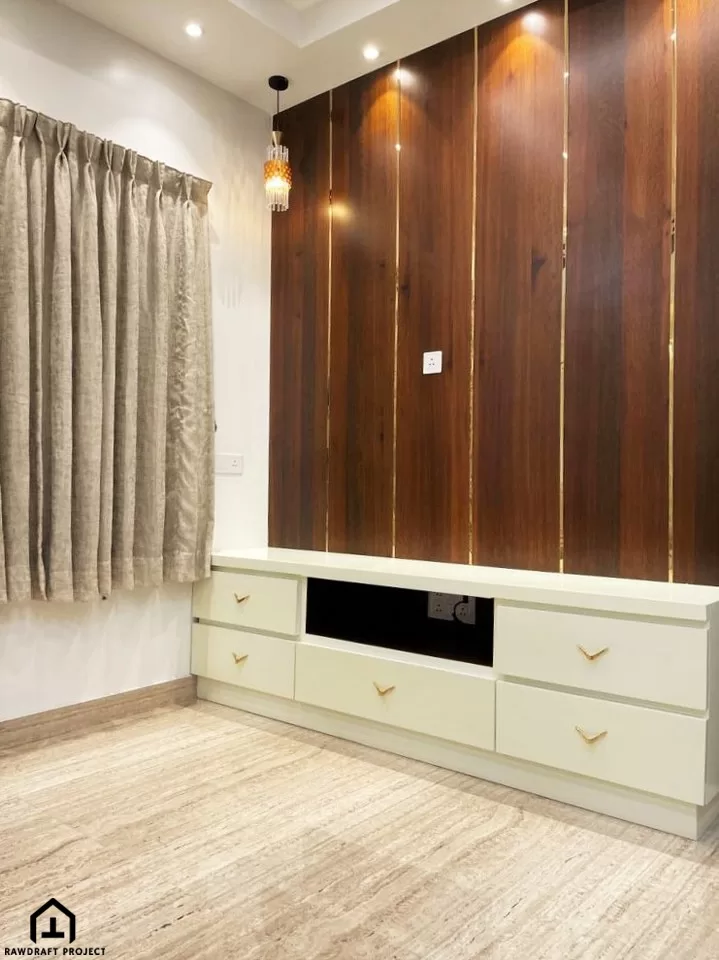 We've continued the theme of neutrals on the other end of the room, with a floating console in fresh mint Duco shade with V-shape gold handles up against the TV wall panel cladded in oak veneer and golden T profile creating a visual progression with the inset bathroom door, a snug niche composed of a built-in veneer, blending well with the repose mint Duco shade, fluted glass infills, and gold hardware, making it an equivalent part of the wall's elevation.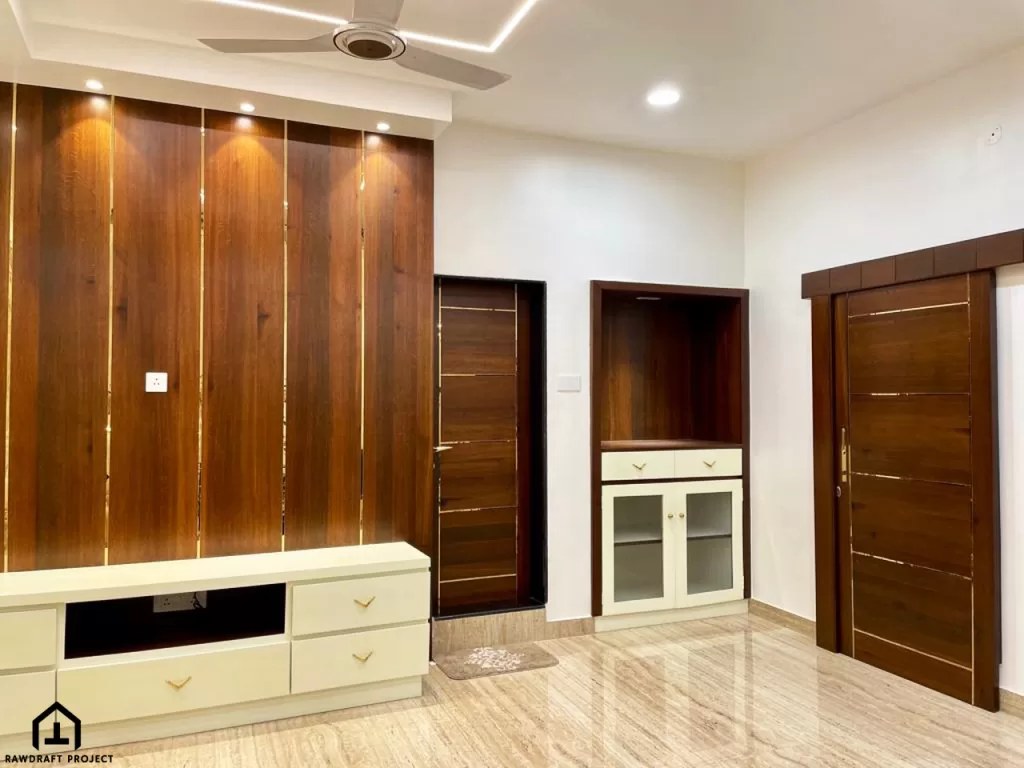 Flanking along, the custom-designed sliding door makes its way to another room. The master bath is minimally spruced up by adding black-veined tiles as a highlighter, to the cream-veined tiles, and a black granite counter with a contrasting cream brass inlay countertop wash basin.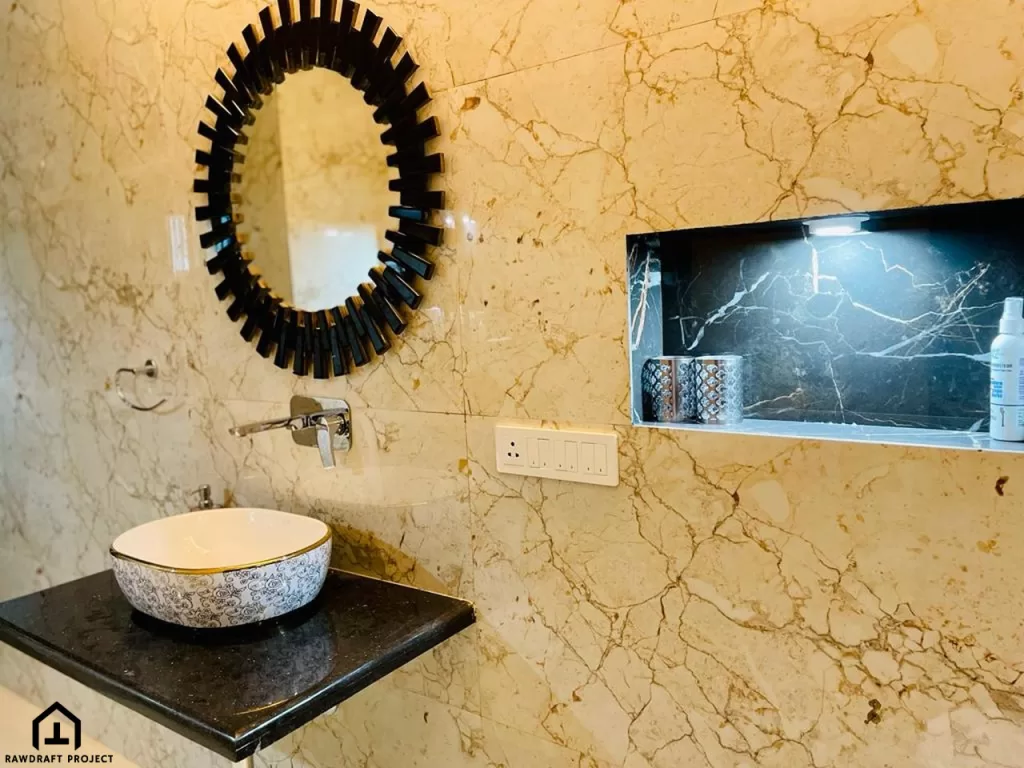 A bespoke black sunburst mirror adds a touch of glamour. In addition, the minimalist black metal cage pendant, crystal vibes, track lights, and spotlights heighten the ambia.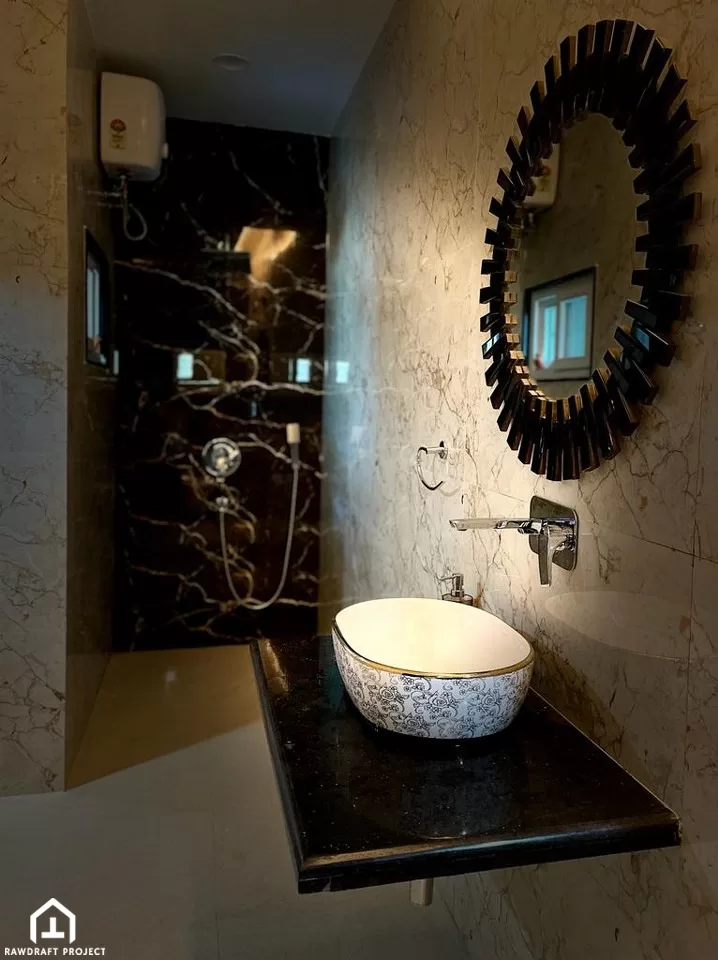 Fact File
Designed by : Rawdraft Project
Project Type : Residential Interior Design (Master Bedroom & Bathroom)
Location : Raipur
Year Built : 2022
Project Size : 450 Sq.ft
Principal Designer : Shraddha Parekh
Products / Materials / Vendors : Finishes – Duco paint/ Satin finish wall paint from Asian Paints, Veneer polish, and Gold finish metal Strip / Lighting – COB lights, Track light, Pendant light / Sanitaryware – Grafdoer / Flooring – Vitrified Tiles / Paint – Asian Paints / Hardware – Hettich.
Firm's Instagram Link : Rawdraft Project
For Similar Project >>> This Apartment Showcases It's Design Prowess With Pastel Pops On Monochrome Colour Scheme

The post This Master Bedroom Design Is Warm & Inviting And Oozes Earthy Goodness | Rawdraft Project appeared first on The Architects Diary.