A Gurgaon origin luxurious villa with fringes of contemporary design strategies.
This Luxurious Villa Spans Over 8000 sq. ft. with a Palette of Earthy Tones and Greys | Villa Ortiga
Visit: Villa Ortiga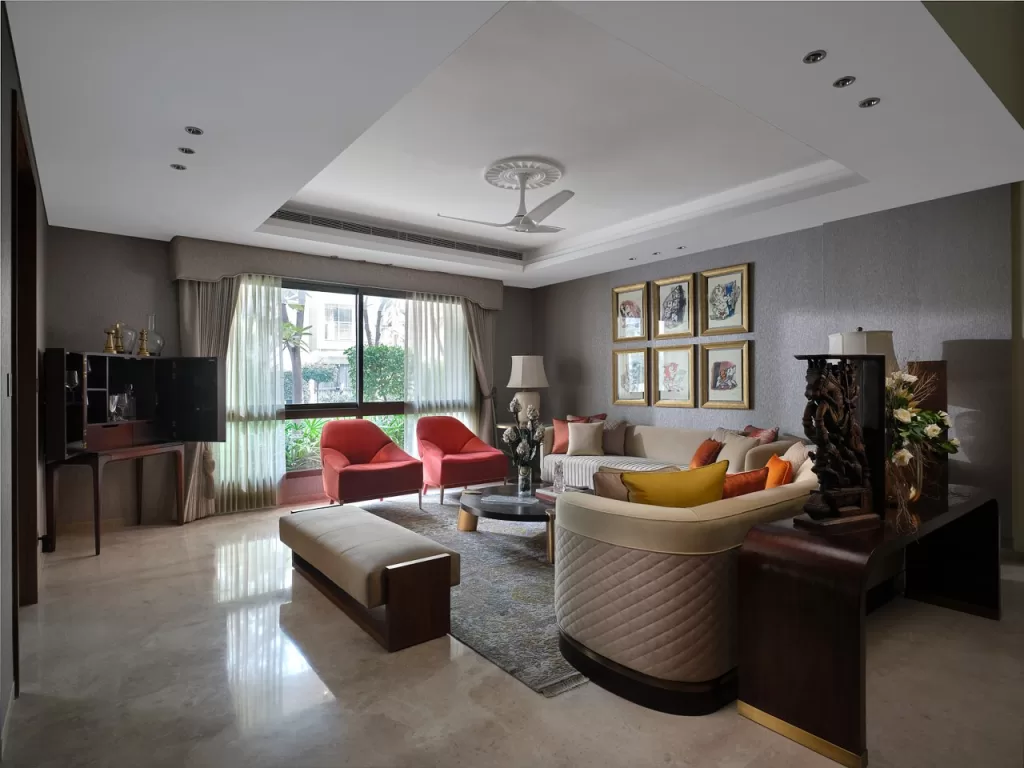 Design Brief and Concept
Firstly, knitting together the individual tastes of each family member, this home sets a visual image that gives comfort and repose. Located in an exclusive villa township in Gurgaon, the abode is part of contemporary villas with a play on projections, pergolas, and cladding. This luxurious villa spans over 8000 sq.ft with a palette of earthy tones and greys. Meanwhile, it features custom finishes and whimsical artworks that incorporates the homeowners' style, which is innovatively interpreted by the studio.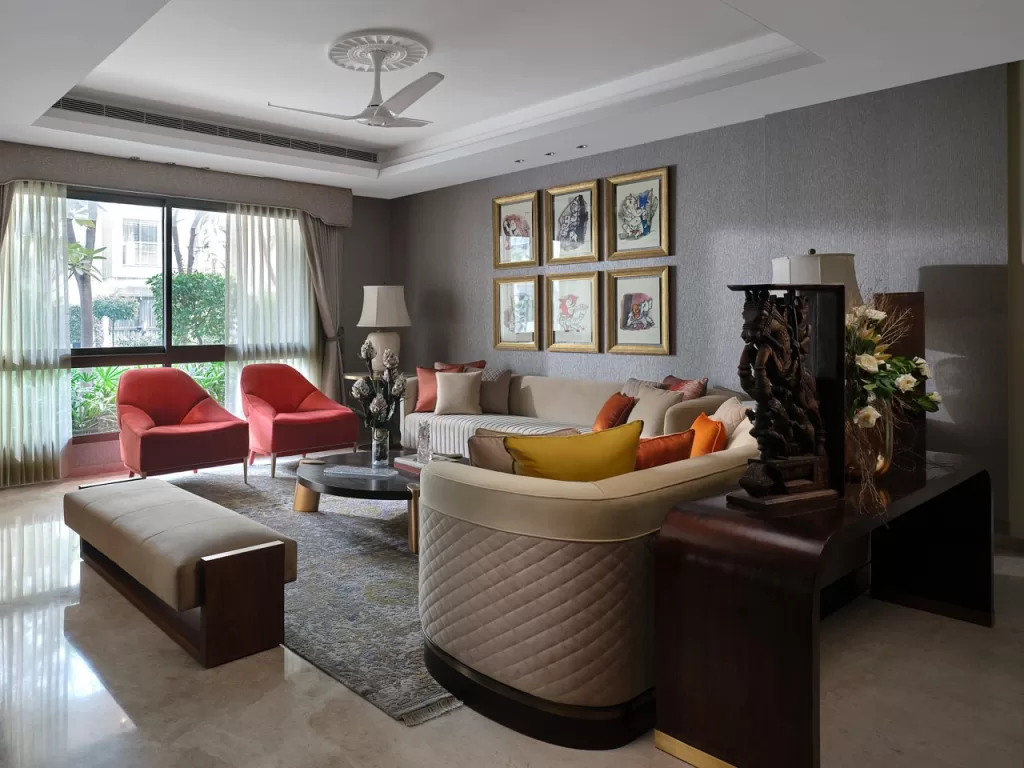 Spaces Arrangement and Allocation
Floors stacked one above the other with wall-length windows, balconies, and terraces were the starting point for this interior project. Bringing in light and nature within without altering the shell is clearly manifested in the treatment of the interiors. Also, the volumes within this home are tied down with its warm palette and recessed ceilings not to overwhelm the residents. Along with a basement and three floors above the ground, this residence has a terrace and a balcony, on the upper floors. Thus, it comprises five bedroom suites, six baths, an intricate Puja room, and a home office. It also houses an entertainment lounge, Butler's pantry and a terrace garden. Overall, several lively common spaces, including a formal living space, family lounge and dining areas, are detailed with an artistic flair.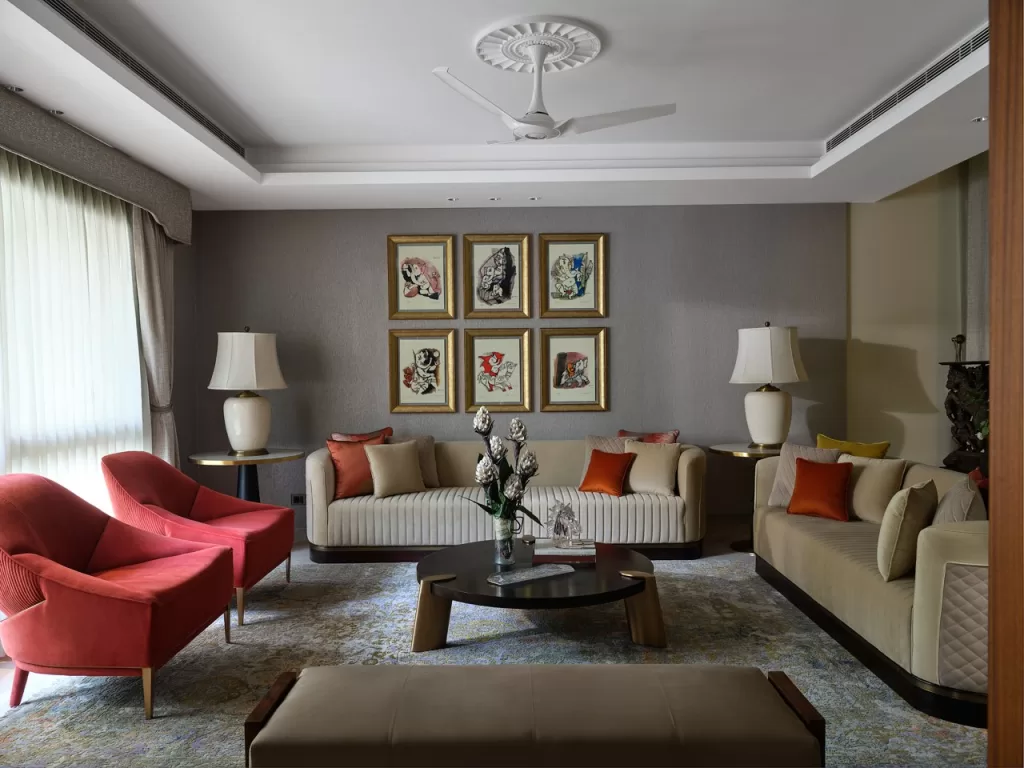 Basement Area
Further, the basement comprises the recreational areas, home theatre, bar area and home office. The formal living, double-height dining area, kitchen, family lounge and guest bedroom constitute the ground floor. Also, the other bedrooms, a family recreation area and a prayer room, are tucked into the first and second floors.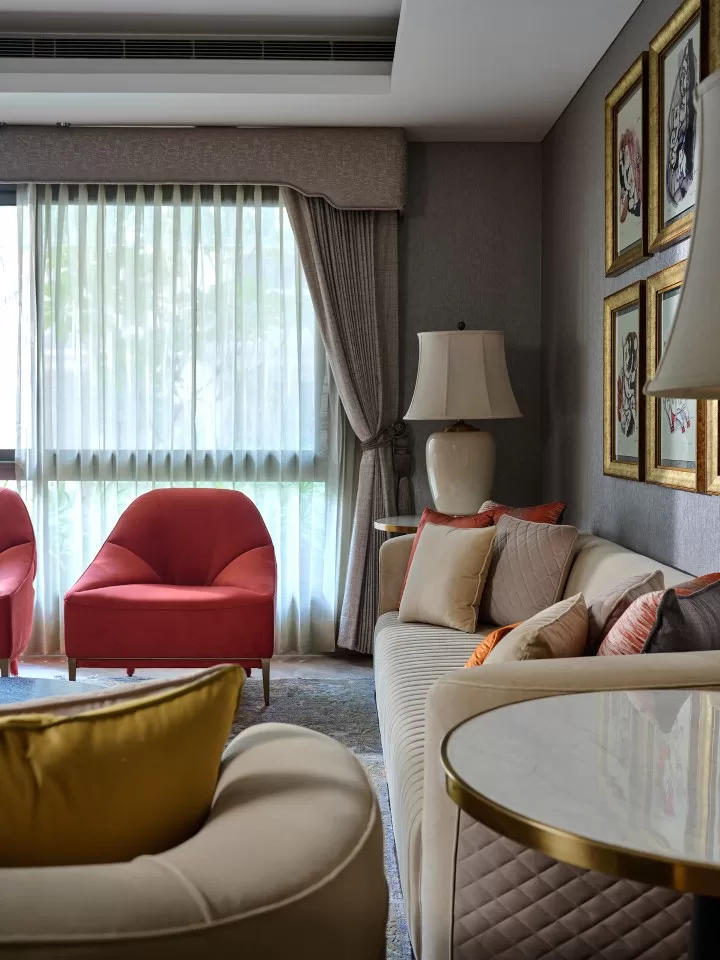 The common areas are divided into a formal living space and a family room/lounge. Furthermore, the formal living area showcases a moment stolen from the past with heritage pieces, vintage framed lithographs and artworks. Medallion moulding on the ceiling, and bespoke furniture with curated fabrics and cushions also join suit.
Family room and Dining area
Designed for relaxation, the family room merges style with contemporary furnishings and artworks inspired by architecture of Delhi. As can be seen, a set of cobalt blue lounge chairs adds a pop of colour. Further, the well-lit, double-height dining area is doused in subtle rust and greens. Moreover, a large crystal chandelier and oil paintings of a lotus theme bring spiritual dimensions into this space. The kitchen is detailed to enhance functionality and high-gloss and matt finishes in wood, grey and black tones.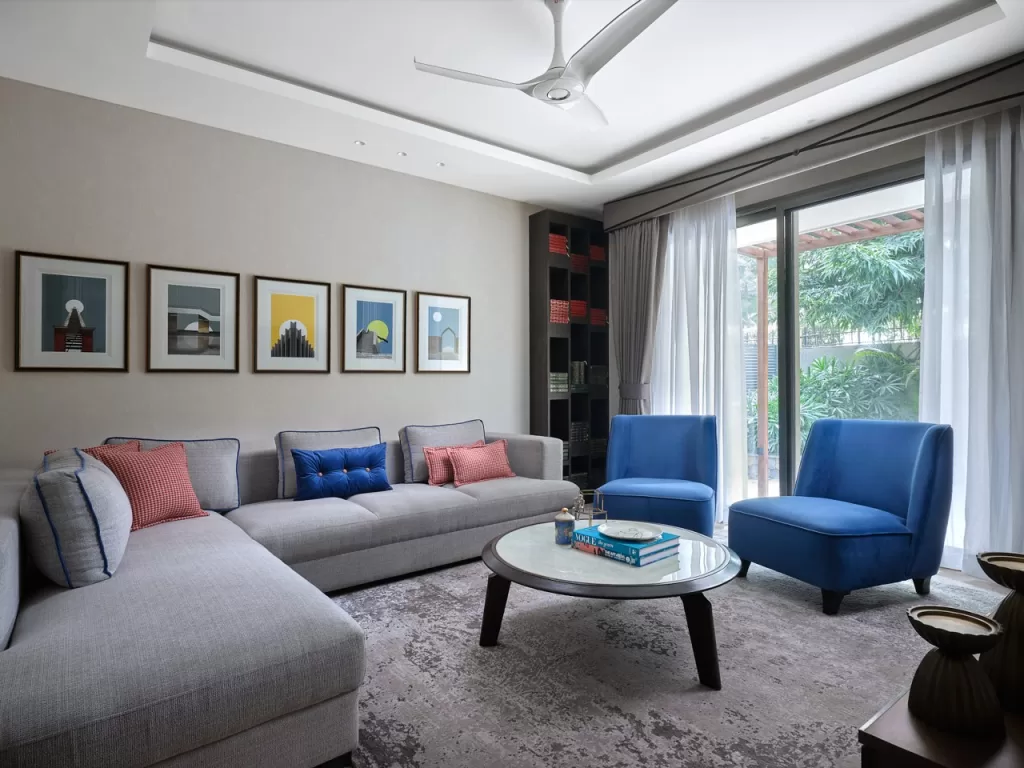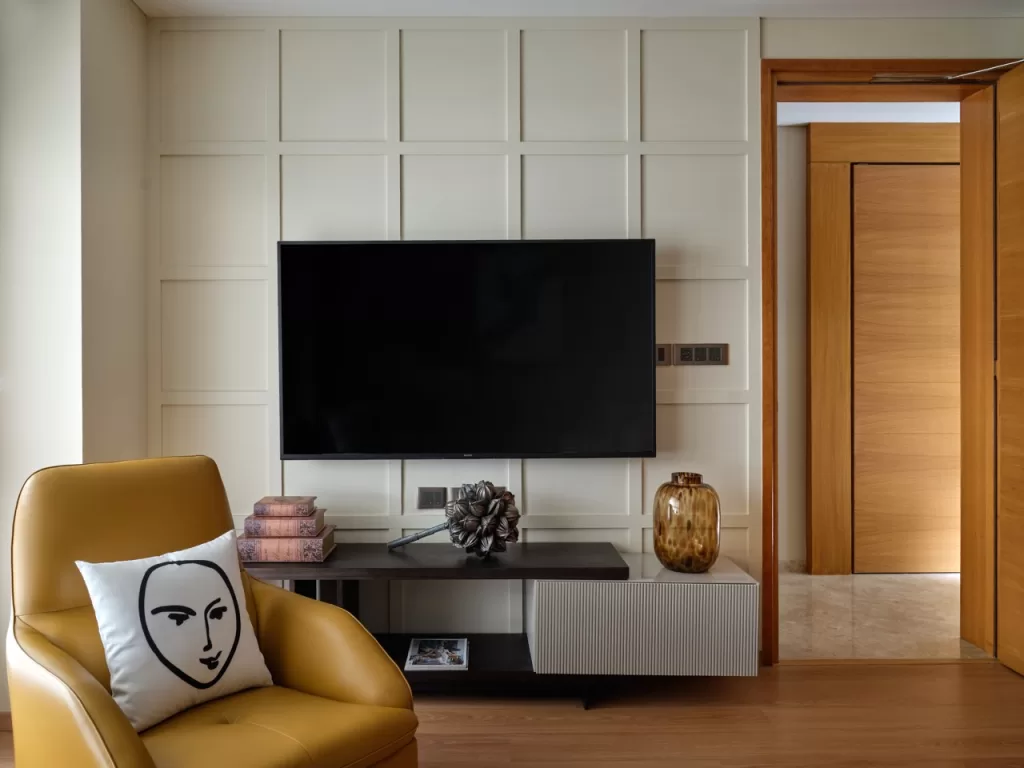 Guest Bedroom
Further, the guest bedroom on the ground floor is set in a grey monotone with hints of metallic pink. With light-shaded flooring, it sticks to a minimalist palette. Additionally, the colour palette for the soft furnishing and artwork is inspired by the jewels of India.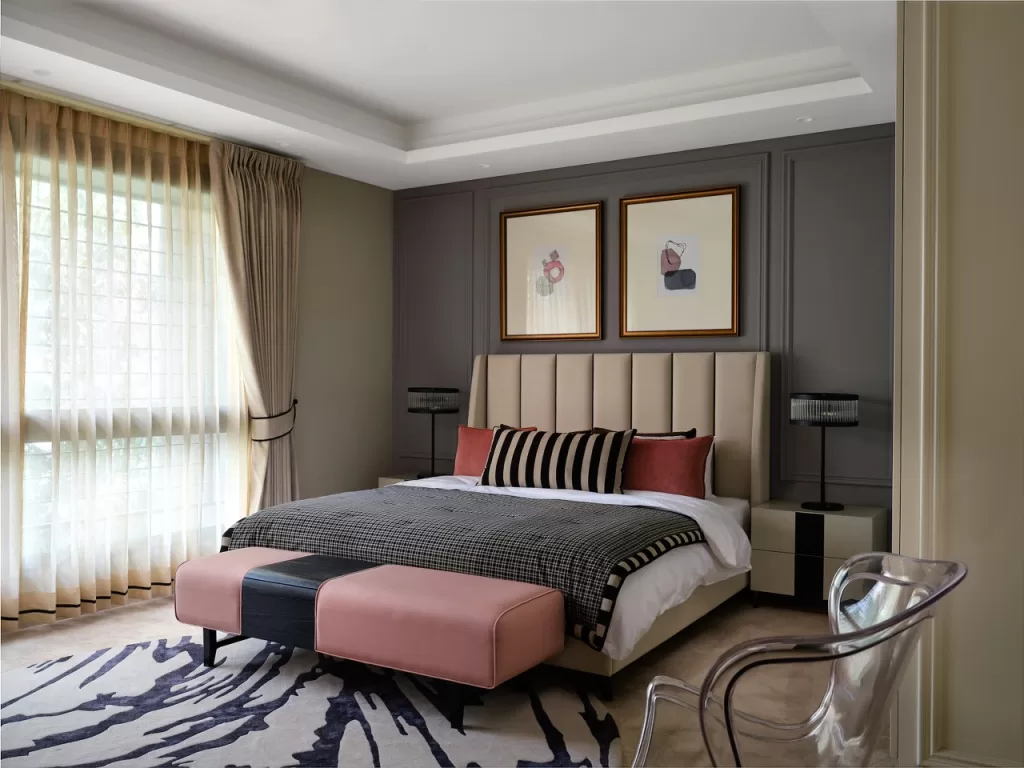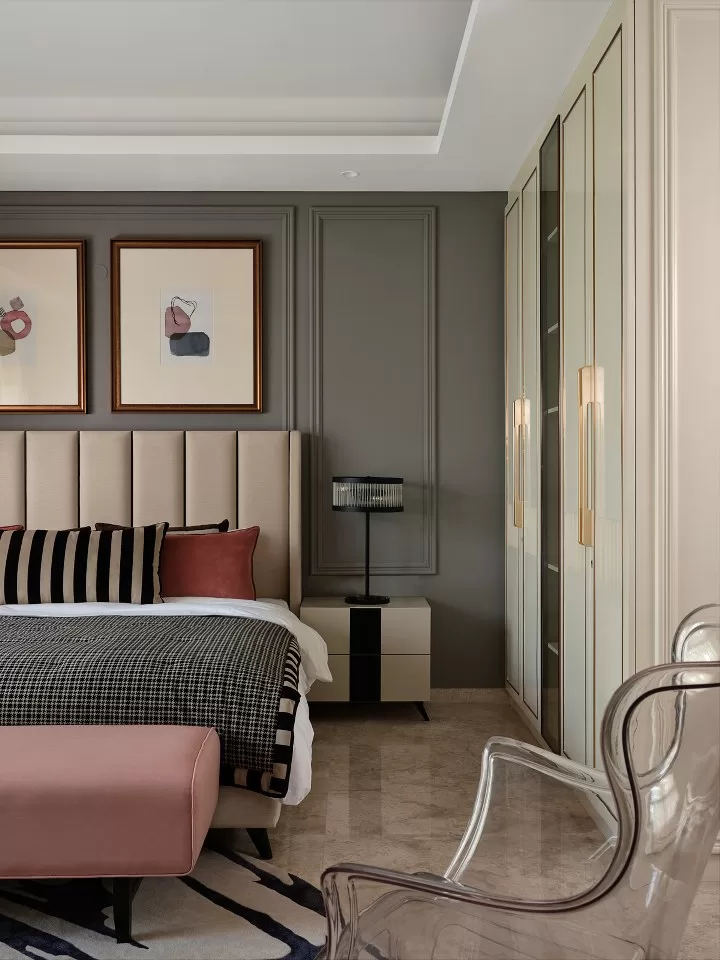 A staircase towards the subsequent floor spills onto the corridor that faces the double-height dining. On one side of the aisle is the master bedroom, and the other side accommodates the prayer room and another bedroom.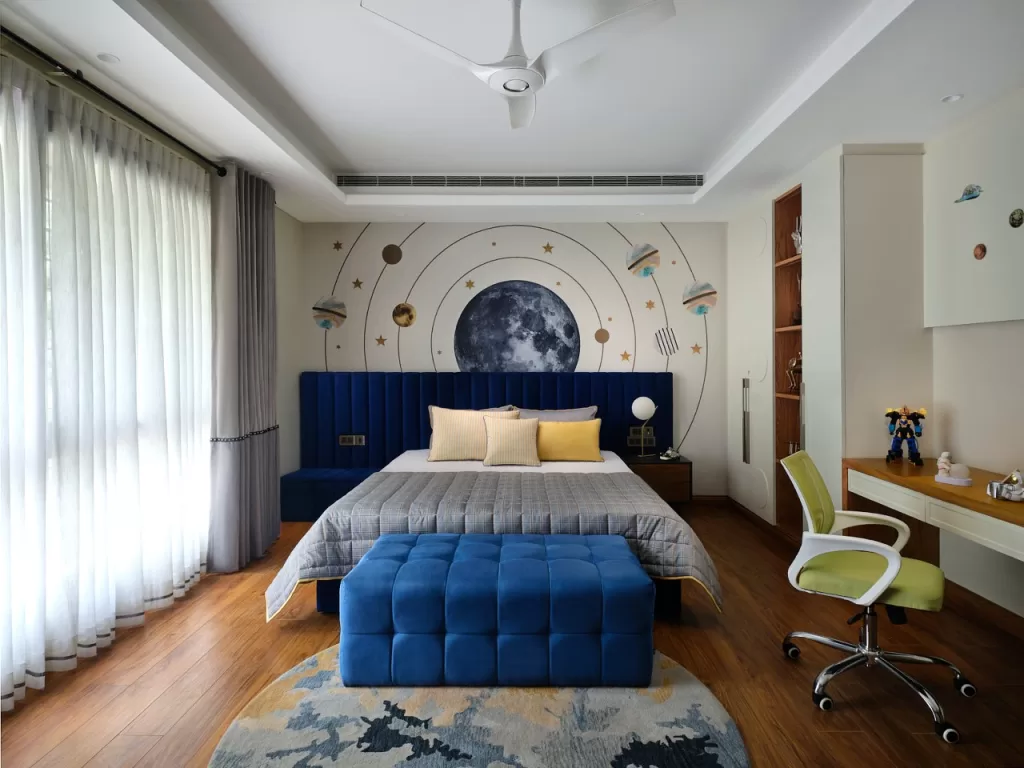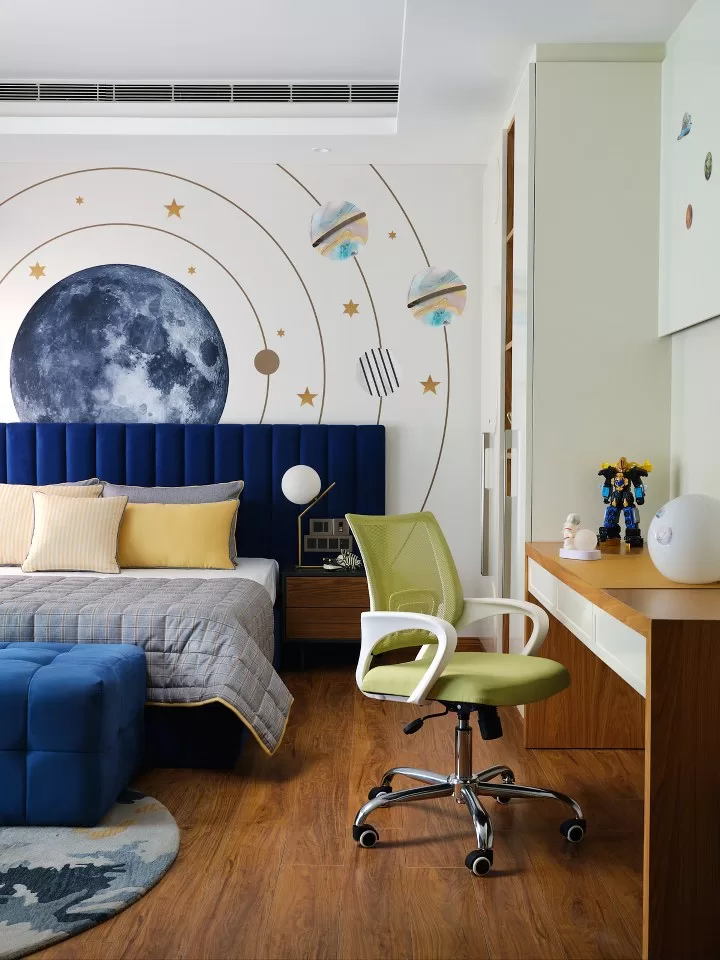 So, the prayer room is ornate with gold motifs, backlit jalis, and hanging bell clusters. Further, the deities are on white marble steps reminiscent of the ghats of Benares. The second-floor stairs open into a beautiful terrace garden. Furthermore, this floor has two bedrooms on each side and a chill pad. One of the bedrooms sports prints, and other is finished in veneer with a mix of stone and classical elements.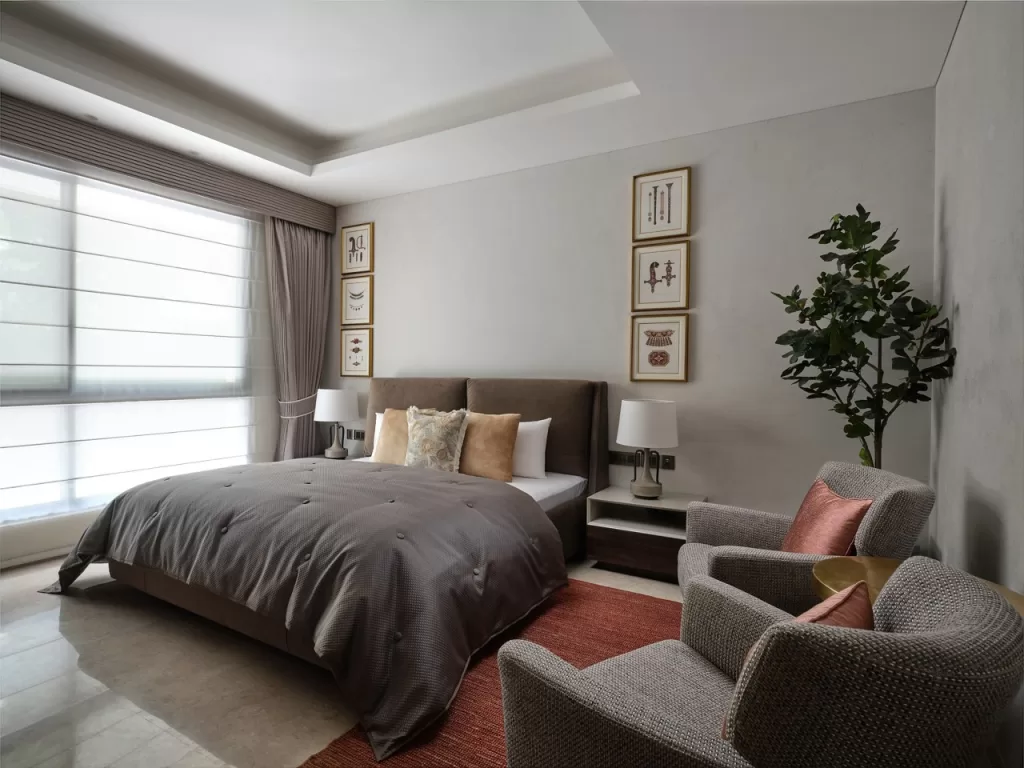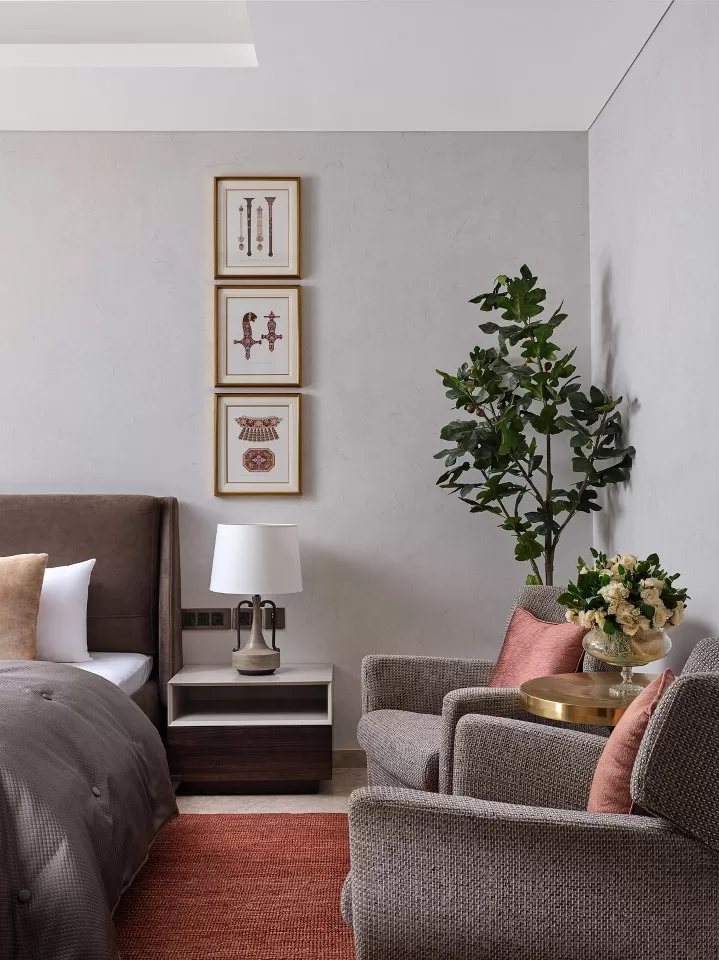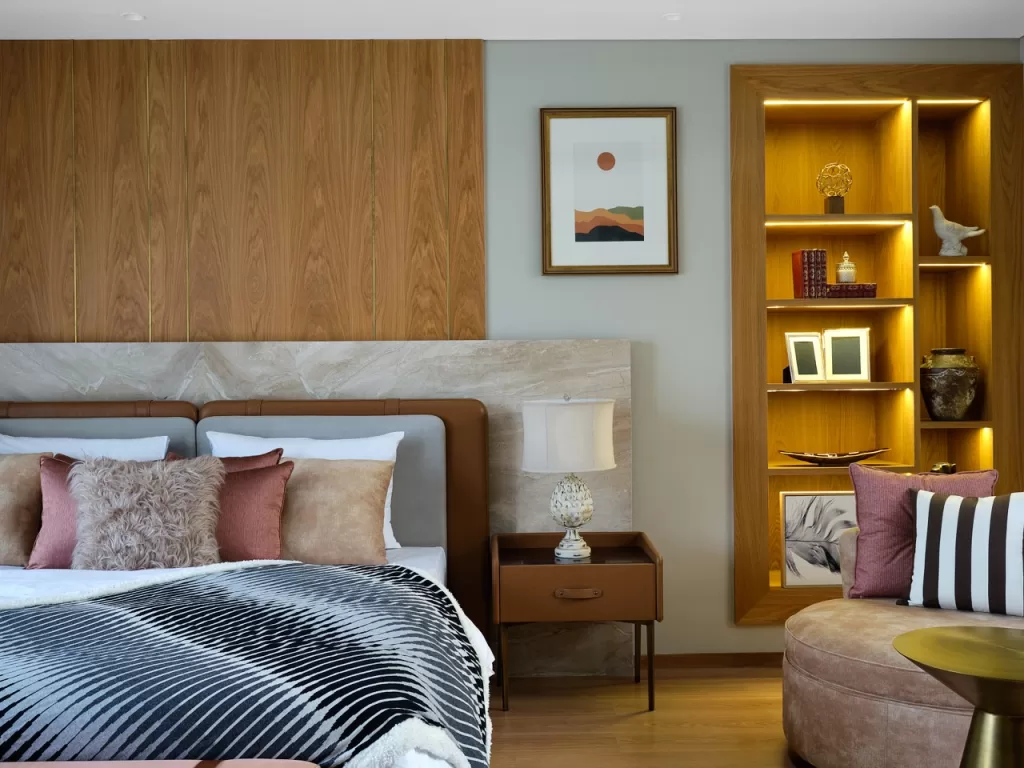 Master Bedroom
The master bedroom is described by a palette of wood, fluted walls, and pastel hues. The bedroom also features a cosy reading spot by the window. So, the kid's bedroom is doused in shades of blue and inspired by a space and galaxy theme.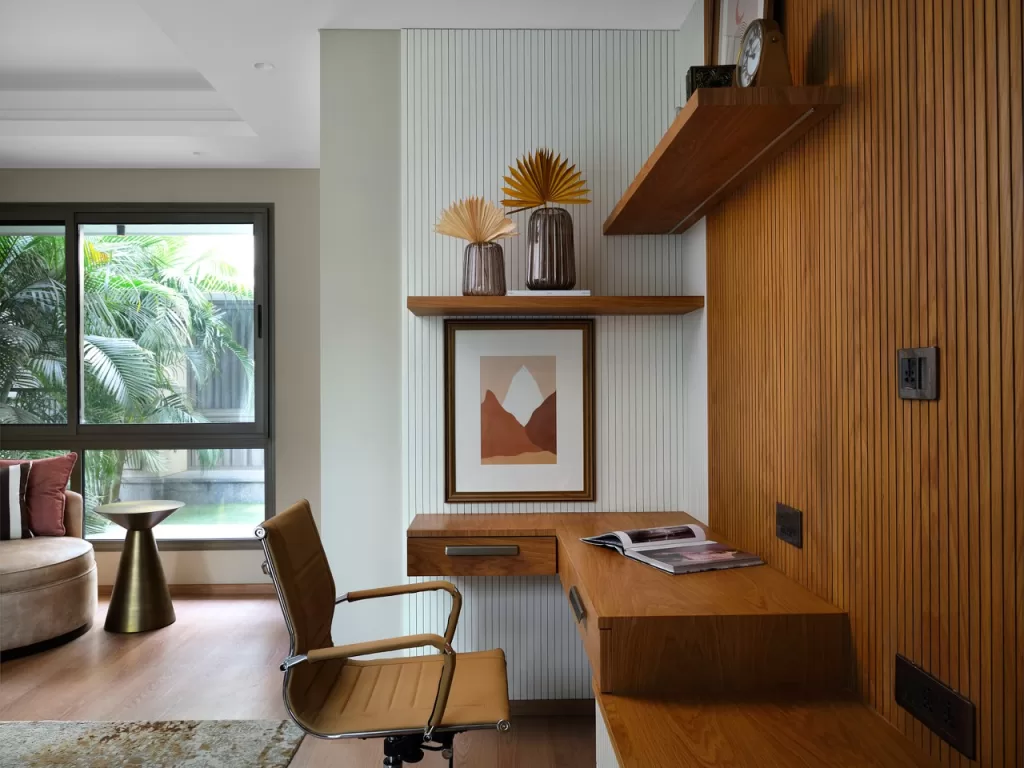 Conclusion
Evidently, the use of textures, artworks, sculptures, and finishes enrapture the senses. Also, an earthy palette with metallic bling via artwork, frames, or inlays within furniture pieces is the defining feature of this home. In addition, tray ceilings with recessed lights enhance the spatiality of the house.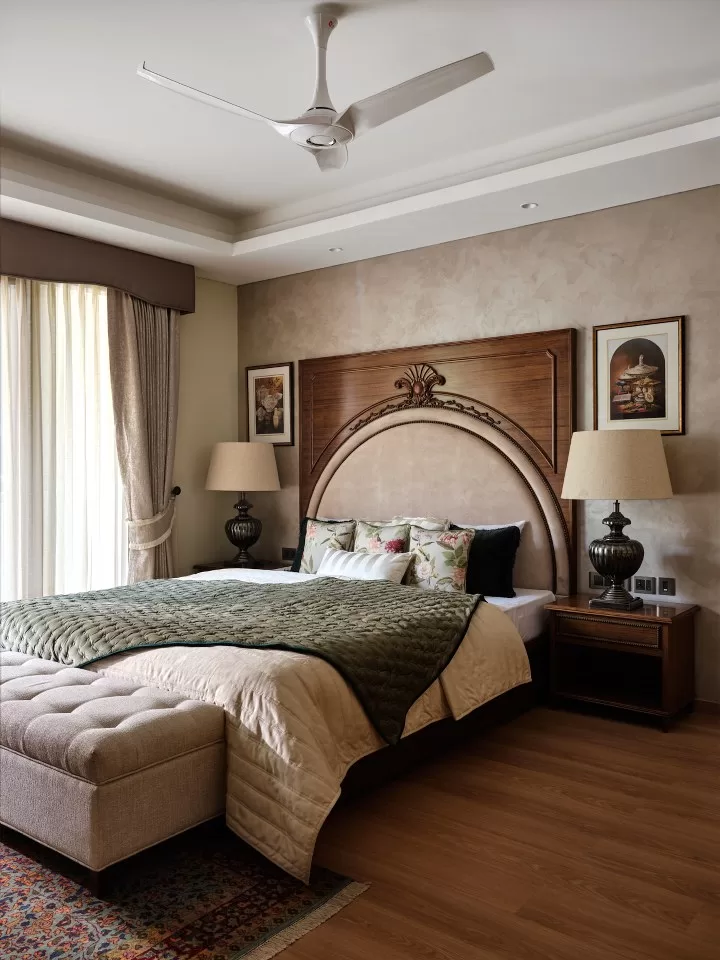 Above all, this villa is a world itself, with myriad of colours and moods within a framework of design influenced by art and fashion world.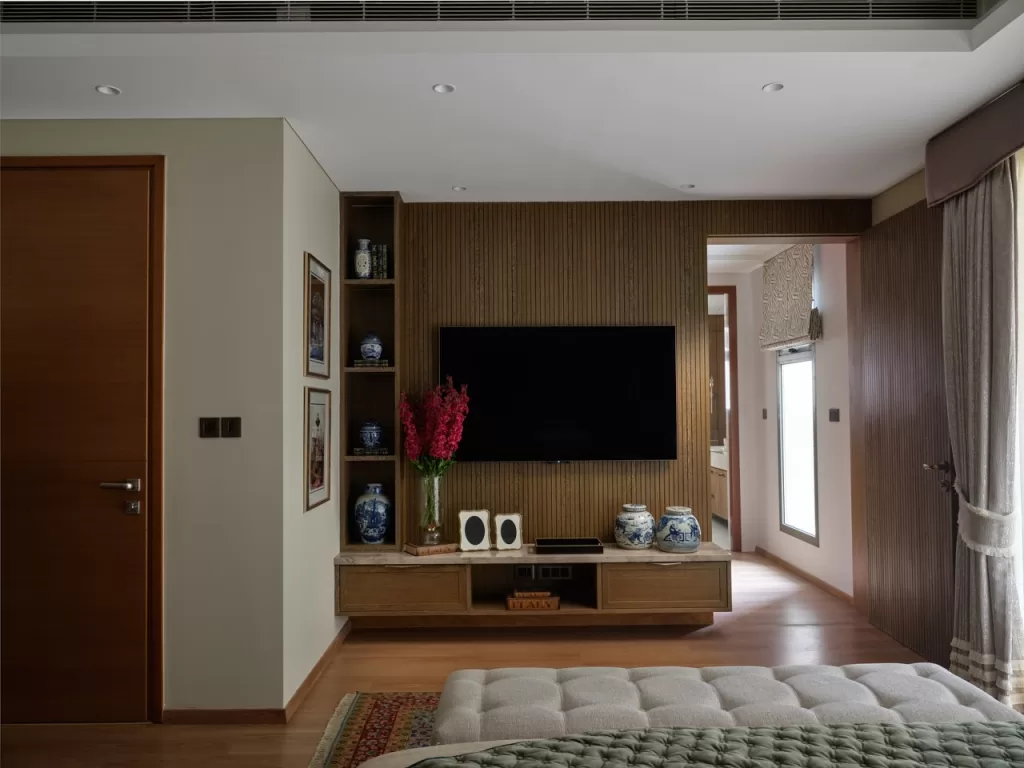 Fact File
Designed by: Villa Ortiga
Project Type: Residential Interior Design
Project Name: Residence at Sobha International City
Location: Gurgaon
Built-up Area: 8000 Sq.ft
Principal Designer: Sarabjit Singh
Design Credits: Priyanka Singh
Photograph Courtesy: Ankush Maria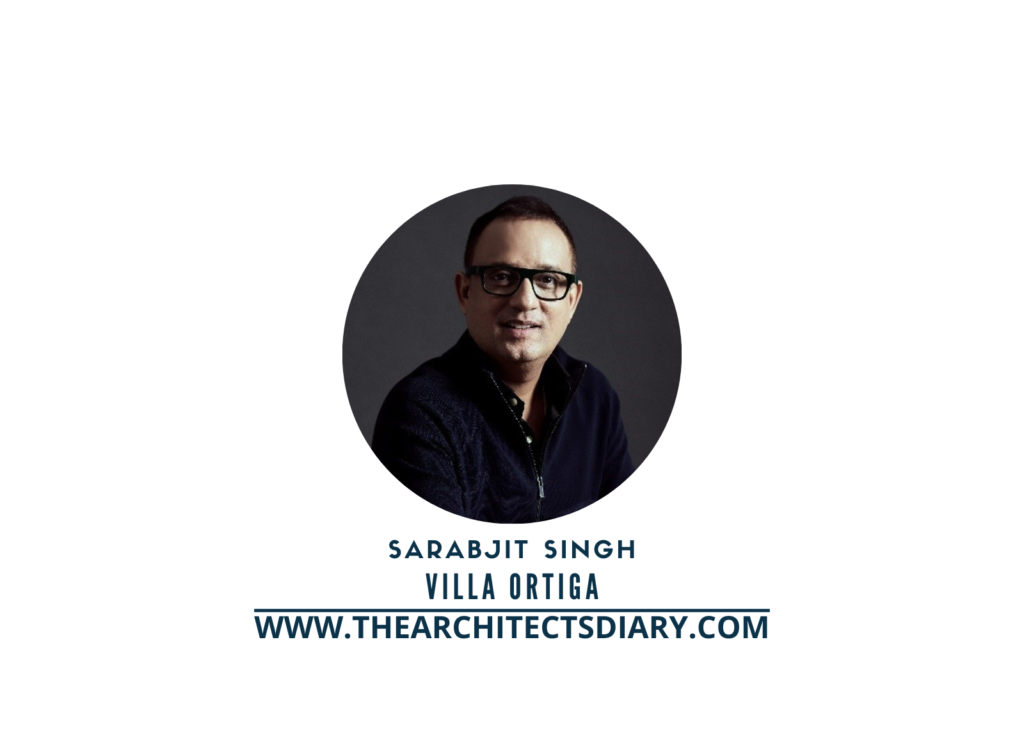 Firm's Website Link: Villa Ortiga
Firm's Instagram Link: Villa Ortiga
Firm's Facebook Link: Villa Ortiga
For Similar Projects >> An opulent living on the 56th floor that showcases luxurious interiors in Mumbai
The post This Luxurious Villa Spans Over 8000 sq. ft. with a Palette of Earthy Tones and Greys | Villa Ortiga appeared first on The Architects Diary.