A house with aligned space management makes it appear larger and neater. The floor planning of this wonderful apartment is done by retaining the privacy of the guest room, while placing the family rooms together. The living room, dining area and kitchen are in close proximity, yet not in an interfering way, thus, making the space look well-planned and executed. This home takes inspiration from contemporary aesthetics and a cool colour palette to achieve a timeless yet modern look.
This home Takes Inspiration from Contemporary Aesthetics and a Cool Colour Palette | Meraki Design Studio
Visit: Meraki Design Studio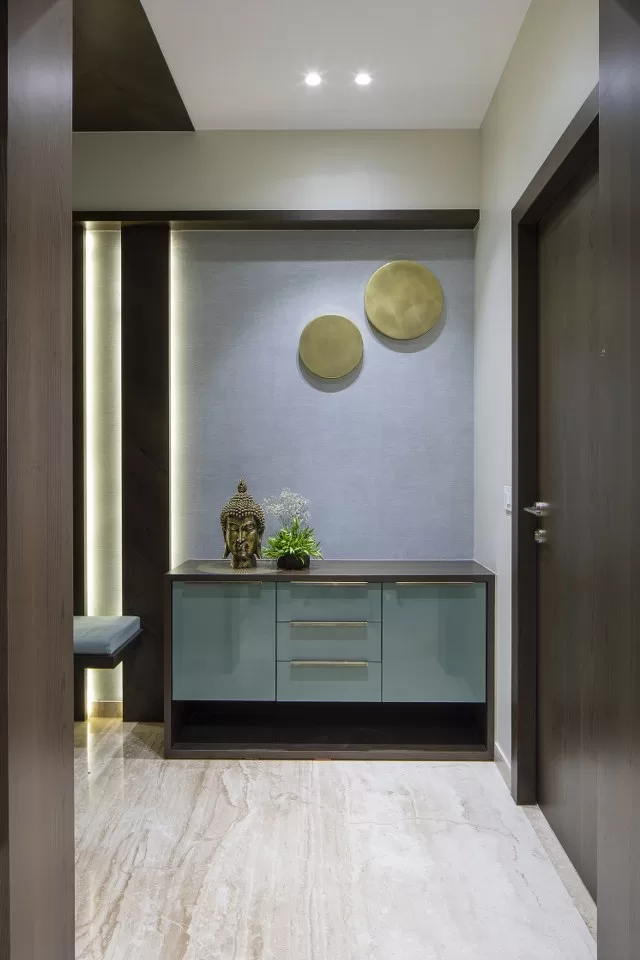 Entrance
Our entrance space is in a contrasting combination of glass and polished veneer door, with a floating bench enhances the appeal of the vestibule. This entrance area is designed in eye-soothing colours and decor, making it feel very relaxed upon entering. The materials used here are veneer, PU polish and wallpaper.
Living Room
A living room or a living area is the most used space of the house. Keeping this in mind, we have designed it light, and with a comfortable vibe and contrasting materials in upholstery where sofa is kept plain and texture and prints are used in chair.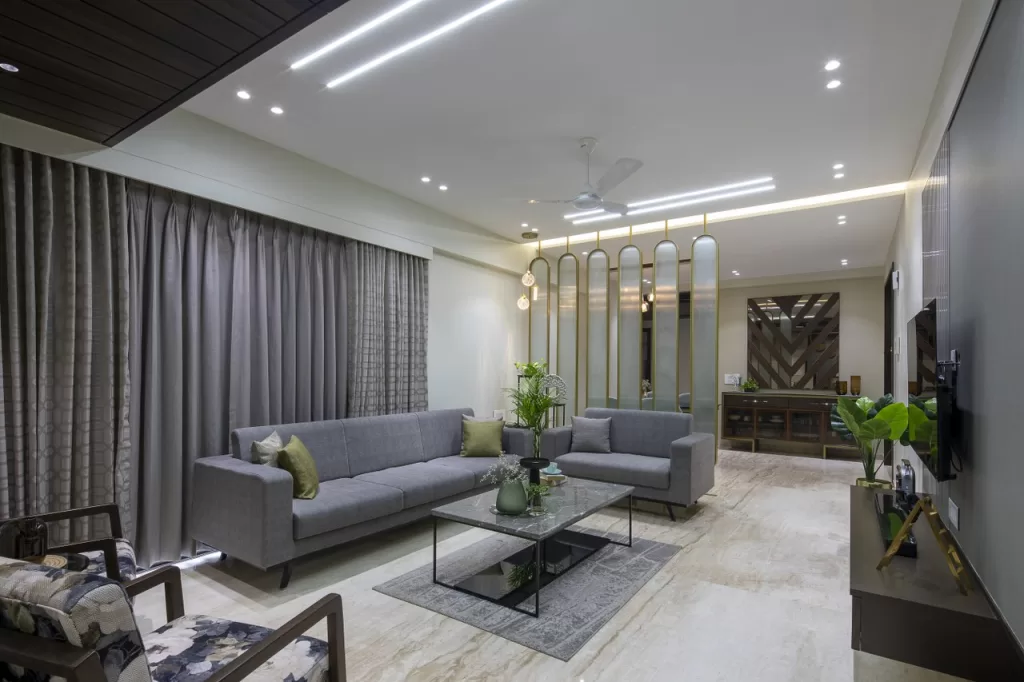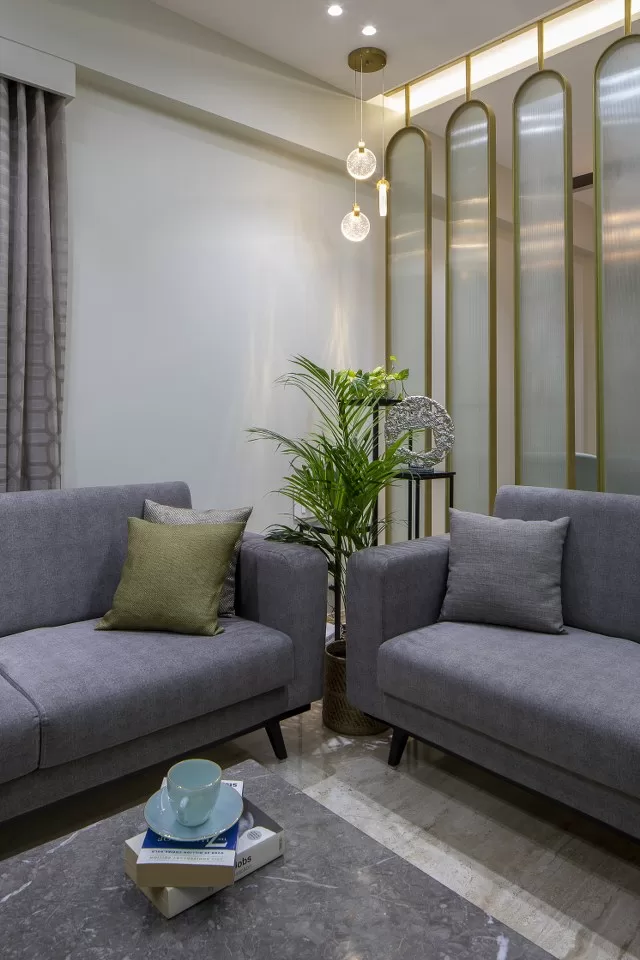 Here, the elongated living area has been partitioned into a separate space using fabricated glass panels. The living room has minimalist design look with subtle furniture, complemented by cool hues, and bright lights.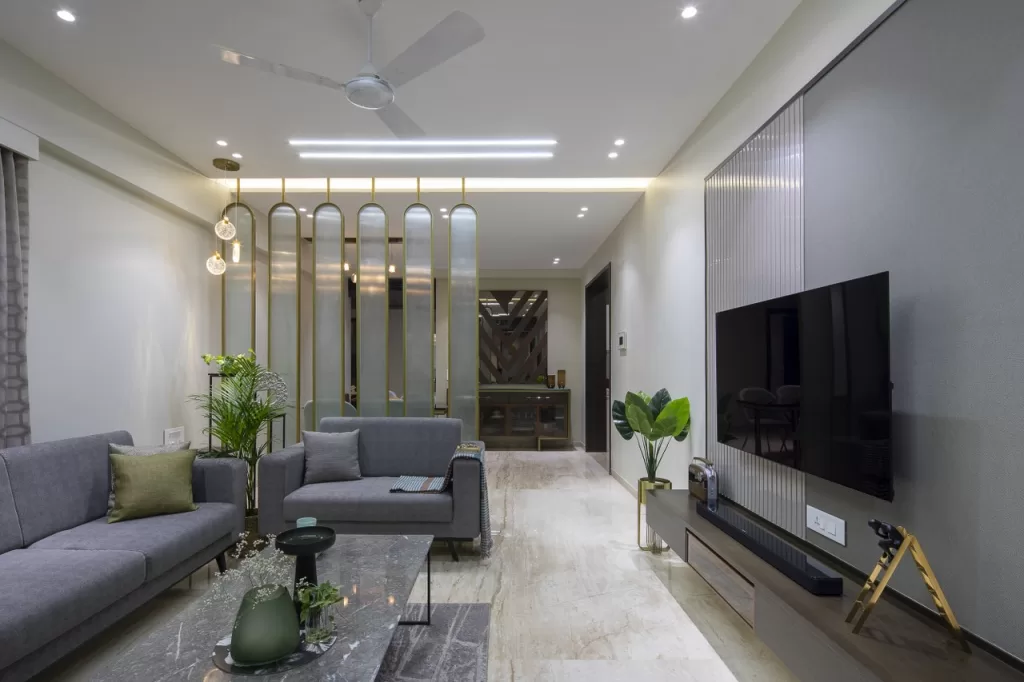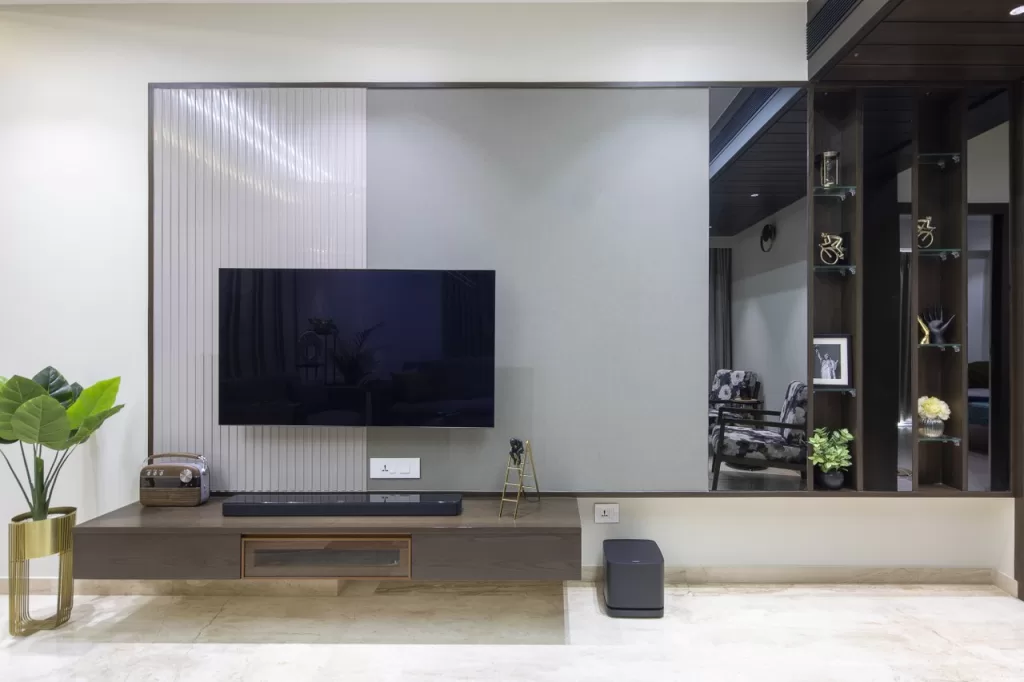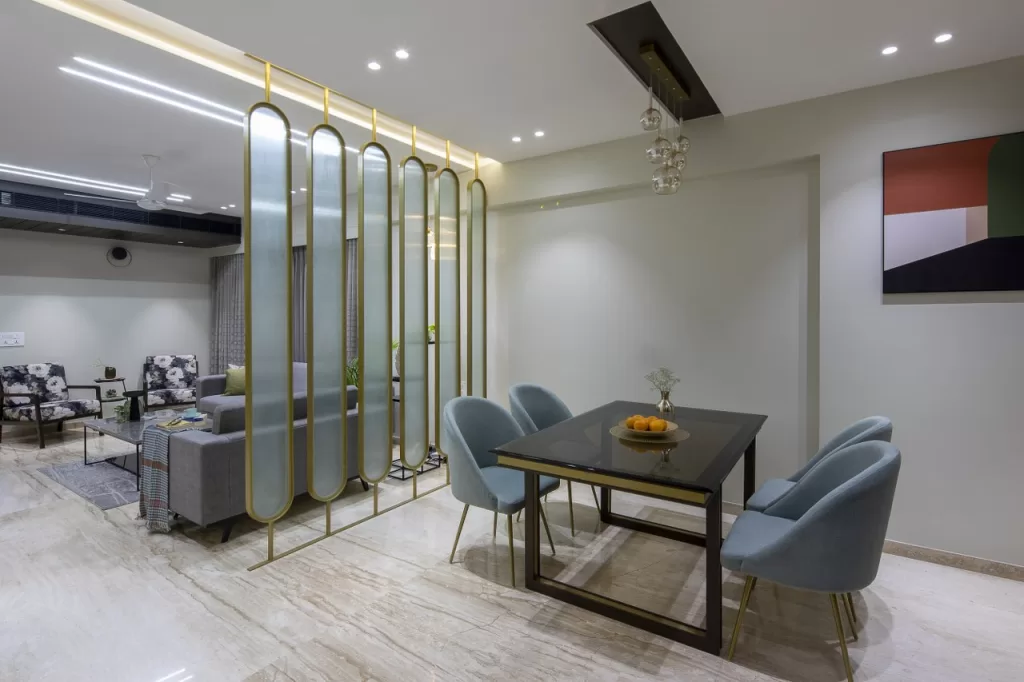 Dining Area
We wanted something very simple yet elegant and sleek for the dining space. Here, this sleek dining table and chairs are finished in MS powder coated in gold finish with solid wood that gives it an elegant appeal. The crockery unit is designed complementing with dining table using veneer and tinted glass.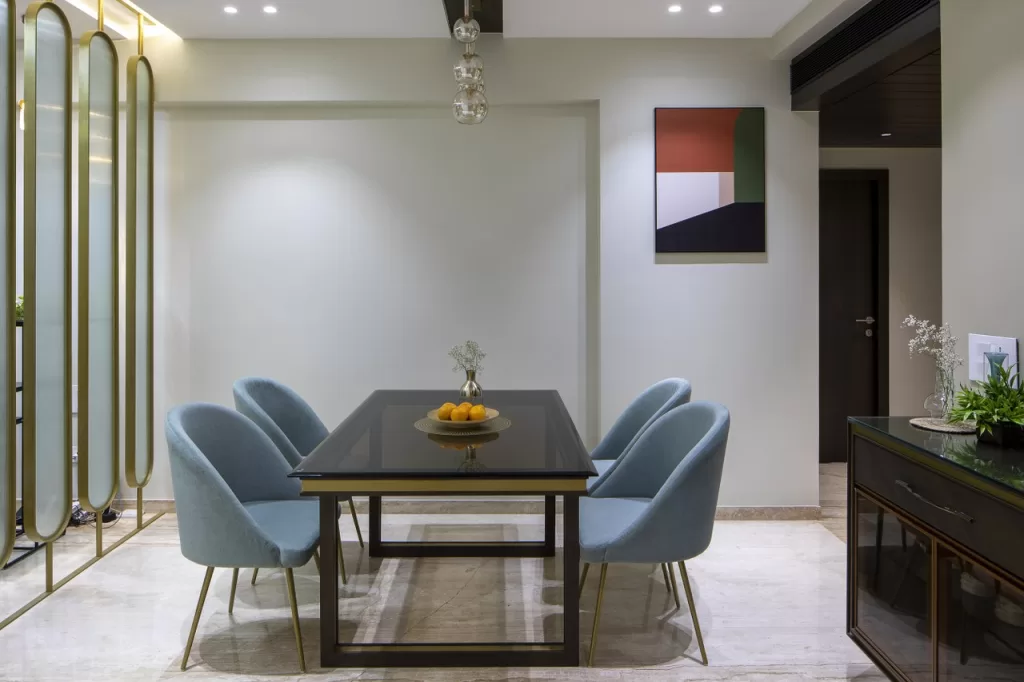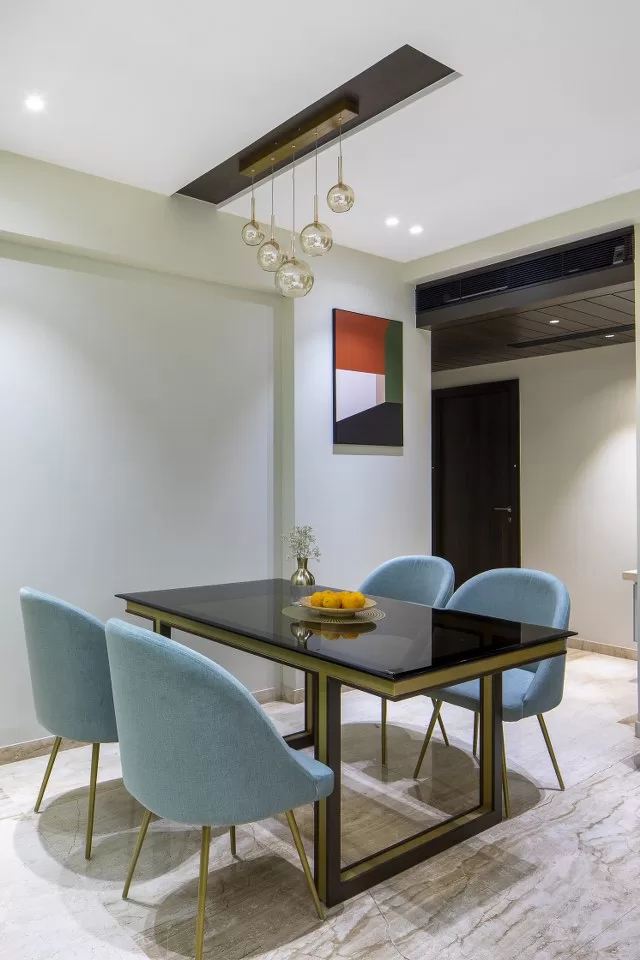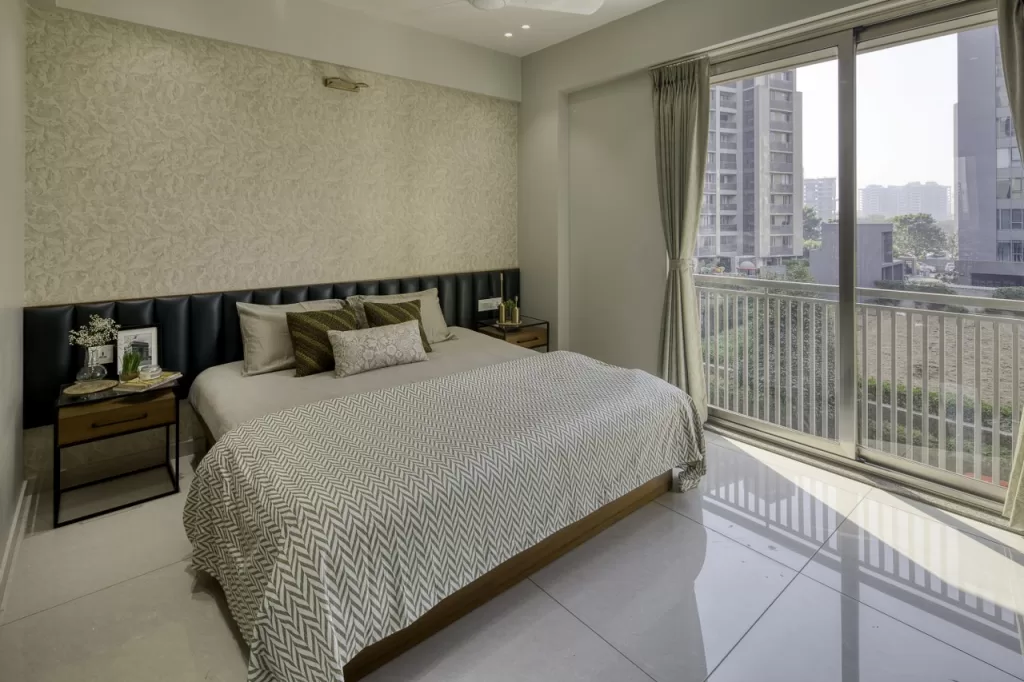 Master Bedroom
This master bedroom gives a warm energy as it has been created using simple materials in an elegant manner. The grooved panelling on the wall complements the neutral hues of the bedroom and the overall appeal of the bedroom is increased by adding soothing tints with decorative articles.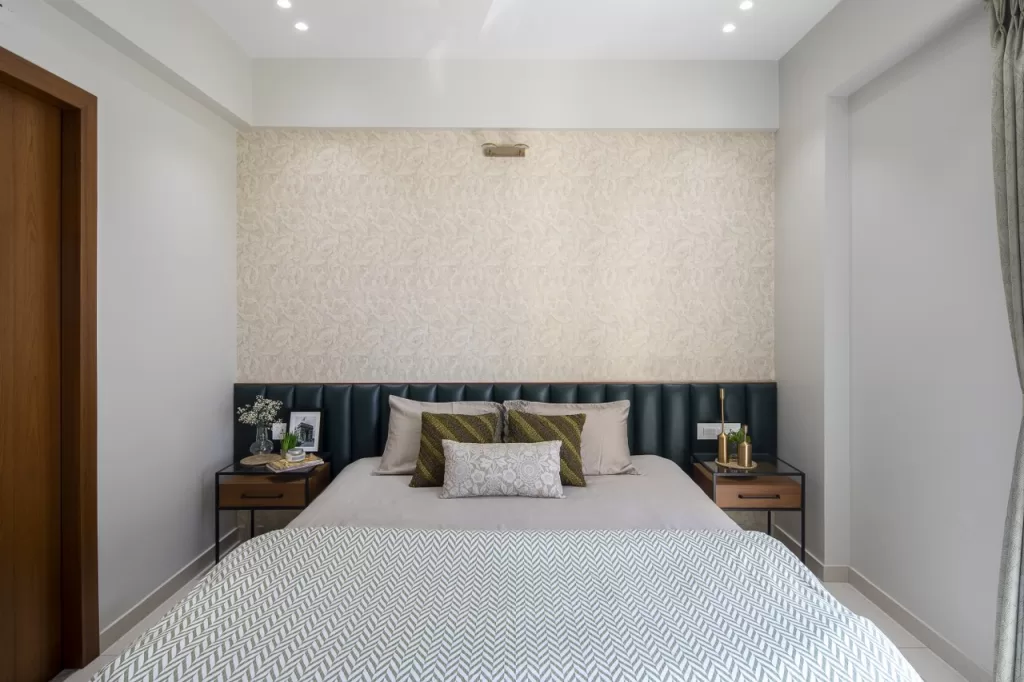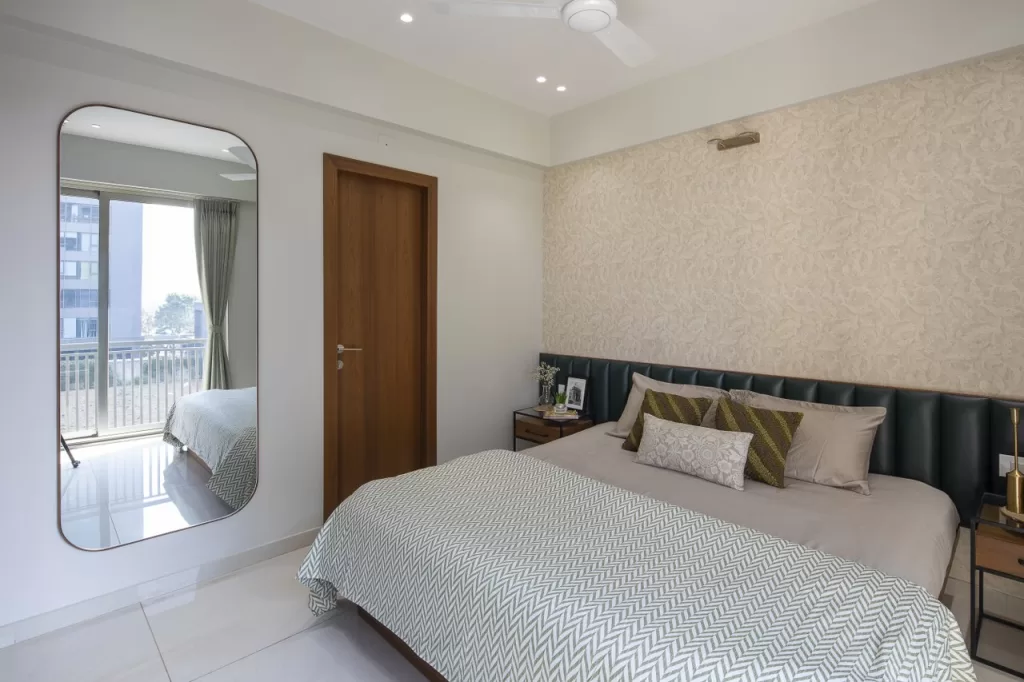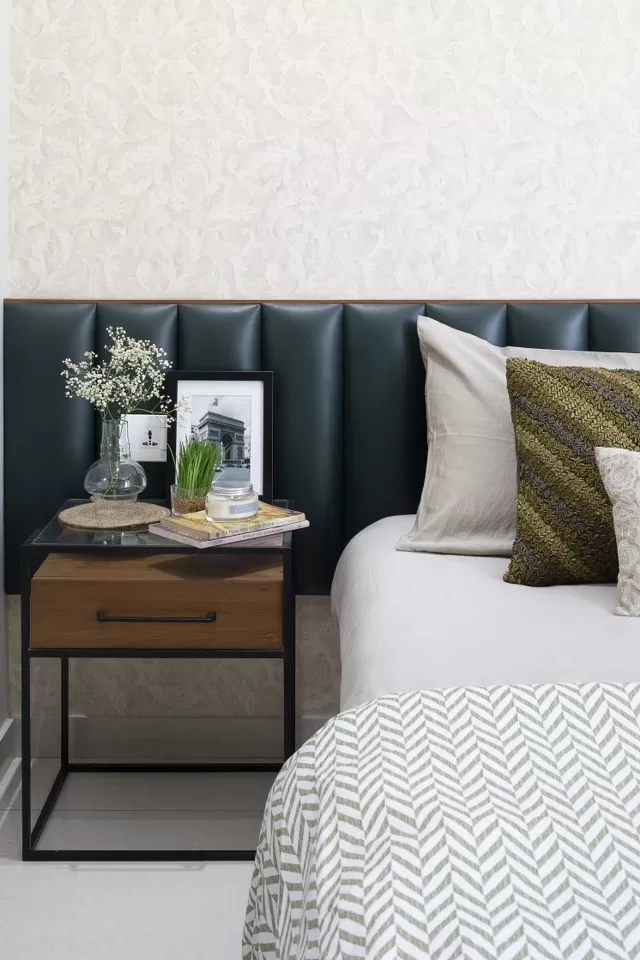 Guest Bedroom
For guest room, we wanted to give very warm feel with minimal furniture. The room features a wooden bed with a bold headboard, along with two side-tables finished in veneer and black MS structure which sets a cozy and comfortable vibe in the room. The natural day light adds to the overall ambience of the room.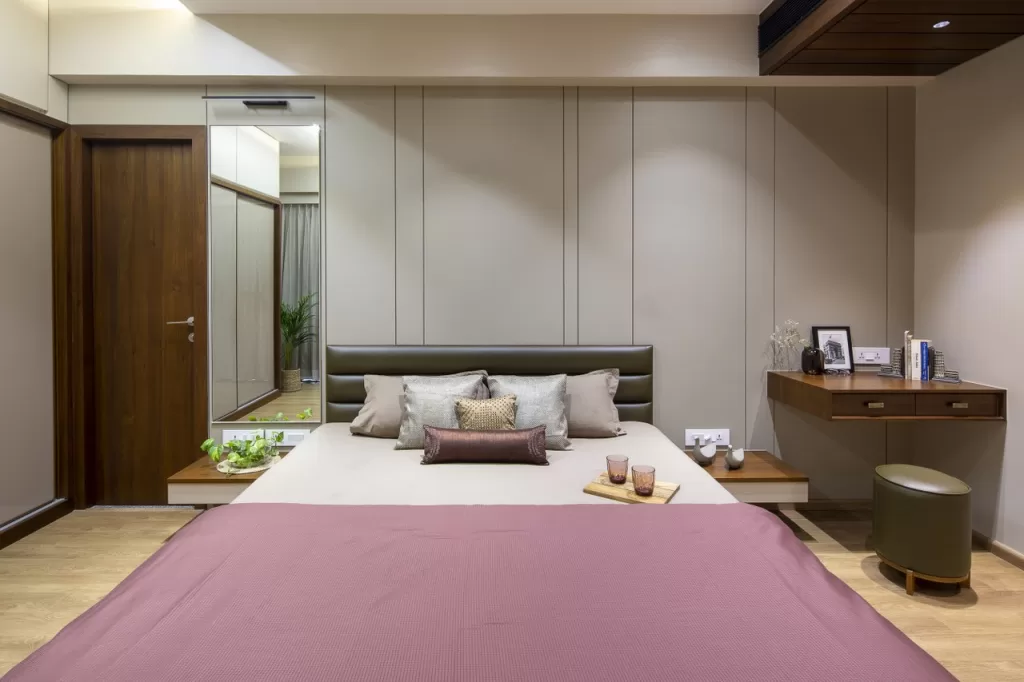 Children's Bedroom
This bedroom is designed for our little client who adores pink colour. We made sure that she gets what she wanted also keeping in mind the storage requirements that a kid needs to fit all their toys, books, clothes, etc. while also making the room aesthetically appealing.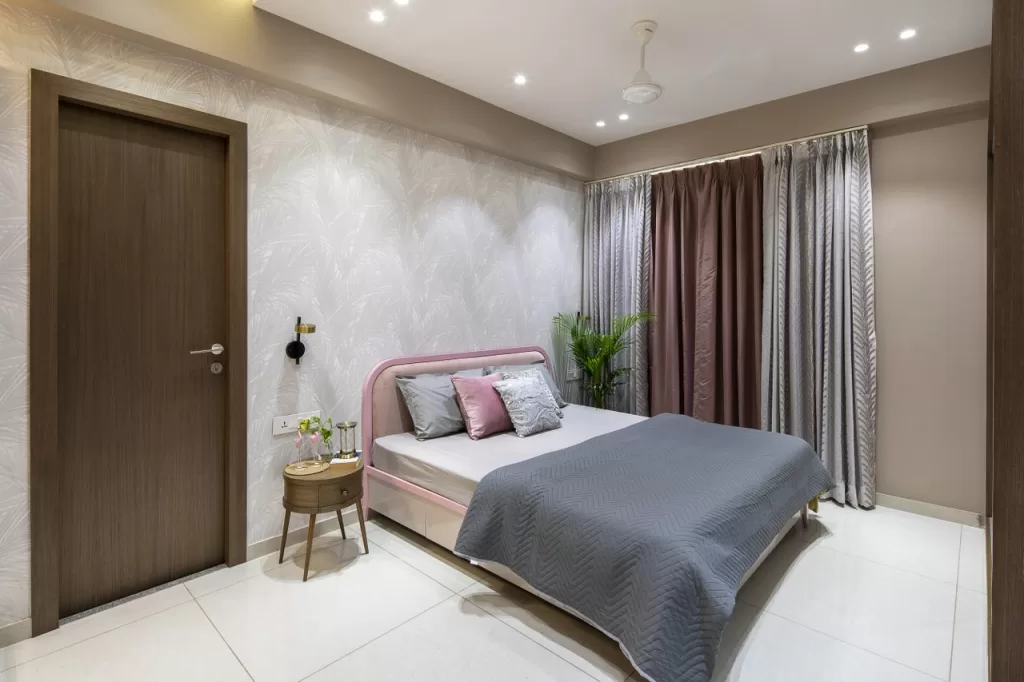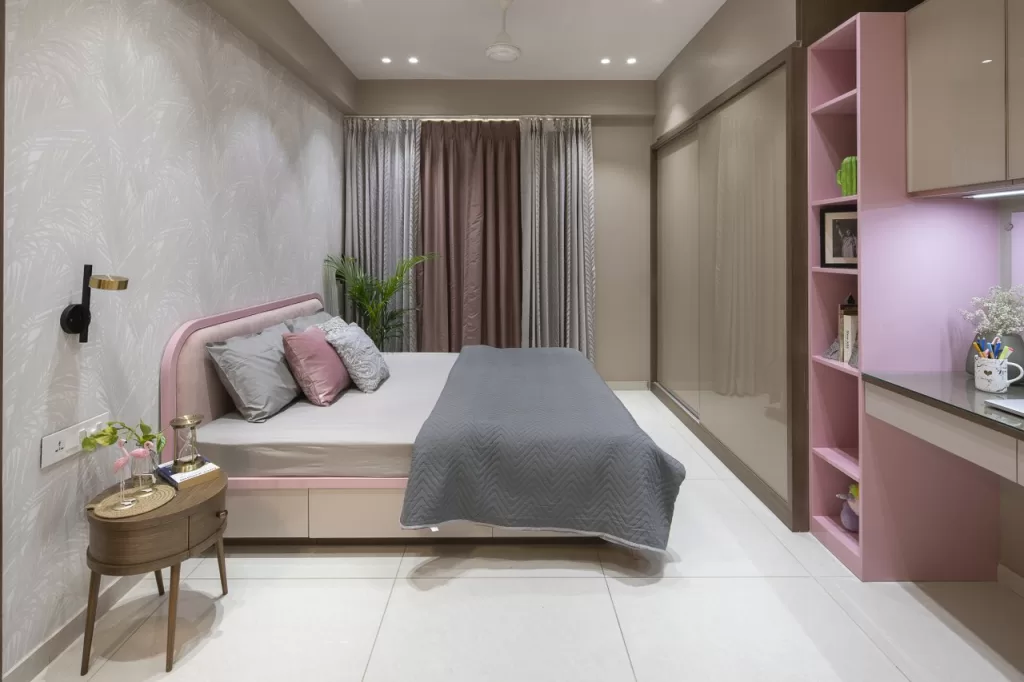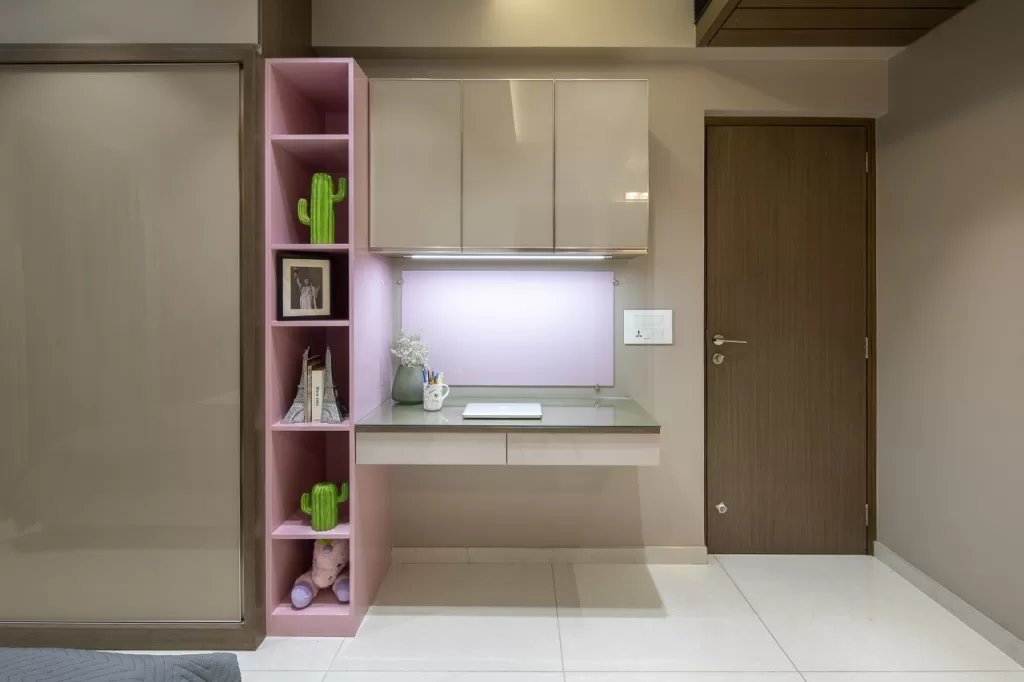 Fact File
Designed by: Meraki Design Studio
Project Type: Residential Interior Design
Project Name: Riviera Blues
Location: Ahmedabad
Year Built: 2020
Duration of the project: 8 Months
Project Size: 1560 Sq.ft
Project Cost: 30 Lakhs
Principal Designers: Aaneri Shanghvi & Rajvi Banka
Photograph Courtesy: Umang Shah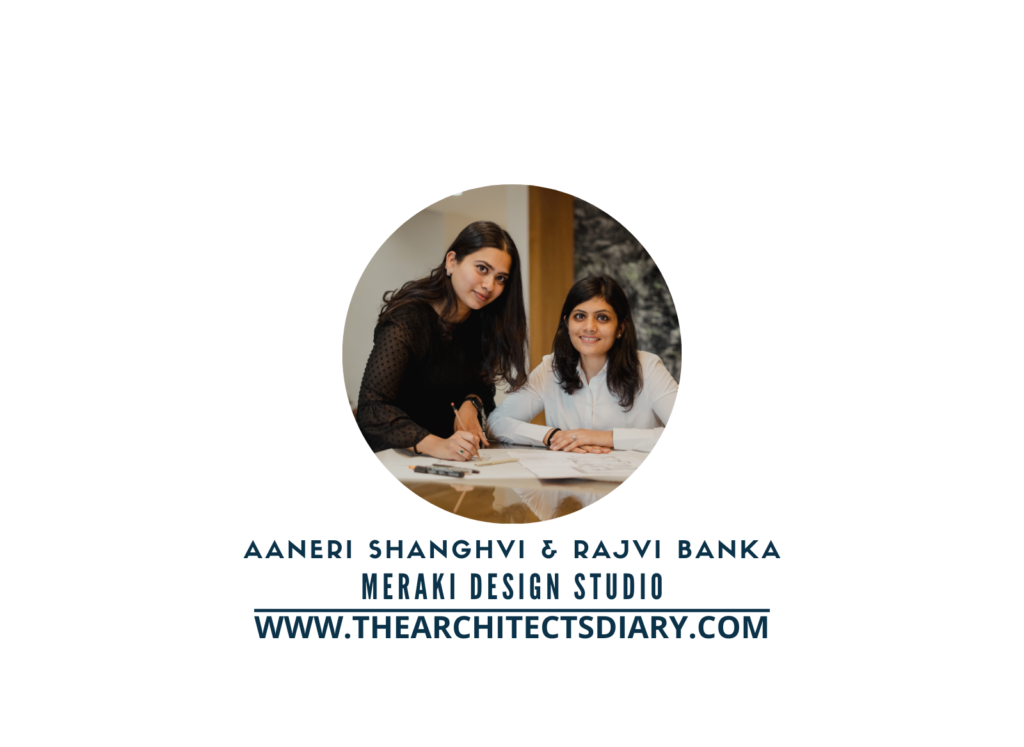 Firm's Instagram Link: Meraki Design Studio
Firm's Facebook Link: Meraki Design Studio
For Similar Projects >>> A Home that is Modern but at the Same Time Feels Timeless With so Much Character to it
The post This home Takes Inspiration from Contemporary Aesthetics and a Cool Colour Palette | Meraki Design Studio appeared first on The Architects Diary.