Sprawling around 2128 sq.ft of area, this flat for a family of 6 is underpinned by cohesive weaving of discrete characters. This contemporary home is designed with minimalistic style, calming colours and clean lines, with a play of customized wall art. They wanted their home to be a space where they de-clutter and experience peace, having a low-maintenance home with a muted colour palette.
This Contemporary Home Is Designed With Minimalistic Style, Calming Colours And Clean Lines | De'UJA DESIGNS
visit : De'UJA DESIGNS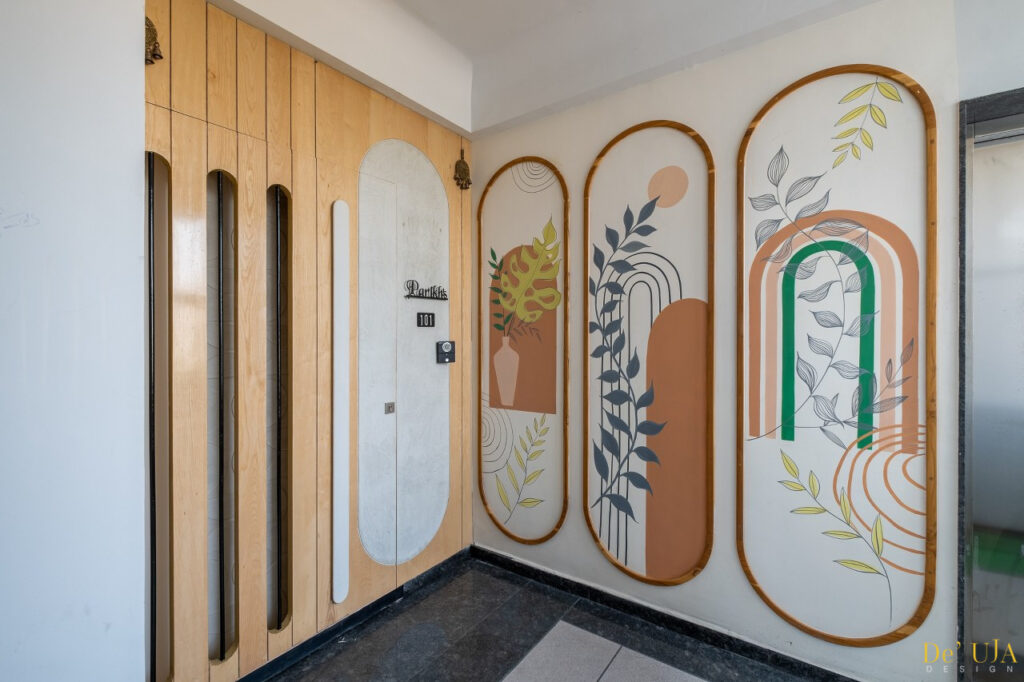 The client being a very spiritual person, his interests were reflected in the wall opposite entrance door. A serene space with pichwai art symbolizing peace and purity. To add more beauty, we hang frame of lord " shreenath ji ".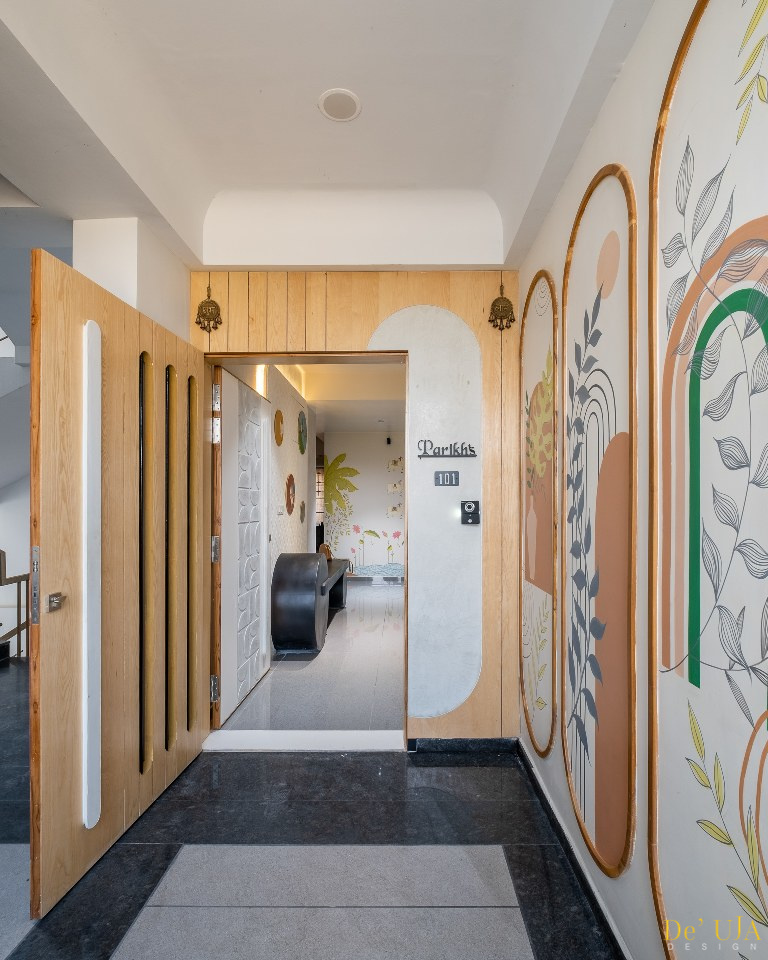 As we enter the house, traditionally hand crafted art pieces welcomes us into a visually open and grand living room through the vestibule.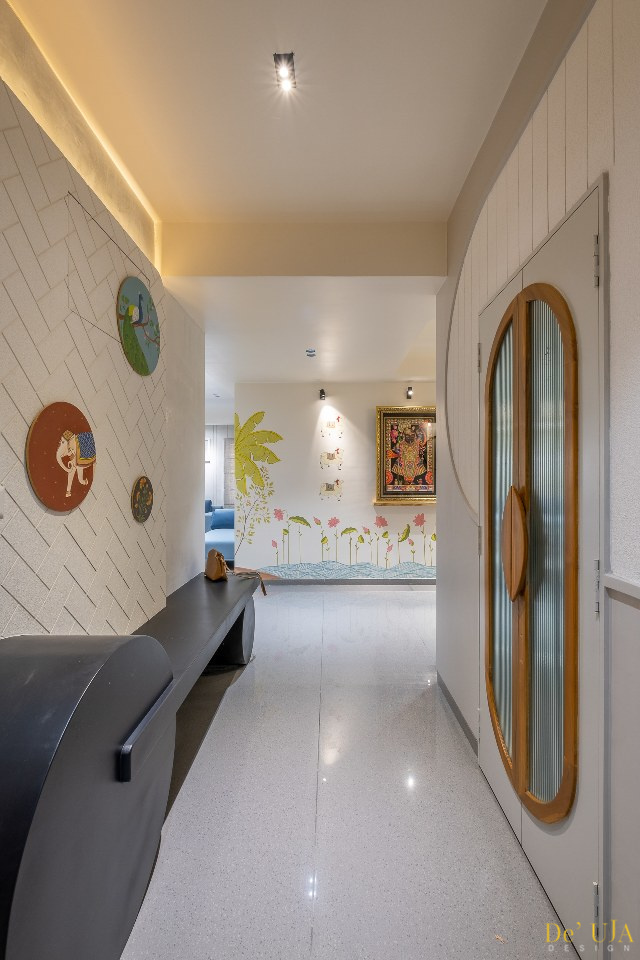 Where in the lift door, the sit out bench and traditionally crafted art pieces over the bench along with this distinctive grooves created from plaster of Paris which definitely brings out a varied beautiful affect.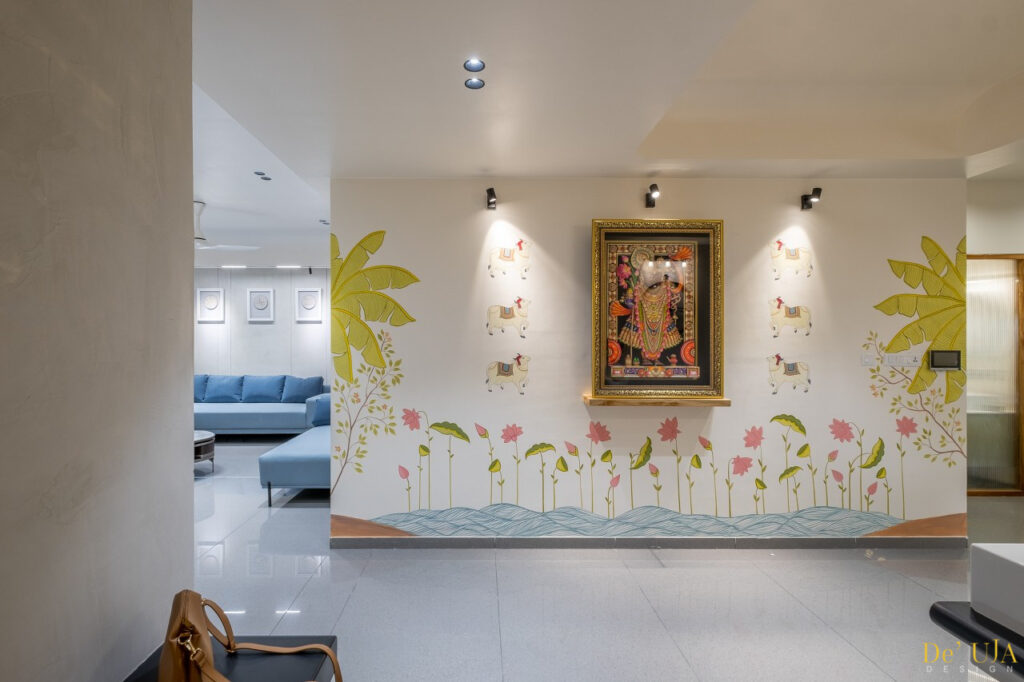 To keep the ceiling minimal lights are all concealed into the ceiling and are designed in such a way that the lights seem to merge into the ceiling i.e. camouflaged.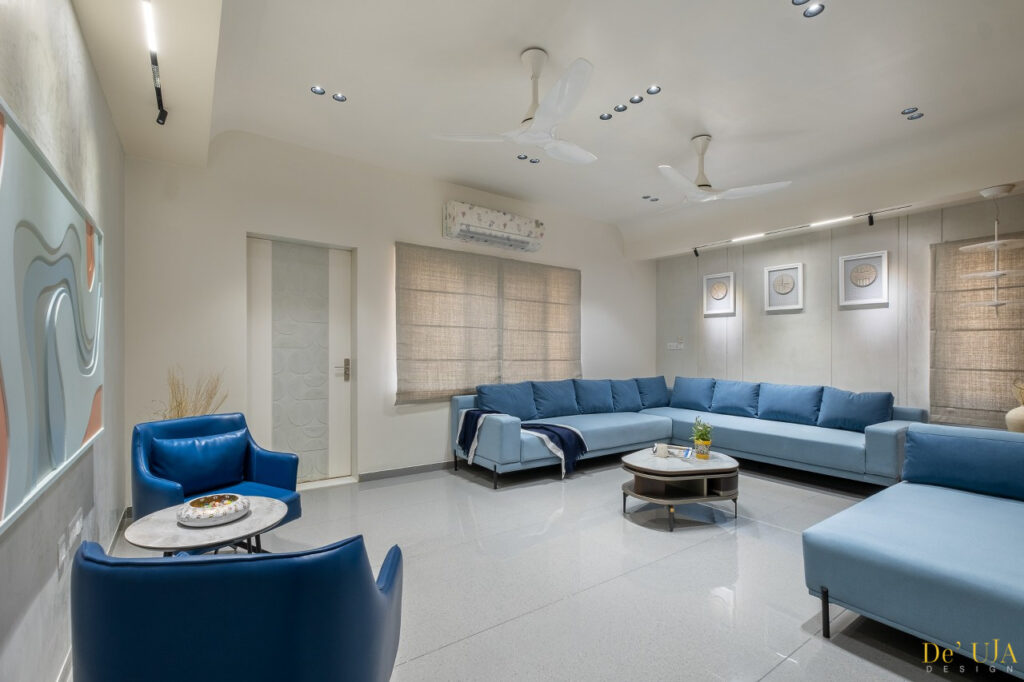 The living room has a very calming colour theme with shades of oyster grey, beige, morning glory and pastel shades for wall art. The walls are painted with oyster grey stucco and the floor is a terrazzo grey.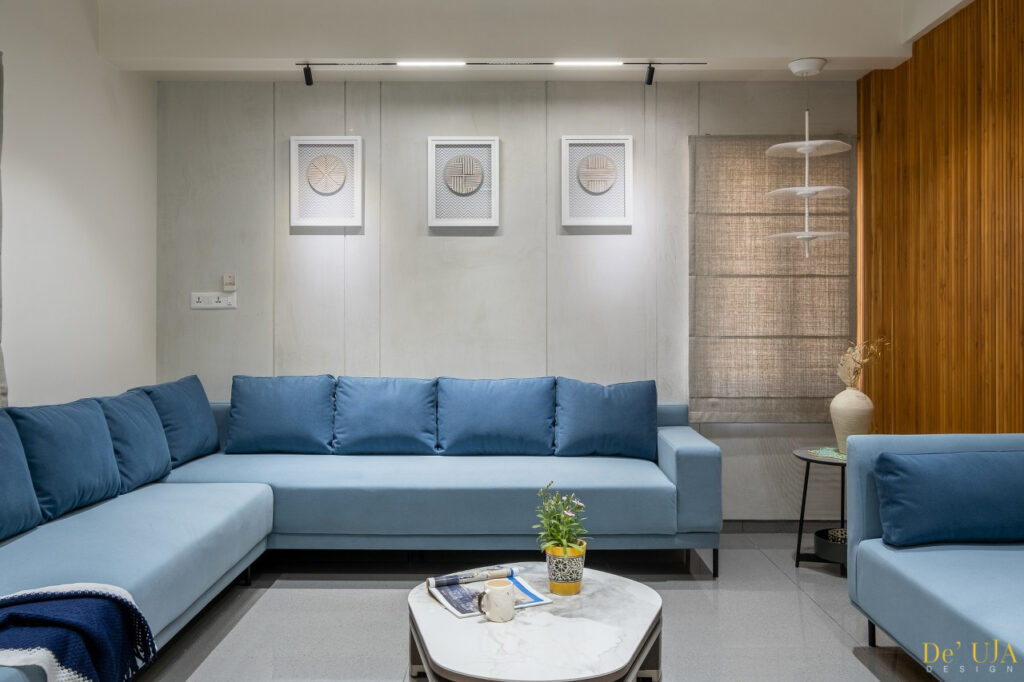 The neutral color scheme, minimal and modern design and functionality of furniture were carefully planned to create a perfect blend of style and harmonious living.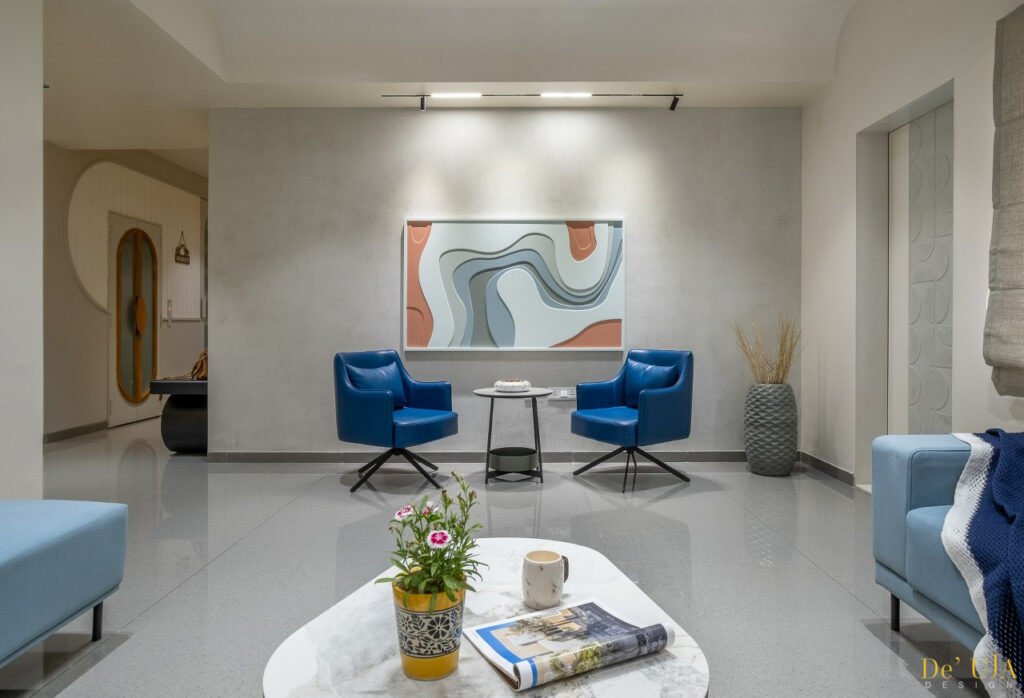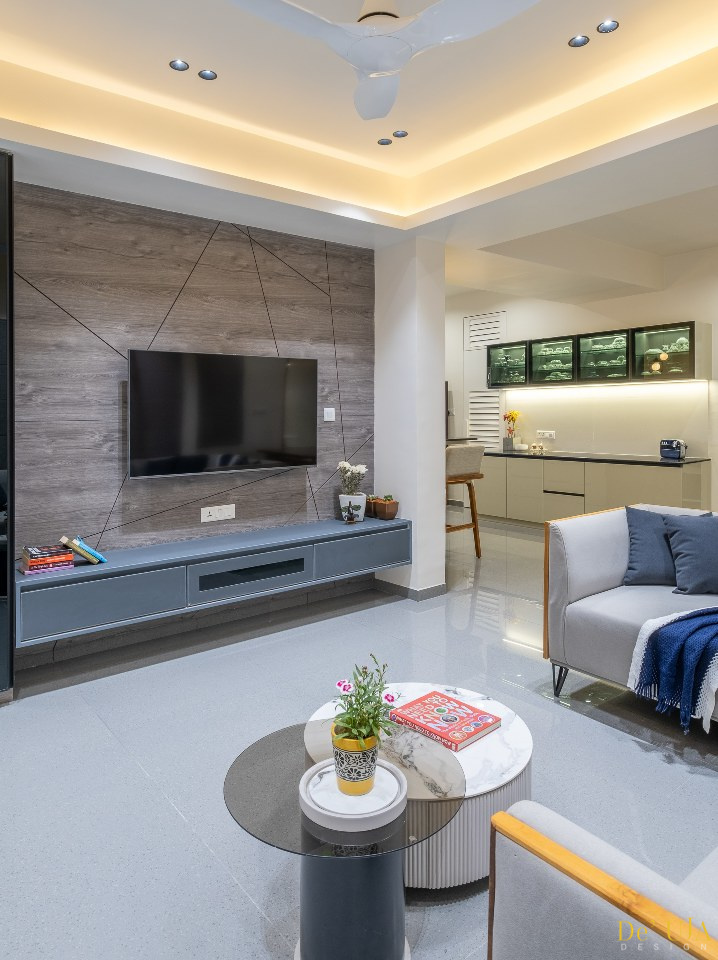 The bespoke furniture is handcrafted with artisanal precision, using the finest materials & manufactured in-house at our Factory based in furnitureholic, ahmedabad.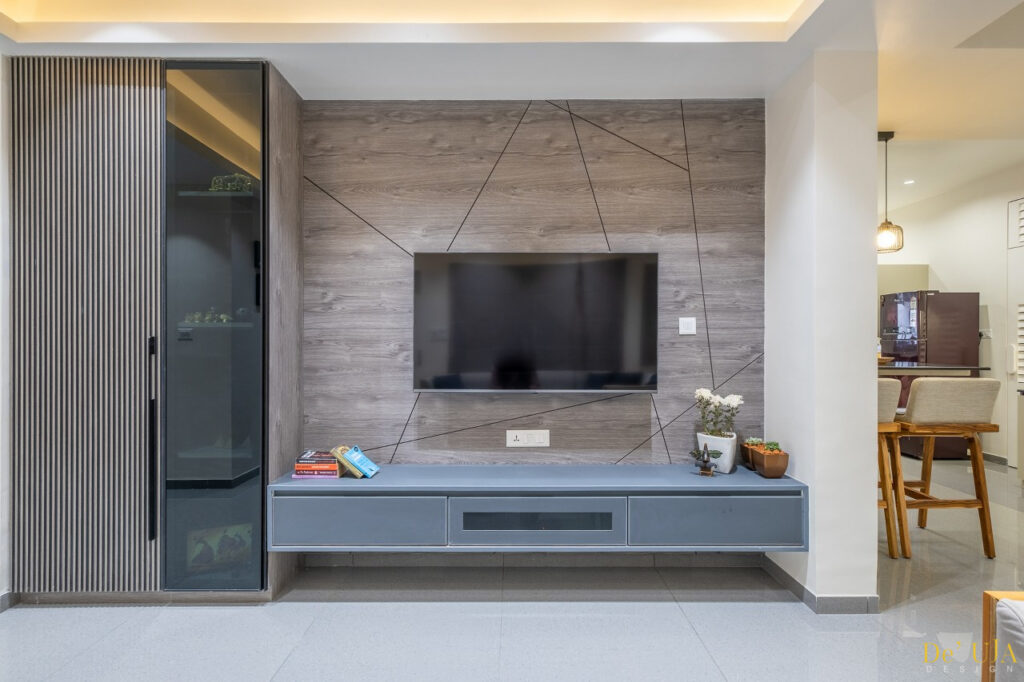 The kitchen is reflective of Scandinavian style, with a focus on functional and purpose-driven spatial planning. Kitchen is designed in a neutral palette, in shades of grey. One continuous black aluminium profile runs throughout from platform inbuilt machines to the breakfast counter.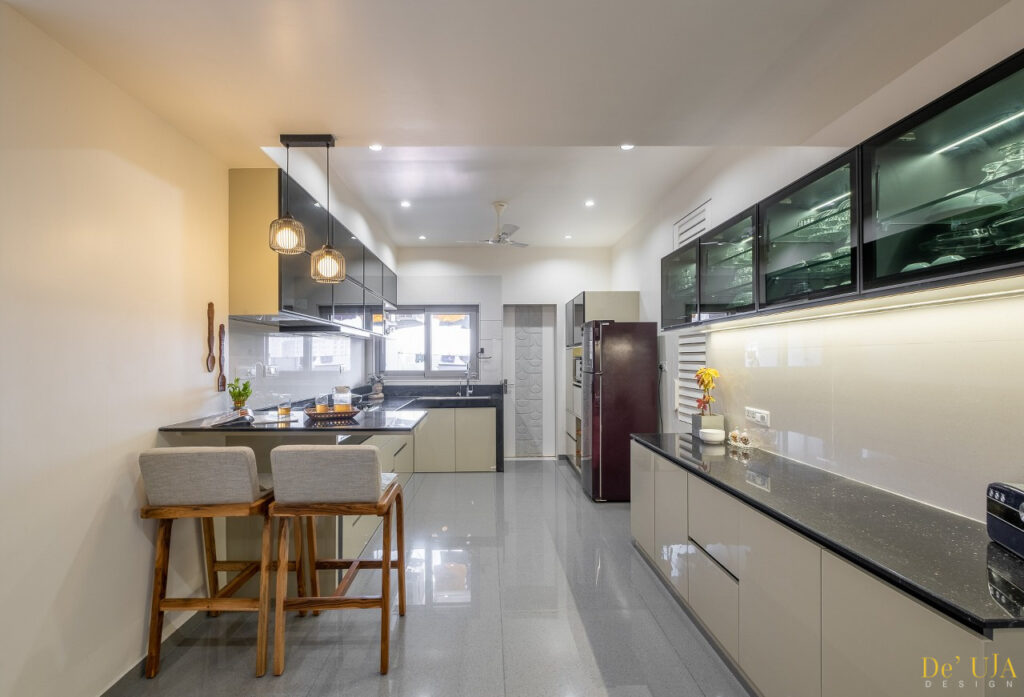 Clean lines in the kitchen give it a de cluttered aesthetic. Pu paint finish and plain acrylic sheets have been used in the kitchen space with the breakfast counter.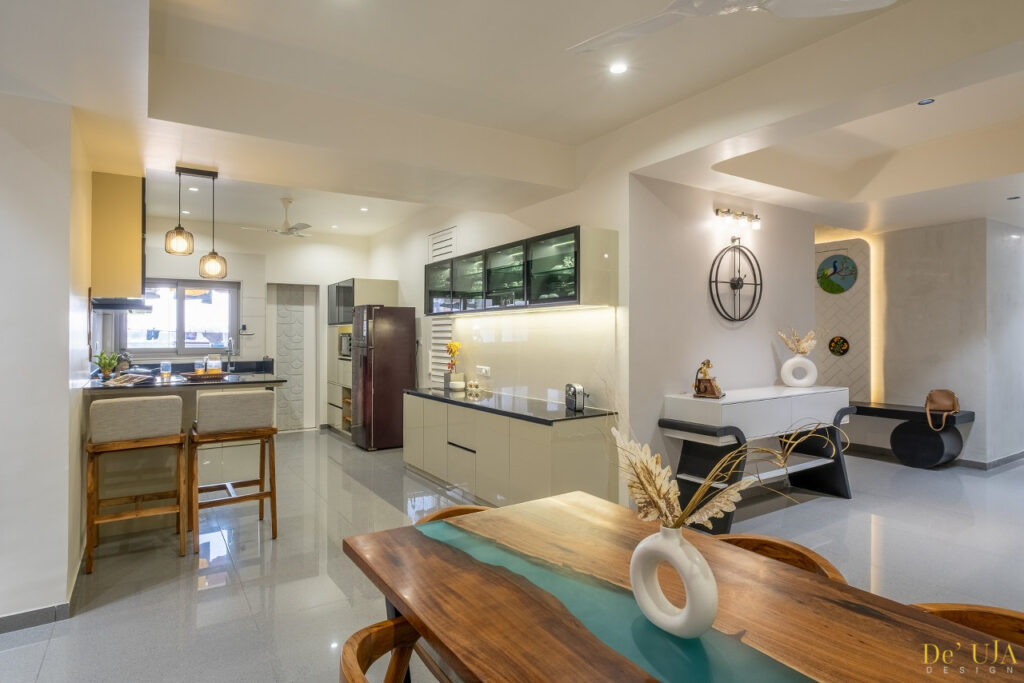 The dining and kitchen spaces are designed in such a way that both are separate yet connected. The kitchen provided is modular, and is user friendly. The entire dining was made from natural teak wood along with epoxy resin with black metal base.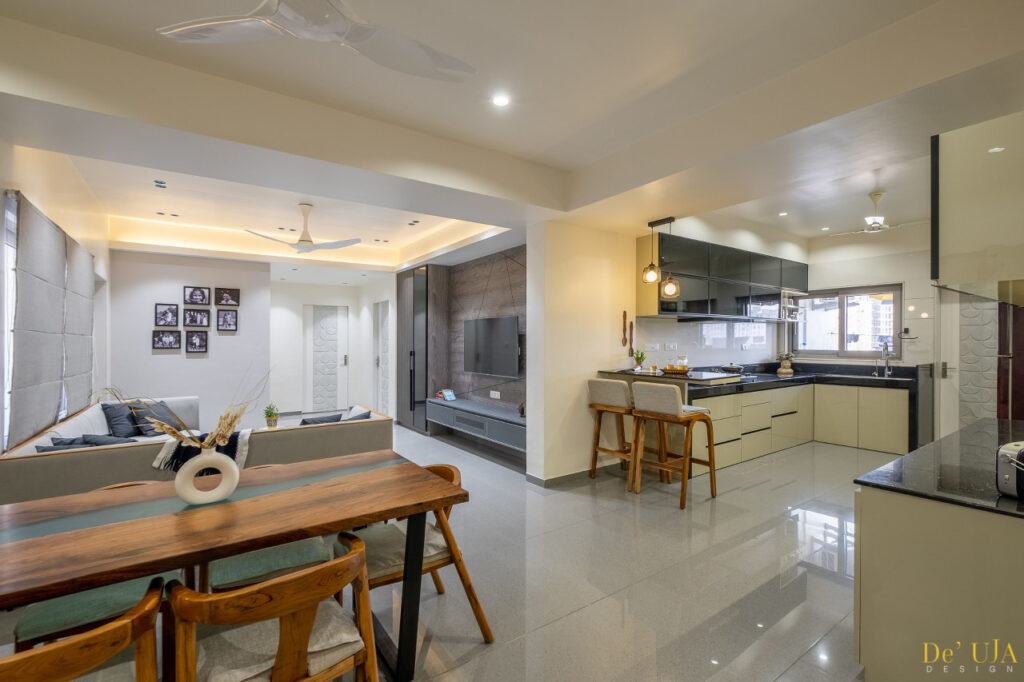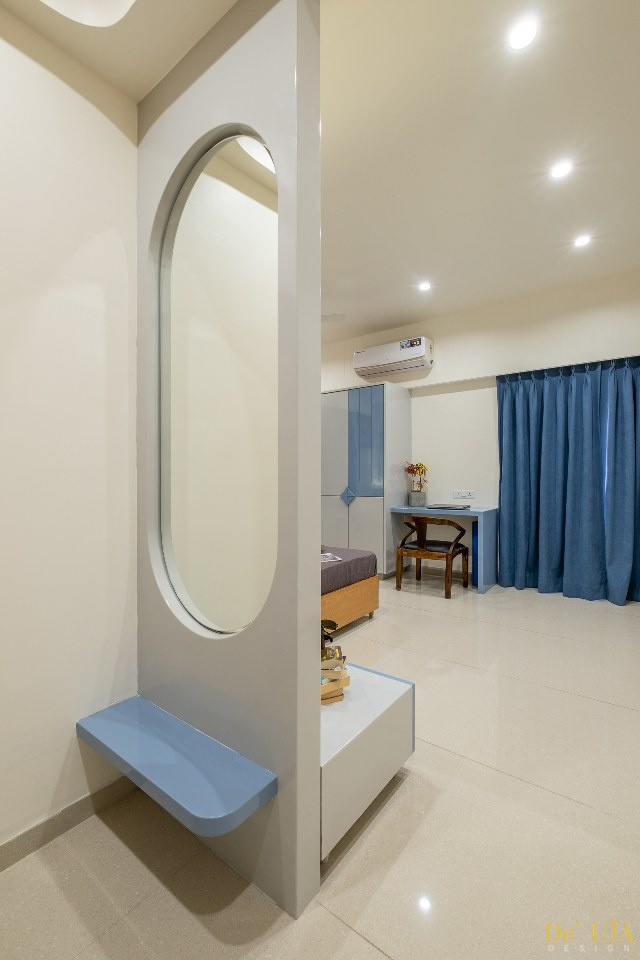 Grand parents' bedroom is located at left corner of the house. The bedroom is a blend of whites, mint blue and dark blue. Mint blue is used for the backing and is done in PU finish.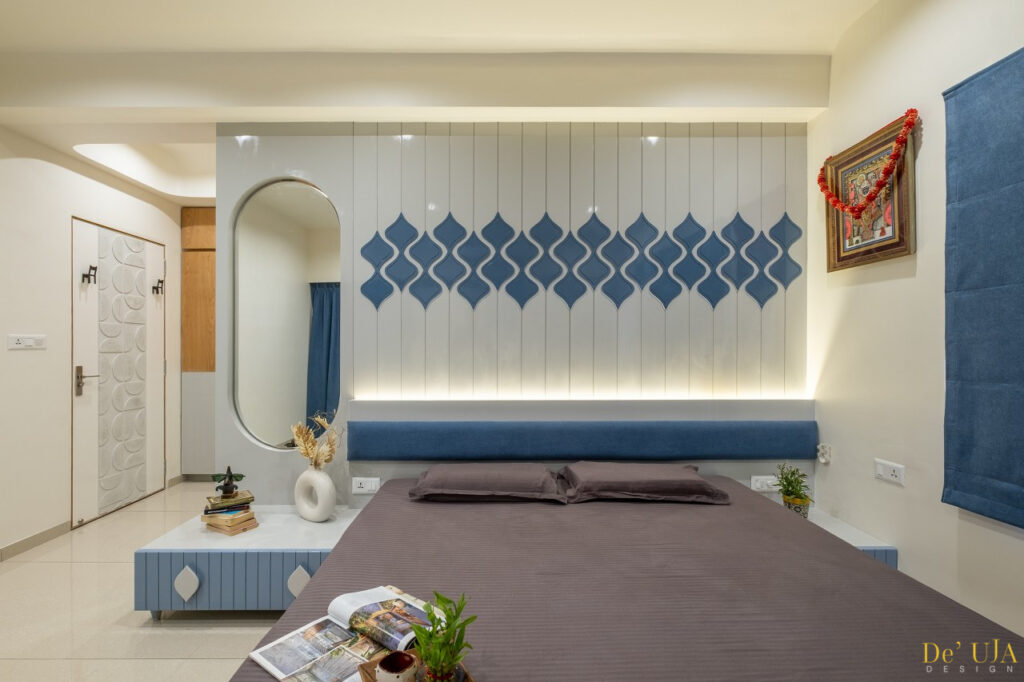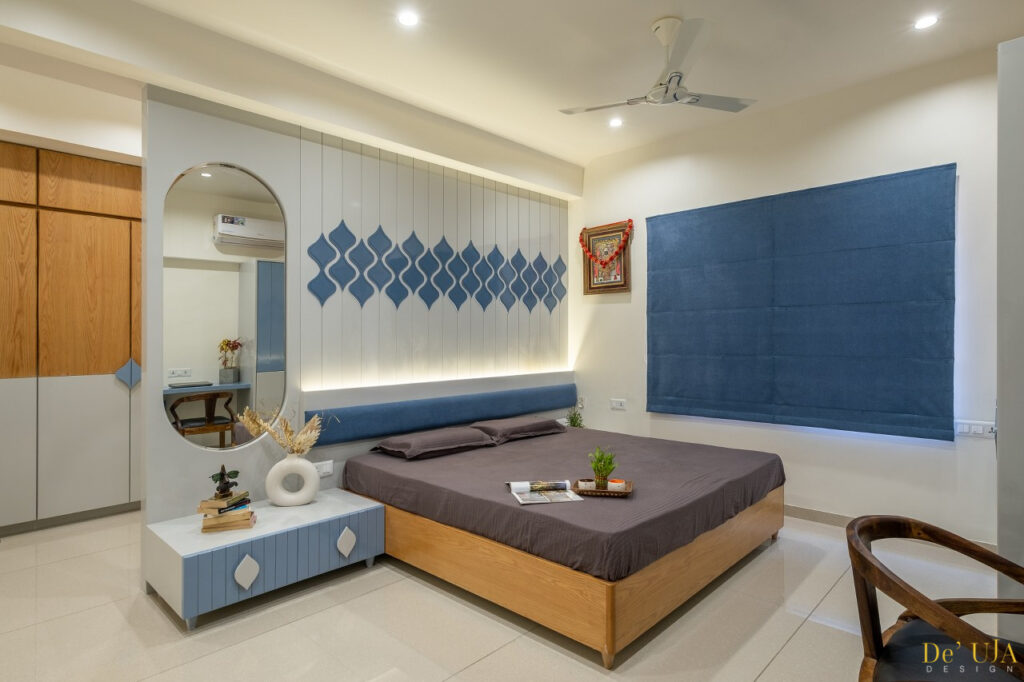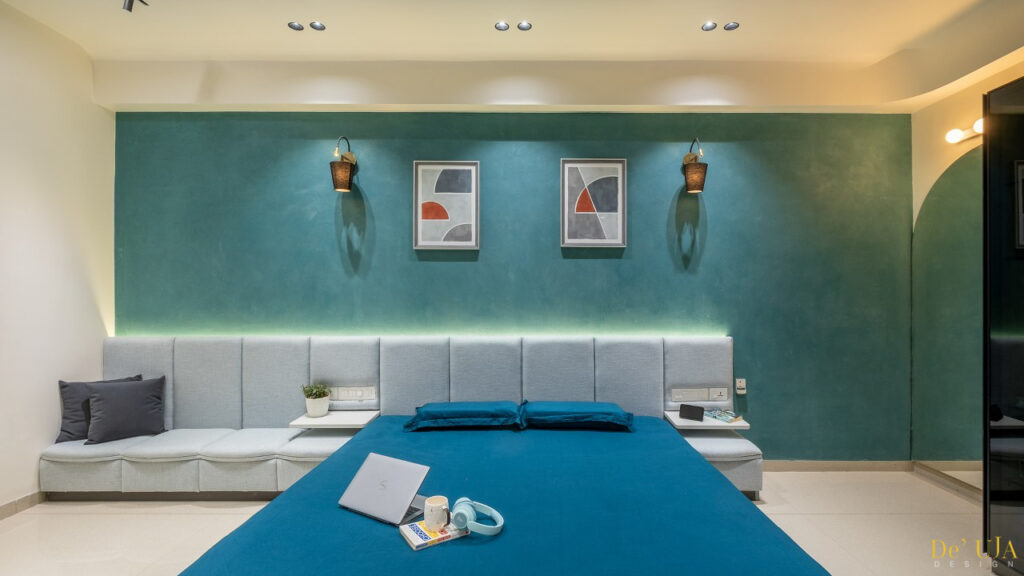 The kid's bedroom is enriched with beautiful interiors. The room consists of a bed, study and storage along with a walk-in wardrobe with black tinted glass and divisions with a toilet.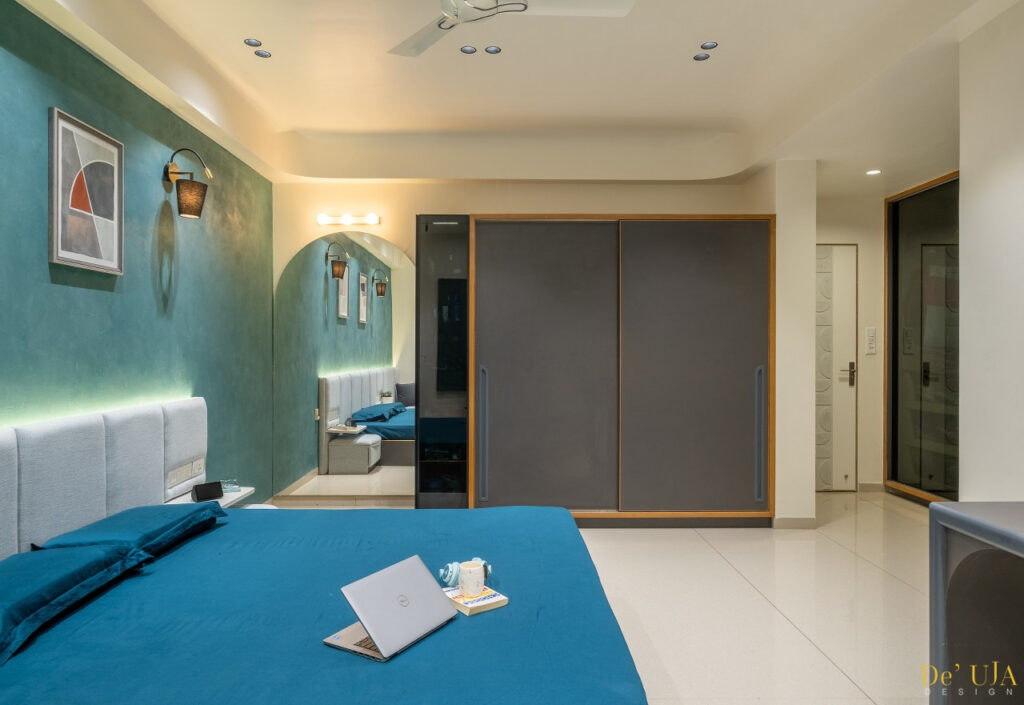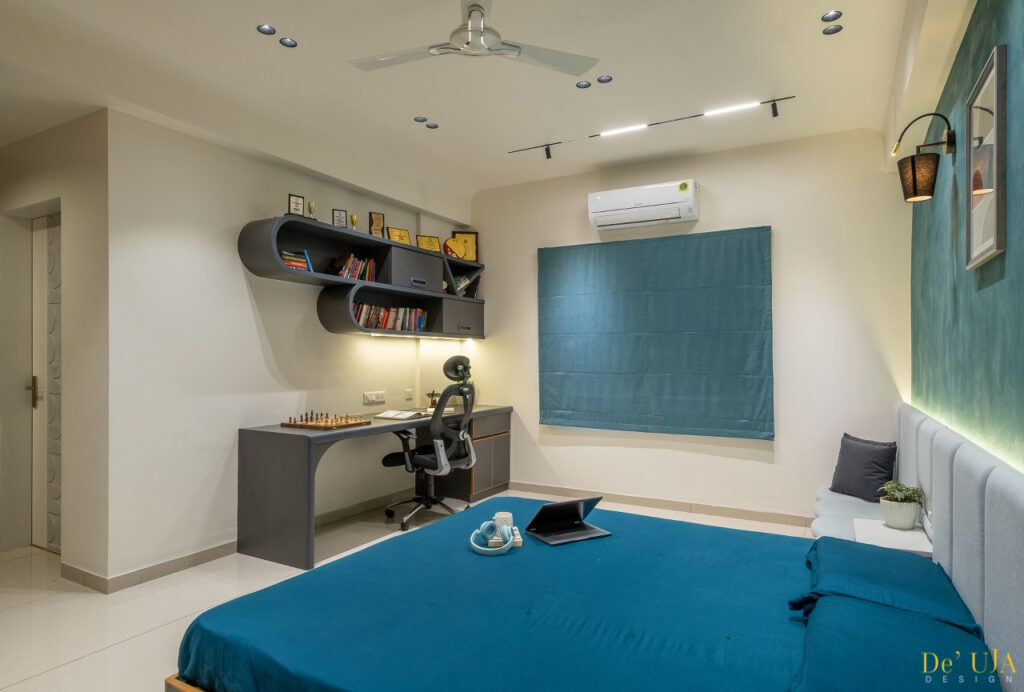 Two beautiful hanging lamps can be seen onto both sides of the bed. Beautiful peacock blue tone with a customize paintings used enhances the beauty of the space. To maintain the harmony, the ceiling is kept minimal.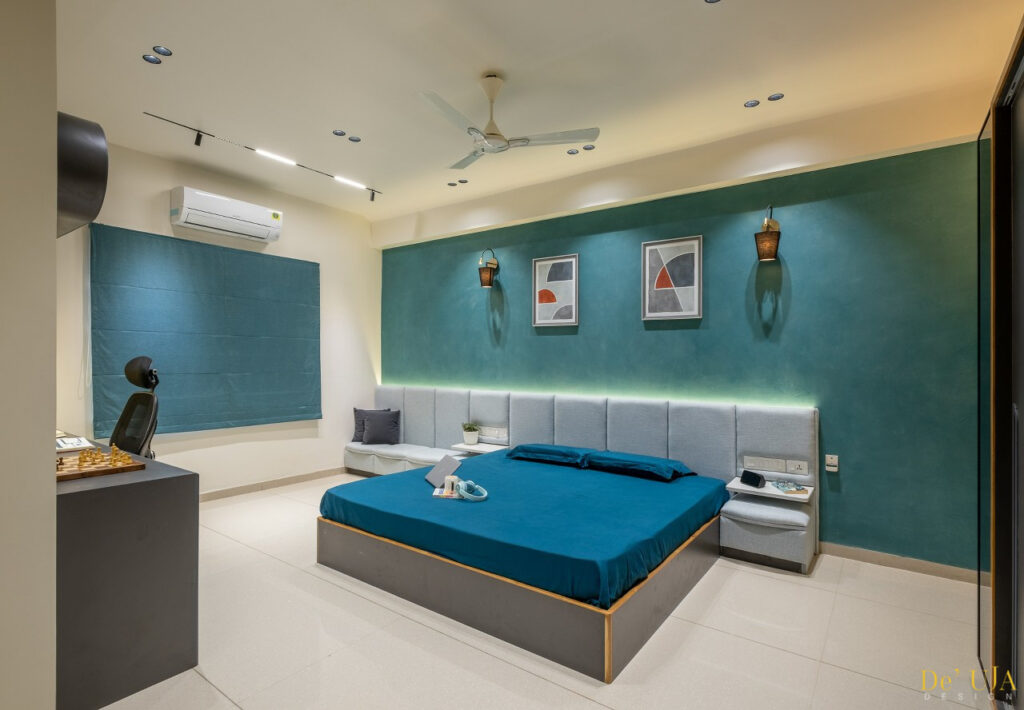 The Master bedroom is contemplative of a hygge lifestyle, showcasing simplicity and discretion in its lines as well as in its colors and materials.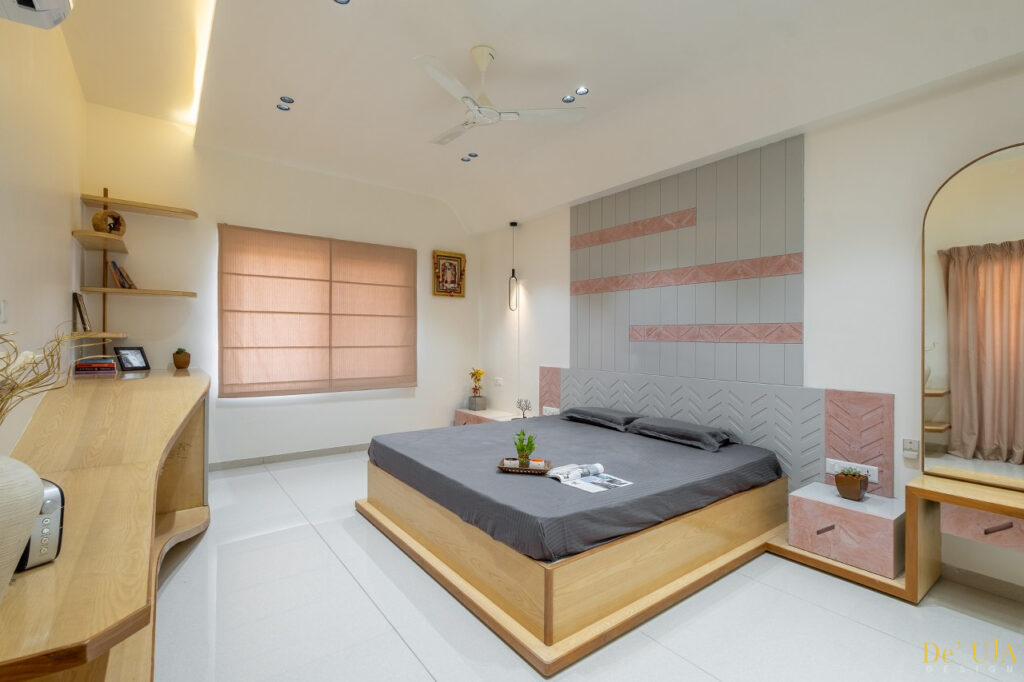 The juxtaposition of solid and veneer in the bed evokes a feeling of warmth. The multifaceted oak wood study table takes corner stage in the bedroom.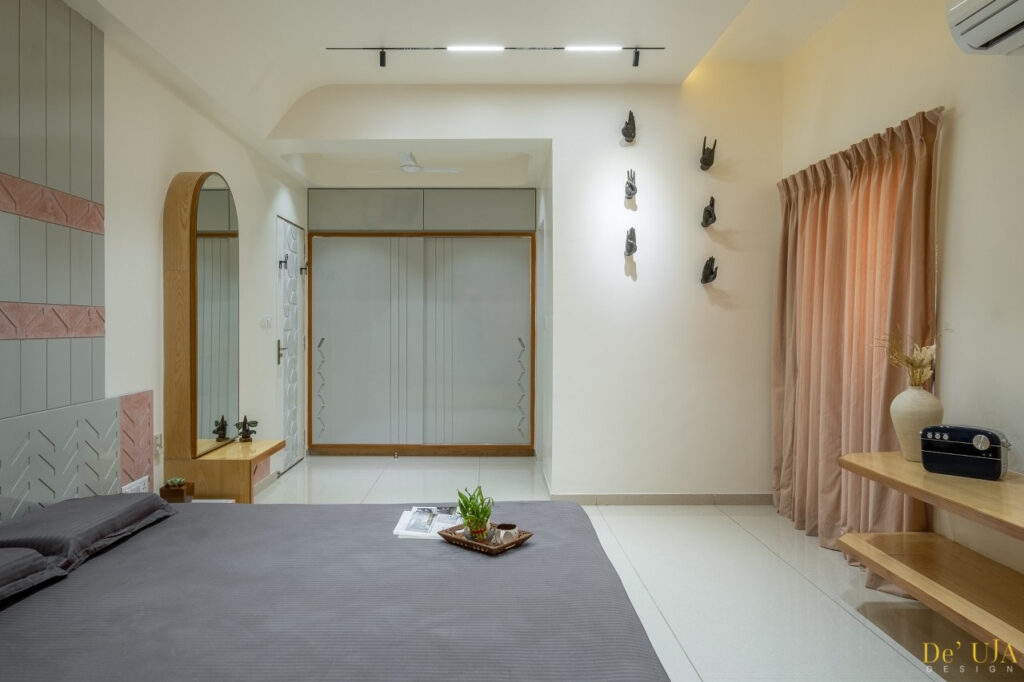 The visually attractive palette consists of earthy colours and muted tones which co-exists aesthetically with its sophisticated intent, maintaining a natural balance with its surroundings.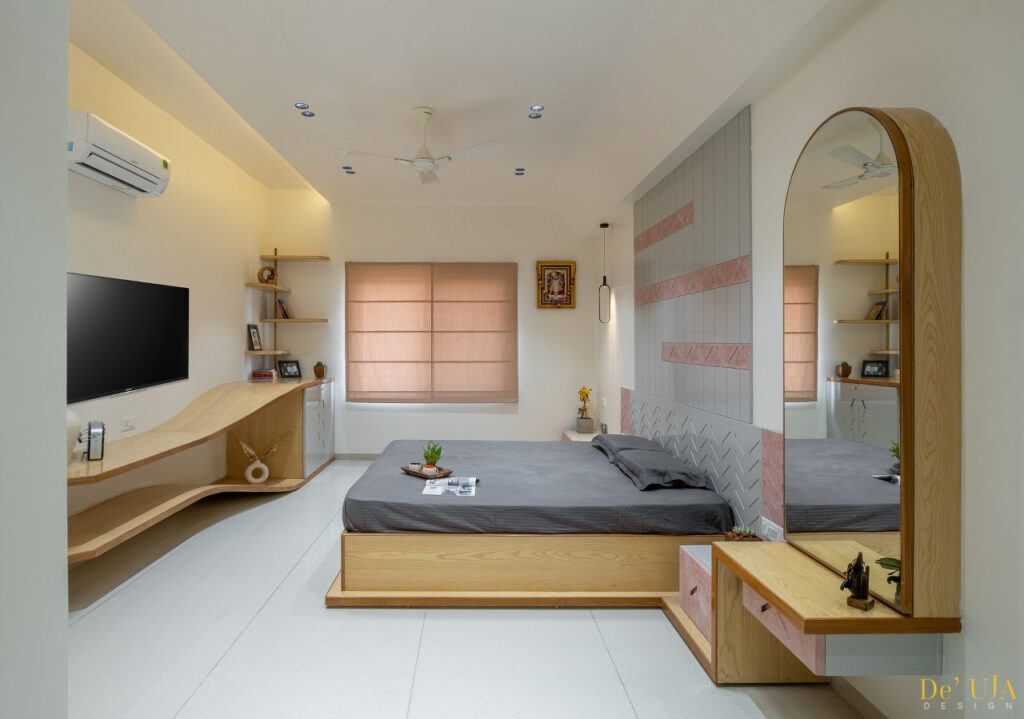 FACT FILE
Designed by : De'UJA DESIGNS
Project Type : Residential Interior
Project Name : Parikh's
Location : Vadodara, Gujarat, India
Year Built: 2023
Duration of the project : 6 Months
Built-up Area : 2128 Sq.ft
Project Size : 2402 Sq.ft
Project Cost : 40 Lacs
Principal Architects : Hemali Soni & Dev soni
Team Design Credits : Mohammed ali sulaimani, javed rizvi, devashree mushirff & shreyansi soni
Photograph Courtesy : Abhishek Shah
Products / Materials / Vendors : Finishes – PU palette, duco paint, satin finish paint, textures from asian paint's archiconcrete, pichwai art / Lighting – Neptune lightings / Doors and Partitions – Godrej, Mody guard / Sanitaryware – Jaguar (artize series) / Windows – private / Furniture – Furnitureholic / Flooring – Simpolo / Kitchen – Carpenter made / Paint – Asian paints / Artefacts – Harmony arts / Wallpaper / Pichwai art – By Shruti choksi / Hardware – Godrej, ebco, sleek kitchen
Firm's Website Link : De'UJA DESIGNS
Firm's Instagram Link : De'UJA DESIGNS
Firm's Facebook Link : De'UJA DESIGNS
For Similar Project >> RESIDENCE DESIGNED IN COUNTRY COTTAGE STYLE WITH A 'TAKE US BACK TO COUNTRY ROADS' VIBE
The post This Contemporary Home Is Designed With Minimalistic Style, Calming Colours And Clean Lines | De'UJA DESIGNS appeared first on The Architects Diary.