In the realm of aspirations, nestled in the heart of Amravati, Maharashtra, "Project Palasphul" stands as a testament to the visionary work of Ar. Rushikesh Deshmukh, the Principal Architect at Studio Emphasis. Founded in 2019, Studio Emphasis holds a distinctive philosophy: active collaboration. Their modus operandi revolves around closely partnering with clients to translate their visions into tangible realities. It is with this ethos that they embarked on the renovation of Mr. Amol Doifode's ancestral abode, encapsulating the essence of Indian tradition within the contours of European sophistication. Indeed, renovation endeavors often present their own unique set of challenges. The principal designer skillfully embraced the client's central concept, shaping it into a true masterpiece.
This Bungalow Stands as a Symbol of Elegance, Grandeur and European Design | Studio Emphasis
Visit: Studio Emphasis
Talking about the elevation, this bungalow stands as a symbol of elegance, grandeur, and European design. Its elevated design features graceful sloping roofs, adorned with wooden false ceilings that add warmth and character to the structure.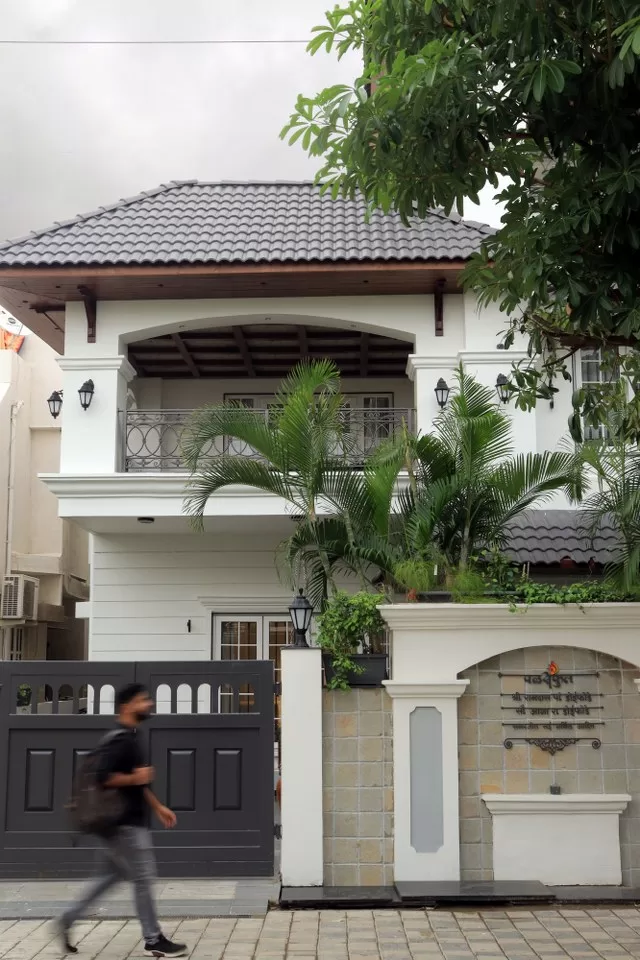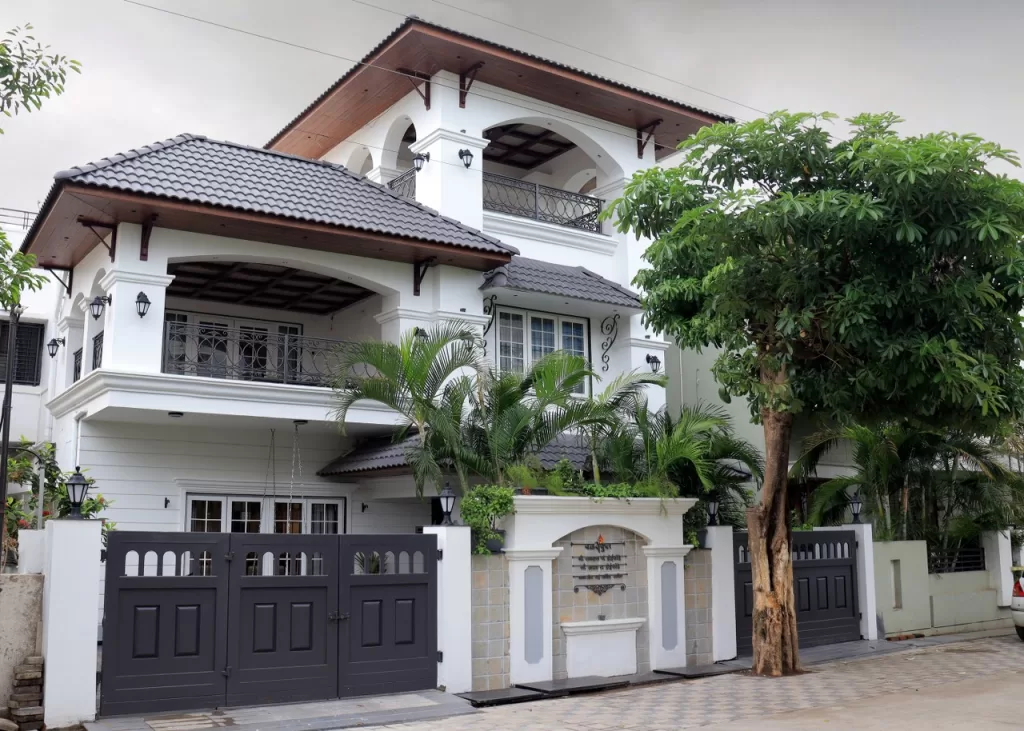 Painted in pristine white, it exudes a timeless charm that is both inviting and classic. Traditional lamps grace the facade, casting a warm glow that welcomes guests and beautifully complements the architectural finesse, making it a truly remarkable abode.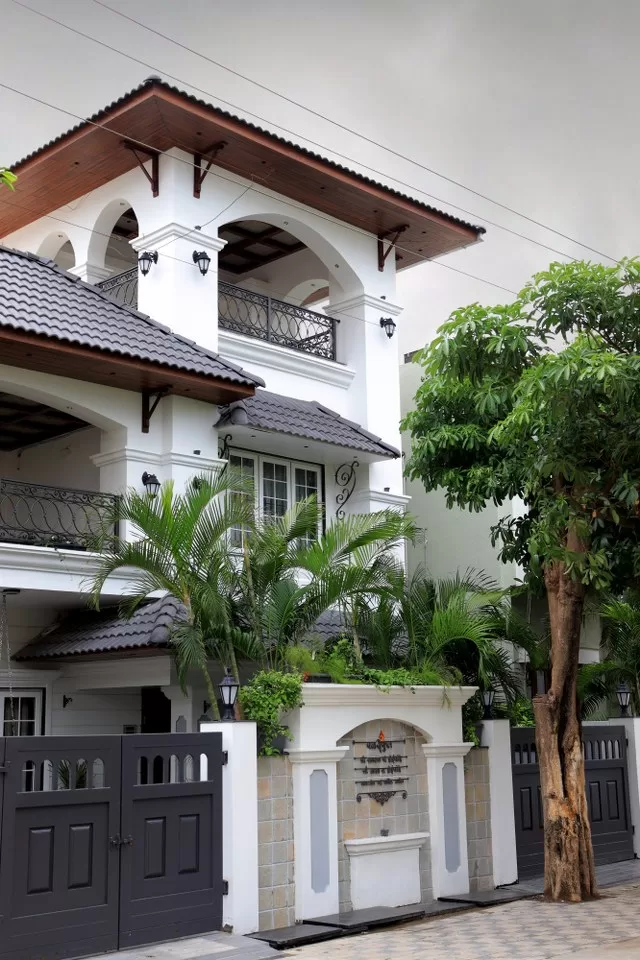 On entering it was quite evident that zoning played a pivotal role in delineating spaces within the house. Each zone was carefully curated to encapsulate its unique essence, whether it reflected traditional Indian living or paid homage to opulent Western sensibilities. The synthesis was achieved with a masterful touch that not only bridged cultures but celebrated their coexistence.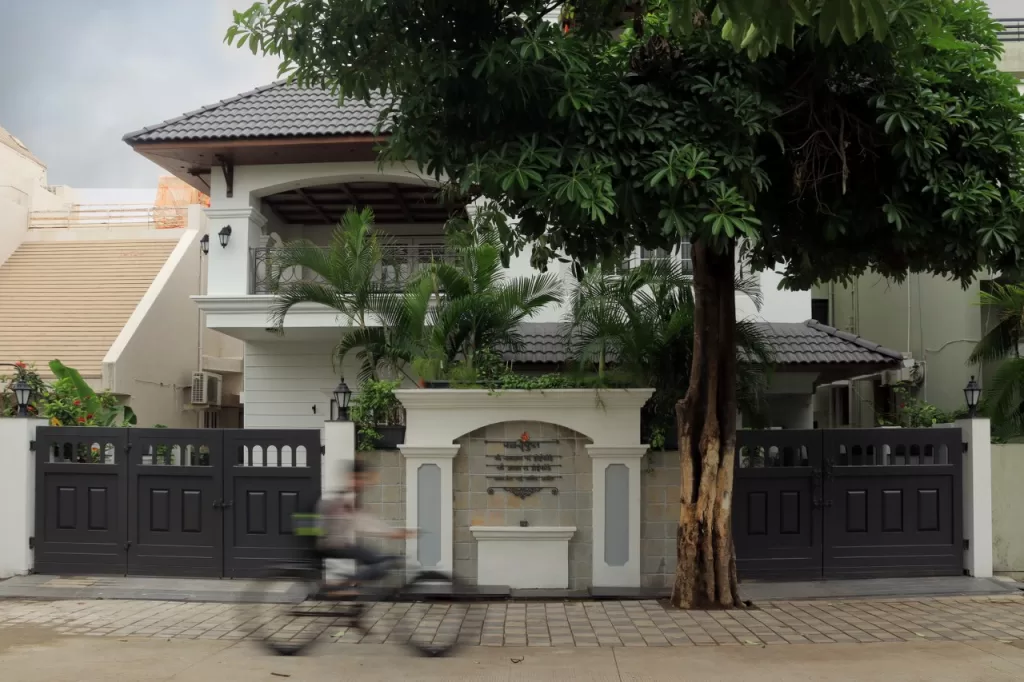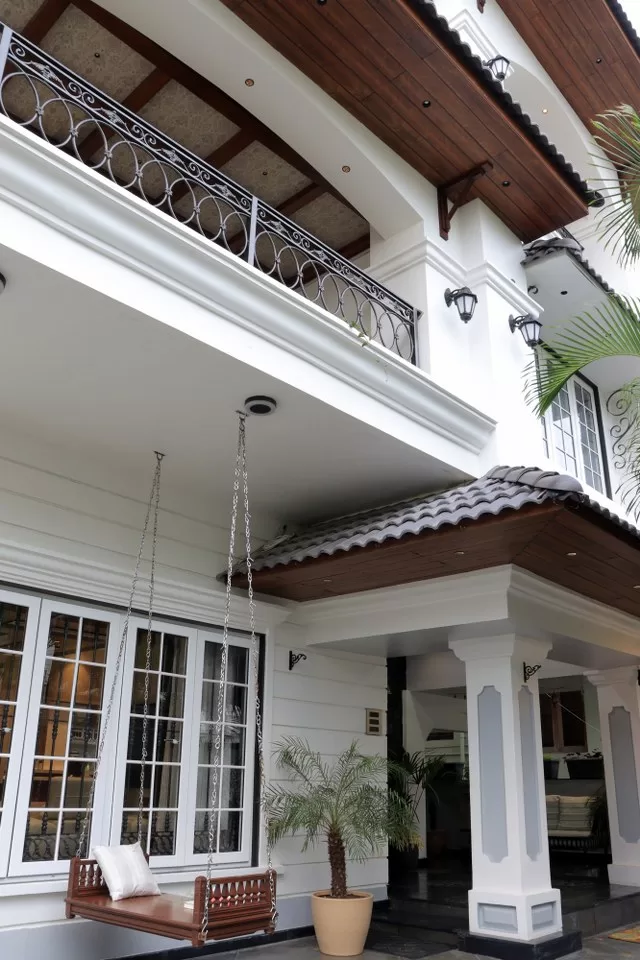 The planning it owes its flexibility to the wholesome and meticulous area program. Like the hierarchy of
spaces like the public, semi-public and private spaces in this structure are organized clearly.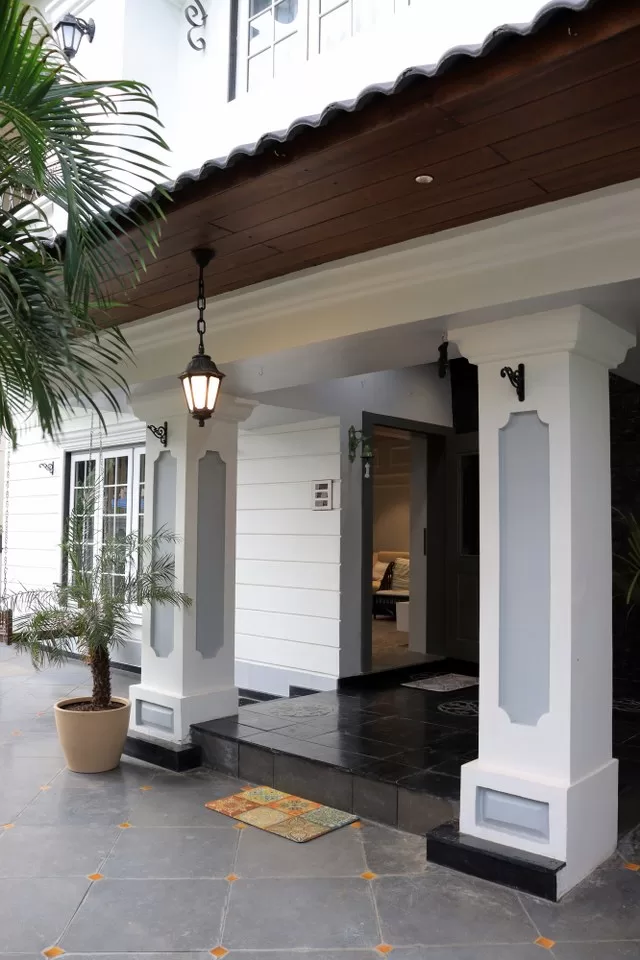 The spatial arrangements of the space divide all the public areas such as living, kitchen, dining and a bedroom on the ground floor, and private areas such as other bedrooms and the family area is planned on the upper floor.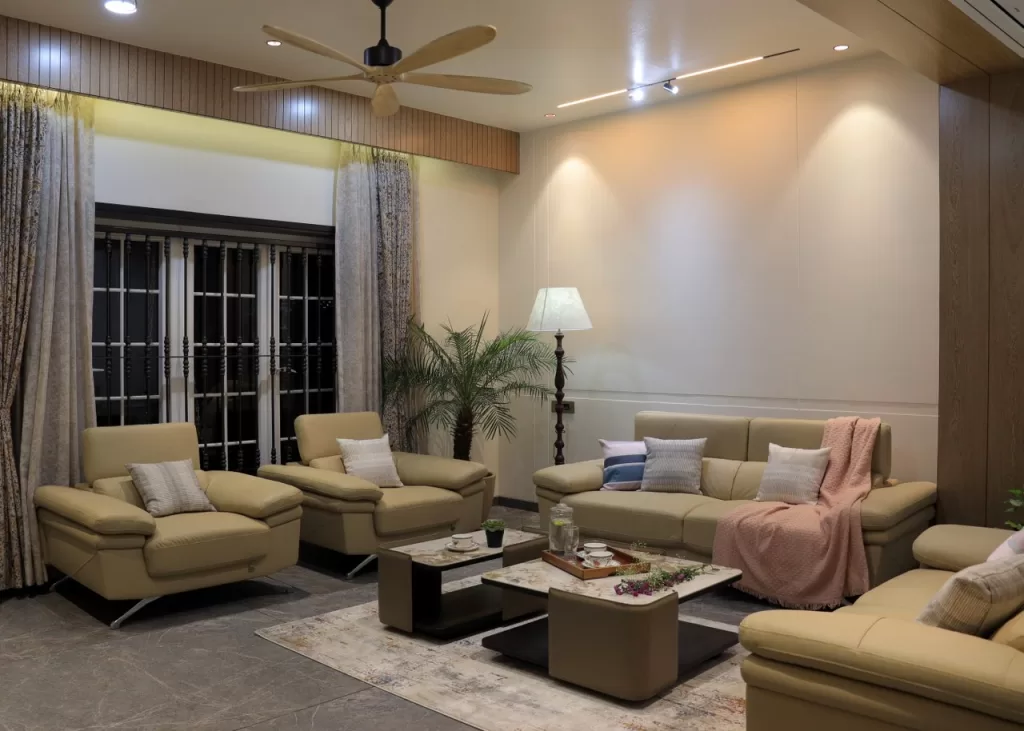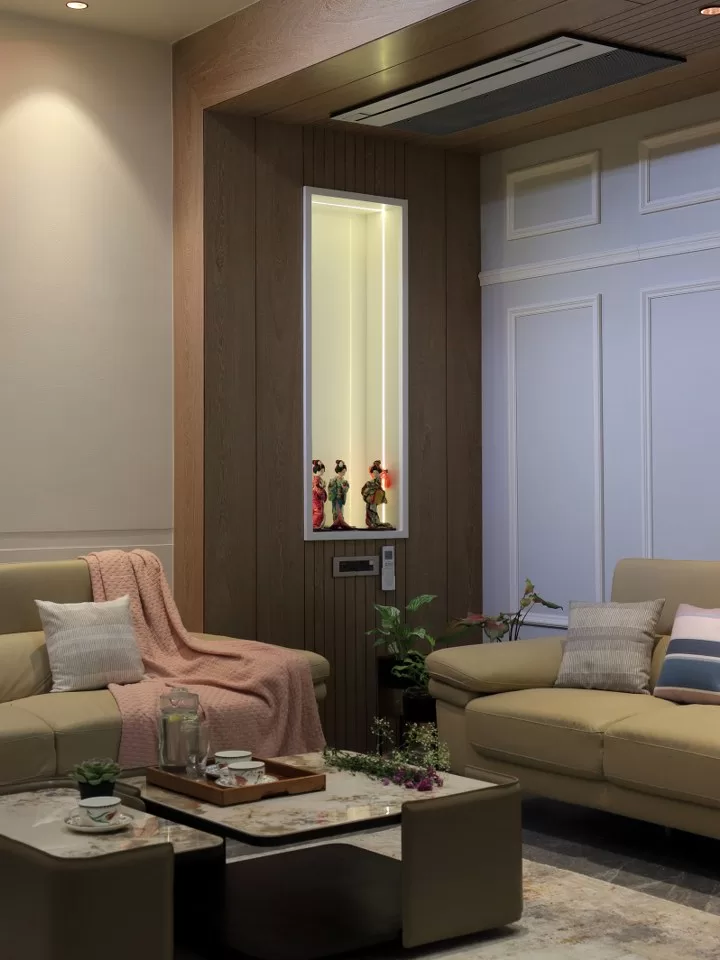 As one enters the house, eyes are naturally drawn by the landscaping done. All the elements create a foyer and sets the stage for the entire house. This beautifully crafted space with a jhula leads one to the living area. Inside the living area, 3+2 sofa, statement chair, and antique fittings look reminiscent of nature.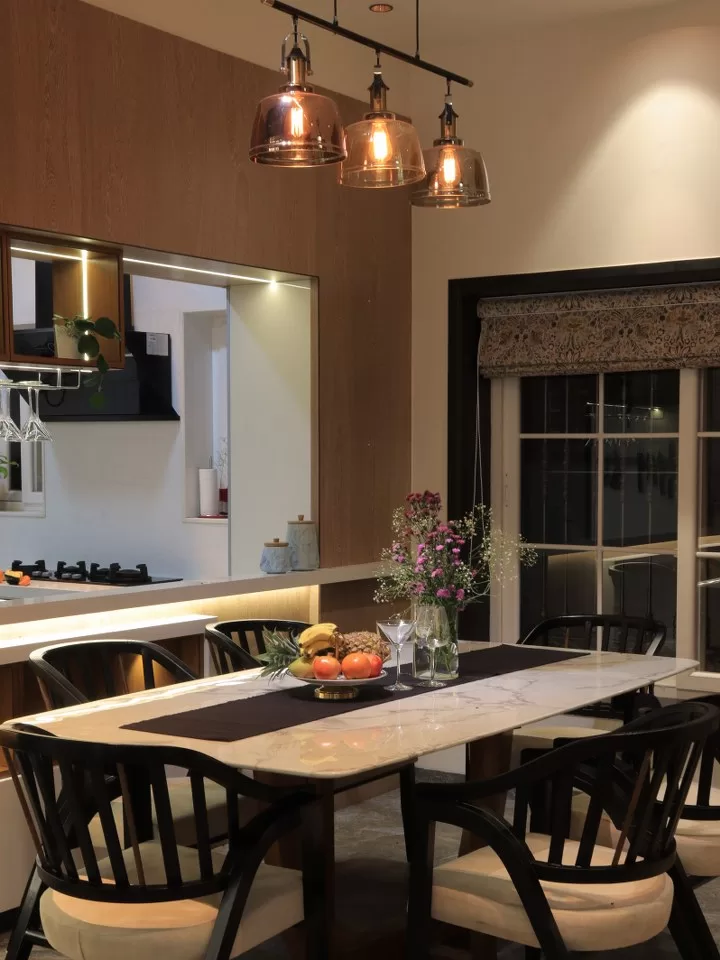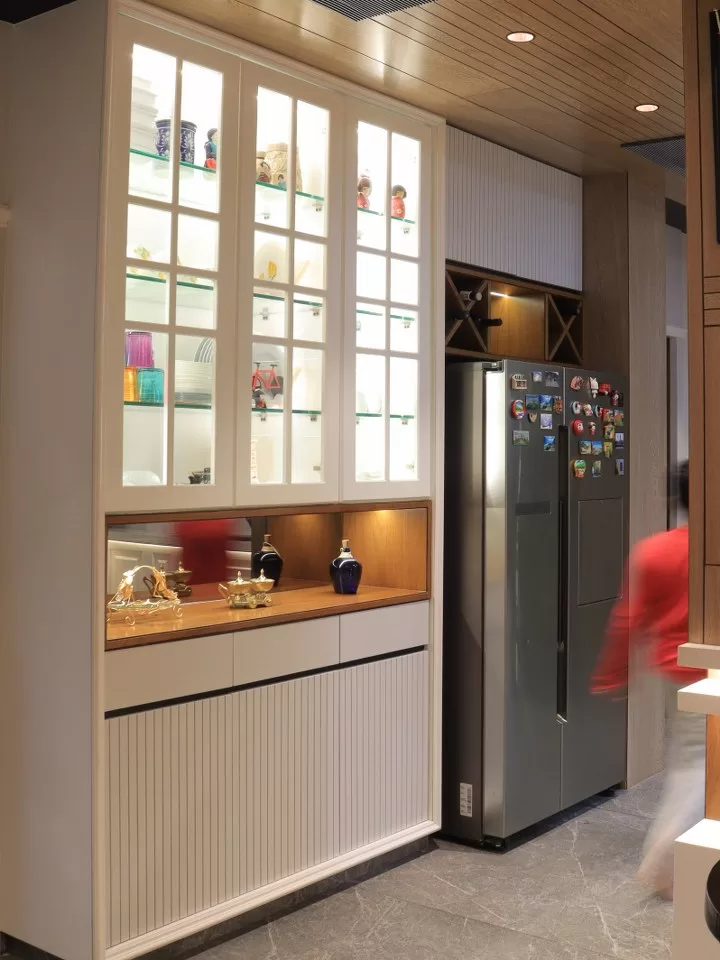 As we move ahead in the dining space, another element that has a subliminal impact is the overlooking kitchen designed in white. All the public spaces in the abode are connected to private areas by passageways.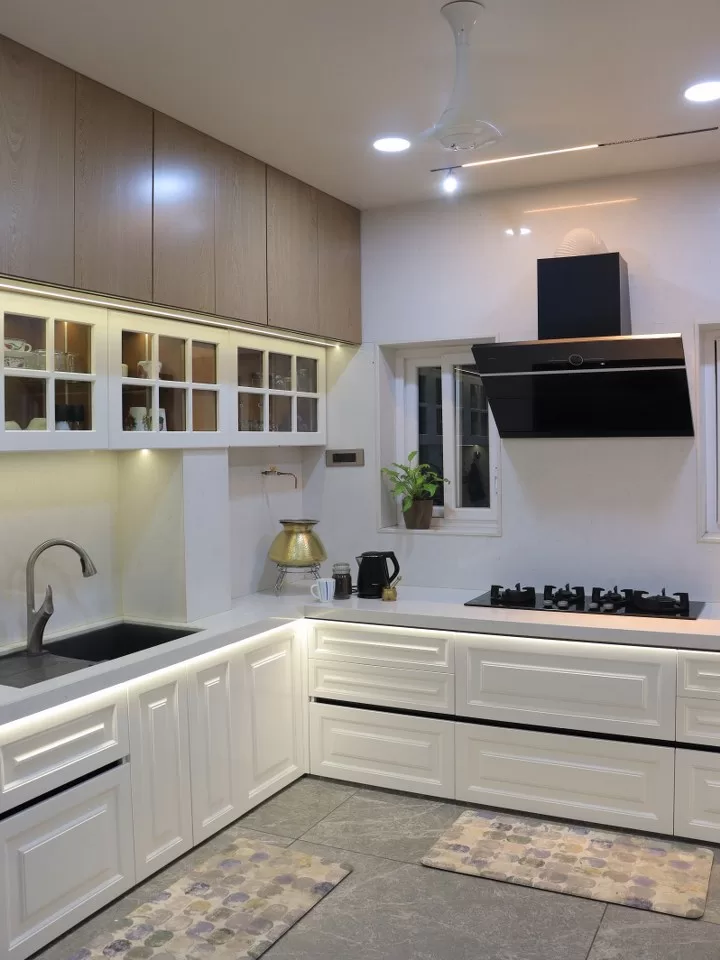 Luxury brim in bedrooms with an elegant bathroom. They speakeasy and snug design language by using an impressive array of earthy, sober hues such as beige, brown, grey, green, pink, white, and more made from natural dyes that elevate the look and mood. Accentuated by natural light, the clean edges and surfaces of the furniture give the space an embodied spirit.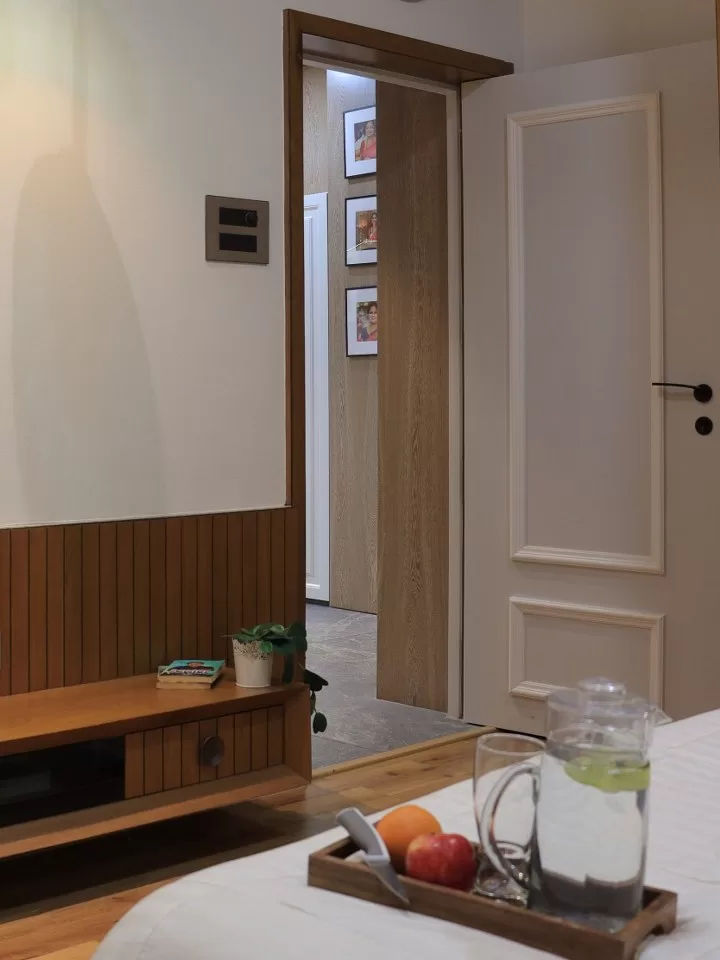 Each bedroom has a character of its own. Keeping the key colour choice white, brown-beige with carved teak wood bed-back takes the center stage in the master bedroom, while the daughter's suite is the shades of white and pink.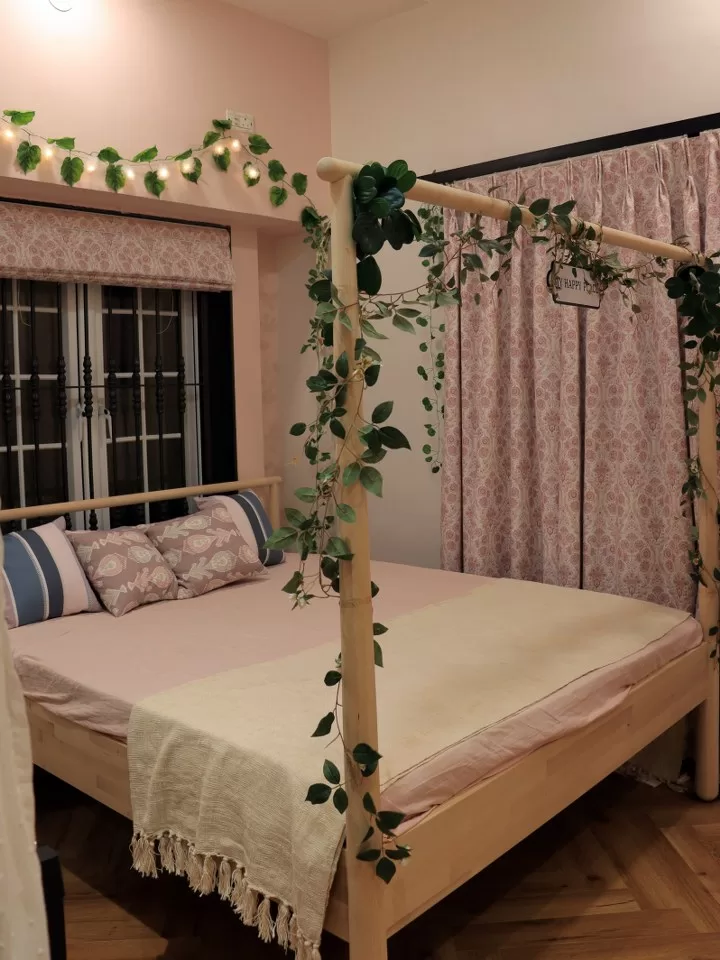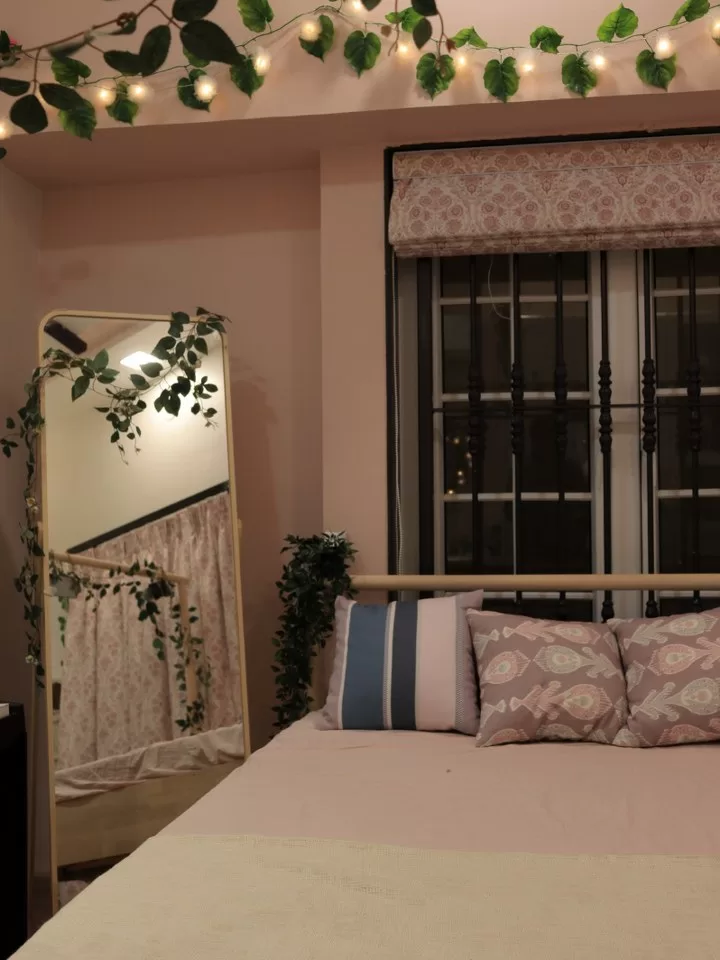 Whereas, a conscious attempt was made while designing sons' bedroom in fabrication to use the space optimally. All the design elements were all arranged in a way that it created a sense of spaciousness and cohesion.
As the journey commenced with the meticulous crafting of floor plans, but it soon transcended into a comprehensive composition. The design process saw meticulous adaptations for all the services, ensuring an unobtrusive blend with the overarching aesthetic. The landscape, a critical component, was meticulously planned, considering factors such as water management, sunlight exposure, shade, and the natural slopes of the terrain. Another unique element which was added was a metal structure adorned with real roof tiles, known locally as "kavelu." It was an example of our commitment to not just design aesthetics but also practicality and sustainability. This decision was a testament to their commitment to functional sustainability while retaining an artistic charm.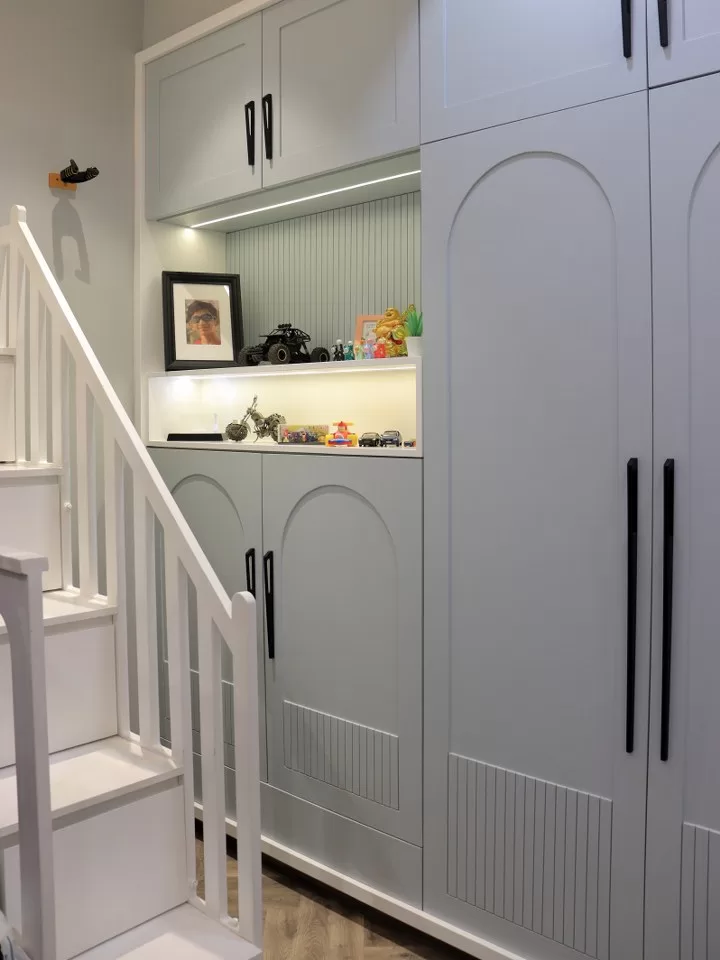 In conclusion, "Project Palasphul" stands as a living testament to Studio Emphasis' unwavering commitment to design excellence and client satisfaction. The fusion of Indian tradition with European elegance transcends mere aesthetics, representing their ability to transcend design boundaries. This project stands as a luminous exemplar of how Studio Emphasis turns dreams into architectural masterpieces where form, function, and aesthetics elegantly converge.
Fact File
Designed by: Studio Emphasis
Project Type: Residential Architecture & Interior Design
Project Name: Project Palasphul
Location: Amravati, Maharashtra
Year Built: 2023
Duration of the project: 9 Months
Plot Area: 2834 Sq.ft
Built-up Area: 3347 Sq.ft
Project Size: 2913 Sq.ft
Principal Architect: Ar. Rushikesh Deshmukh
Design Credits: Sachin Sawale
Photograph Courtesy: Pranav Sardar
Structure Engineers: Er. Chetan Sune
Content Writer: Ar. Pavitra Karwa
Products/Materials/Vendors: Finishes -interior: polished veneer , PU paint, deco paint, wooden flooring, Italian marble, nexion matte silk tile , teak wood, glass panels, exterior: PU paint, natural stone, GRC moldings, cement rooftile, HPL sheets / Wallcovering / Cladding – interior : polished veneer, PU paint, deco paint, Italian marble, , teak wood, exterior : natural stone, GRC moldings, asianpaints exterior putty, cement sheet / Construction Materials –Ultra tech cement, AAC blocks, Icon steel / Lighting – Philips / Doors and Partitions – Fenesta / Sanitaryware –Jaqua, Artize / Windows – Fenesta / Furniture – Durian, Ikea / Flooring – Nexion / Kitchen – Hafele / Paint – Asian paints / Artefacts – Royaloak / Hardware –Hafele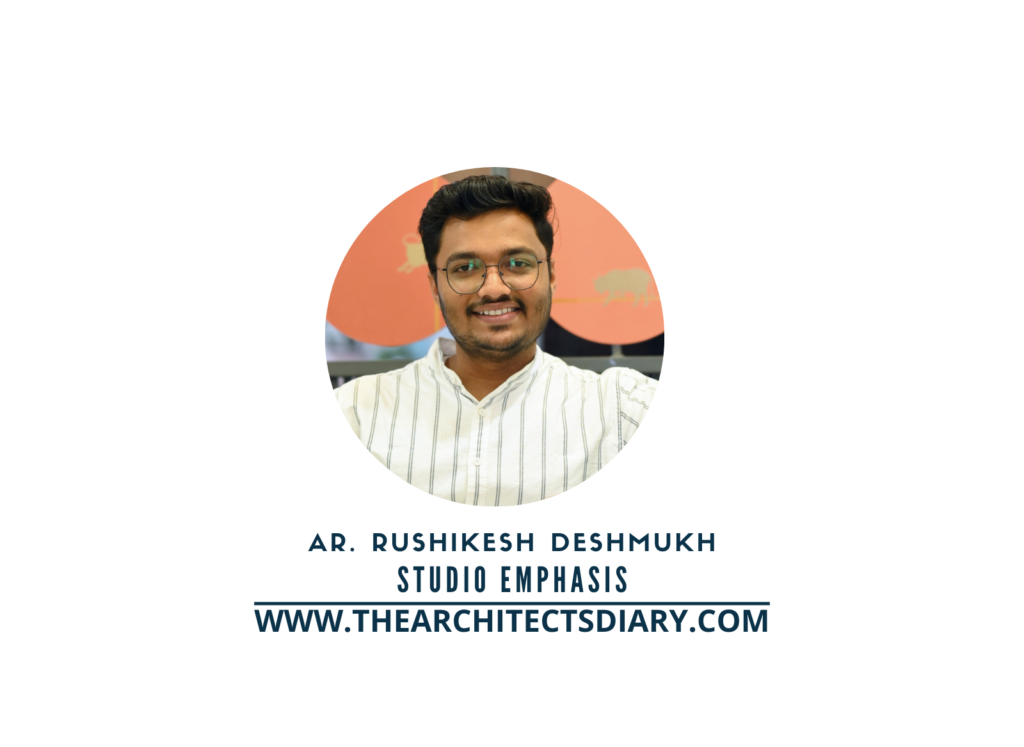 Firm's Instagram Link: Studio Emphasis
Firm's Facebook Link: Studio Emphasis
For Similar Project >>> A Striking Brick House with Hints of Traditional Design and Essence of Reformed Living
The post This Bungalow Stands as a Symbol of Elegance, Grandeur and European Design | Studio Emphasis appeared first on The Architects Diary.