Located in the proximity of the lush jungles of Aarey, this apartment designed in diverse colour palettes is a house of reflections, serenity and class. This house embodies subtle colors and neutral tones all throughout with different forms of monochromatic palettes in different rooms. This gives each room in this house a feel of individualism while connecting it all in a harmonious flow. As we enter the house, a tan orange multi-functional shoe rack on the right gives the clients a chance to compartmentalize, organize and declutter, both after entering and before exiting the house.
This Apartment Designed In Diverse Colour Palettes Is A House Of Reflections, Serenity And Class | Studio Jane
Visit : Studio Jane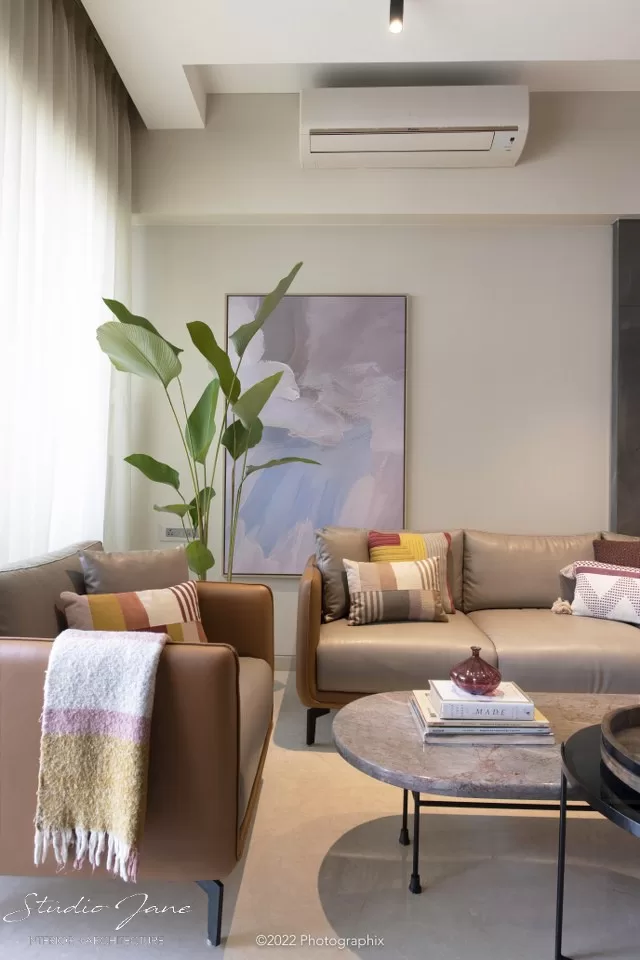 The living area is adorned with soft, neutral colors that can be observed in a variety of shapes, materials, surfaces, and textures. Let's not forget the life provided by Studio Jane necessity- the oversized planters!!!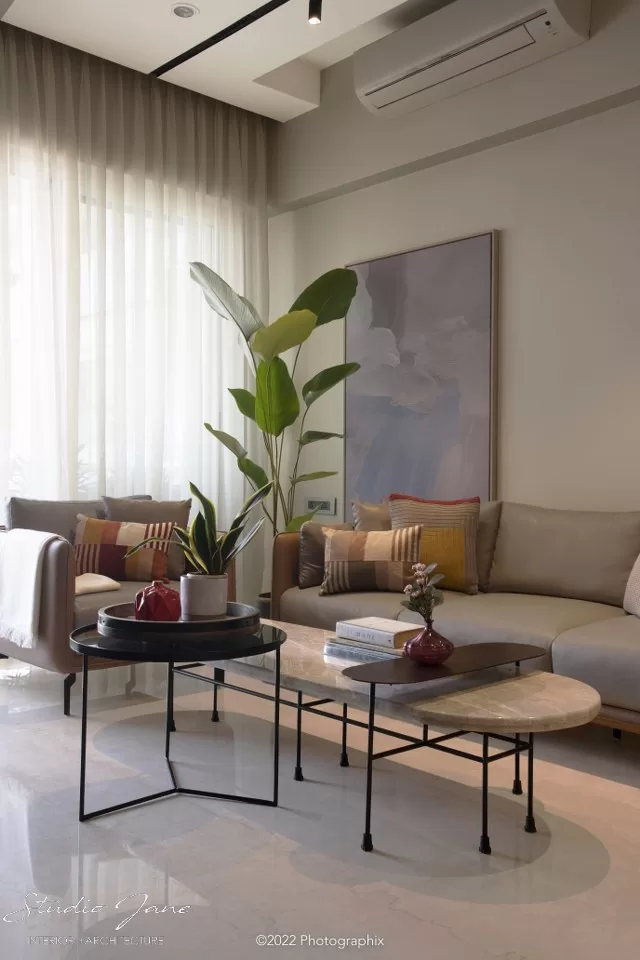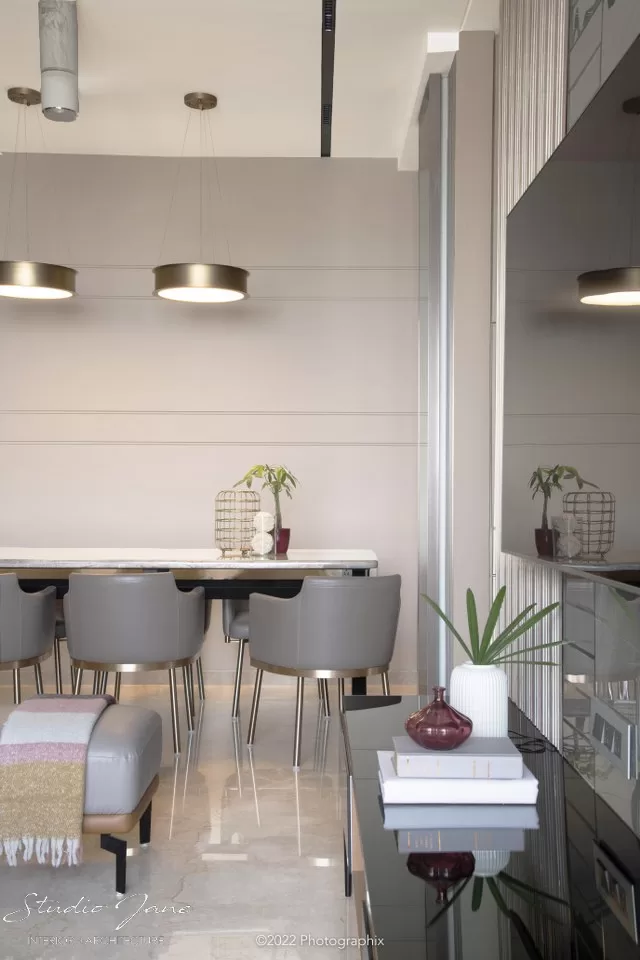 An elegant, comfortable, and welcoming space is created by the basic and bold colors, soft forms, and grooved surfaces that characterize the whole space that links the house's distinctive rooms.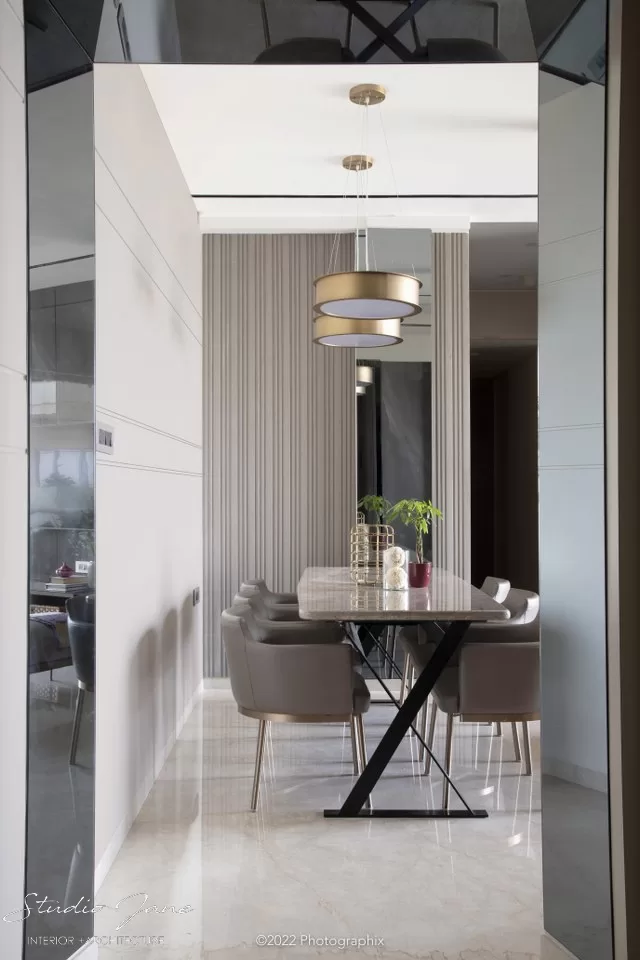 This area was envisioned to be quirky, intricate, and well-balanced. Our intention was to create a gentle Boho vibe that is balanced by a neutral color scheme found in other parts of the home.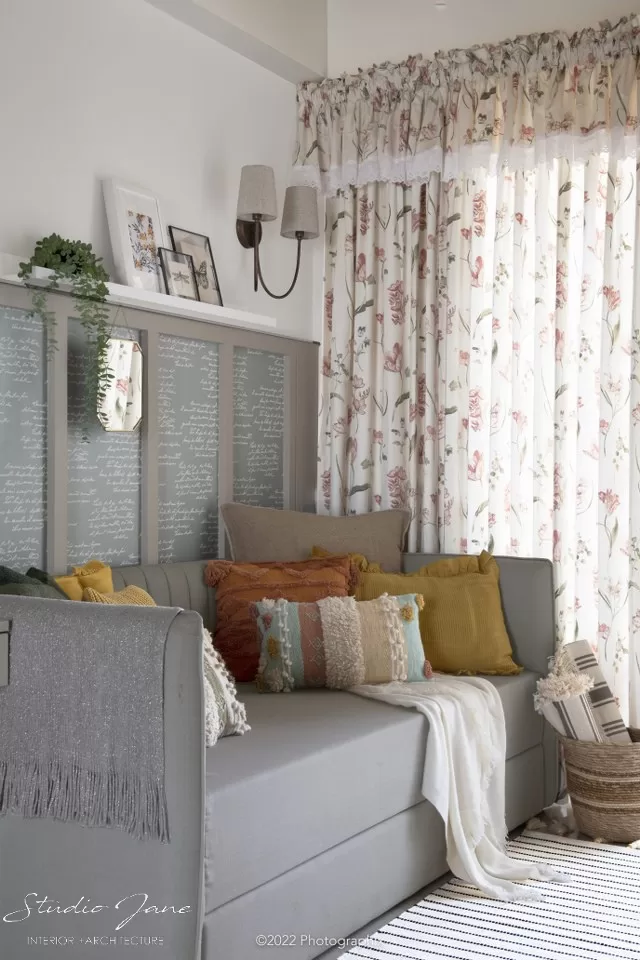 We embodied that through soft prints, English fusion lighting, strong elements, vertical lines, and small patches of plants throughout.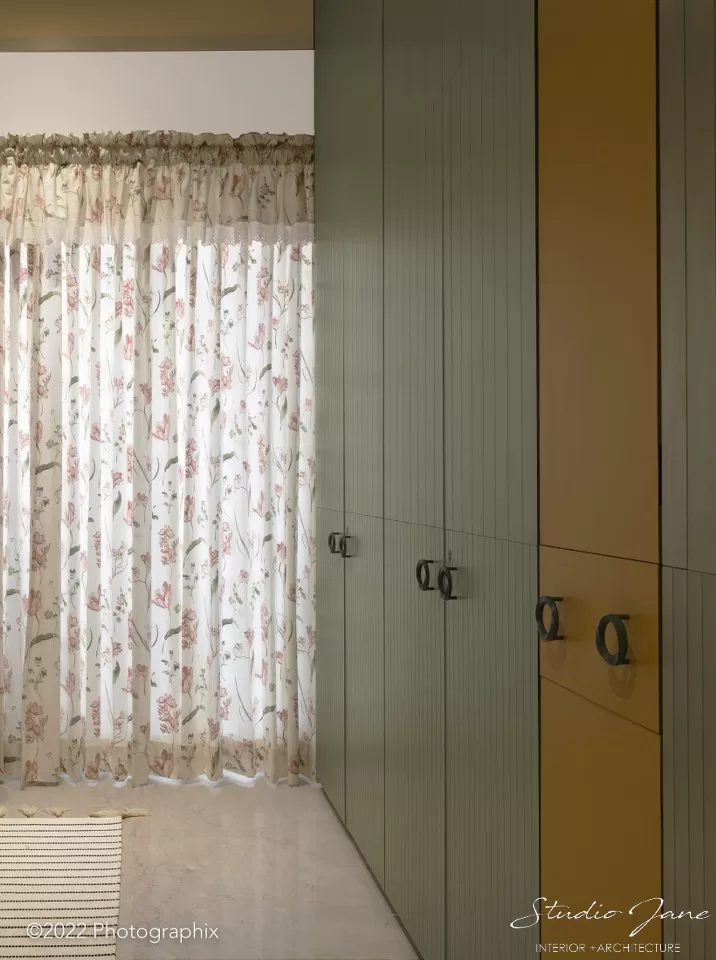 Compared to the other areas, the master bedroom is in an entirely different space. Primarily due to its favorable positioning , which enables early evening golden rays to travel through its windows. The most uplifted, well-lit and best-ventilated area in the house is this one.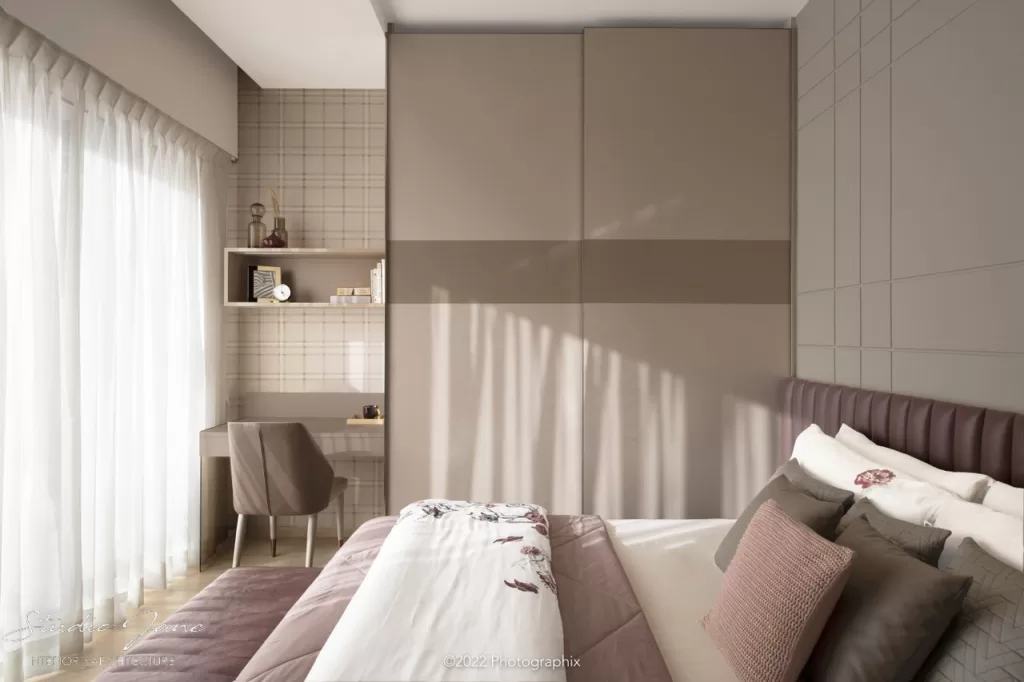 In this space, neutral colors like off-white, white, beige, salmon, and taupe balance out accents of red, pink, rose gold, and wine. This room's design is also defined by straight lines throughout in different shapes and directions.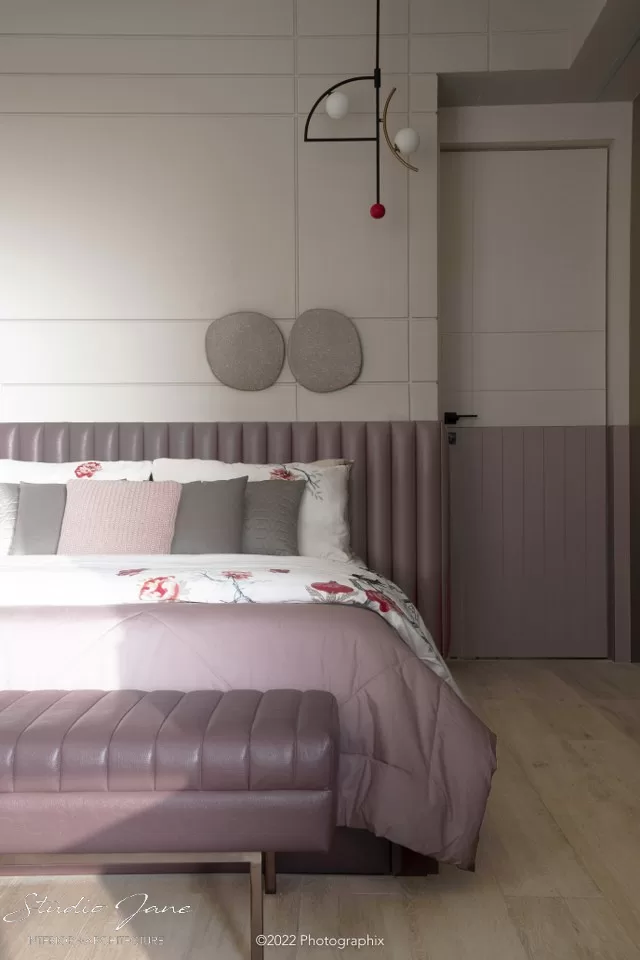 The soft cushioning in the bed back and ottoman breaks up the rigidity of these lines. The furnishings components also adopt curved shapes that blend in well with the rest of the space.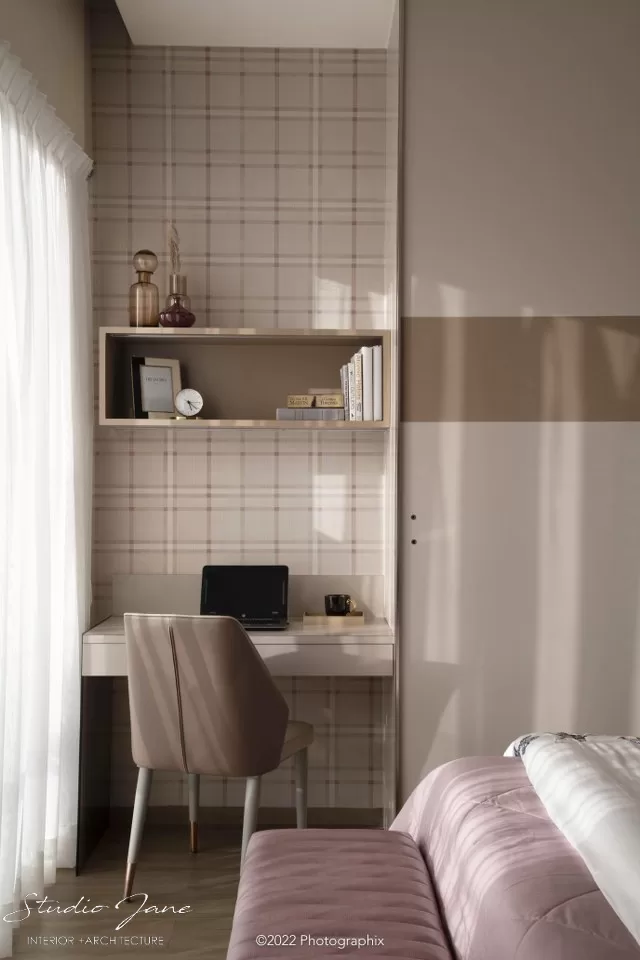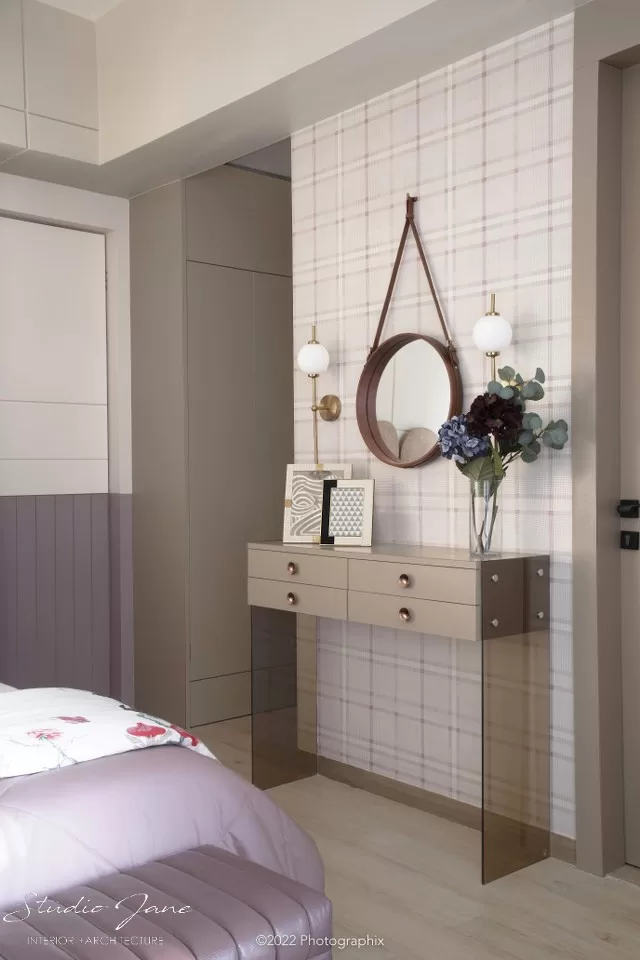 The son, the youngest member of the family, had his own wish list for his ideal bedroom. By creating a sporty, geometric, and minimal space with clear lines, we realized his vision for the space. When he discovered that a hand-painted image on the bed wall was a representation of himself, it was delightful to watch his eyes light up.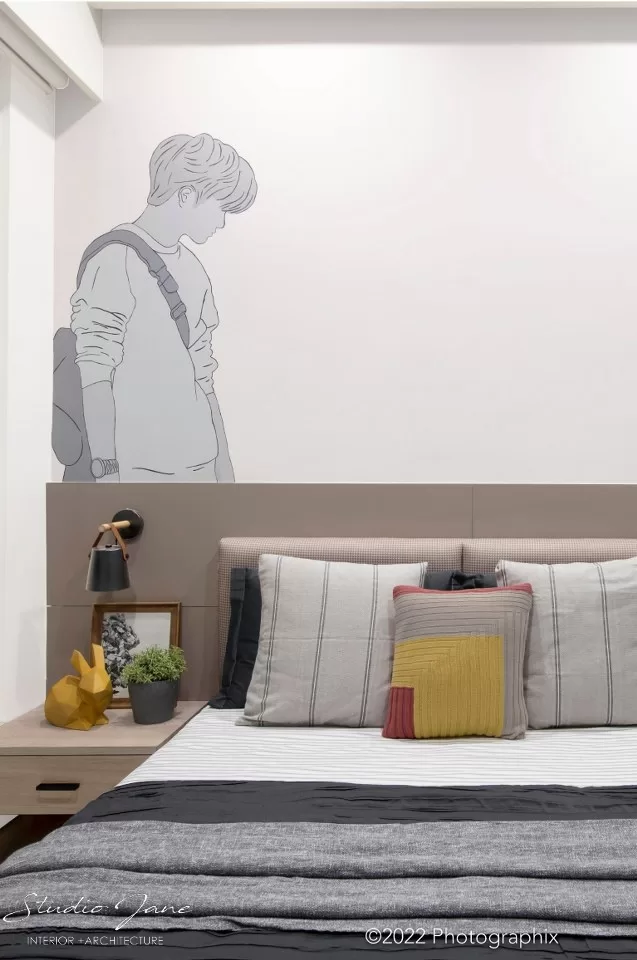 Overall, this home is an embodiment of our unconventional, minimalist, and refined ideas, and we are extremely proud of the process and result of our hard work of passion.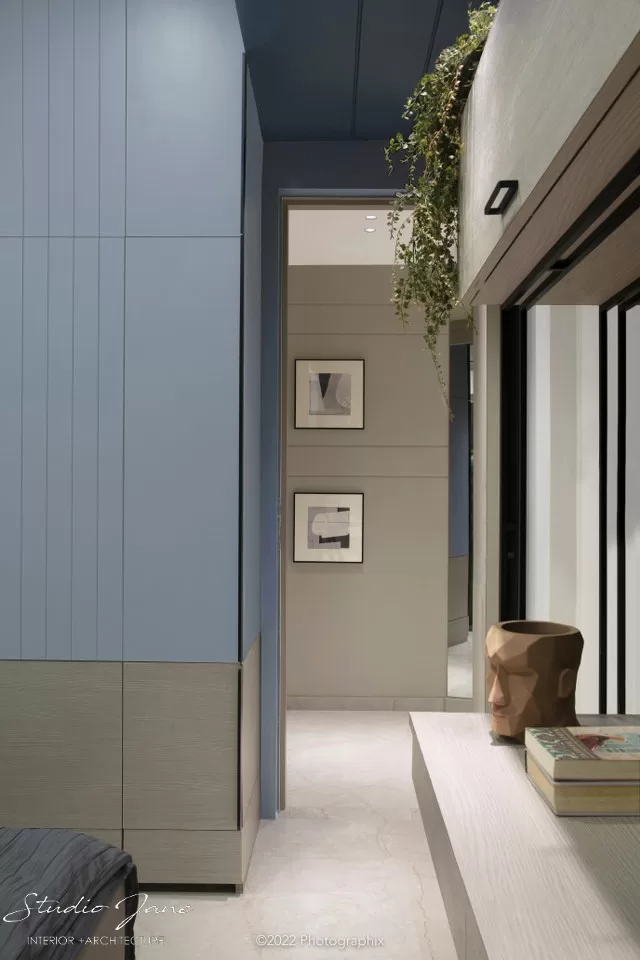 Fact File
Designed by : Studio Jane
Project Type : Residential Interior Design
Project Name : Project Haven Gap
Location : Omkar Alta Monte, Mumbai
Year Built : 2022
Project Size : 1200 sq.ft
Principal Designer : Neha Garg
Photograph Courtesy : Photographix & Aaditya Kulkarni
Products / Materials / Vendors : Wallpaper – A La Mode / Furniture –Trezure / Flooring – Smart Surfaces Accessories – Magnifiqué.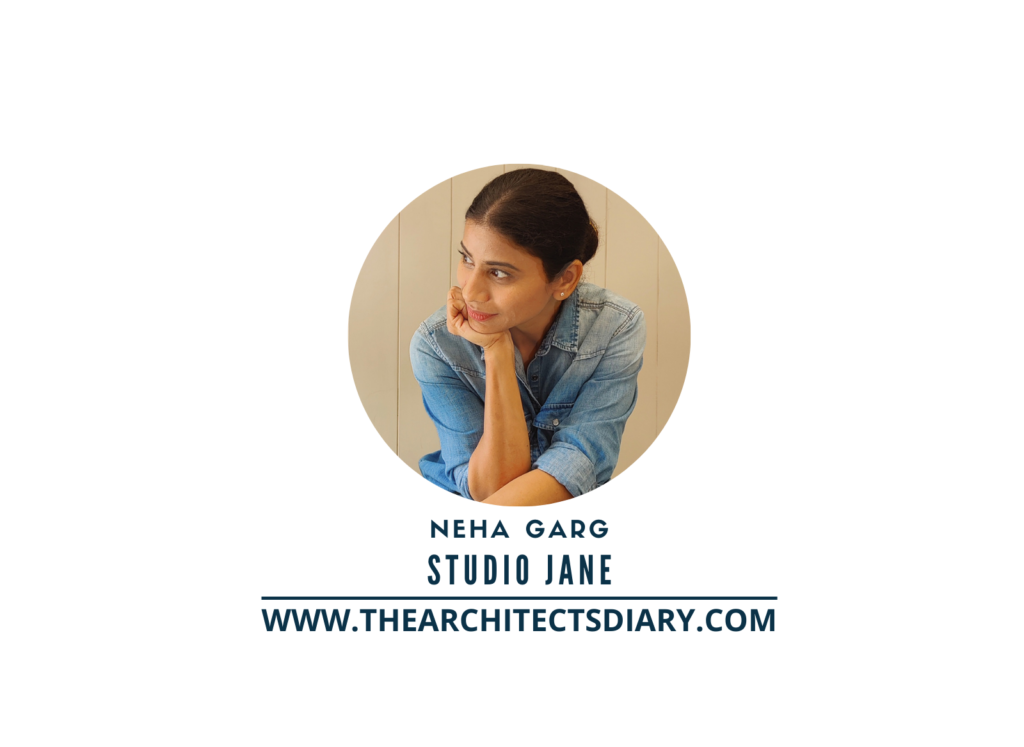 Firm's Instagram Link : Studio Jane
Firm's Facebook Link : Studio Jane
For Similar Project >>> A Minimalist Interior Design With Elements That Soothe And Calm
The post This Apartment Designed In Diverse Colour Palettes Is A House Of Reflections, Serenity And Class | Studio Jane appeared first on The Architects Diary.