Located on the 17th floor features a generous living space with huge windows offering a view to die for, especially during the beautiful monsoons of Pune. Nestled in the lush green outskirts of Pune, this 950 sq.ft apartment promotes peace and tranquility with earthy tones and a natural color palette.
This 950 sq.ft Apartment Promotes Peace and Tranquility with Earthy Tones and a Natural Color Palette | Space Goals Design Studio
Visit: Space Goals Design Studio
The aim of the design process for this space was to create an atmosphere that is not just homely but also promotes absolute serenity. The client, a young professional couple, expressed their desire for an escape from their busy corporate life and for a comfortable space to celebrate their achievements.
The result is an abode that radiates mid century modern flair with a fusion of bohemian design elements. An inviting cocoon that exudes a welcoming aura to anyone who enters the abode. This cozy space radiates a warm ambiance, making it hard for people to leave.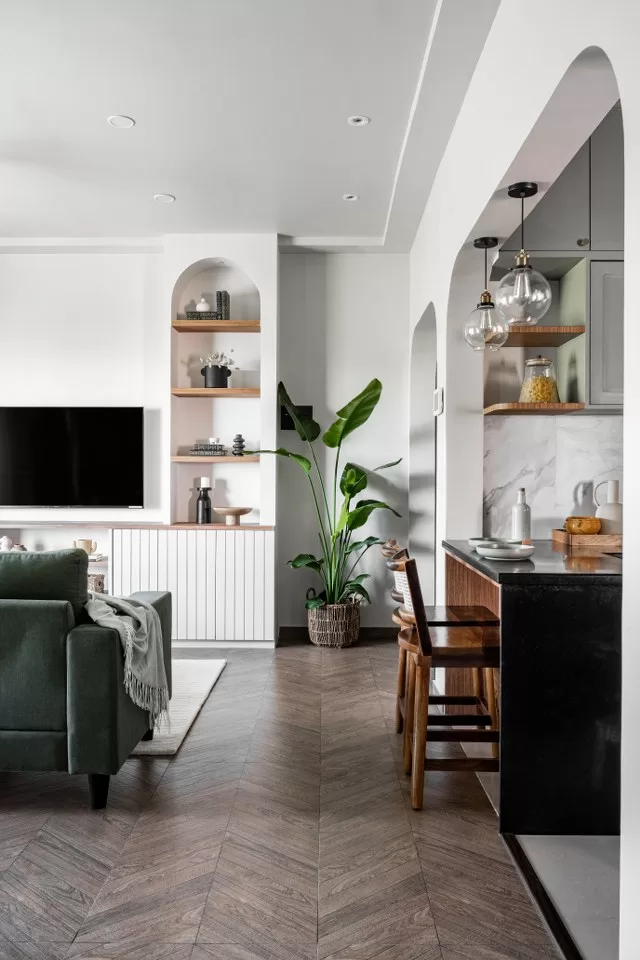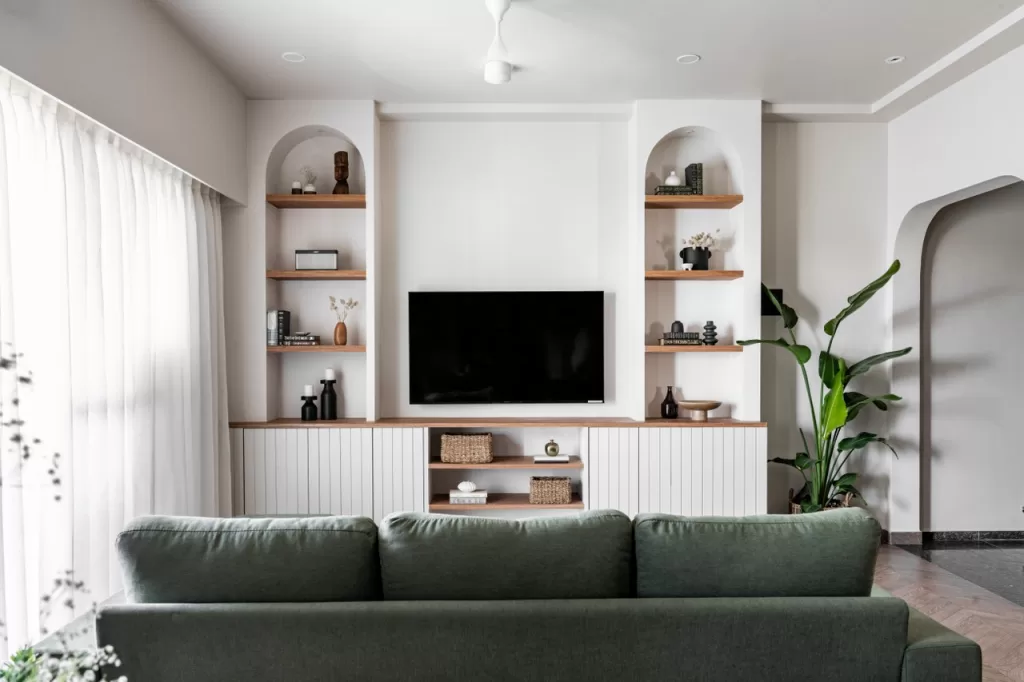 The perfect amalgamation of earthy tones, natural colour palette and unique decor accessories creates a harmonious atmosphere that's perfect for relaxation and reflection. From warm lighting fixtures to vintage-inspired furniture, everything in the Boho-Mid Mod Nook adds an element of charm and character, making every day feel like a vacation. The colour palette of the space has a muted tone with various shades of green popping out to draw attention.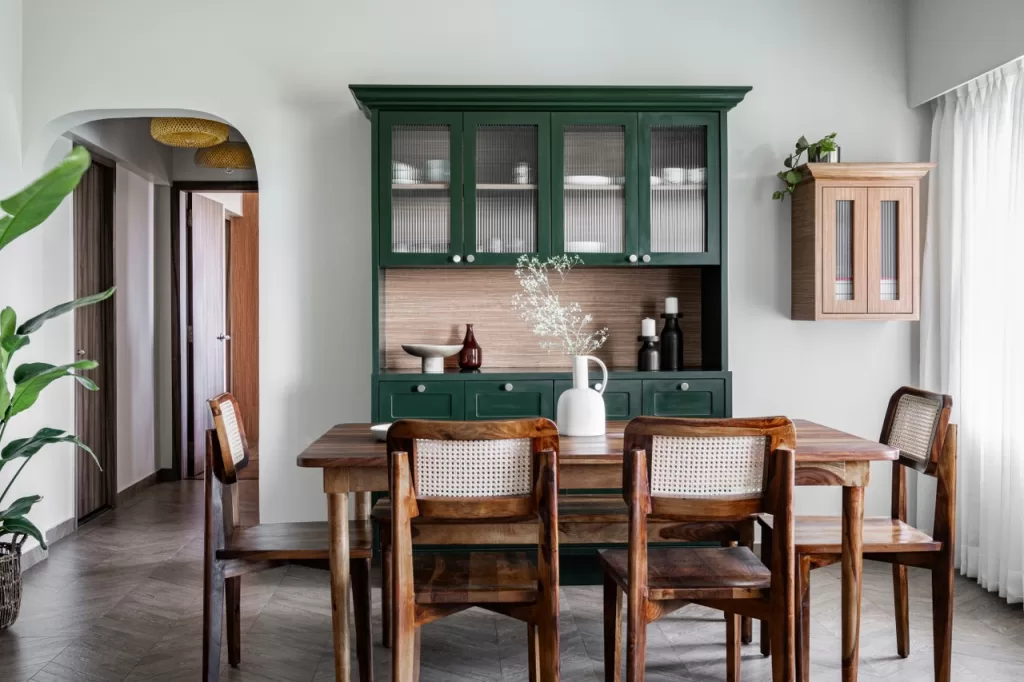 The design offers a harmonious composition of sophistication, grace and contextual brilliance. By combining modern and vintage elements, a melodious fusion of classic and contemporary vibes has been created. The living area's dark olive crockery unit and the guest bedroom's mid-level poster bed stand out as the defining features of this beautiful space.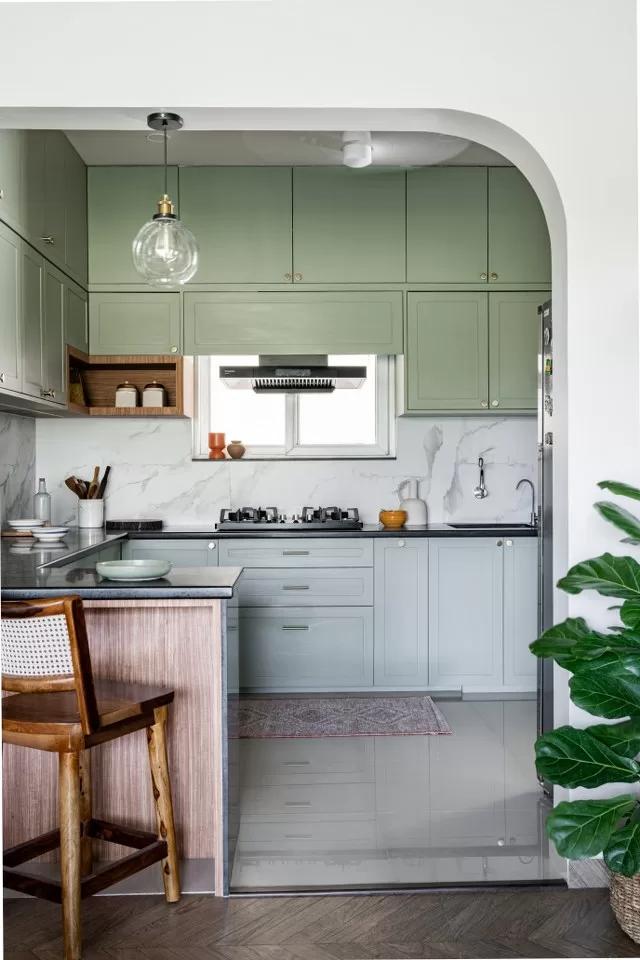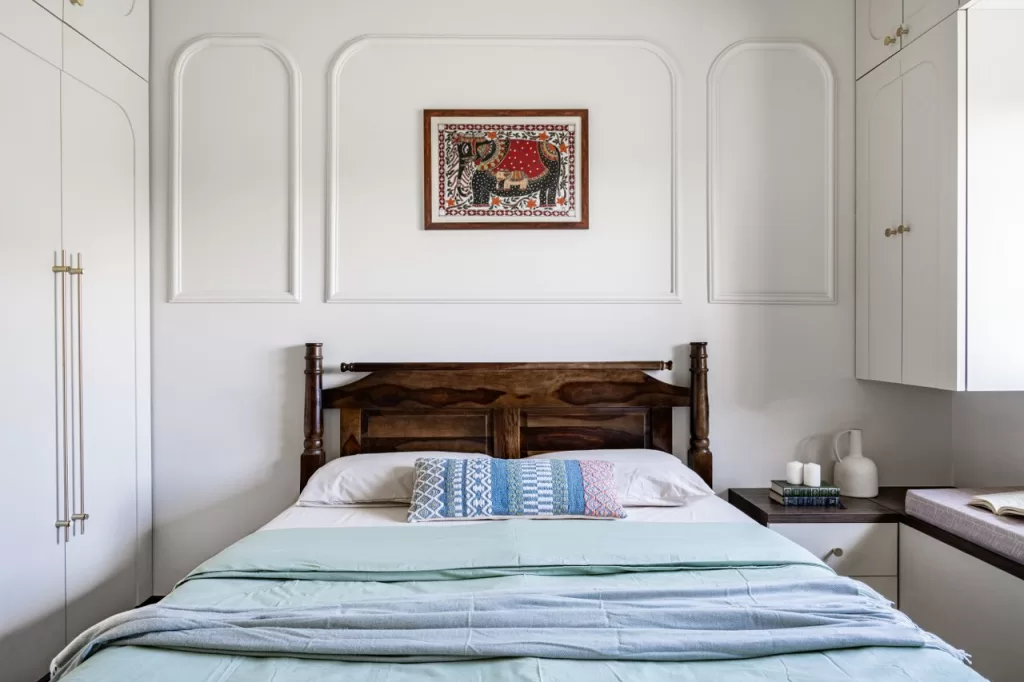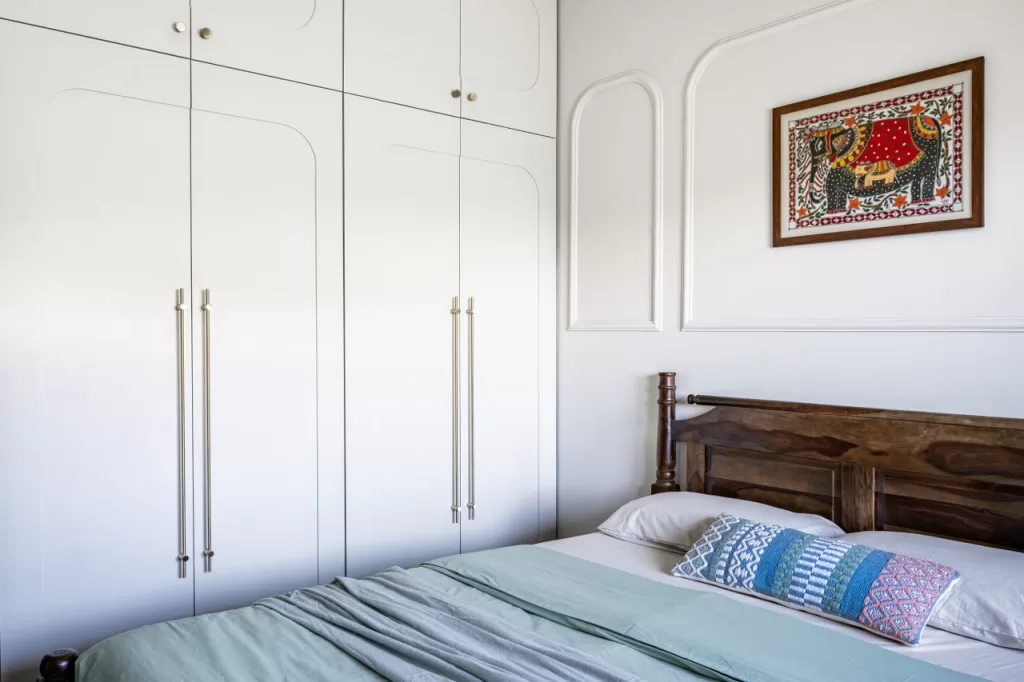 This beautiful home elegantly blends modern century and bohemian style interiors, utilizing a mix of raw materials including cane, brass, and wood. Arches have been incorporated throughout the design, creating unique structural design elements that add character to the space.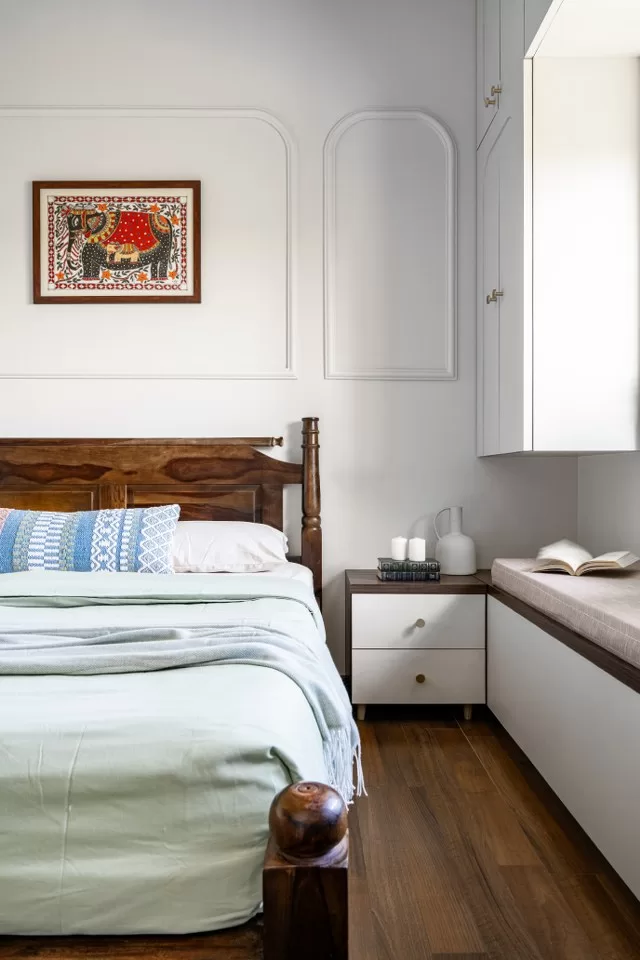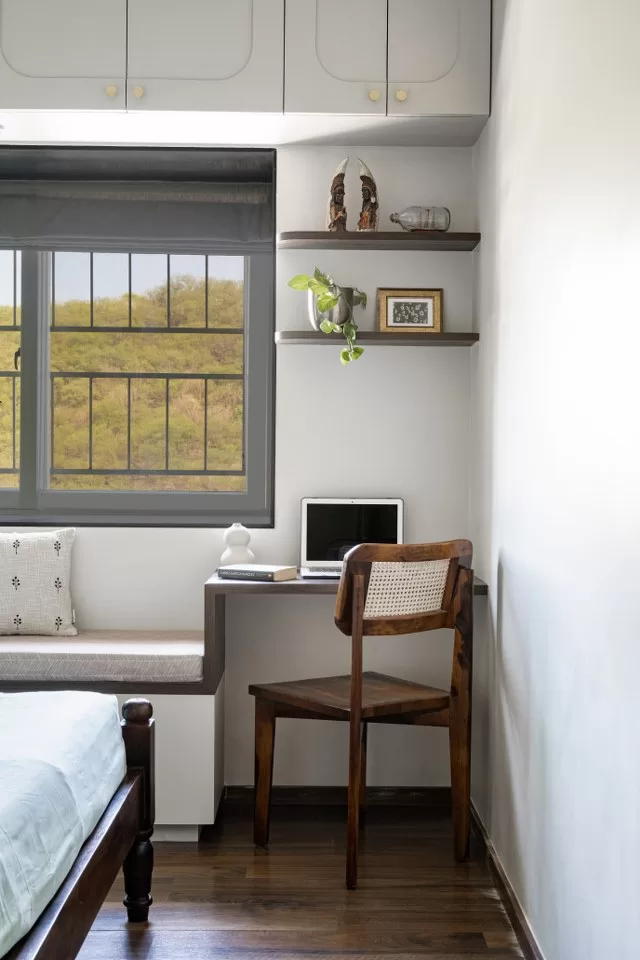 The overall aesthetic of this beautiful city home celebrates the natural beauty of these design elements and material palette.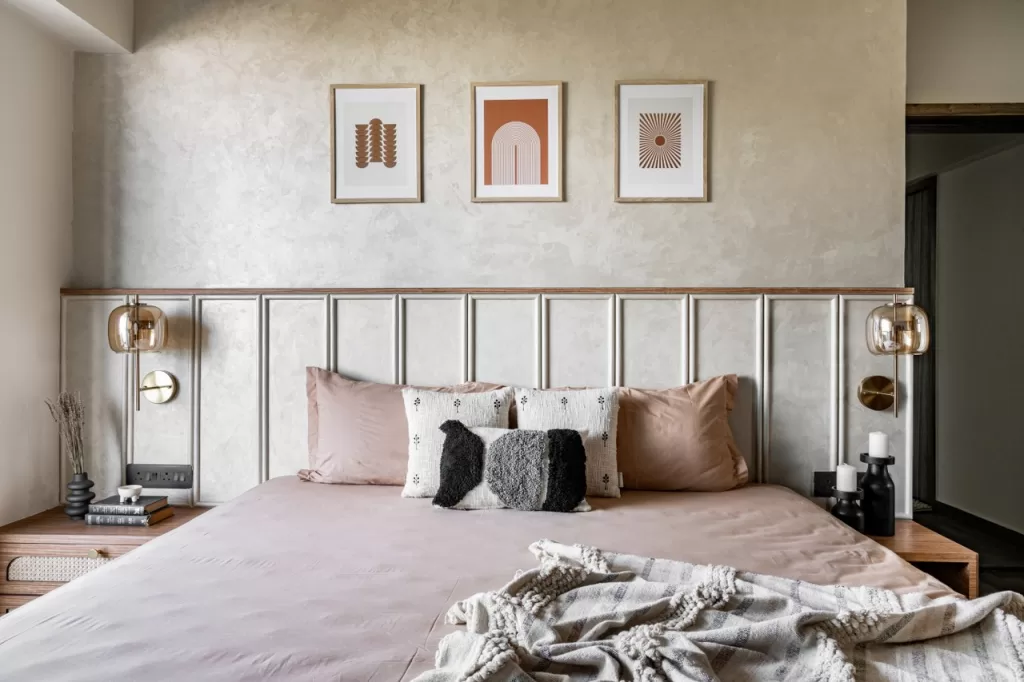 Sharing their expectations from their new home, with an invitation to apply our creative principles, and print that delicacy to the environments, we are happy we could do justice to their Dream Home.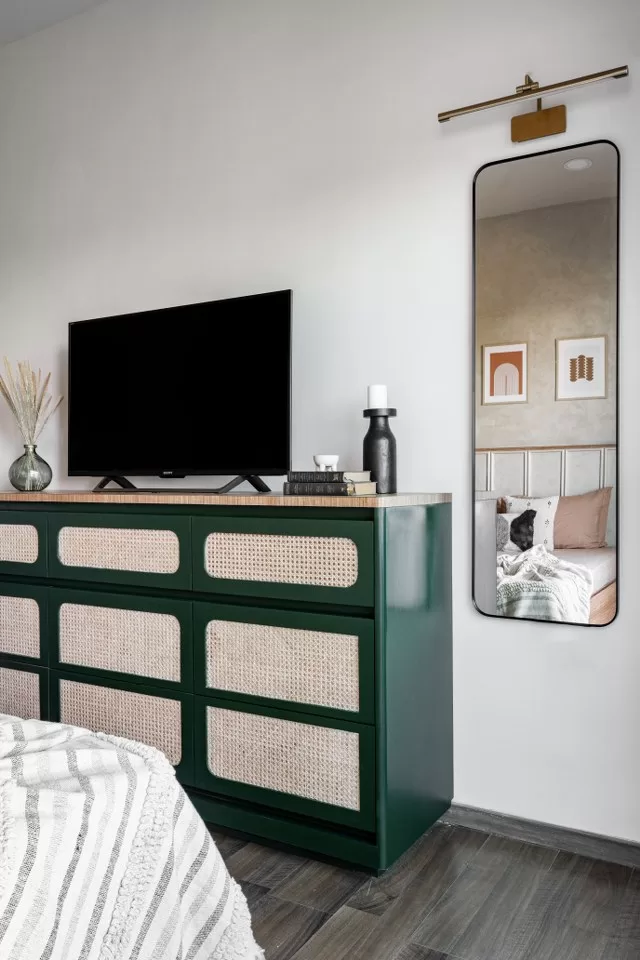 Fact File
Designed by: Space Goals Design Studio
Project Type: Residential Interior Design
Project Name: The Mid Mod Nook
Location: Pune, Maharashtra
Year Built: 2023
Duration of the project: 4 Months
Project Size: 800 Sq.ft
Principal Architects: Ar. Siddharth Gokhale & Ar. Gaurav Shankaran & Ar. Priyansh Seth
Photograph Courtesy: Murtaza Gandhi
Firm's Instagram Link: Space Goals Design Studio
Firm's Facebook Link: Space Goals Design Studio
For Similar Projects >> A Home that is Modern but at the Same Time Feels Timeless With so Much Character to it
The post This 950 sq.ft Apartment Promotes Peace and Tranquility with Earthy Tones and a Natural Color Palette | Space Goals Design Studio appeared first on The Architects Diary.