This innovative venture harmonizes aesthetics and functionality, creating an environment that exudes serenity while evoking a sense of empowerment through thoughtfully curated design elements. The 'White Office' elegantly marries minimalism, tranquility, and authority, resulting in an interior design masterpiece that redefines the very essence of a workspace.
The 'White Office' Elegantly Marries Minimalism, Tranquility, and Authority | R.A.I (Rai Architects & Interior designers)
Visit: R.A.I (Rai Architects & Interior designers)
Central to the allure of the White Office is its dedication to minimalism – a design philosophy known for its capacity to foster productivity and tranquility through uncluttered spaces. The pervasive use of white as the predominant color palette creates an ambiance of purity, elegance, and neutrality. This choice not only imparts an open, airy atmosphere but also provides a pristine backdrop upon which other design elements can shine.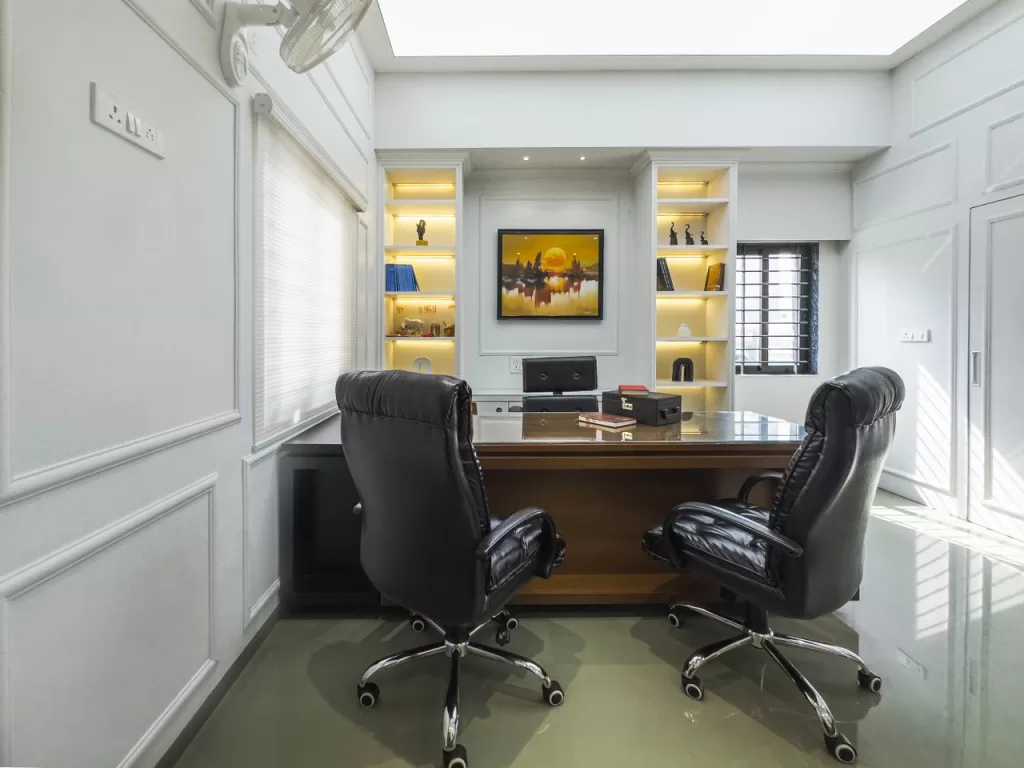 An extraordinary highlight of the White Office is the ingenious integration of stretch lights into the ceiling. These lights ingeniously emulate the soft glow of natural sunlight filtering through foliage, infusing the workspace with an invigorating and refreshing aura. This innovative lighting solution not only illuminates the space but also injects a sense of vitality, elevating the mood and motivation of all within.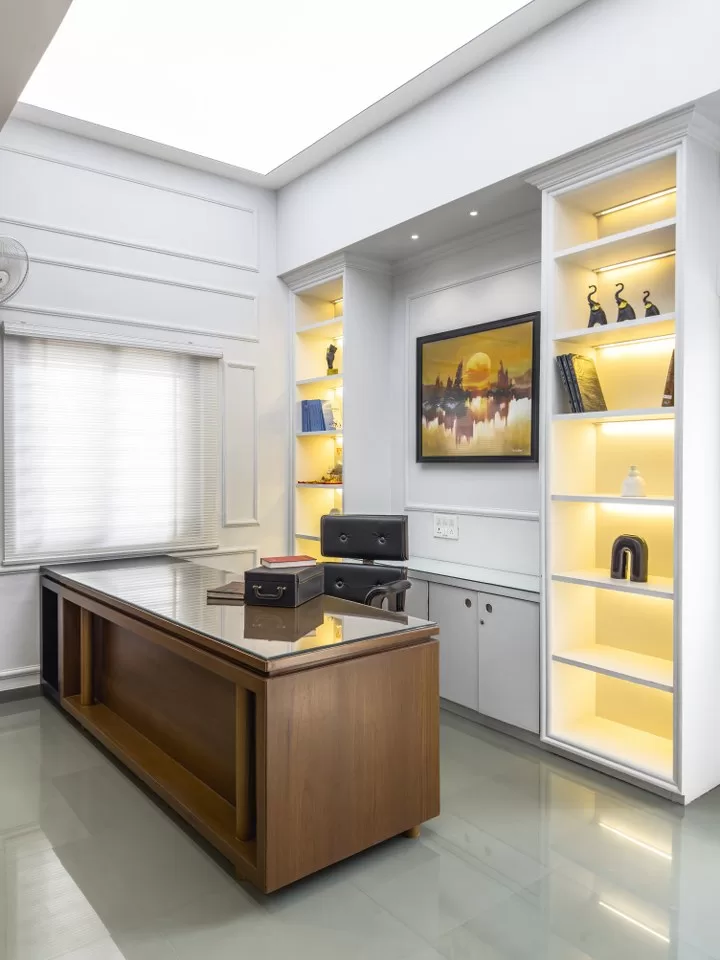 However, the true embodiment of authority within the White Office lies in its meticulous design of the boss's office. Here, minimalist furniture, carefully chosen artworks, and strategic placement synergize to create an atmosphere that exudes confidence and commands respect. The combination of elements ensures that the office strikes a balance between a commanding presence and an inviting demeanor.
An additional layer of depth is revealed through the private working space, complete with a small library or bookshelf. This secluded enclave caters to focused tasks, research, and contemplation. The bookshelf not only adds a touch of intellectual sophistication but also symbolizes a commitment to ongoing learning and personal growth.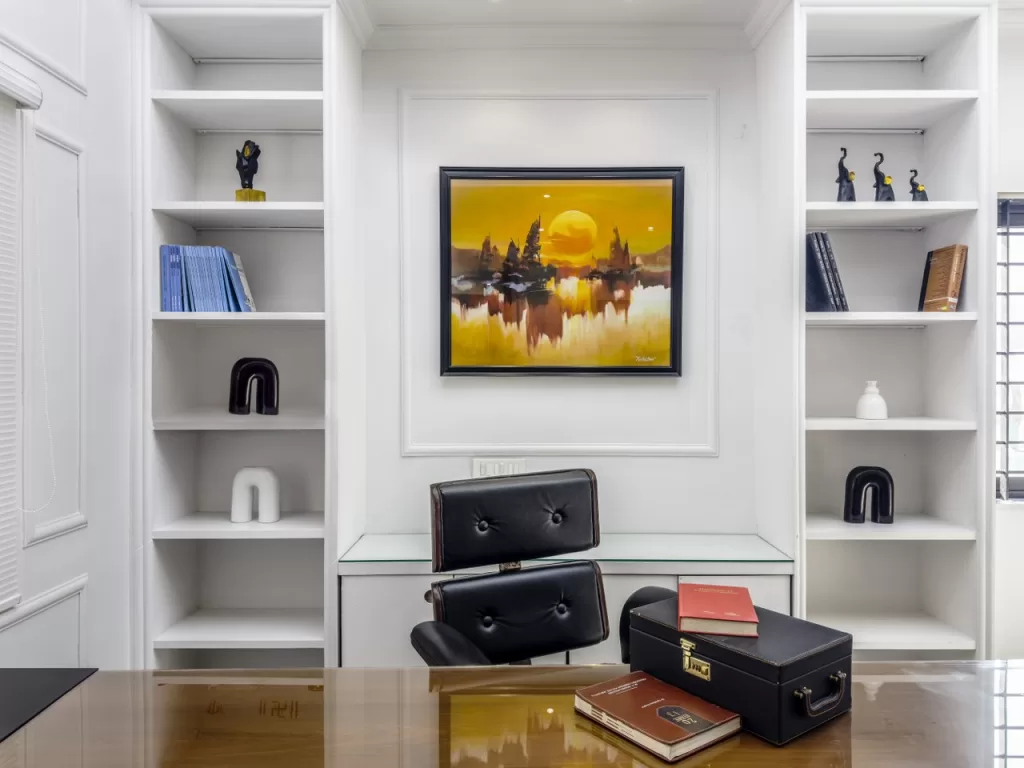 Transitioning to the conference room, the continuity of the white theme is visually striking. The pristine white backdrop perfectly frames the centerpiece – a bidasar green stone table. This unique stone selection, coupled with the table's cantilevered design achieved through an MS structure with a stone top, imparts an illusion of weightlessness, as if the table is gracefully suspended in air. The bidasar green stone, resembling an exquisite work of art, serves as a focal point, symbolizing strength and durability while complementing the overarching theme of authority.
The conference room continues to captivate with its wooden-textured display area, providing a warm contrast to the coolness of the white surroundings. This display area is not merely functional; it integrates seamlessly with the room's design, demonstrating the project's commitment to both form and function.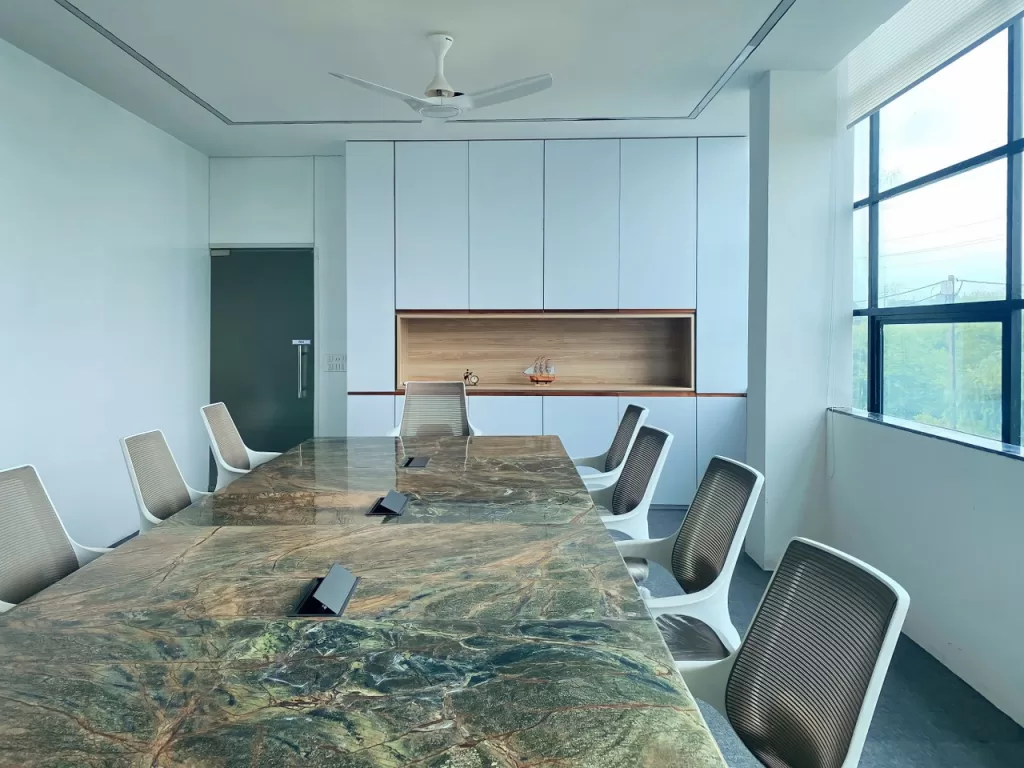 The White Office project represents the seamless fusion of design and emotion, challenging traditional notions of workspace aesthetics. It showcases the potential of a workspace to simultaneously embody tranquility, authority, and innovation, creating a cohesive and harmonious environment.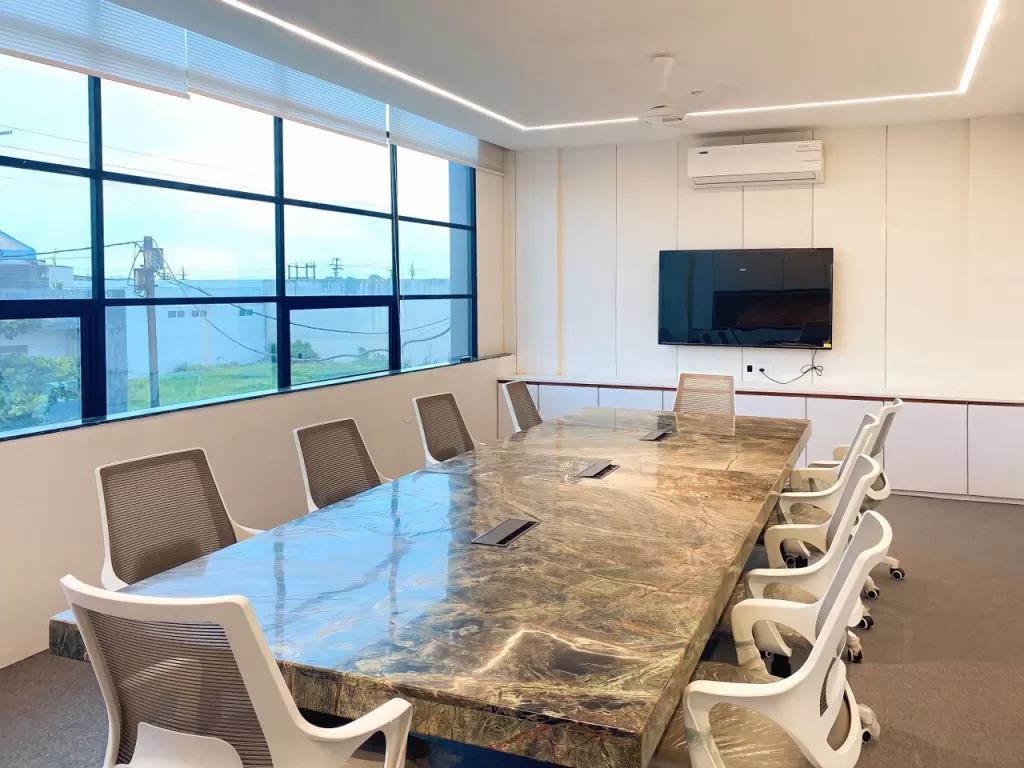 In a world where offices can often feel uninspiring, the White Office stands as an embodiment of change. Through a meticulous balance of minimalism, white aesthetics, and innovative lighting, this project illustrates how design can serve as a catalyst for transformation. Each detail, from the stretch lights to the bidasar green stone table, is thoughtfully orchestrated to evoke emotion and prompt the desired response from all who engage with the space.
To conclude, the White Office project is a testament to the transformative power of design. It demonstrates how the deliberate fusion of minimalism, white hues, and strategic lighting can create a workspace that enhances productivity, conveys authority, and radiates tranquility. This project redefines the conventional office space, setting a new standard for an environment that nurtures, inspires, and empowers – a testament to the potential of design to reshape our interactions with the spaces we inhabit.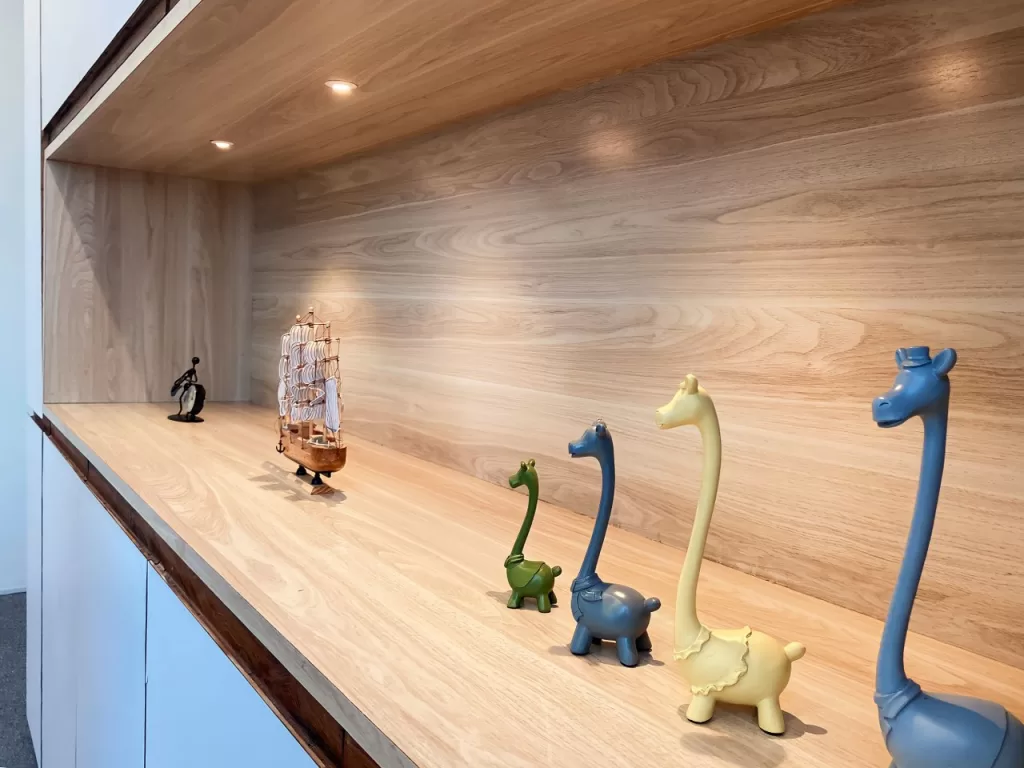 Fact File
Designed by: R.A.I (Rai Architects & Interior designers)
Project Type: Office Interior Design
Project Name: White office
Location: Indore
Year Built: 2023
Duration of the Project: 2.5 Months
Project Size: 700 Sq.ft
Principal Architect: Shubham Rai
Photography Courtesy: Pranjal Jain
Products/Materials/Vendors/Finishes: Laminate, Veneer, Fabrication / Wall Covering/Cladding – colour, PU, MDF / Lighting – COB, Surface lights, and Stretch light / Doors & Partitions – Flush doors / Furniture –Teak wood and plywood / Flooring – vitrified tiles & Carpet flooring / Stone – Bidasar stone / Paint Dulux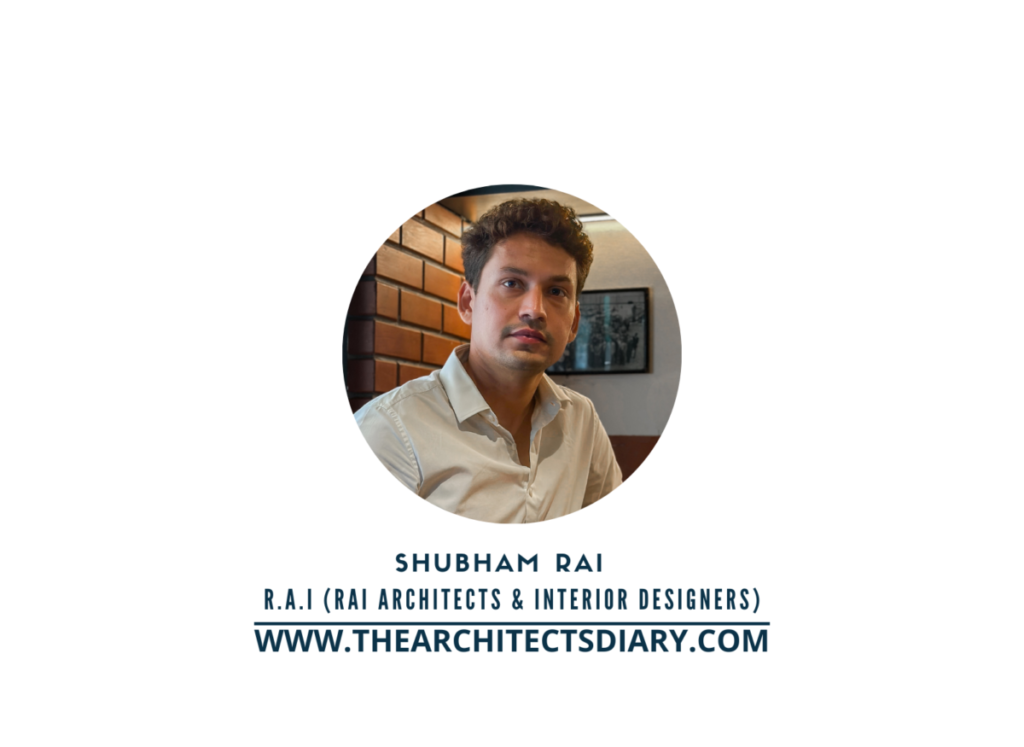 Firm's Instagram Link: R.A.I (Rai Architects & Interior designers)
For Similar Project >> This Mumbai Office is a Dashing Representation of a Fashion Fiesta
The post The 'White Office' Elegantly Marries Minimalism, Tranquility, and Authority | R.A.I (Rai Architects & Interior designers) appeared first on The Architects Diary.