Located in a bustling neighborhood at Indiranagar Bengaluru, second floor of a commercial complex, this project is the very first of our firm and a special one since the client is a celebrity photographer. We stumbled upon this amazing client who happened to be a celebrity photographer wanting to expand her expertise in Bengaluru. So, when she approached us we had a lot of thoughts, brainstorming ideas with the spatial requirements – the primary focus being able to transform the commercial space to get in a homely vibe.
The Vibe Of A New York Studio In This Bengaluru Commercial Space | Archolloids
VISIT : Archolloids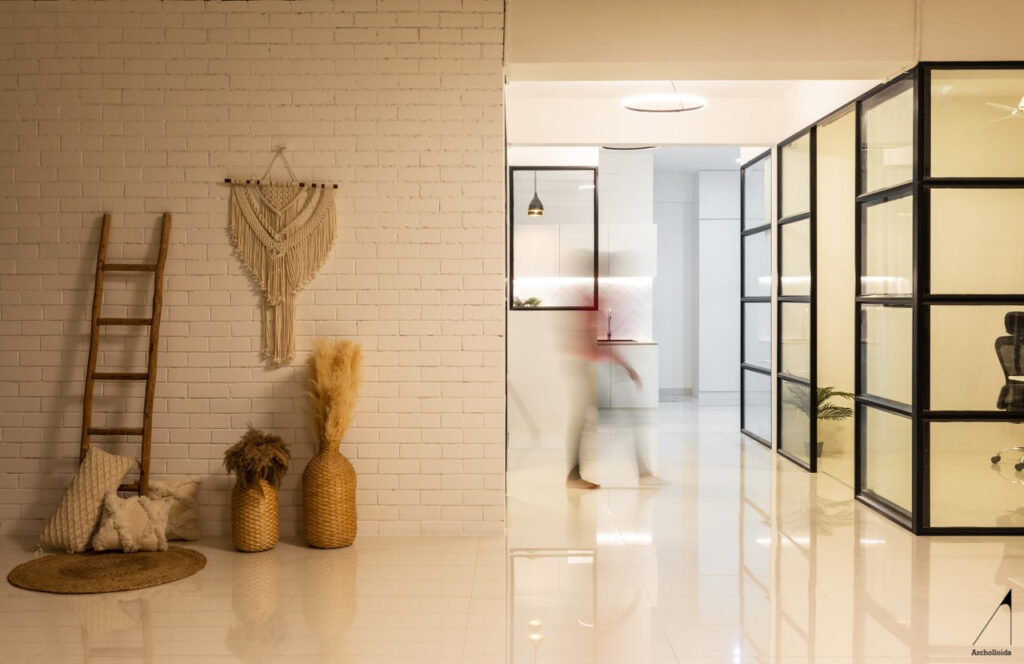 Right from the beginning, the concept was as simple as, giving the vibe of a New York studio in this Bengaluru commercial space and we gave our best to get the desired output. Various material options were discussed and we made use of them in such a way that the wastage was minimal.
The interiors were kept plain and simple with only two colors – black and white to give the NEWYORK studio replica. The entire project right from civil masonry walls to fittings and fixtures (this includes the design and confirmation from the client) was completed in less than 30 days. Having said that, all the work was done at the site directly and simultaneously since the client was already paying for that space.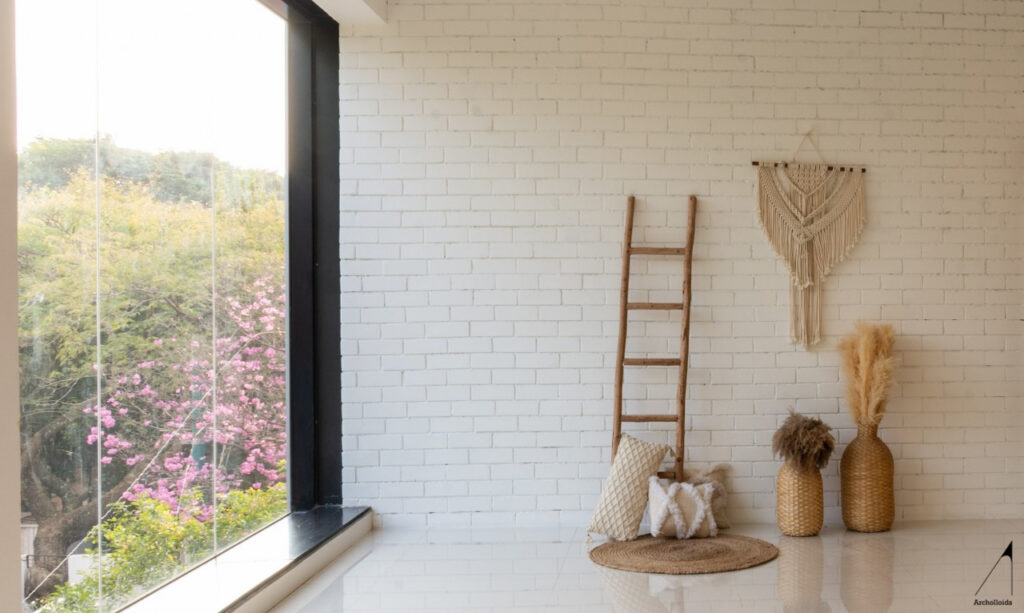 This amazing photowall doubles up as a backdrop during the photoshoot days overlooking the mighty skyline of our very own Bengaluru city! With monotones and light shades, this truly is a designer's retreat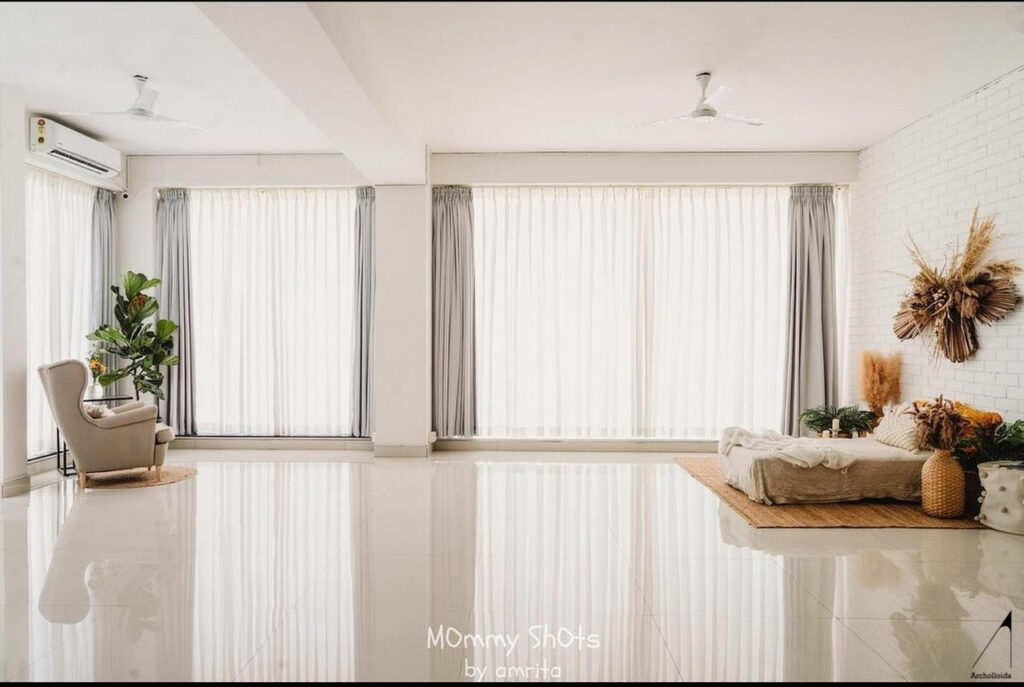 The zoning for interiors was envisioned in such a way that the photography studio gets the maximum light and ventilation whereas the rest of the areas are cordoned off at the back. We have a small nursery that was childhood friendly and all the fixed furniture including the tables was made at the site with relevant drawings.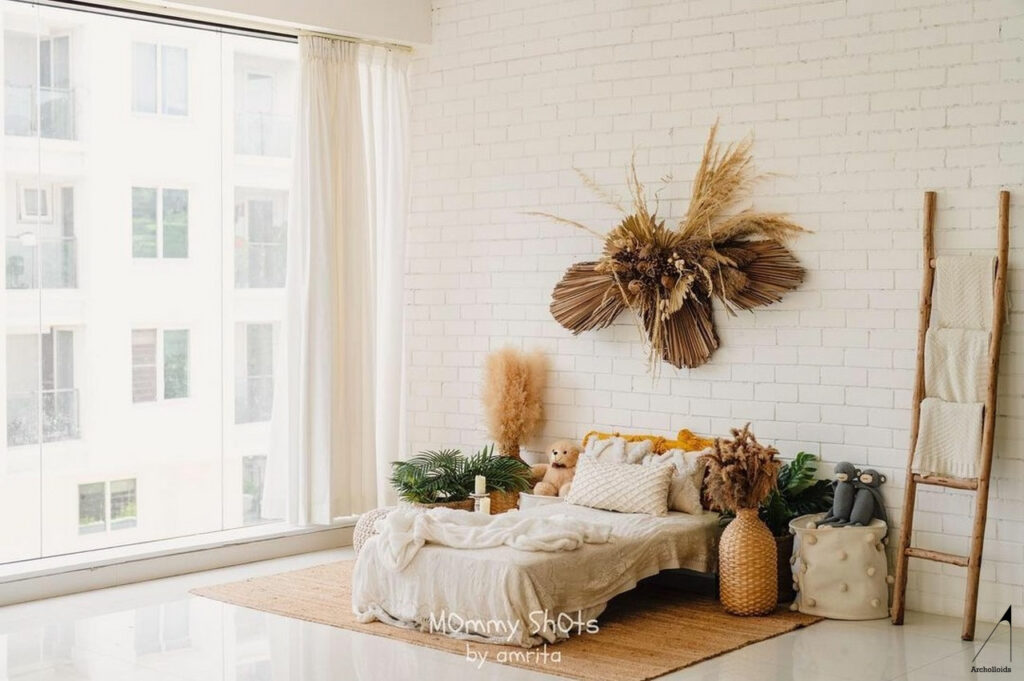 How about having a perfect cabin to break away from your mid-week blues! A small snippet of the working lounge that comes within the studio space. The bespoke furniture is specially customized to complement the fresh and lovely ambience!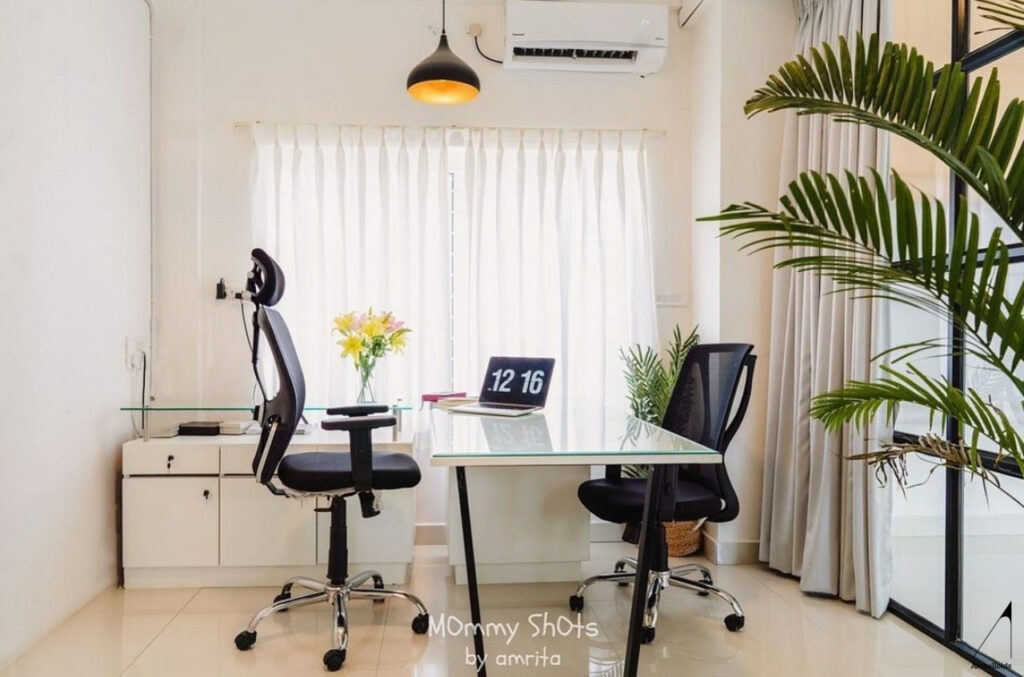 There's a separate cabin for Ms. Amrita with a pretty backdrop that could be used while taking promotional videos and YT live sessions. The detailing of the workspace, toilet and the other areas accessible by kids were detailed in a way that there is no harm while using it and maintenance free.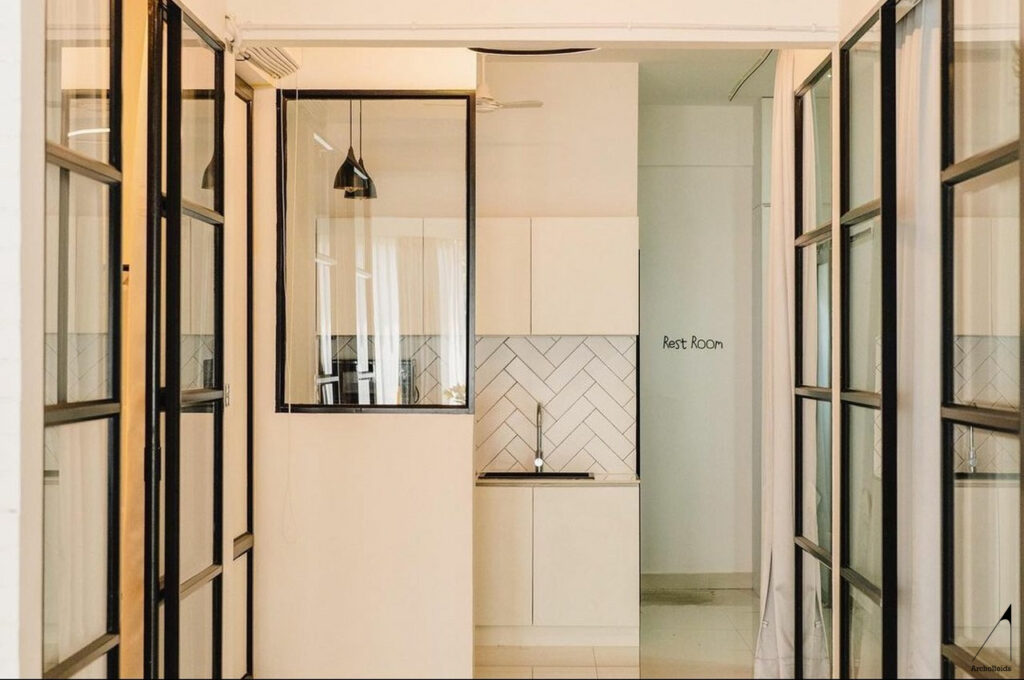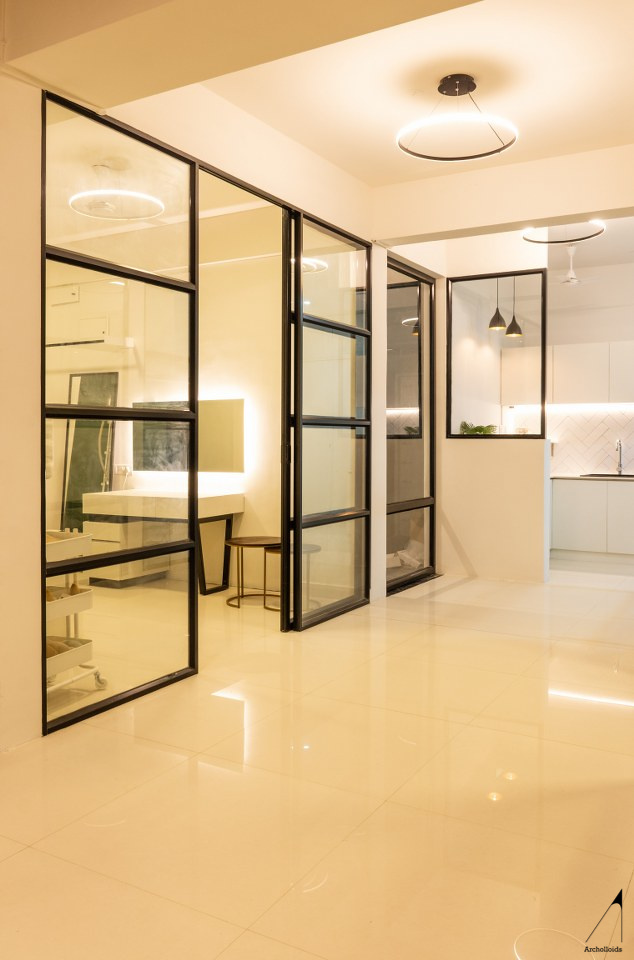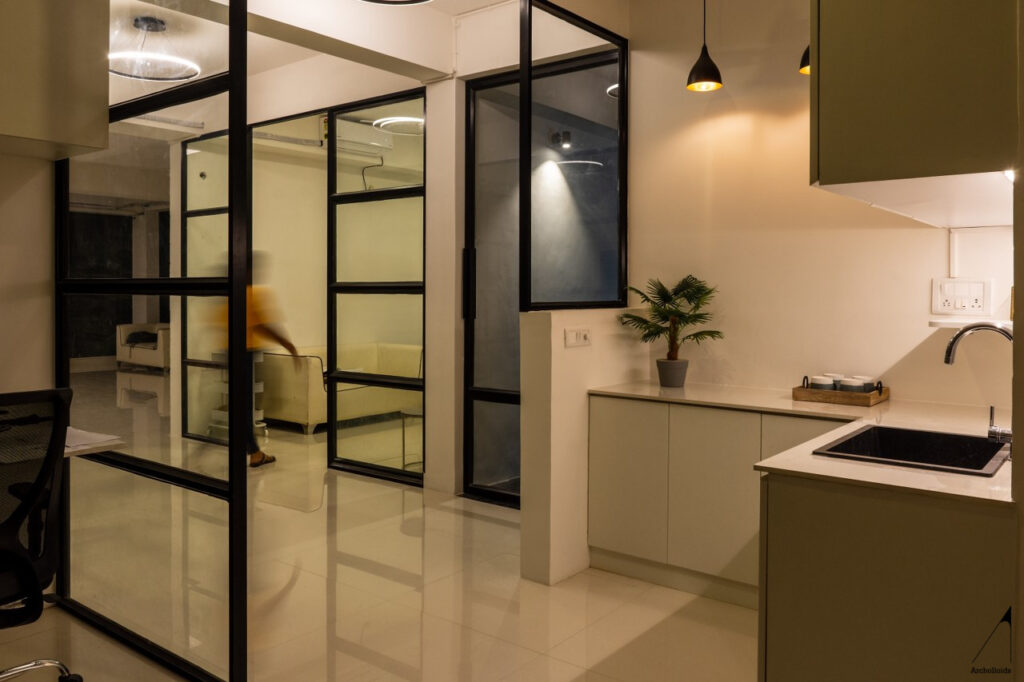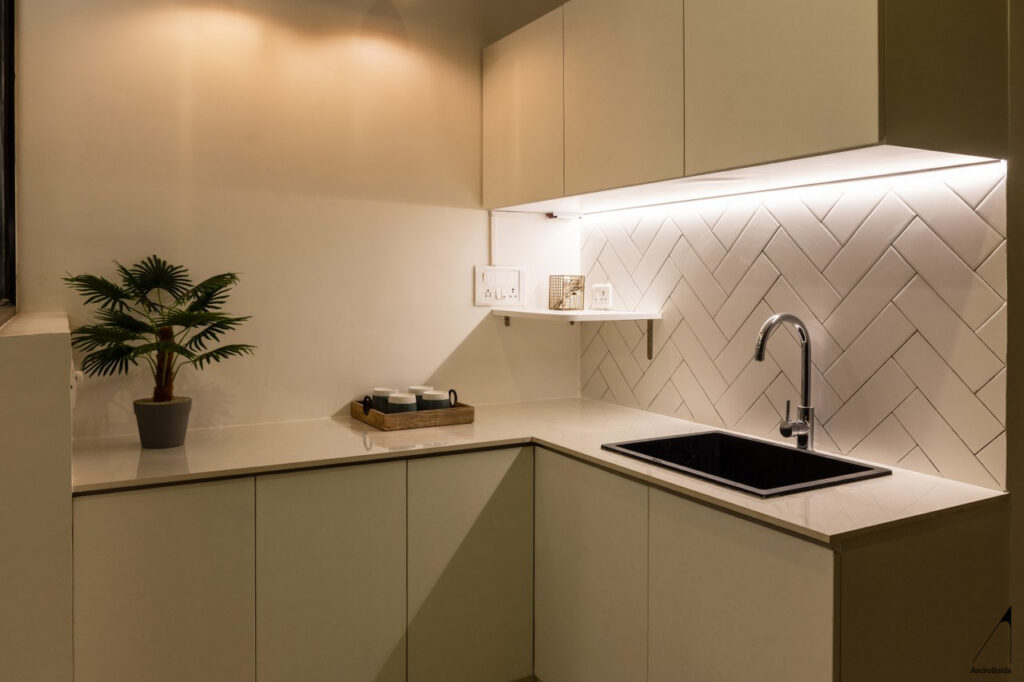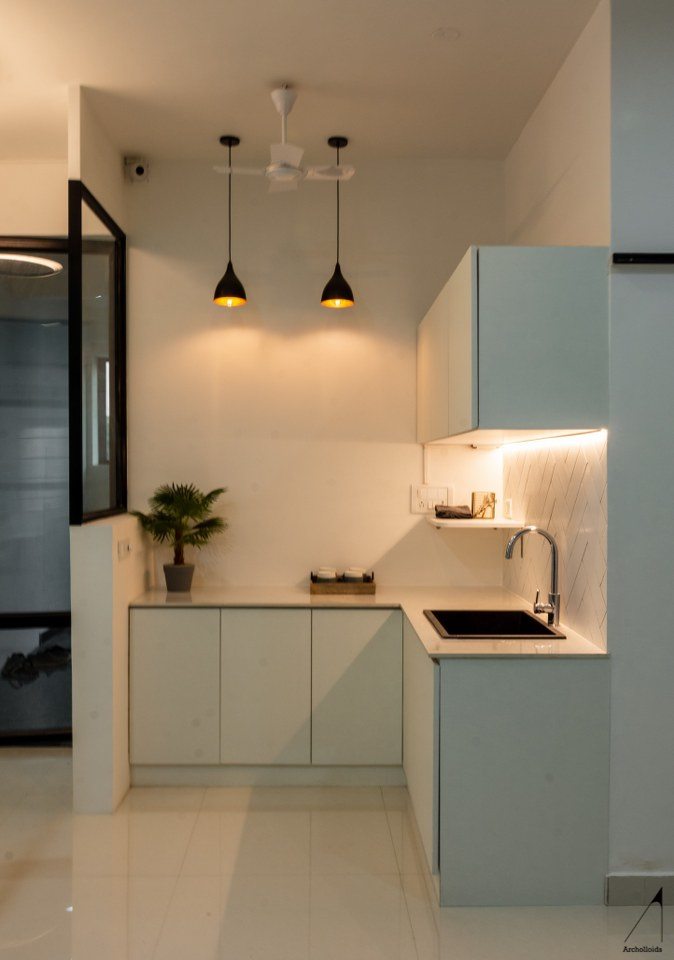 For us to be able to make this project budget-friendly yet fulfill the requirements of the client was the most challenging part here. Here's a small attempt to make this space neonatal and mother-friendly since it's a motherhood and childhood photography studio.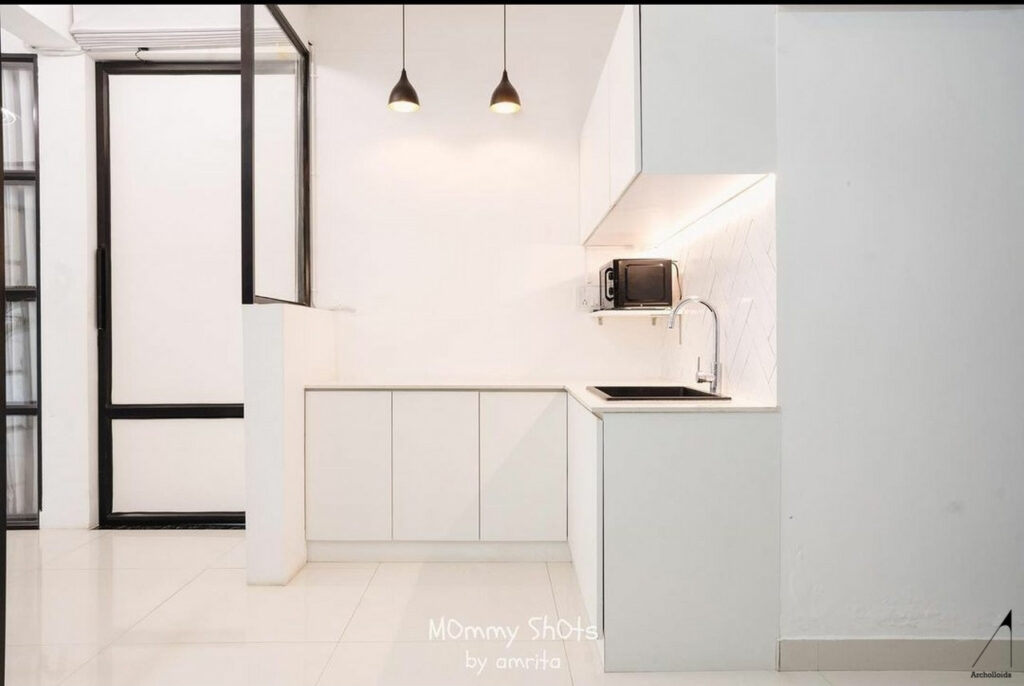 Archolloids are a team of 2 young architects, a very fresh practice started a couple of months ago with our main intent to give out good design and not rush in taking on a lot of projects but emphasize the quality of work done. Spread out in two cities, we have currently 3 projects ongoing mostly – residential interiors in Bengaluru and Chennai.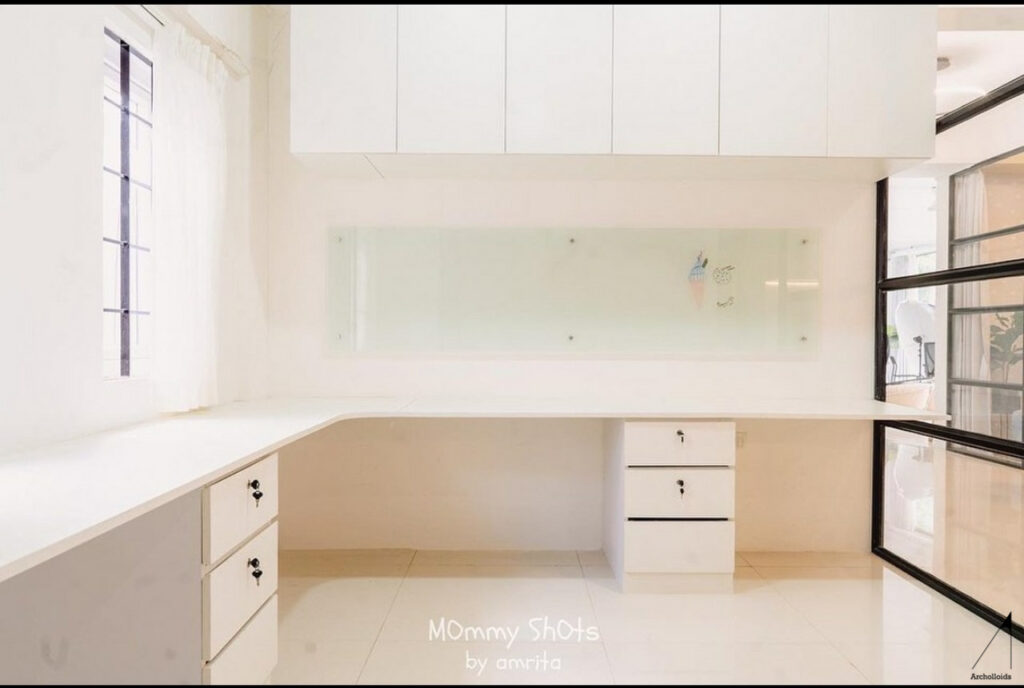 FACT FILE
Designed by : Archolloids
Project Type : Office Interiors
Project Name: Studio for 'Mommy Shots by Amrita'
Location : Indiranagar, Bengaluru
Year Built : 2021
Duration of project : 1 month
Plot Area: 3200 sq.ft
Built up: 2400 sq.ft
Project Cost : 13 lakhs
Principal Architects : Ar.Shruthi Mrinalini & Ar.Rakshit Salunke
Photograph Courtesy : Ram Kishore & Amrita Samant
Products / Materials / Vendors : Finishes – Plain white walls and wooden paneling / Wallcovering / Cladding – brick cladding with distressed white finish and wallpapers / Construction Materials – Aluminium and glass, plywood and white laminates, Lightweight concrete blocks for internal walls Lighting – Rings and Cone lights from different vendors / Doors and Partitions – Aluminium and glass Sanitaryware – Jaquar fittings and fixtures / Facade Systems – Steel framework and glass / Furniture – Local vendors / Flooring – Vitrified tiles / Kitchen – Archolloids (Pantry) / Paint – Nippon Paints/ Hardware – Hafele hinges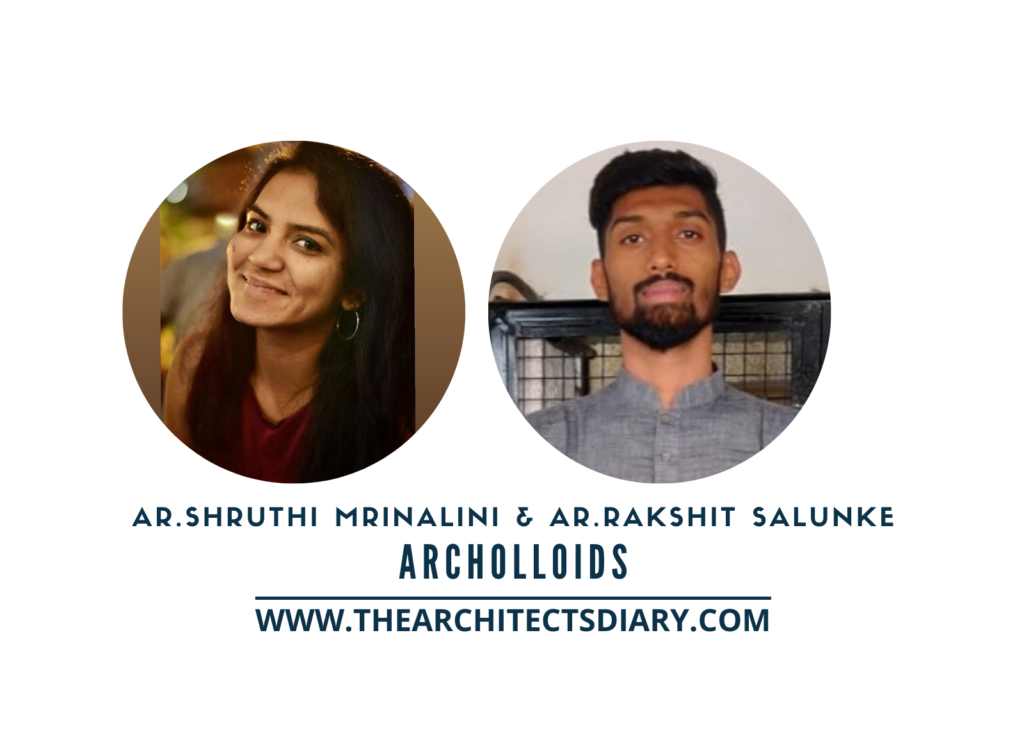 Firm's Instagram Link : Archolloids
For Similar Projects >> CONCEPTUALISING A COMMUNITY WORKSPACE FOR THE AYCS OFFICE
The post The Vibe Of A New York Studio In This Bengaluru Commercial Space | ARCHOLLOIDS appeared first on The Architects Diary.