The spectacular floating restaurant at the riverfront in Ahmedabad, envisioned and brought to life by the ingenious team at Malvi Gajjar Architects, stands as a testament to their unwavering creativity and engineering prowess. Confronted with the daunting challenge of designing and executing a fully functional floating cruise with captivating interior spaces, the team embarked on a remarkable journey of innovation and dedication. The restaurant's inviting and elegant interior spaces harmoniously complement the serene river surroundings, creating a captivating experience that leaves patrons enthralled as they indulge in a dining voyage like no other.
The Restaurant's Inviting and Elegant Interior Spaces Harmoniously Complement the Serene River Surroundings | Malvi Gajjar Architect & Interior Designer
Visit : Malvi Gajjar Architect & Interior Designer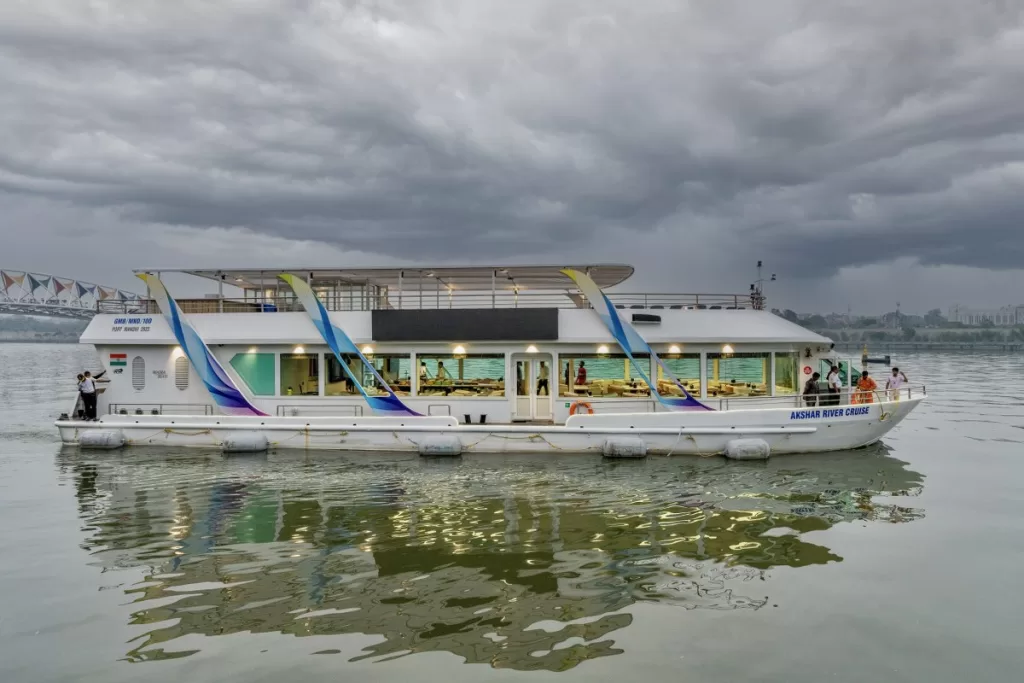 In an astonishingly short span of four months, they masterfully conceptualized and materialized this architectural marvel, seamlessly blending aesthetic brilliance with structural integrity.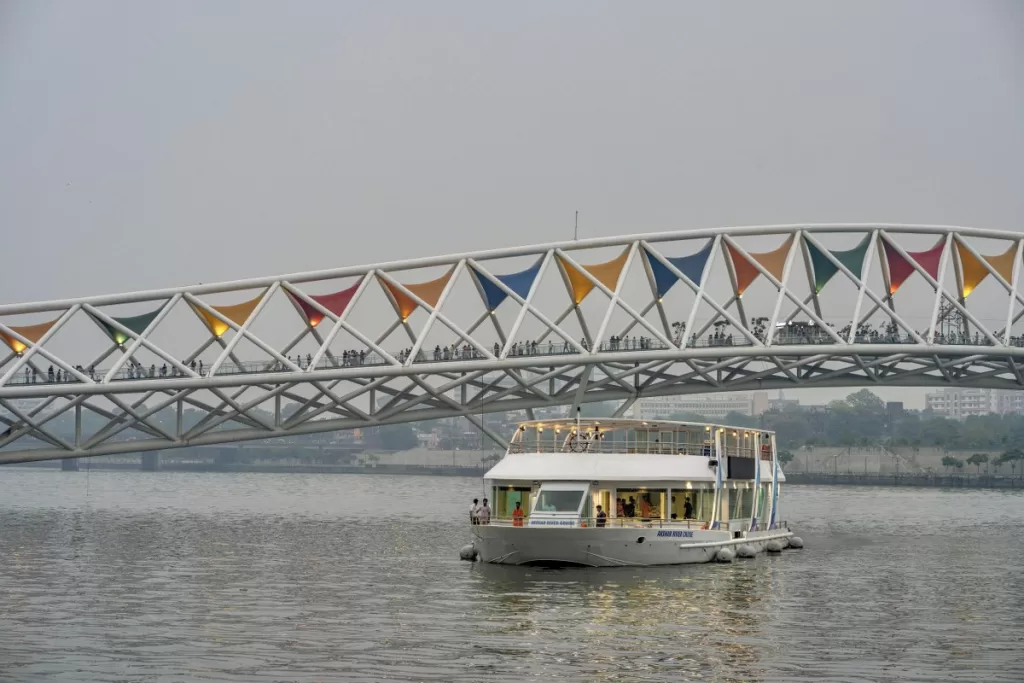 Designing a cruise floating restaurant in Ahmedabad presented both exciting opportunities and significant challenges for our team at Malvi Gajjar Architects. Our vision was to create a serene and luxurious space that not only offered a unique dining experience but also harmonized with the soft color palette synonymous with relaxation and comfort.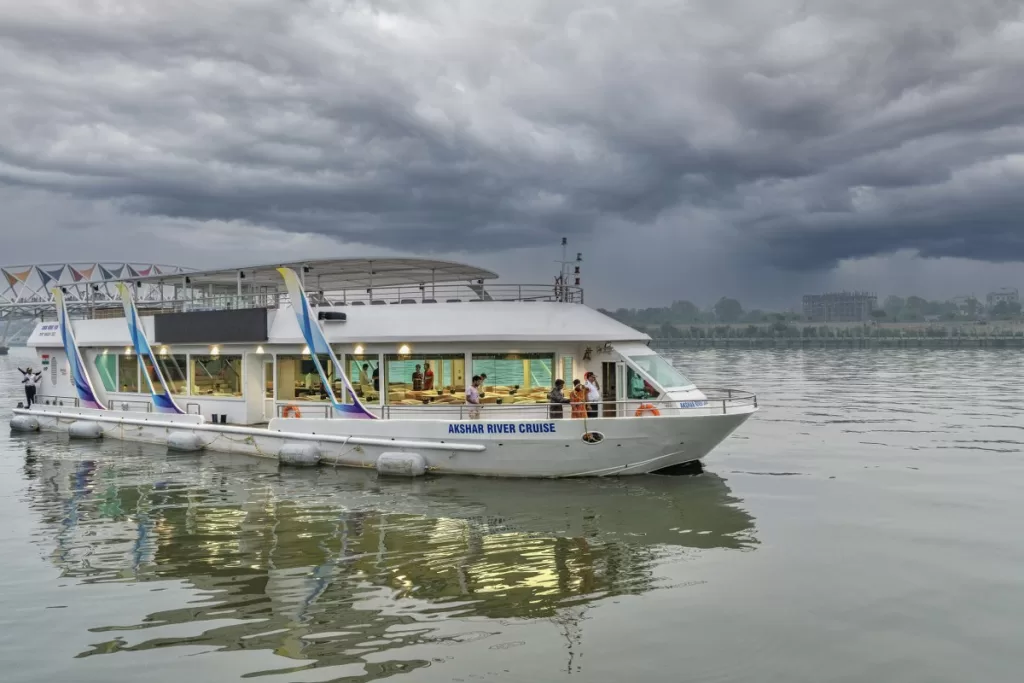 One of the most prominent challenges we faced was the integration of the floating restaurant's design with the surrounding environment. Ahmedabad's urban landscape provided a juxtaposition of modernity and tradition, and we aimed to strike a balance between these elements. The soft color scheme played a crucial role in achieving this balance, as it allowed us to blend the structure seamlessly with the city's skyline and the nearby Sabarmati River.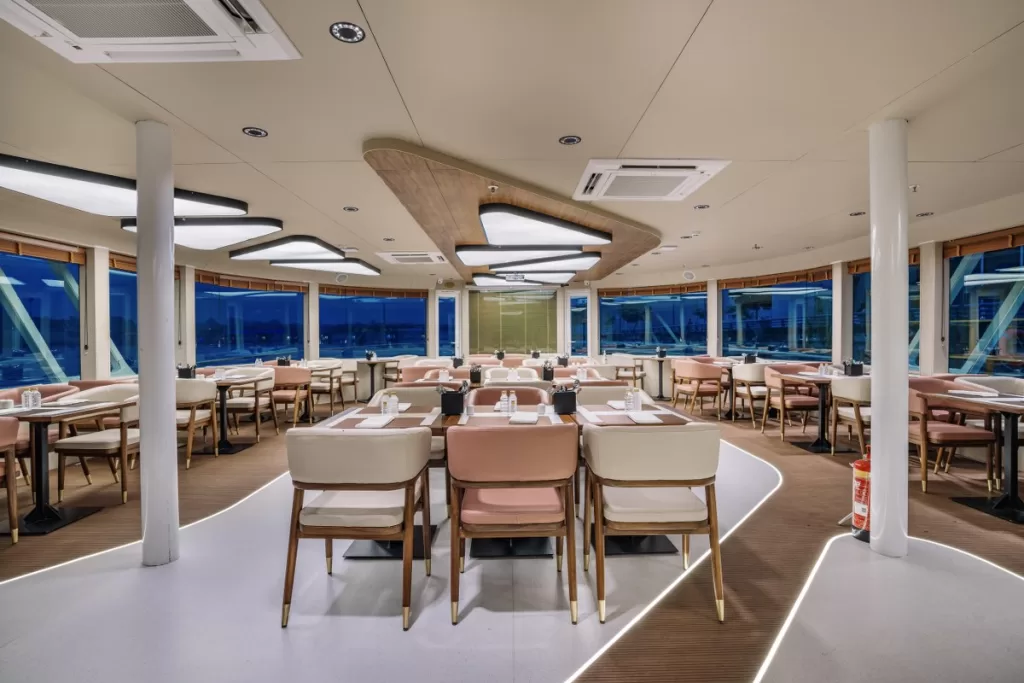 Incorporating the soft color scheme meant delving into the psychology of colors and their impact on human emotions. The chosen colors needed to evoke tranquility, promote a sense of calm, and create an inviting atmosphere for diners. Soft pastel shades like pale blues, muted greens, and gentle pinks were carefully selected to achieve this effect. These hues not only created a soothing ambiance but also complemented the natural beauty of the river surroundings.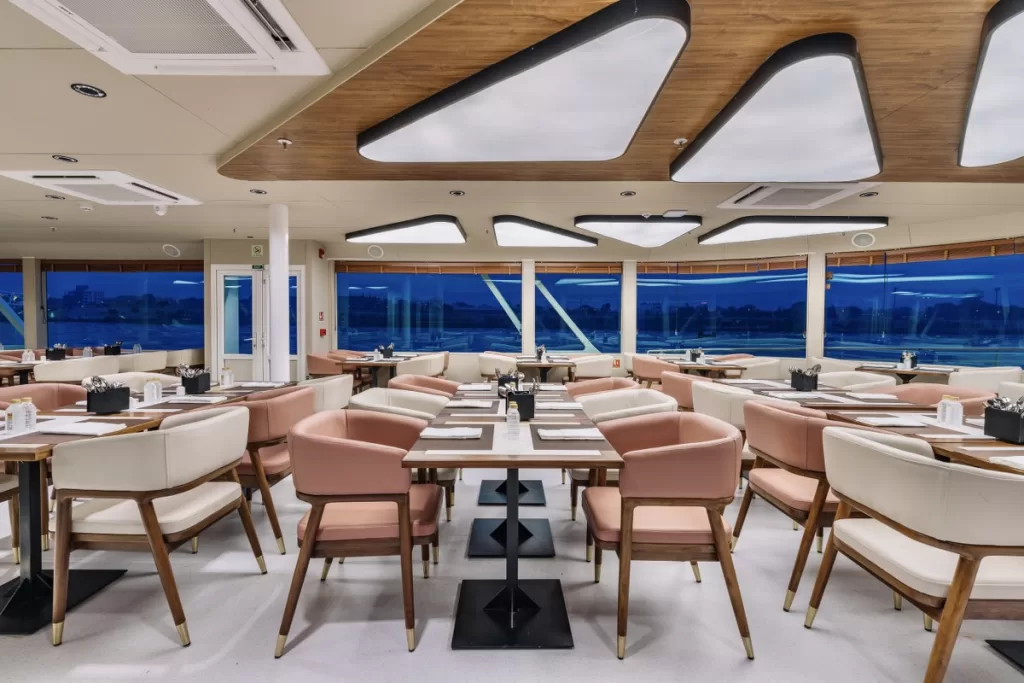 However, the process of material selection to realize this color scheme posed its own set of challenges. We had to consider materials that could withstand the harsh aquatic environment, including constant exposure to water, sunlight, and changing weather conditions.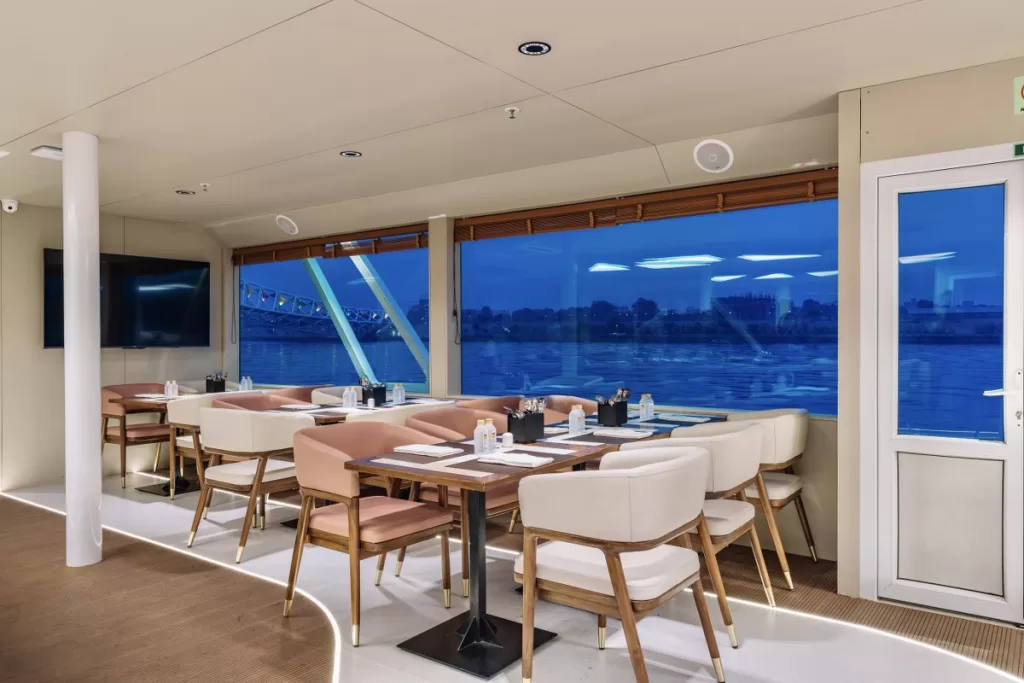 Moreover, the chosen materials needed to maintain their color integrity over time to uphold the envisioned design aesthetic. Extensive research and collaboration with materials experts were essential to ensure the durability and longevity of the chosen elements.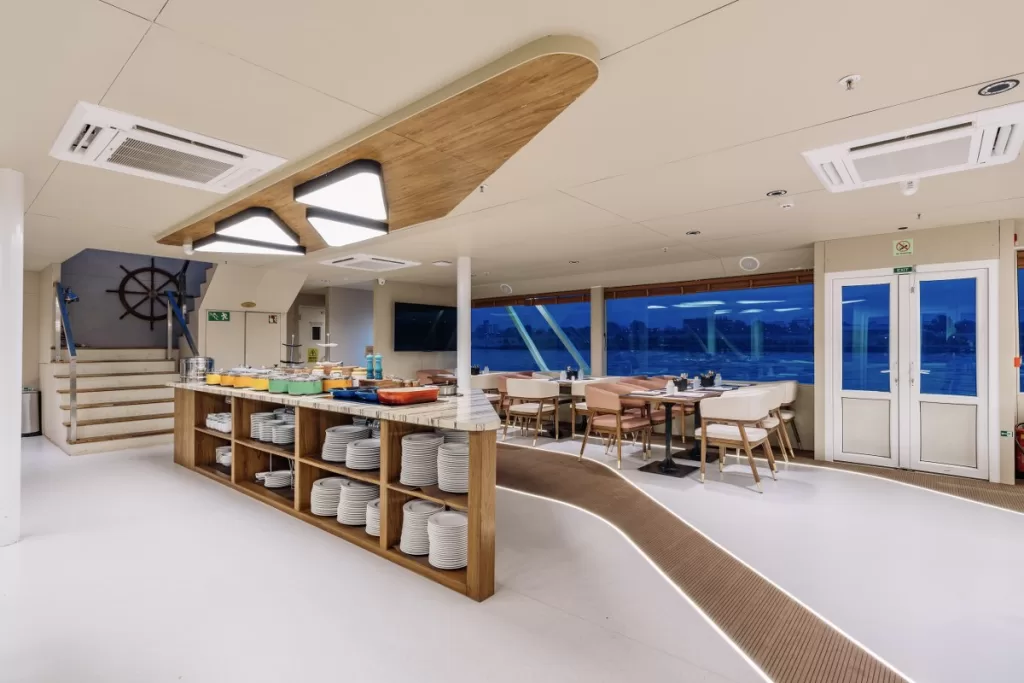 Additionally, engineering a floating structure that met safety standards while aligning with our design vision required innovative solutions. The restaurant needed to be stable, capable of accommodating a certain number of guests, and equipped with the necessary amenities for a comfortable dining experience.
Incorporating functional spaces like kitchens, restrooms, and dining areas within the confines of a floating structure posed spatial challenges that demanded creative spatial planning and efficient utilization of every inch.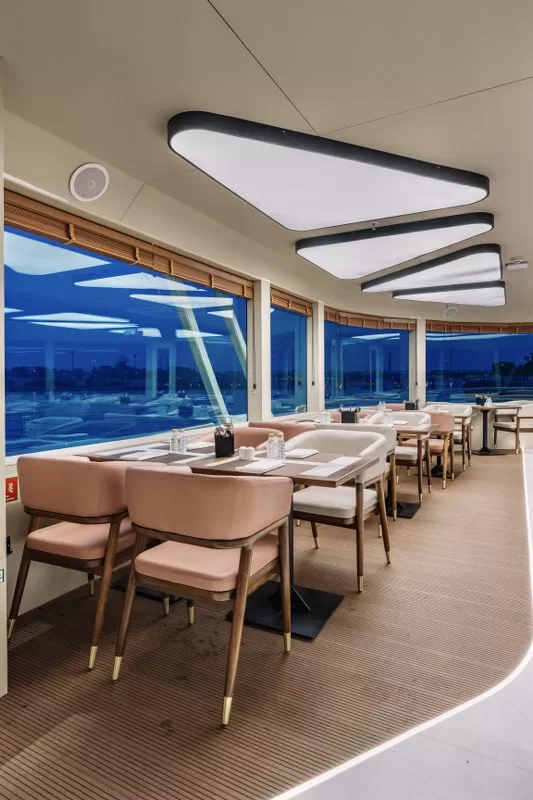 Furthermore, obtaining the necessary permits and approvals for such a unique project was a bureaucratic hurdle that demanded patience and perseverance. Navigating through the regulatory landscape and ensuring compliance with local building codes, environmental regulations, and safety standards added layers of complexity to the project.
Despite these challenges, the end result was a testament to our team's dedication and creativity. The soft color scheme elegantly transformed the cruise floating restaurant into a serene oasis, where patrons could escape the bustle of the city and indulge in a memorable dining experience. The carefully curated hues not only contributed to the visual appeal but also played a vital role in creating an environment of relaxation and comfort.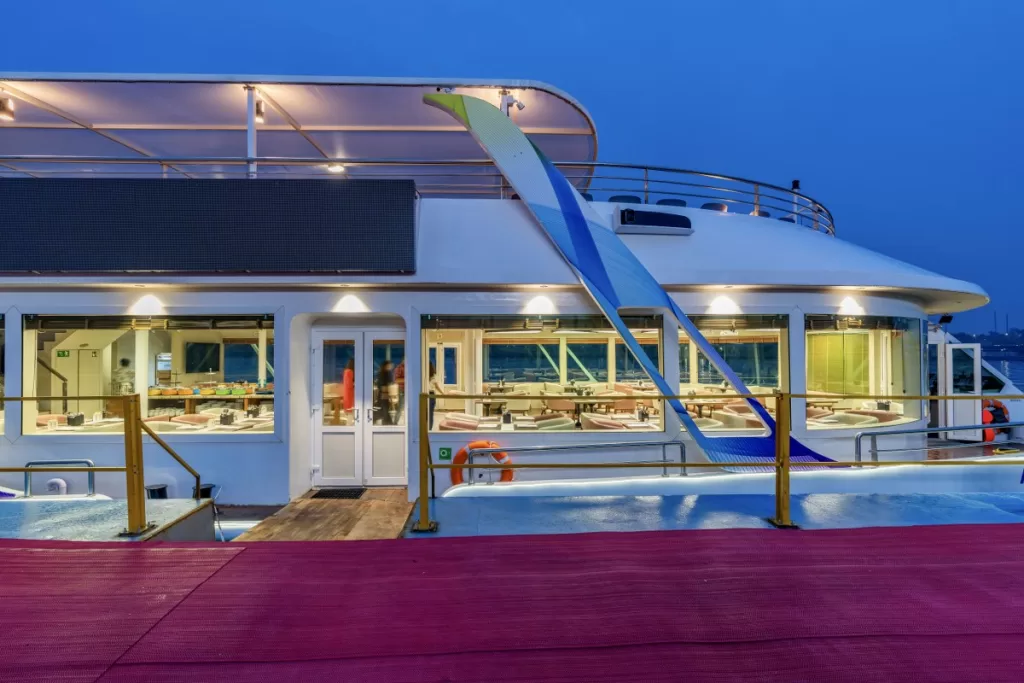 In conclusion, designing the cruise floating restaurant in Ahmedabad was a journey marked by challenges that pushed us to think outside the box and find innovative solutions. The soft color scheme acted as a unifying thread, connecting the structure with its surroundings and imbuing it with a sense of tranquility. This project not only showcased our architectural expertise but also highlighted the power of thoughtful design in overcoming obstacles and crafting extraordinary spaces.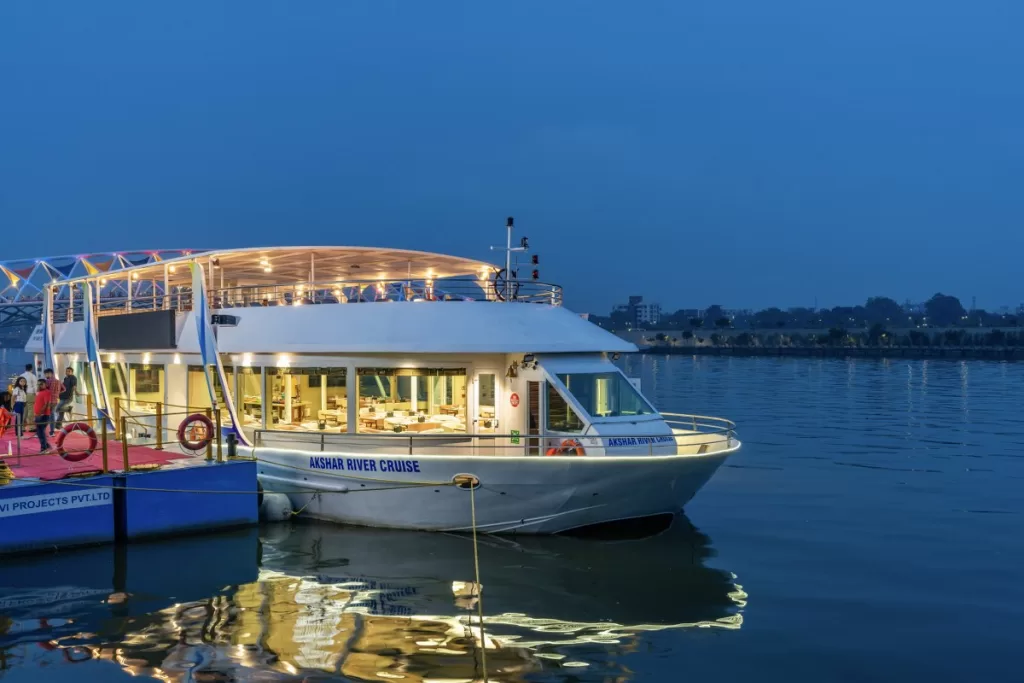 Lower Deck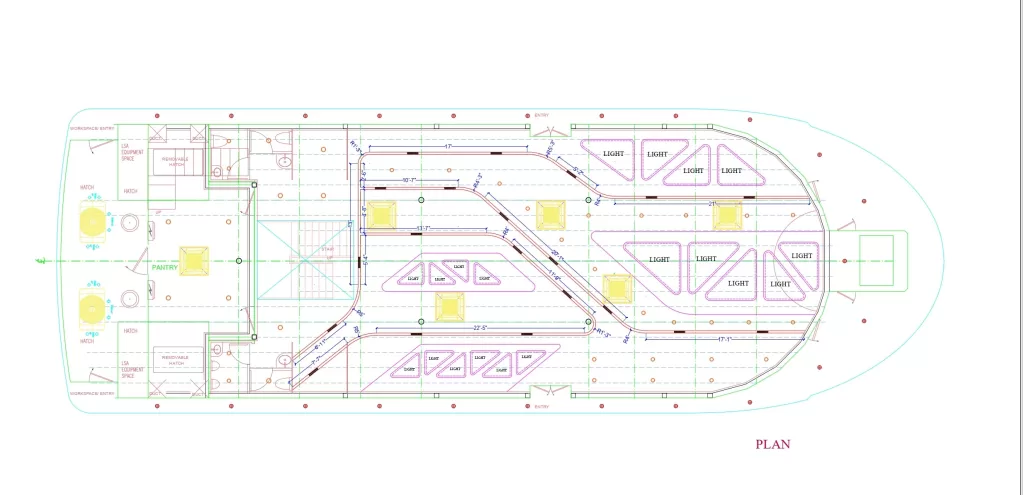 Upper Deck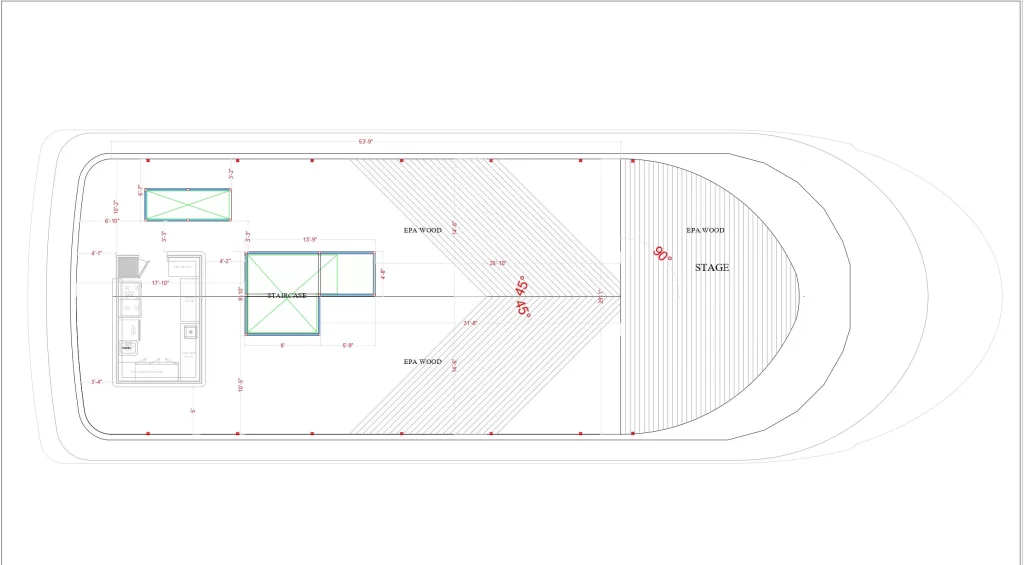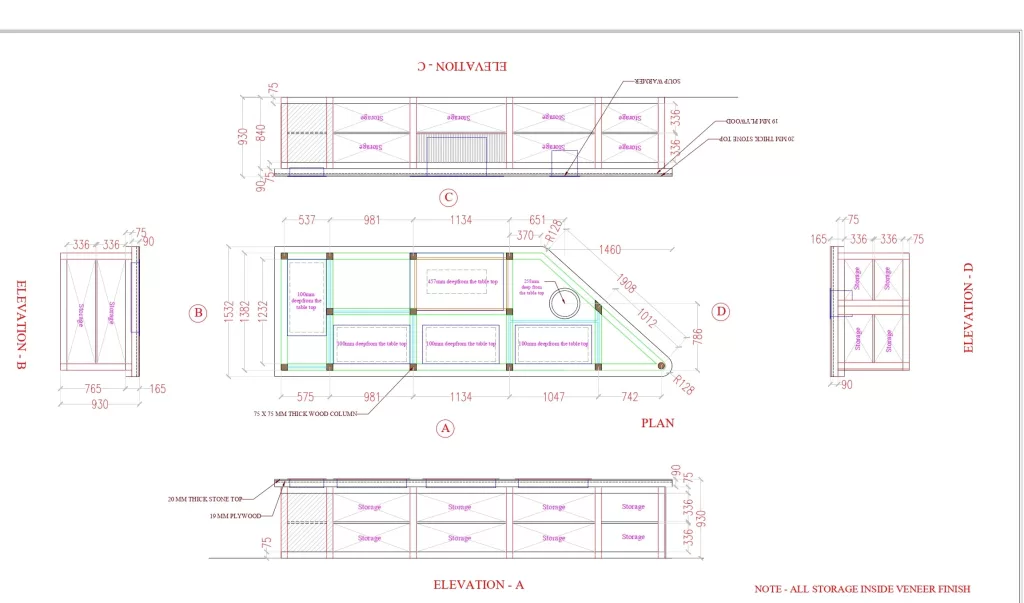 Fact File
Designed by: Malvi Gajjar Architect & Interior Designer
Project Type: River Cruise Restaurant
Project Name: Akshar River Cruize
Location: Sabarmati Riverfront, Ahmedabad
Year Built: 2023
Duration of the project: 4 Months
Project Size: Lower Deck – 2900 Sq.ft
Upper Deck – 2000 Sq.ft
Principal Architects: Malvi Gajjar & Sachin Gajjar
Photograph Courtesy: Inclined Studio
Products / Materials / Vendors: Finishes – WPC, IPE wood / Wall covering / Cladding – ACP / Construction Materials – MS / Lighting – Spot Lights, Wall Washer, Profile Light / Doors and Partitions – Fire Resistant Doors / Windows – No windows / Furniture – Plywood / Flooring – IPE Wood & Vinyl Flooring / Kitchen – SS Finish Wall Cladding / Paint – PU Finish / Hardware – Hettich.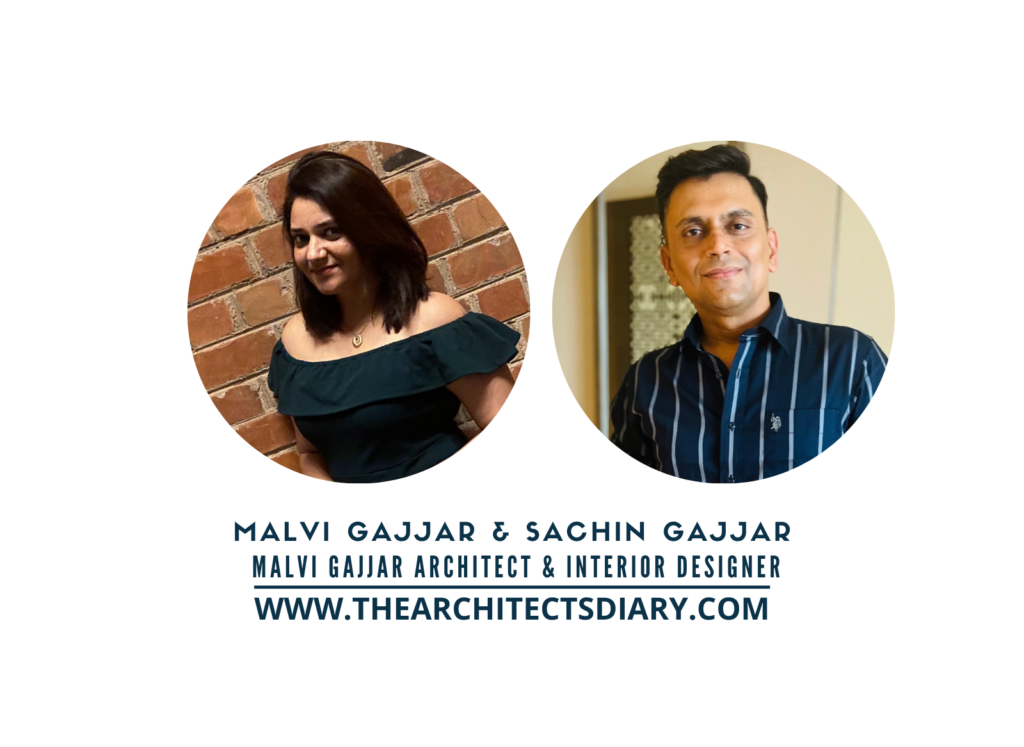 Firm's Website Link: Malvi Gajjar Architect & Interior Designer
Firm's Instagram Link: Malvi Gajjar Architect & Interior Designer
Firm's Facebook Link: Malvi Gajjar Architect & Interior Designer
For Similar Project >>> A Satvik Restaurant, Element 3 Stands as an Oasis of Tranquility and Nourishment
The post The Restaurant's Inviting and Elegant Interior Spaces Harmoniously Complement the Serene River Surroundings | Malvi Gajjar Architect & Interior Designer appeared first on The Architects Diary.