This proposal stresses those things that define the function of the space and make possible its use, a gym. This gym is a space that boasts a raw and rugged aesthetic, inspired by the industrial revolution. The gym design is a blend of modern minimalism and the raw, gritty features of an old warehouse. The combination of distressed metal, crude gym flooring, and unfinished concrete washrooms creates an edgy atmosphere that's both welcoming and energizing.
The Gym Design Is A Blend Of Modern Minimalism And The Raw, Gritty Features Of An Old Warehouse | Oris Architects
Visit : Oris Architects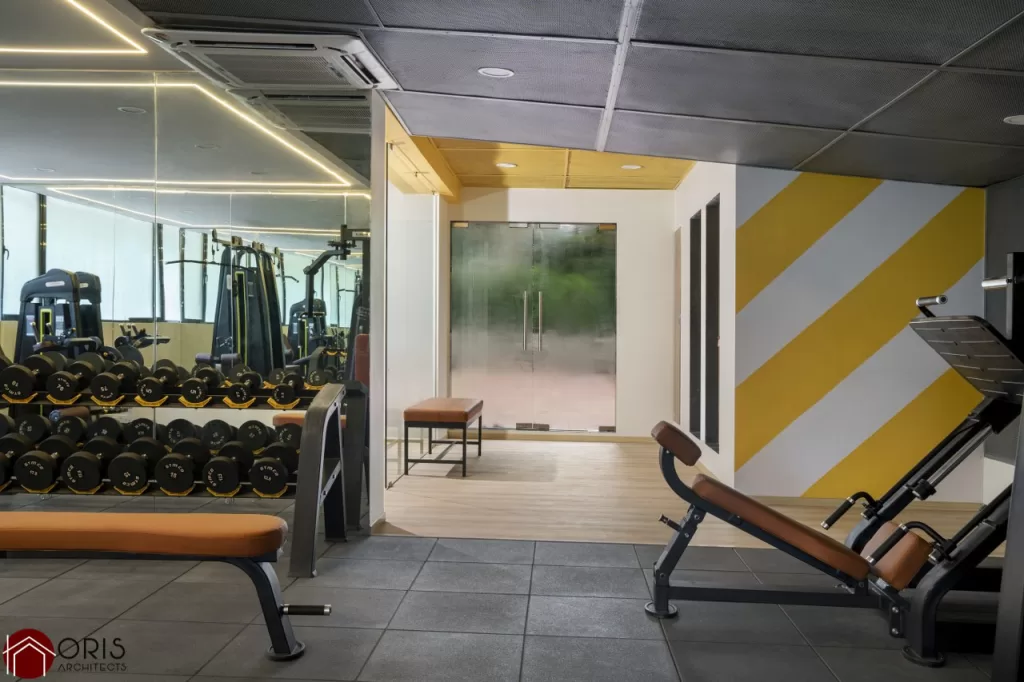 Designing this fitness Centre was challenging in a way because it sits at a podium level where all the services turn. So the major goal was to hide these plumbing lines while still making it accessible for service.
We designed these custom perforated metal mesh sheets which made the gym get an industrial aesthetic yet make the purpose of servicing the plumbing system hassle free. The metal perforated ceiling is a great addition to an industrial gym design, as it not only adds to the aesthetic but can also provide functional benefits such as improved acoustics and ventilation.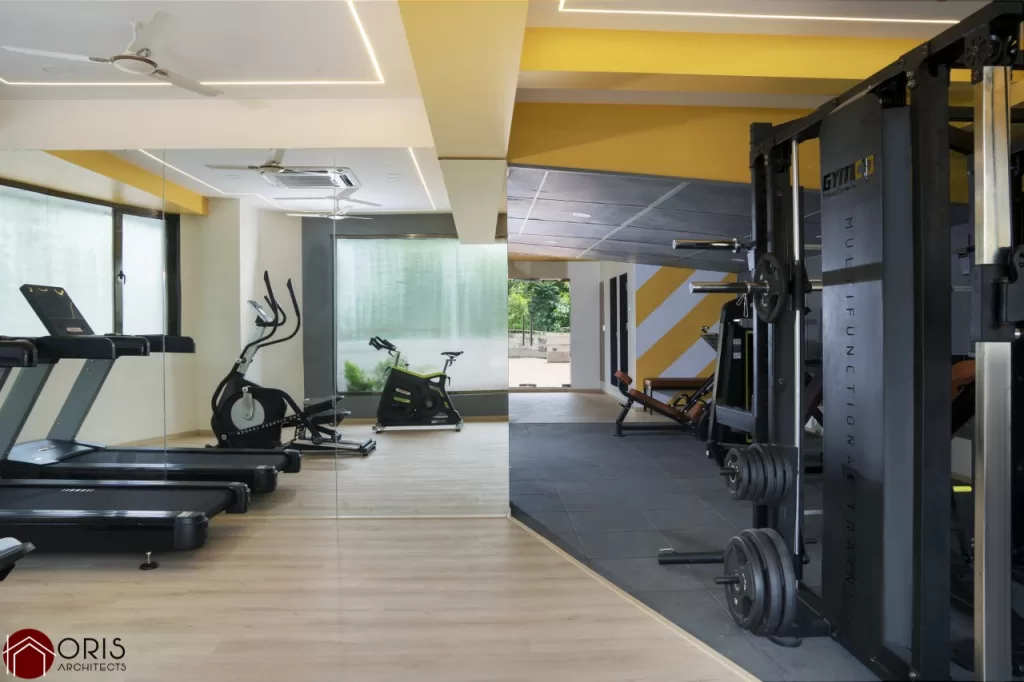 Each metal sheet was designed in sizes that were suitable to access the ductwork yet make it visible to create the ruggedness of the context. These panels also help to provide improved air flow and ventilation, increased acoustic absorption, filtration, and enhanced energy efficiency.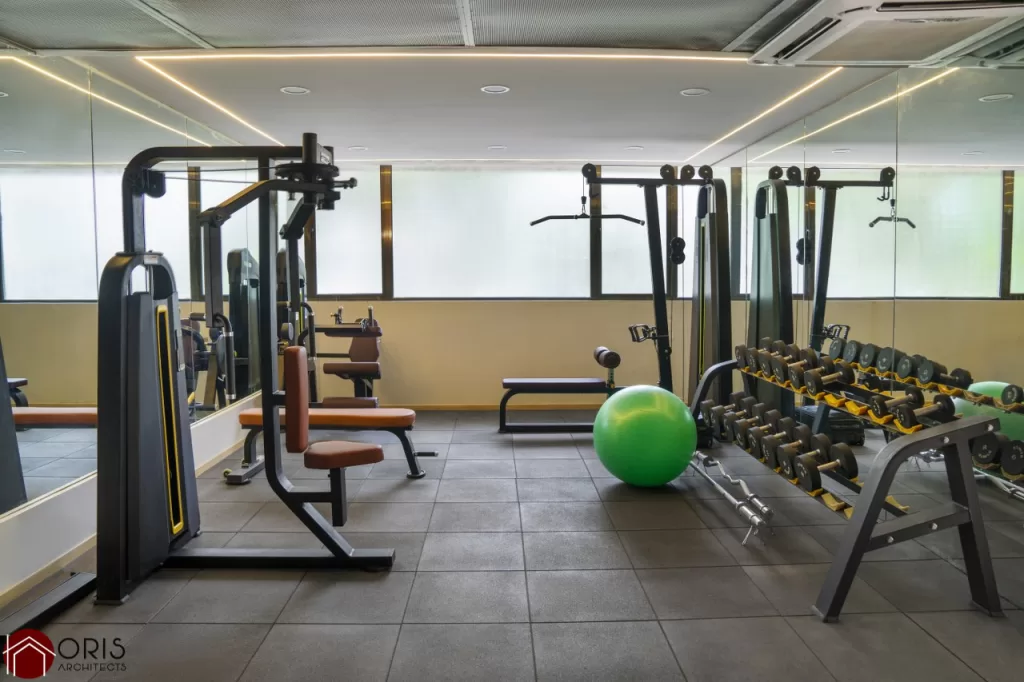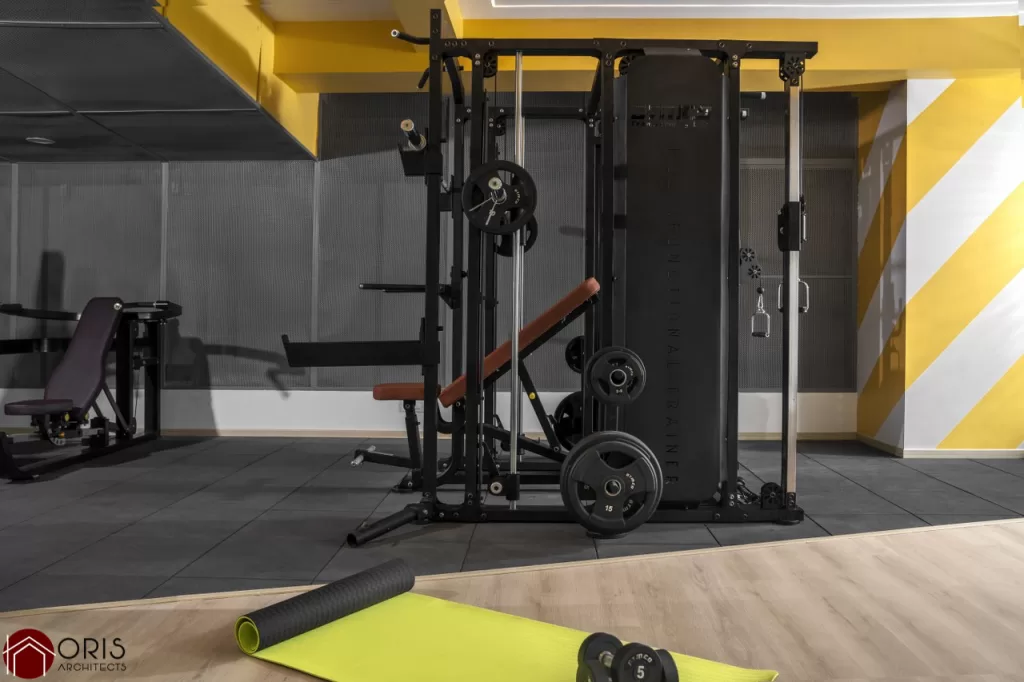 The colour and concept envisioned for this space was industrial, raw, with a pop of yellow as its the colour of positivity and confidence. The columns are finished in yellow and white stripes inspired from the parking lot columns to connect to the industrial nature of the gym.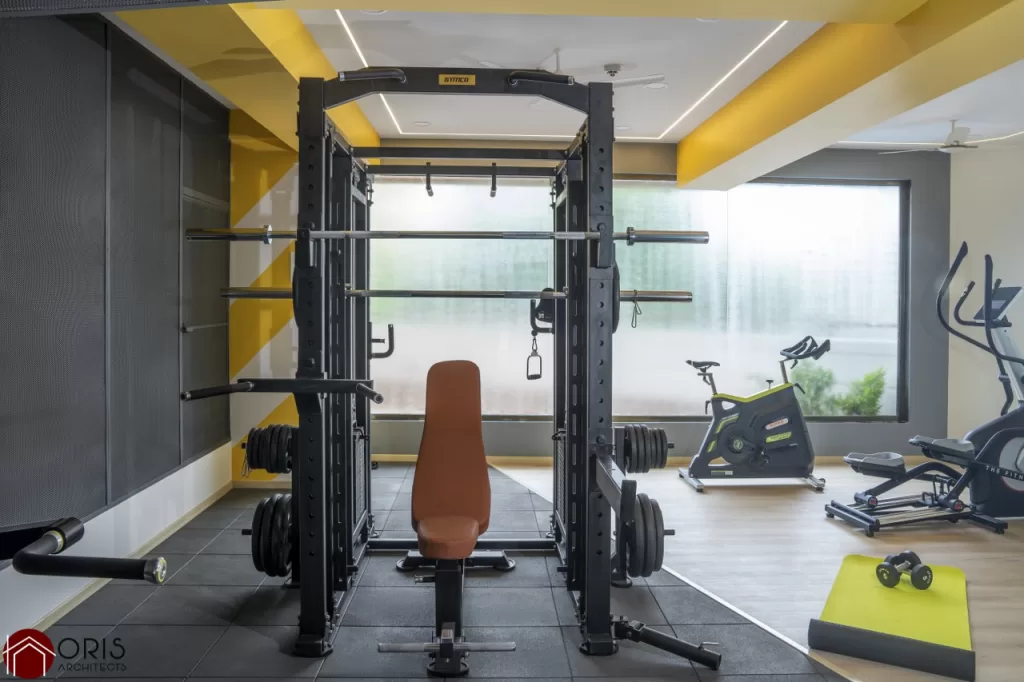 A mix of black rubber and oak finish SPC flooring creates a unique design that also serves a practical purpose, providing an anti-slip surface that can withstand heavy traffic and weightlifting equipment.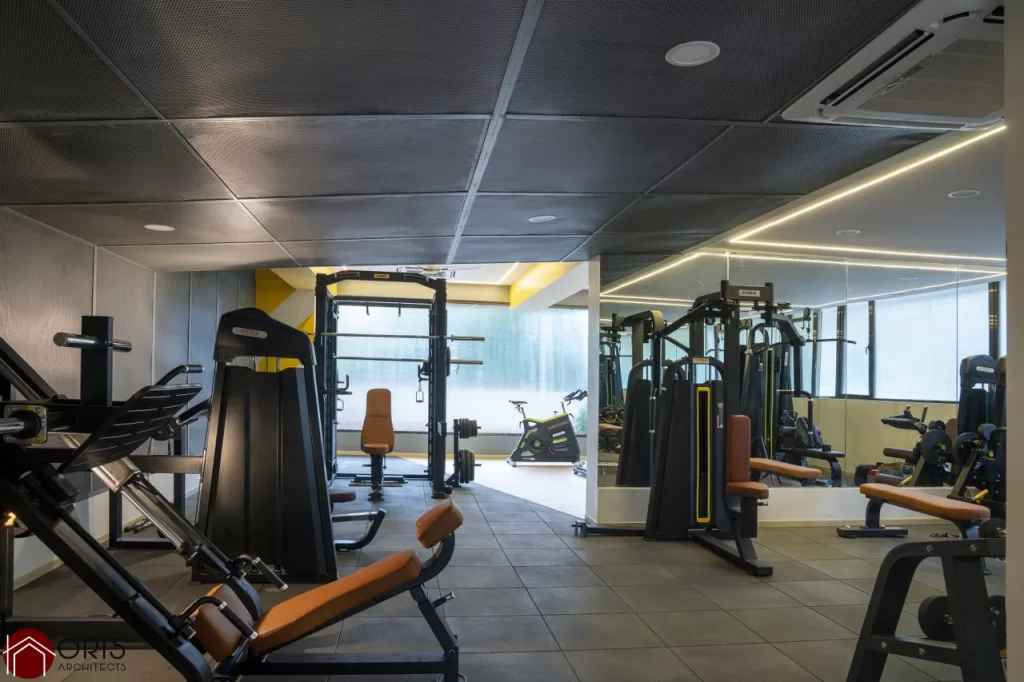 The equipment is carefully selected and arranged to ensure a full-body workout, with state-of-the-art cardio machines, weightlifting equipment, and a functional training area.
The most crucial part to any fitness space is the space planning. The ratio to machine and open space is very important and needs to be planned to optimise the space.
Use of mirrors and sunlight also played a significant role in space planning. We tried to bring in enough natural light in all the activities of the gym.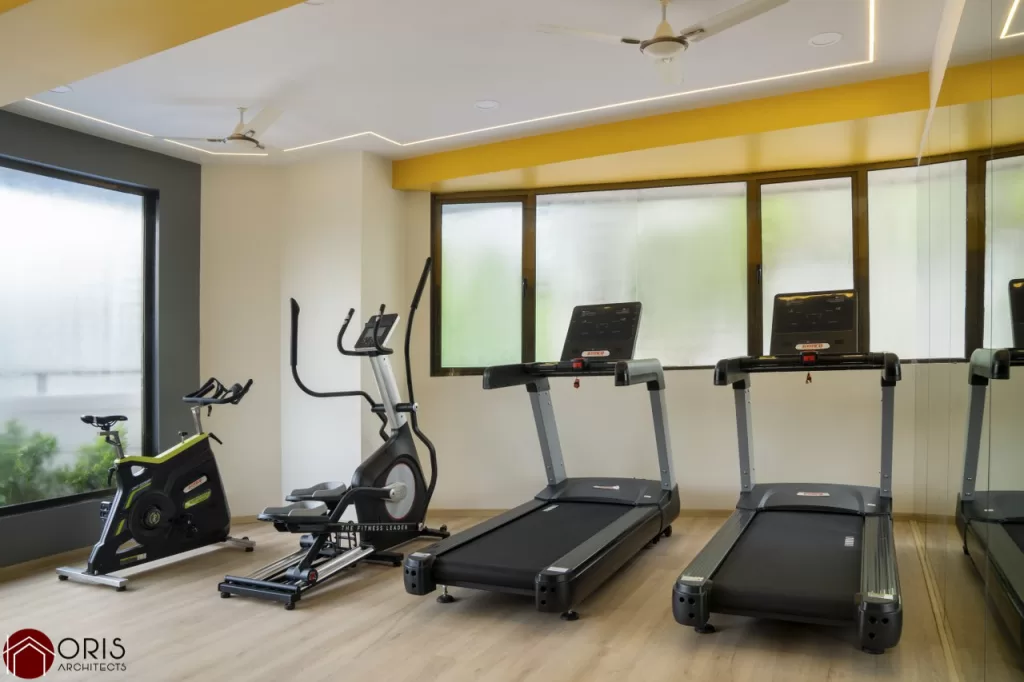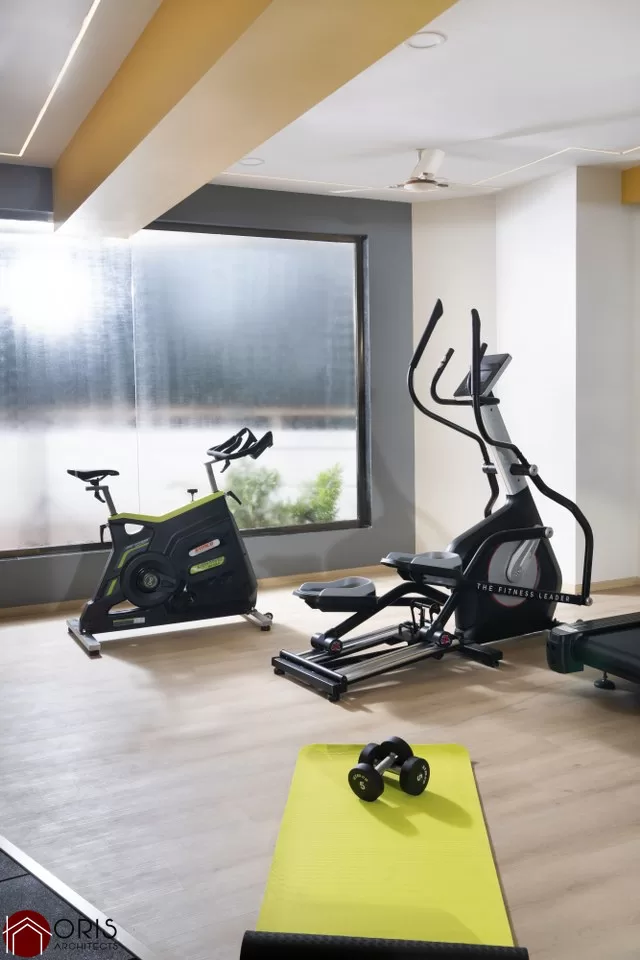 The metal perforated ceiling was balanced with a gypsum ceiling and ample amount of artificial light for evening usage. The gym equipment seating are customised in tan leatherette to complete the overall design language.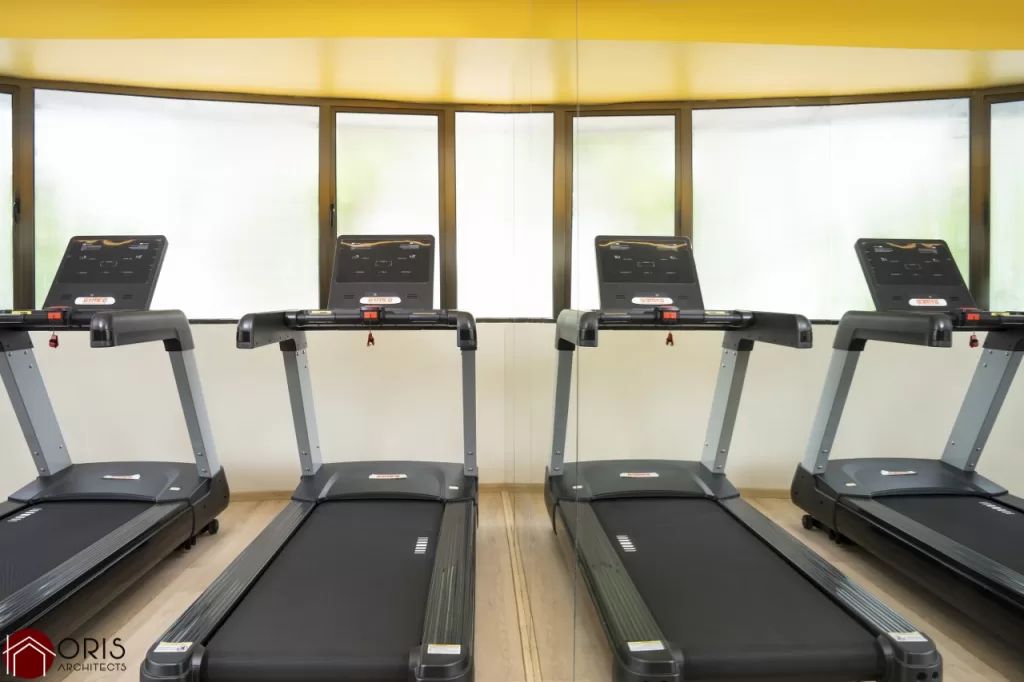 The gym also features a separate studio area for fitness classes, such as yoga, Pilates, and spinning. The studio is fitted with mirrors, sound system, and an assortment of equipment to cater to different classes and needs.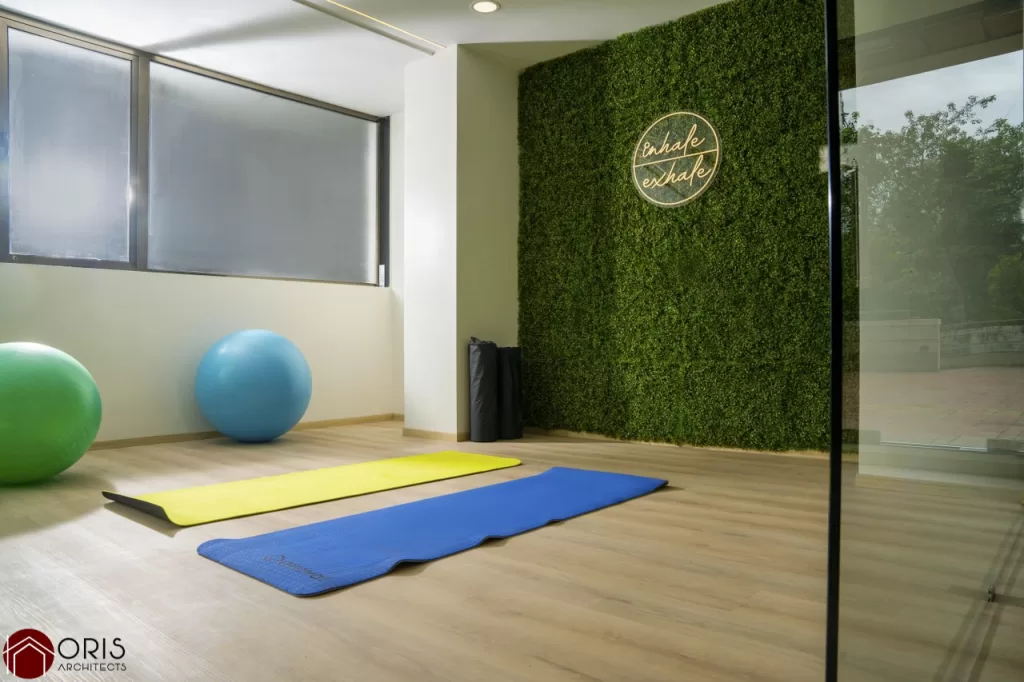 The green wall that writes "inhale-exhale" in neon light help in providing centre and calmness for meditation.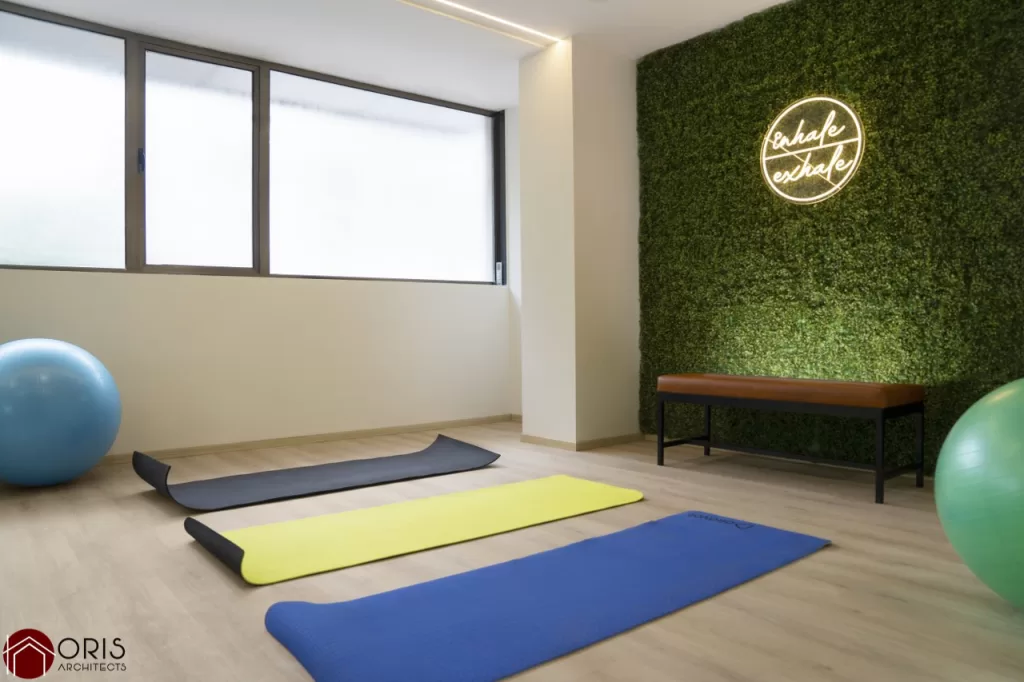 The washrooms carry forward the pop of yellow with uneven concrete finish tiles. In conclusion, this industrial style gym project can create a visually appealing and motivating environment that inspires gym-goers to achieve their fitness goals.
Fact File
Designed by : Oris Architects
Project Type : Commercial Interiors
Project Name : Sand Dunes Gymnasium
Location : Malad, Mumbai
Year Built : 2022
Duration of the project : 6 months
Project Size :1535 Sq.ft
Principal Architects : Ar. Om Lakhani & Ar. Ishita Lakhani
Photograph Courtesy : Beej Lakhani
Products / Materials / Vendors : Gym & SPC Flooring – Mordani interiors / Gym Equipments – gymco / Furniture – Chair Factory / Wallcovering / Cladding – Custom metal perforated panels / Construction Materials – Aluminum and glass cladding / Doors and Partitions – Glass Doors / Sanitaryware – Cera Windows – Aluminum windows / Furniture – MS and leather / Flooring – Gym and SPC flooring / Paint – Royale Asian Paints.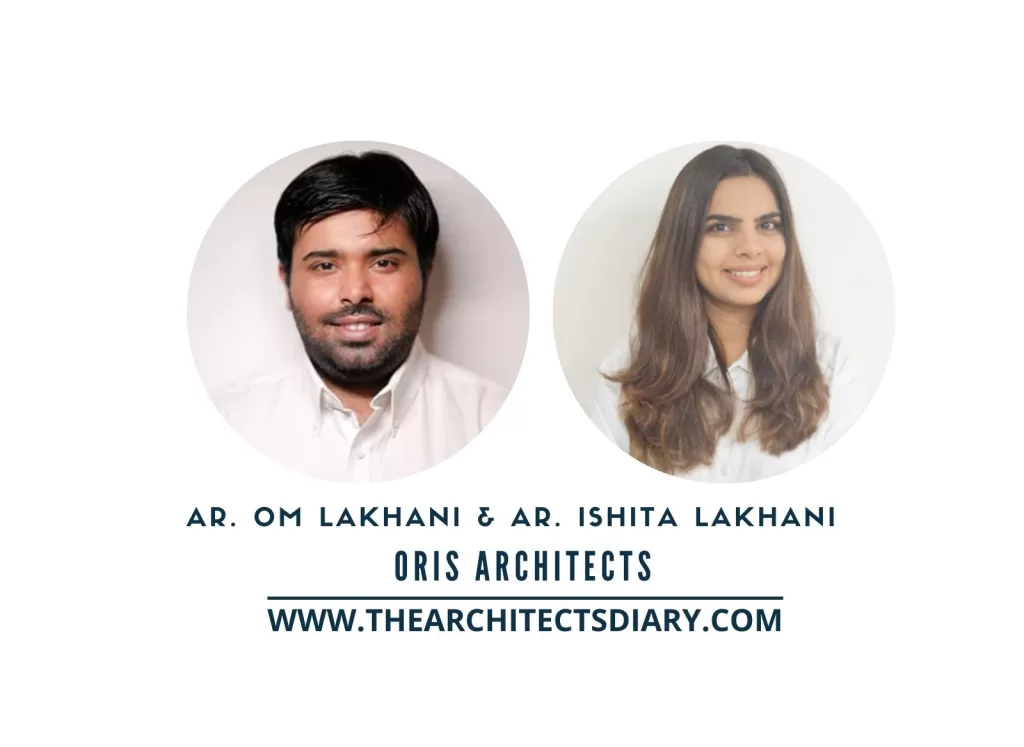 Firm's Website Link : Oris Architects
Firm's Instagram Link : Oris Architects
Firm's Facebook Link : Oris Architects
For Similar Projects >> Chair Design – XOXO, By A Mumbai Based Architect Raj Kothari
The post The Gym Design Is A Blend Of Modern Minimalism And The Raw, Gritty Features Of An Old Warehouse | Oris Architects appeared first on The Architects Diary.