The client approached us with a 2000 sq.ft space with their existing office on the left of this site, they asked us to use half of this space for expansion of their current office and half of this space for a new university experience centre, keeping the spaces 'connected yet apart'. The 45 degree office is one of the few grand experiments in planning of workspaces. This project is an example of offices that are rarely experimented on in terms of planning, gone right and executed beautifully.
The 45 Degree Office is One of the Few Grand Experiments in Planning of Workspaces | EFI studio
Visit: EFI studio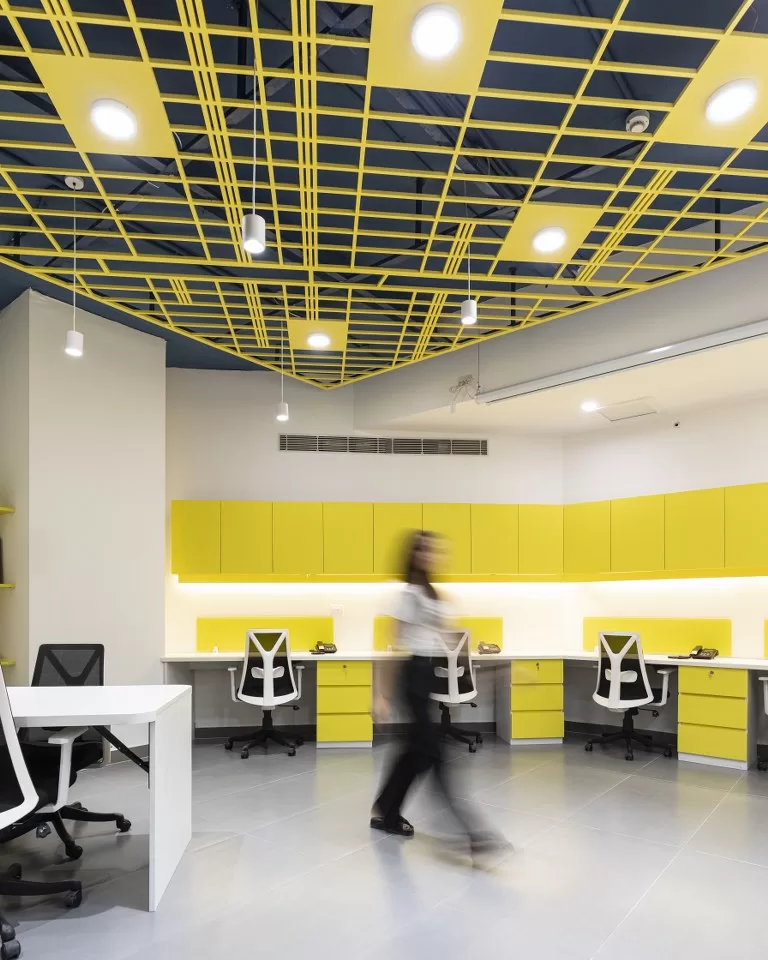 During the design process we realized that this squarish sites best design response lied in using its diagonal and expanding functions along this 45 Degree grid, this allowed the spaces to coexist yet stay apart. The spaces had to be carved out in a unique fashion keeping each little angle in mind to maximize function and reducing acute corners.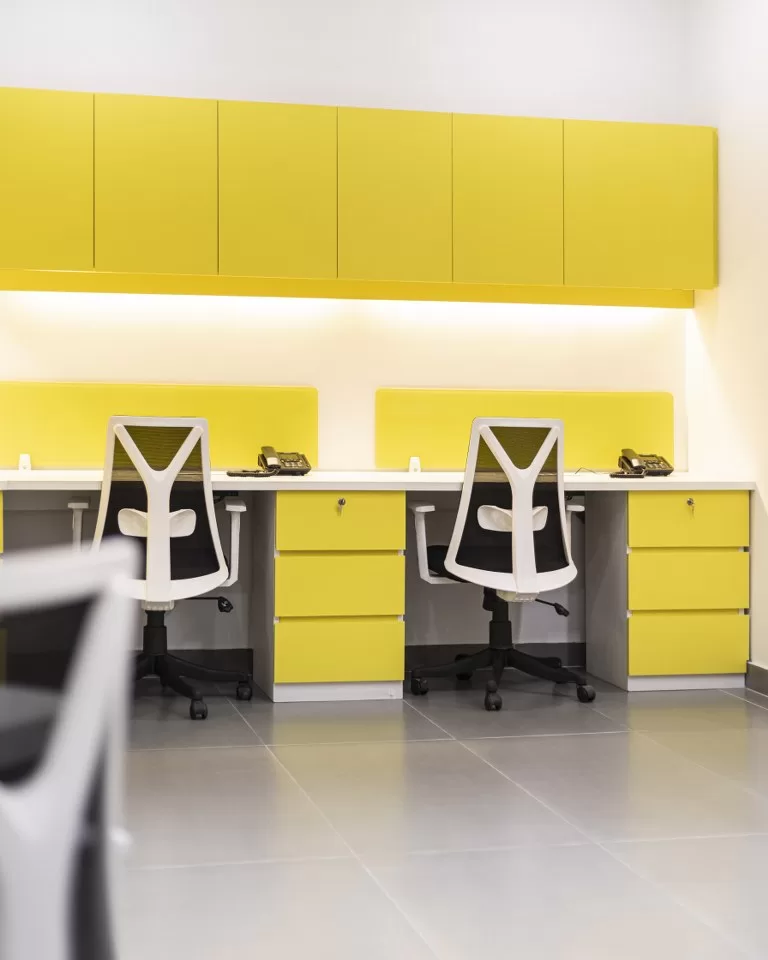 After repeated testing and revisions we were able to achieve this. The second challenge was to make a vibrant colour palette requested by the client to work alongside each other without the end result looking too loud.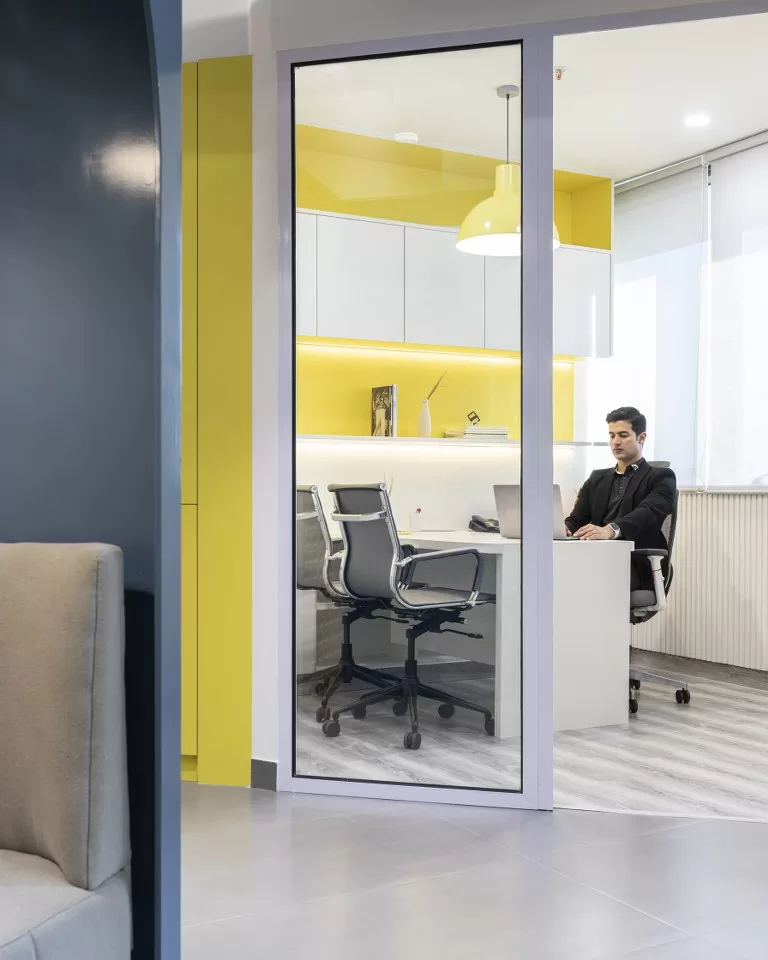 We incorporated a lot of elements to bring out the best in this space like the organic steps in the discussion zone, this room opened up completely with collapsible doors into the working area, the working area features a hot design station that can be folded into the wall and a motorized screen making this space a multifunctional space allowing for the congregation of 50 people for company events.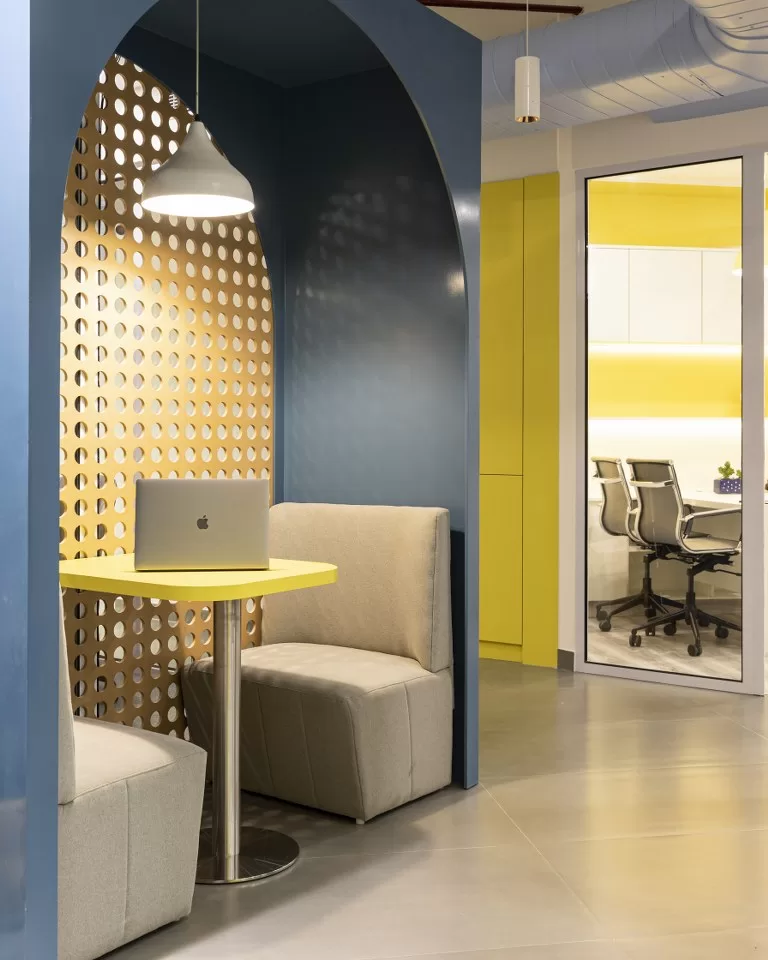 The entrance of the university space features a casual sitting and a coffee station , we decided to ditch the traditional reception setup and incentivize conversations among people by allowing them to sit in pods and pour themselves a cup of coffee.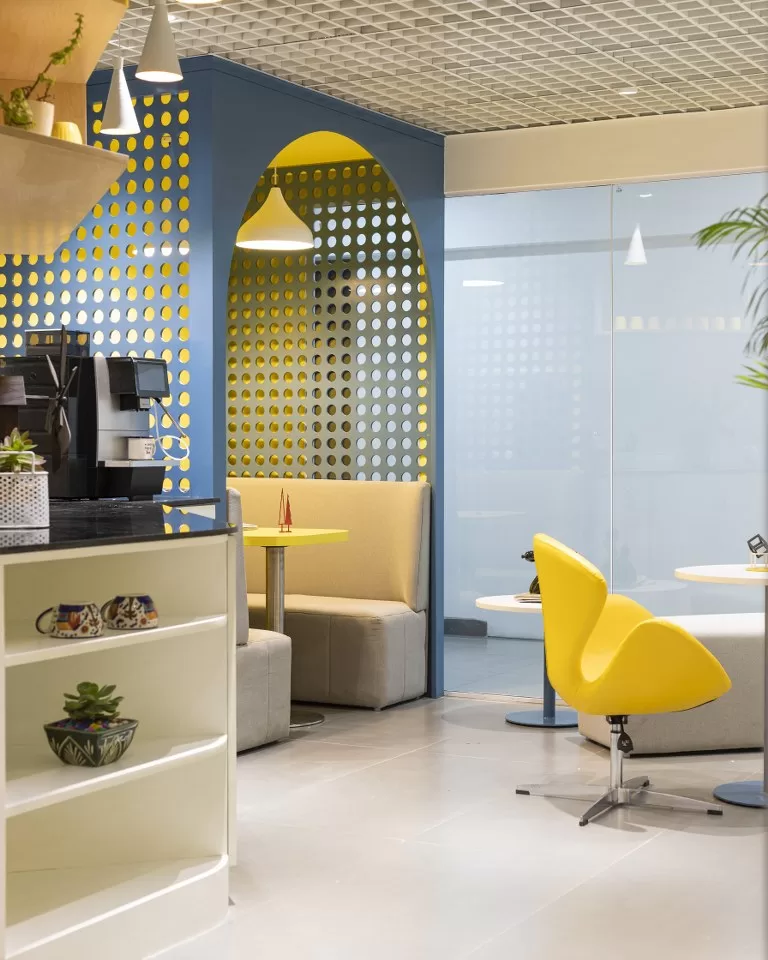 When you enter the space you experience a new zone with each step and the whole office is not
exposed to the visitor due to its 45 degree grid. This allowed for a further gain in functionality of
the space. Each corner of the office has neatly hidden storage spaces, hiding all the services in
them and allowing the client to store all their collaterals neatly.
The space invites people and allows them to discover, it gives a sense of wonder and vibrancy with its palette and the different usages of the spaces keeps people guessing. This grand experiment reinforced our confidence in ourselves as designers and continues to inspire us to keep innovating !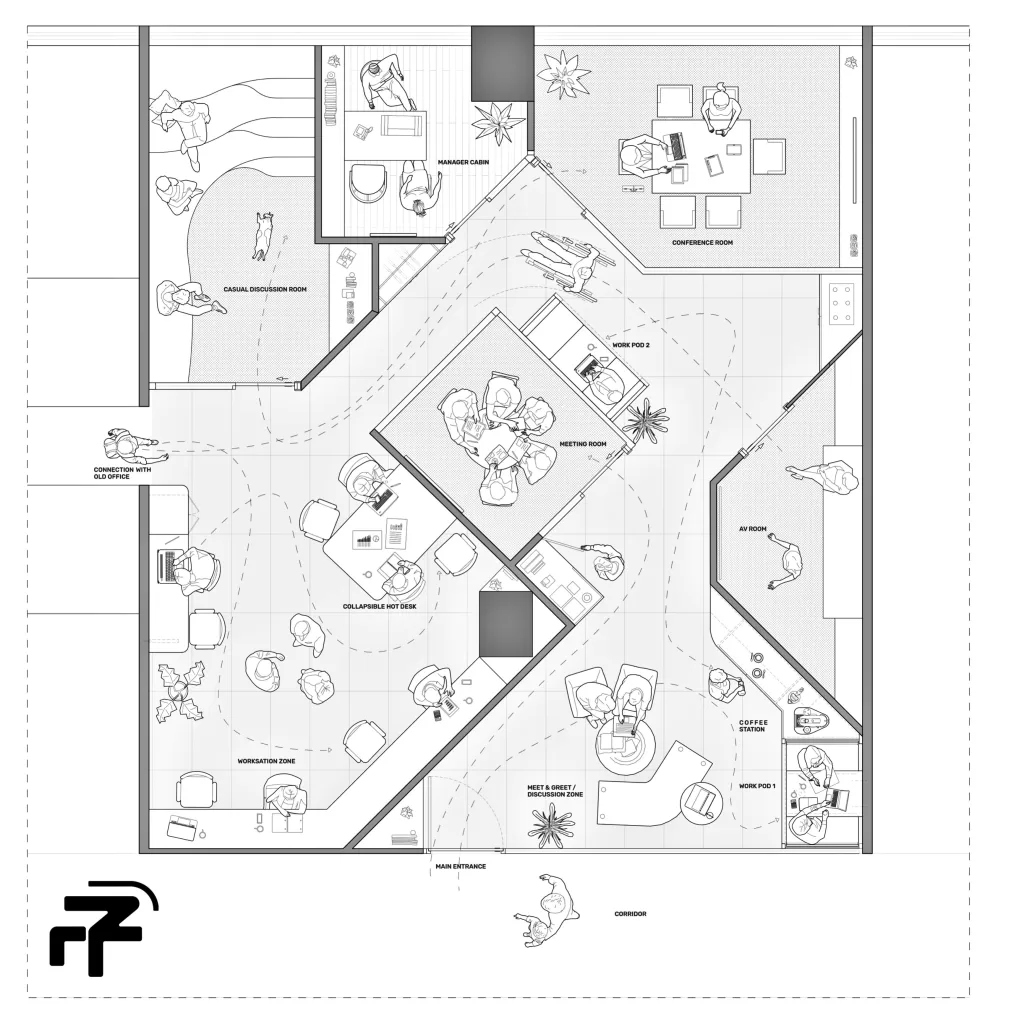 Fact File
Designed by: EFI studio
Project Type: Office Interior Design
Project Name: 45 Degree Office
Location: Emaar Digital Greens, Sector 61, Gurgaon
Year Built: 2023
Duration of the project: 2 Months
Project Size: 2100 Sq.ft
Project Cost: 45 Lakhs
Principal Architect: Ar. Megha Meelu
Team Design Credits: Aman Dhiman & Sanjukta Goswami
Photograph Courtesy: Rahul Sethi
Products / Materials / Vendors: Furniture – Finch Fox / Paint – Asian paints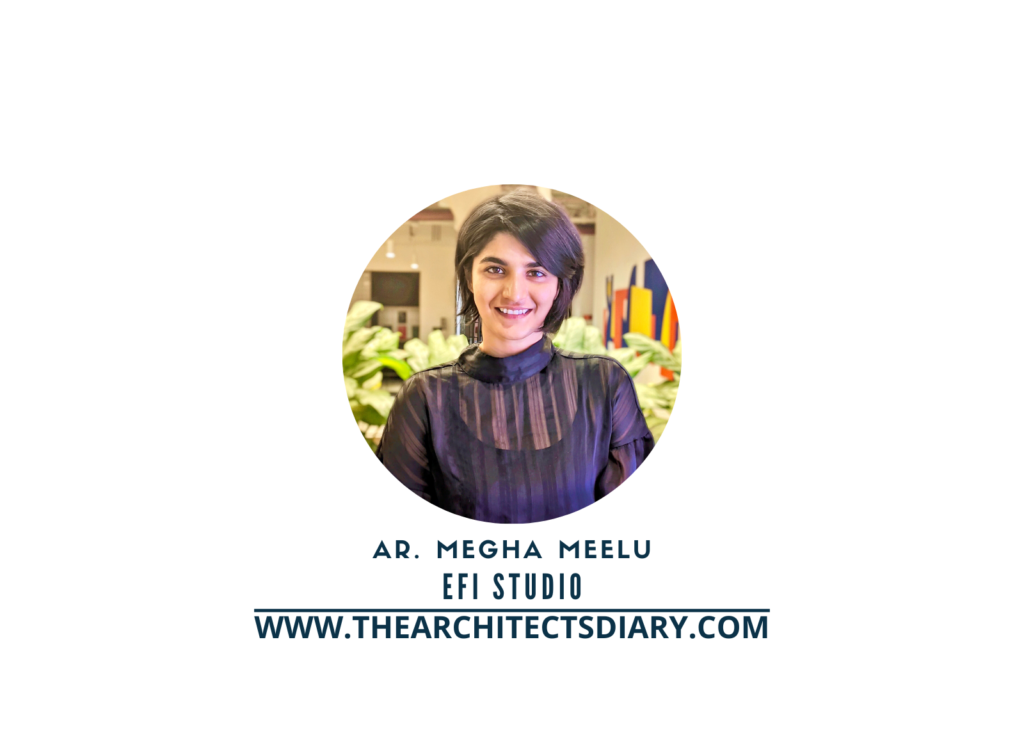 Firm's Website Link: EFI studio
Firm's Instagram Link: EFI studio
For Similar Project >> This Mumbai Office is a Dashing Representation of a Fashion Fiesta
The post The 45 Degree Office is One of the Few Grand Experiments in Planning of Workspaces | EFI studio appeared first on The Architects Diary.