Healthcare interior design has seen a transition since last few years from being a very monotone space to a vibrant and welcoming space. For this project too, the doctor couple who are dermatologist, came to us with a specific intention to create a space which is welcoming, soothing and also help them to create a brand identity. Site is located in Nashik at a very busy traffic node. The clinic was newly purchased property, so offered us a blank canvas with terrace to be enclosed.
Sparsh Skin Clinic Office Interior Design In Nashik, Maharashtra | A+C Design Studio
visit : A+C Design Studio
Coming from a very humble background, the doctor wanted us to design a space which will welcome the patients and instantly make them comfortable and relaxed. Doctor believed in transparency in all the clinical procedure which will be performed and wanted to translate same through the designed space of Sparsh Skin Clinic office interior design in Nashik, Maharashtra.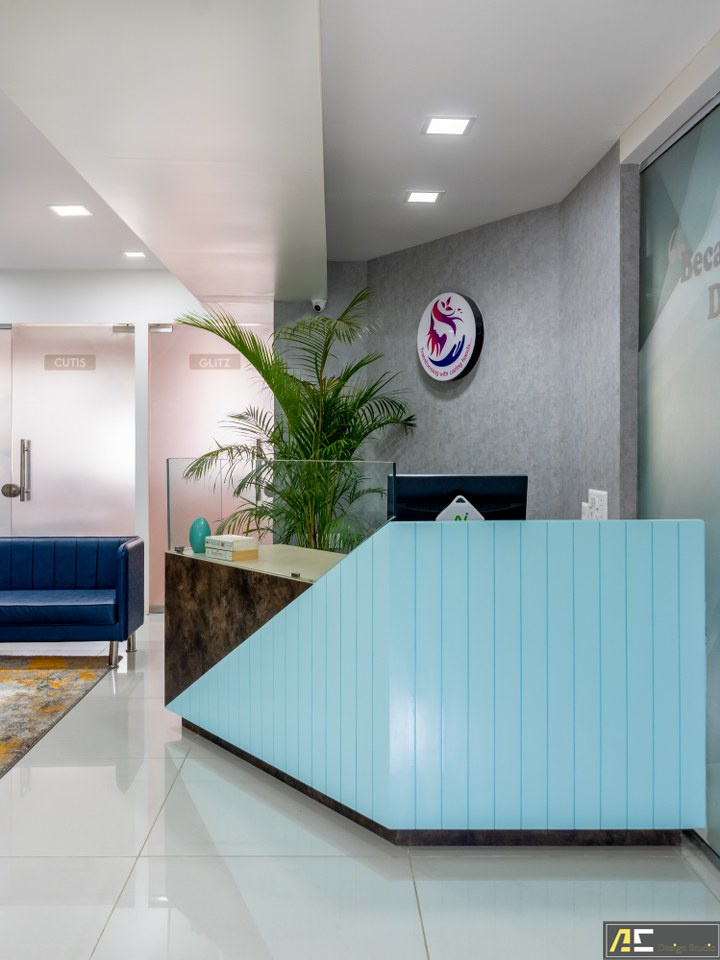 Thus our approach towards the design was to create a space which will have a very calm and soothing feel. The space allocation was done in such a way that it create a clear path for patient as well as doctors movement.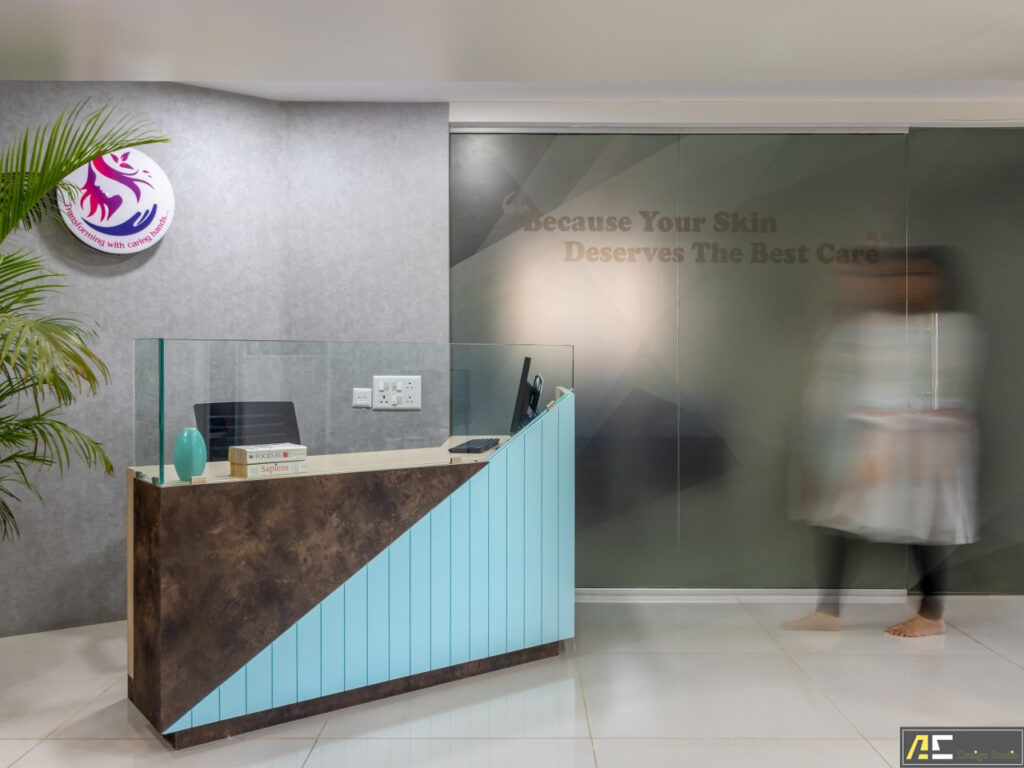 Entry to the clinic gives a direct access to reception desk which has a pastel blue tone and has clinics logo behind it. Waiting area split into two sections helps to keep patient movement organized. Consulting rooms and procedure rooms were placed such to have natural light which helps the doctor in consulting as well as during procedures.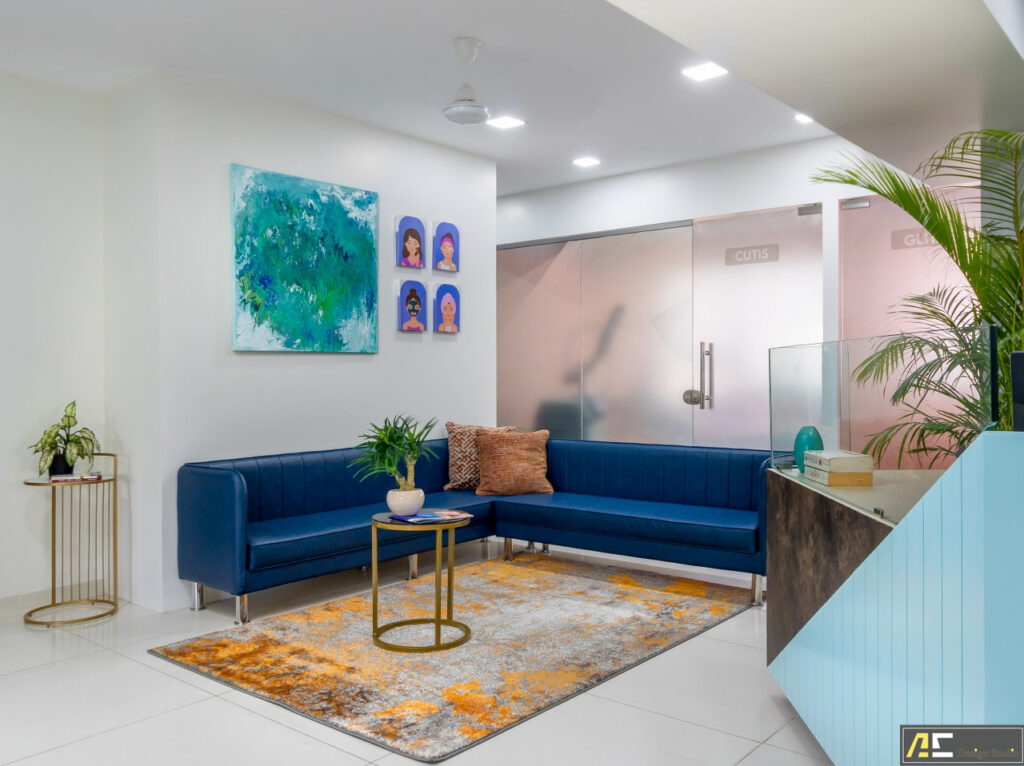 Our main concern was to convey all the treatments which are executed in the clinic. Instead of going through conventional method of displaying, we opted for graphical representation.
To have a good connectivity between both doctors, consulting rooms are connected to each other through a pocket door. Covid pandemic changed the way doctor interacted with patients hence traditional examination bed was replaced by a couch which also makes interaction with patient more comfortable.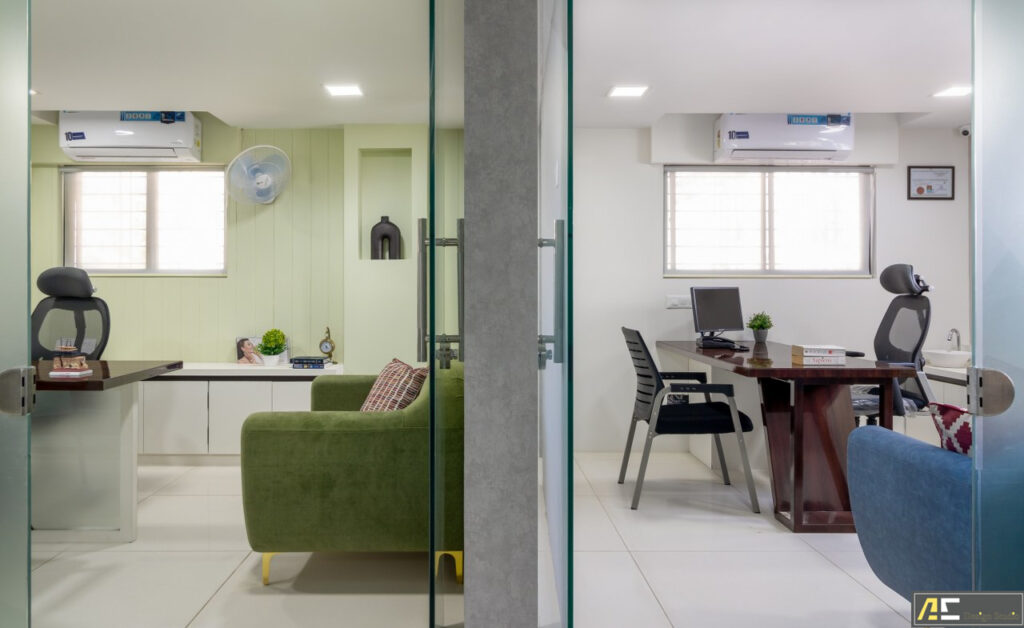 Main doctor has a direct access to the procedure rooms and doesn't have to pass through reception area. An in-house medical store gave an easy access to all medication. Terrace attached to the clinic is used as additional waiting area during rush hours.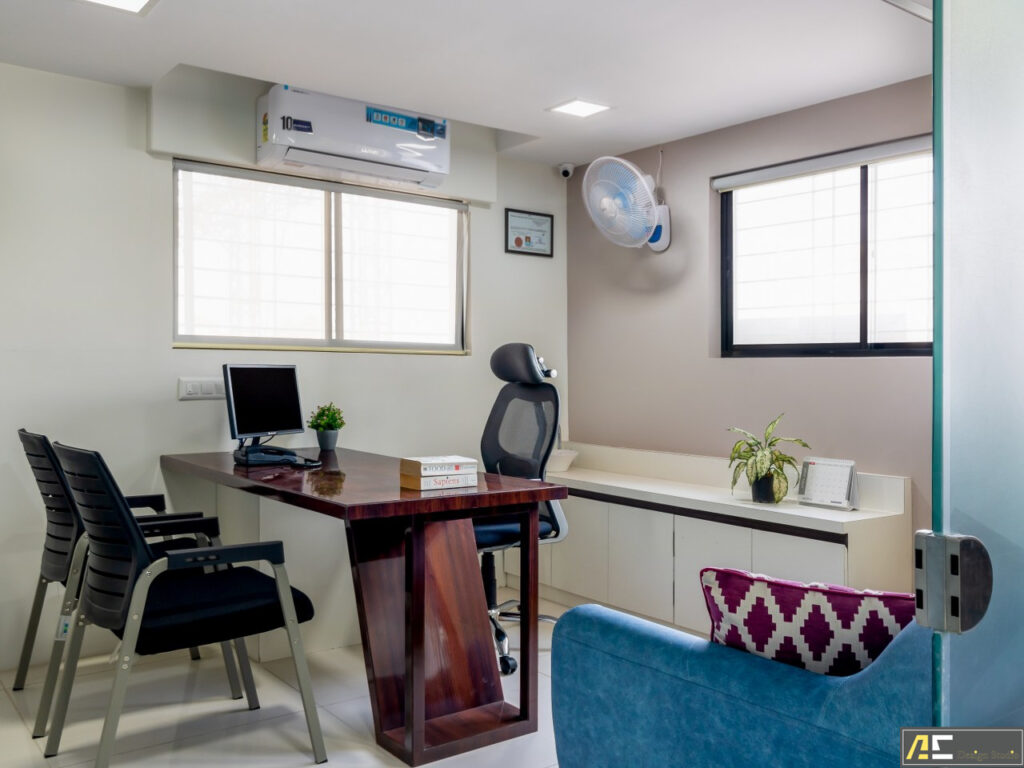 For material palette we chose to use glass as partition between consulting rooms and reception which allows light transmission through windows on external side. These glass surfaces are used as branding canvas. Reception desk has backdrop which hides the passage connecting consulting room to procedure areas. A subtle hue of peach colour gives it a chic and upbeat vibe.
The design approach is distinct for both the consulting rooms. The pastel green and brown makes the room feel bigger and well lit. Minimum storage space with low height cabinet is given behind the table. All the services and ancillary spaces are grouped together for the ease of use near toilet and in the balcony attached to the space.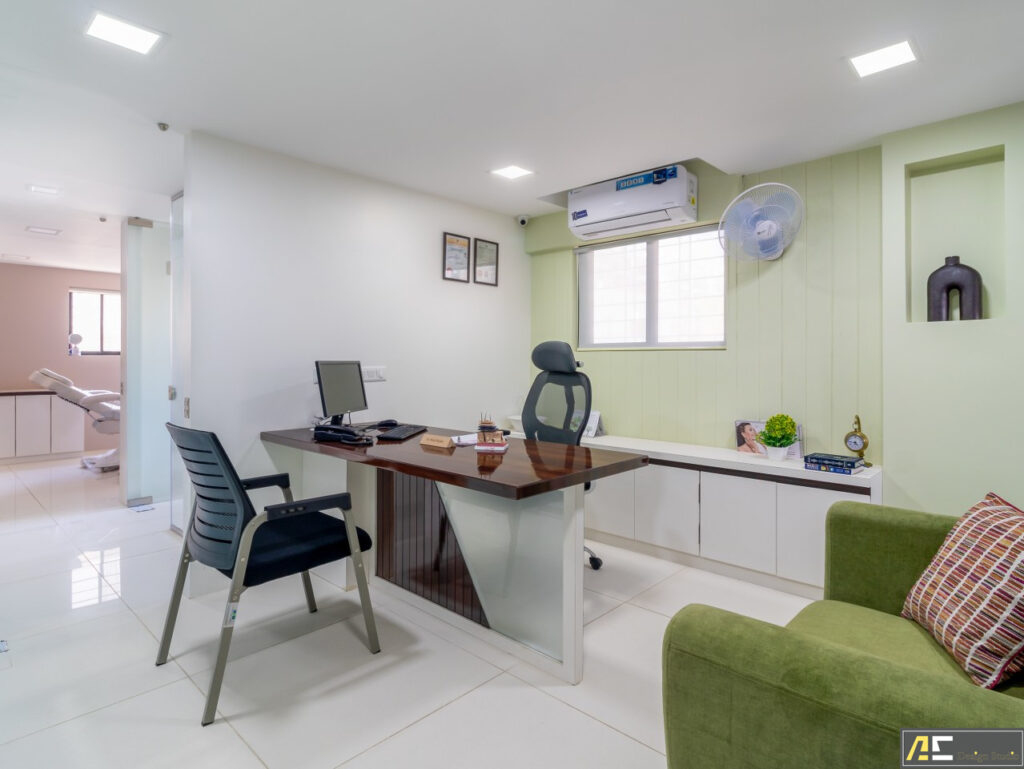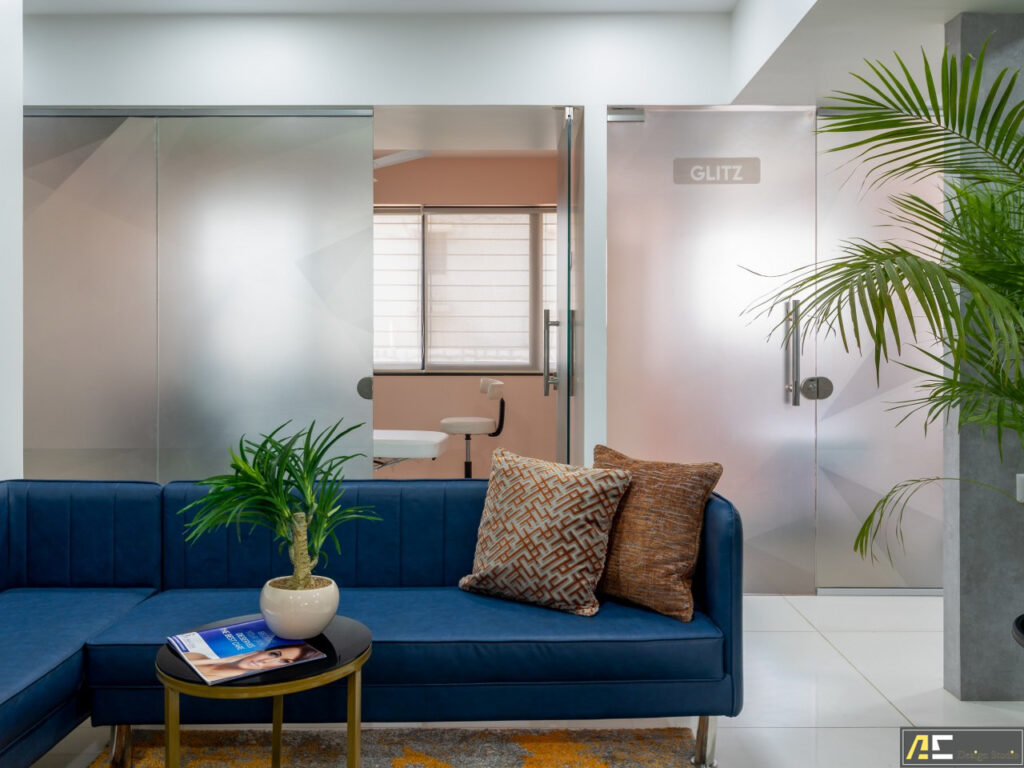 We wanted to move away from the feel of a conventional clinic which overwhelms patient. The overall effect while successfully establishing the clinic as a brand creates a calm and relaxed environment for patients.
FACT FILE

Designed by : A+C Design Studio
Project Type : Office Interior
Project Name : Sparsh Skin Clinic
Location : Nashik
Year Built : 2022
Duration of the project : 6 months
Project Size : 1490 sq.ft
Principal Architect : Ar Aditi Kulkarni
Team Design Credits : ID Rutuja Khairnar
Photograph Courtesy : Yash Katariya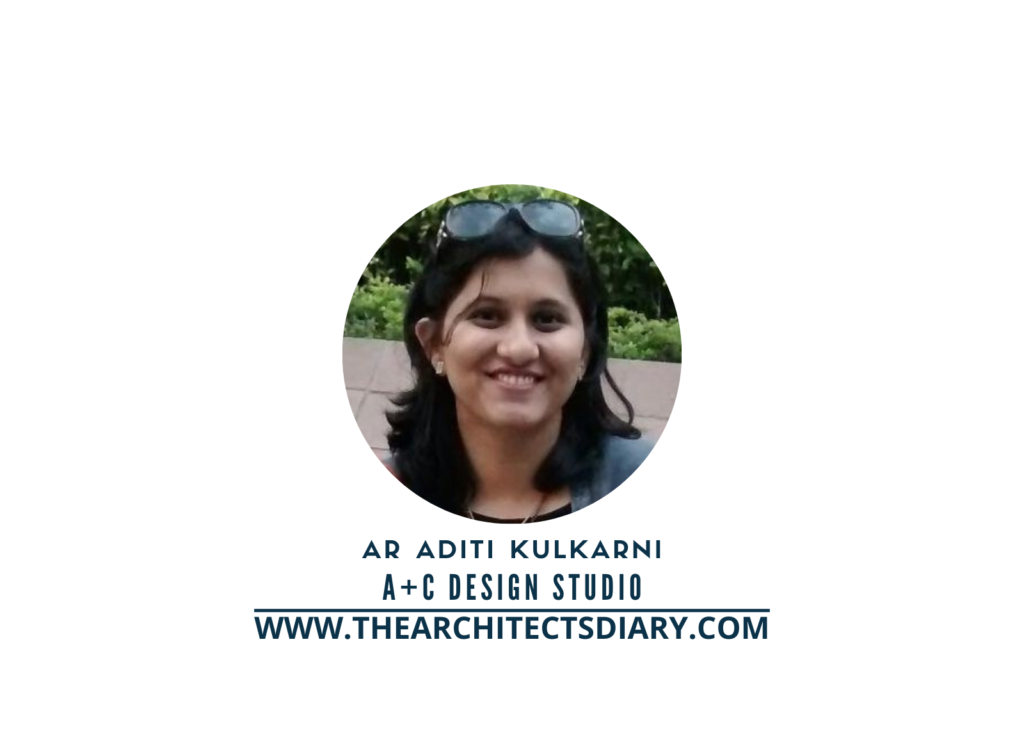 Firm's Instagram Link : A+C Design Studio
For Similar Project >> DISPLAY OF CURVES & NEUTRALS WITH THIS CONTEMPORARY DESIGN OF SKIN CLINIC

The post Sparsh Skin Clinic Office Interior Design In Nashik, Maharashtra | A+C Design Studio appeared first on The Architects Diary.