The brief from the client included three S: simple, spacious and sophisticated office space. One ends up endearing their work even more if the space reflects its true personality. The office interiors are designed for Sai India Gypsum company. This minimalist space features a common entrance with reception and waiting area, pantry, conference room, workstations and three cabins. Transparency is being embraced by today's progressive office's in order to encourage a more open and inclusive work environment. The workspaces are private, yet cohesive.
Simple, Spacious And Sophisticated Office Space | Ankita Sehgal Design Atelier
visit : Ankita Sehgal Design Atelier
The concept while designing was very clear to create a visual attraction point via highlighting the ceiling layer. And showcasing the possibilities of the product: gypsum. The space has 10.5' high ceiling height; which was used to accentuate via creating different ceiling designs for each space using gypsum.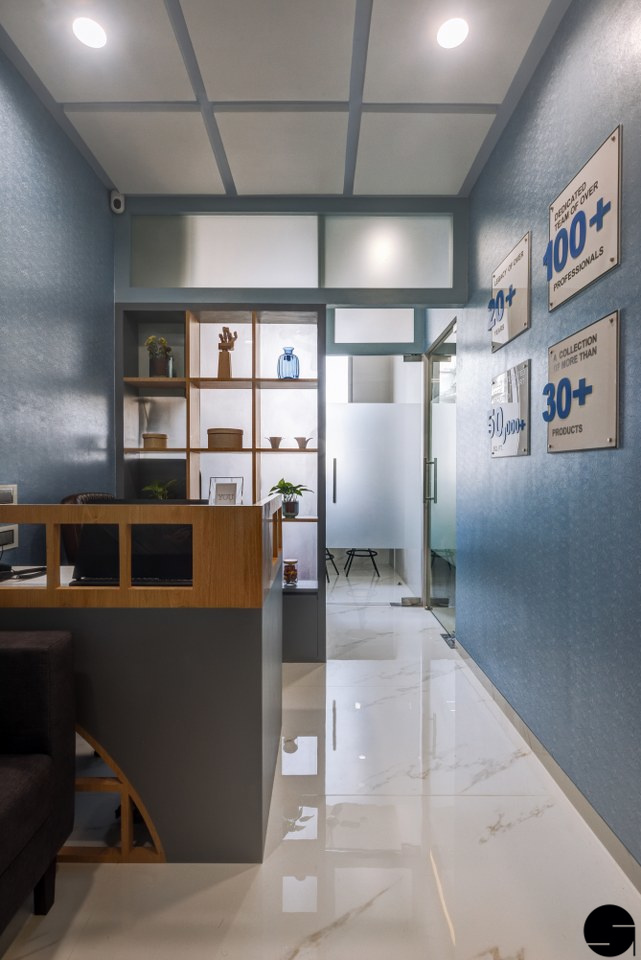 The reception area ceiling is designed in grid pattern with walls finished in texture paint. To achieve maximum day light in the reception area a display unit in glass has been created which acts as a divider.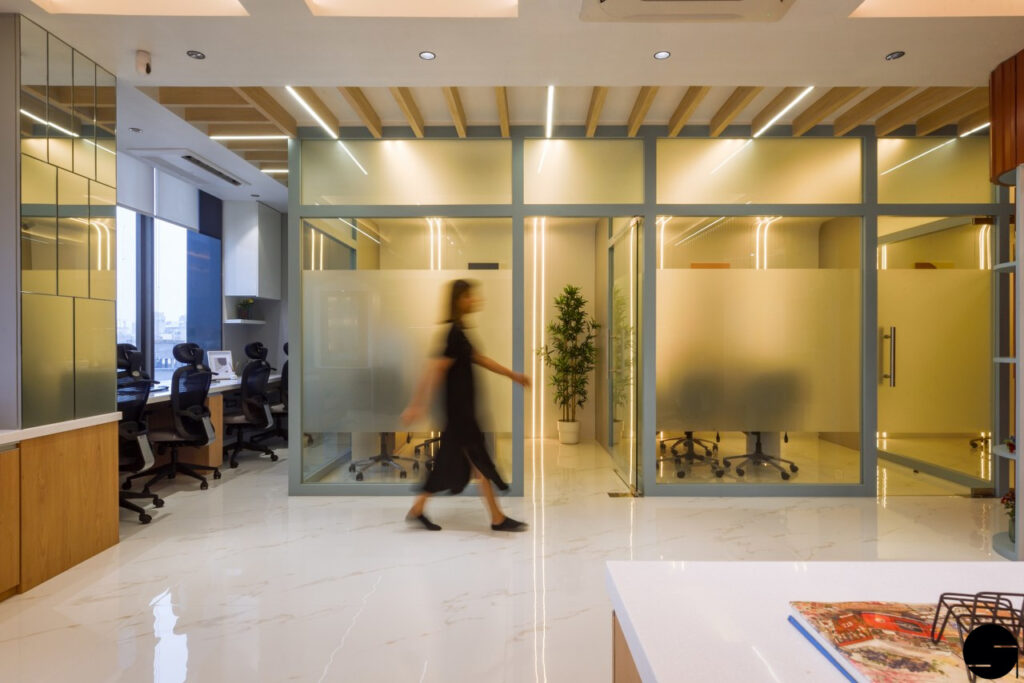 As one enters to the main office space there are two separate entrances further: one for the office staff and one for the visitors leading them to the conference room.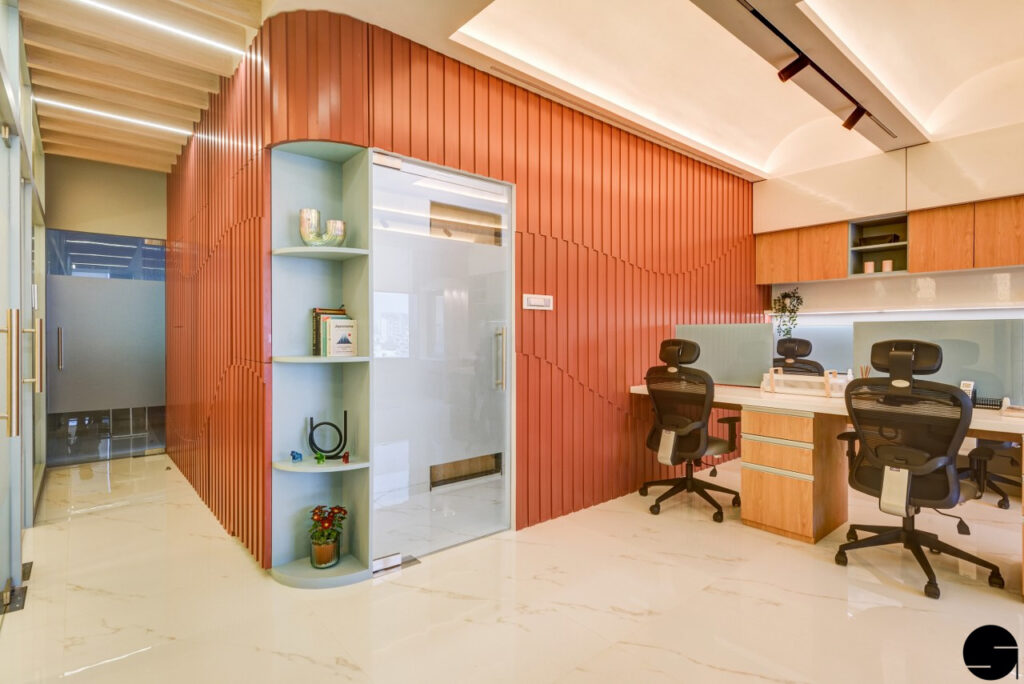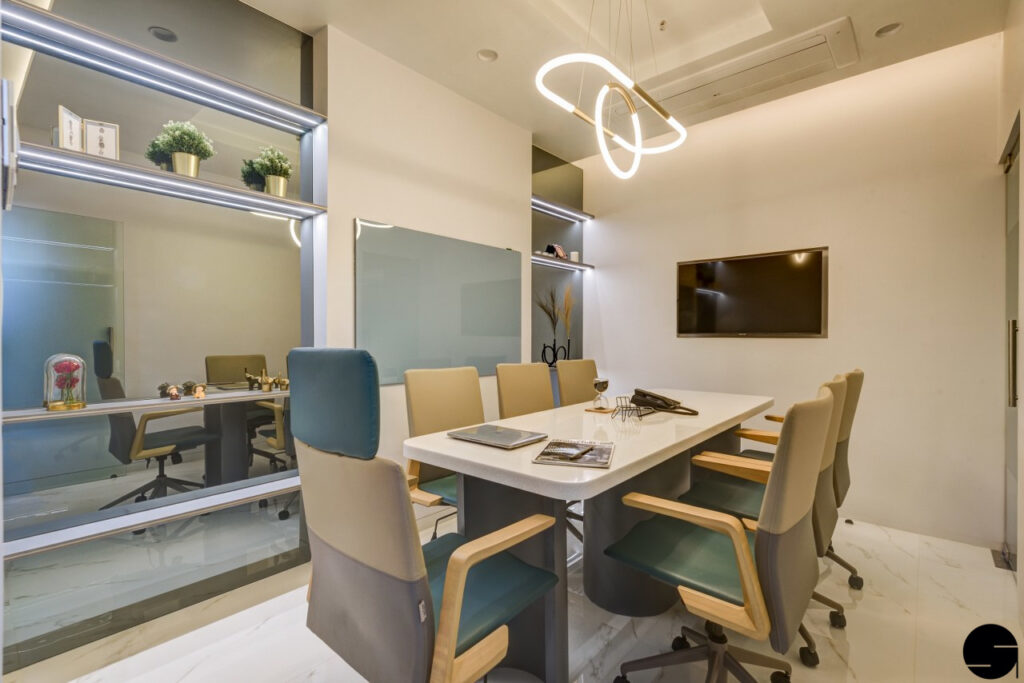 The conference room table is customized in corian top giving it a seamless appearance. The room is adorned with display units with mirror behind giving the spatial depth to the room.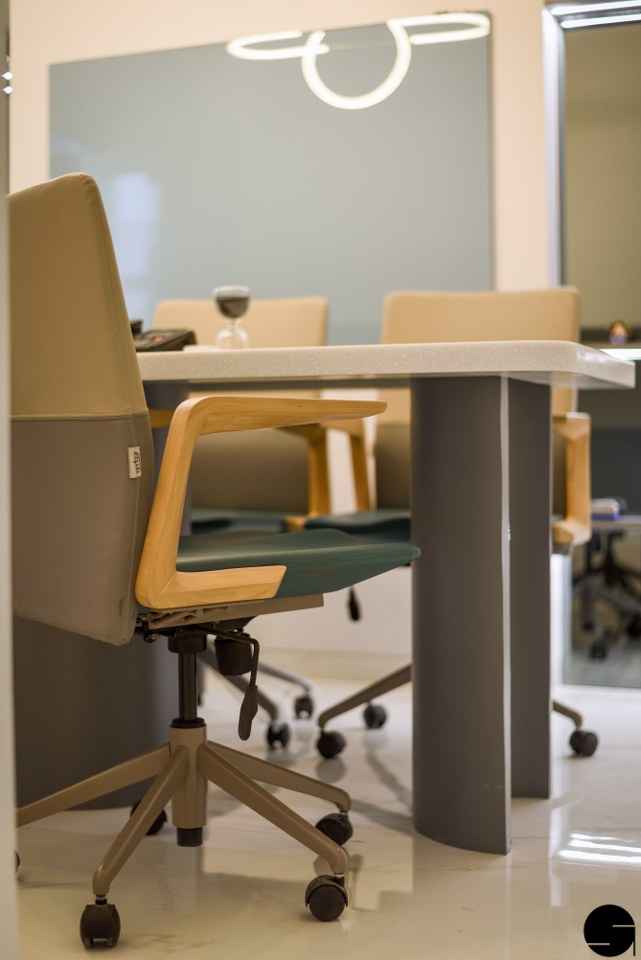 The ceiling layout was designed to integrate the AC ducts, fire system, electrical lights, WIFI, CCTV, etc. The glass partitions helped in creating privacy and a visual connectivity to the entire space; thereafter creating a dynamic space.
The overall tone and materiality of the space is highly inspired by Sai India Gypsum's brand colors and their ethos.
FACT FILE
Designed by : Ankita Sehgal Design Atelier
Project Type : Office Interior
Project Name : Sai India Gypsum Office
Location : Kharghar, Navi Mumbai
Year Built : 2023
Duration of the project : 3 months
Project Size : 1000 sq.ft
Project Cost : 55 lakhs
Principal Architects : Ar. Gautam Nageshkar & Ar. Ankita Sehgal
Team Design Credits : Ar. Ojas
Photograph Courtesy : Ar. Anish Padalkar
Firm's Website Link : Ankita Sehgal Design Atelier
Firm's Instagram Link : Ankita Sehgal Design Atelier
Firm's Facebook Link : Ankita Sehgal Design Atelier
For Similar Projects >> AN INDUSTRIAL STYLE INSPIRED TIMELESS OFFICE DESIGN
The post Simple, Spacious And Sophisticated Office Space | Ankita Sehgal Design Atelier appeared first on The Architects Diary.