Silk Route was an extensive route which was used for trade and movement of goods , people and exchange of ideas. Basically, where people could come and go building memories and relations. So when the project of designing a cafe came in my way and the name was "Silk Route" I had a vision of how exactly this project ought to be. Silk Route is culmination of modern aesthetics mixed with the quaint essence of bygone route. It is a cafe situated in the posh and upmarket neighborhood of Mumbai surrounded by the sea on one side and the rich and famous on the other.
Silk Route is Culmination of Modern Aesthetics Mixed with the Quaint Essence of Bygone Route | Studio Twenty Two
Visit: Studio Twenty Two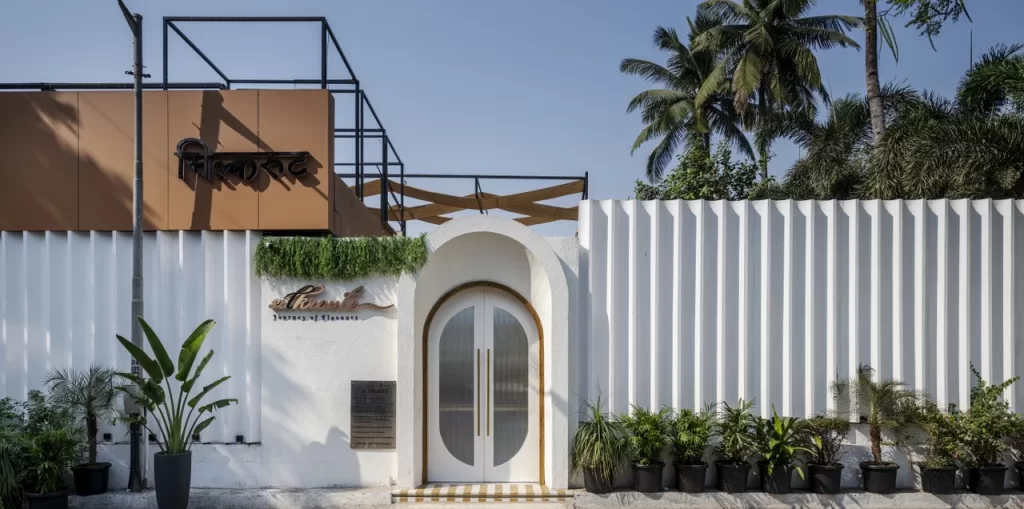 The cafe designs was something to be aligned alongside its name, it's locale and most importantly is the vibe it needs to give out which would make one crave to visit over again. I knew exactly what ambience justice to this place would do so considering all the factors the place which struck me was Goa.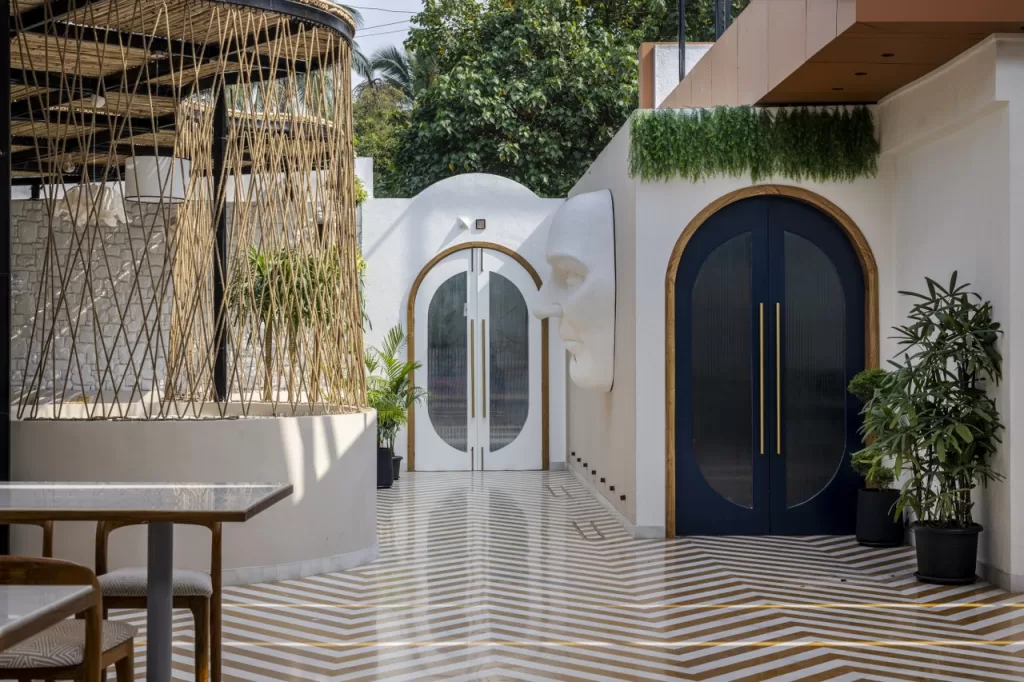 The chilled laid-back atmosphere with fun and frolic and good food of the region was inspiration for my design for Silk Route.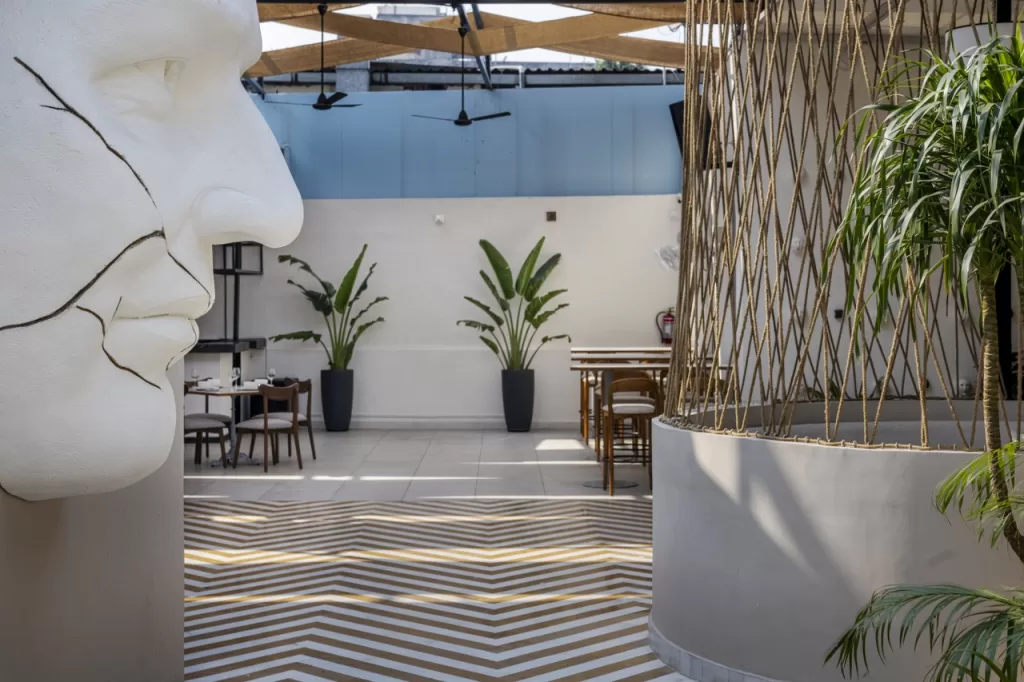 I wanted something which was not shouting "loud" but a more subdued, aesthetic look. They say what attracts first is the outer look so hence I went for white with the backdrop of nature. A first look and one can feel a calming effect.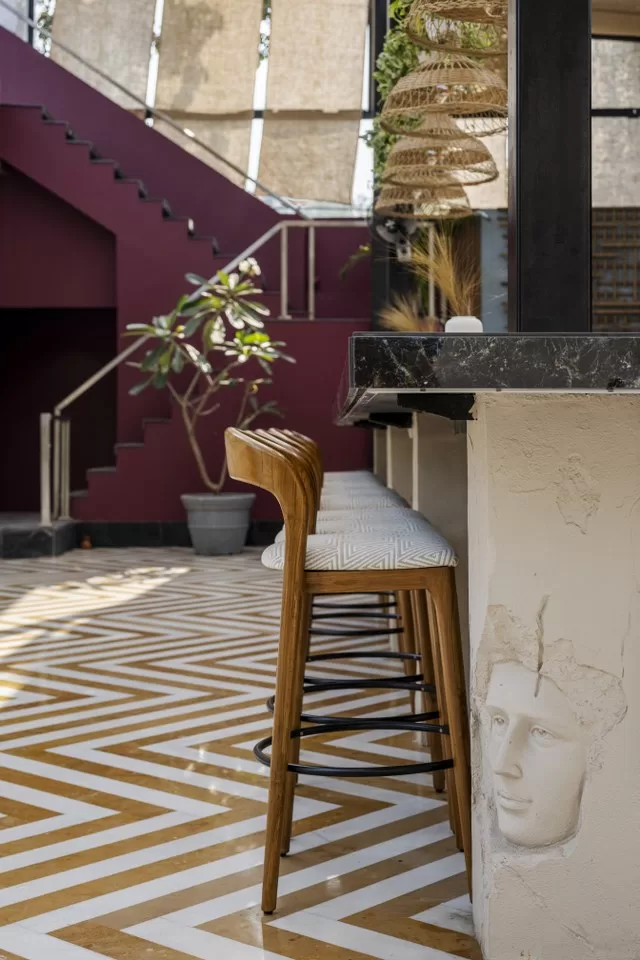 The inner decor was something to be matched with the surroundings. I opted for a more subdued look keeping up. The simplicity but the same time would look exquisitely attractive.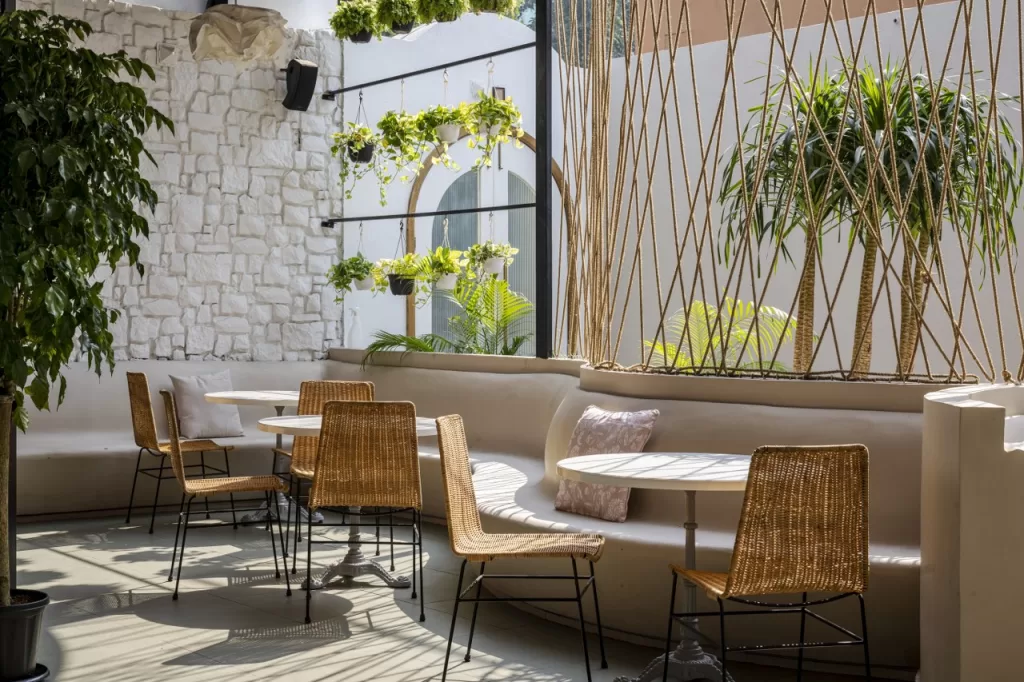 The playful blending of the subtle colors not only enhances its look after the dark sets in but also vibes well with the morning sun rays stroking inside.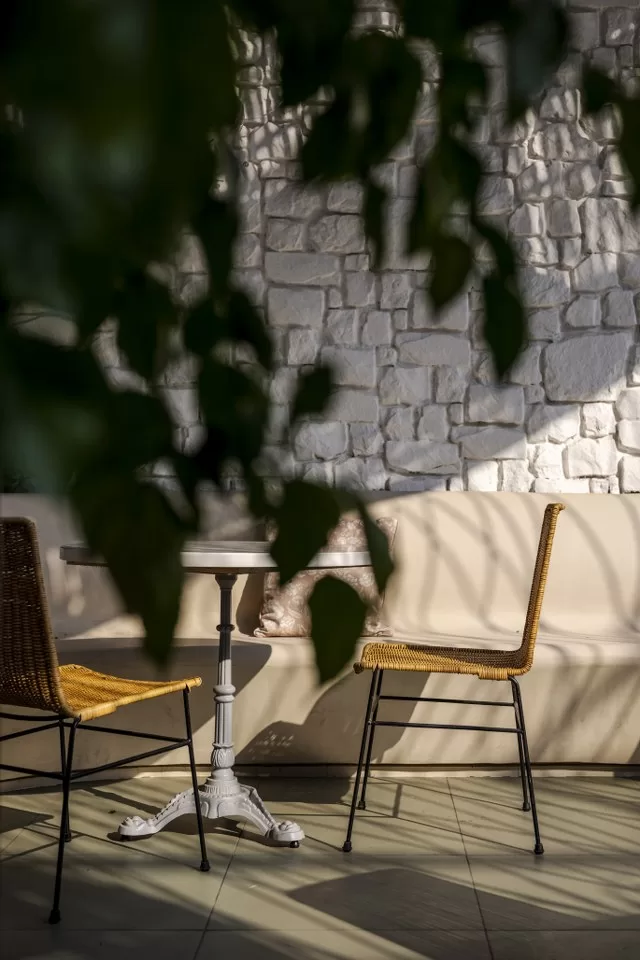 Also the interior is not all subtle. There is a dash of vibrant colours blending in with the white upholstery. The red backrest of the sofas makes one feel like it's a route to places unknown which again is an ode to its name.
The fusing of greenery within makes one feel one with nature, to relax one's mind, to soak one's thoughts, to be joyous.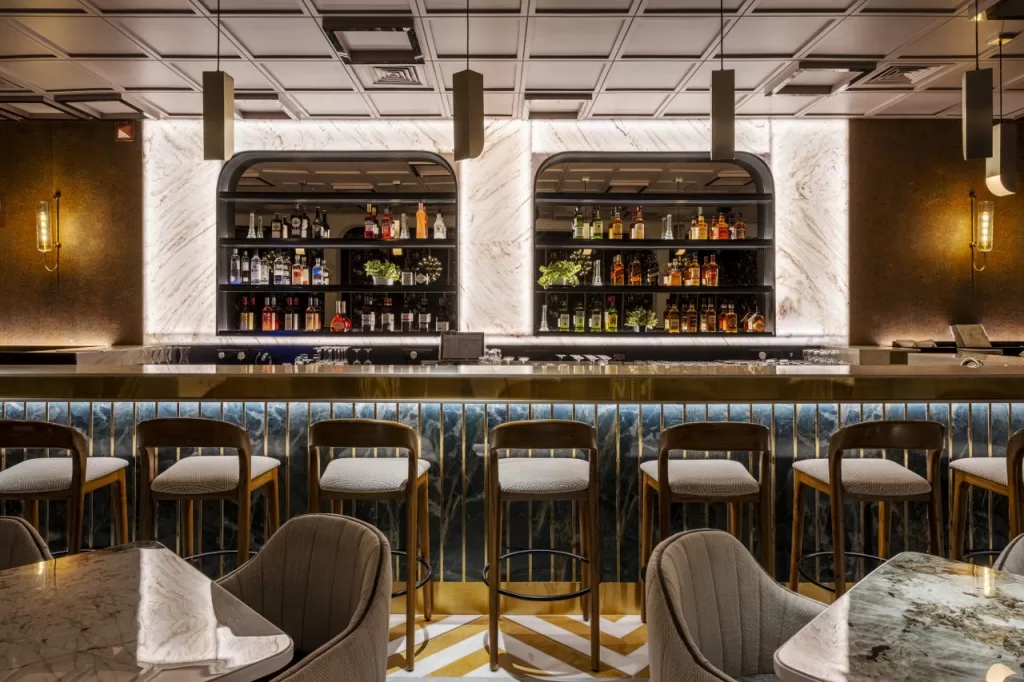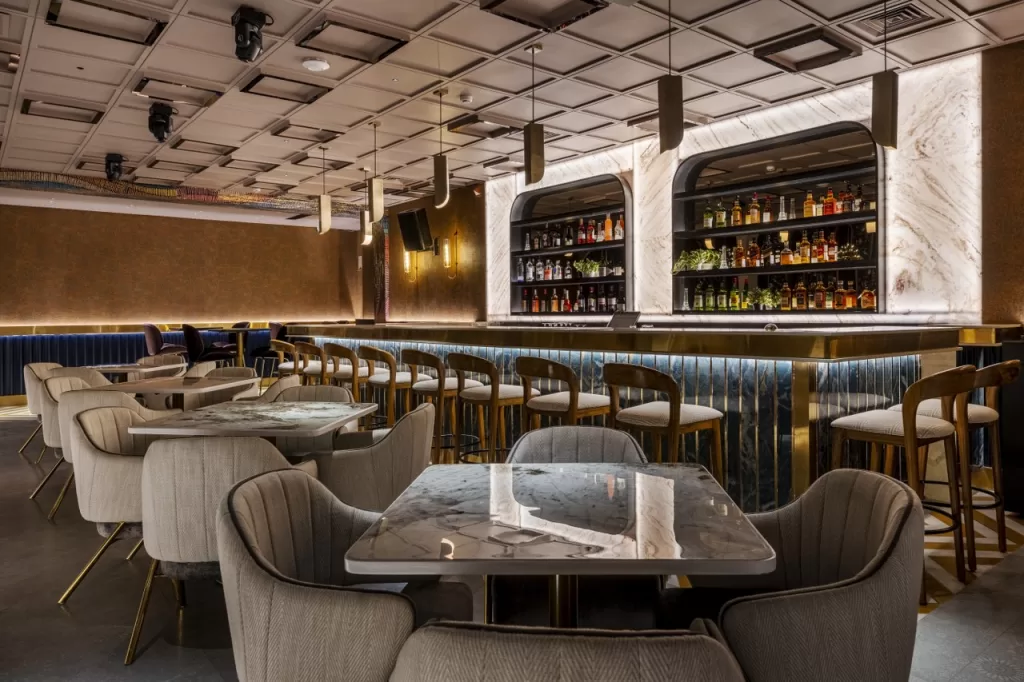 The stark contrast of the ceiling and floor is like both wanting to fuse one another leading to a burst of overall beautiful look which enhances the beauty of the arena, just like the sea and sky.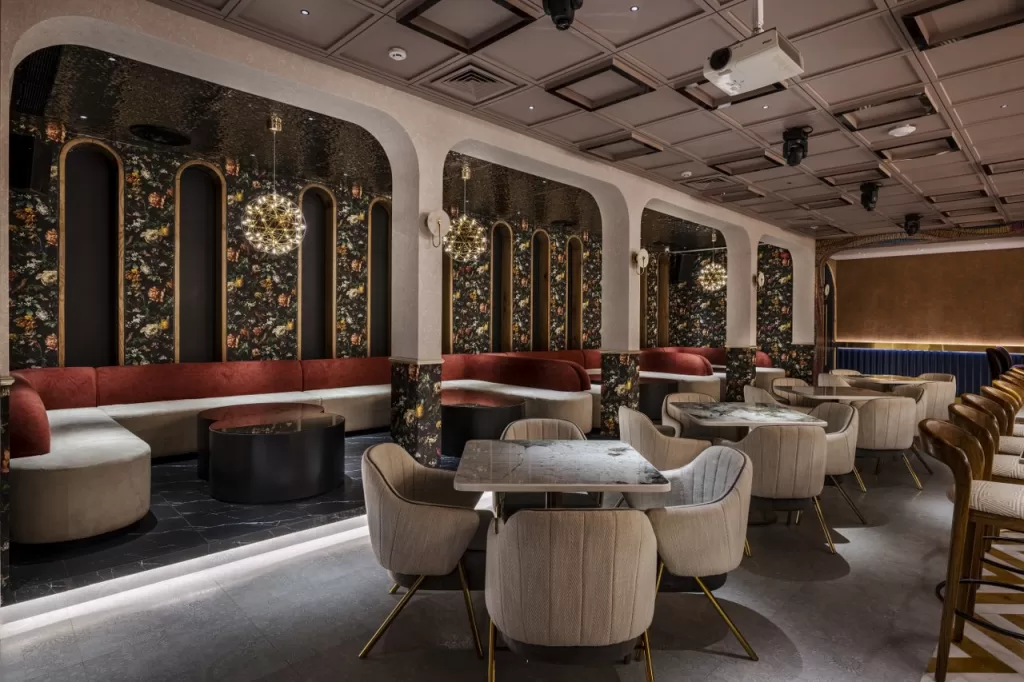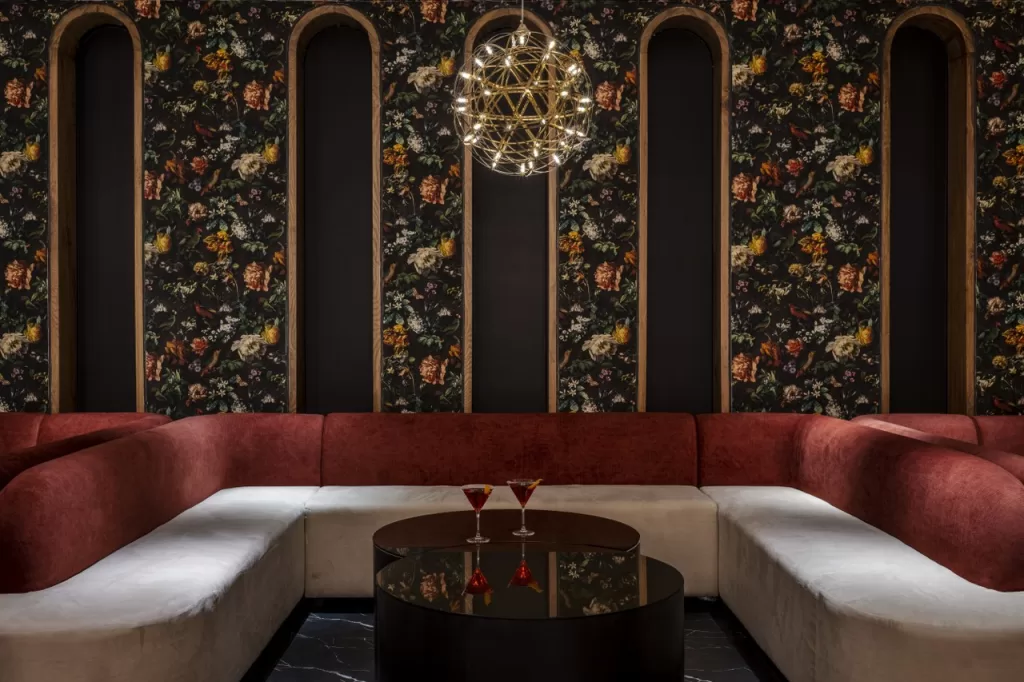 The lights all around plays with the decor giving out an ethereal effect. A combination of fire and ice. Vigor with Calmness.
Featuring an extremely modern vibe, SilkRoute restaurant's washroom was ornated by artistic human face elements on the exterior wall with modern light fixtures.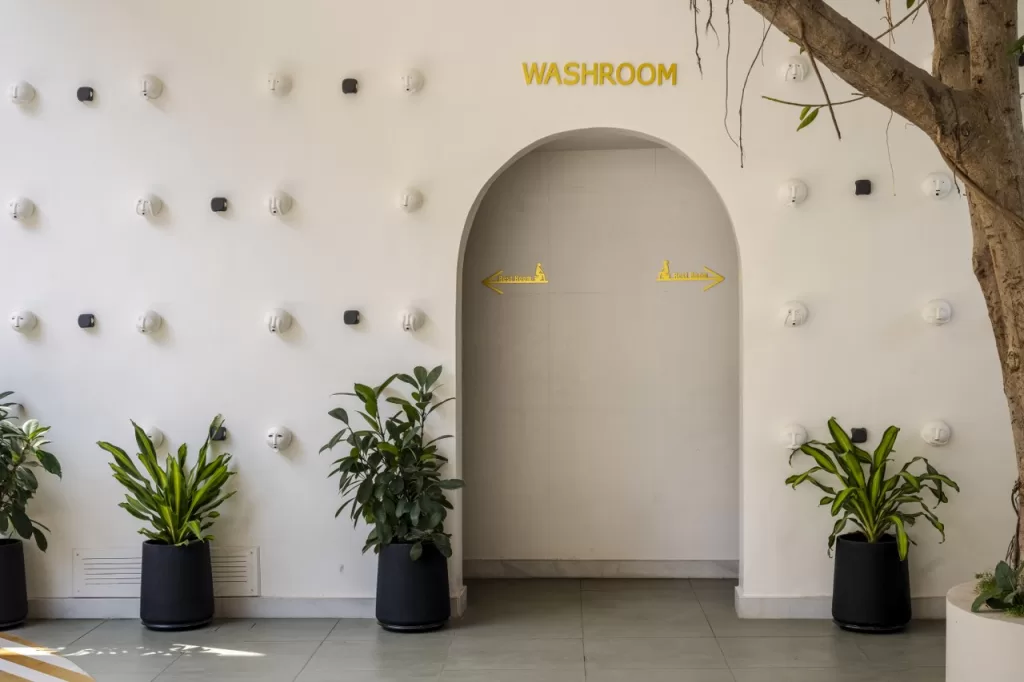 The men's washroom décor with dark theme walls while the women's washroom décor with a shade of red theme.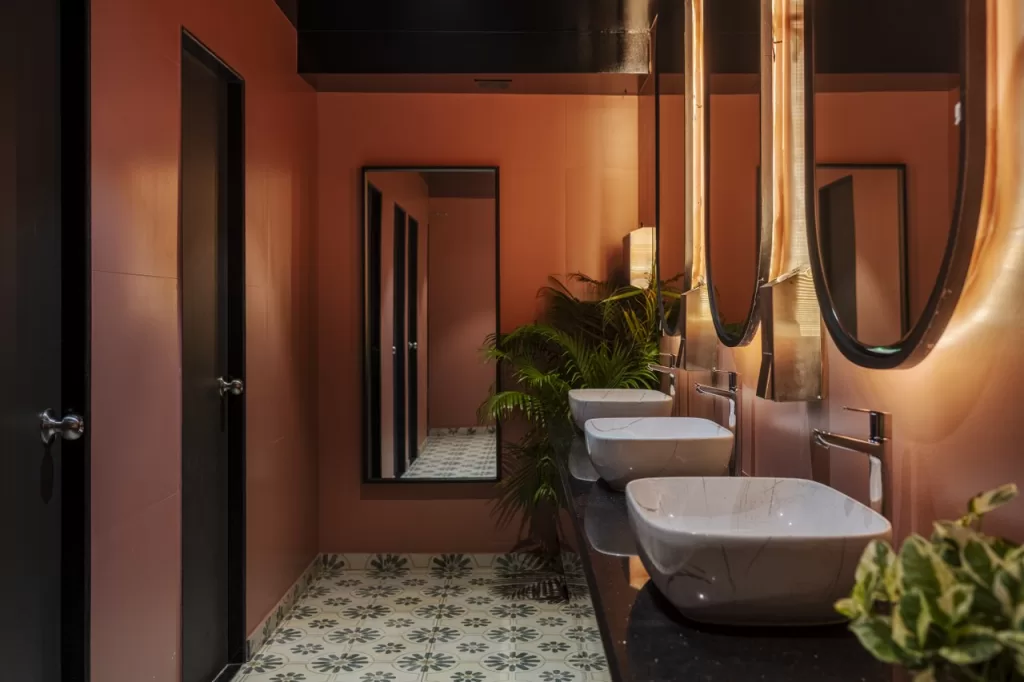 The Merola tiles on the flooring are used for both the washroom which is accentuated with capsule-shaped mirrors and white sanitary fittings. Whereas, lighting fixtures add charm and give a modern look to the area.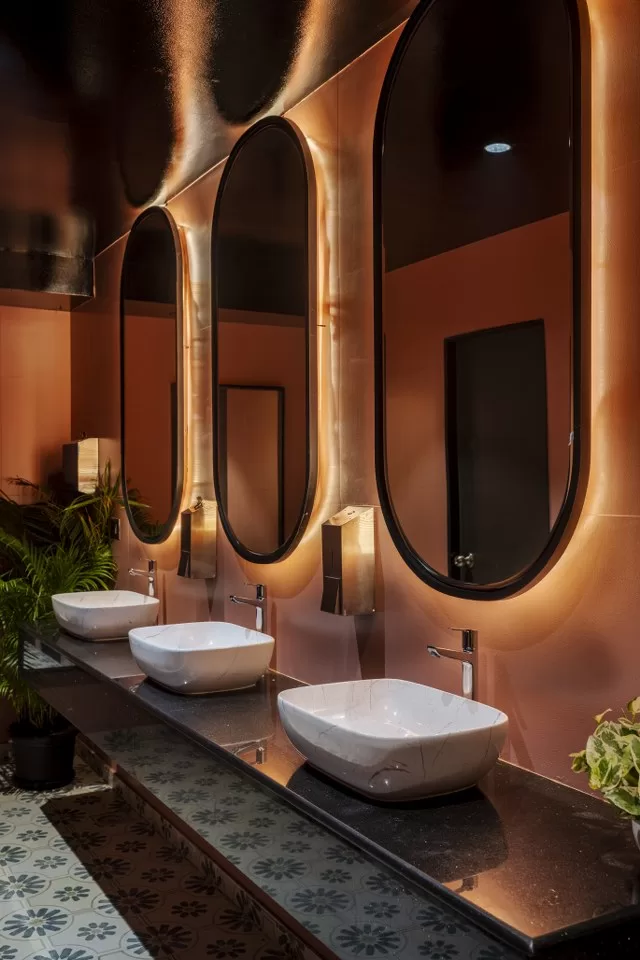 The entire space is lit up with modern light fixtures which provide a beautiful shadow while one dines in the place, tying up and making sure the different elements come together as one cluster.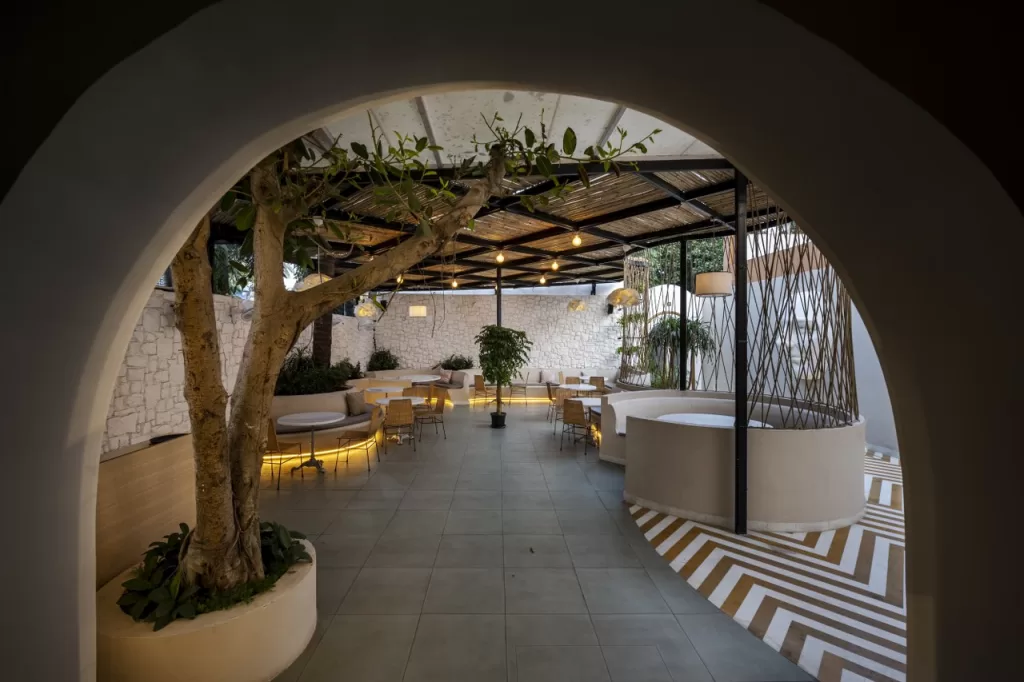 The restaurant is illuminated by a diverse range of lighting fixtures that have been specially crafted and prototyped to blend with its surroundings at the same time act as an element of sculpture. Due to lighting fixtures night view of the restaurant creates a good atmosphere and reflects elegant decor.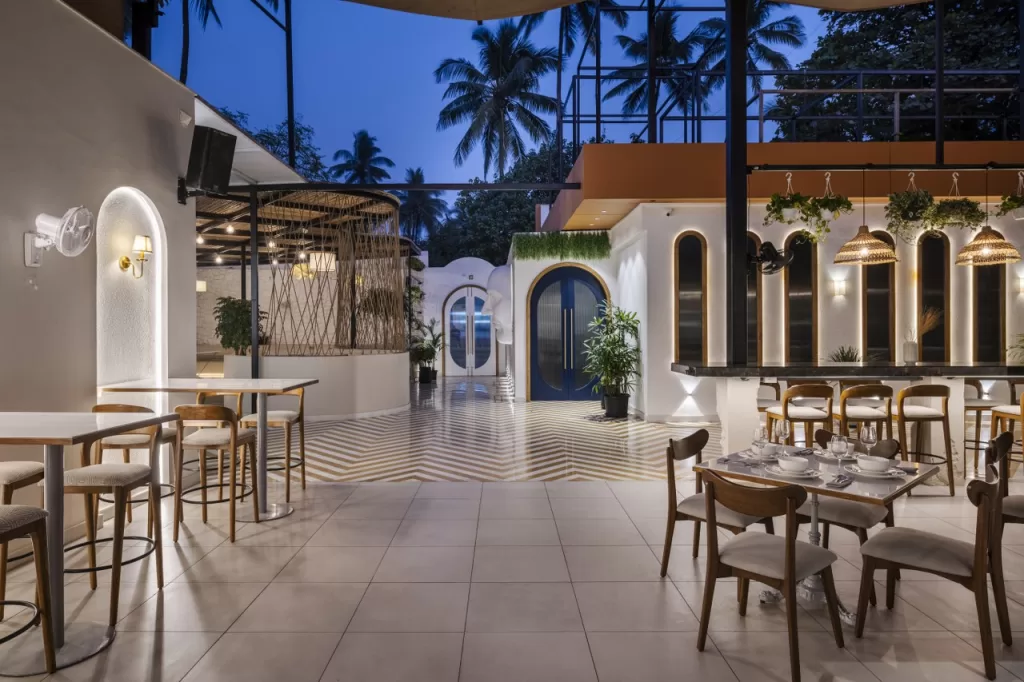 Every aspect of the place has had a thorough detailing with proper research , many experiments, much brain storming creativity and the result is the one which is now "Silk Route". A beautiful ambience with a soothing effect.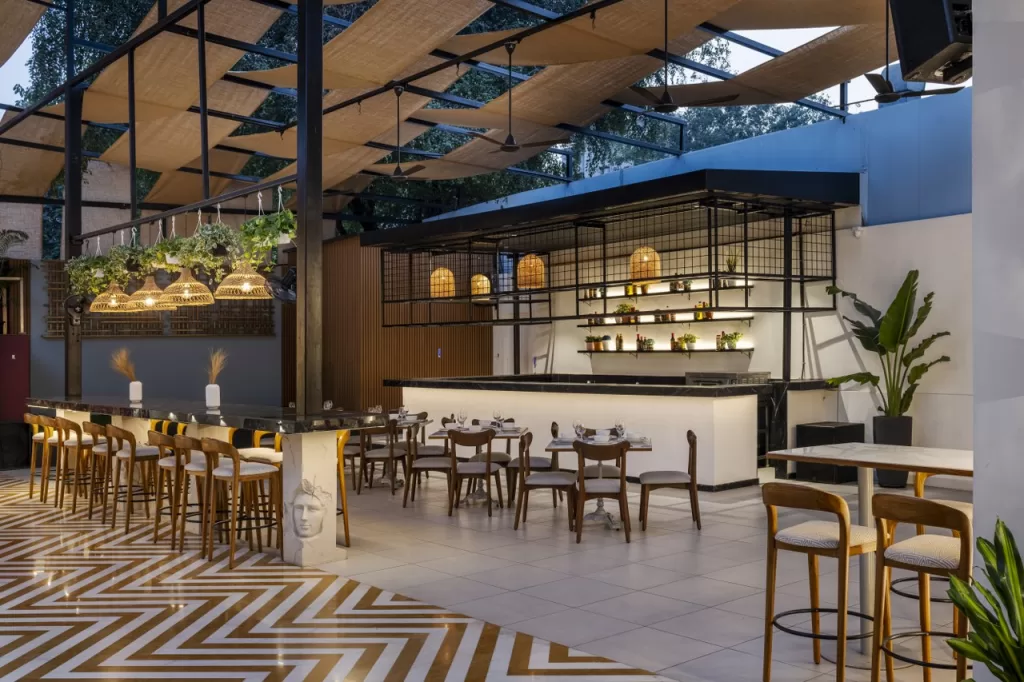 A much effective place to unwind oneself after a long day's work, or to get together and chill in the amazing aura of the place with amazing food.
Happy Chilling and Bon Appetit!!!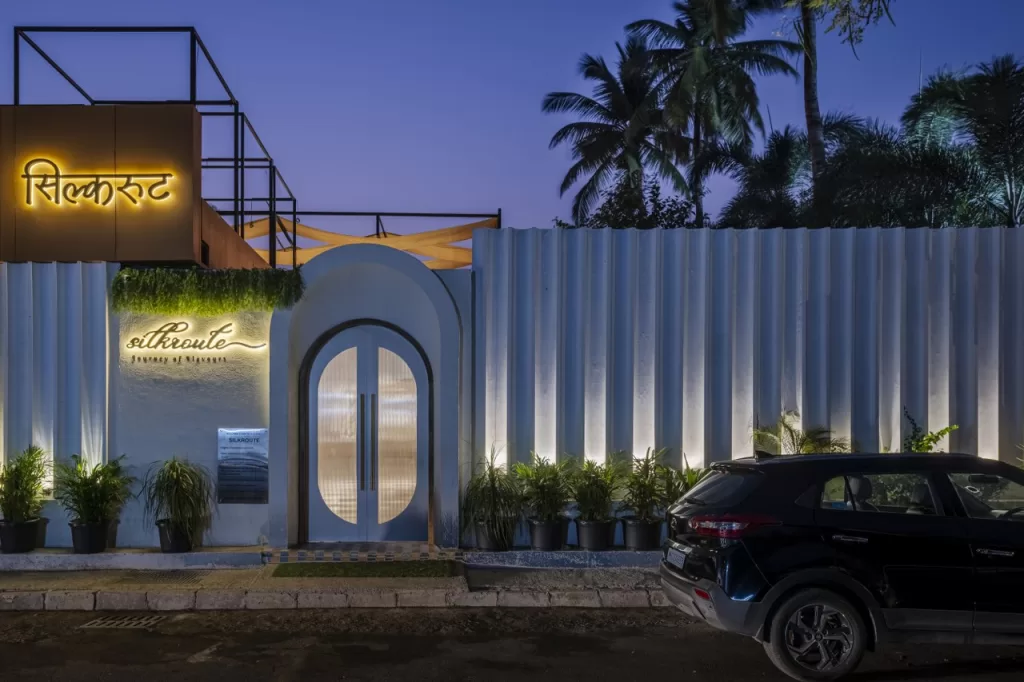 Fact File
Designed by: Studio Twenty Two
Project Type: Restaurant/Bar/Cafe
Project Name: Silkroute The journey of flavours
Location: Juhu, Mumbai
Year Built: 2022
Plot Area: 7500 Sq.ft
Principal Architect: Prachi Satam
Team Design Credits: Contracting – Bhawar Mistry, Mohanlal Misty A& Sons
Photograph Courtesy: Prashant Bhat
Products / Materials / Vendors: Wallcovering / Cladding – Wallpaper Asian paint / Lighting – Tisva / Furniture – Woodsvilla / Flooring – Altas / Paint – Asian paint / Wallpaper – Asian paint / Hardware – Haffele DMX / Lighting – LUMA GROUP
Firm's Instagram Link: Studio Twenty Two
For Similar Project >>> A Satvik Restaurant, Element 3 Stands as an Oasis of Tranquility and Nourishment
The post Silk Route is Culmination of Modern Aesthetics Mixed with the Quaint Essence of Bygone Route | Studio Twenty Two appeared first on The Architects Diary.