To bring to reality the picture painted above, the client presented us with a site that was extremely challenging, it was in his basement with only exhaust livers extreme dampness, large thick rotted walls and a height clearance of only 6ft. Our vision was to make the space feel large and luxurious, we wanted a person to walk inside and not see where the bar ends and feel that they walked into a spacious room. But the challenge was to do that while keeping the spaces cozy essence.
Seamless & Timeless Deco For This Luxurious Bar And Lounge | OLL KORRECT DESIGN (OKDI)
visit : OLL KORRECT DESIGN (OKDI)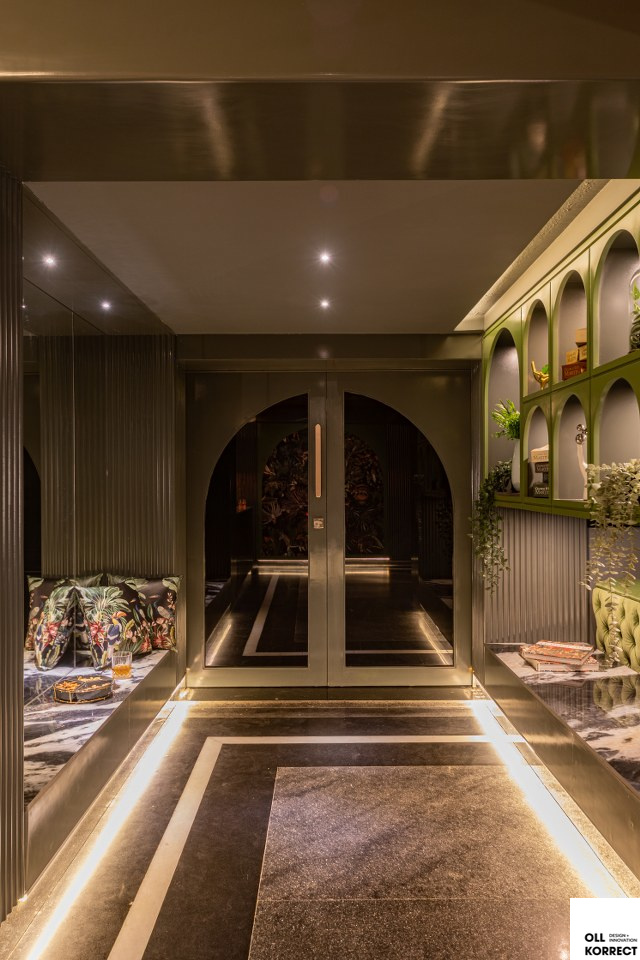 We adopted the art deco theme using a chrome finish reflective ceiling only taking up 1.5 inches of height, combined with low height sofas and dim lighting so that the reflections stay to the minimum made the lounge seem cozy and luxurious instead of cramped and small.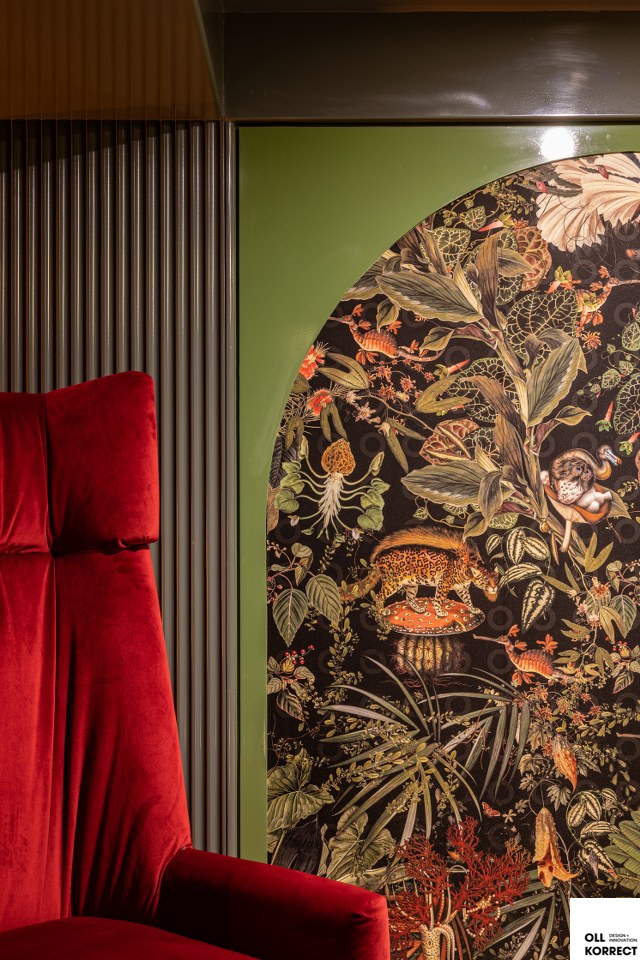 To highlight the warmth and snugness of the lounge we painted the walls with dense diesel color accentuated with black glass surfaces and a thick velvet wallpaper with portrayal of extinct animals in an exotic manner.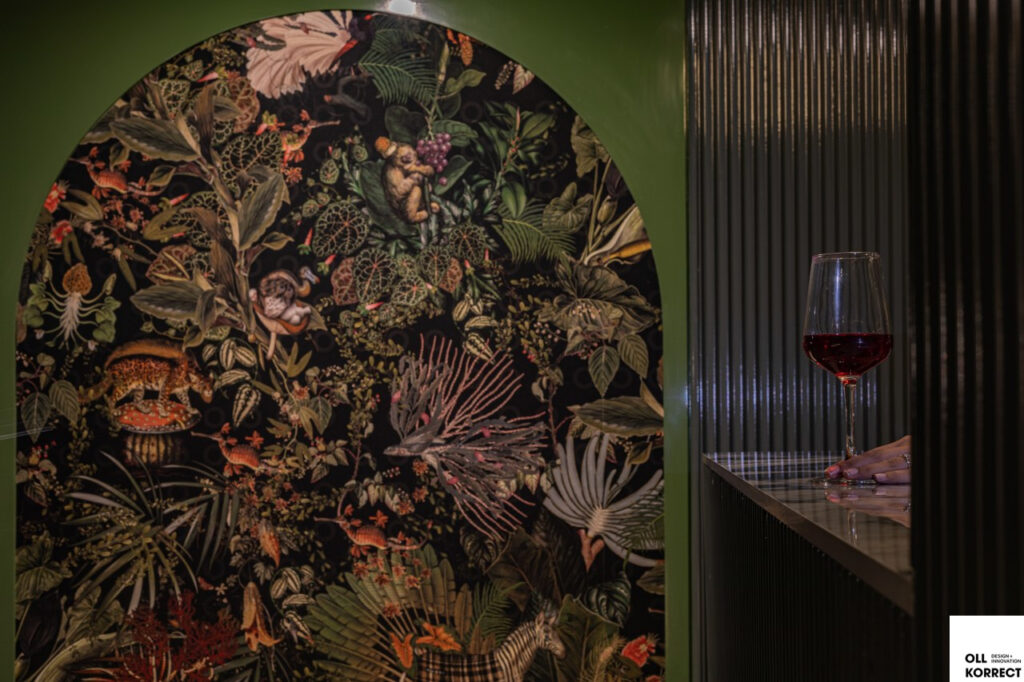 For shelving we used tiny arched structure through which a person can look across for hints of the other side of the room to create an endless flow of vision/invitation.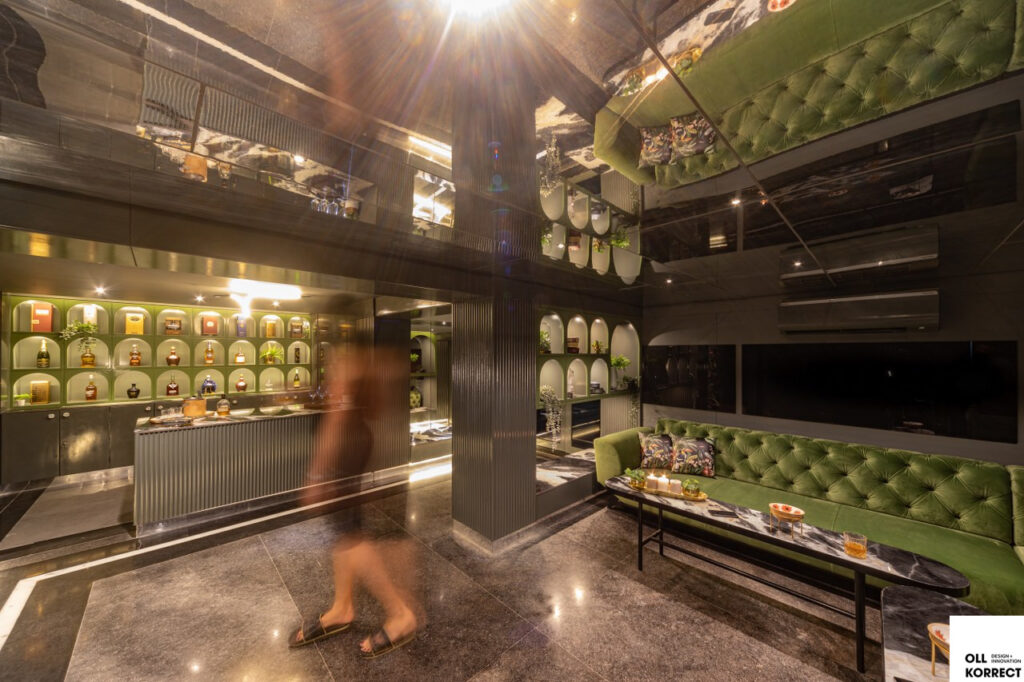 The client/user brief: Mr. Shetty is what we would in the gilded age describe as an elite socialite, with many different social circles both in his professional and private life. Unfortunately, he and most people in his circle live in the suburbs and the advancing age hinders the frequent commute to the city and hence our brief was simple.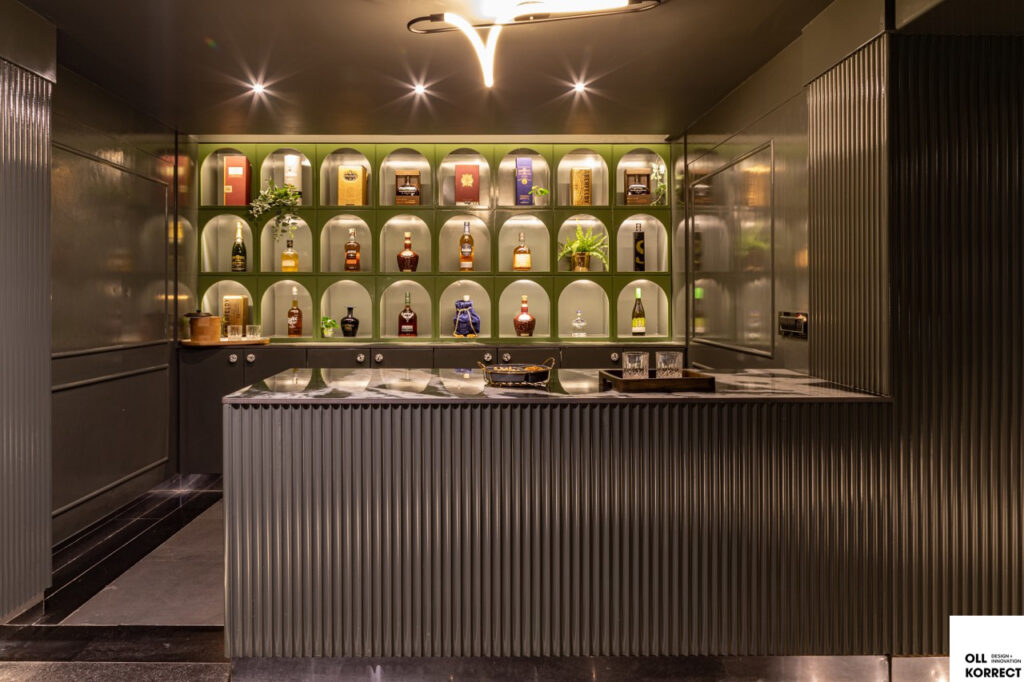 He needed a space where the luxury of the speakeasy whiskey bar felt timeless especially when soaked in nostalgia with your closest ones.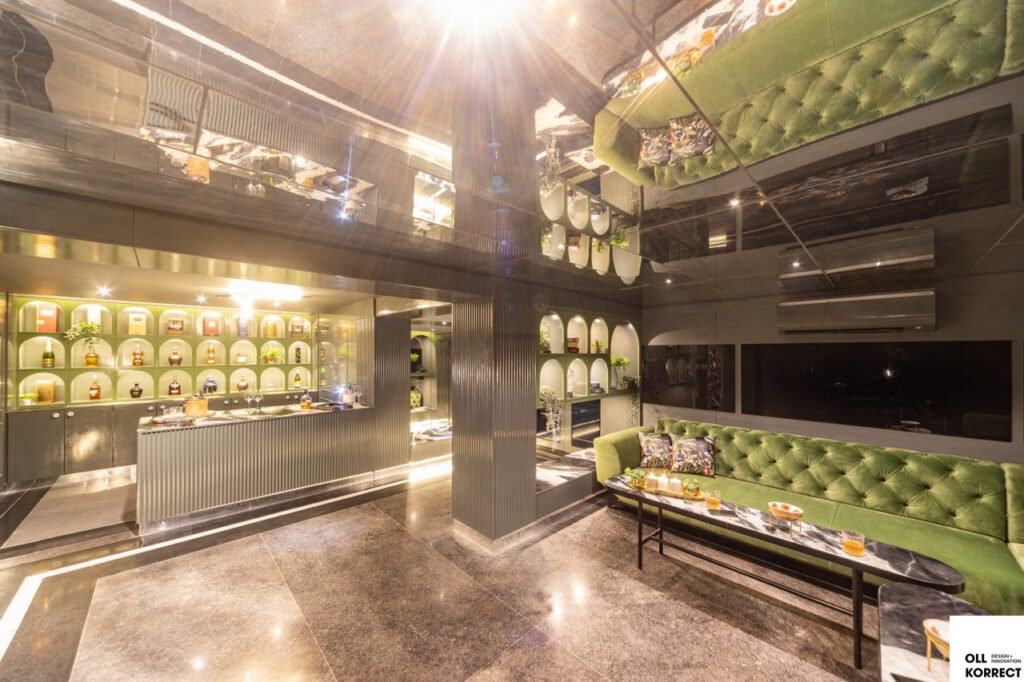 The concept : seamless & timeless deco for this luxurious bar and lounge. If anything can put luxury, time and comfort of leisure with a story to tell, it's ART DECO STYLE.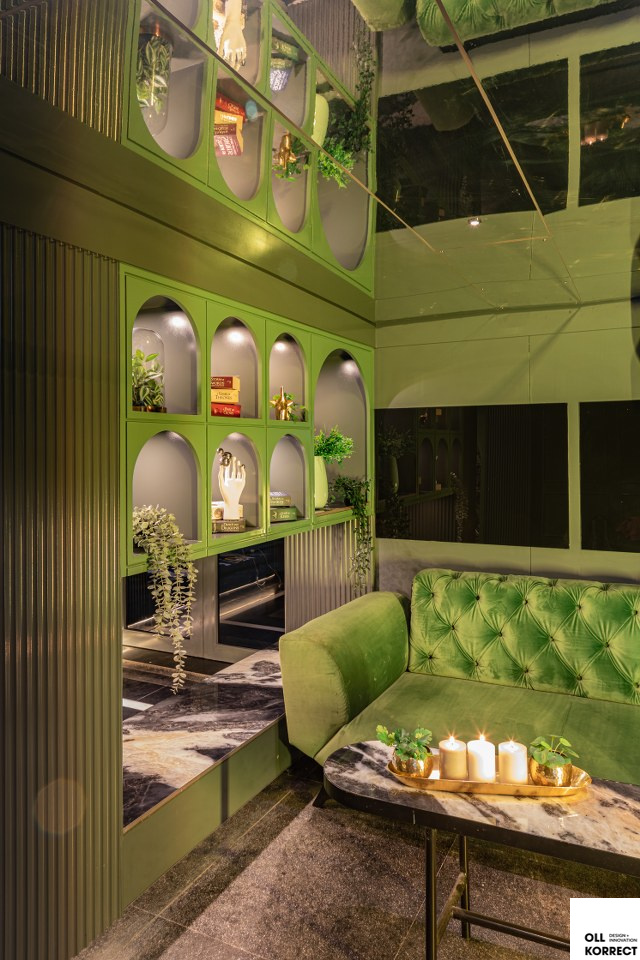 The bar is empanelled with mirrors and dark reflective surfaces and surrounded with smooth velvety finishes with touches of freshness of greens and elegant pieces of decor gracing and accentuating the warmth in this leisurely space.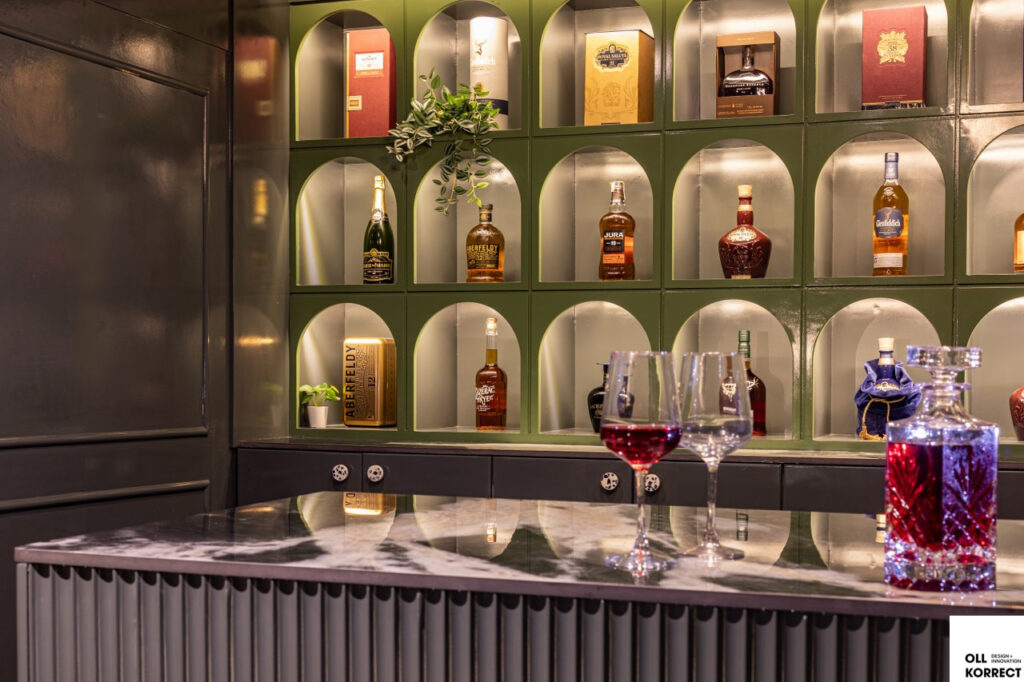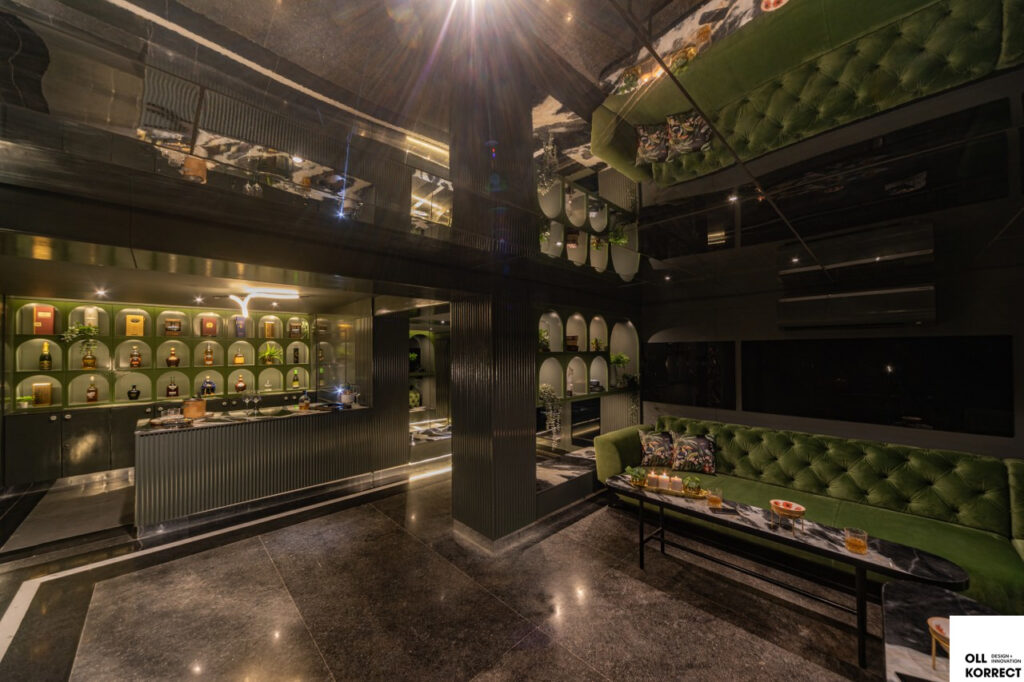 The lounge has a piece of highly comfortable furniture to get lost in to the comfort of the space. The whole space is dimly lit, highlighting the luxury of the lounge, lulling the user relaxed devoting one of any sense of time.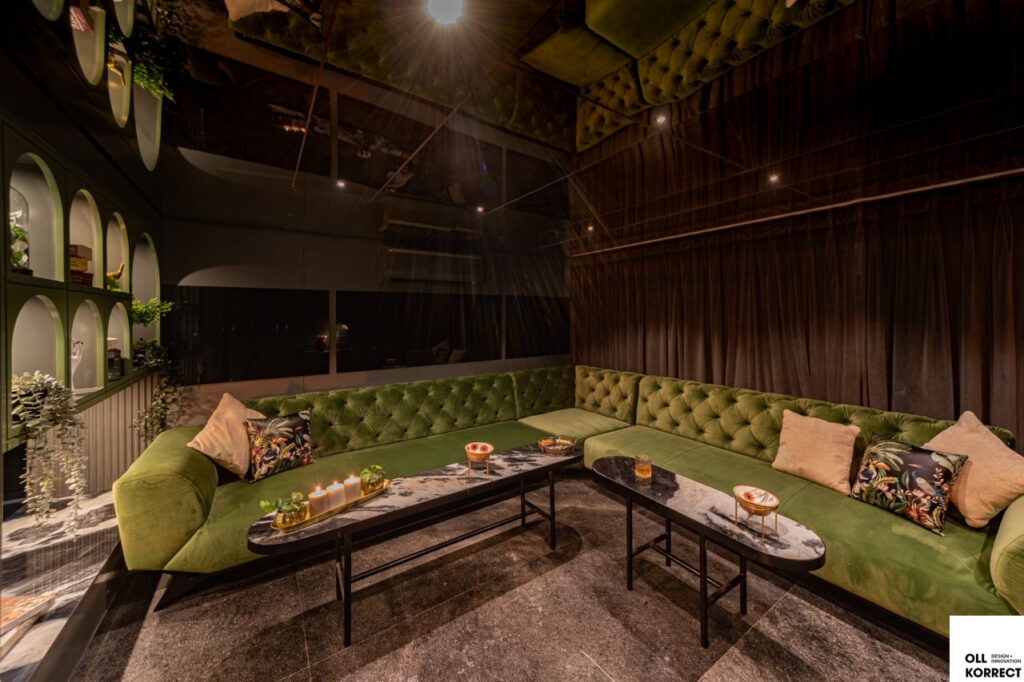 FACT FILE
Designed by : OLL KORRECT DESIGN (OKDI)
Project Type : Residential bar / lounge
Project Name : EMERALD REFLECTIONS
Location : Pradhikaran, Pune
Year Built : 2022
Duration of project : 8 months
Project Size : 450 Sq.ft
Project Cost : 12 lacs
Principal Architects : Sagher Tiwari & Rachana Chandwani Rakshe
Firm's Instagram Link : OLL KORRECT DESIGN (OKDI)
For Similar Project >> THEME OF MONOTONE FOR THIS BAR AND LOUNGE IN KOMPALLY, HYDERABAD : ZULA
The post Seamless & Timeless Deco For This Luxurious Bar And Lounge | OLL KORRECT DESIGN (OKDI) appeared first on The Architects Diary.