I would like to explore the rooftop decking design ideas for the cityscape of Boston, Massachusetts! If you're a city dweller looking to create an outdoor living space with a great view, a rooftop deck could be the perfect solution.
In this post, we'll explore
Different rooftop decking material options
Deck design ideas
The process of building a rooftop deck
Tips on preventing water damage
Creating an outdoor kitchen
So, we've got you covered whether you want to maximize your square footage or add a unique feature to your home.
Let's dive in!
Decking Material Options
When choosing the suitable rooftop decking material for your rooftop deck project, there are a few options to consider. Here are the most popular types of roof decking materials:
1. Pressure-treated Wood
Pressure-treated wood is a classic and affordable choice for decking. It's made by applying chemicals to the wood to make it more resistant to rot, insects, and water damage. It requires regular maintenance, such as staining and sealing, to look its best. Plus, pressure-treated wood tends to stay hotter in the sun, which could be an issue in the warmer months.
2. Composite Decking
Composite decking is a popular choice for its durability and low maintenance requirements. It's made of wood fibers and plastic so it won't rot or warp like traditional wood decking. However, it can be more expensive than other decking options and slippery when wet. Composite decking is also available in various colors and textures, so choose the look that best fits your rooftop deck design.
3. Decking Boards
Decking boards come in various materials, including wood, PVC, and aluminum. They're easy to install and can be cut to fit any shape or size of the rooftop deck. Some decking board options, such as aluminum, are also resistant to fire and pests. However, decking boards can be more expensive than other materials, and some opportunities may not be as durable as others.
When choosing your rooftop decking material, consider your budget, maintenance requirements, and design preferences. Each material option has pros and cons, so be sure to research before making a final decision.
Deck Design Ideas
When designing a rooftop deck in the cityscape of Boston, the options are endless! Here are some deck design ideas to get your creative juices flowing:
1. Multi-level Decking
If you want to maximize your square footage, consider designing a multi-level deck. This will allow you to create distinct areas for lounging, dining, and entertaining. Plus, it adds an interesting visual element to your rooftop space.
2. Outdoor Kitchen
Boston summers are perfect for outdoor cooking and dining. Adding an outdoor kitchen to your rooftop deck is a great way to create a seamless indoor-outdoor living space. Include a grill, sink, and counter space for food prep, and you'll be ready to host summer barbecues in style.
3. Built-in Seating
Save space on your deck by incorporating built-in seating along the edges. This will provide a cozy and comfortable relaxing spot to enjoy the views. Plus, it eliminates the need for bulky outdoor furniture.
4. Choose Lighter Colors
The summer months in Boston can get hot, so choosing lighter colors for your deck is vital. Lighter colors reflect the sun's rays and stay cooler to the touch. This will make your rooftop deck more comfortable on those scorching summer days.
5. Roof Garden
Incorporating a roof garden into your rooftop deck design is a great way to add some greenery to your space. Consider using low-maintenance plants and herbs, such as succulents and basil, which can thrive in the city environment.
These are just a few deck design ideas when building your rooftop oasis in Boston. Maximizing your square footage while creating a functional, stylish outdoor living space is critical.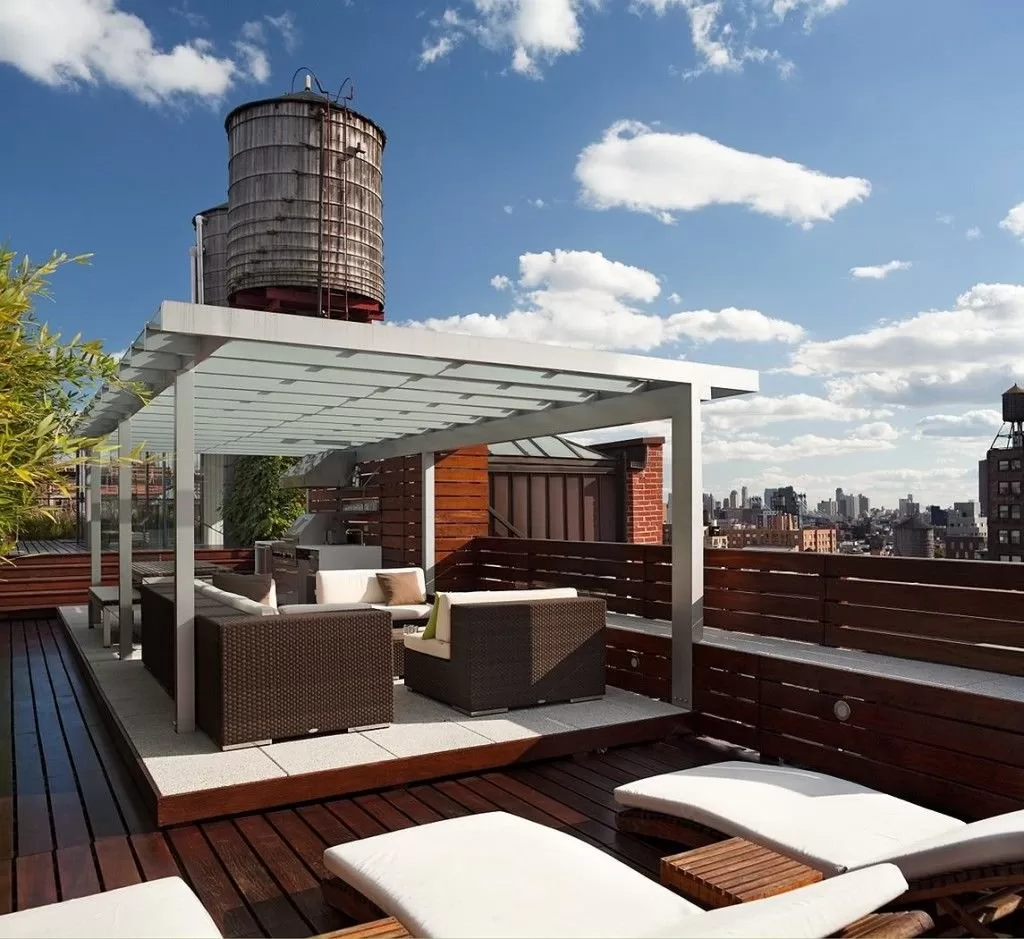 Building a Rooftop Deck
Building a rooftop deck can be a challenging project, but with proper planning and execution, it can be a fantastic addition to any cityscape. Before starting, it's important to research local building codes and requirements. In Boston, for example, you'll need to obtain a building permit, follow zoning regulations, and ensure that your design meets fire safety codes.
Tips for Preventing Water Damage
When building a rooftop deck, it's crucial to consider potential water damage. Boston is known for its harsh weather, including heavy rain and snow. You must waterproof your deck to prevent water from seeping into your home's structure. You can achieve this by using waterproofing membranes or sealants that protect against water damage. Also, it's a good idea to have a slope in the deck to help the water drain away from the house. By taking these steps, you can ensure that your rooftop deck is functional and long-lasting.
Overall, building a rooftop deck can be a challenging but rewarding experience. With proper planning and execution, you can create an outdoor living space that adds value to your home and enhances your cityscape view. By staying up to code and protecting against water damage, you can enjoy your rooftop deck for years.
Outdoor Living Space and Kitchen
Whether you want to entertain guests or just relax on a warm summer evening, an outdoor living space can provide the perfect atmosphere. Creating an outdoor living space on a roof deck can be a great way to maximize your outdoor space in the cityscape of Boston, Massachusetts. When designing your outdoor living space, consider incorporating comfortable seating options, such as sectional or chaise lounge chairs, and adding a variety of potted plants or greenery to add a touch of nature to your urban oasis.
Outdoor Kitchen
If you enjoy cooking and entertaining, consider adding an outdoor kitchen to your rooftop deck. An outdoor kitchen can be a great addition to your outdoor living space and provide a perfect spot for hosting dinner parties or grilling up some burgers for a casual gathering with friends. When planning your outdoor kitchen, consider the available space, your budget, and the types of appliances you want to incorporate. Popular outdoor kitchen appliances include grills, refrigerators, sinks, and pizza ovens.
Adding outdoor living space and kitchen to your rooftop deck lets you transform your urban space into a relaxing oasis where you can enjoy the outdoors and entertain guests.
Rooftop Decking Ideas
When designing a rooftop deck in Boston, several ideas exist. One option is a built-up roof, which involves layering materials to create a durable and weather-resistant surface for your deck. Another idea is incorporating plants and greenery into your rooftop design to create a peaceful, relaxing outdoor space.
Additionally, there are countless rooftop deck design ideas to choose from. Whether you prefer a sleek and modern design or a cozy and rustic feel, there are many ways to customize your rooftop deck to suit your style. Some popular design elements to consider are using decking materials in lighter colors to reflect heat and stay more relaxed in the summer, incorporating multi-level decking to maximize square footage, and adding outdoor lighting for ambiance in the evening.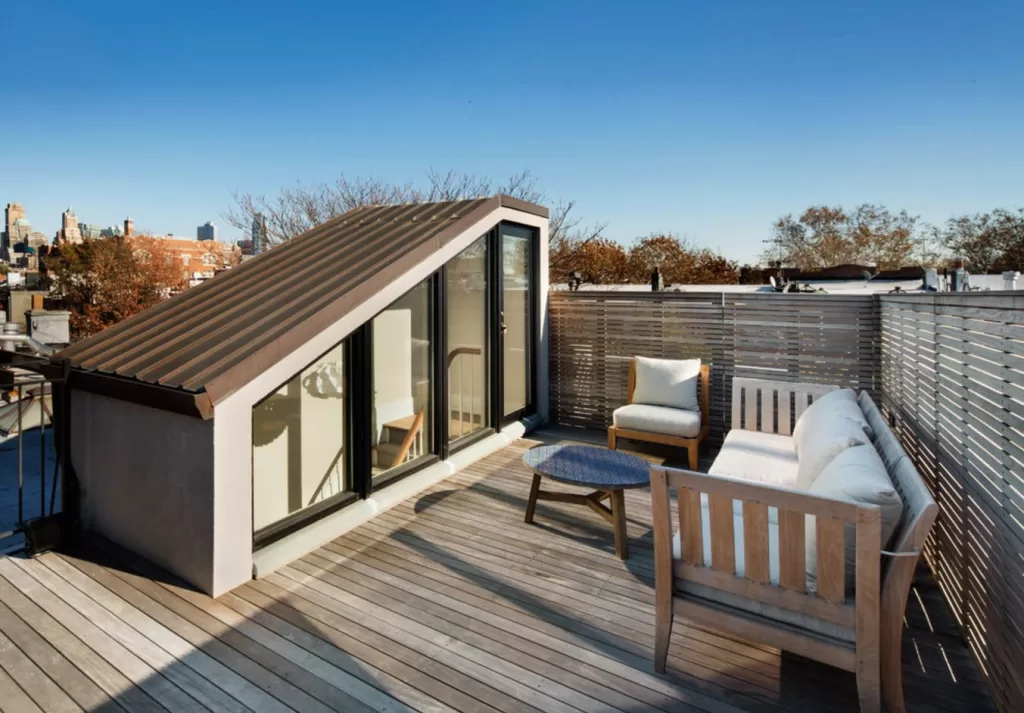 Conclusion
In conclusion, rooftop decking is a great way to make the most of your outdoor space in the cityscape of Boston, Massachusetts. You can create a beautiful and functional outdoor living space that fits your needs and style by choosing the suitable decking material, design, and color. Remember to keep local building codes and water damage prevention in mind when building your rooftop deck, and don't be afraid to get creative with your design ideas. From built-up roofs to multi-level decking, the possibilities are endless. And if you want to take your rooftop deck to the next level, consider adding an outdoor kitchen for even more enjoyment. We hope this guide has inspired you to create your rooftop oasis, and we look forward to seeing your beautiful rooftop decking projects in the heart of Boston.
The post Rooftop Decking Design Ideas for the Cityscape of Boston, Massachusetts appeared first on The Architects Diary.