Residence Interiors in Mumbai Stirs a Fresh Approach to Contemporary Minimalism | HS Designs
The apartment is located in the crowded hub of Mumbai. The 1050sqft-3BHK was approached to craft a home with soothing narrative which is high on functionality. Inspired by Client's deep love for simplicity and art, a cosy home with curated artwork and potted greens was designed. Throughout the entire home same shade of wood has been mixed matched with other elements and colors. 
Residence Interiors in Mumbai Stirs a Fresh Approach to Contemporary Minimalism | HS Designs
Visit: HS Designs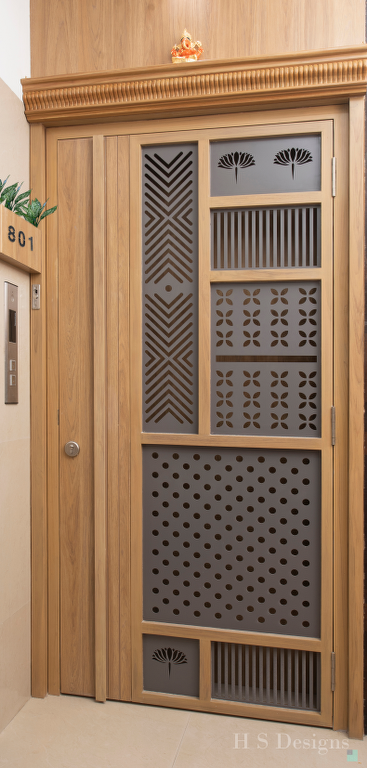 At the entrance the intricately designed Jali door fixed in between the wood Frame and the custom crafted wooden handle. Unlike the typical safety doors having an intimidating prison kind of look, this looks more welcoming to the guests. The similar pattern of the elements in Jali are replicated on the TV unit back panel with a variation in material and its finishes.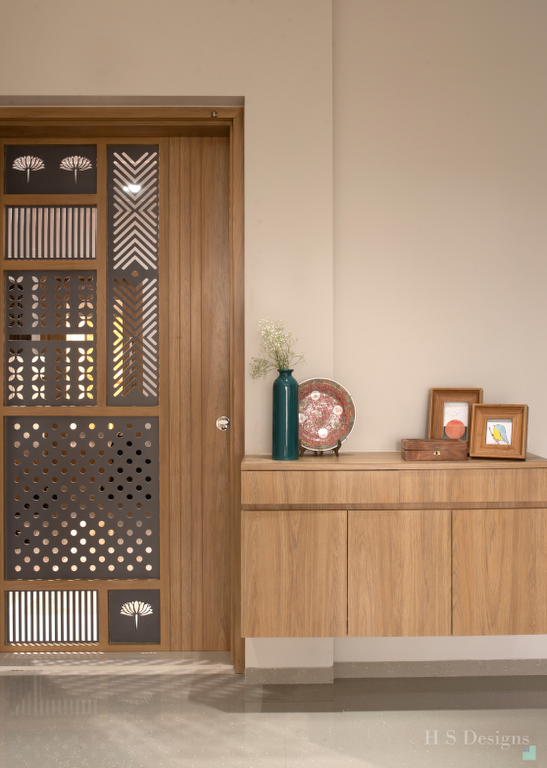 Among the limited Living room furniture stands a brick painted TV Unit. The sandy finish of the TV Unit adds an earthy and arty element to the living room. The center table and side tables of sofa have been custom designed too, slim wood strips connect the top and base of the table. The bold Flutes, TV Unit and tables have been muted by pastel color sofas and rug. The Boho Paintings on the L corner wall of living room make it an interesting space from the entrance of the home. In terms of color, furniture and accent pieces it's all cohesive.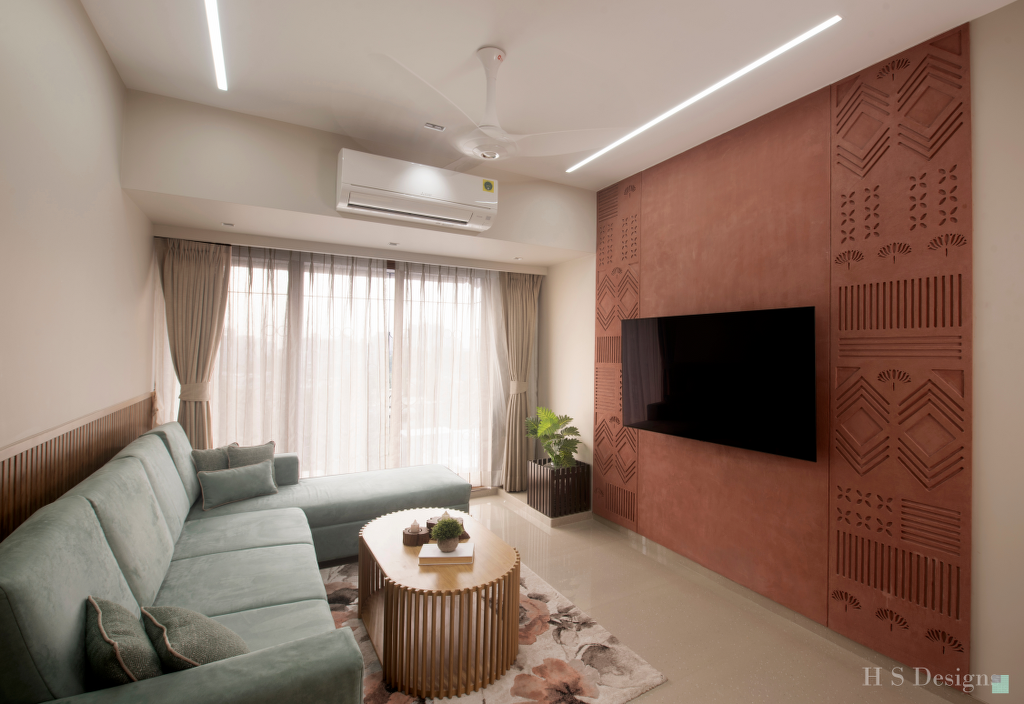 From the living Room, there is a seamless transition to the dining area and a small temple behind it. The back of dining bench has been partially raised to form a divider between dining and temple. The dining area has the same rustic finish base as TV unit with an Italian marble look glass Top. Glass being preferred over Original Marble for making it Light weight and cost-effective.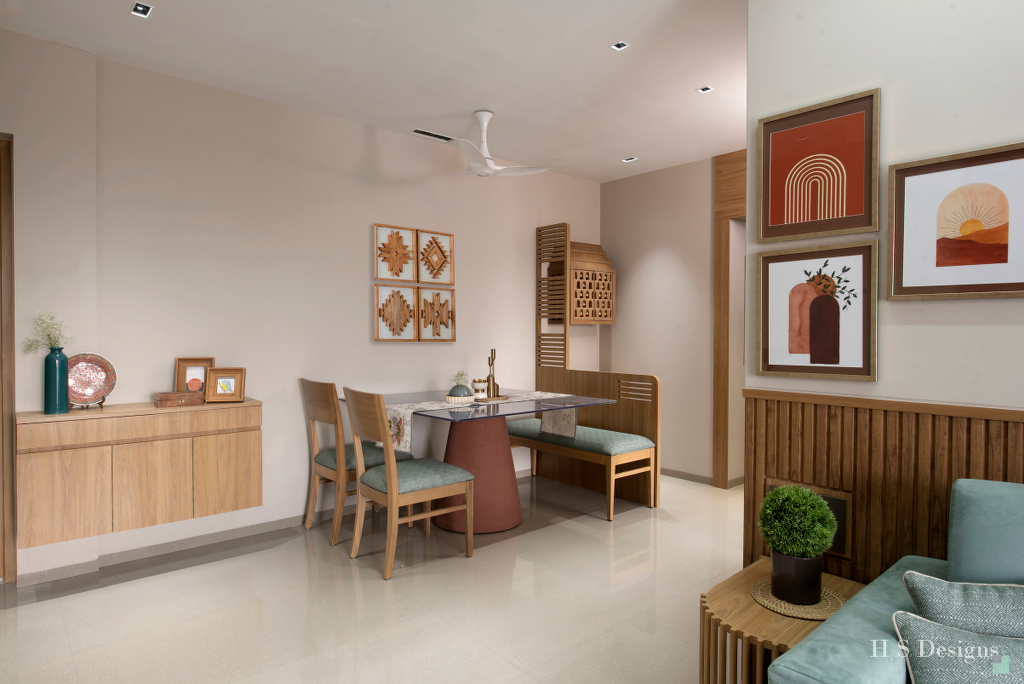 Continuing with the minimalistic stride, the master bedroom is simple yet sumptuous with crisp and clean lines. The bed, console and wardrobes all feature the same wood repeated in different patterns of grooving and molding. A lime and sage green on the wall opposite the bed makes the room soft, versatile and refreshing. The location of the toilet was changed from the original to carve out a space for wardrobes, console and dresser to give it a bigger entrance instead of narrow passage.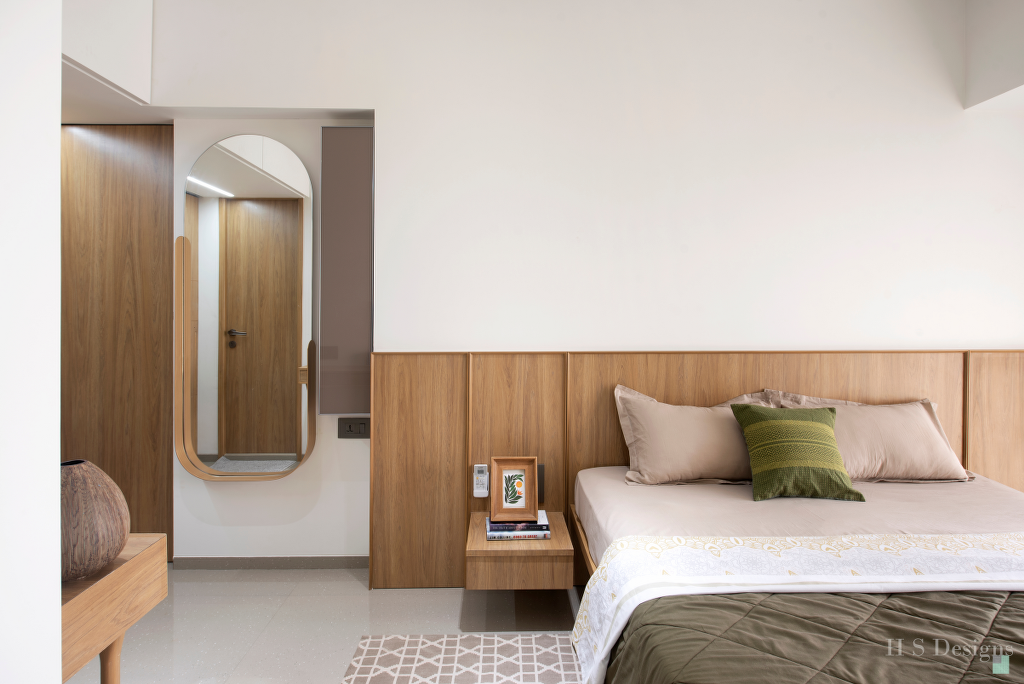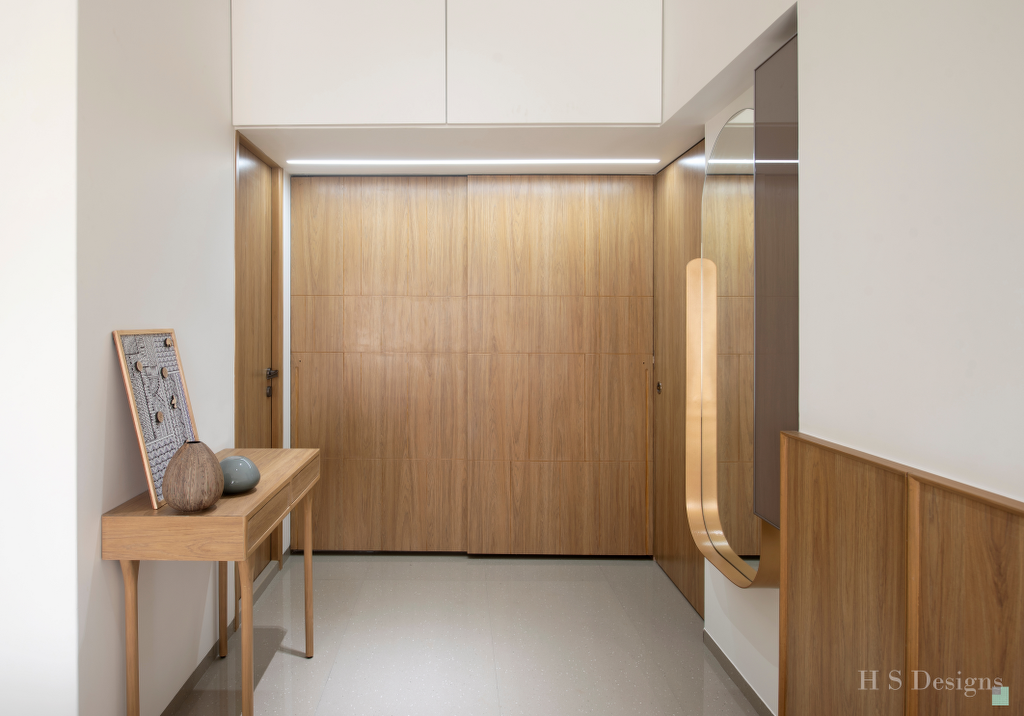 The second bedroom belonging to their son is decorated in simple linen with neutral shades and a salmon peach color wall. The study table adjacent to the wall is a wood top with drawers supported by metal frame body. The salmon peach texture on wall continues on the sliding wardrobes. A teal color headboard makes the perfect contrast for the wall. The white frames on the wall with the texture and wall color blend effortlessly. The bedroom is a place to restore, relax and reflect, simplicity is especially impactful here.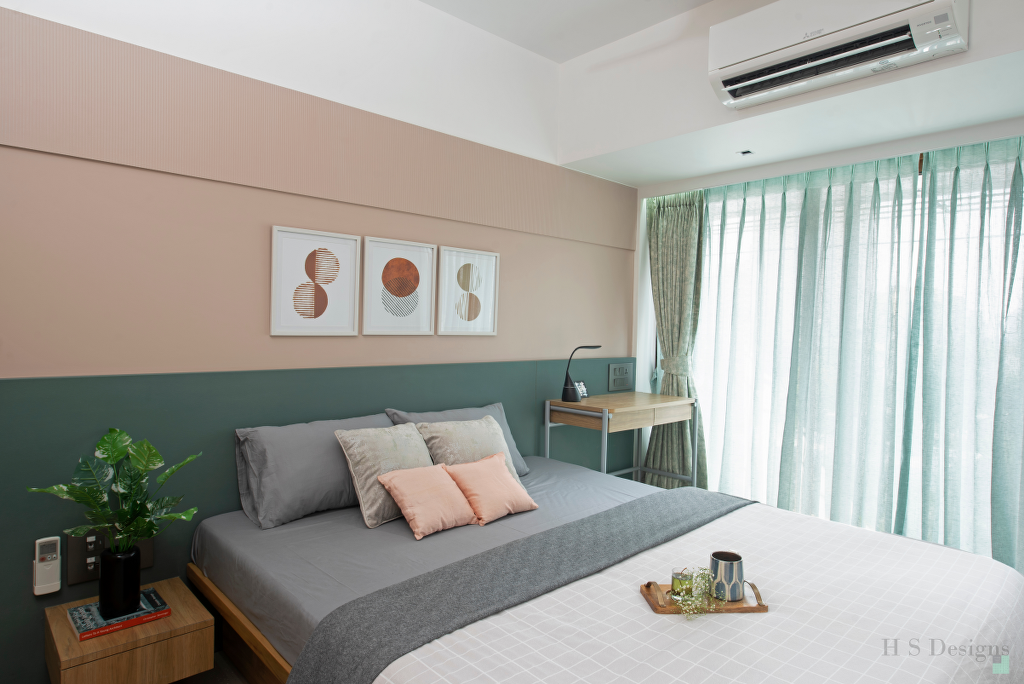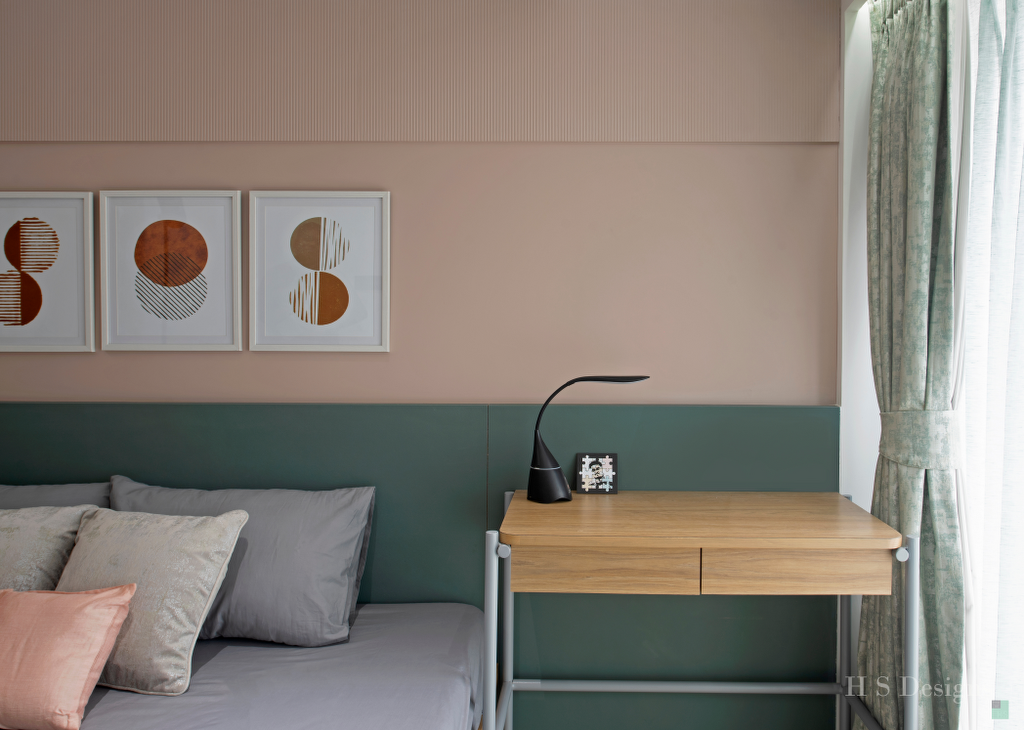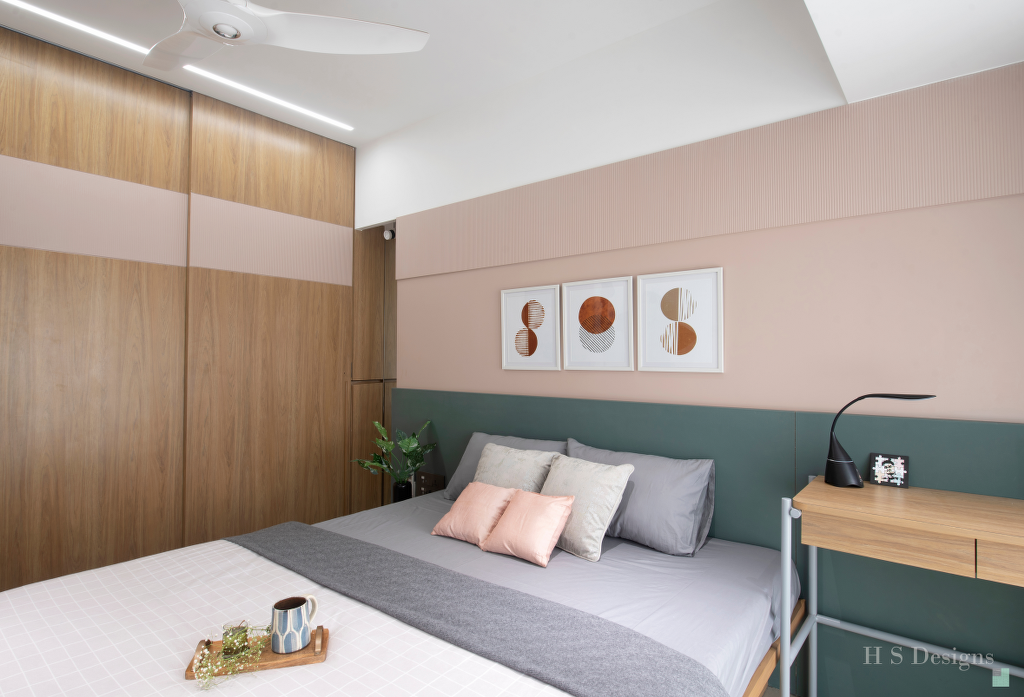 The guest bedroom is kept simple and basic. The wardrobe, bathroom door and bedroom door are made with in-built handle. They are camouflaged in a row to look seamless. The splash of an oriental blue shade behind the mirror niche adds color while creating a serene ambience. The TV unit was a multi-purpose one which had drawers and open shelf for guests to put their bags. Far from being boring, this room is bold and functional in its own way.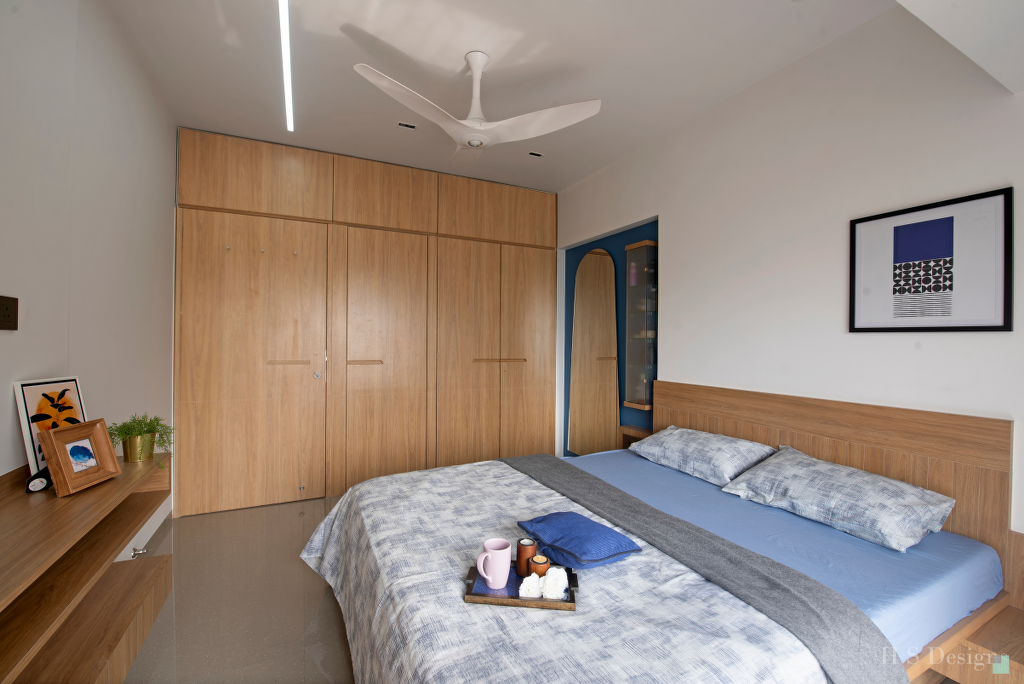 Kitchen design is influenced by a lot of factors in India- the style of using it by clients, their storage requirements, their maintenance practice. This Kitchen is a space that's compact but has every inch of its space used up. A closed layout using the wood Framed door with fluted glass, plenty of storage in a small space, sturdy countertop and backsplash, base cabinets with drawers to improve accessibility makes this kitchen functional. And yes – Floor to ceiling vibe for the kitchen, because lofts are definitely the Indian element for kitchens because we can never have enough storage!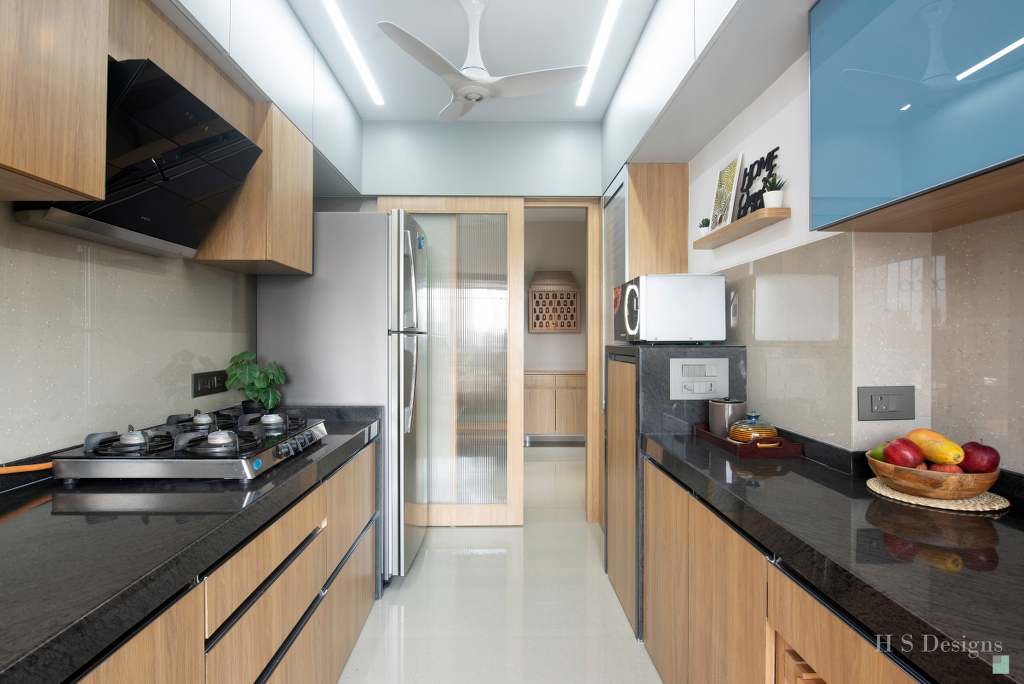 Toilets are kept in monochrome shades due to their compact sizes. A wood floor and vanity give this city bathroom a warm and serene feeling. Light and Bright tones of tiles made all the toilets look larger than they are. The floor was kept clear and vanity was floated to make it appear spacious.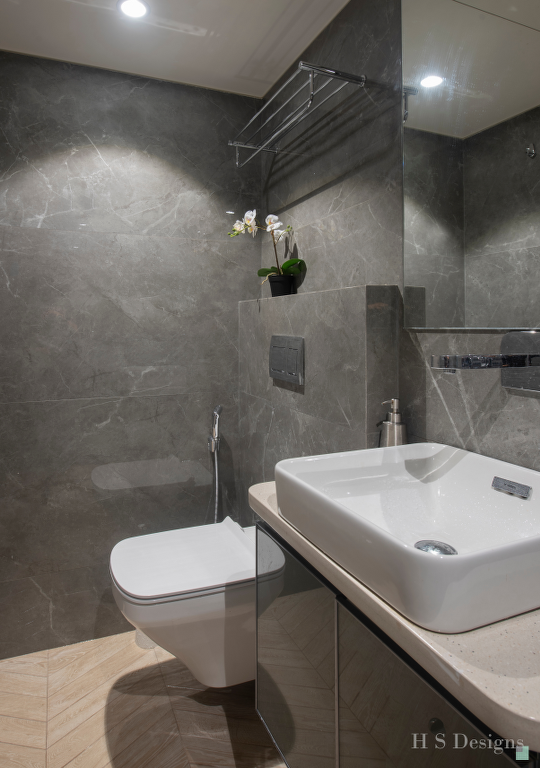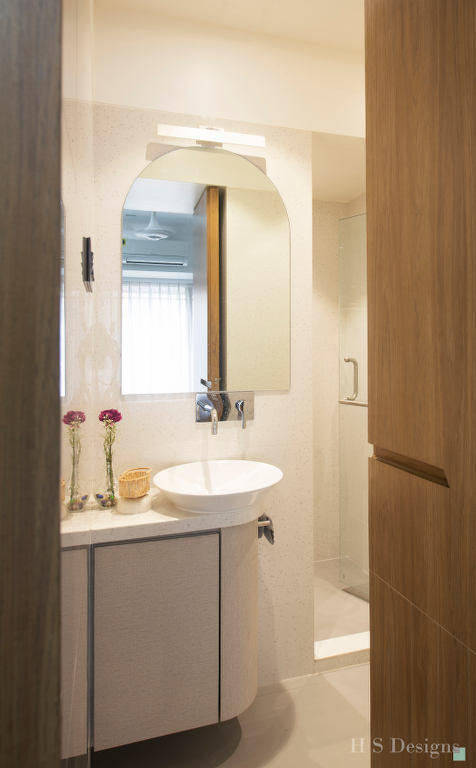 The decorating style of this apartment is an exercise in restraint, where space, lighting and furniture play equally important roles. It's pulled down to bare essentials so that the client is left with a set of curated objects that deliver maximum impact. It's designed without adding too much clutter— otherwise, you'll likely feel overwhelmed and claustrophobic. The belief that a small space or tricky composition will stop you from creating a comfortable, stylish home you'll actually want to spend a lot of time in was proved wrong in the home. Design is never truly complete without the details; and like that, a home is never truly completed without the decorative accents. Home décor accents is what really makes or breaks a space. You could have the best of the furniture, or tables in your bedroom, but what you accompany it with is what really brings in the charm. All these elements combined made this 1050 sq.ft home unique in its own way.
Material Palette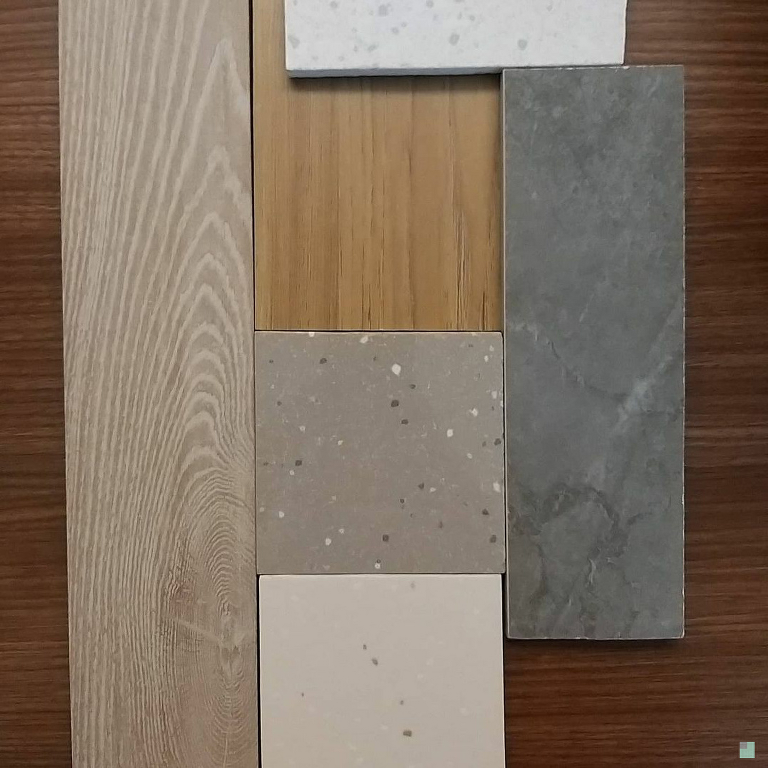 Fact File
Designed By: HS Designs
Project Type: Apartment Interior Design
Project Name: Project RG
Location: Mumbai, Maharashtra
Size: 1050 sq.ft.
Year of Completion: 2021
Duration: 6 months
Principal Designer: Hansi S.
Photography Credits: Riddhi Parekh
Products and Materials: Finishes: Merino Laminates | Wallcovering/cladding: Evolve | Lighting: Philips | Sanitaryware: Kohler | Flooring: Kajaria | Kitchen: Hafele, Blum | Paints: Asian Paints | Artefacts: Ikea, Good Earth | Hardware: Enox Hafele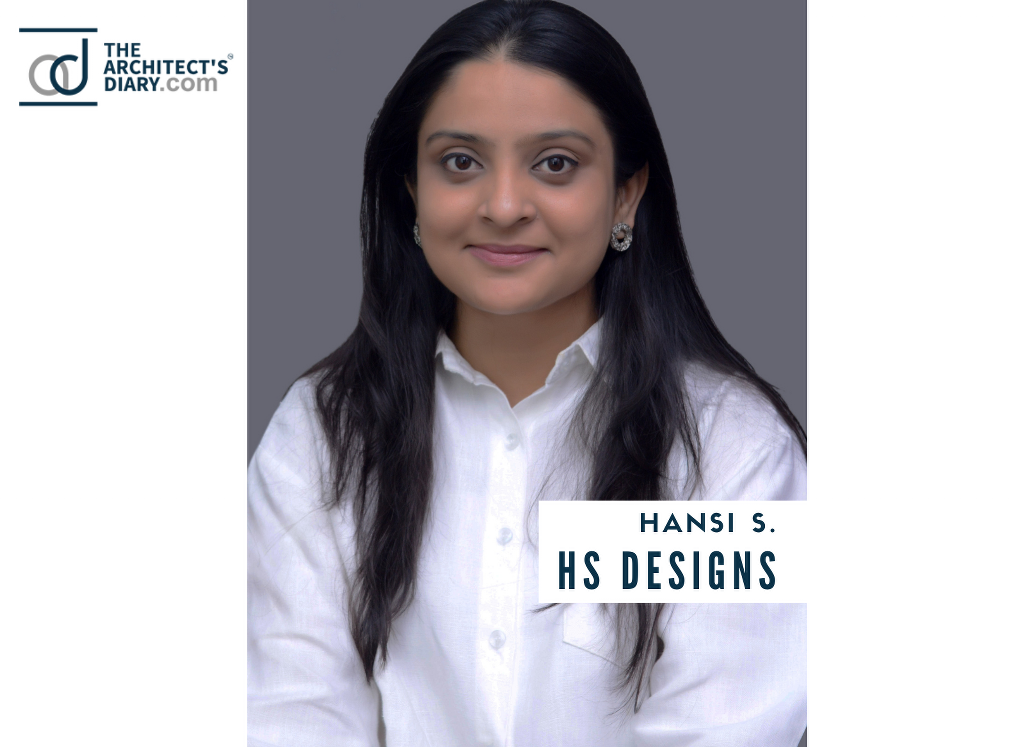 Firm's Facebook Link: HS Designs
Firm's Instagram Link: HS Designs
The post Residence Interiors in Mumbai Stirs a Fresh Approach to Contemporary Minimalism | HS Designs appeared first on The Architects Diary.
(adsbygoogle = window.adsbygoogle || []).push({});