Pachalla's residence is an intricately woven mix of contemporary styles and Indian culture. Spanned across 2400 sq ft, this home is a place where spaces organically flow into each other.  The home is a canvas for interplay of materials and features a living room, a dining room, a family lounge, three bedrooms, a study room, four bathrooms, a kitchen and a servant quarter. The interior of this residence was created for discerning clients currently staying in Abu Dhabi, who appreciate classical traditions and modern amenities. The traditional artwork and classic wall panelling in the house reflect both the clients' traditional values and their modern outlook.
Pachalla's Residence Is An Intricately Woven Mix Of Contemporary Styles And Indian Culture | Eudora Home
VISIT : Eudora Home
The interior was designed in a lighter version of neo-classical style of design diluted with modern elements. Classic handcrafted gold mouldings on the walls with beautiful corners, sleek wooden borders in the false ceiling, light fittings, wallpapers and light complex shade of the walls became a classic background and frame for a modern interior filling.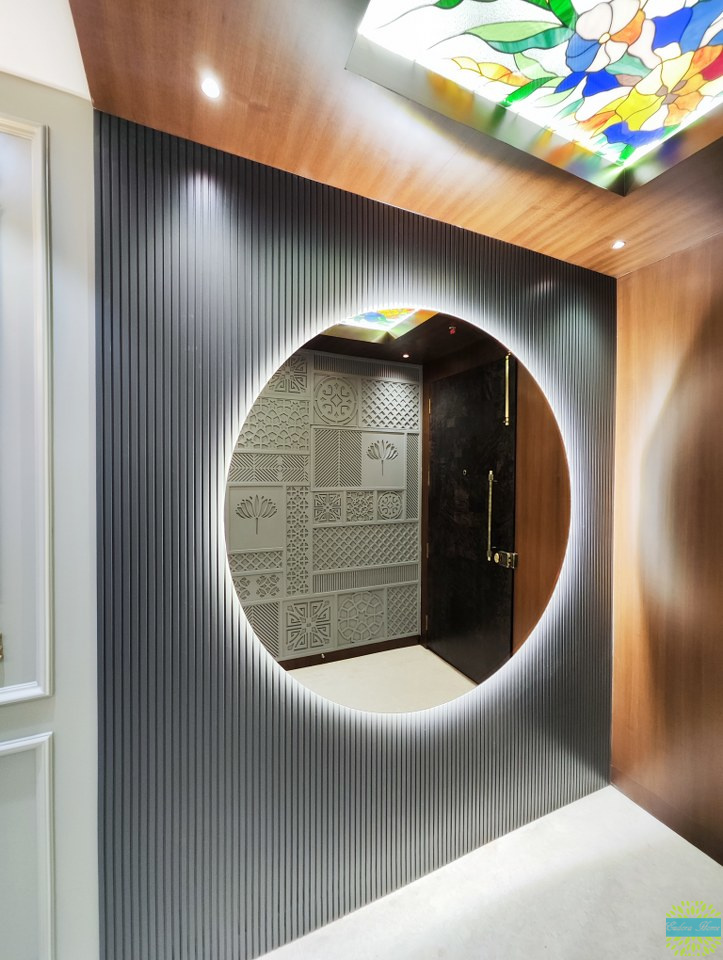 A small foyer on the entrance separates the living room and sparks curiosity with snippets of the house. Entering the foyer, one is immediately greeted by a fluted wall with a backlit round mirror and beautifully handcrafted stained glass in the wooden ceiling.
Usage of fluted wood in the house has added character and detail to the overall interiors of the house. Perfectly crafted gold beadings, tinted mirrors and wooden borders in false ceiling create a timeless glamour that is inviting as well as captivating. The living room in the house is designed with minimal furniture and dominating grey palette..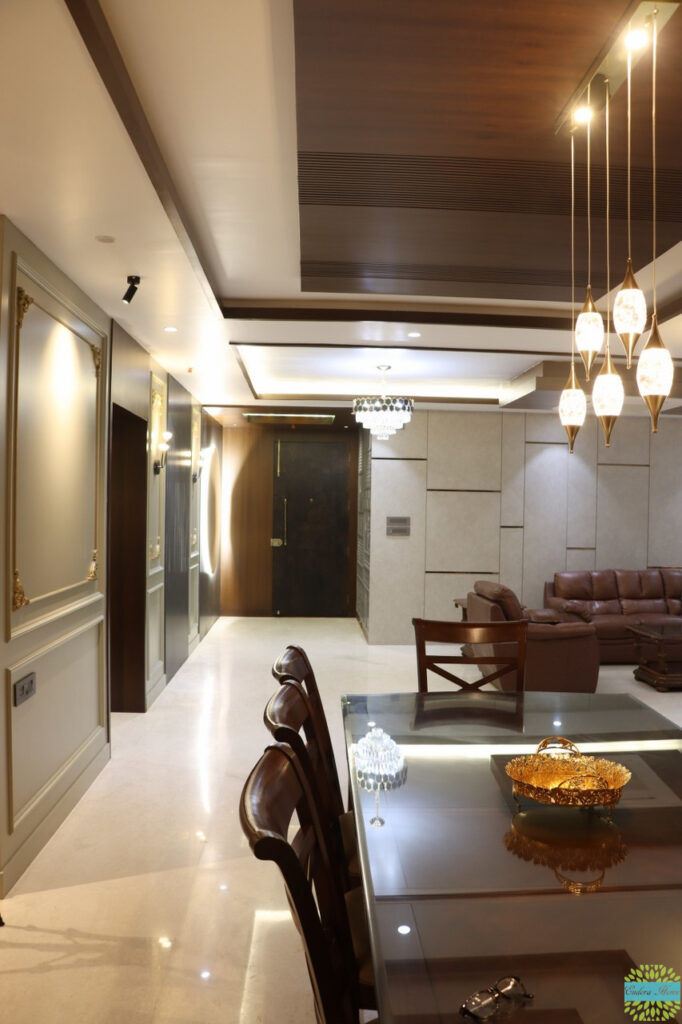 Our clients had fantasized about their house as their personal retreat, where they could experience the warmth of domestic coziness while being surrounded by luxury and comfort. The couple was very particular about a sophisticated and harmonious look and feel for the house.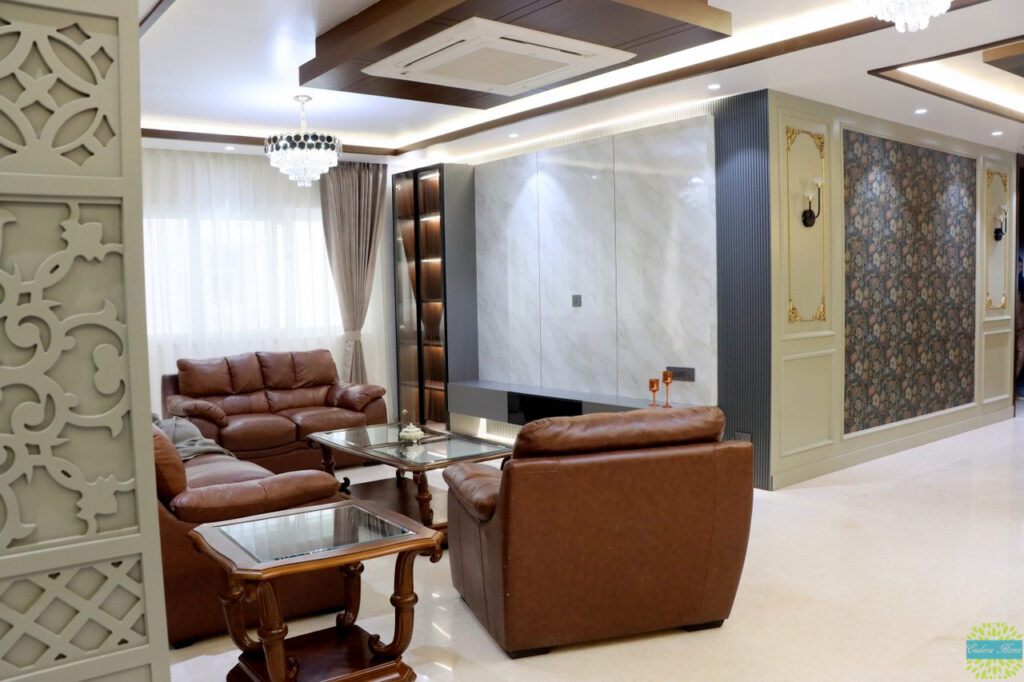 The TV unit has high gloss marble finish laminate, veneer and DUCO paint. The dark brown sofa adds brownish tinge to the otherwise grey living room and makes it blend well with the overall interiors of the house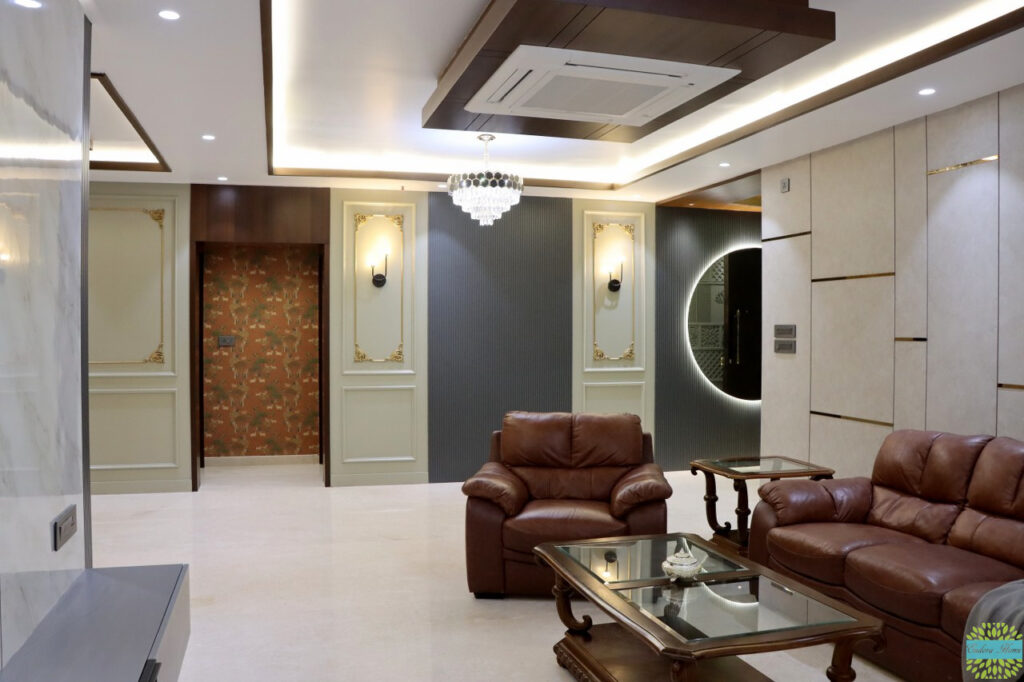 Dining area is the centre of the house. The beige grey wall on one side and the floral wallpaper on the other side makes the dining space warm and lively. Veneer-clad false ceiling adds rustic charm and luxurious warmth to the space.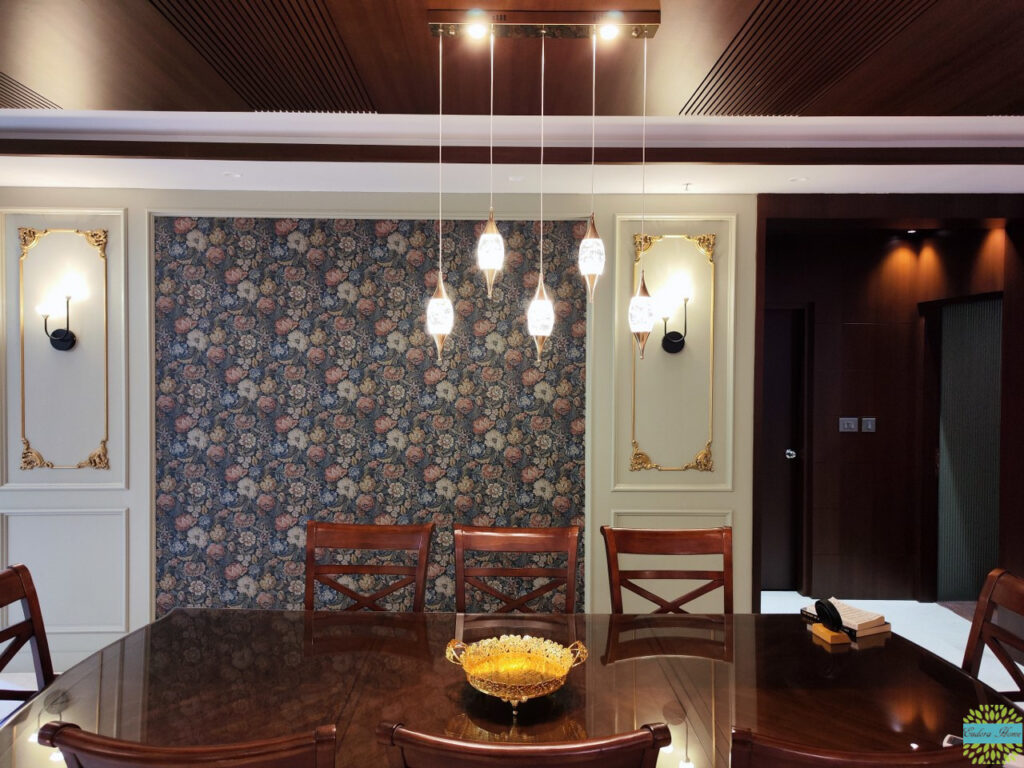 Coloured in delicate muted palette of muted pink, blue, green, grey, yellow and beige set on a green greybackground, Nightingale Garden wallpaper from Borastapeter fills the area with the beautiful scents and sights of a summer garden and brings a sense of harmony into the home.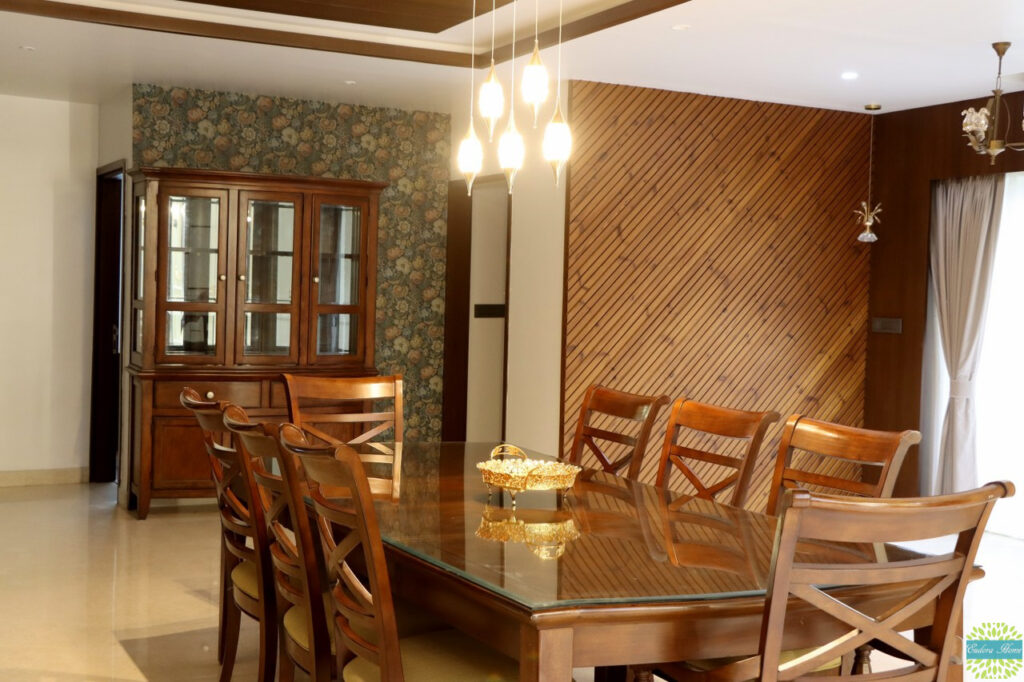 It gives a classic yet contemporary aesthetic look. Suspended lights above the dining table create a soulful atmosphere. The crockery unit adds to the utility of the space.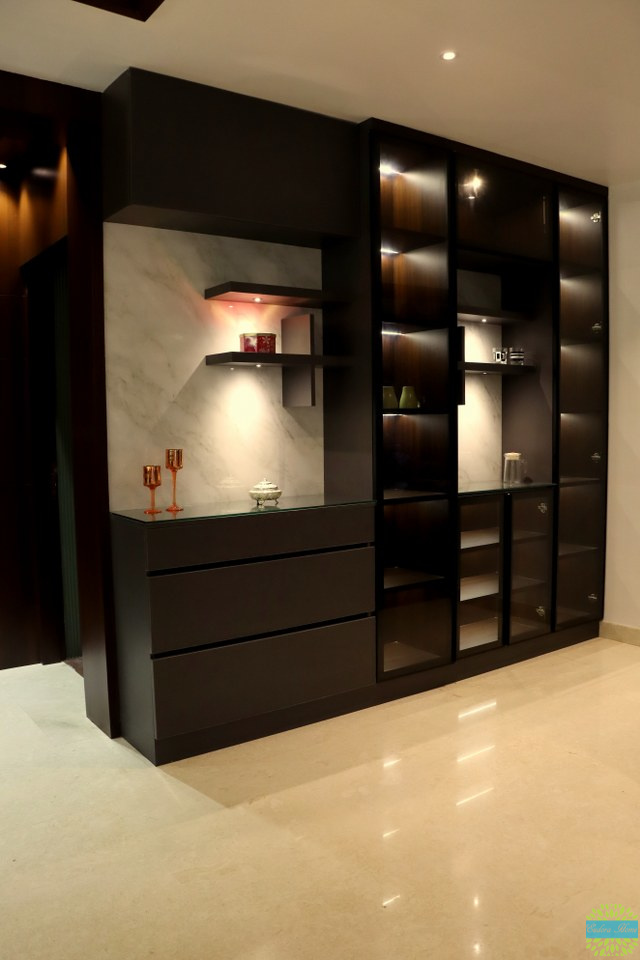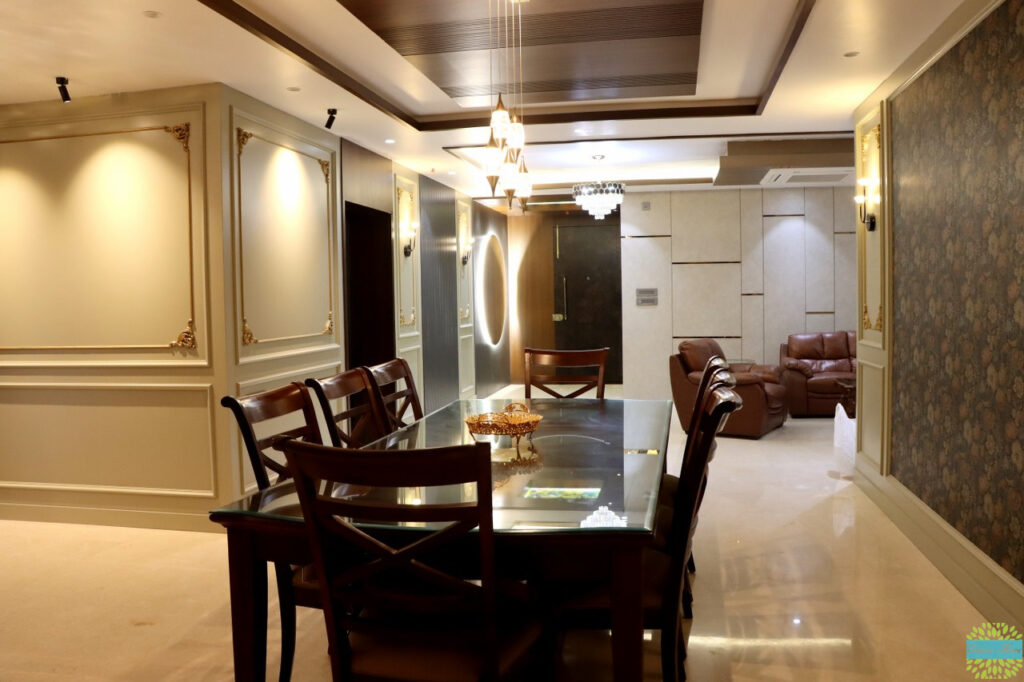 Kitchen platform and walls have white Quantra and contrasting look has been created by using dark grey and dark wooden finish laminates on drawers and shutters with black profile handles.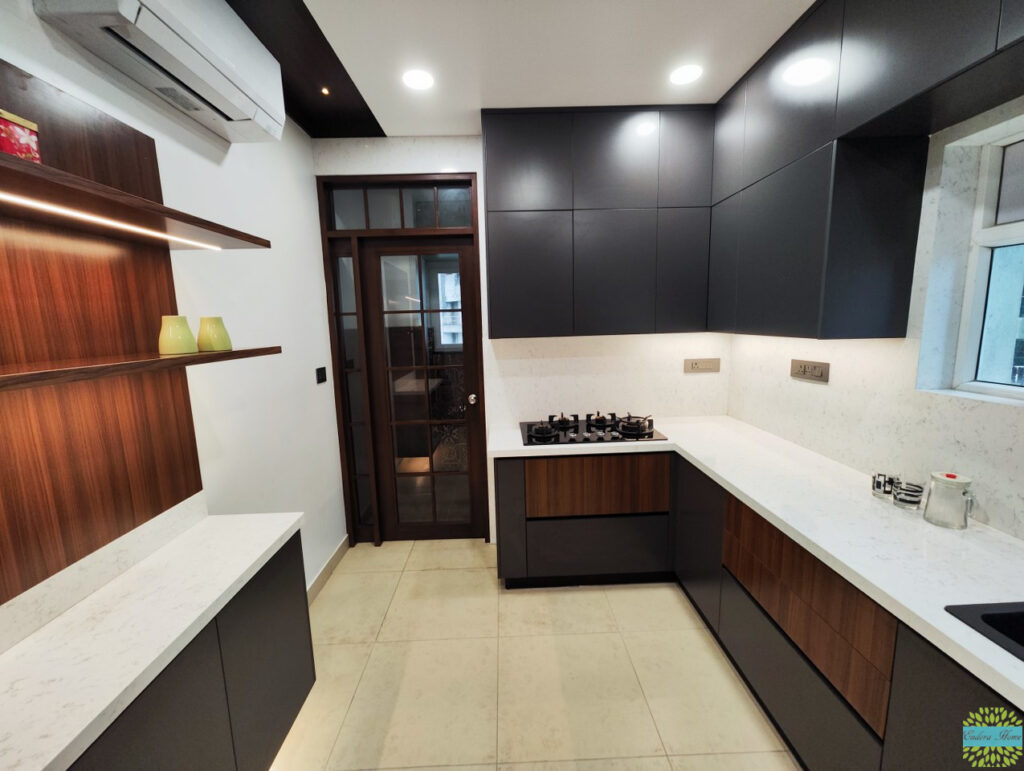 This color contrast brings out an opulent ambience for the kitchen. The wood and glass door that goes to the utility provide the right mix of old-world charm and contemporary sophistication.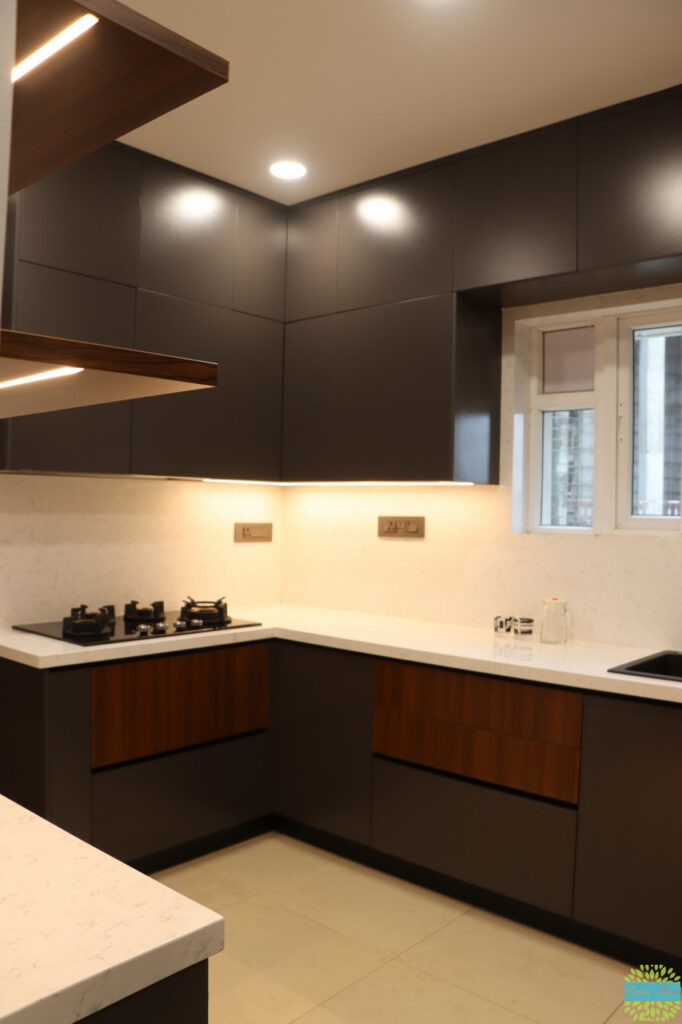 Gokul Pichwai wallcovering from Sabyasachi near the pooja room entrance creates a pious atmosphere rooted in ancient Indian traditions. The pooja room has arctic white quartz on walls and veneer on the cabinet and ceiling.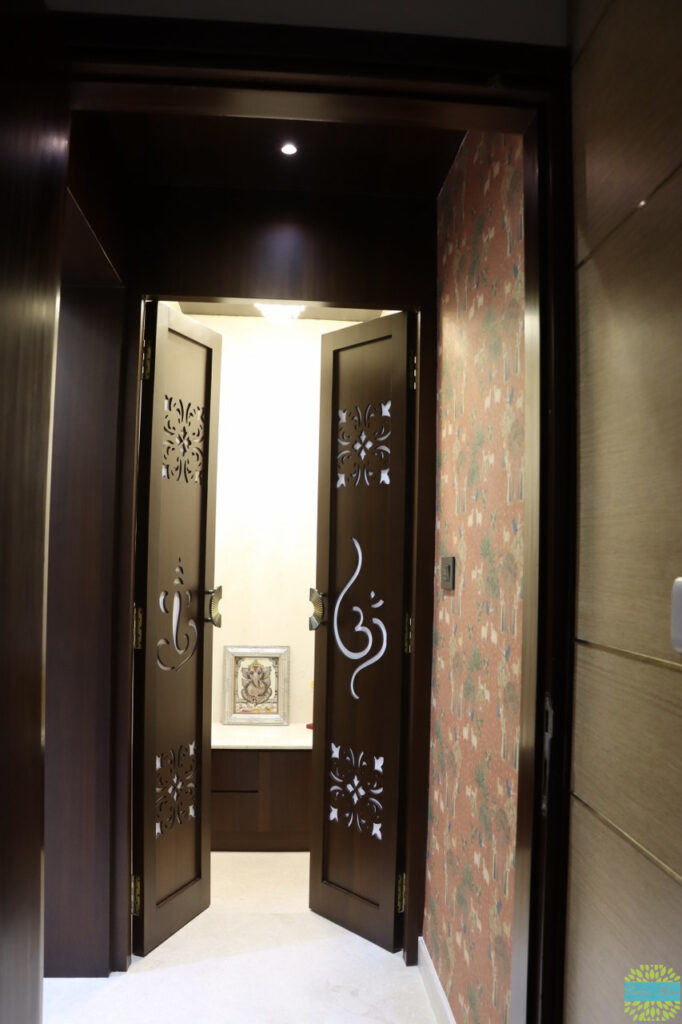 Study room has a mud grey wardrobe and beige grey upholstery. This simple dual tone color theme is apt for a study room to be used by the elderly.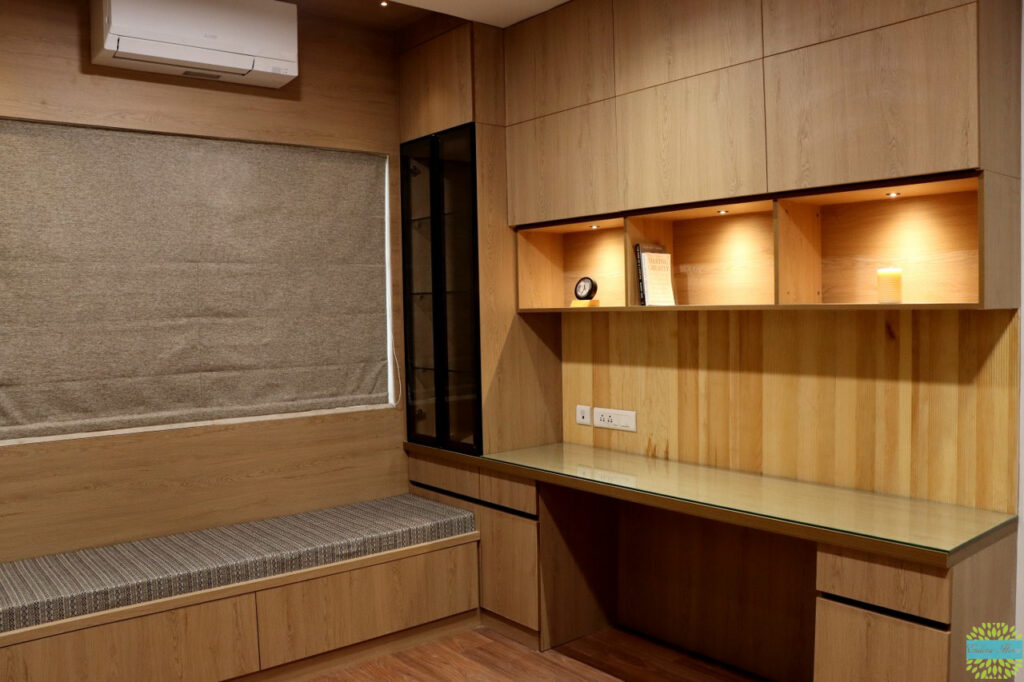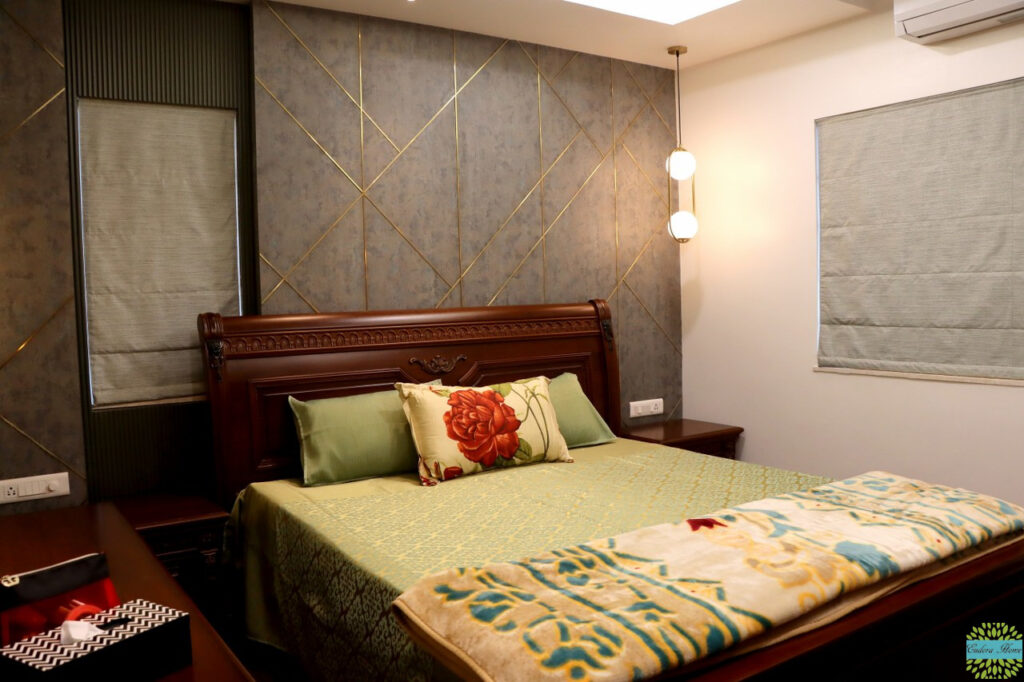 The daughter's bedroom has a darker color palette in shades of green. The daughter's room takes a dreamlike setting. Use of Gulbahaar -Patiala Green wallpaper from Sabyasachi, Nilaya creates a garden on the wall and fills the entire space with serenity and joy. Sage green fluted wood panelling with long mirrors encased in gold metal beadings opposite to it is like a fresh breath of air.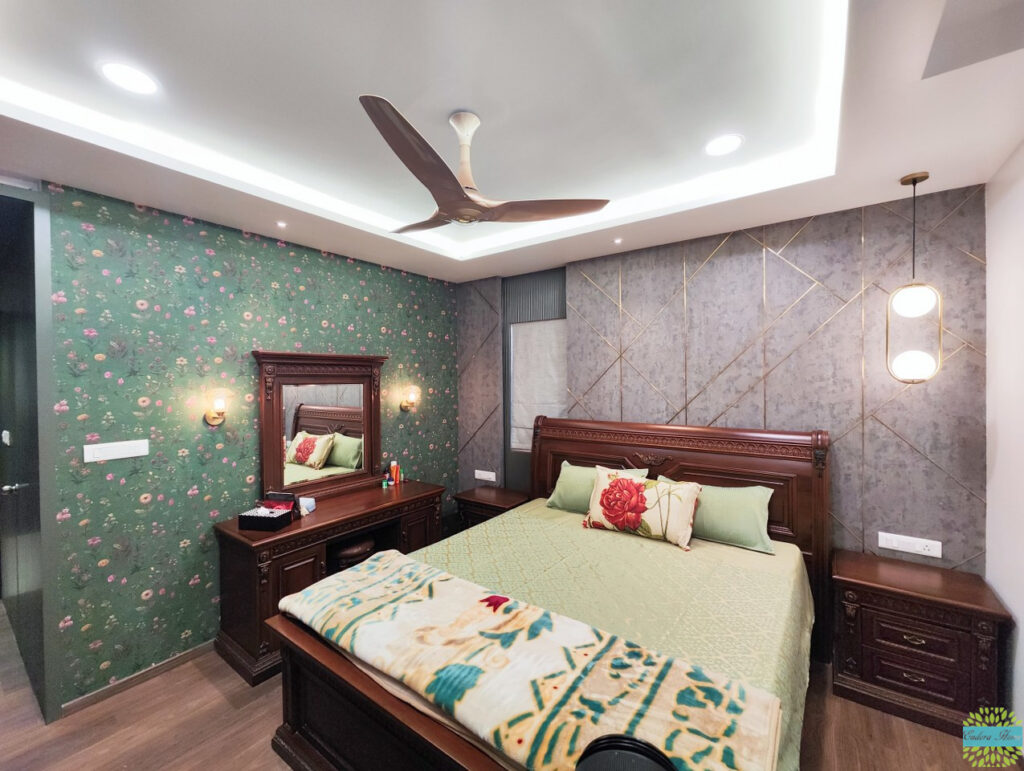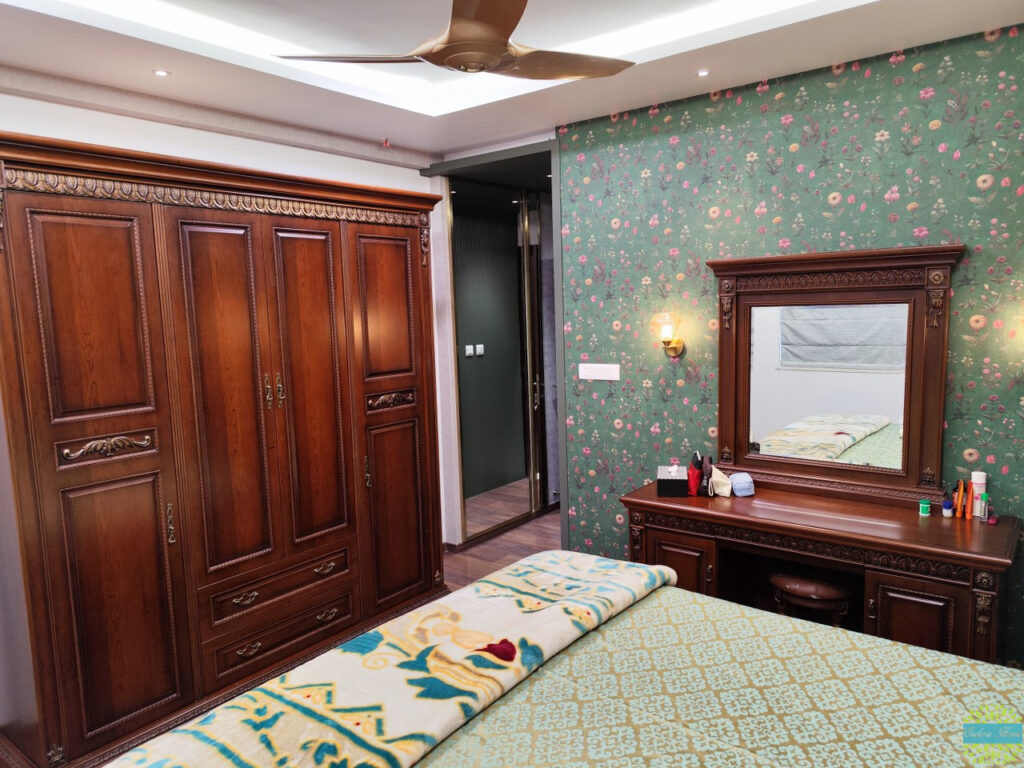 The guest bedroom designed with a tropical theme is highlighted with the wooden furniture set up in the space. Kvackstepp wallpaper from Borastapeter features a playful flora and fauna pattern designed by Swedish artist Hanna Werning. At first glance a romantic floral pattern but look closer and you will find the spotted toad jumping around in the vegetation and a hornet buzzing between the flowers. This wallpaper adds Scandinavian charm and playful energy to the space.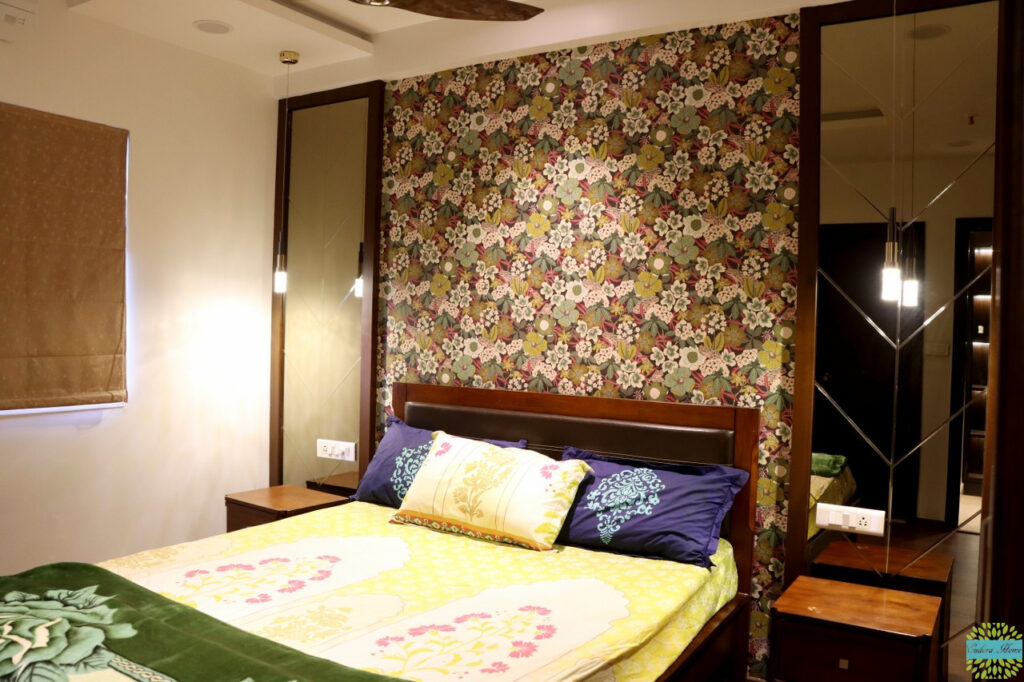 Keen attention was paid to every detail in the drawings and unique blends of color, fabric, metal, glass, wood, and stone were effortlessly put together. Rich, warm, refined-classic, yet contemporary, that's how we crafted this Hyderabad Home, bringing it to life with beautiful design aesthetics.
The master bedroom is designed in a warm and light color palette with a scenic wallpaper from F&F on the bed side wall that recreates the crispness and beautiful detail of medieval tapestries as the key feature of the room. The dressing room door is blended with the wall panelling.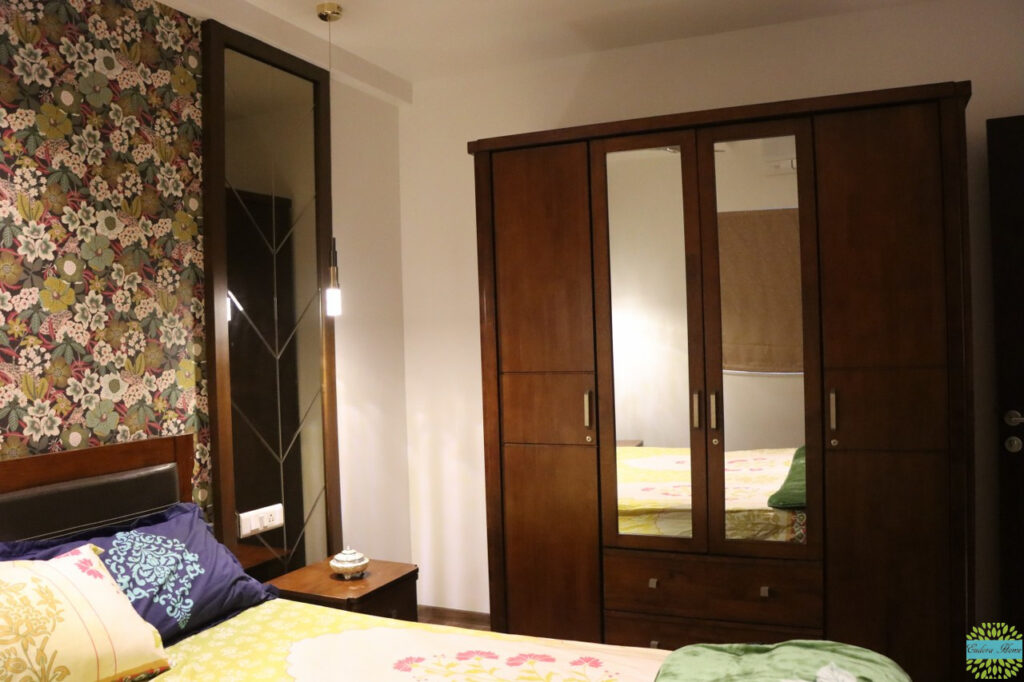 At Eudora Homes we aspire to bring a sense of wonder to the place of rest for our clientele. Their dreams and our ambition results in a design which is tailored to their individual tastes and demands without compromising on quality, style, and comfort.
FACT FILE
Designed by : Eudora Home
Project Type : Residential
Project Name : Pachcalla's residence
Location : Hyderabad
Year Built : 2022
Duration of project : 6 months
Built up : 2400 sq.ft
Project Size : 2100 sq.ft
Project Cost : 62 lac
Principal Designer : Shikha Jain
Photograph Courtesy : G Kranthi Kumar Reddy
Products / Materials / Vendors : Wallcovering / Cladding – Veneer, PU and laminate / Lighting – Brillica lights / Sanitaryware – Kohler / Furniture – homecentre / Flooring – Italian marble / Kitchen – ElevateX Paint – Asian paints / Artefacts – homecentre / Wallpaper – Studio Orion / Hardware – Hafele.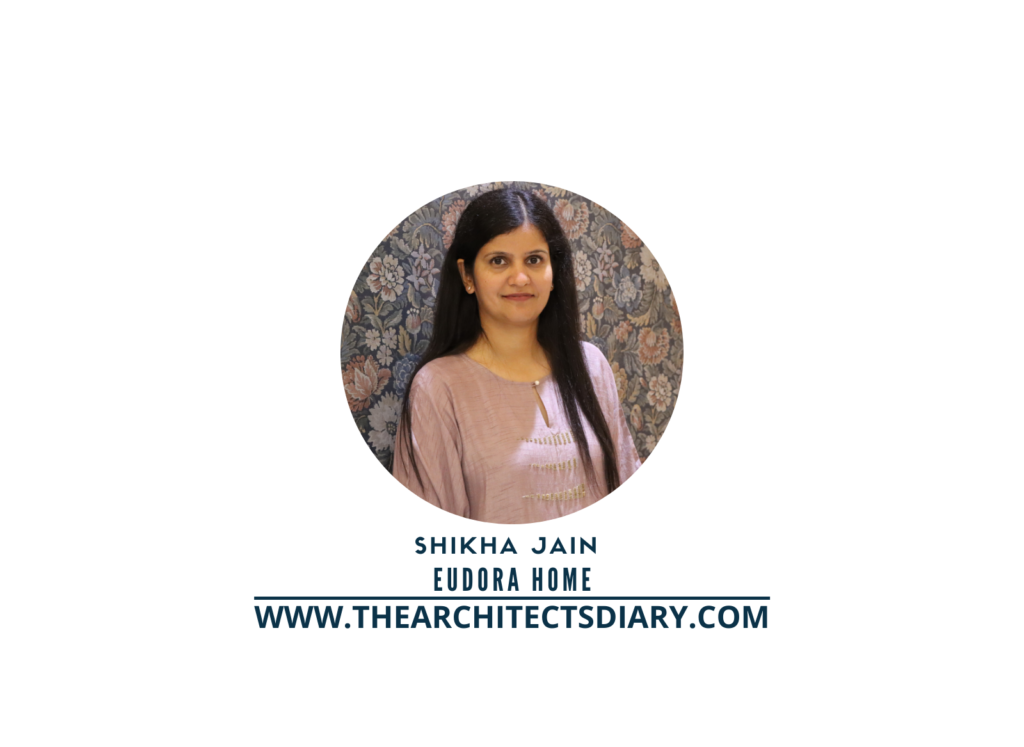 Firm's Instagram Link : Eudora Home
Firm's Facebook Link : Eudora Home
For Similar Projects >> MINIMAL ACCENTS & PASTELS WITH A HINT OF TRADITIONAL INDIAN ELEMENTS FOR A RESIDENCE IN VADODARA
The post Pachalla's Residence Is An Intricately Woven Mix Of Contemporary Styles And Indian Culture | EUDORA HOME appeared first on The Architects Diary.