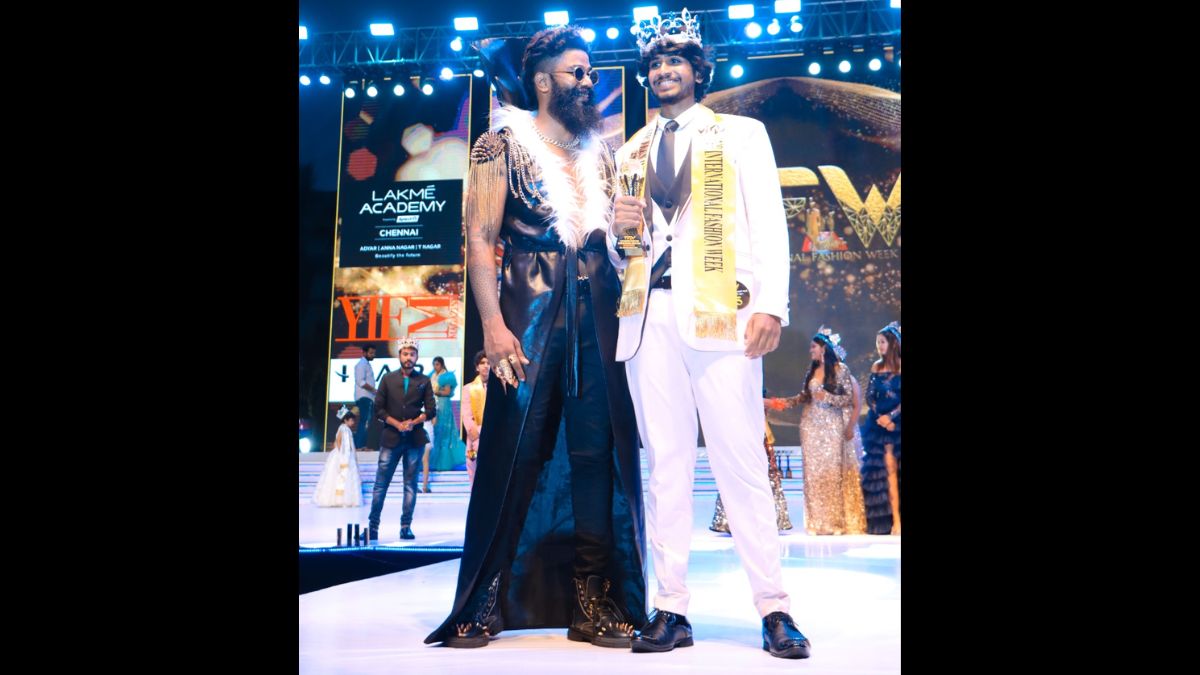 Nithin Kandalam, Mr. International India 2023 YIFW
Bengaluru (Karnataka) [India], August 26: In the ever-evolving realm of modeling, where charisma meets the runway, and dreams transform into reality, one name is poised to redefine the standards of success – Nithin Kandalam. Hailing from the vibrant city of Bangalore, Nithin's journey in the world of fashion is a tapestry woven with dedication, achievement, and an unyielding passion for making a mark in the global modeling arena.
Born on February 3rd, 2005, Nithin's journey was sculpted by the very city that nurtured his aspirations. The son of Ravi Kumar K S and Padma N, his story is a testament to the power of familial encouragement and support. As he embarked on his journey, his family stood by him as pillars of strength, bolstering his dreams with unwavering faith.
Nithin's meteoric rise to prominence culminated in his most notable achievement – the coveted title of Mr. International India 2023. This prestigious accolade is not merely a reflection of his striking appearance but a testament to his magnetism, confidence, and innate charm that entranced both judges and audiences alike. His victory is a stepping stone towards a promising career in the dynamic world of modeling.
While Nithin conquers the modeling world, he remains firmly rooted in his academic pursuits. Balancing his journey as a model with his commitment to education, he showcases his ability to straddle diverse arenas seamlessly. His dedication to education serves as a testament to his vision of a future that's both enriched intellectually and adorned with achievements in the world of fashion.
However, Nithin's story goes beyond the ramp lights and camera flashes. He is a passionate lover of music, a soul captivated by the enchanting melodies that traverse cultures and emotions. His wanderlust finds its expression in travel as he journeys to explore the tapestry of the world's landscapes and cultures. Complementing his zest for life is his disciplined fitness routine, a reflection of his commitment to holistic well-being. Badminton, a game that requires precision and agility, is another facet of his vibrant personality that keeps him engaged during leisure moments.
Nithin's journey is a symphony of hard work, commitment, and unwavering familial support. His aspirations reach beyond national borders, as he envisions a career that transcends boundaries and cultures in the modeling industry. His journey exemplifies the potency of modeling as a tool for creating a global impact, igniting conversations that resonate across continents.
As Nithin Kandalam continues to stride forward in the modeling industry and pursues his academic goals, his journey stands as a testament to the potential of young individuals to seamlessly fuse their passions and aspirations. From music to fitness, education to modeling, Nithin embodies a dynamic spirit that radiates both on and off the runway.
A Tale of Determination and Ambition
Nithin Kandalam's narrative is an ode to unwavering determination and boundless ambition. From the bustling streets of Bangalore to the international stage as Mr. International India 2023, Nithin's journey is a mosaic crafted meticulously through passion, resilience, and countless hours of relentless pursuit. His achievements are the fruits of his labor, a testament to his fervent commitment to turning dreams into reality.
Harmonizing Education and Dreams
Nithin's journey showcases his remarkable ability to harmonize the pursuit of education with his modeling aspirations. This duality not only highlights his determination to excel on the runway but also underscores his dedication to personal growth and academic excellence. It's a demonstration of his foresight, creating a foundation for a future that's both intellectually enriching and professionally fulfilling.
A Symphony of Passions
Beyond the glossy veneer of the runway, Nithin's passions paint a vivid picture of his multifaceted persona. His love for music knows no borders, as he finds a connection in melodies that traverse cultures. His wanderlust propels him across geographical boundaries, savoring diverse experiences and immersing in global cultures. His disciplined fitness routine mirrors his approach to life—structured and energized. Through pursuits like badminton, he strikes a balance between an active lifestyle and leisurely enjoyment. Nithin's journey demonstrates a holistic approach to personal growth.
An Inspiration in Motion
Nithin Kandalam's journey is a beacon of inspiration for the young dreamers of the world. His story encourages them to chase their passions unabashedly while managing the delicate dance between goals and responsibilities. He reminds us that dreams can be nurtured alongside education, and success is forged through resilience and unwavering commitment.
A Vision for Tomorrow
Peering into the future, Nithin envisions a legacy beyond the runway. With aspirations that stretch across international borders, he aims to etch his name not only as a model but as a global influencer. His intelligence, charm, and relentless determination ensure that Nithin's journey is far from its final act; in fact, it's merely the opening chapter of a story destined for greatness.
Nithin Kandalam's story is a vibrant fusion of passion, discipline, and an unyielding pursuit of dreams. As he continues to forge ahead, his journey serves as a reminder that dreams recognize no limits. With the perfect blend of dedication and hard work, Nithin's narrative is an embodiment of the limitless potential of human endeavor. The worlds of modeling, education, and beyond stand poised to embrace Nithin's future endeavors with eager anticipation.
If you have any objection to this press release content, kindly contact pr.error.rectification[at]gmail.com to notify us. We will respond and rectify the situation in the next 24 hours.