Neoclassical Interior Design, draws inspiration from the aesthetics of ancient Greece and Rome. It embodies timeless elegance, symmetry, and grandeur. When applied to your design scheme, it adds luxury and sophistication to your personal space. Its history dates back to the late 18th century, when it emerged in reaction to the excessive ornamentation of the Rococo style. Neoclassical interior design is inspired by classical architecture and antiquity's art. It is known for rekindling the harmonious beauty of bygone eras and creating spaces that exude historical resonance and refined sophistication.
Following are a few of its most important design characteristics:
1.Perfect Balance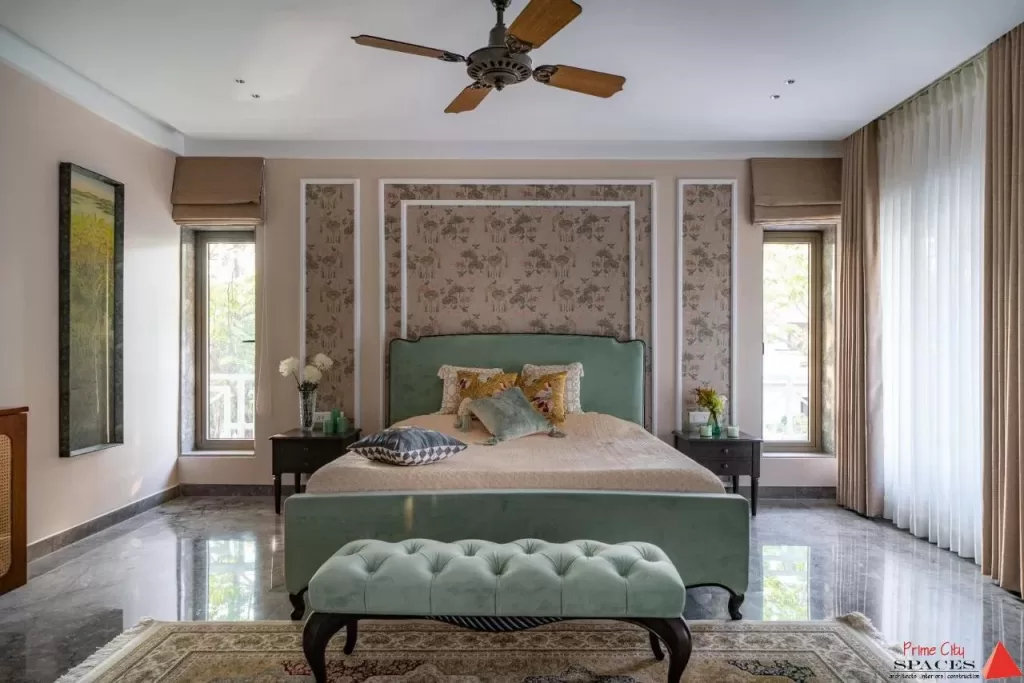 Designers prioritise achieving perfect balance as a fundamental principle in this design style. This means carefully arranging every element within the space to create a sense of equilibrium and harmony. It involves symmetrically placing furniture, decor, and architectural elements to ensure that one side of a room mirrors the other.
2.Elegant Columns
Columns often take centre stage in neoclassical interiors, drawing inspiration from ancient Greek and Roman architecture. These columns may serve purely decorative or structural purposes, instilling the space with symbolic grandeur and timelessness.
3.Magnificent Details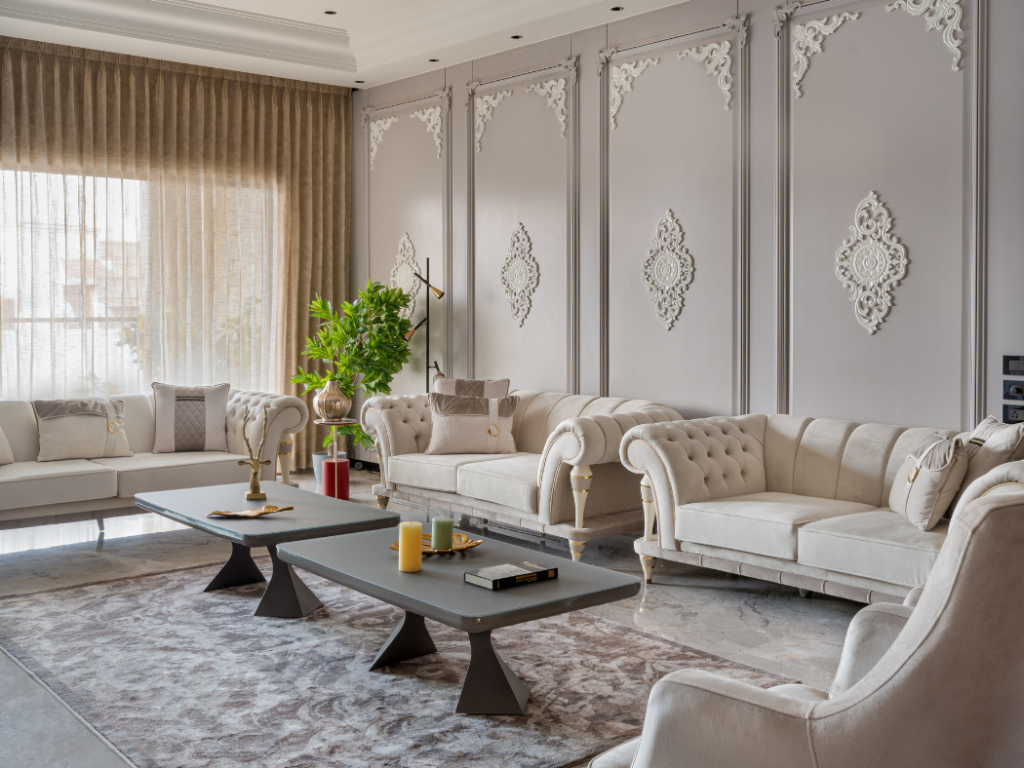 This style elaborates mouldings, cornices, and friezes, intricately adorning the walls, ceilings, and furniture. As a result, it introduces a sense of refinement and historical authenticity to the design. And as it is said that God lies in details, these become eminent in creating a perfect space for the user.
4.Timeless Motifs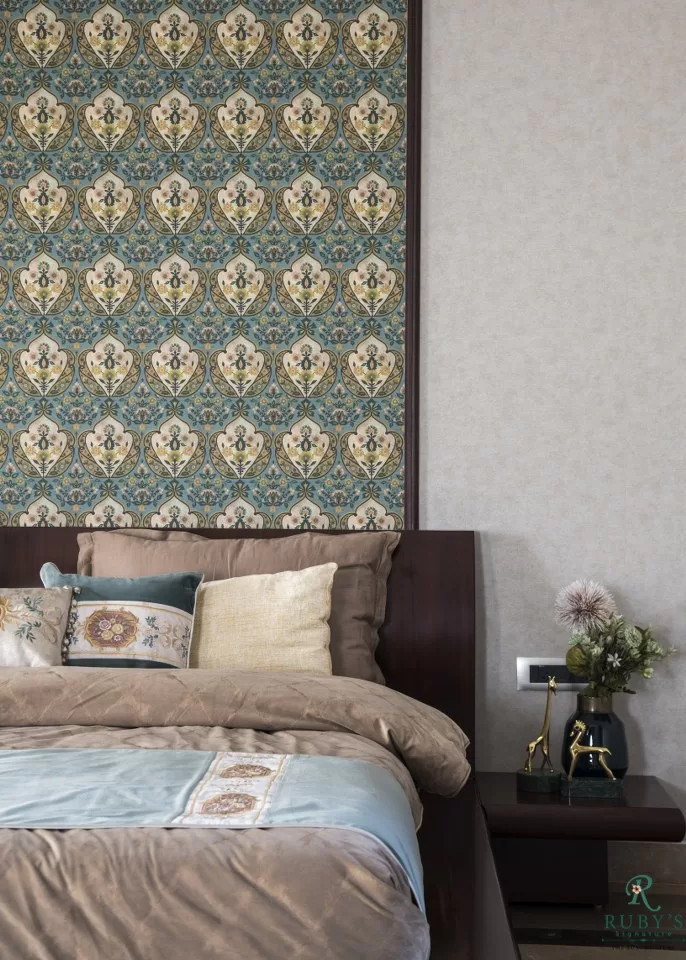 Common motifs, like laurel wreaths, urns, and acanthus leaves, all take us back to the classical world. They are symbolic in nature and represent the very foundation of this style. They can be a part of the conceptual design through wall accents, upholsteries, or décor.
5.The Earthy Colour Palette
Neo Classical spaces favour a subdued colour palette, highlighting neutral shades like beige, white, and soft pastels. It results in cultivating a serene and calm ambiance. These earthy colours are a favourite since they give a very fuzzy and homely feeling to the user.
6.Opulent Textiles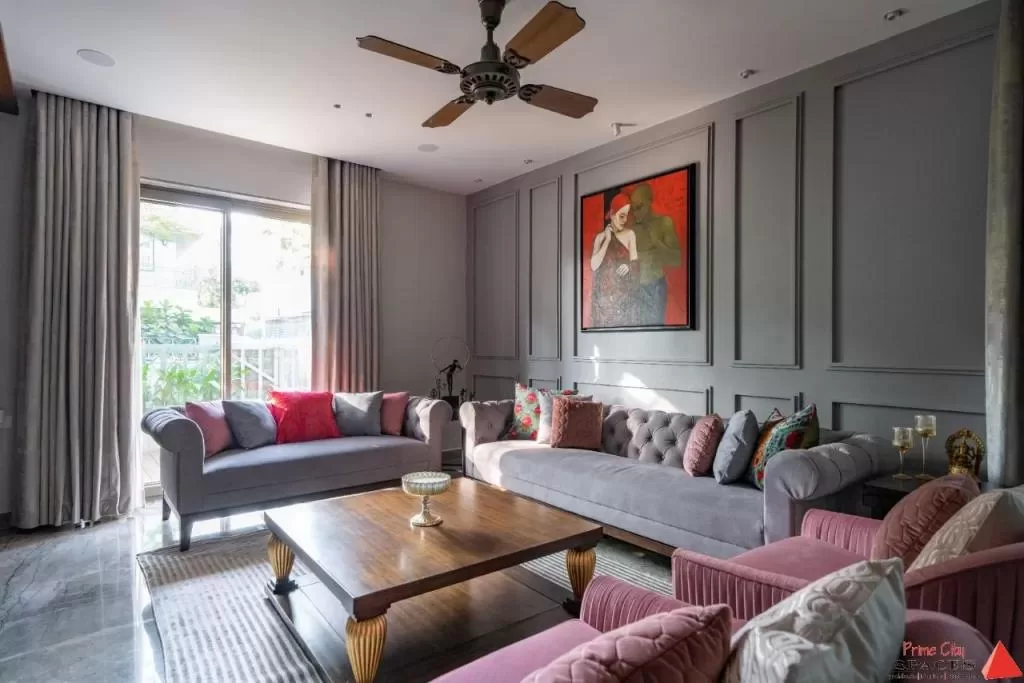 Luxurious textiles such as velvet, silk, damask, and brocade adorn upholstery, draperies, and cushions. It can bring opulence and tactile comfort to interiors. And as classical architecture was all about luxury and power, a good piece of fabric is essential.
7.Chandelier Grandeur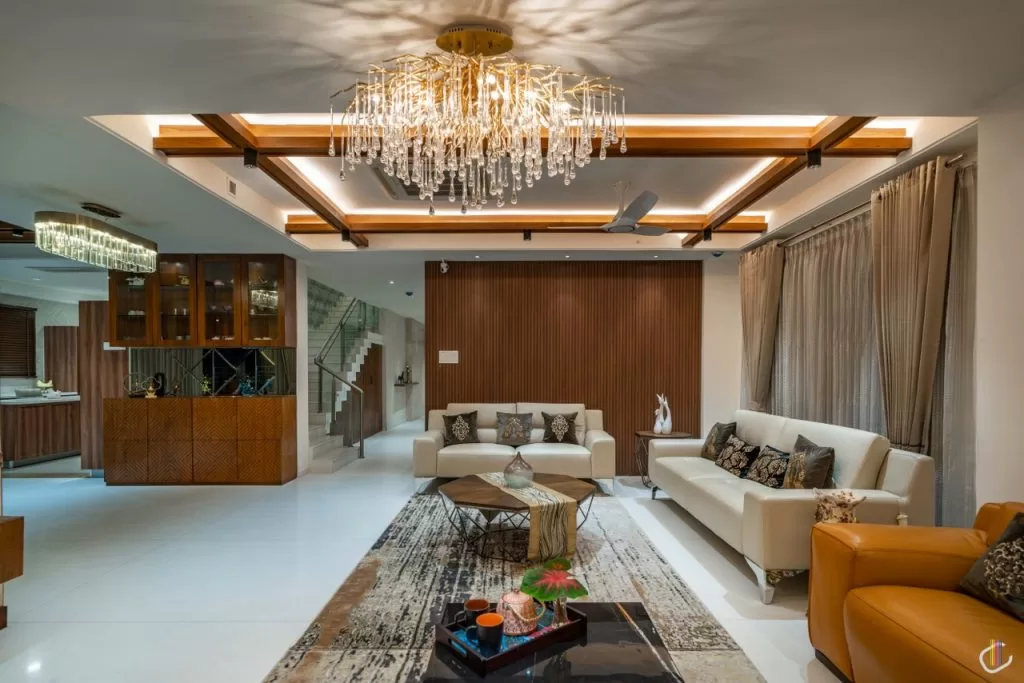 A neoclassical space uses huge chandeliers, frequently adorned with crystal or glass pendants. They not only illuminate the space but also serve as striking focal points. They can enhance the overall grandeur, along with being a functional asset as well.
8.Use of Natural Materials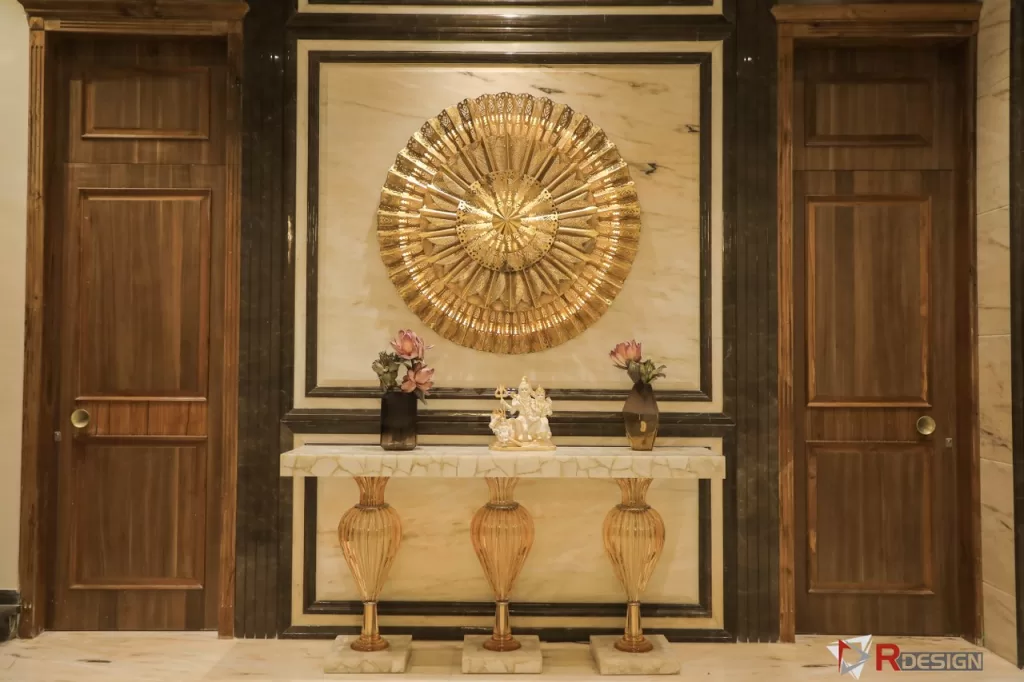 In Neo Classical interior design, designers actively incorporate natural materials, such as marble, wood, stone, plaster, metal, and natural fibres like silk and wool. These materials contribute to a classic and luxurious aesthetic, enhancing both visual and tactile elements within the space.
9.Geometric Flooring
Neo Classical interior design often features geometric flooring, with patterns like herringbone or chevron created from wood or stone. These geometric motifs contribute to the design's sense of balance, elegance, and historical authenticity.
10.Antique Allure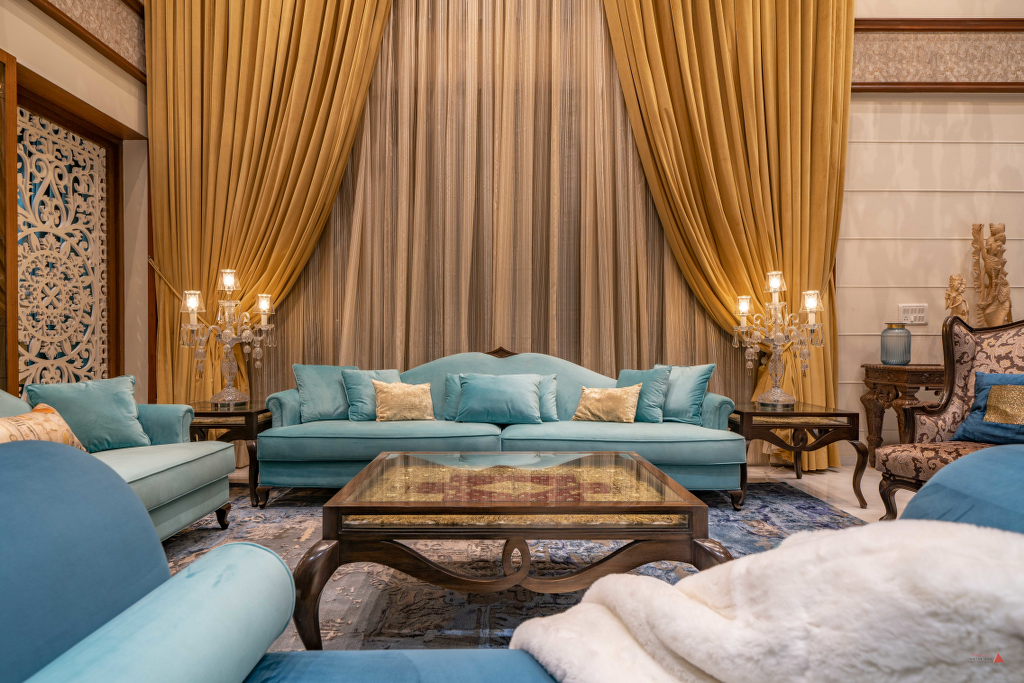 Neo Classical interiors typically feature antique furniture with graceful lines, often crafted from high-quality materials like mahogany or walnut, aligning with classical and period-appropriate designs. These antique pieces can also be focal or accent points in a space.
11.Artistic Feat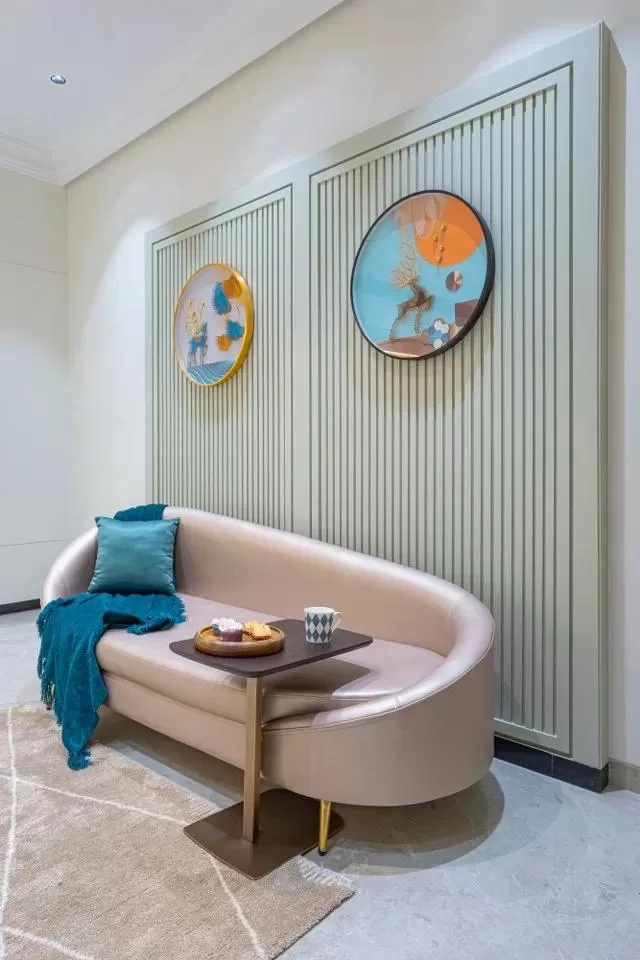 The addition of classical paintings, sculptures, and antiquities beautifies the neoclassical interiors. It enriches its historical and artistic appeal while also infusing cultural depth into the design.
12.Golden Accents
Highlighted accents, featuring gold leaf or gilded trims, embellishments in the furniture, picture frames, and other decor items, evoke affluence and extravagance. These shiny lines are unique yet solidifying characteristics of this design style.
13.Dress the Windows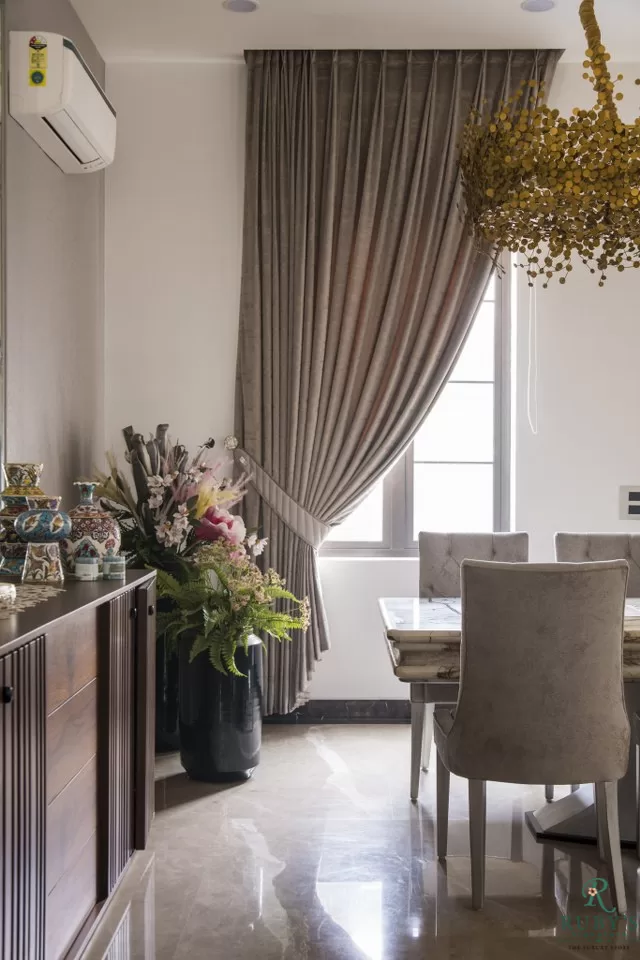 Neo Classical interior design actively features large, dressed windows. These windows are adorned with opulent draperies, often made of rich fabrics such as silk and damask. They not only offer ample natural light but also enhance the overall elegance and classical ambiance of the space.
14.Decorative Pedestals
Decorative pedestals are a notable feature in Neo Classical interior design. These elevated platforms are often used to display statues, vases, or other decorative items. Their purpose is to make these objects more prominent and add a touch of historical elegance while elevating key decor elements to draw attention and appreciation.
15.Mirror Mirror on the Wall!
In Neoclassical interior design, designers strategically place large, ornate mirrors with gilded frames. These mirrors reflect light, creating an illusion of a more expansive space. They enhance the overall aesthetics and luminosity, making them a key element in the design scheme.
16.Play of Patterns
Neoclassical interior design incorporates a play of patterns, with Greek key or meander motifs frequently adorning textiles like rugs, upholstery, and drapes. These geometric patterns contribute to visual interest and reinforce the classical theme.
17.The Art of Recessed Panels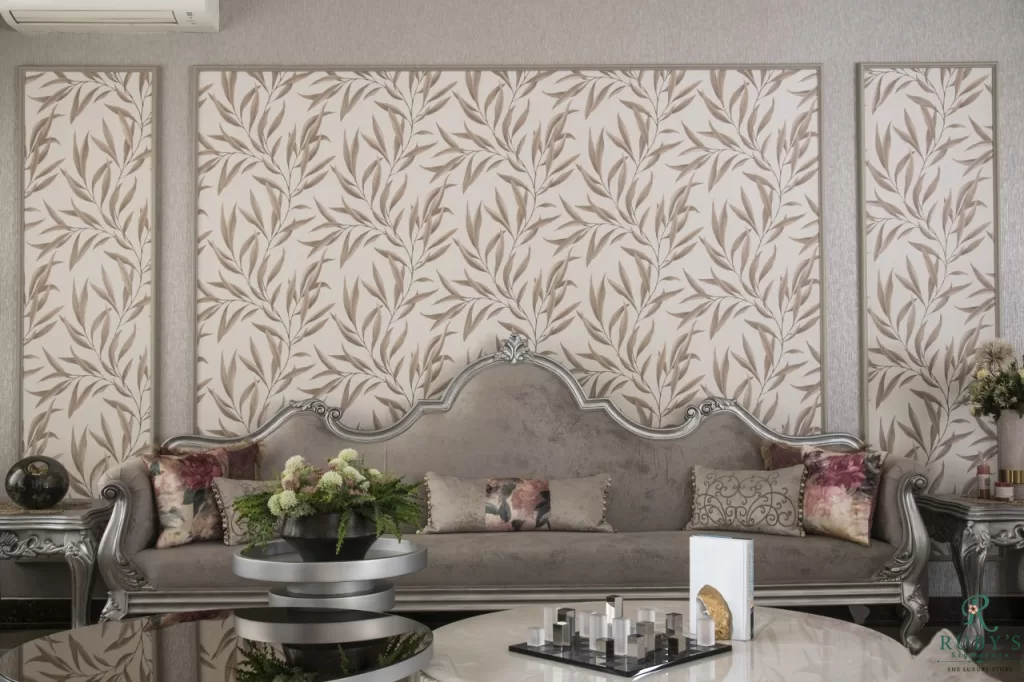 Walls and cabinetry often incorporate panels with recessed detailing, crafting a sense of texture and depth in the design. These recessed panels can be utilized for many things like storage, seating area or decorative shelves.
18.Roman Arches and Domes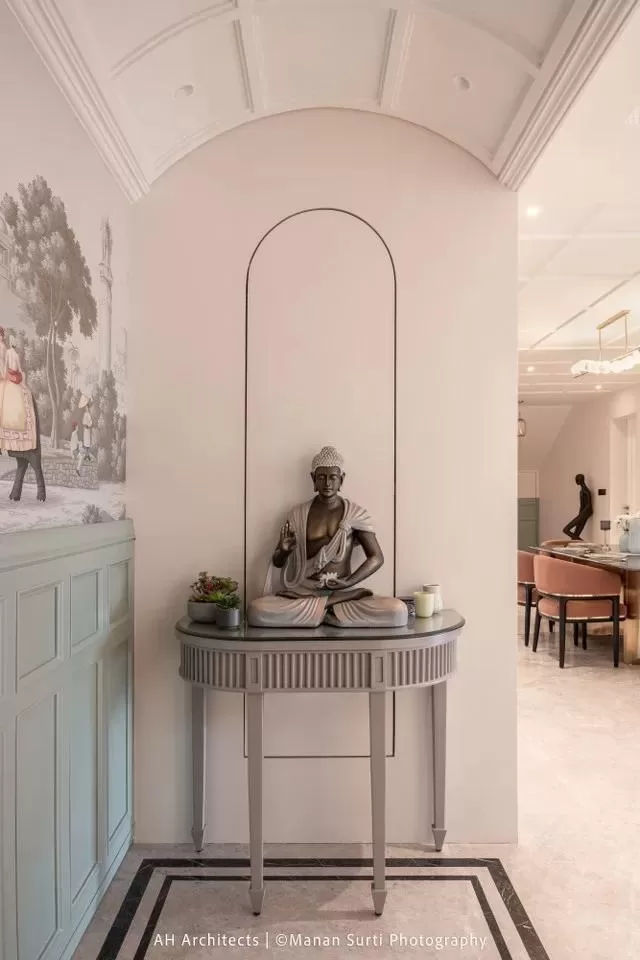 Designers integrate elements inspired by Roman architecture, including arches and domes. It conveys a rich historical narrative, enhancing the space with architectural sophistication. Along with being powerful, they also symbolize softness and romance.
19.Towering Grace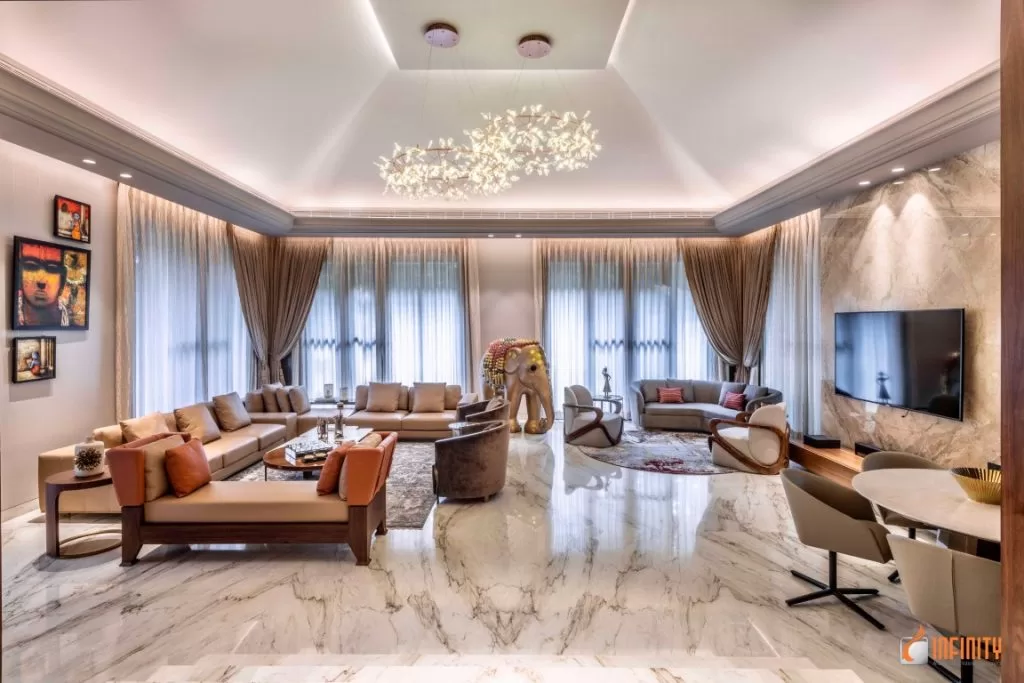 Neo Classical spaces often feature tall ceilings, just like the elongated Greek and Roman structures. The height ends up providing ample room for decorative elements and lighting,
20.Classical Order and Harmony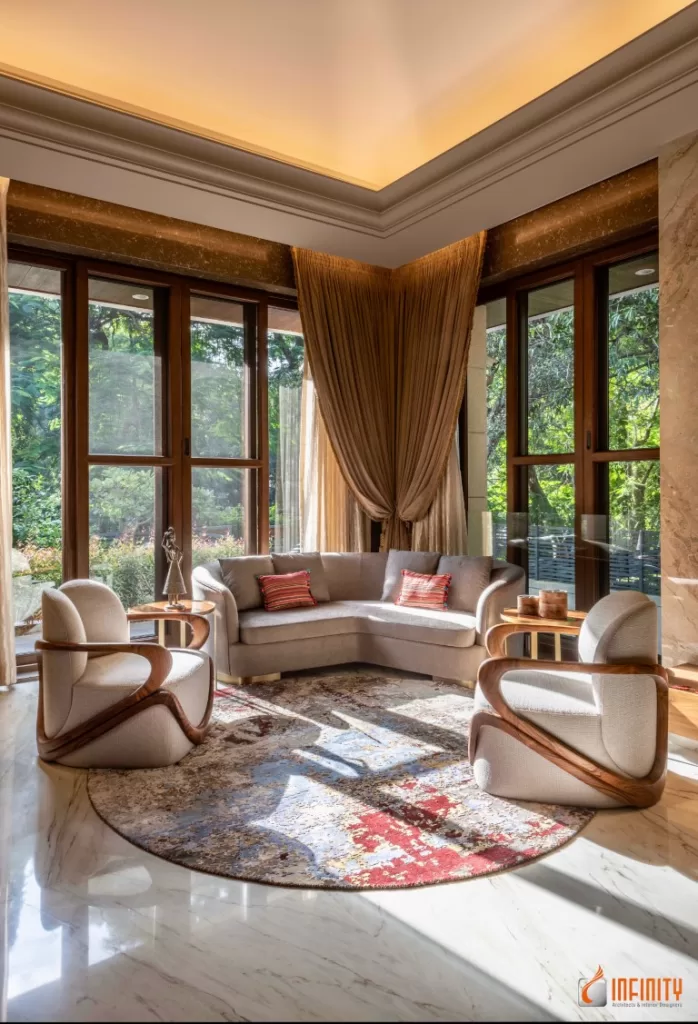 The overall guiding principle of Neo Classical design is to replicate the order and harmony of classical Greek and Roman architecture, creating spaces characterized by balance, proportion, symmetry and historical references.
Presently, the designers are incorporating neoclassic interior design elements into high-end residences, luxury hotels, upscale restaurants, and historic venues. Here this style defines a space to be luxurious, elegant and sophisticated. Along with that, the contemporary designers often blend neoclassical elements with modern elements, thus creating a fusion of old and new. Designing a space with this design scheme can be a complex task, and designers may encounter several common mistakes. Few examples of these can be:-
Excessive use of ornate detailing, such as heavy mouldings, can overwhelm a space.
Inconsistent proportions in furniture or architectural elements can disrupt the basic principle of symmetry in a space.
Mismatched style and periods can create confusion and result in an incoherent design.
Neglecting modern convenience and contemporary solutions can create an uncomfortable and dysfunctional design for the user.
Excessive use of gold leaf or gilded elements can come across as ostentatious. It's essential to use gilding sparingly and purposefully.
Till date neoclassical interior design style has been intermixed with modern and contemporary style. But the question here is, are there any other interior design styles that would blend with the neoclassical style?
Content writing and research by Ar. Ishita Jindal
The post Neoclassical Interior Design: 20 Noteworthy Features appeared first on The Architects Diary.