Residentially located in Aurangabad, the 4-storey building is known as "Nathani's Residence" is adorned with brick patterned walls having pastel colours. This project is about the 4th floor, 4bhk flat with a beautiful usage of Italian marble flooring. According to the requirement of client their choice was to combine modern and rustic factors with pastel colours as their personal taste.
"Nathani's Residence" Is Adorned With Brick Patterned Walls Having Pastel Colours | Deora Associates
Visit: Deora Associates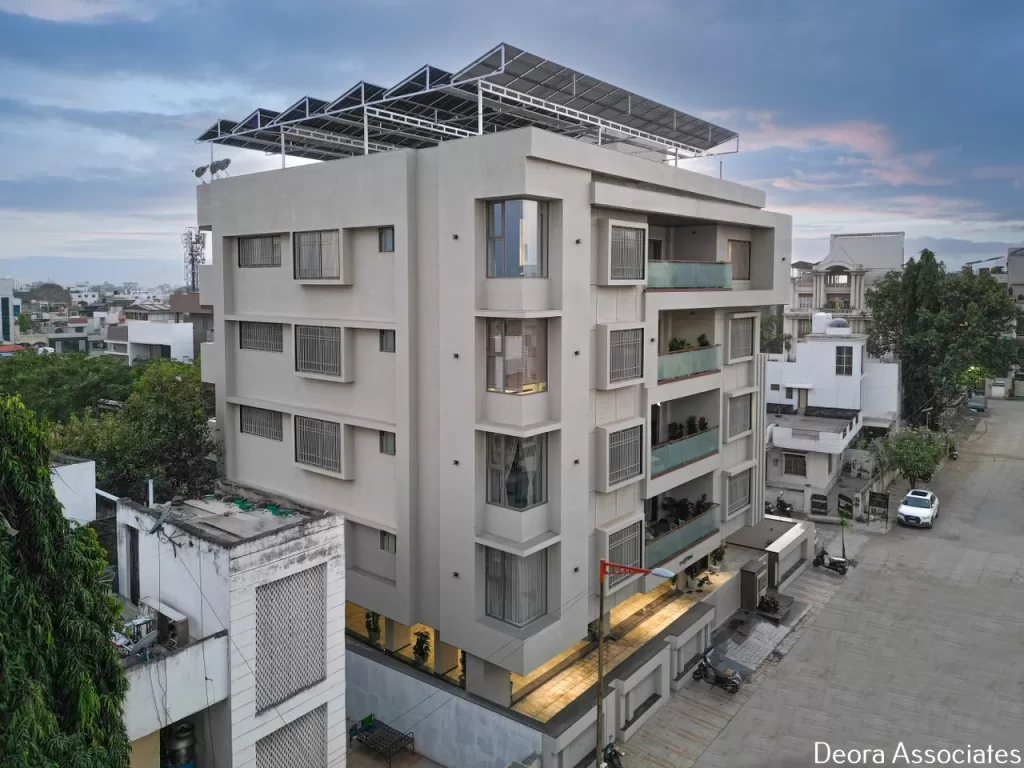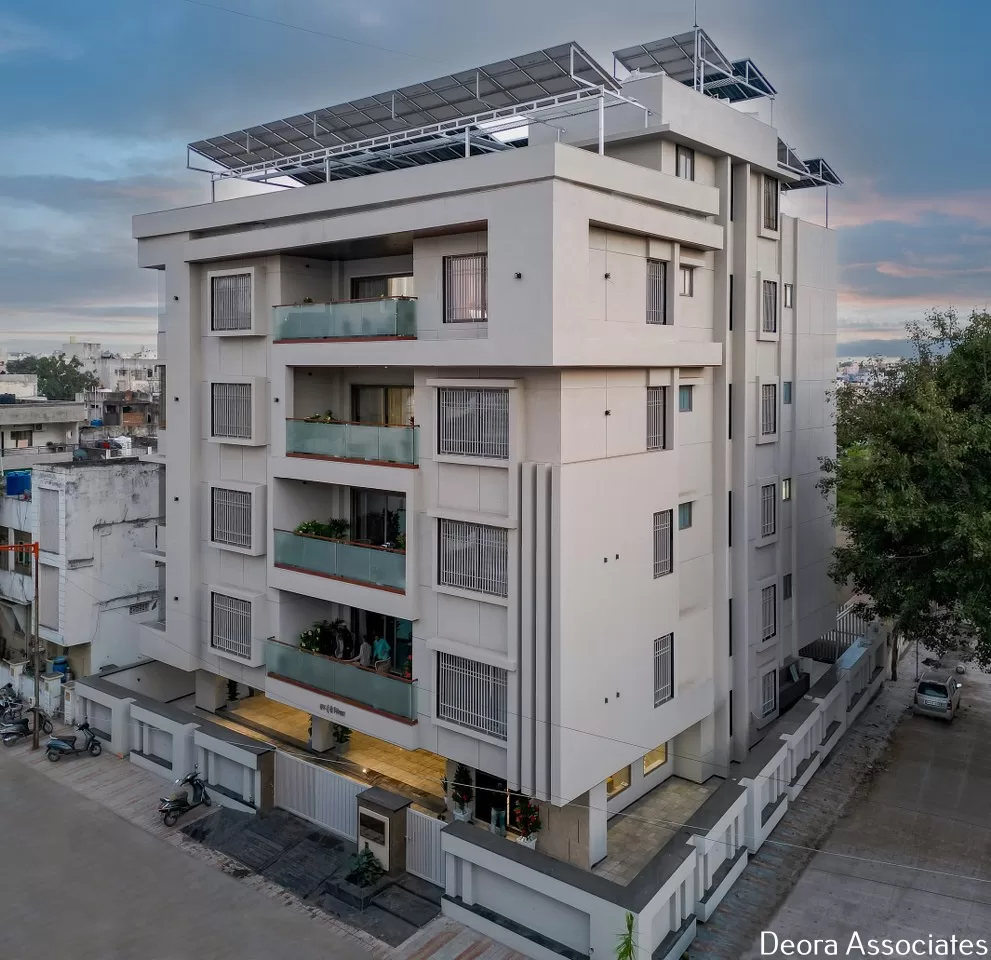 Stepping in the living room, living room comprises of statuario marble flooring which matches the colour of the ceiling and gives a visionary space to leather sofa sourced from turkey which shows sovereignty. To let sofa be a major visionary element the colour of curtain and carpet is kept similar.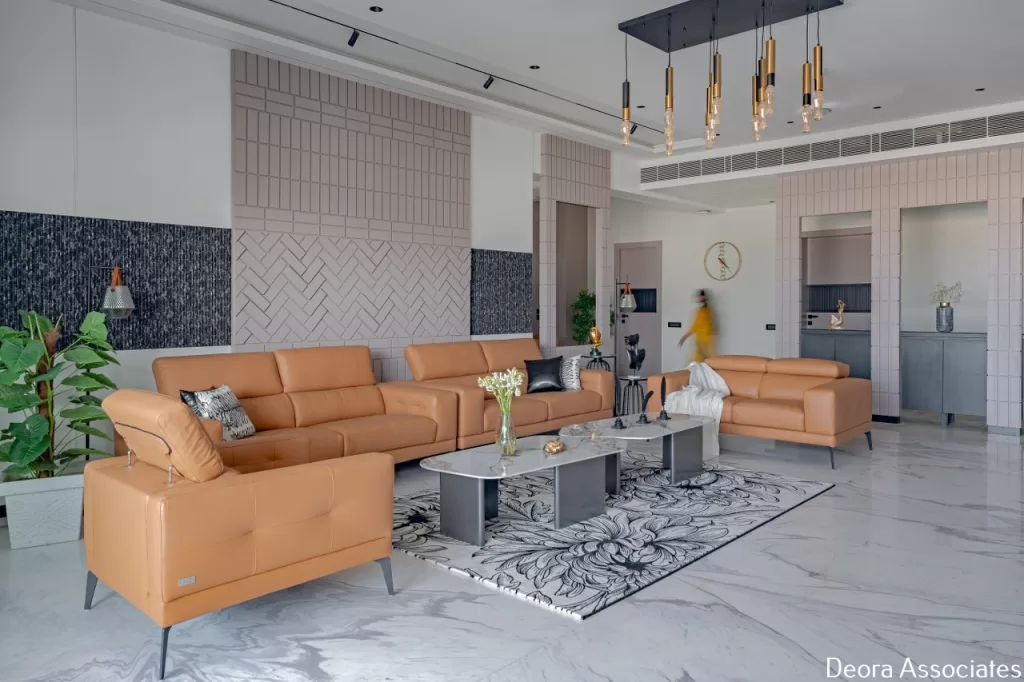 Moving towards the brick patterns, these were basically implemented on MDF in the form of vertical, horizontal stack bonds and herringbone patterns also to create the level difference every brick was placed specifically in the pattern.
Also, to balance the coursed wall, textured louver panels were placed with background combination of duco paint. The louver panels are extended till dinning to resemble the connectivity between living room and dining.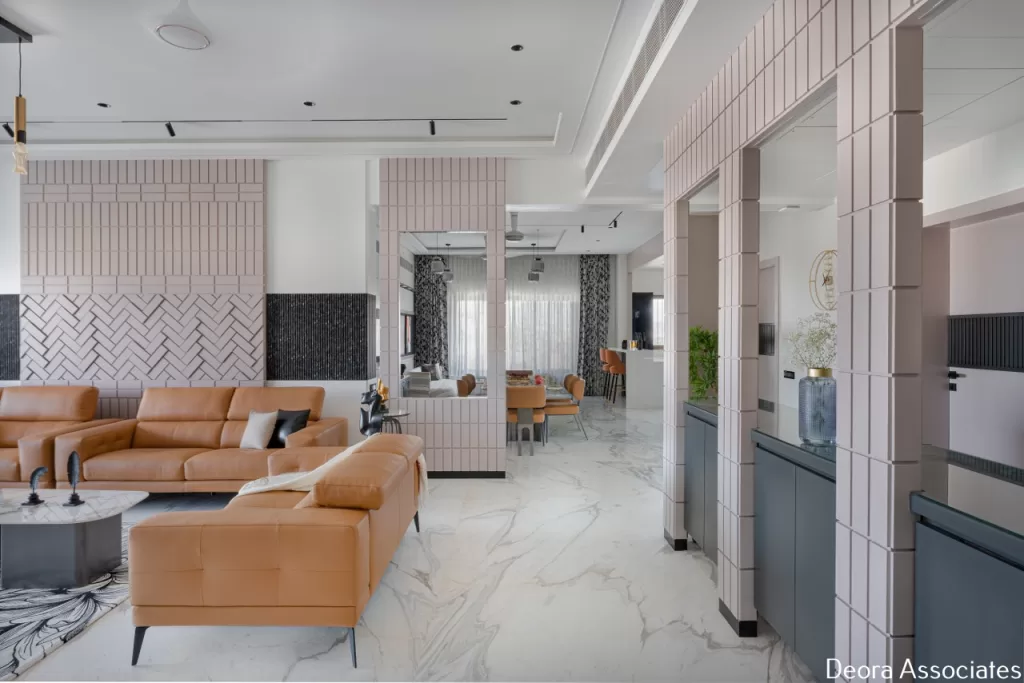 For creating an expanse in the living room, semi- open partitions were placed. The most crucial part of living room is the 10 ft wide attached balcony which is provided for sit out and acts as a main source of light which covers 75% of living room. To soberly satisfy the requirement of the client duco paints were used instead of wooden finishes.
Talking about the dinning area, to break the monotony of white and black coloured combination of floor and walls in the dinning room the chairs were kept in the same leather pattern as in the living room sofa.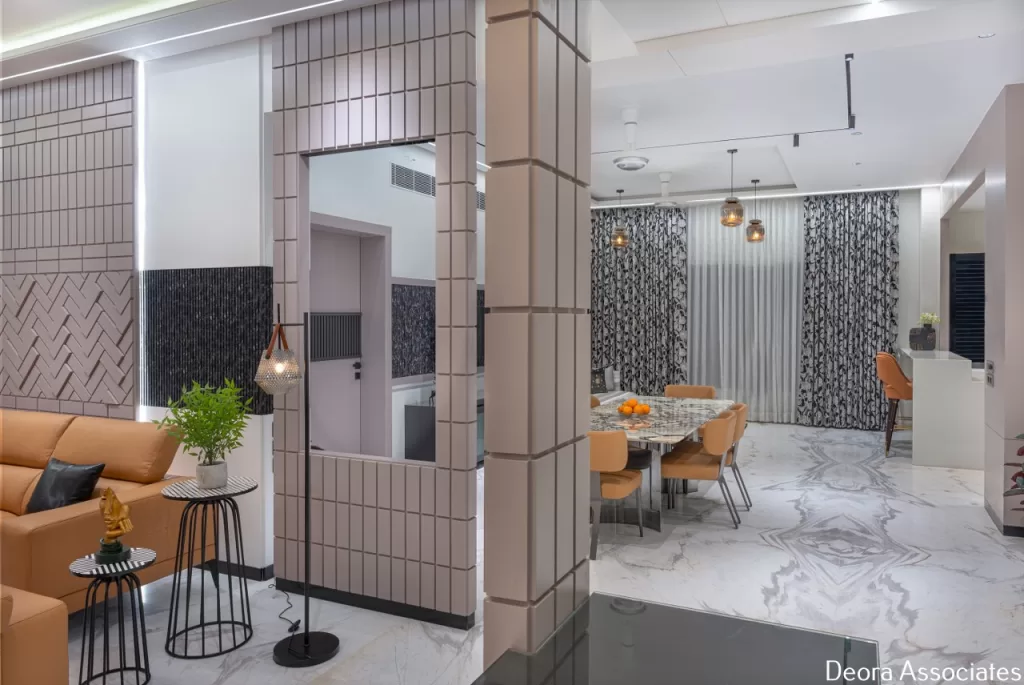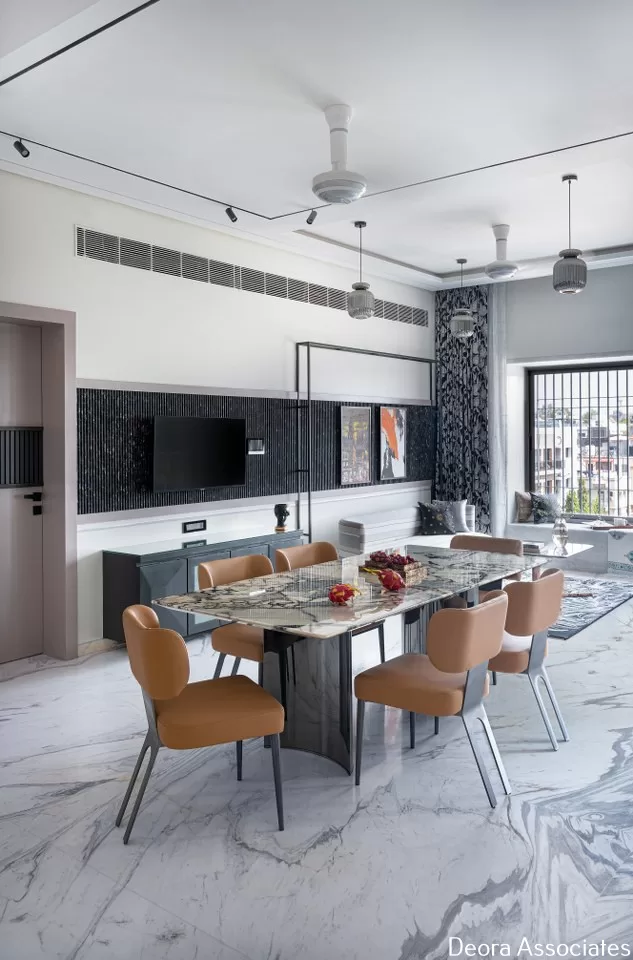 A sitting window is provided on the right side of the dining room which let the sunlight cover almost entire dining room and at the end it merges with sunlight of balcony in the living room and creates an L-formed ventilation pattern. To enhance the beauty of flooring in living room to dining a 55ft book-match flooring was provided.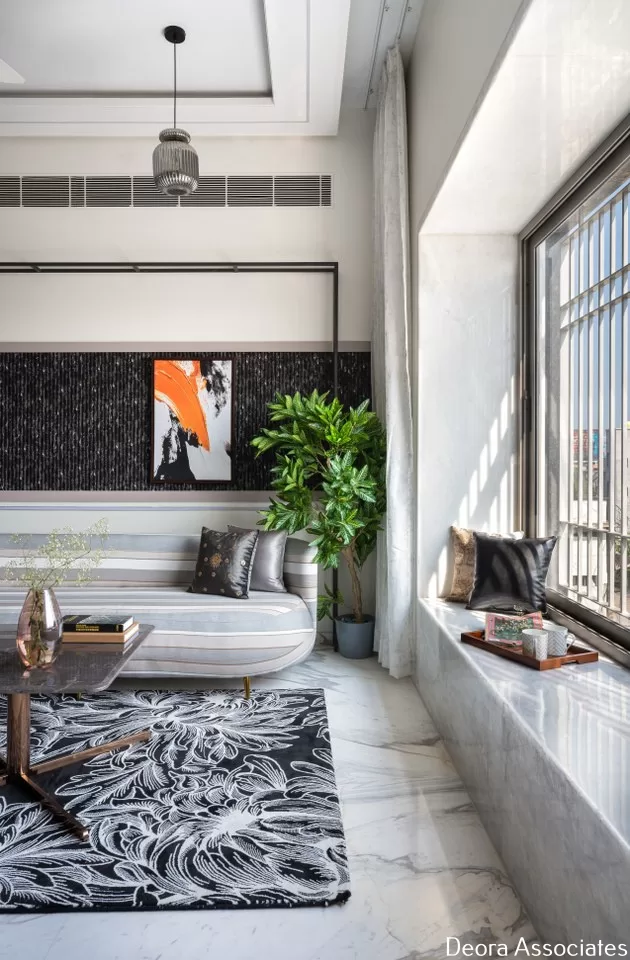 Moving towards kitchen, it is well furnished in nano white marble. Also significantly, A full length window was provided in eastern side of kitchen for endless view and to capture maximum sunlight. Also to avoid blockage and to show connectivity open breakfast counter was provided in between kitchen and dining which was combined with warm leather chairs.
In the master bedroom the pastel blue colour was the ruling and a visionary element. To maintain blue as the main visionary colour the furniture was furnished in white paint.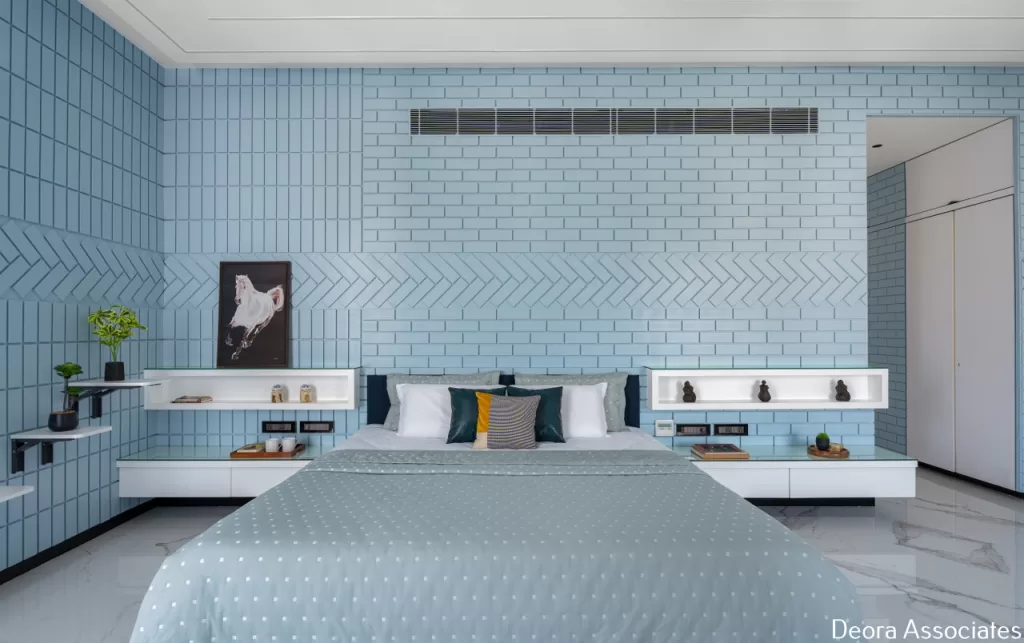 Also, vertical stack bond, running bond and herringbone patterns were implemented in panelling of master bedroom.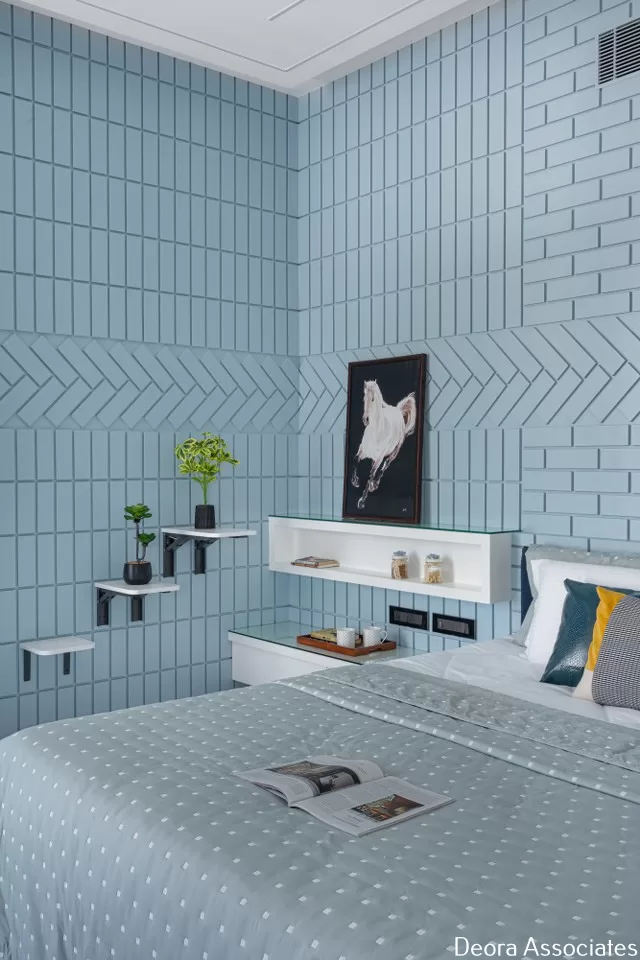 To add calmness in the sensitive pastel blue shade a darker shade navy blue sofa was placed in front of the sitting window. The herringbone pattern band shows the connectivity between adjacent walls and combines them.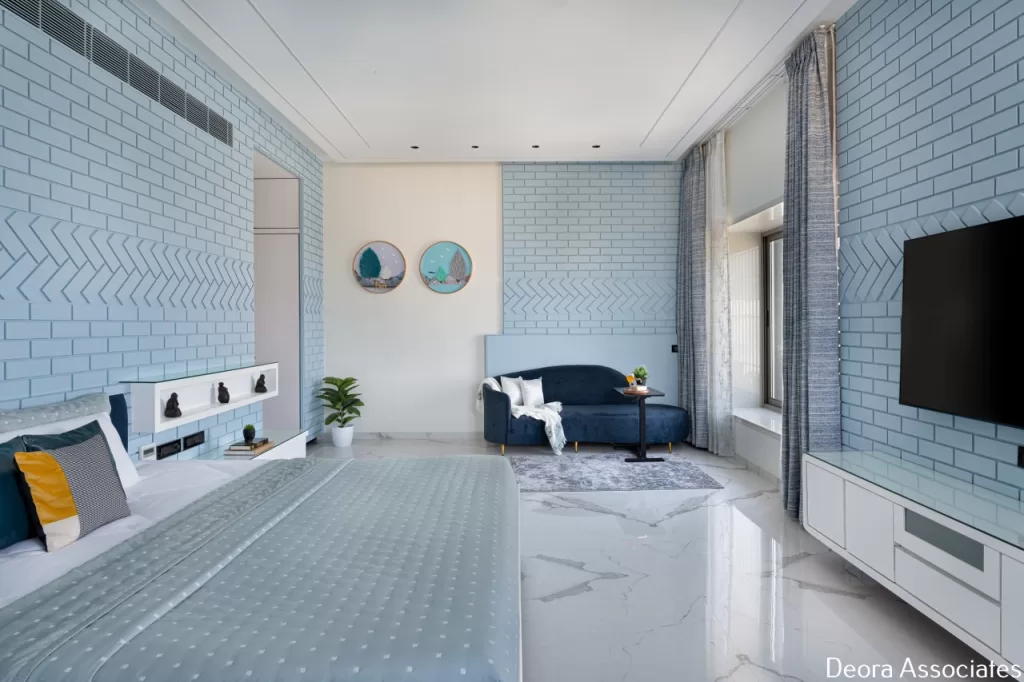 Moving towards the bedroom of, the brick pattern theme was continued in a rustic and vibrant form. The brick wall was maintained in actual colour of brick and the leathered backrest, side tables and the louvered shutters of wardrobe were resembling vibrancy through black colour .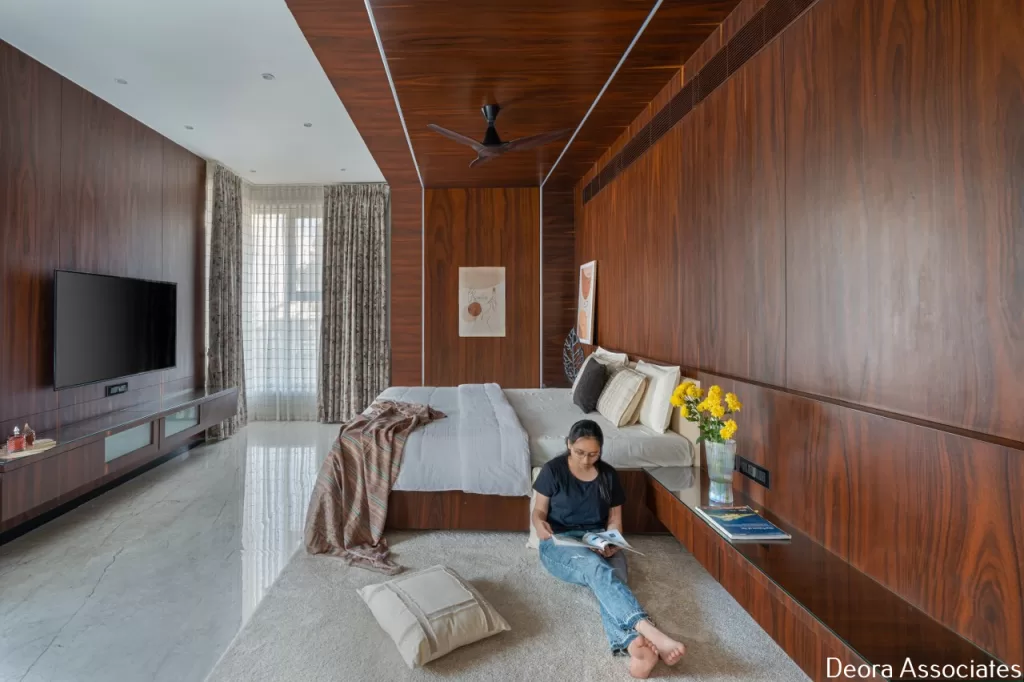 All window sills are kept nano white to show calmness, brightness and to show cooling. Ac ducts, Profile lights, cob lights and track lights walk with you in all way along.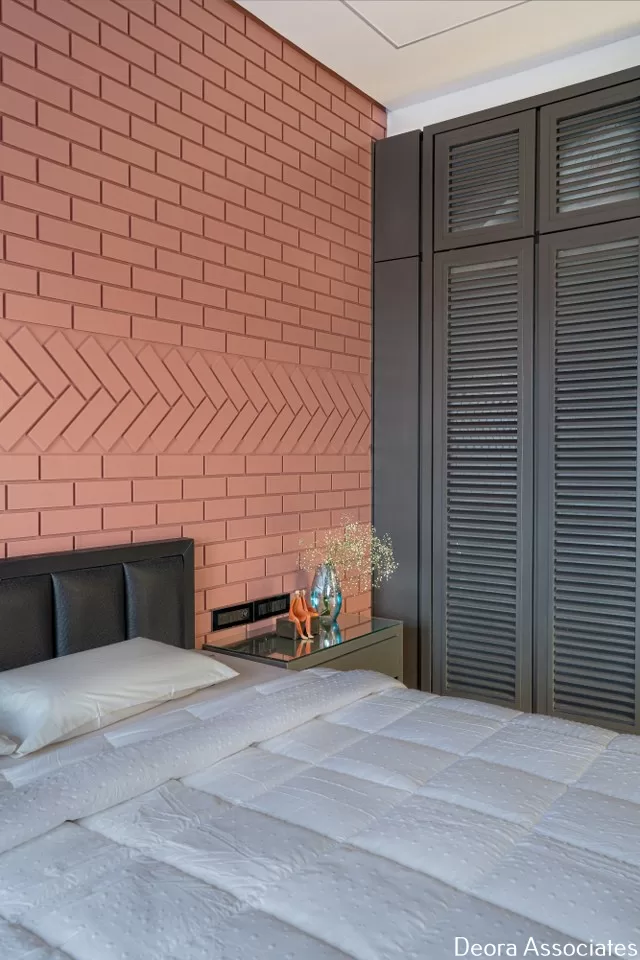 Fact File
Designed by : Deora Associates
Project Type : Residential Architecture Design
Project Name : Expression Of Bricks
Location : Chatrapati Sambhaji Nagar. (Aurangabad), Maharashtra
Year Built : 2023
Duration of the project : 1.5 years
Plot Area : 6000 sq.ft
Built-up Area : 4600 sq.ft
Project Cost : 1.8 crore
Principal Architects : Ar. Yogesh Deora
Team Design Credits : Bhumik Chawda
Photograph Courtesy : Rohit Mendiratta
Firm's Website Link : Deora Associates
Firm's Instagram Link : Deora Associates
Firm's Facebook Link : Deora Associates
For Similar Project >>> Faza Home Designed With A Minimalist Style Exuding Luxury And Elegance
The post "Nathani's Residence" Is Adorned With Brick Patterned Walls Having Pastel Colours | Deora Associates appeared first on The Architects Diary.