Mundra villa in Bilaspur : A contemporary villa design with lots of wow elements within. The villa is designed to cater to the needs of a family of 4 members The idea was to create a homely environment which is comfortable yet stylish and therefore each corner of the house is designed with utmost care towards making it very comfortable and satisfactory but also luxurious and aesthetically pleasing.
Mundra Villa In Bilaspur : A Contemporary Villa Design | Artha
Visit : Artha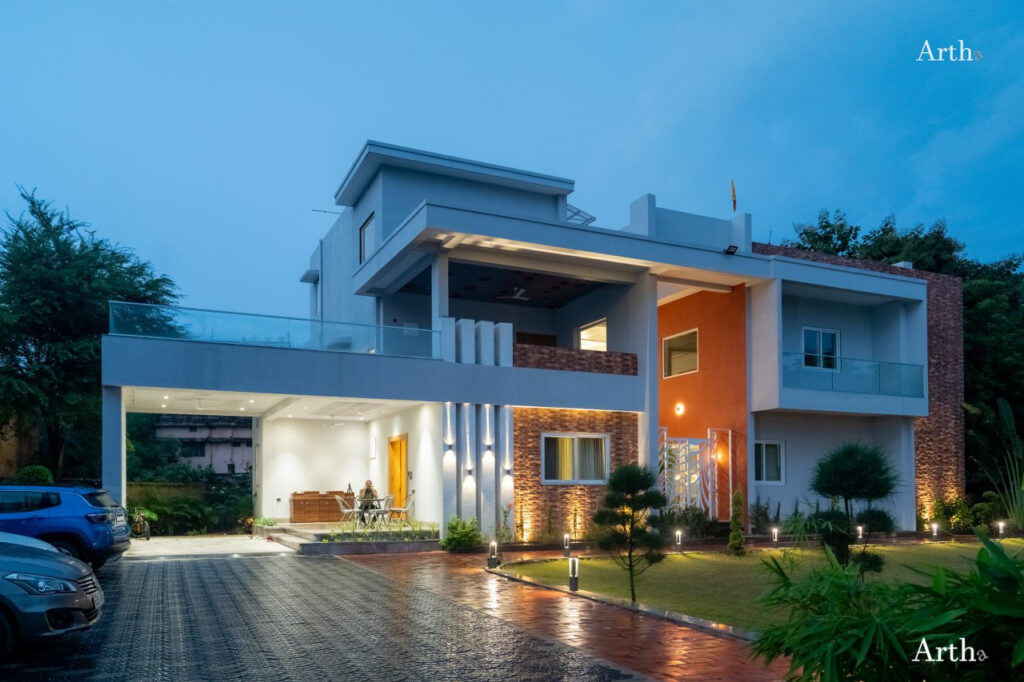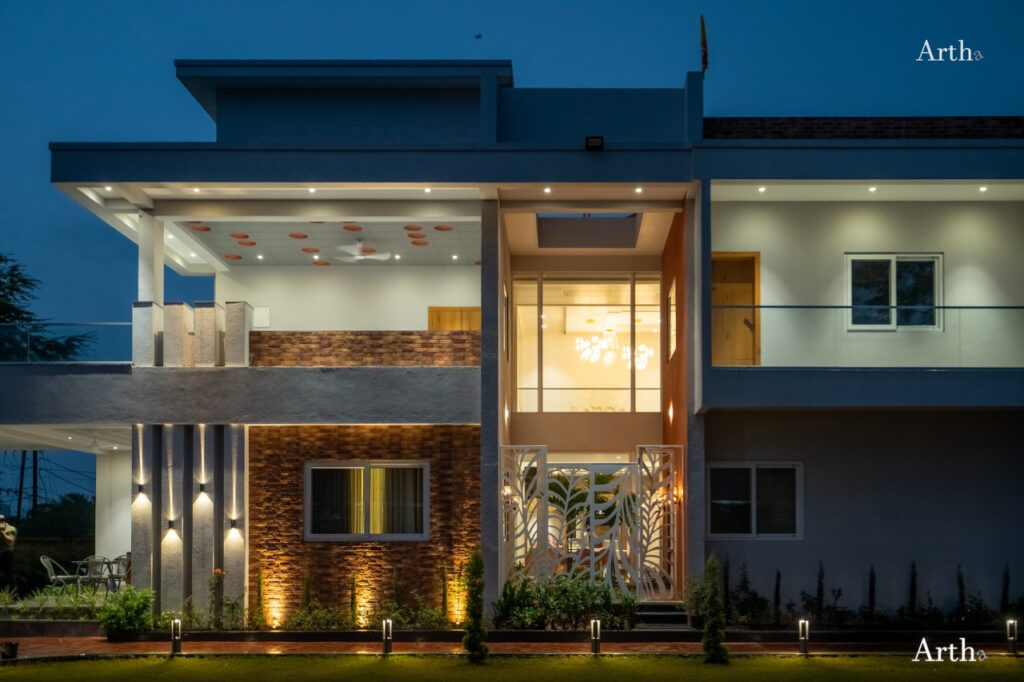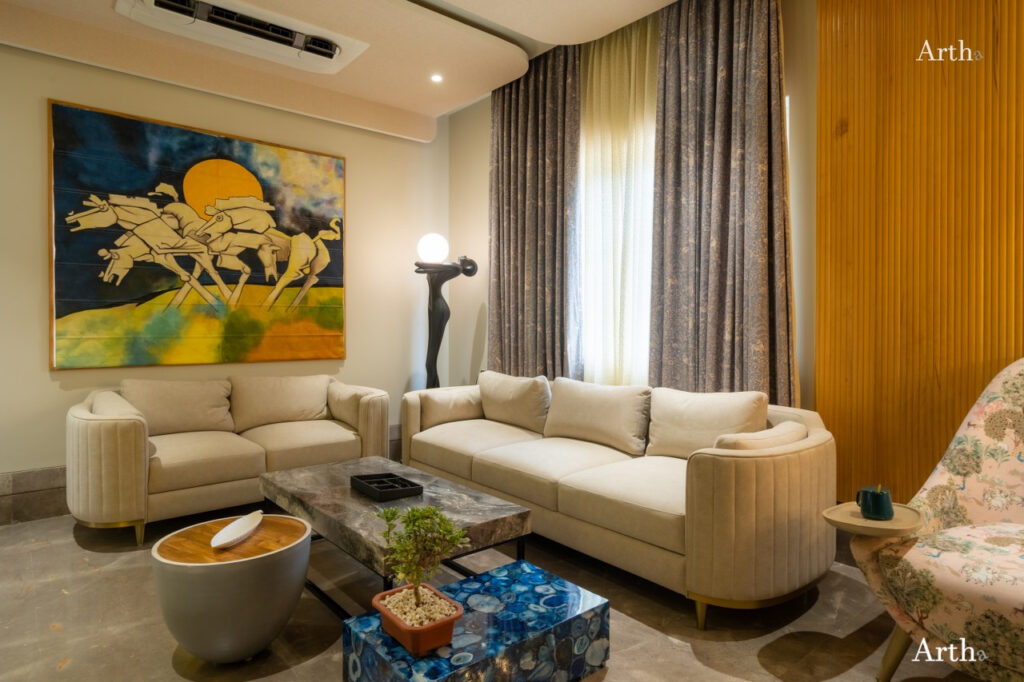 We went for a classic and minimalistic entrance door design that opes into the formal living room where the first impression is the famous PABLO PICASSO horse painting which is an indication of positivity and prosperity. This room is illuminated with a vibrant tropical bird portrait gelling with wooden carved jali.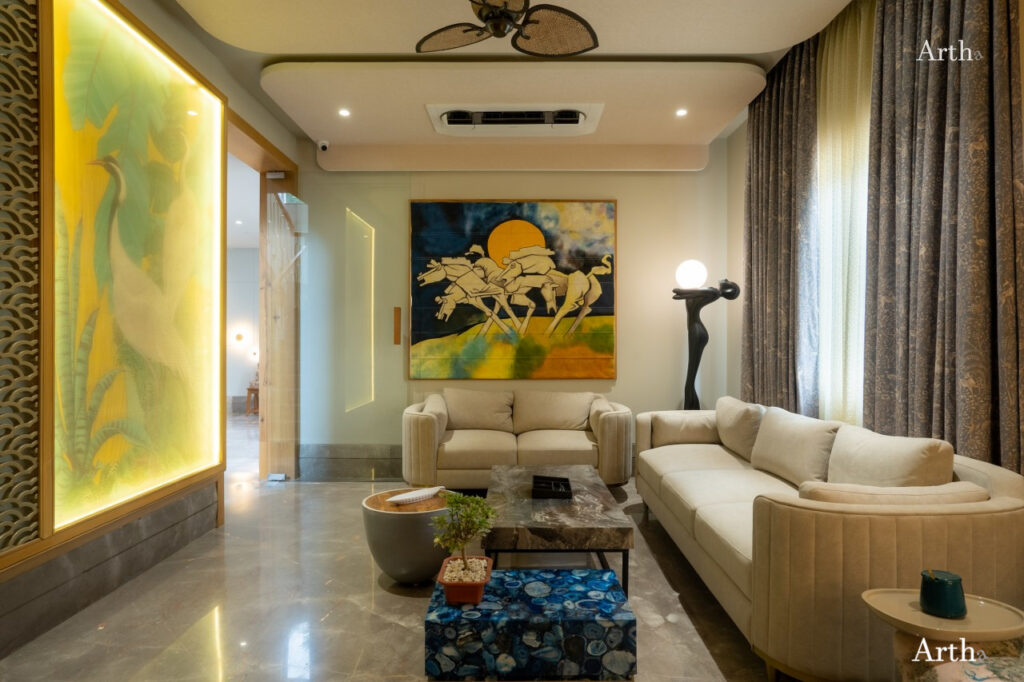 As one of the most frequent gathering spots for family and friends, whether you're hosting a movie night or a cocktail party, living rooms should be welcoming and cozy—but that doesn't mean you have to sacrifice style.
The family area is designed with European moulding wall textured with earthy feel, comfy recliners, in-direct lighting and proper storage that makes optimum utilisation of the space thereby making this room full of satisfaction.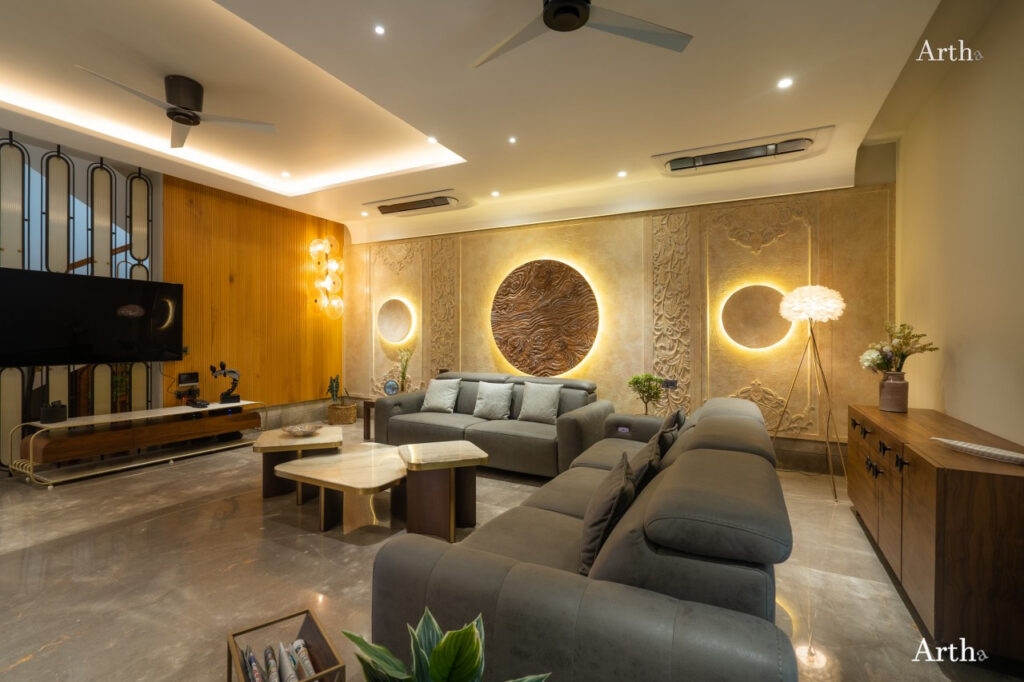 This living room from mundra house is having all luxury with extreme comfort with recliner sofa sitting. One can enjoy garden view through courtyard while taking food in dining area. Living sitting ,dining, kitchen and courtyard is togather giving a complete one roof family gather area.
Pooja mandir is placed in such a way that positivity spreads all over. The duplex on dining is the ad on to connect the first floor and enhance the asthenic with huge height The Mandir opens up in the dining room with courtyard on the other side which has alot of plants and green area.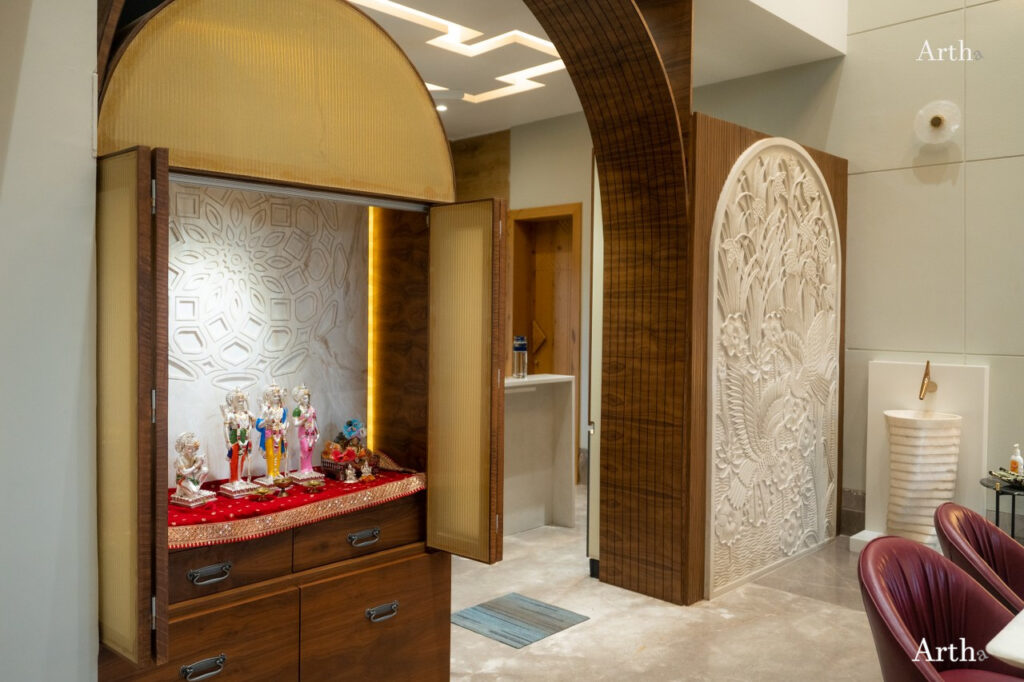 We created the dining room with the idea of providing maximum amount of peace and calmness by using the natural elements.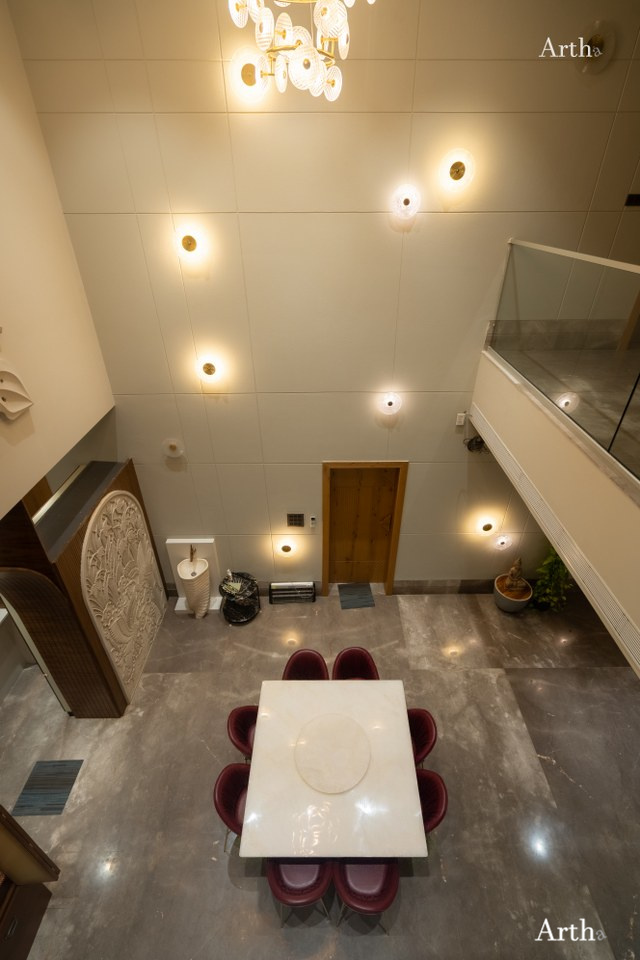 We used Murano glass and brass lights , sand stone mural and budha statue to add an extra touch of luxury but also gives an overall sober and earthy feel.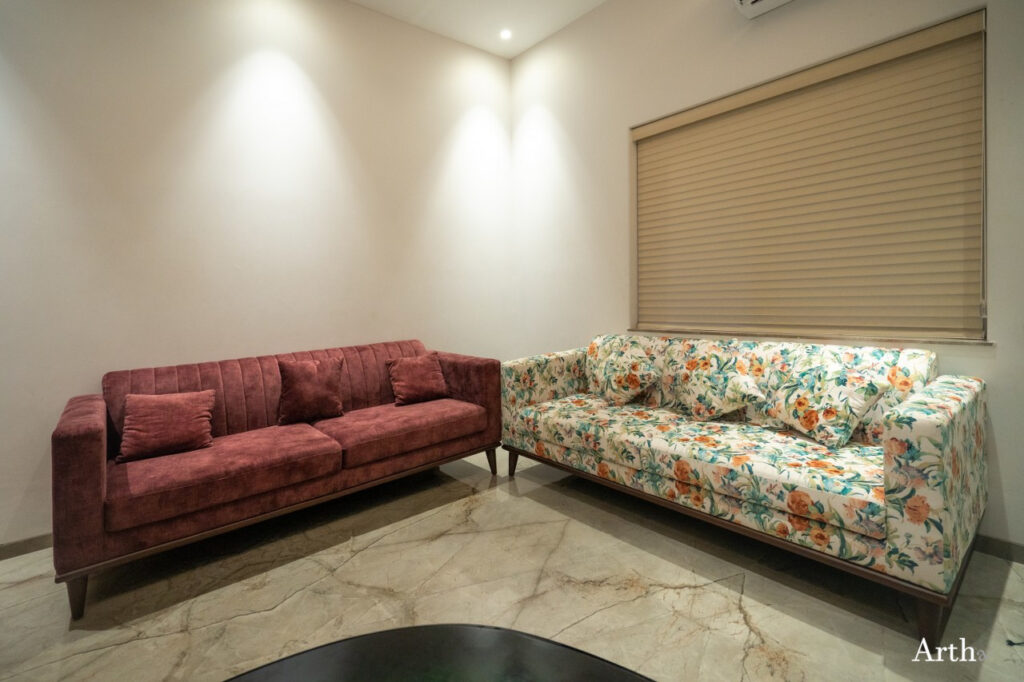 Master bedroom and Dressing you might say , 50 shades of GREEN !! Serene and peaceful describes it best I believe, an accent chandelier catches your eye as you enter the bedroom, followed by a corner art wall.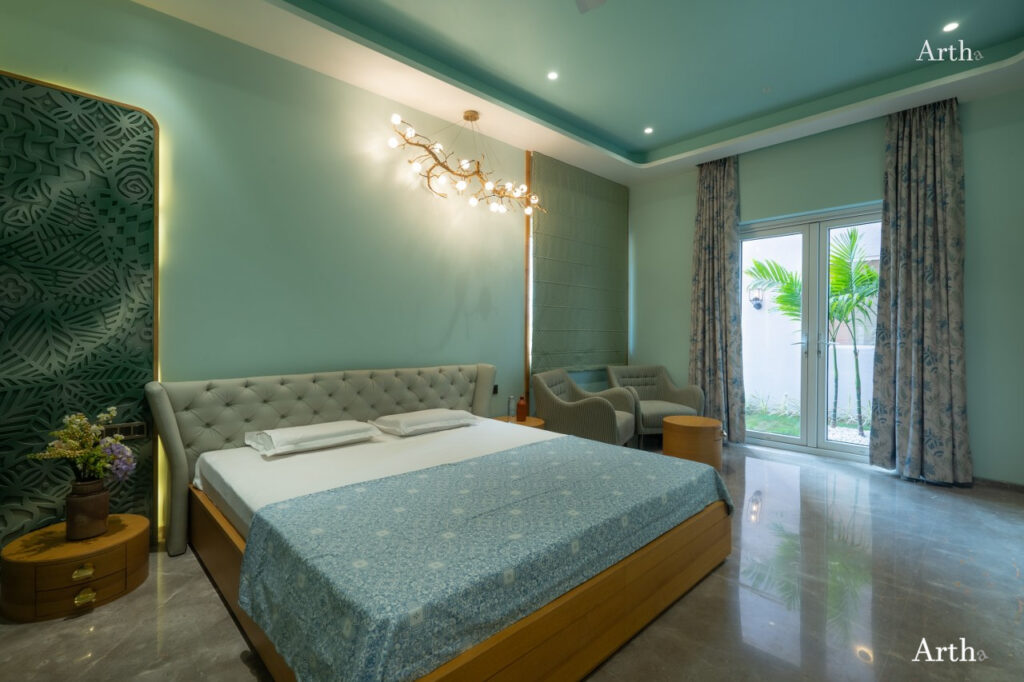 A french window here leads to the courtyard area. Dressing room with an island counter, glass shutters and a perfect full length mirror.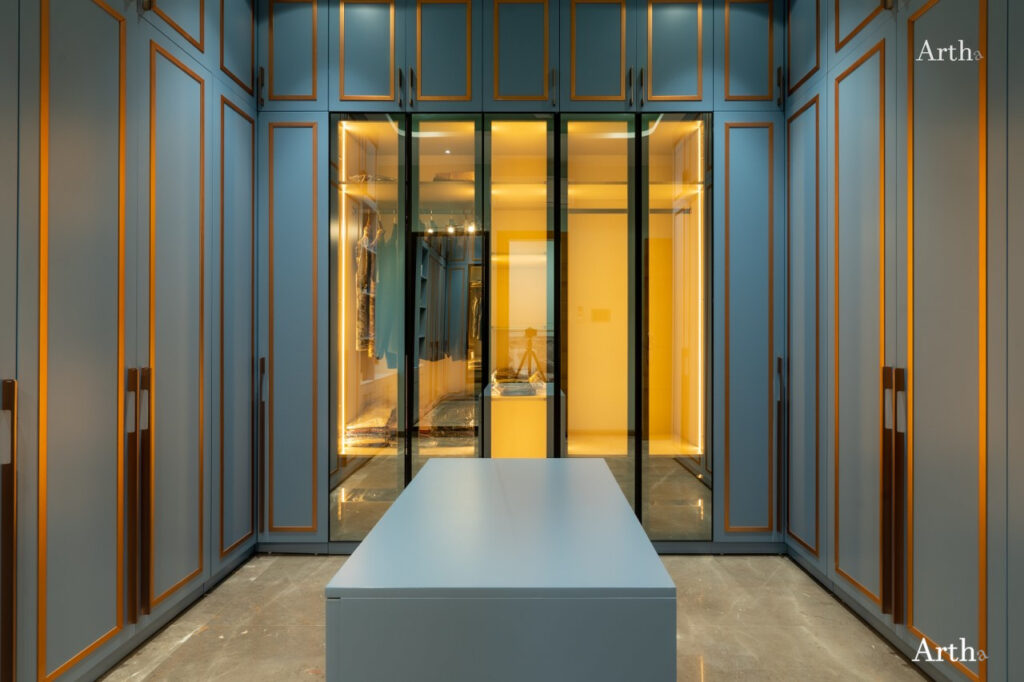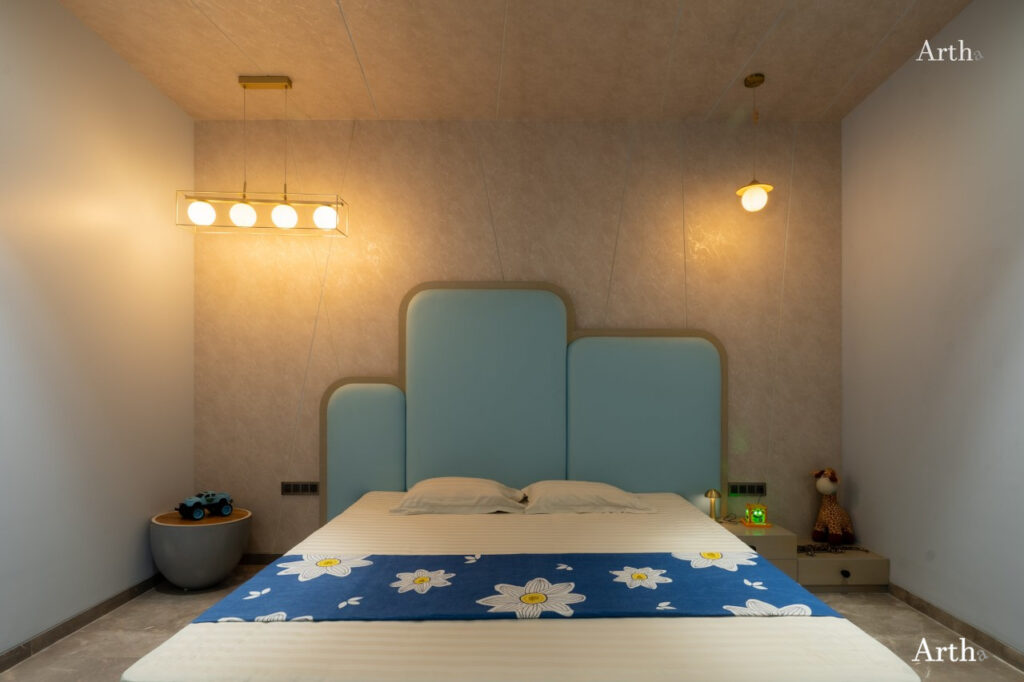 Kids bedroom Subtle pastels create a soothing effect in this bedroom and the pop color of their toys adds a charm to it. An empty canvas is given near study table for kids to fill it with happy memories. The villa is complete in itself as it has a good amount of green and open spaces and access to natural light.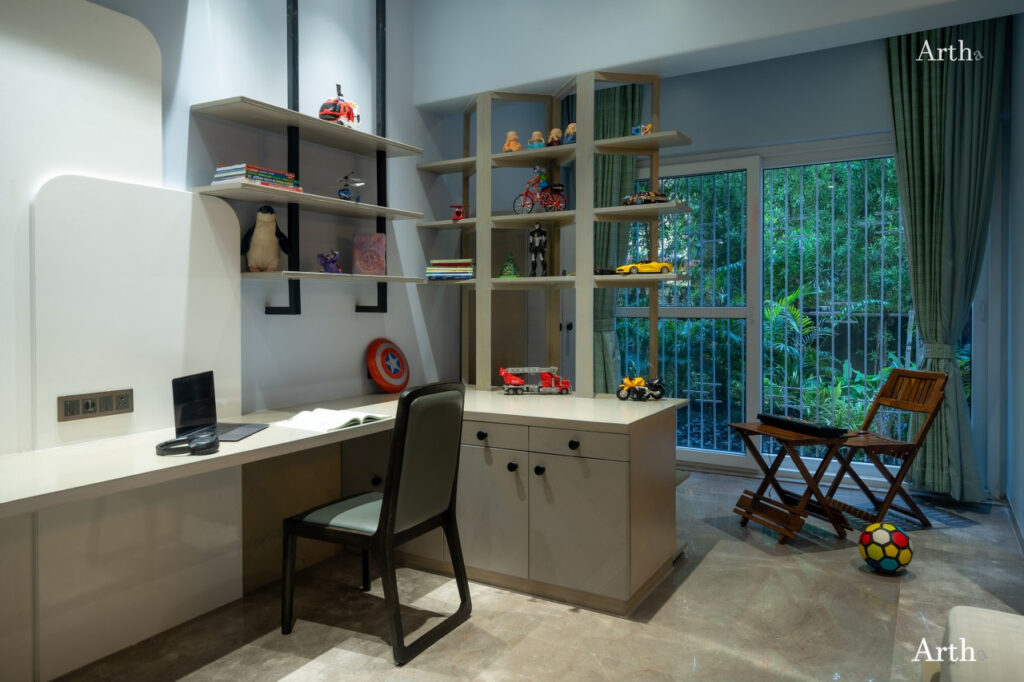 The challenge that we faced was to bring together the various elements of the house, however, our team worked its best to ensure that we design a house that our client enjoys living in. Team Aartha is grateful to Dr. Ashish Mundra and Mrs. Mundra for their faith in us.
This luxury villa stand out as example of nature loving place. As it has full of sun light going inside ,proper ventilation. Villa is surrounded by greenery . We are looking at everything from earthy , rust colour with straight line. Pathway for walking, huge porch and verandha for enjoy the view. Indirect lighting all together a nice ambience.
FACT FILE
Designed by : Artha
Project Type : RESIDENTIAL INTERIOR
Project Name : MUNDRA VILLA
Location : BILASPUR, CHHATTISGARH
Year Built : 2022
Duration of the project : 15 MONTHS
Plot Area : 18000 Sq.ft
Built-up Area : 4800 Sq.ft
Project Size : 30000 Sq.ft
Principal Designer : ID PREETI PRAJAPATI
Team Design Credits : SAMEEKSHA KESHARWANI
Photograph Courtesy : Hymn for Business
Products / Materials / Vendors : Wallcovering / Cladding – SRUJAN / Construction Materials – CMC (MARBLE) , MIILENIUM MARBLE (SILWASA) / Lighting – PHILIPS / Sanitaryware – HANSGROHE, KOHLER, DURAVIT / Windows – FINESTA / Furniture – DEVIANA (DELHI) , SRUJAN (RAIPUR) / Flooring – ITALLIAN MARBLE CMC SILWASA / Kitchen – CONCEPT KITCHEN (RAIPUR) / Paint – ASIAN / Wallpaper –SRUJAN (RAIPUR) / Hardware – HAFELE.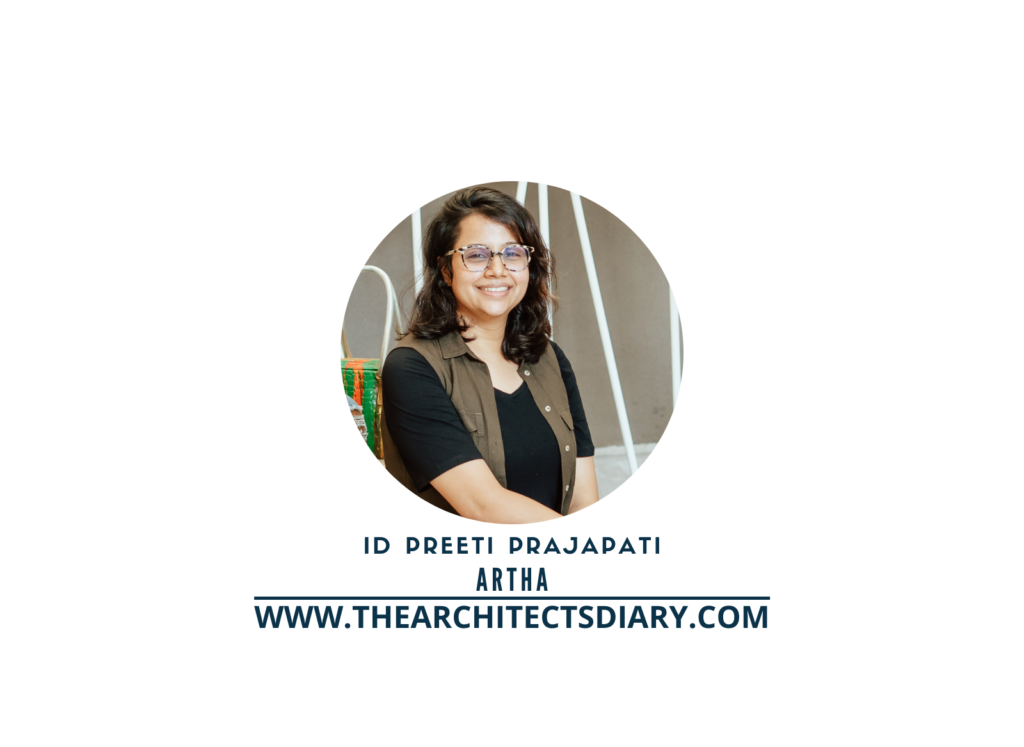 Firm's Instagram Link : Artha
For Similar Projects >> A RESIDENCE HAVING MINIMAL AESTHETICS AMALGAMATED WITH STARK TRADITIONAL DETAILS
The post Mundra Villa In Bilaspur : A Contemporary Villa Design | ARTHA appeared first on The Architects Diary.