Recently, The Black Touch completed a fascinating project which showcased how bold and soft colors can be skillfully incorporated into the design narrative to cater to both the bold personality of the client and the constraints of limited space. This is Mumbai's 2BHK-Apartment with Bold, Serene and Modern Interior Design. Here the space was an important asset, we were constantly challenged to create functional yet aesthetically pleasing living spaces.
Mumbai's 2BHK-Apartment with Bold, Serene and Modern Interior Design | The Black Touch
Visit: The Black Touch
The living room's design combines deep-blue & neutral colors and serene elements in a balanced way, resulting in a harmonious and inviting space. A folding dining table seamlessly combines practicality and aesthetics, providing the ideal solution for compact living rooms.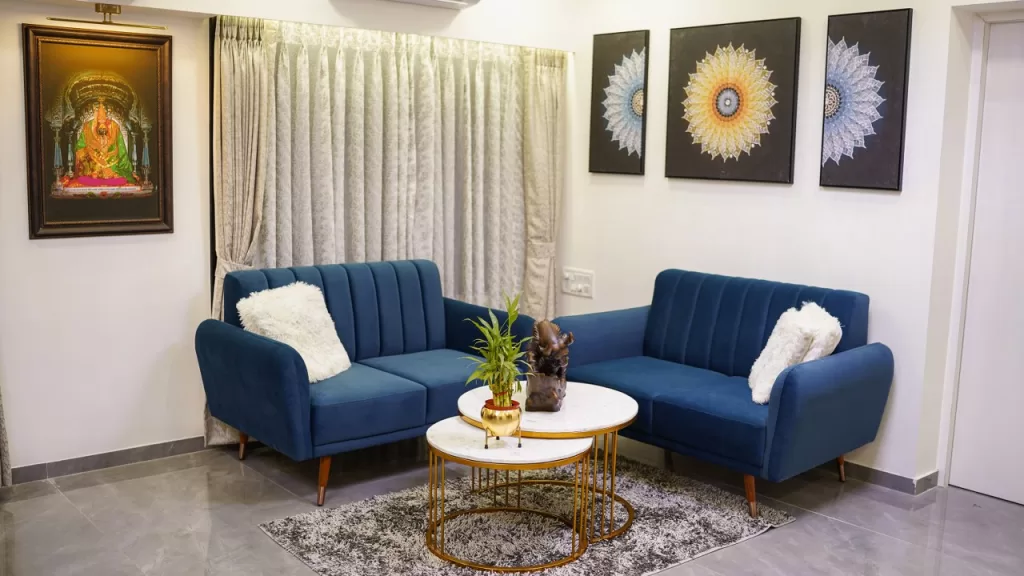 This versatile piece of furniture maintains the room's aesthetics while serving its purpose with ease. Decorative wall molding and floral wallpaper on both sides of the dining table creates an eye-catching space.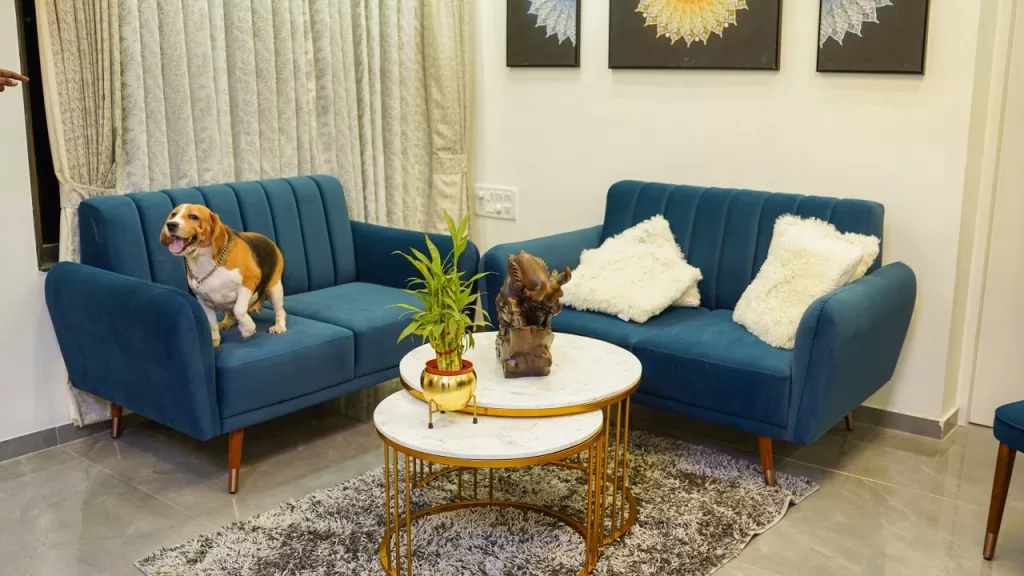 The living room's walls are painted in a neutral color to provide a soft background that lets the colors in the décor stand out. Deep-blue 2-seater sofas and a large painting behind it enhances the seating area with its bold and vibrant colors.
The use of luxurious Korean marble adds an element of opulence and beauty to the mandir, elevating the atmosphere and reflecting the importance of tradition in a modern context. A combination of task lights, accent lighting, and ambient lighting is provided to create different moods and emphasize important design elements.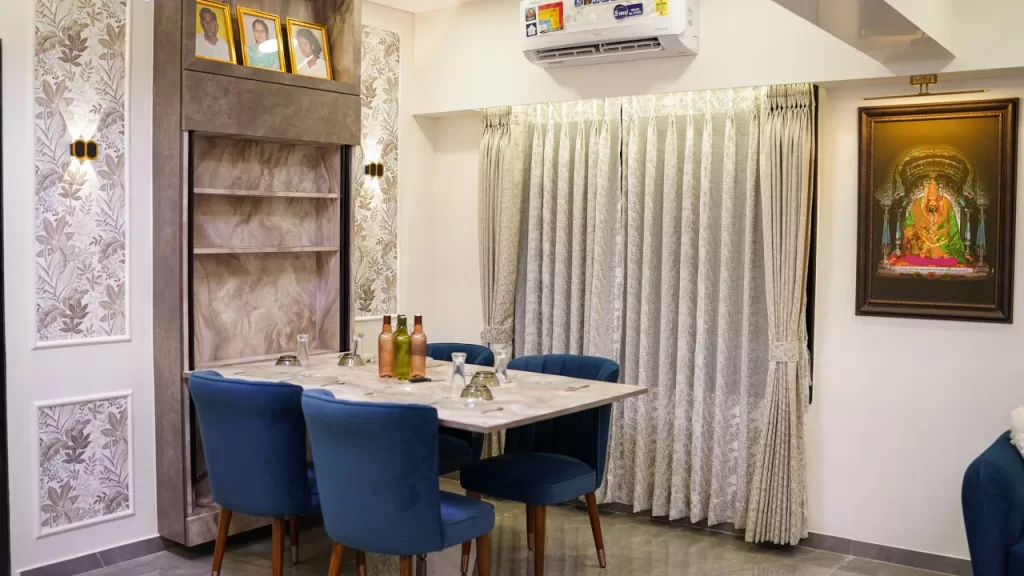 The master bedroom is a canvas that should reflect the personalities of the client. In this project, the clients were individuals with bold and vibrant personas. The interior designer skillfully incorporated this unique trait into the master bedroom by employing a palette of bold colors.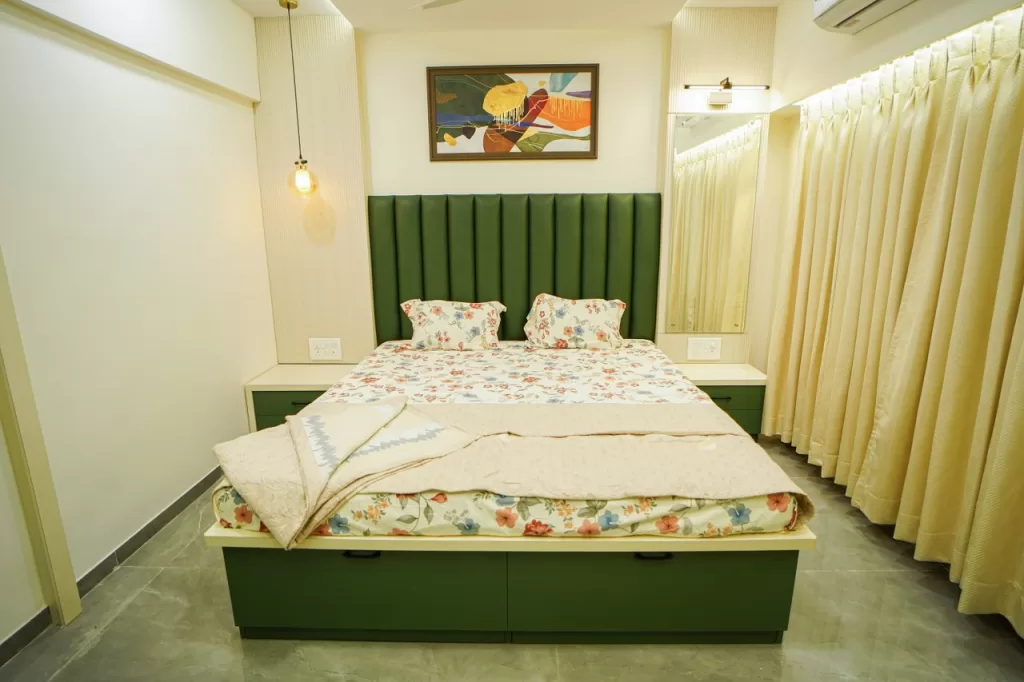 Rich, deep hues like royal green and beige dominated the bedroom's color scheme. These colors were strategically used to feature bedding, wardrobes and even in the choice of furniture upholstery.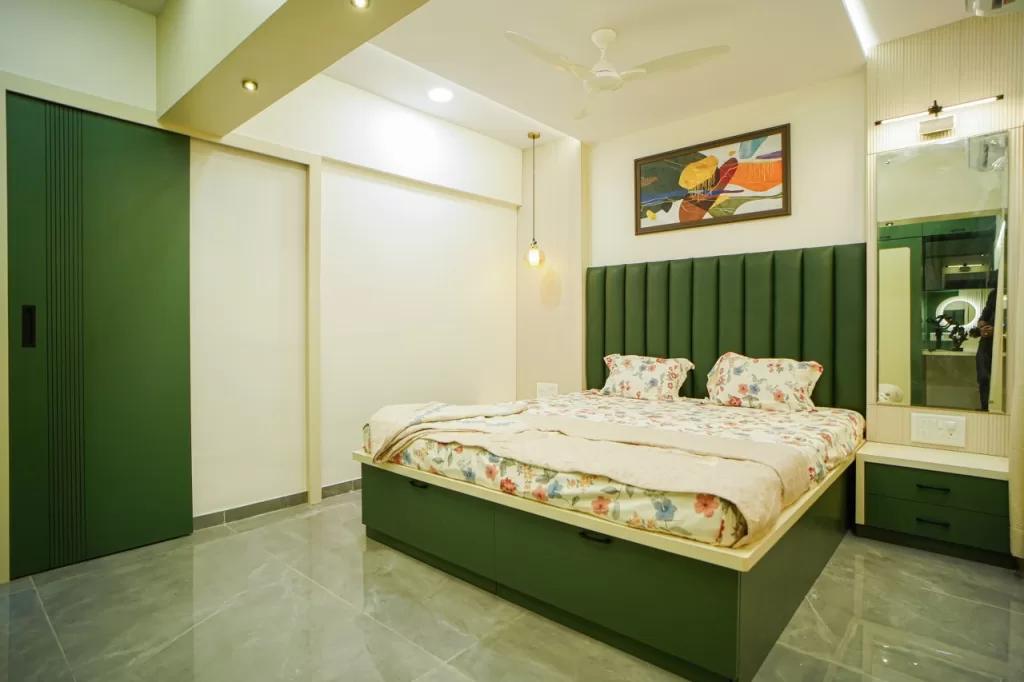 The vibrancy of the colors was balanced by keeping the rest of the room's elements relatively neutral, such as light-toned flooring and minimalistic furniture designs. This allowed the bold colors to shine without overwhelming the limited space. Strategic placement of mirrors and reflective surfaces added a touch of glam while enhancing the room's elegance and expanding its visual dimensions.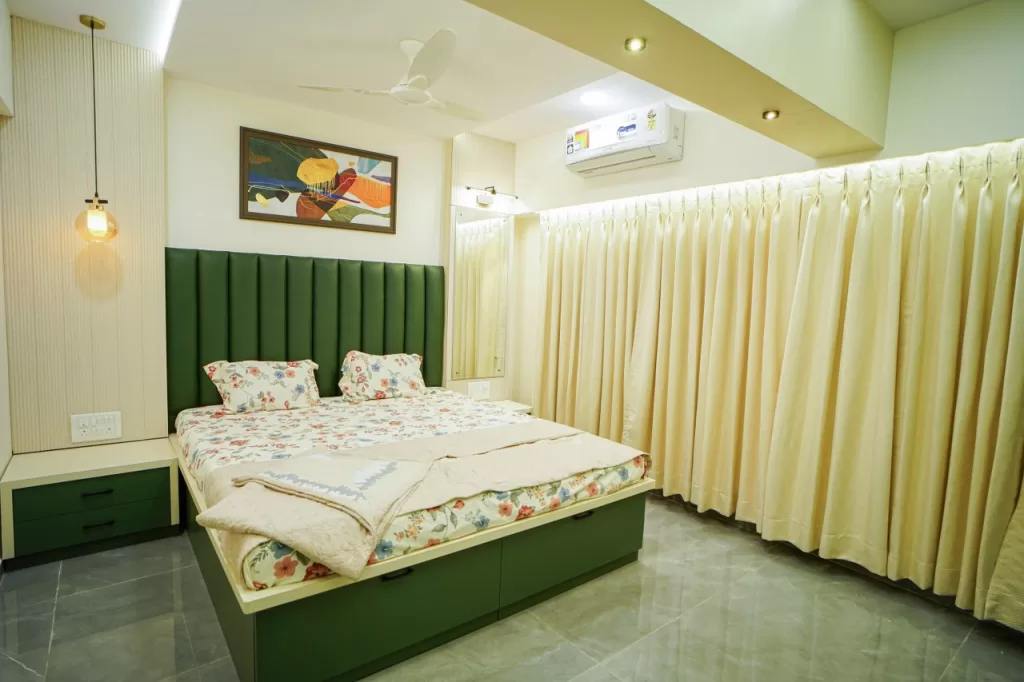 The wardrobe, a prominent feature in any bedroom, was transformed into a luxurious centerpiece. Instead of traditional paint or veneer, the designer opted for PU (Polyurethane) paint. A touch of luxury and sophistication was achieved by incorporating a compact but well-designed bar featured a sleek countertop, built-in shelves for storing liquor and glassware. The end result was a master bedroom that not only echoed the clients' bold personalities but also created an inviting and energizing ambiance.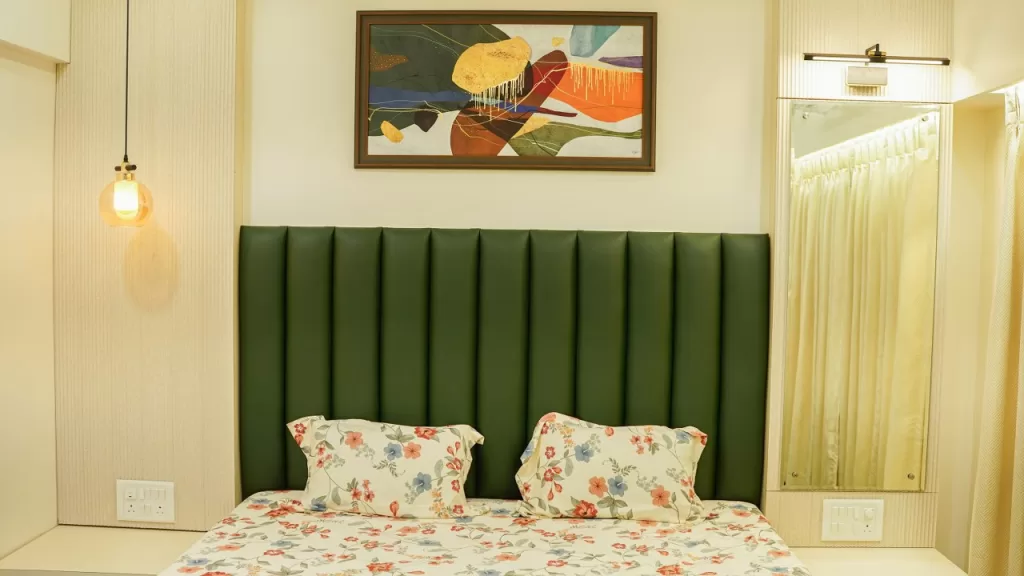 For son's bedroom, the combination of soft blue and white offers a sense of calmness while promoting focus and clarity. White, adds brightness and openness to the room, making it feel more spacious.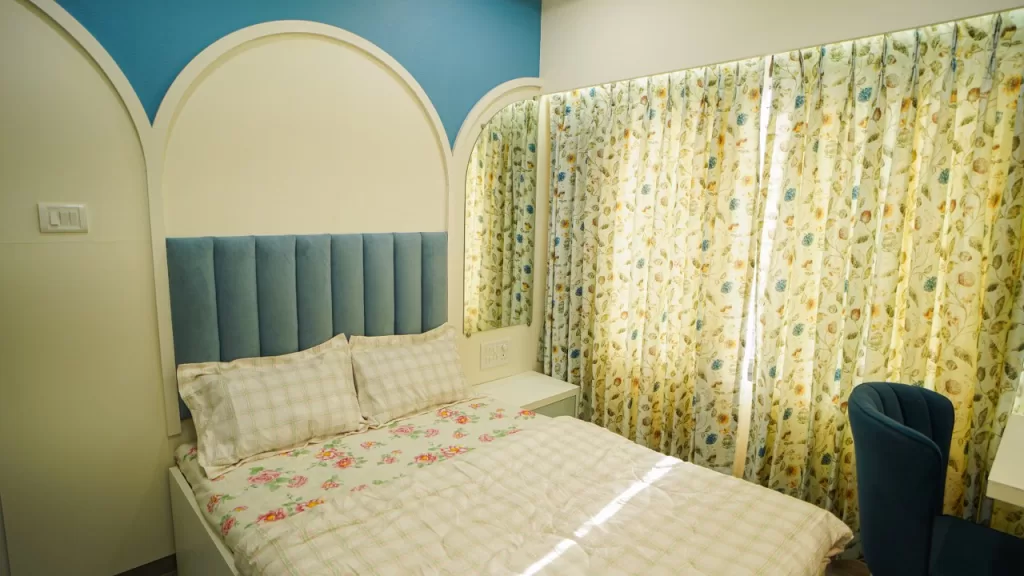 We added a folding study table that complements the room's color scheme and style, ensuring both functionality and aesthetics.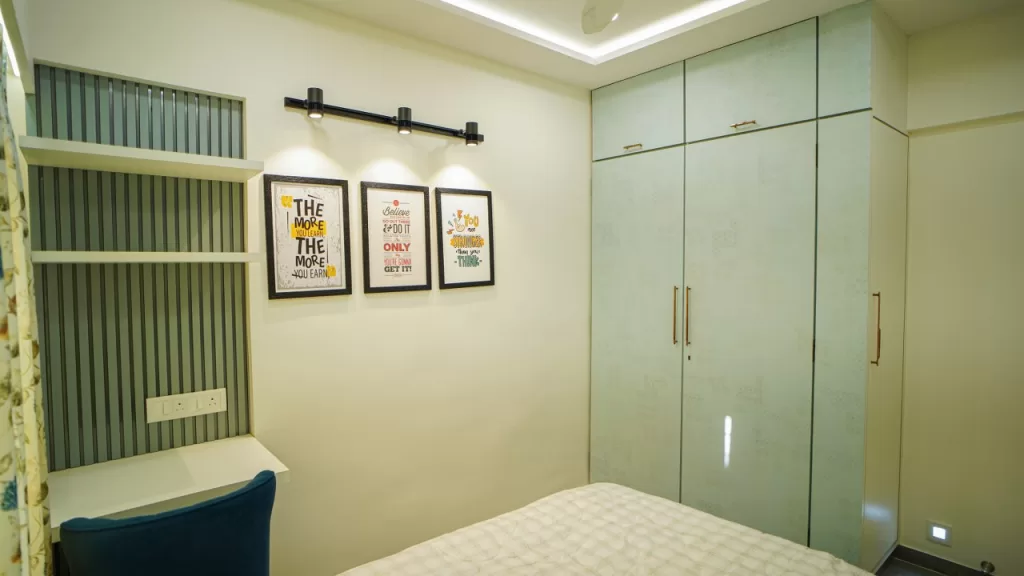 We opted for sofa cum bed with a sleek design that matches the room's overall theme, added simple headboard and soft cushions and throws for extra comfort. To infuse character into the room, the wardrobe is adorned with intricate blue patterns. These patterns not only add visual interest but also tie in beautifully with the soft blue theme.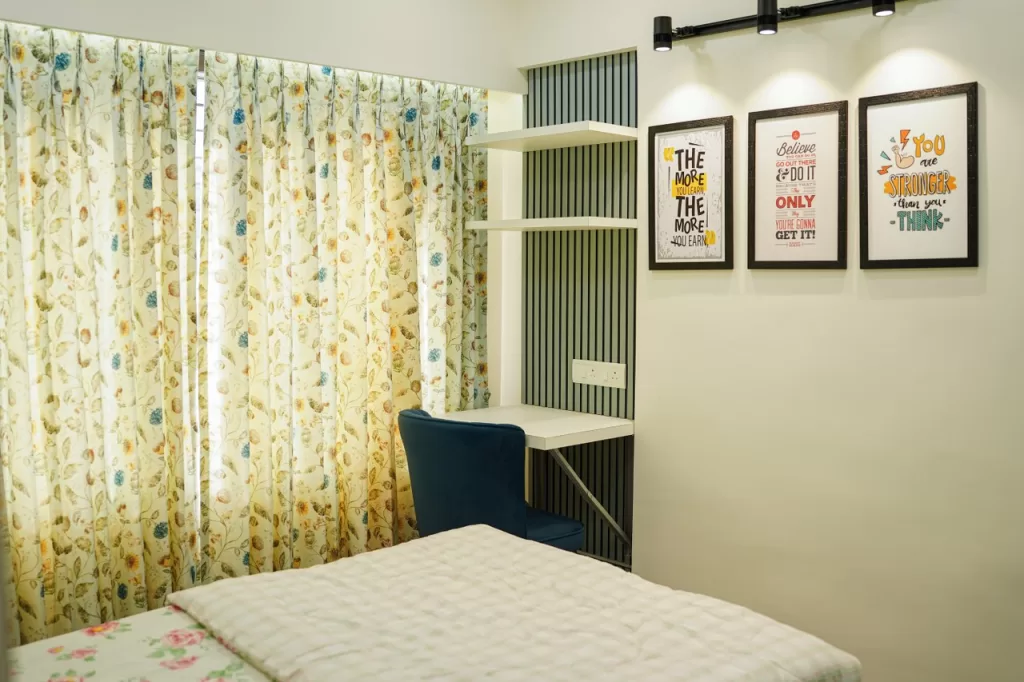 Fact File
Designed by: The Black Touch
Project Type: Residential Interior Design
Project Name: Mr. Balram
Location: Mumbai, Maharashtra
Year Built: 2023
Duration of the project: 90 Days
Built-up Area: 1100 Sq.ft
Project Size: 720 Sq.ft
Principal Designer: Hardik K Bhadra
Photograph Courtesy: The Black Touch
Products / Materials / Vendors: Wallcovering / Cladding – Charcoal Sheet, Paint, PVC Louvers, Laminate Construction Materials – Siporex, Plywood, Aluminium / Lighting – Profile, Panel, COB, Chandelier / Doors and Partitions – Flush Door, Sliding / Sanitaryware – Aquant / Windows – Jindal / Furniture – Plywood, Corian, MDF, Trims, Duco / Flooring – Moto / Kitchen – Modular Kitchen / Paint – Asian Paints Artefacts – Customized / Wallpaper – Marshall / Hardware – Hettich, Hafele, EBCO
Firm's Website Link: The Black Touch
Firm's Instagram Link: The Black Touch
Firm's Facebook Link: The Black Touch
For Similar Project >> This Apartment is Designed to be Timeless, Subtle Yet Stylish with Coastal Vibes
The post Mumbai's 2BHK-Apartment with Bold, Serene and Modern Interior Design | The Black Touch appeared first on The Architects Diary.