This is a 4 BHK modern home which is converted to 3 BHK as per the client's requirement. Requirement of Study or family space adjoining dining became a key to the new addition to expand more in open plan layout. This became possible by converting the fourth bedroom into an open study area cum family sitting, resulting to a large, well-lit, well-ventilated and visually connected space.
Modern Home with an Edge of Ethnic | Shayona Consultant & Prashant Parmar Architect
Visit: Shayona Consultant & Prashant Parmar Architect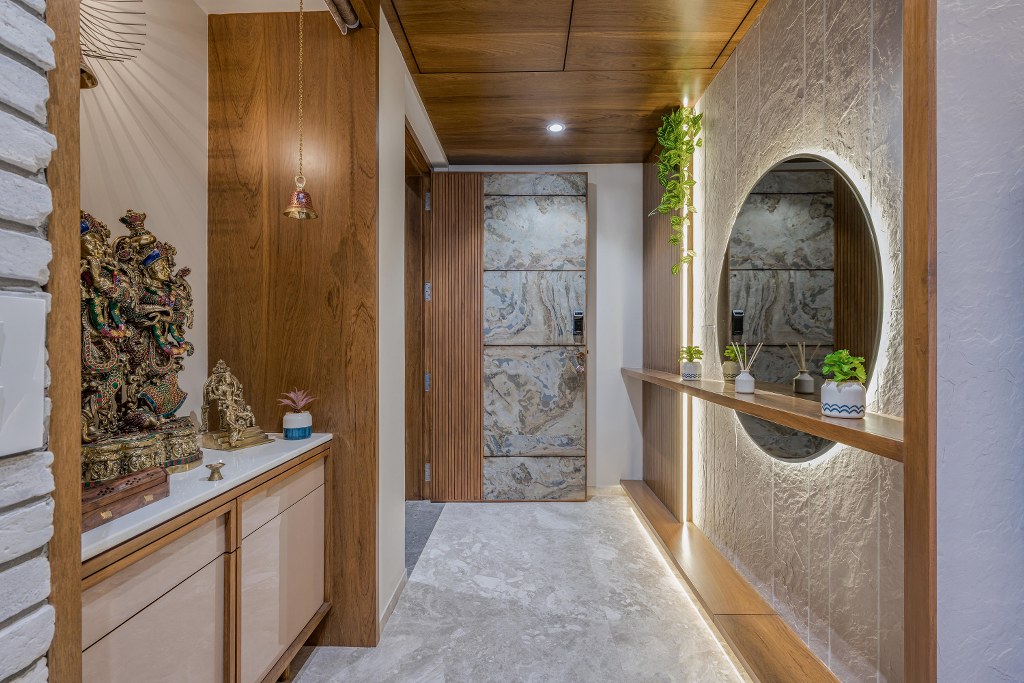 The personal foyer is decorated with wooden partition consisting of voids and solids with the name plate engraved in it. The console unit here is highlighted with the stone cladded backdrop. And the same is reflected in the vestibule having a circular mirror with back lighting. The Material, Lighting and the Furniture gives a touch of Luxury to the Entrance and The Sculpture of "Radha and Krishna" spreads the Spirituality and Love across the House.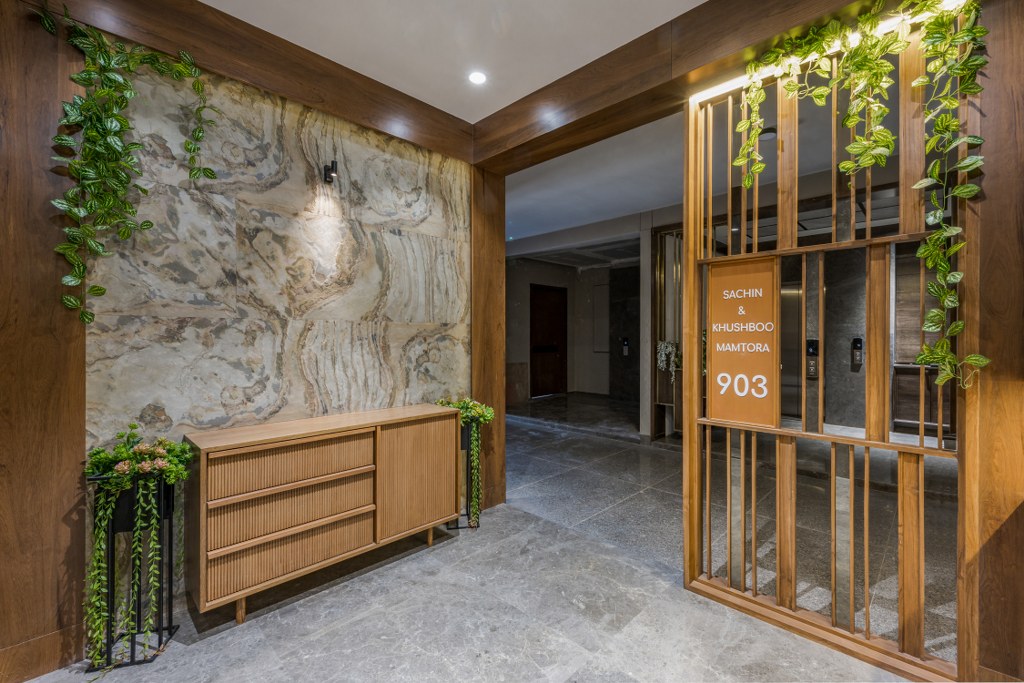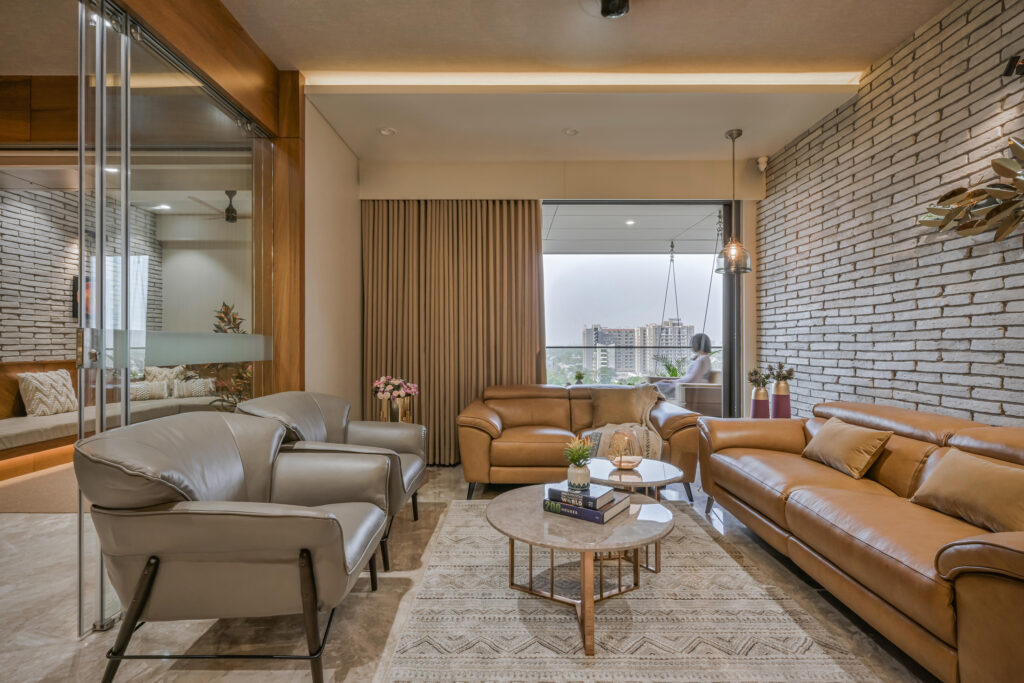 The interiors follow a subtle colour scheme, highlighting the luxurious Italian marble flooring, rich materials and exquisite décor details. The wall of drawing room is cladded with grey toned bricks. The combination of camel and grey coloured leather sofa adds luxury and comfort to the space. The TV Unit wall is embedded with Modified Stone look cladding in grey tone which looks mesmerizing. Marble top Centre Table compliments the shades of curtains. The Garden balcony with vertical green wall and swing looking towards the oceanic views of green creates a soothing ambience which also connects the Guest Bedroom.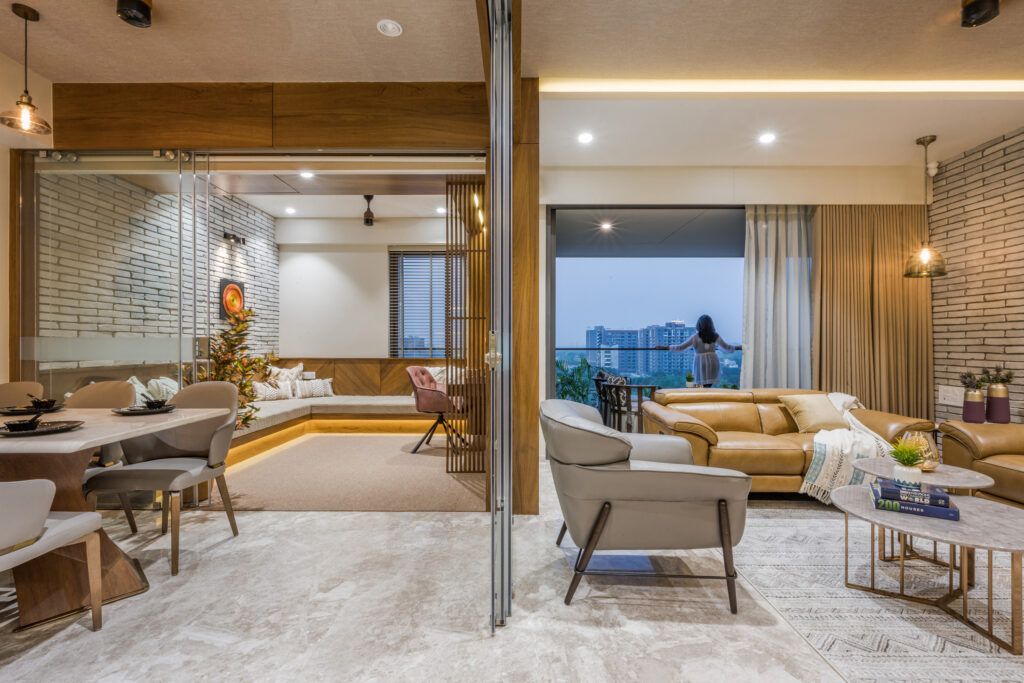 Continuity in materiality and colour selection is reflected from drawing room to every corner of the house. The sliding glass doors are purposefully designed within the spaces to make apartment look spacious.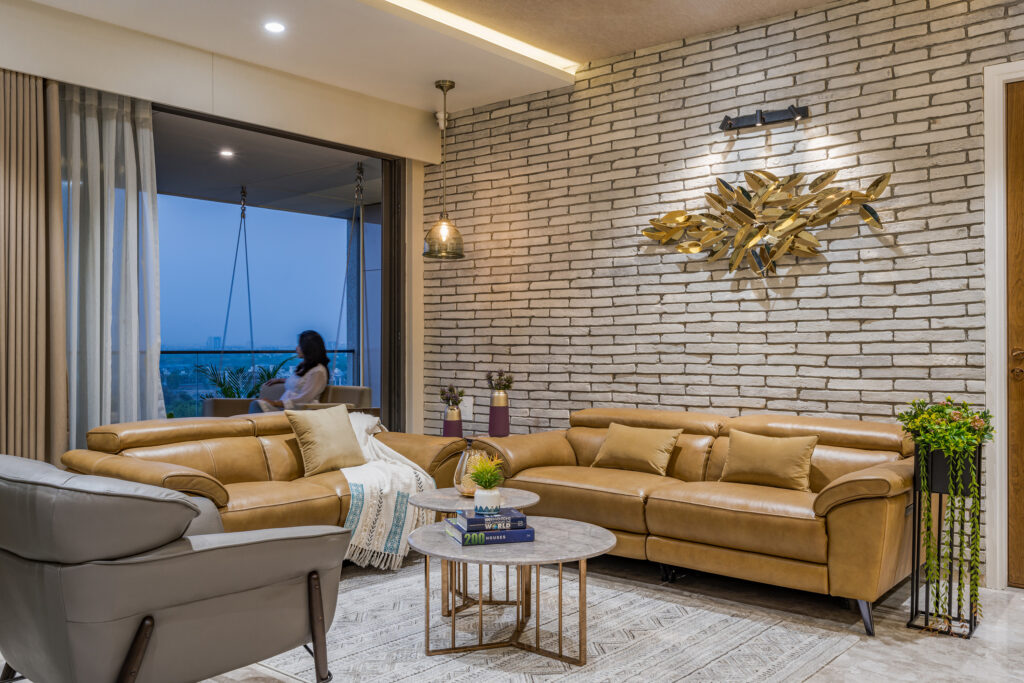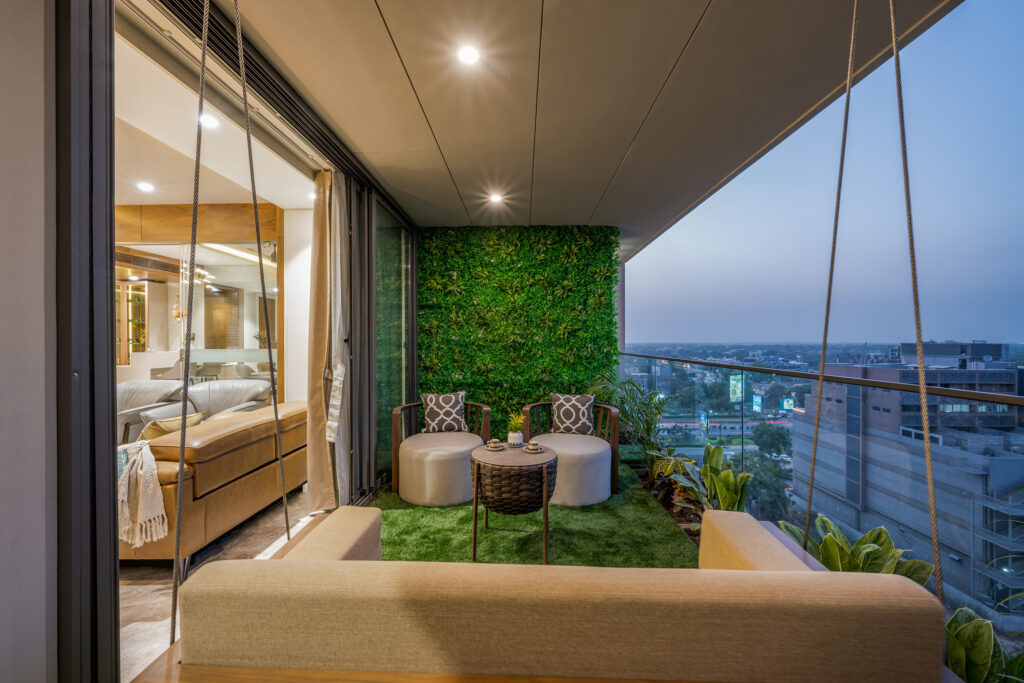 The Indian low height seating act as a informal sitting for family members to chill, having study table to read or work a little. The wooden partition besides the study creates a partial privacy partition. Again, we can see that the drawing room and family sitting follows a same theme of grey brick cladded wall.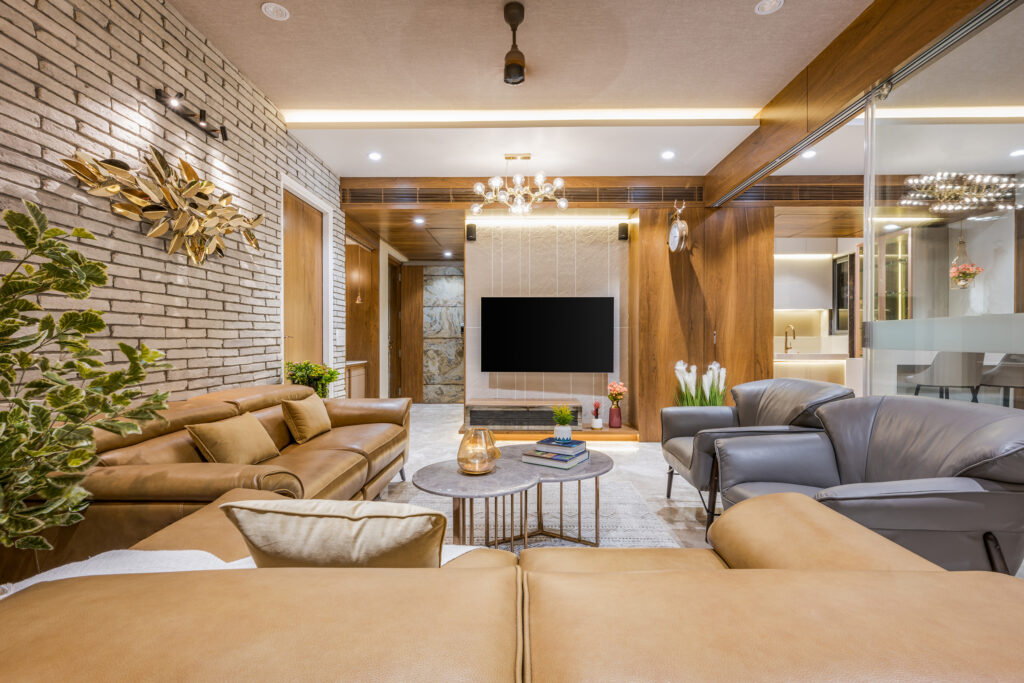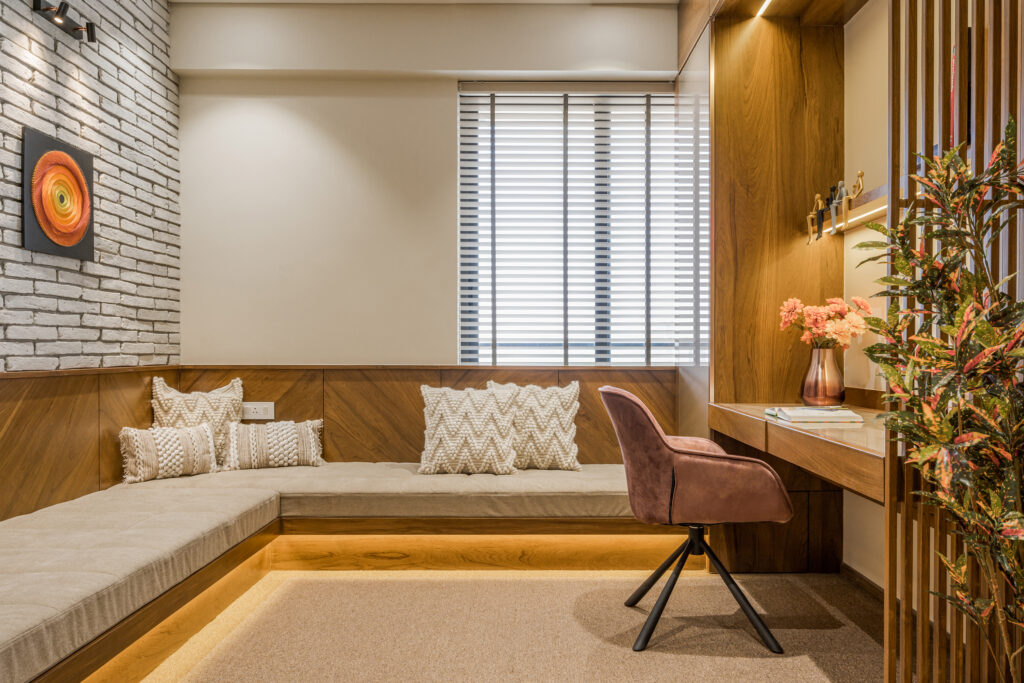 The service platform separates the kitchen from the open plan layout of dining and drawing. To give the minimalist look to the kitchen, it is decorated with matt finish Acrolam cabinets and highlighted vinyl wood flooring.
The dining with marble top and grey upholstery adds luxury to the space.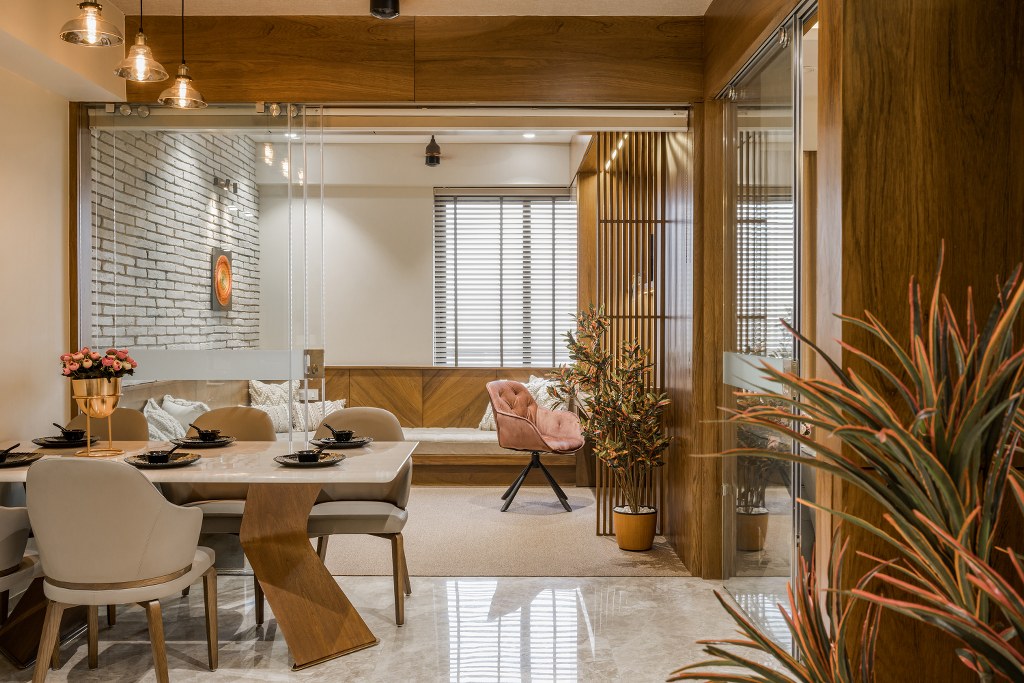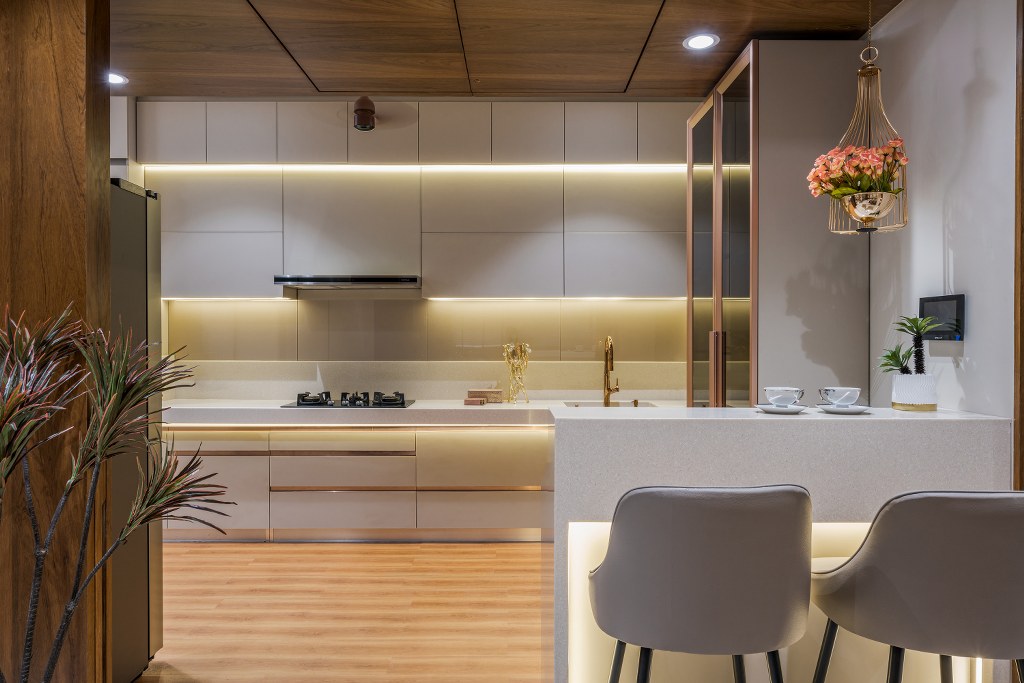 The room next to drawing room is Guest Bedroom having a subtle colour scheme with grey headboard, grey stone backdrop combined with veneer. The use of Bronze Mirror & PU Finish on wardrobe breaks the monotony of the room, making it look spacious.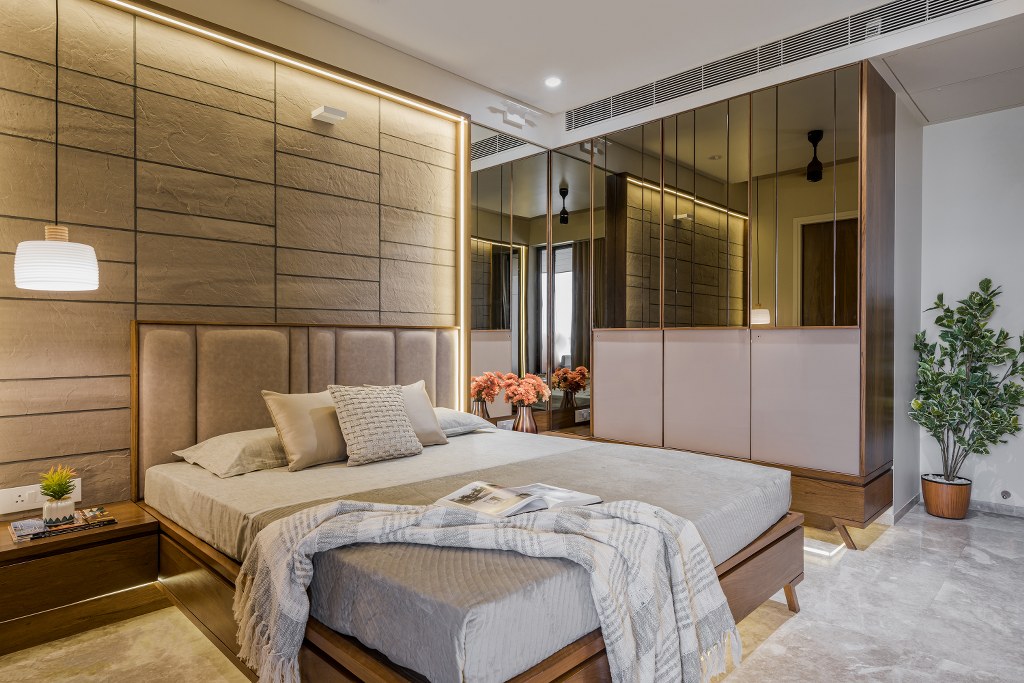 In the Master Bedroom, the cement sprayed backdrop with a tinge of mustard is adorned with vertical rose gold metal patti where the toilet door is beautifully flushed with vertical relwood. Use of light colours on wardrobe and headboard balances the colour theme.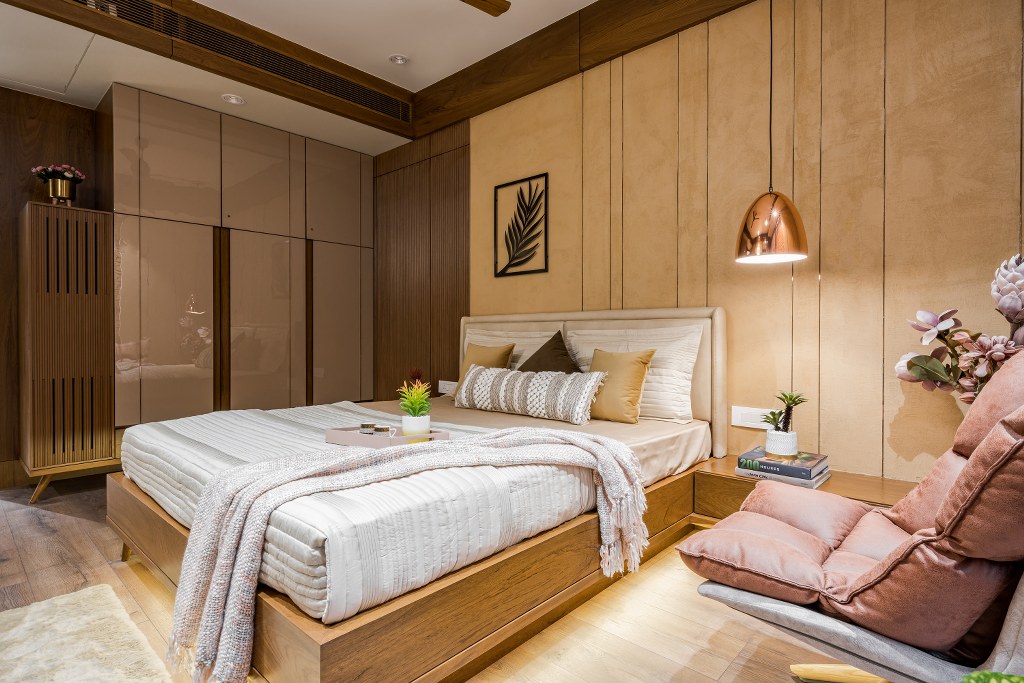 Combination of these elements adds royalty to the space. A provision for storing used clothes is designed as an extension of PU Finish Laminated wardrobe. A refreshing cup of tea can be enjoyed in the beautiful standing balcony with plants which also keeps the room connected with nature.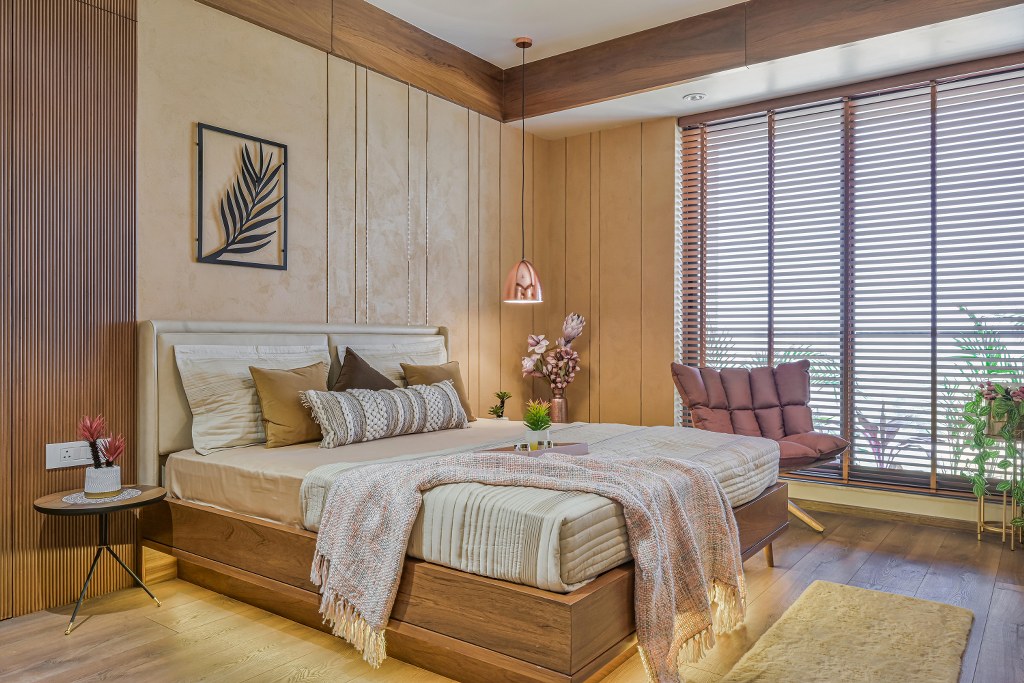 The other bedroom for parents is made simple and light to match the user's personality. The use of minimum furniture and neutral colours makes this bedroom minimalistic.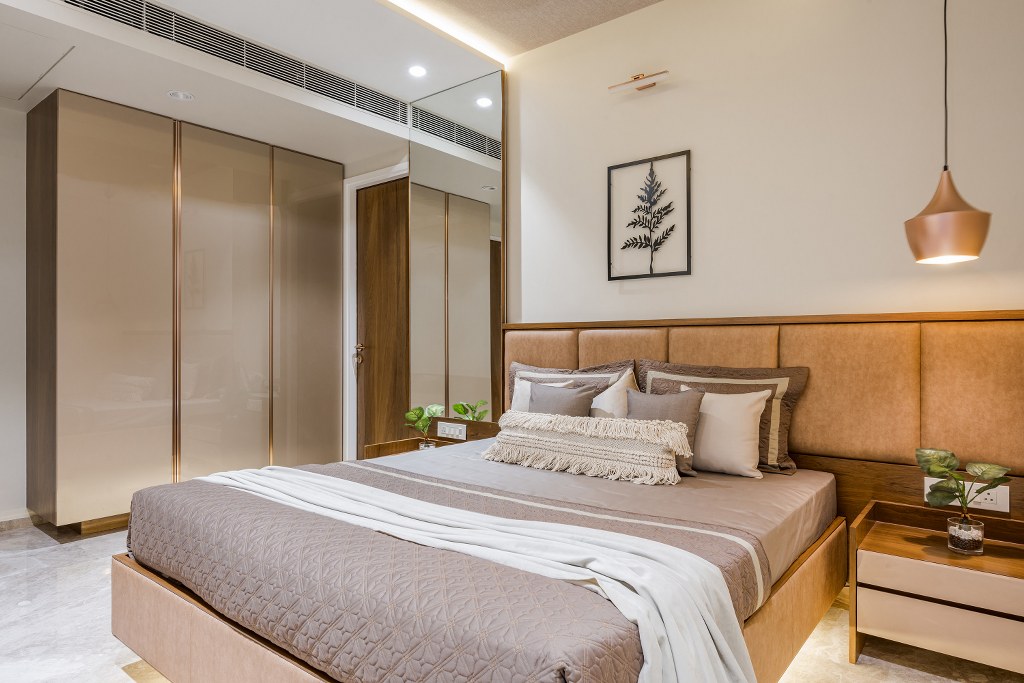 Our focus was on tactile design of fabrics, different textures & furniture with the harmony of veneers which makes ambiance of every space warm & positive throughout, which feels homely. Colour Palette of a space affects visually and our design of this apartment worked better with lighter tones of cream and brown with a punch of grey. We merged colour palette, skilled craftsmanship and functionality together to create a simple modern home that is filled with practical luxury & comfort.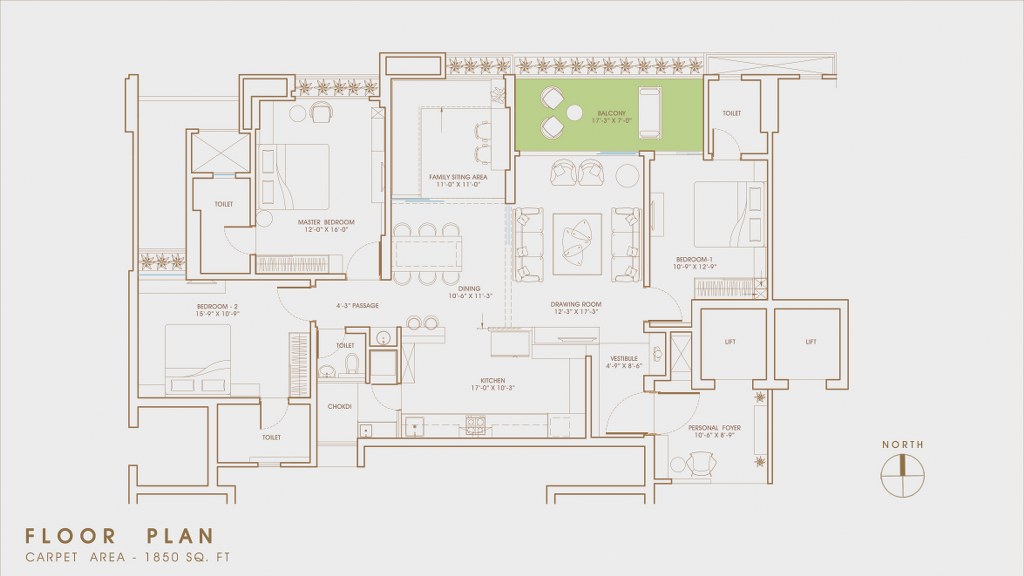 Fact File
Designed by: Shayona Consultant & Prashant Parmar Architect
Project Type: Residence Interior Design
Project Name: Apartment Interior At Swati Crimson
Location: Ahmedabad, Gujarat
Year Built: 2022
Duration of project: 8 Months
Project Size: 1,850 Sq.ft.
Project Cost Appx: 74 Lac
Principal Architect: Prashant Parmar
Team Design Credits: Harikrushna Pattani, Ashish Rathod, Hemang Mistry, Vasavi Mehta & Pooja Solanki
Photograph Courtesy: Murtaza Gandhi
Consultants for the Project
Civil: Aarvi Constructions
Products & Materials: Sanitary Ware: Kohler | Wall Cladding: Mcm Delhi | Modular Kitchen: Manninterior | Wall Texture: Limocoat | Fabric: Ddecor | Windows: Fenesta | Artifacts: Hayoshadecor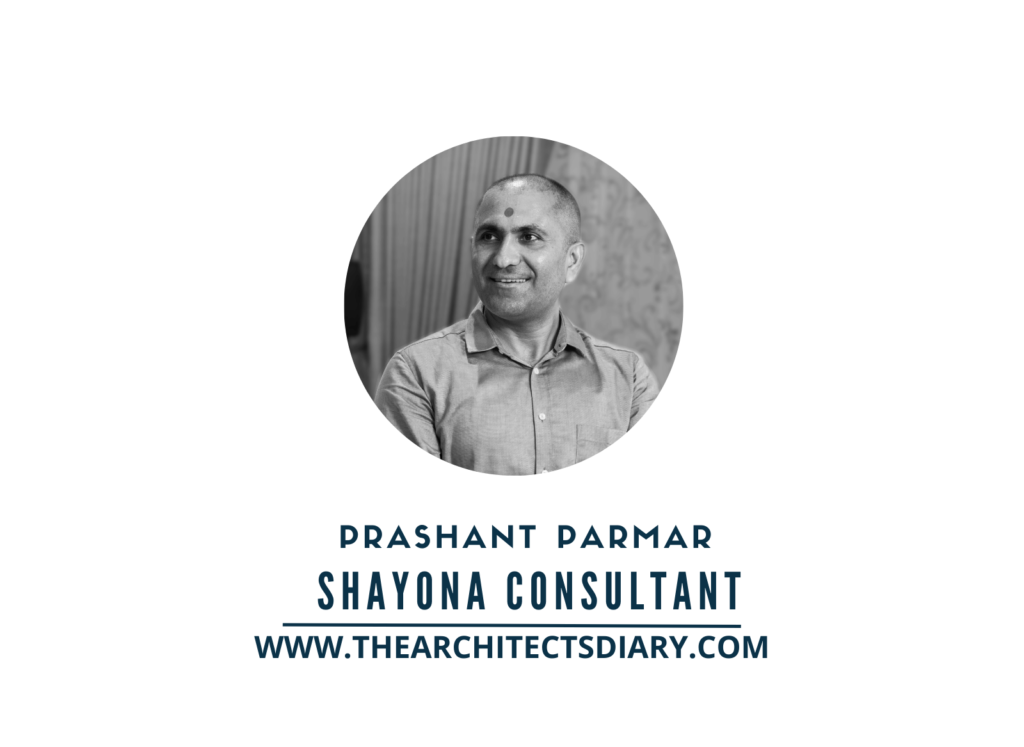 Firm's Website Link: Shayona Consultant & Prashant Parmar Architect
Firm's Instagram Link: Shayona Consultant & Prashant Parmar Architect
Firm's Facebook Link: Shayona Consultant & Prashant Parmar Architect
For Similar Project>>>Contemporary Office Design that Fosters Interaction and Inclusion 
The post Modern Home with an Edge of Ethnic | Shayona Consultant & Prashant Parmar Architect appeared first on The Architects Diary.