Beige, White, Tan, Cane and Leather Accents define this modern contemporary interior design home in timeless elegance. By combining the soothing hues of beige and white with a hint of Tan, and incorporating the natural textures of cane and the sophistication of leather, we embark on a journey that result in a truly breath-taking living space.
Modern Contemporary Interior Design Home in Timeless Elegance | Syzygy Designz-sleek.chic.elegant
Visit: Syzygy Designz-sleek.chic.elegant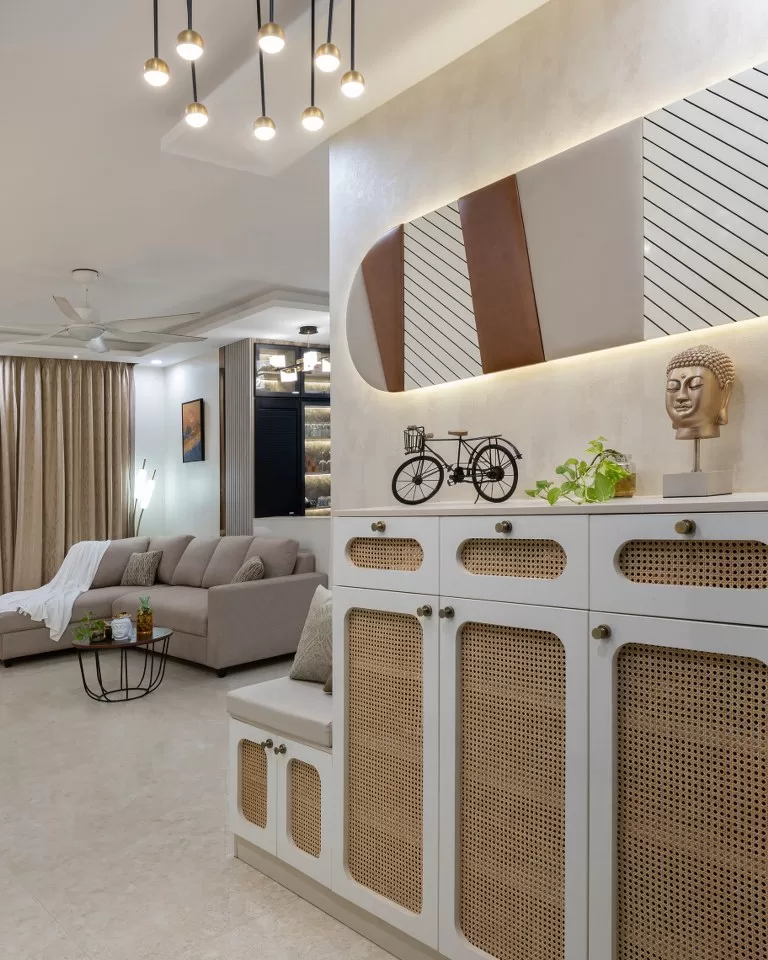 The modern contemporary theme that marries the elegance of beige and white with a hint of Tan, and incorporates the tactile charm of cane and the opulence of leather, results in a space that is nothing short of captivating. Timeless and sophisticated, this living space strikes a harmonious balance between style and comfort, where every element has been thoughtfully chosen to contribute to the overall aesthetic. The combination of clean lines, natural textures, and a well-balanced color palette elevates this interior design project to a realm of refined beauty that will stand the test of time.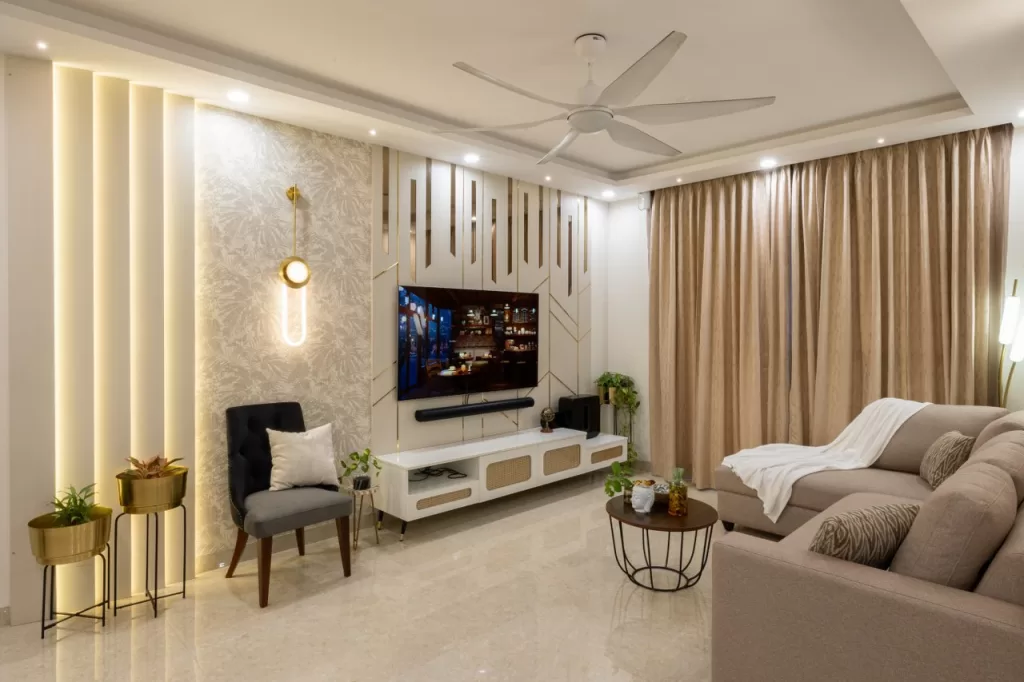 Art and decor pieces are the soul of your home interior. It personalizes your space by displaying artwork, photographs, and mementos that hold sentimental value. One of the requirements from the client was that they wanted a unique display unit for their Buddha collections. Hence we created a display unit using leather connecting all the shelves near dining. These subtle leather accents add depth and visual interest while ensuring that the space remains comfortable and inviting. This display unit is our personal favourite amongst all.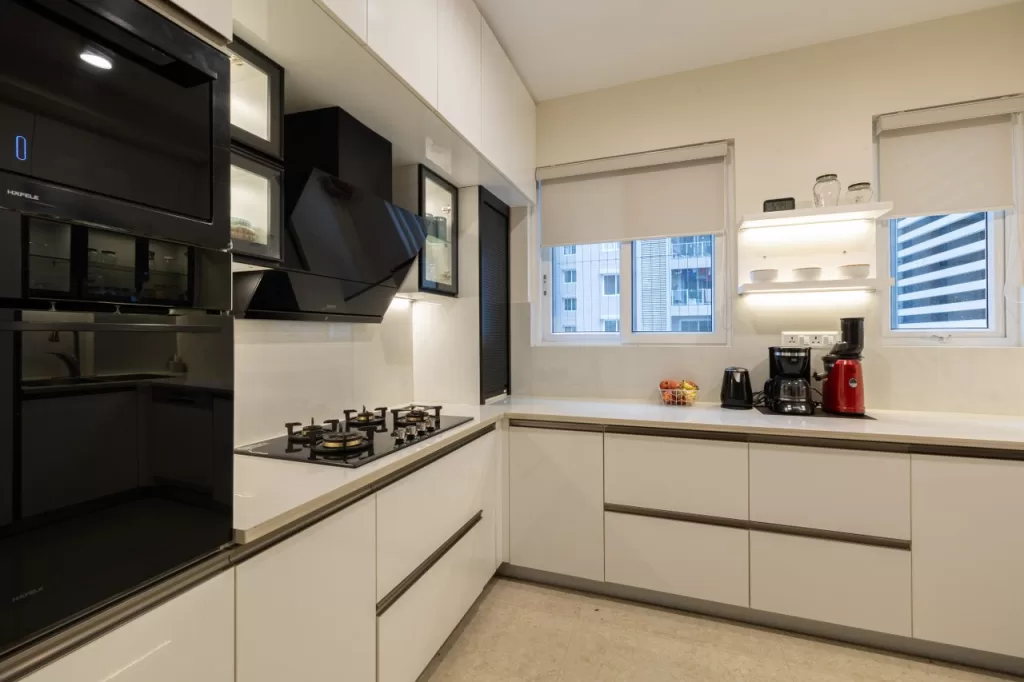 The foundation of this modern kitchen design lies in the use of white acrylic. White exudes elegance, simplicity, and versatility, making it an ideal choice for creating a visually appealing and airy space. The smooth and seamless surfaces of white acrylic add a touch of sophistication to the kitchen while maintaining a clean and clutter-free look. To further elevate the kitchen's sophistication, wall cabinets with aluminium profile shutters take centre stage. The combination of aluminium and white acrylic creates a striking visual contrast that exudes contemporary elegance.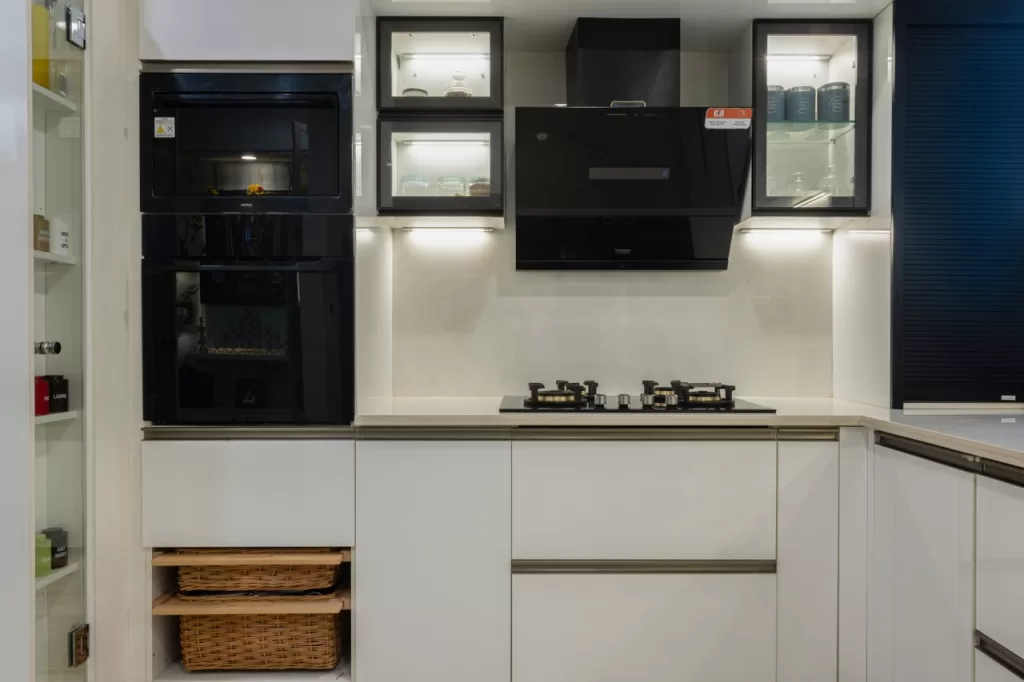 The aluminium profiles add a sleek and industrial edge to the cabinets, while the white acrylic surfaces maintain a sense of timelessness.The kitchen is not just about storage, it's also about organization and accessibility. To optimize storage space while maintaining an aesthetic appeal, the kitchen incorporates loft, pantry, and tall units with wicker baskets.Completing this exquisite kitchen unit is the incorporation of an aluminium rolling shutter. The rolling shutter adds a contemporary edge to the kitchen while also providing convenience and easy access to frequently used appliances. When not in use, the shutter seamlessly rolls down, maintaining the kitchen's clean lines and uncluttered appeal.
The master bedroom is more than just a place to rest; it's a sanctuary of relaxation and rejuvenation. When it comes to designing the perfect master bedroom, combining comfort and style is essential. A sophisticated design that features a beige leather headboard, stunning back panelling with bronze mirrors, and elegant golden T beading profile accents. This exquisite combinations creating a haven of luxury and tranquillity. The centrepiece of this master bedroom is undoubtedly the bed, and a beige leather headboard instantly elevates the room's aesthetics. Beige, with its soothing and neutral tone, sets the foundation for a calm atmosphere, making it ideal for a restful sleep environment.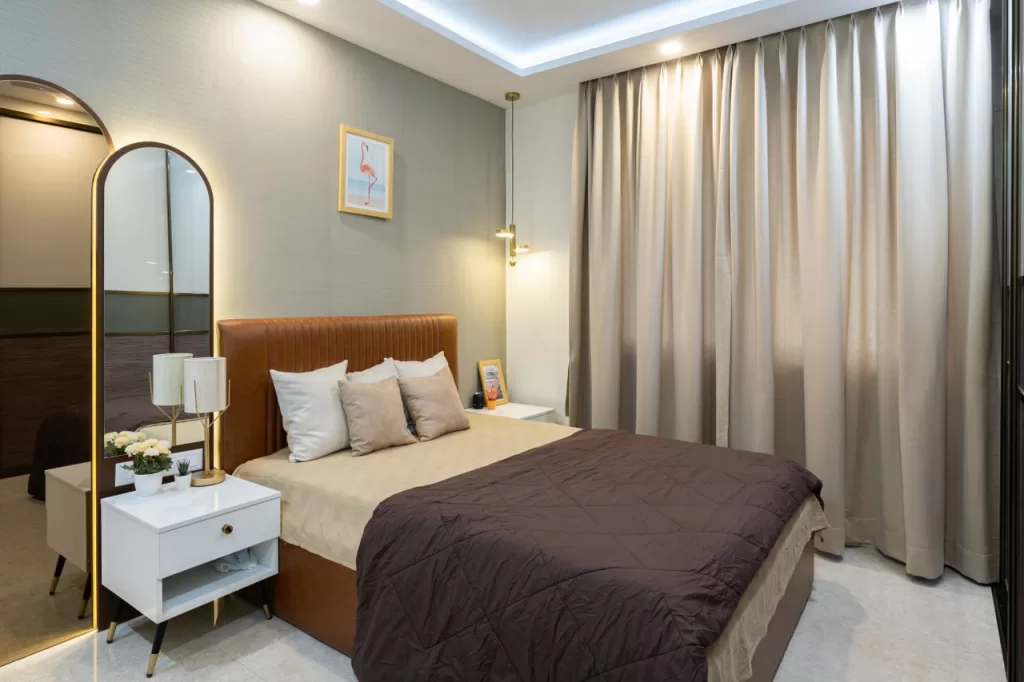 The leather material adds a touch of opulence and warmth, giving the room a lavish feel. The headboard's plush cushioning provides the perfect backrest for late-night reading or morning lounging, making the space both stylish and functional. To create a sense of depth and glamour, incorporating bronze mirrors into the back panelling is a design masterstroke. The reflective surface of the mirrors visually enlarges the room, making it appear more spacious and airy. Moreover, the bronze tint adds a rich, sophisticated allure, perfectly complementing the beige leather headboard.The gold's lustrous glow beautifully contrasts with the beige and bronze elements, adding an unmatched level of elegance and refinement to the overall design.
This beautifully designed guest bedroom space features exquisite wallpaper, a rich tan leather headboard, and strategically placed arch-shaped mirrors to enhance the overall ambiance. The focal point of the guest bedroom is the sumptuous tan leather headboard, which exudes a sense of luxury and comfort. To enhance the visual appeal of the guest bedroom, we have incorporated arch-shaped mirrors strategically around the room. Arch-shaped is placed mirrors on wall to reflect light and make the room feel more spacious and bright. The harmonious blend of aesthetics and functionality ensures that your guests feel pampered and cherished during their time in your home.
Designing a kids' bedroom is a delightful task that requires creativity, functionality, and a touch of magic. The colorscheme of a bedroom plays a significant role in setting the tone and ambiance. Lavender and Dutch green color theme is a wonderful way to create a tranquil yet lively space for the client's little ones. Functionality and versatility are essential aspects of kids' bedroom design, especially considering their rapid growth and changing needs. The foldable cot serves as an excellent space-saving solution. During the day, it can be neatly folded and tucked away, creating ample floor space for playtime activities. When it's time to rest, the cot unfolds into a comfortable and secure sleeping spot.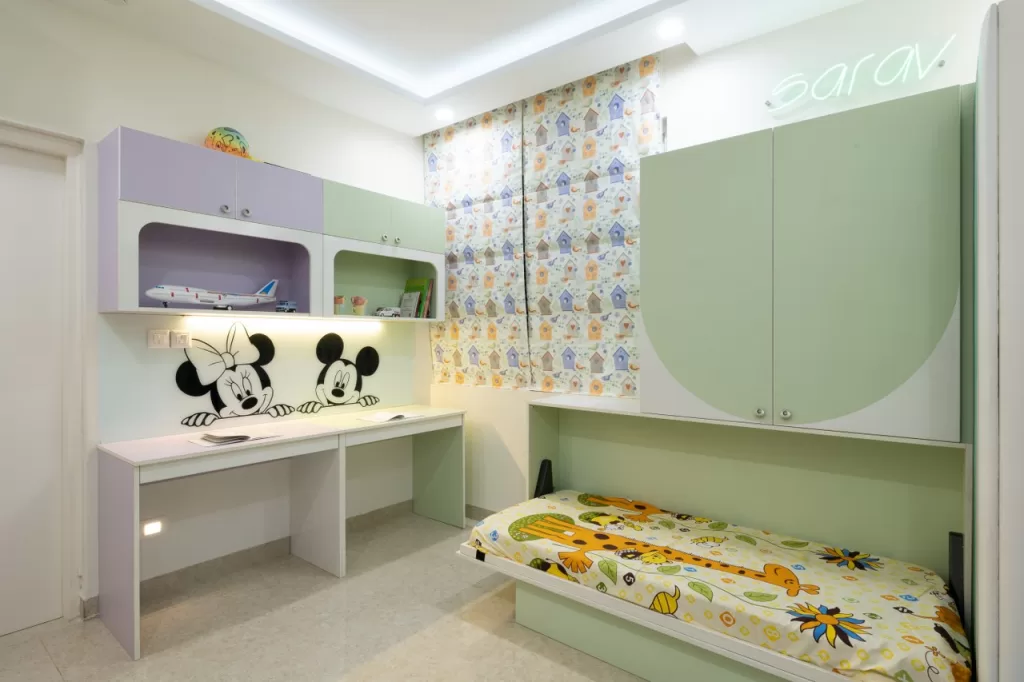 To add a touch of whimsy and uniqueness, incorporate an open tall unit with an arch design. This architectural feature not only adds aesthetic appeal but also serves as a functional storage space. Children can use it to display their favourite books, toys, and decorative items, making it a personalized showcase of their interests and treasures. Kids tend to accumulate a plethora of toys, books, and belongings over time. Corner storage units make the most of the available space, utilizing corners that might otherwise remain unused. It provides ample space to keep things organized and accessible. For the ultimate blend of luxury and functionality, we have used leather-covered shutters.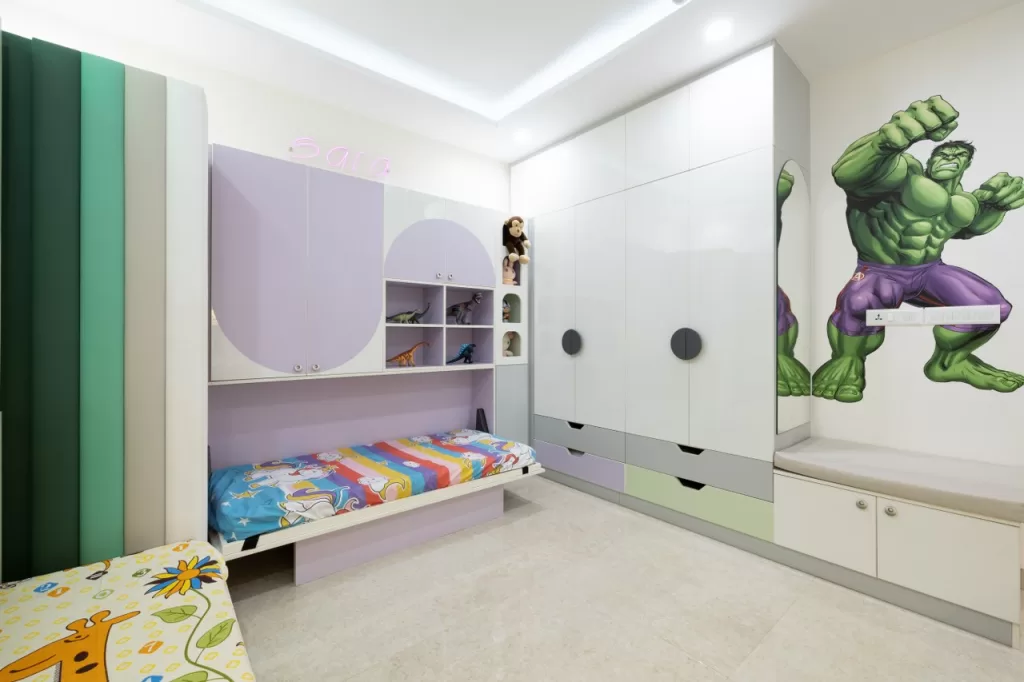 Fact File
Designed by: Syzygy Designz-sleek.chic.elegant
Project Type: Residential Interior Design
Project Name: Salarpuria Sattva Divinity
Location: Bangalore, Karnataka
Year Built: 2023
Duration of the project: 3 Months
Project Size: 1864 Sq.ft
Project Cost: 30 Lakhs
Principal Designer: AshaMogaral N
Team Design Credits: Ms. Chaitra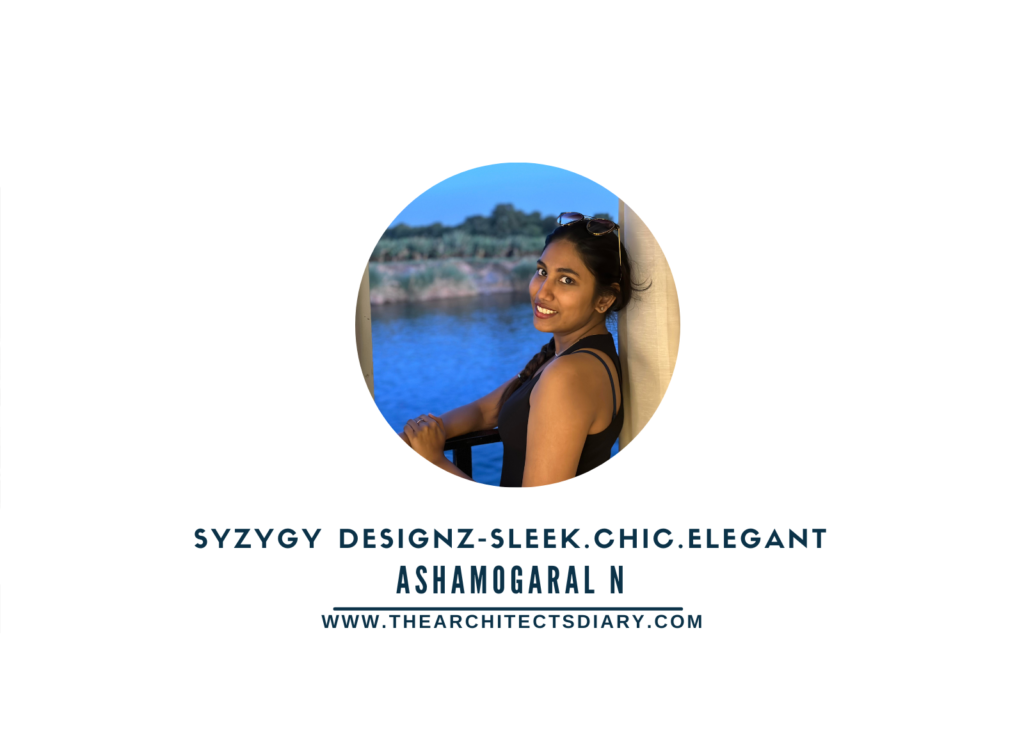 Firm's Website Link: Syzygy Designz-sleek.chic.elegant
Firm's Instagram Link: Syzygy Designz-sleek.chic.elegant
Firm's Facebook Link: Syzygy Designz-sleek.chic.elegant
For Similar projects>>>Soothing Color Tones, Minimalistic Aesthetics and Zen Vibe is what Describes this Home
The post Modern Contemporary Interior Design Home in Timeless Elegance | Syzygy Designz-sleek.chic.elegant appeared first on The Architects Diary.