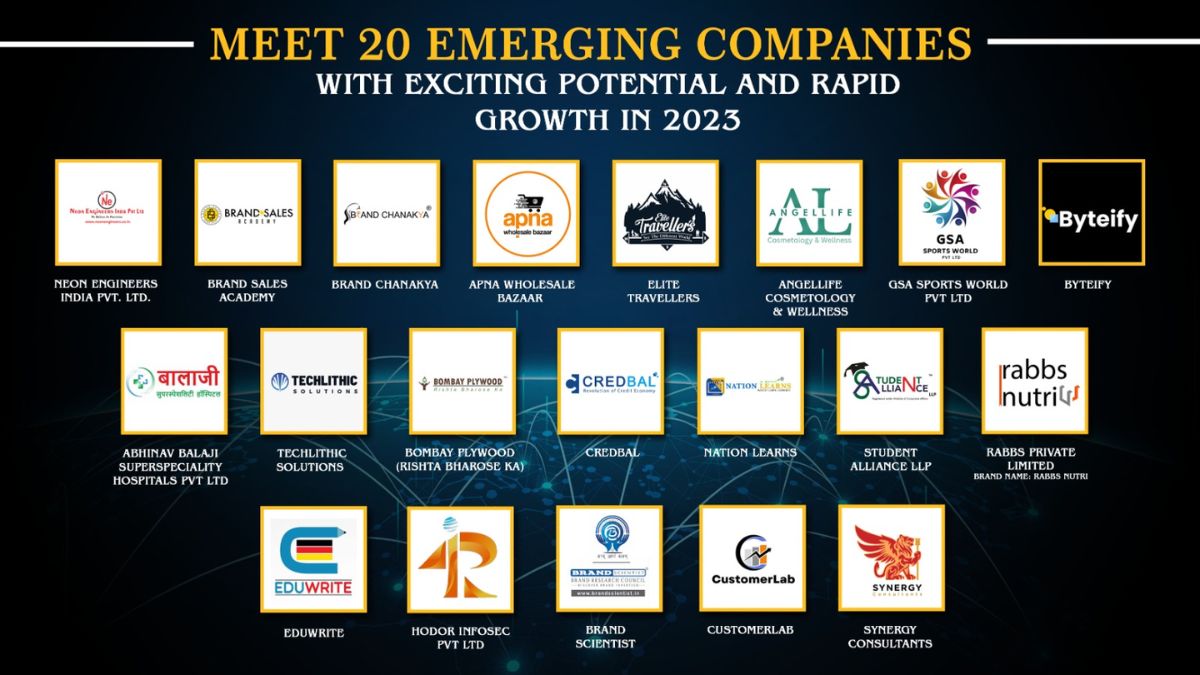 New Delhi (India), August 4: In the ever-evolving landscape of 2023, 20 emerging companies are on the cusp of greatness, fueled by exciting potential and rapid growth. These 20 Emerging companies are redefining industries, disrupting the status quo, and leaving their mark on the business world. From pioneering fire safety solutions to innovative sales coaching and digital marketing prowess, these companies are setting themselves apart with their unique approaches and unwavering commitment to excellence. Let's go on a journey to explore the visionary minds and game-changing ideas behind these remarkable entities as they drive progress and shape the future.
1. Neon Engineers India Pvt. Ltd
Neon Engineers India Pvt. Ltd., established in November 2020 and spearheaded by Mayank Singh, Director of Sales and Strategies & R Himakiran, Director – Operations, is a dynamic force in fire safety. With an unwavering commitment to protect life and property, they offer state-of-the-art fire detection, firefighting, and security solutions. What sets them apart is their meticulous approach—studying projects in-depth, adhering strictly to norms, and ensuring precise execution. Utilizing advanced software for team efficiency and 24/7 emergency support, they've earned acclaim for completing intricate projects with minimum glitches. Embracing environmental consciousness, they have expertise in eco-friendly water mist systems to reduce carbon footprints and also deliver a niche product using minimum water. Neon Engineers deliver unparalleled precision and top-notch solutions, making them an emerging start-up in fire safety.
2. Brand Sales Academy
Meet Neeraj Singh Rathore, Founder and CEO of  Brand Sales Academy, the catalyst behind emerging companies' rapid rise in 2023. Founded in 2016, they specialize in sales and marketing coaching and training for startups and growth organizations. The "Sales coaching" sessions can help your reps secure bigger deals and tackle common sales objections during the sales process.  The "sales and marketing training" refines sales frameworks along with personal sales coaching that maximizes business potential. Setting them apart is a deep understanding of customer demographics, thanks to extensive market research and competitive analysis across US and European markets. Unlike others, they focus on generating leads through periodic evaluation of sales and marketing strategies. With a commitment to excellence, #BrandSales Academy# educates and inspires entrepreneurs, propelling them towards consistent and predictable sales growth month after month. "Sales coaching" is a process of mentoring salespeople to improve performance and achieve consistent success. An effective coaching program, led by sales leaders and managers helps reps identify deficiencies and take ownership of their sales performance. Contact – Phone 9176987790
3. Brand Chanakya
Meet Brand Chanakya, the driving force behind emerging companies' digital triumph. Established in 2014, this Digital Marketing Agency has consistently delivered exceptional services, propelling businesses to new heights. With an impressive 80% client retention rate, their expertise and customer-centric approach stand unrivaled. Going beyond conventional consulting, Brand Chanakya becomes a dependable partner throughout the journey, ensuring flawless implementation. They emphasize "VALUE 4 MONEY," providing cost-effective solutions and quantifiable results. Guided by innovation, implementation, individuality, and improvement, they lead businesses through the ever-changing digital landscape. For thriving in the digital realm, trust Brand Chanakya's legacy of success and customer dedication. Let them be your catalyst for unprecedented digital growth.
4. Apna Wholesale Bazaar
Discover Apna Wholesale Bazaar, your go-to destination for viral internet products and smart home accessories at astonishing prices. Established in September 2022 by Jai Kapoor and his partners, Avinash, Rohit, and Kartik, this emerging company is revolutionizing the way we shop for trendy and practical items. With an extensive range starting at just ₹5 per piece, Apna Wholesale Bazaar offers fancy water bottles, headphones, kitchen accessories, and more. Their unique selling point lies in the collection of viral internet products, often seen on Instagram Reels and YouTube Shorts. Plus, their sprawling experience store in Kandivali (E), Mumbai, allows customers to test products live before purchase.
5. Elite Travellers
Introducing Elite Travellers, the ultimate destination for Camping, adventure and trekking experiences. Established in 2018 by Saurabh Sharma, this emerging company stands out for its unparalleled services, including Char Dham Yatra, Shri Kedarnath Dham Yatra, and Do Dham Yatra. What sets Elite Travellers apart is their focus on Kedarnath Dham and camping, trekking in Uttarakhand, and providing a unique and breathtaking journey. Witness trickling streams and twisting trails like never before, setting them apart from competitors. With affordability and excellence as their signature, Elite Travellers has become a renowned travel and event planner in Delhi, Faridabad, Maharashtra and Uttarakhand. From group holidays to outdoor adventures, school excursions, and corporate trips, Elite Travellers redefines adventure with thrilling potential and rapid growth.
6. AngelLife Cosmetology & Wellness
AngelLife Cosmetology & Wellness, established in 2019 and led by CEO Dr. Shashank Kharabanda, is setting new standards in aesthetics, skin, laser, and hair care. With clinics across India and upcoming centers abroad, they offer a wide range of treatments like Skin Brightening, Hydra Facial, Anti-Aging, Hair Transplant, and Permanent Hair Removal. Trained specialist doctors and modern technology elevate the customer experience to new heights. Unique in their approach, they combine affection with perfection to deliver exceptional services. Their array of top-notch products like Tricho Pure Shampoo and Vit C Facial Serum add to the allure. Trusted and awarded, AngelLife Cosmetology & Wellness stands out as a beacon of excellence in the beauty & aesthetics industry.
7. GSA Sports World Pvt Ltd
GSA Sports World Pvt Ltd, established in 2022 by Ghazal Khan and Saima Akhter, is redefining sports and athlete management. What sets them apart is their unwavering commitment to grassroot athletes and para-athletes, providing income-generating opportunities to empower them for a fulfilling life. This emerging company aims to create an inclusive society where athletic abilities are celebrated and respected. With a diverse range of offerings, GSA Sports World enhances the economic, social, and cultural aspects of sports. As trailblazers in the industry, they stand dedicated to shaping brighter futures for athletes, bringing exciting potential and rapid growth to the sports arena.
8. Byteify
Byteify, a leading IT consulting company, helmed by Archana Tripathi and Neelam Pandey, offers cutting-edge services including IT Consulting, Software Development, Cloud Solutions, and Mobile App Development. Their proficiency in Data Science, AI, and Blockchain sets them apart in the industry. What makes Byteify stand out is their customer-centric approach, delivering tailored solutions to individual client needs. From secure Blockchain solutions to agile cloud integration and digital marketing prowess, Byteify ensures future-proof growth for businesses. As trusted advisors, Byteify guides through complex IT landscapes, transforming data into valuable insights. Embrace the excitement of rapid growth with Byteify, where brilliance fuses with innovation, redefining possibilities in 2023.
9. Abhinav Balaji Superspeciality Hospitals Pvt Ltd
Abhinav Balaji Superspeciality Hospitals Pvt Ltd Founded by Dr. Abhinav Gupta, an esteemed alumnus of AFMC with over 20 years of experience and 5000+ successful Neuro & Spinal surgeries, Abhinav Balaji Superspeciality Hospitals Pvt Ltd is a 50-bedded hospital specializing in Neurology and Neurosurgery. Their state-of-the-art infrastructure houses 24×7 CT scan, ICU, and Lab, providing exceptional patient care. With over 200 complex Neurosurgeries performed in the last year, their unique selling points include Intraoperative CT scan for precise Neurosurgery, 24×7 availability of Neurosurgeon and Neurologist, acute stroke care, and expertise in small incision Spinal surgery. Notably, they have successfully optimized costs, making quality healthcare accessible to the middle and lower classes.
10. Techlithic Solutions
Techlithic Solutions Founded in 2019 by Snehil Prakash, Puneet Sharma, and Gopal Kildoliya, Techlithic Solutions is an IT and cloud software product development company based in New Delhi, India. With a focus on SaaS product development, their platforms include Howtobuysaas, an e-commerce platform for SaaS businesses, and Sendwo, a WhatsApp marketing software and business API service. Their unique selling point lies in providing services for growing and trending SaaS niches, offering marketing consultation to early-stage SaaS businesses. As a specialized SaaS marketing agency, Techlithic Solutions is dedicated to becoming a global leader in the industry, supporting businesses from MVP testing to scaling with confidence and innovation.
11. Bombay Plywood
Established in 2019, Bombay Plywood – Rishta Bharose Ka is a leading provider of high-quality plywood, laminates, veneers, wallpapers, and highlighters. What sets them apart from the competition is their direct association with the factory, allowing them to offer top-notch plywood at factory prices directly to customers. As a one-stop solution for all surface interior requirements, they take pride in providing value for money to all stakeholders. With a strong focus on quality and customer satisfaction, Bombay Plywood is poised for rapid growth and success in the interior solutions industry in 2023.
12. CREDBAL
Meet CREDBAL, a game-changing app established in 2022 by Chartered Accountant Karunahara. This innovative platform helps individuals assess the credibility and trustworthiness of others based on their repayment history for day-to-day money transactions. With a focus on addressing the issue of late payments, which has left small and medium-sized entrepreneurs owed around Rs. 3.89 lakh crores, CREDBAL aims to foster trust and transparency in financial dealings. Unlike its competitors, CREDBAL stands as a unique solution in the market, providing individuals with vital insights into the financial promises made by others, thus empowering better decision-making and cultivating a reliable business ecosystem.
13. Nation Learns
Meet Nation Learns, India's innovative platform reshaping video sharing, e-learning, and B2C connections. Founded and led by Mohammed Haseeb, Nation Learns serves as a comprehensive hub, seamlessly integrating videos, courses, and service providers, setting it apart from rivals like YouTube, Udemy, and Justdial. Content creators and instructors thrive, benefiting from equitable revenue-sharing models and enhanced exposure. Meanwhile, service providers find direct access to engaged customers, streamlining their growth. Embracing the power of simplicity and convenience, Nation Learns empowers learners, professionals, and businesses across the country. This game-changing platform fosters a transformative experience—watch captivating videos, acquire knowledge from courses, and connect with local service providers all in one place. Watch, learn, and connect with ease at Nation Learns!
14. Student Alliance LLP
Introducing Student Alliance LLP, an Edtech firm with a mission to bridge the gap between education and technology through customization. Founded by Neha Awab Fakih in Mumbai in 2011, the company offers a diverse range of products and services, including customized STEM & Robotics Labs for schools, IFPD Panels, Physics, Maths, Chemistry, and Biology lab setups, as well as desktops, laptops, and tablets. Their unique selling point lies in their focus on post-sales support, with warranties and service for IFPDs and consultation and training in labs after setup. By building a community of educators, Student Alliance aims to make education more accessible through sustainable projects, driving India towards a brighter future in education.
15. RABBS NUTRI
Introducing RABBS NUTRI, a trusted online destination for high-quality dietary supplements and vitamins, committed to supporting your journey towards optimal health. Founded by Balajee Balasubramaniam, RABBS NUTRI offers a diverse range of products, including vitamins, innovative superfood gummies, and wellness solutions. What sets them apart is their emphasis on natural ingredients, with no artificial colors or agents, and a focus on food extract nutrients. Their team of experienced professionals meticulously researches and sources supplements from reputable manufacturers to ensure the highest quality and effectiveness. With a commitment to transparency and customer satisfaction, RABBS NUTRI aims to be your go-to source for premium supplements tailored to address various health concerns, providing you with a vibrant and balanced life.
16. Eduwrite Institute
Eduwrite Institute, an impactful startup, has been transforming careers for aspiring individuals in Germany since 2013. With over 5000 students from diverse backgrounds already benefiting from its programs, the institute's credibility is evident. The wide range of German language courses, IELTS coaching, and overseas education consultancy emphasizes its commitment to personalized learning and comprehensive support. With CEFR certified certificates and in-house study materials, Eduwrite ensures top-notch education quality. Backed by highly qualified trainers, students receive individualized attention, making learning effective and enjoyable. Moreover, Eduwrite's versatility extends beyond Germany, assisting students in pursuing education abroad. With such dedication to excellence, Eduwrite emerges as a promising company with exciting growth potential in 2023.
17. Hodor INFOSEC PVT LTD
Introducing Hodor INFOSEC PVT LTD, a research-backed company known for developing futuristic solutions and operational optimization. Founded by Sagar Singh, Hodor INFOSEC offers innovative 5PL (5 Party Logistic) Solutions, providing a flexible and efficient management solution that reduces the working load from companies. Established in 2017 as a research group of KARMA CARGO MOVERS PVT LTD, it evolved into a full-fledged registered company in 2020. What sets them apart is their focus on 5PL, while most competitors are still working on 3PL. Hodor INFOSEC's smart management solution streamlines repetitive tasks, allowing companies to concentrate on strategic decisions and achieve rapid growth. Soon, they will offer fully functional 5PL services, solidifying their position as a game-changer in the logistics industry.
18. The Brand Scientist
Introducing The Brand Scientist – Brand Research Council, India's leading non-profit dedicated to brand marketing research and innovation. Their Certified Brand Scientist program sets the standard for branding excellence, recognizing individuals' expertise and commitment to advancing brand management. As India's largest market research platform and knowledge hub, they offer invaluable resources for professionals across sectors. Certified Brand Scientists play a vital role in shaping branding and marketing, providing essential services such as brand guidelines, audits, and positioning. Joining as a Brand Scientist unlocks rewarding career opportunities and the chance to work as an external brand auditor, making a significant impact on organizations. The Brand Scientist fosters industry-wide standards and best practices while championing innovation. 
19. CustomerLab
Meet CustomerLab, the brainchild of co-founders Bhushan Khairnar and Ayush Desai, a groundbreaking Business Strategy Company empowering SMEs with their flagship product "Visual KPI." In today's fast-paced business world, accessing expert strategists is challenging for small and medium-sized enterprises. Visual KPI, the virtual business strategy system, bridges this gap, providing real-time insights and decision-making capabilities to SMEs. Customized for each client, the platform leverages cutting-edge technology and industry expertise. With 24/7 support, Visual KPI enables businesses to make informed decisions, optimize operations, and seize growth opportunities. Established in December 2019, CustomerLab transforms human strategic capabilities into a digital form, setting the stage for exciting potential and rapid growth in 2023.
20. Synergy Consultants
Introducing Synergy Consultants, a team of visionary business growth consultants led by *coach* Aditya Mhatre. 
With over seven years in the training and Business growth consulting industry,  Synergy offers Business Consulting, Startup Coaching, and Corporate Training Workshops. What sets them apart is their 24/7 customer support and a unique approach that treats clients as partners, promoting mutual growth—hence the name "synergy." With a plethora of growth ideas tailored for every startup and MSME in India, their commitment to turnaround consulting and unwavering support ensures businesses reach their maximum potential
Synergy Consultants: Empowering businesses from Vision to Victory.
Everyone can be inspired by the passion, innovation, and dedication displayed by each of these Emerging Companies. Their commitment to customer satisfaction, environmental consciousness, and fostering employment opportunities sets them apart in their respective industries. From transforming the way we approach business strategies to creating a more inclusive society through sports, each of these companies exemplifies the essence of entrepreneurship and the spirit of progress. As they continue to scale new heights in 2023 and beyond, their exciting potential shines brightly on the horizon, and we all can eagerly await the impact they'll make on the global stage.
If you have any objection to this press release content, kindly contact pr.error.rectification[at]gmail.com to notify us. We will respond and rectify the situation in the next 24 hours.