When it comes to home improvement projects, kitchen renovation ranks high on the list of priorities for many homeowners for a good reason. A well-executed kitchen makeover has the power to not only enhance the aesthetic appeal of your living space but also improve the overall functionality of your home.
If you're faced with the challenge of a small kitchen, fear not! This article is your ultimate guide to kitchen renovation, tailored specifically to make the most of limited kitchen space. Keep reading to unlock the secrets of transforming your kitchen into a stylish and functional oasis.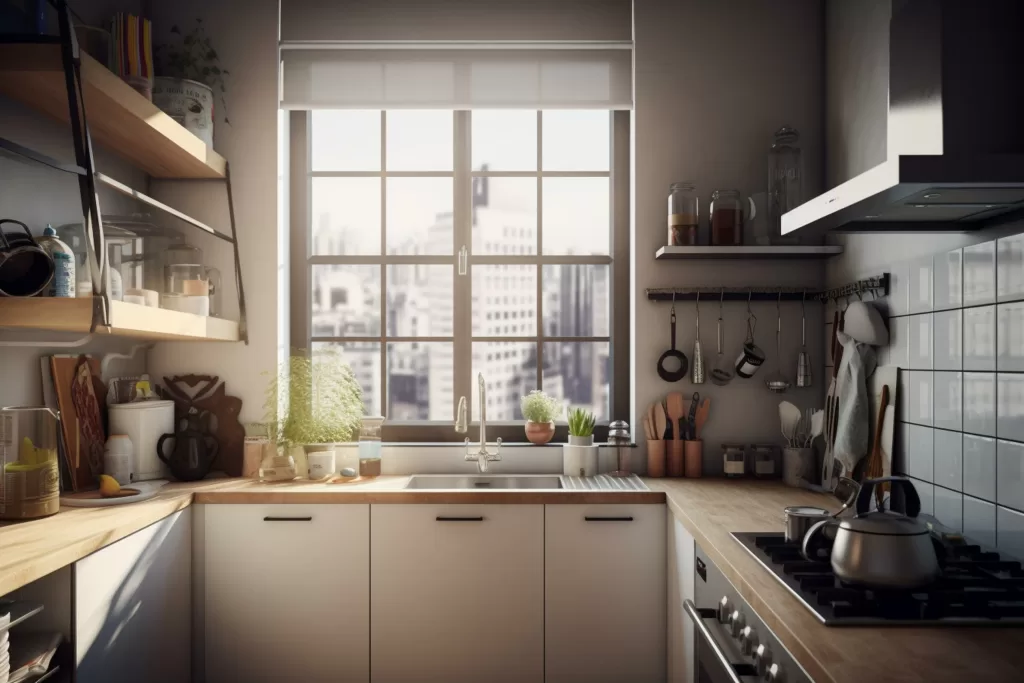 Utilize Vertical Space
One of the most effective strategies for optimizing a small kitchen is using vertical space to maximize storage and functionality. Here are some ideas worth considering:
Wall-Mounted Racks and Magnetic Strips: Install wall-mounted racks or magnetic strips to store knives, spices, or other frequently used items. This keeps them easily accessible while saving valuable drawer or countertop space.
Tall Cabinets and Pantries: Use tall cabinets or pantries to make use of vertical space. This provides additional storage for items that are used less frequently.
By making the most of your kitchen's vertical space, you can turn a small kitchen into a highly efficient and visually appealing space.
Choose Multi-Functional Furniture
In a compact kitchen, every piece of furniture should serve multiple purposes. This design philosophy emphasizes the importance of maximizing utility while minimizing the physical footprint of individual items. Below are examples of multi-functional furniture:
Double-duty kitchen island: It's best to go for a kitchen island design that does more than just cooking. Think of extra counter room for various tasks, plus storage underneath. This way, you can store your pots, pans, and little appliances when not in use.
Foldable or extendable dining tables: These also offer a clever solution for small kitchens since they can expand when needed for meals and then easily shrink down afterwards. You can use them to accommodate dining with friends or family, then fold them to save space. This versatility means you can have a big table when needed without crowding your kitchen when not in use.
Space-saving seating: Using stackable chairs or stools is another practical way to save floor space in your small kitchen. You can opt for wall-mounted options, attaching hooks or brackets to your kitchen wall to easily hang chairs or stools when they are not in use. This not only adds a touch of style to your kitchen but also helps maintain an open and tidy space.
With a careful selection of multi-functional pieces, you can highlight the harmonious blend of design and practicality of the space while transforming your small kitchen into an efficient haven that adapts seamlessly to your needs.
Invest In Compact Appliances
Kitchen appliances are indispensable, regardless of the size of your cooking area. But in smaller kitchens, the importance of space-efficient options becomes even more significant. Consider appliances like slim refrigerators, narrow dishwashers, and compact microwaves that seamlessly integrate into your limited space while still providing the functionality you need
Exploring innovative choices, such as a combination microwave and convection oven, not only streamlines your setup but also slashes the need for a separate oven—saving space and money. You can also explore drawer-style dishwashers as an alternative to traditional models to add an extra layer of efficiency, conveniently tucking them beneath the counter and freeing up coveted storage above.
These thoughtful selections of compact appliances form the foundation of a well-organized small kitchen.
Create Clever Organizational Systems
Organizing kitchen cabinets and drawers is your secret weapon for creating a visually appealing cooking space. Below are strategies to help you transform your kitchen into an efficient hub:
Pull-out pantry shelves: These ingenious shelves make the most of storage space and ensure that items at the back are easily accessible. Group similar items together for efficient use.
Built-in spice racks: Keep your spices within arm's reach with built-in racks on cabinet doors or walls. You can categorize spices by type and label them for quick identification.
Drawer dividers: Keep utensils and tools neatly separated with drawer dividers. This prevents clutter and makes it easier to find what you need.
Clear containers: Use transparent containers for staples like flour, sugar, and pasta. Not only do they keep your pantry tidy, but they also allow you to see when supplies are running low.
Efficient organization allows you to get the most out of your kitchen, especially in tight spots. Plus, a tidy kitchen saves time when you cook, making it easier to find what you need and prepare meals faster.
Opt For A Downsized Sink And Faucet
Opting for a smaller sink, like a sleek stainless-steel one, is crucial for efficient space utilization. While a larger sink might appear appealing, a compact design liberates valuable counter space. Consider a single-bowl or half-bowl sink, offering ample room for daily tasks without overpowering your countertop. 
The choice of a fitting faucet is equally vital. A streamlined and compact faucet complements the sink's proportions, achieving a seamless blend of style and function. This pairing of a compact sink and a well-matched faucet showcases intelligent design, enhancing both space conservation and the overall aesthetic of your compact kitchen.
By prioritizing both practicality and aesthetics, you fashion an organized, visually pleasing kitchen where cooking is a pleasure and functionality reigns supreme.
Use Light Colors And Reflective Surfaces
While this tip might not help you fully maximize every inch of your space, the right color scheme and the clever use of reflective surfaces play an essential role in controlling the perception of space in your small kitchen. By strategically selecting colors, you can influence how open and expansive the kitchen feels. Here are some tips to consider:
Light Hues: Opt for light-colored cabinetry, countertops, and backsplashes. Light shades create a sense of openness and airiness, making the kitchen appear larger.
Reflective Surfaces: Integrate glossy tiles or mirrored backsplashes. These surfaces bounce light, enhancing the perception of space by creating reflections that spread throughout the room.
Natural Light: Bringing in natural light to your kitchen can create a more open and inviting atmosphere while adding a warm and welcoming ambiance. To maximize the effect, consider maximizing the window space in your kitchen and selecting sheer or light window coverings.
You can transform your small kitchen into a visually spacious and welcoming area by harmoniously blending color, light, and reflective elements.
Conclusion
A small kitchen doesn't have to mean sacrificing functionality or style. With the right approach, you can transform your compact cooking space into a highly efficient and stylish area. Consider the tips above to help you make the most of your kitchen renovation. Remember, thoughtful planning and creative design are your allies in achieving a small kitchen with a big punch.
The post Making The Most Of A Small Kitchen: Space-Saving Ideas For Renovation appeared first on The Architects Diary.