Luxy Hotel in Bharuch, located in Dahej an Industrial Business Hub, is a one of a kind addition to the city. Located within 50 kms from Bharuch it is now one of the trendiest abodes to look out for. With a total of 70 rooms spread over in 60000 sq.ft area, it celebrates the neighbourhood. Enhancing the urban qualities of the city without wandering away from the pre-existing natural character is the core. And of course, it creates a landmark that brings attention to the neighbourhood; already this new addition has attracted praise and interest.
Luxy Hotel In Bharuch, Located In Dahej, An Industrial Business Hub | Studio Synergy
VISIT : Studio Synergy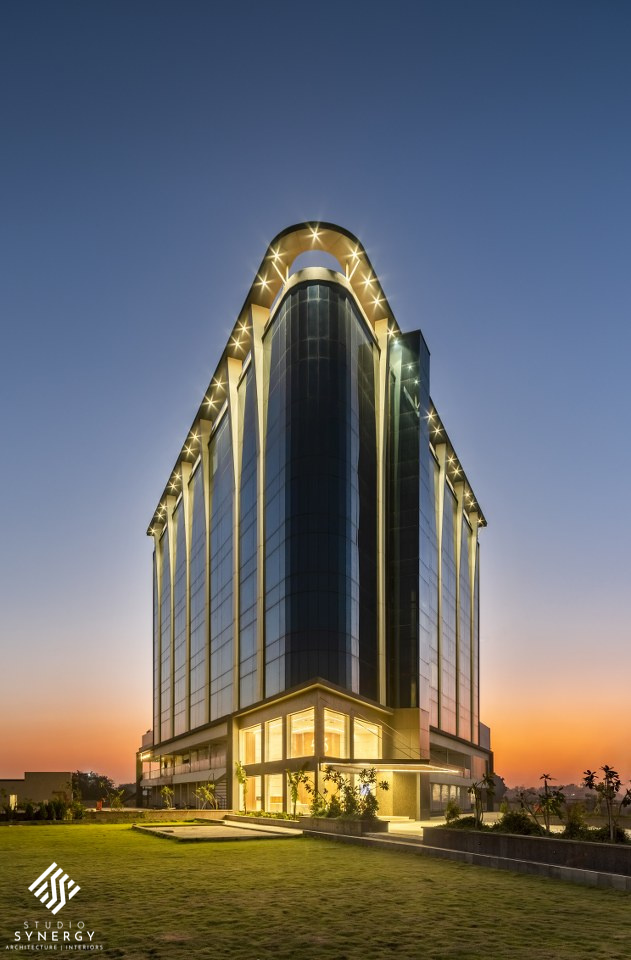 The Hotel is surrounded by lush lawns and modern landscapes with a stunning view of the city. It acts as a canvas to highlight natural elements used in and around the hotel. Soft sand tones are used as a general theme in order to achieve a single unified look.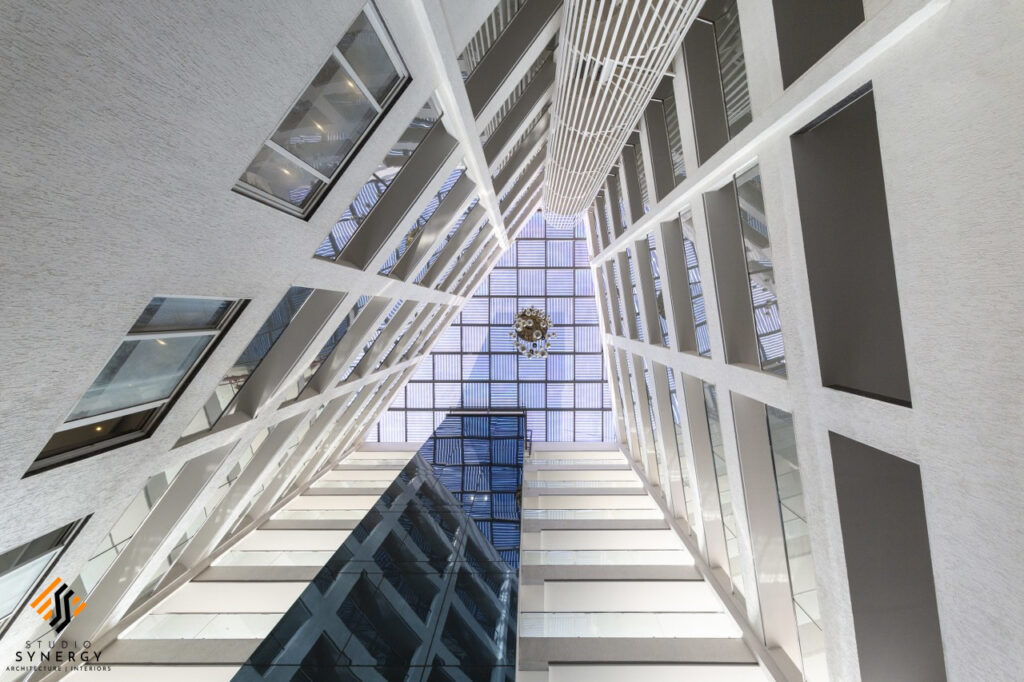 The concept of the project is to create a contextual building that fits easily into its surroundings and looks light, airy, and unobtrusive. This is a building that works well together with all elements of the surroundings and landscape, without being dominant.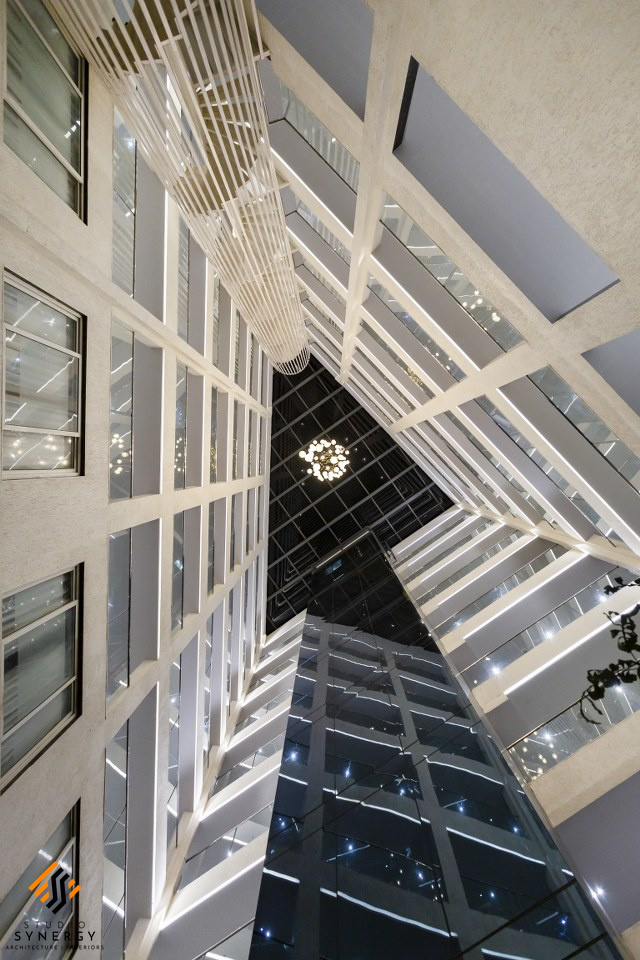 The simplistic design is entirely subordinated to the natural features of the property. The clear floor plans and maximally large windows of the hotel allows it to breathe. The overall shape is distorted so that it is not a simple triangular space, giving this hotel an edge over the skyline.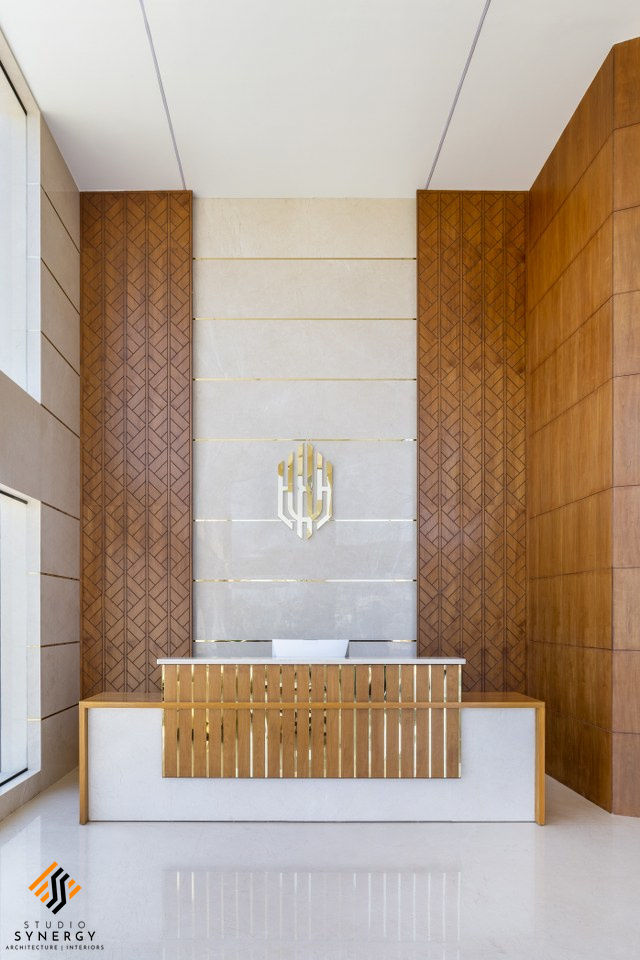 The internal and external finishes utilise the contradiction between chaos, and sophistication. It creates an open and stable place with numerous punctures in between spaces, rather than one absolute entity that requires the consistency of built or open space.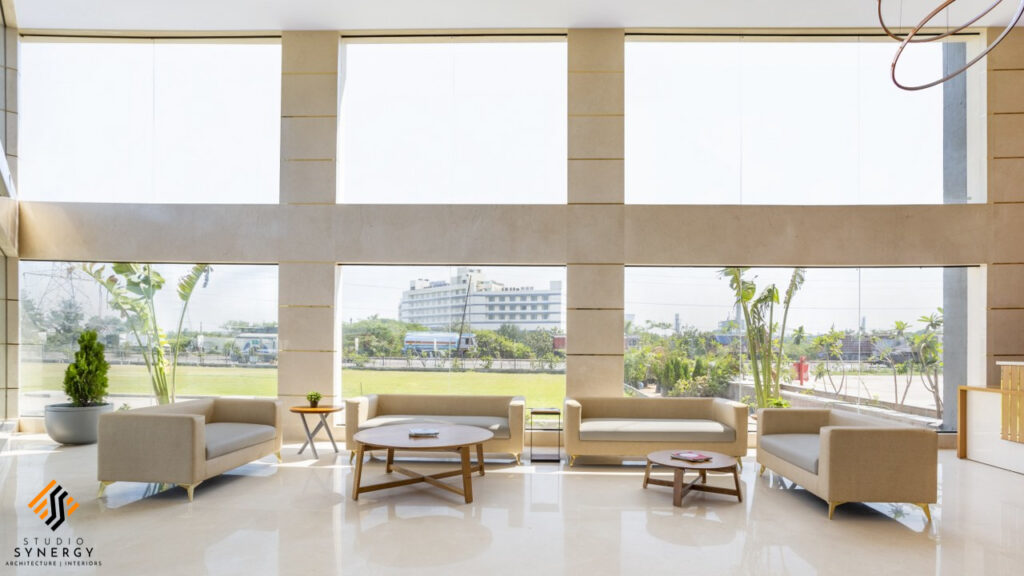 The objective was to break the pattern either way. The central courtyard brings a depth to the space and the shape of the structure stands like a grand ship sail over the skyline!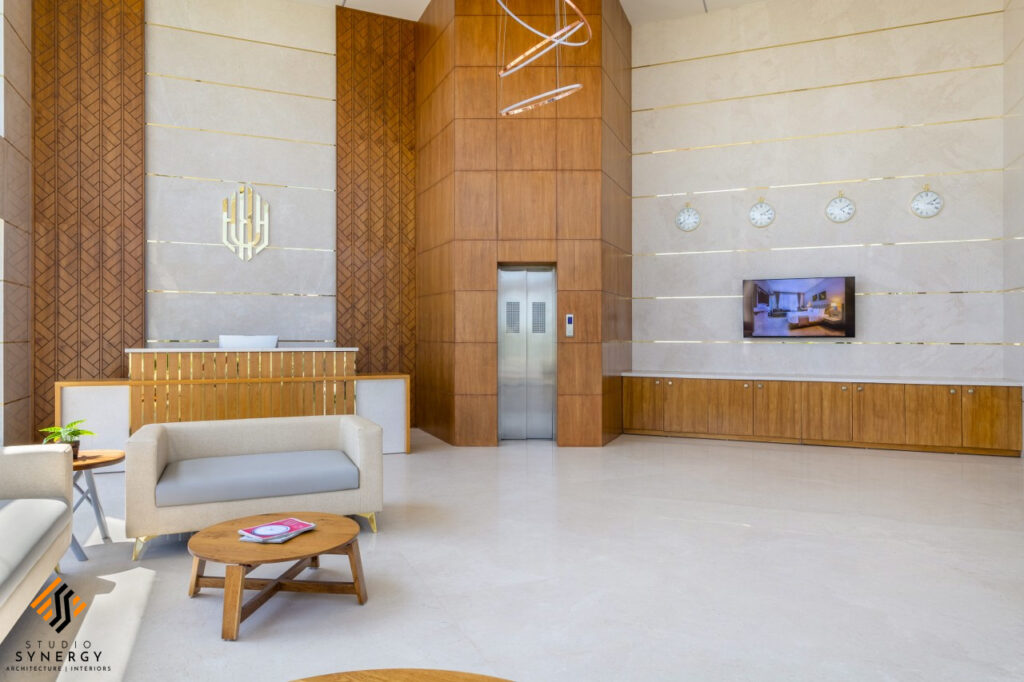 The structure consists of all amenities evenly distributed on eight floors. These include a restaurant, an admin office and banquet halls, boardroom, spa, playroom, gym, yoga and meditation room and a theatre.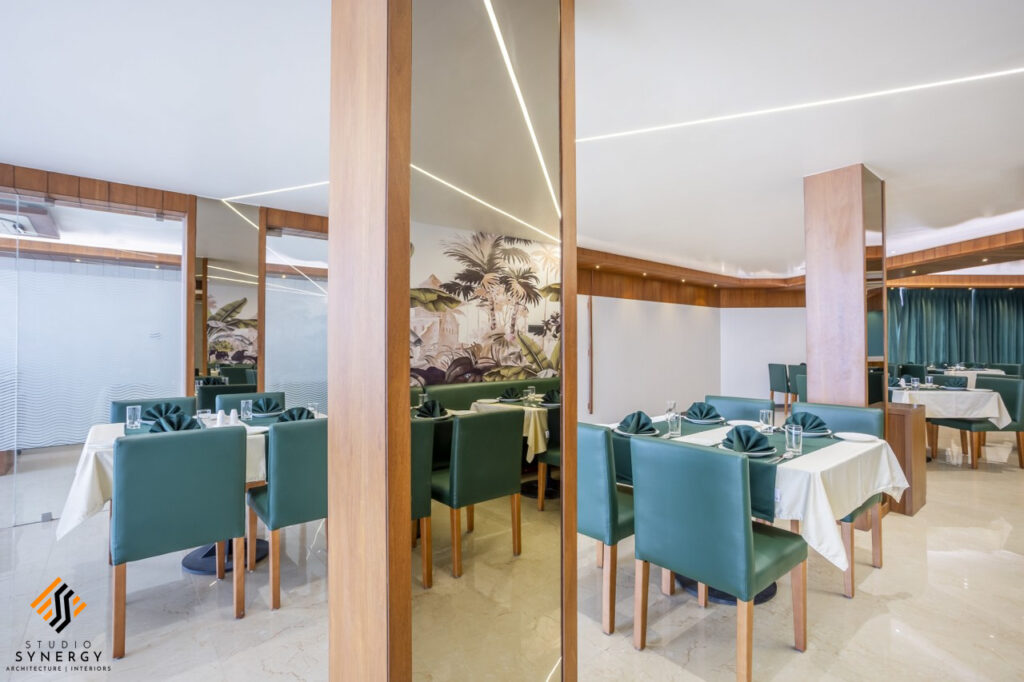 The rich green furniture pieces do a brilliant job of adding a pop of colour and adding personality to the space. With a total capacity of it still looks spacious and vibrant. Attached is a hall with plenty of light entering through massive windows.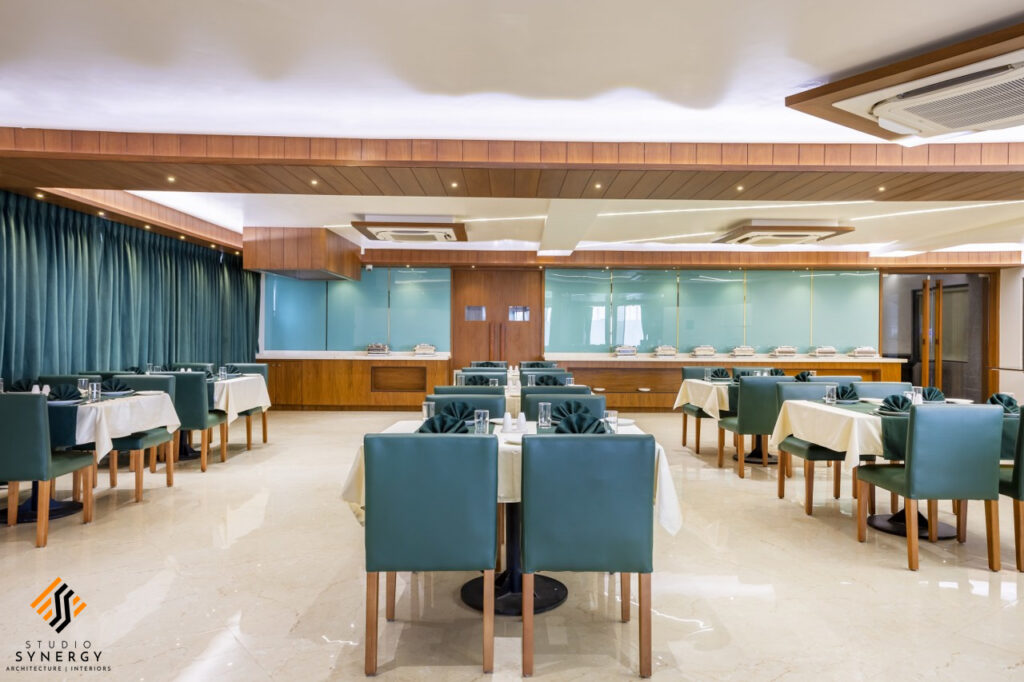 Each of these activity areas and amenities have a spectacular view of the city and welcome plenty of sunlight to make them look even more airy and spacious.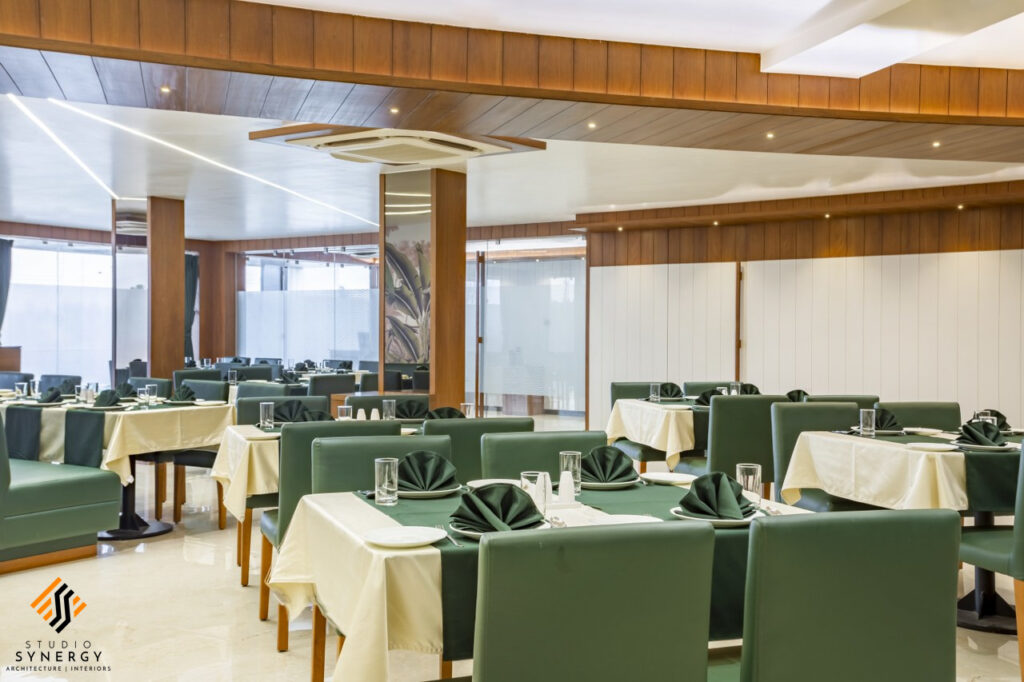 Ready for an ultra – glam welcome on entrance are stunning floor to ceiling windows that bring the freshness and peace of the beautiful outdoor lawns to the stoic and neutral indoors. The minimal look with classical elements is accompanied by the Hotel's most eye-catching feature, the multi storeyed chandelier.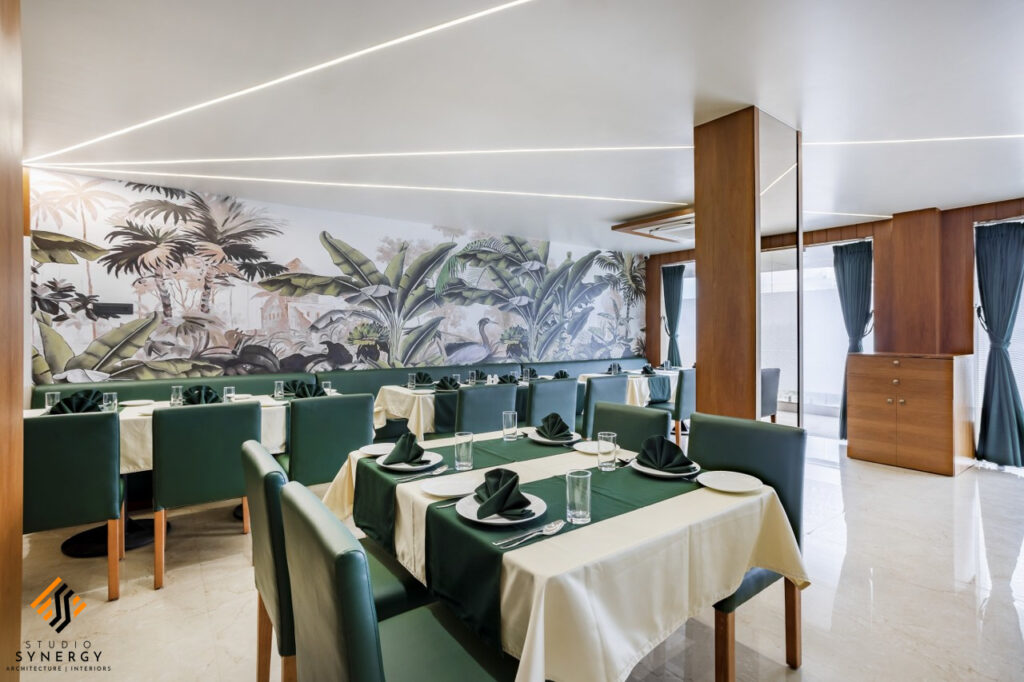 The first floor has a cozy restaurant with neutral walls carrying the theme of the restaurant. The restaurant's interior is designed in a similar light and relaxed manner – plenty of air and vast spaces in earth tones.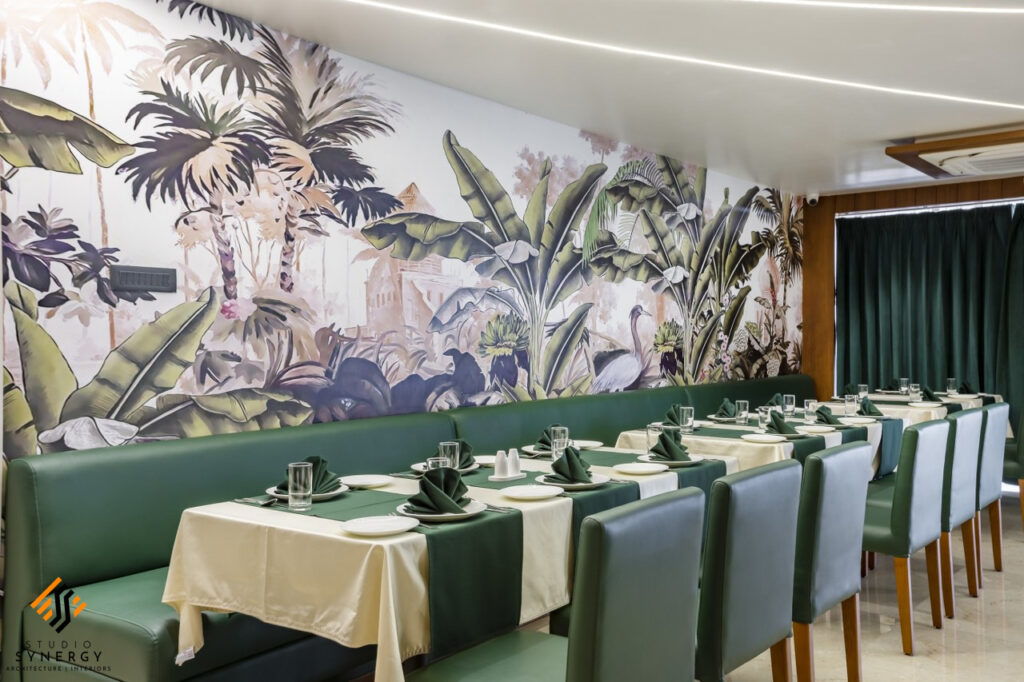 These neutral walls act as a backdrop for a beautiful tropical themed wallpaper that is reflected off of mirrored pillars.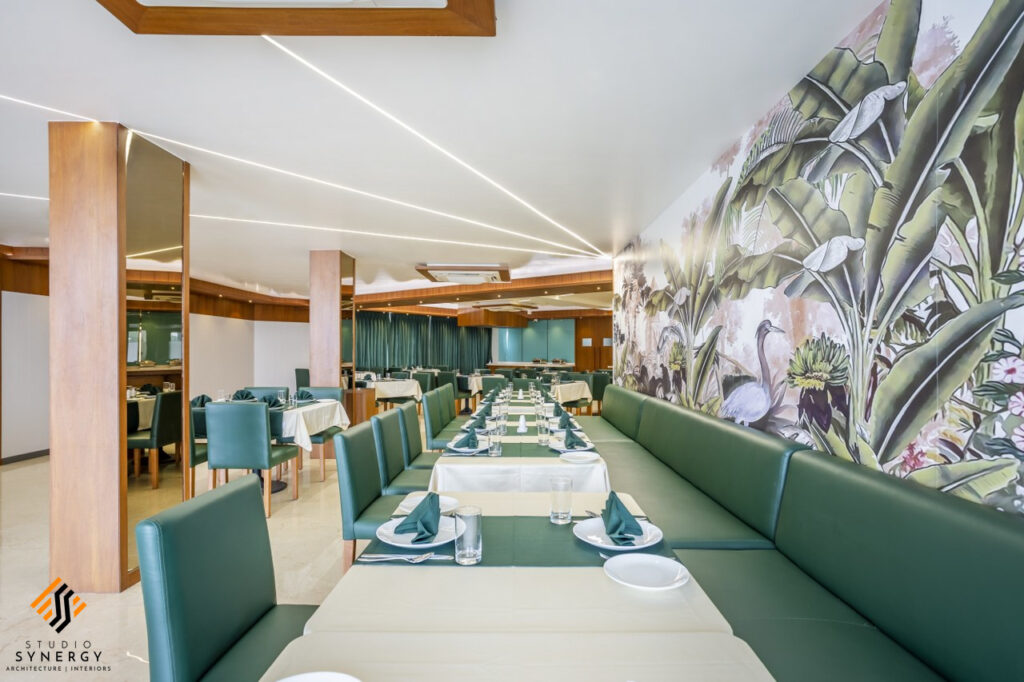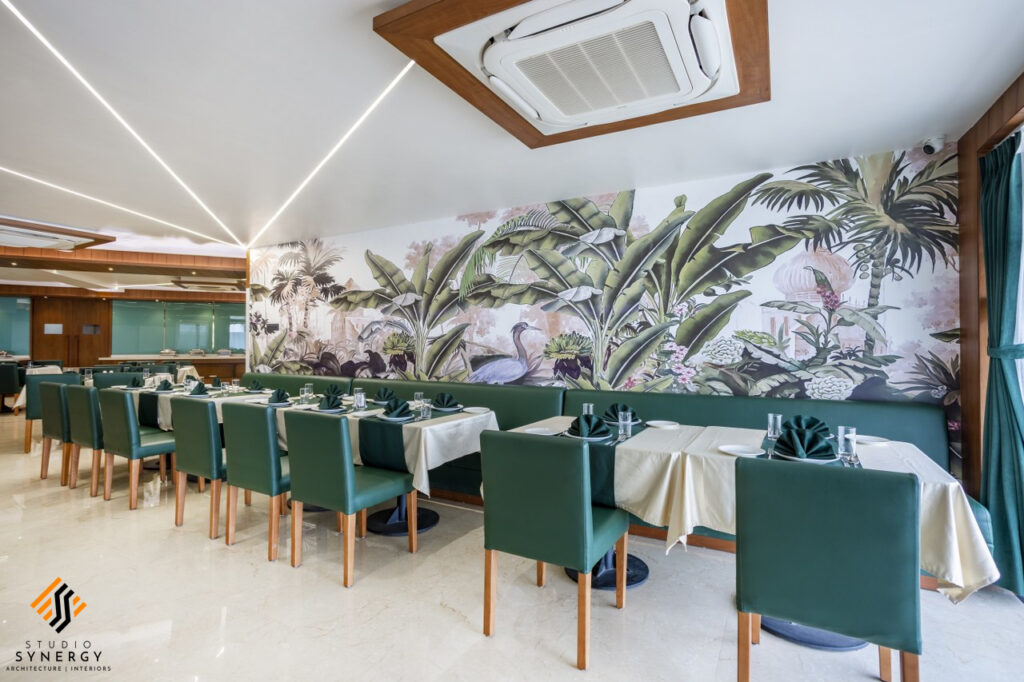 All bedrooms on the consecutive floors are spacious, airy, and extremely subtle to match the exteriors of the hotel. A beautiful combination of grey leather for headboards pierced by light wood uplifts the rooms.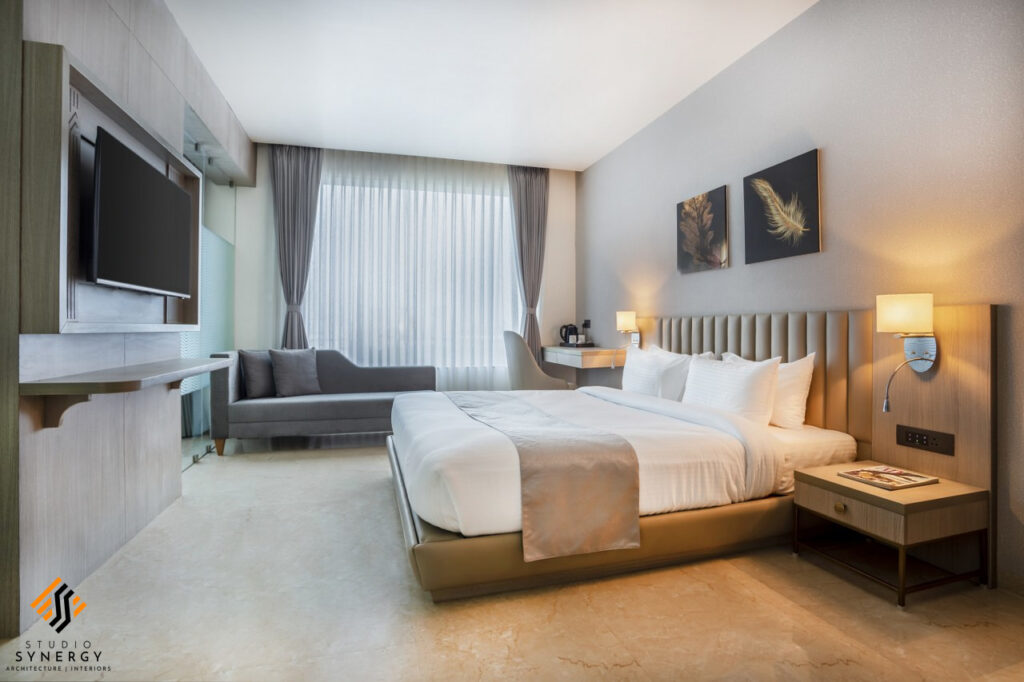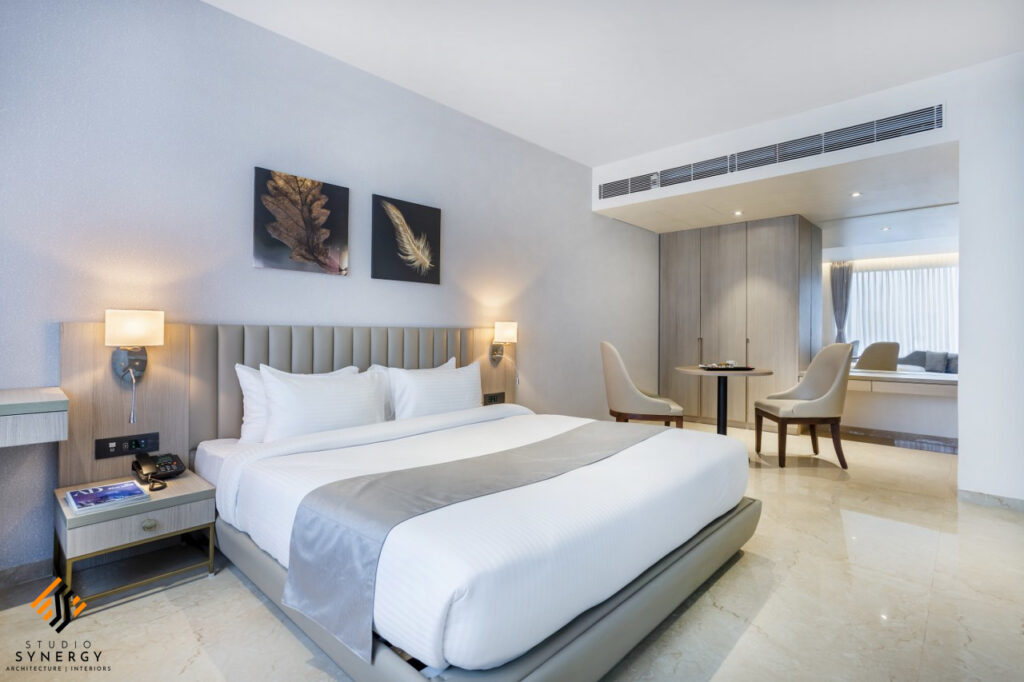 As does a glass window wall at one end. The black switches and fittings add a nice contrast to the otherwise neutral tones. The suites have a cosy seating area including a couch, a coffee table and a side table with bar stools.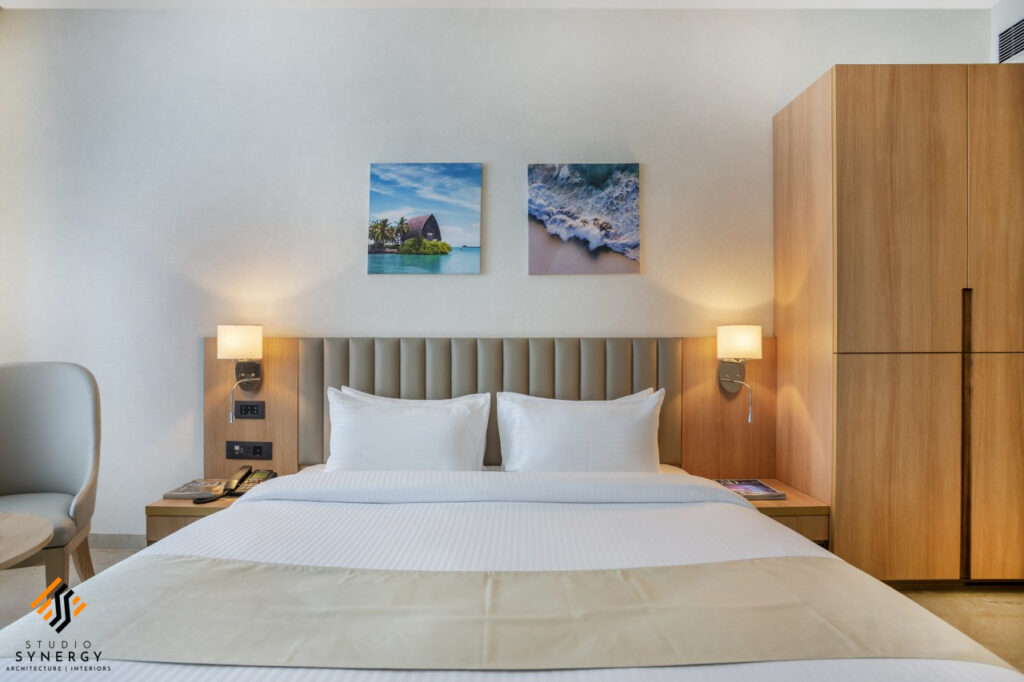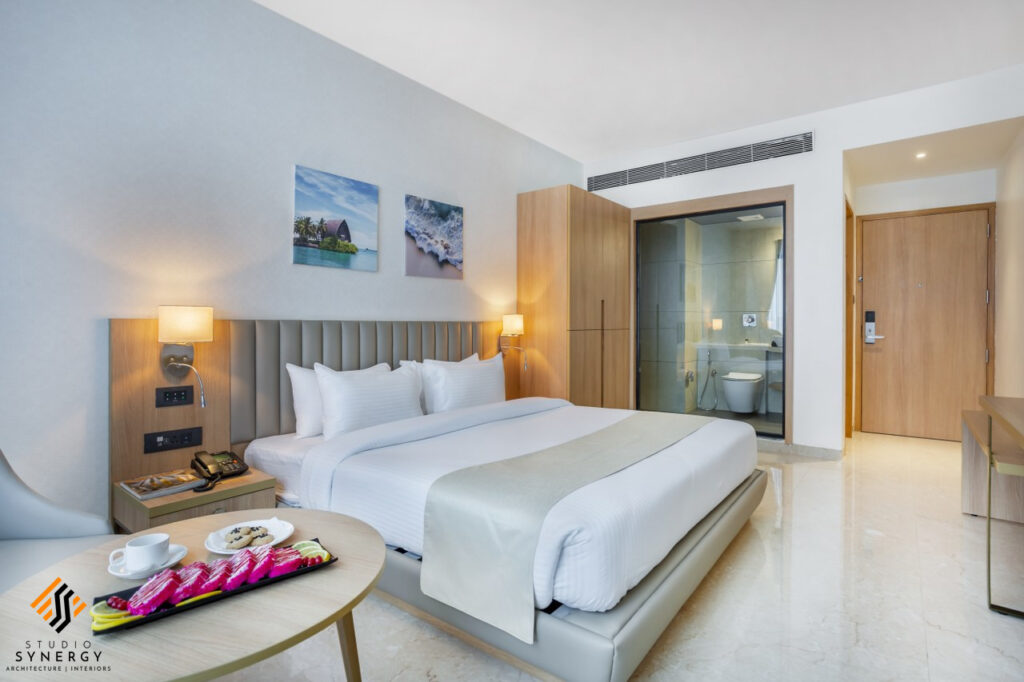 Even though fully furnished, it provides plenty of room for circulation. The bathrooms are sleek, look clean and minimal. The frosted glass doors for the bathroom add a nice finishing touch to the vibe of the rooms.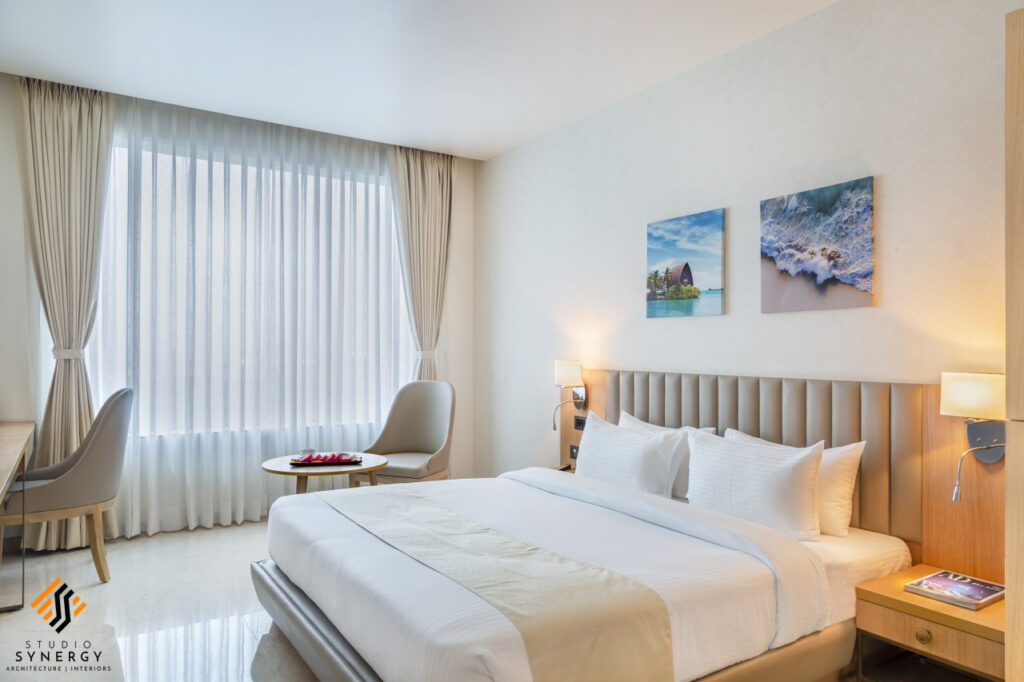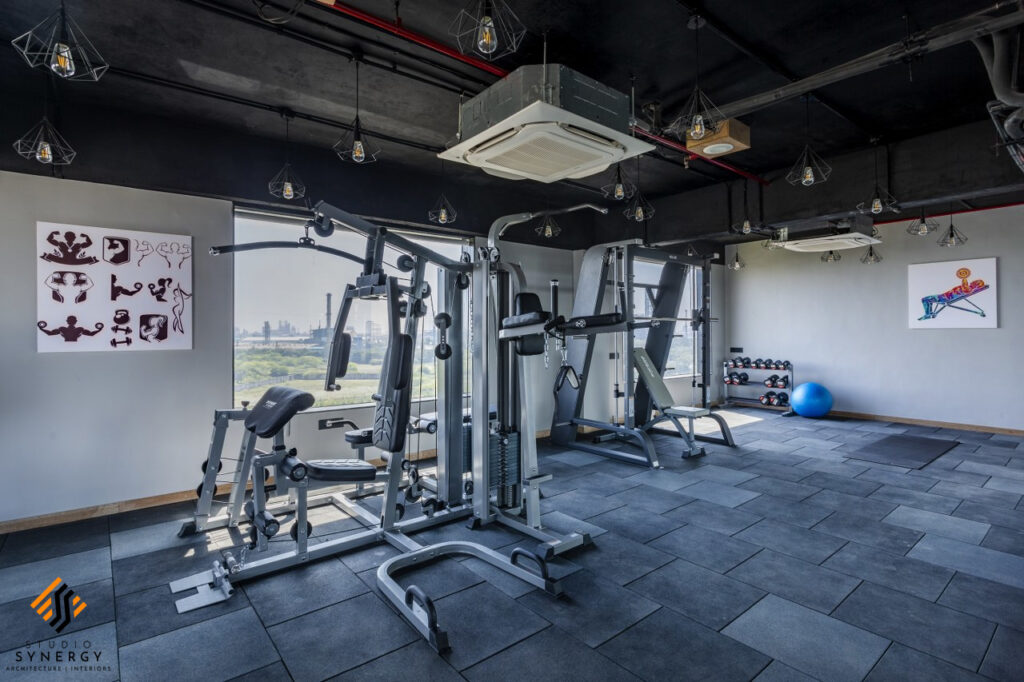 The gym is fully equipped with all instruments placed in a way that they face windows for the view. An exposed industrial ceiling and hanging lights give it a raw yet authentic feel.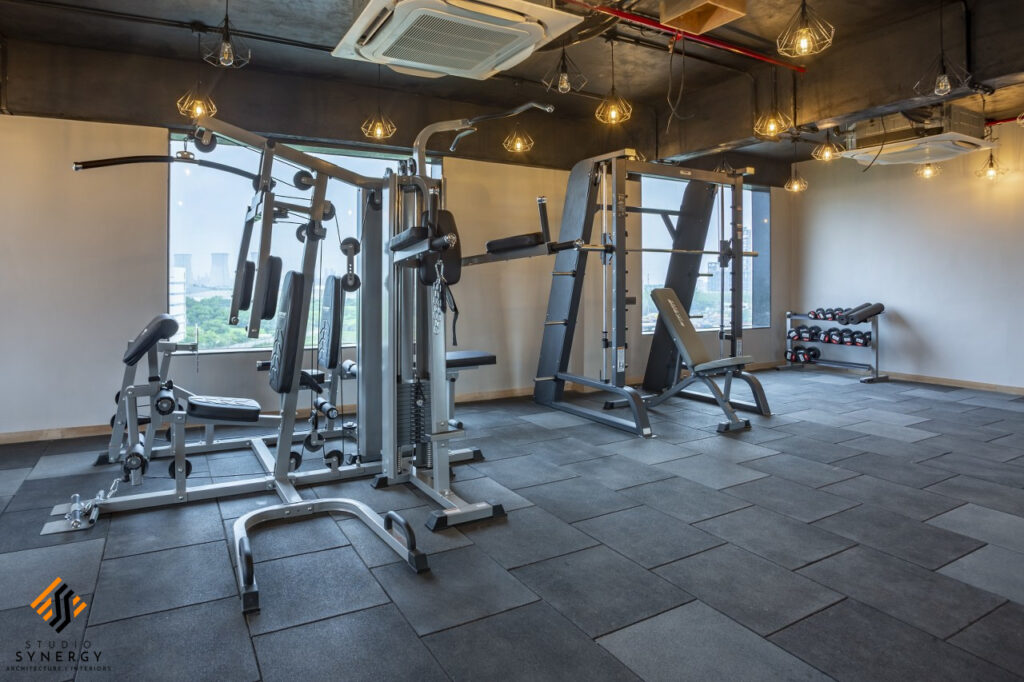 The yoga and meditation area have a beautiful calming outdoor setup with lush green terrace lawns and shrubbery.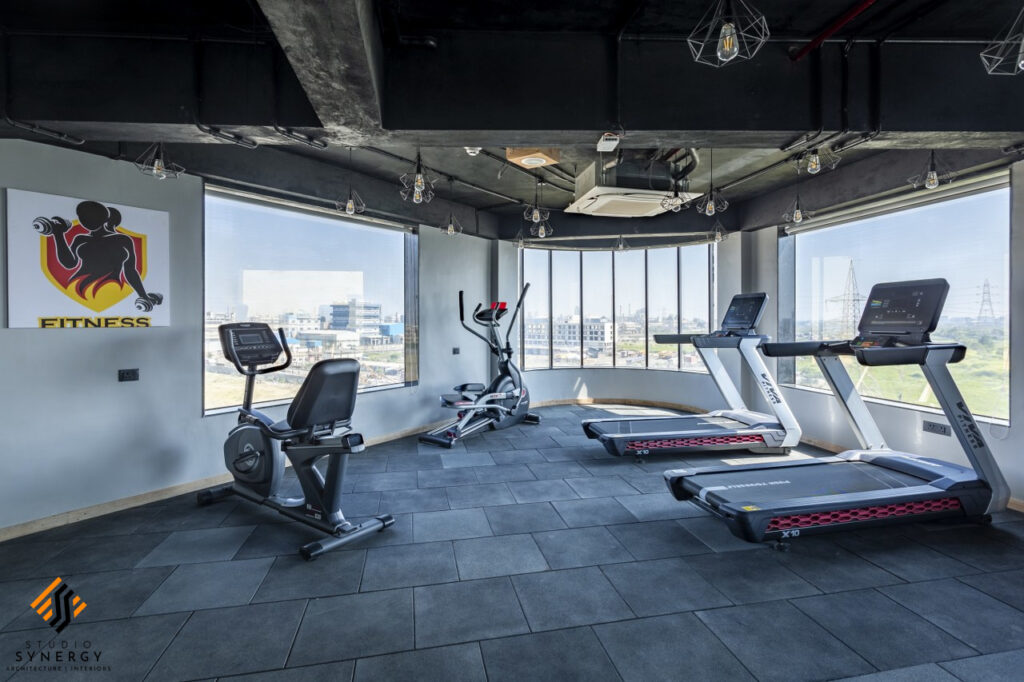 An ideal space for a meditative experience. The mini theatre with a capacity of 21 people is a great way to spend an evening.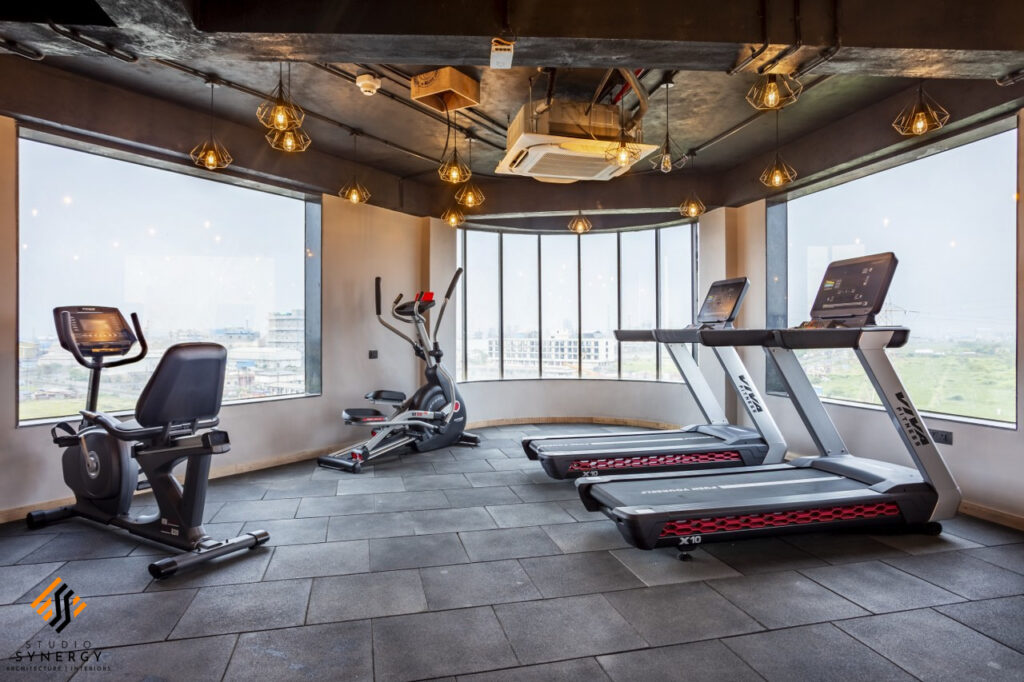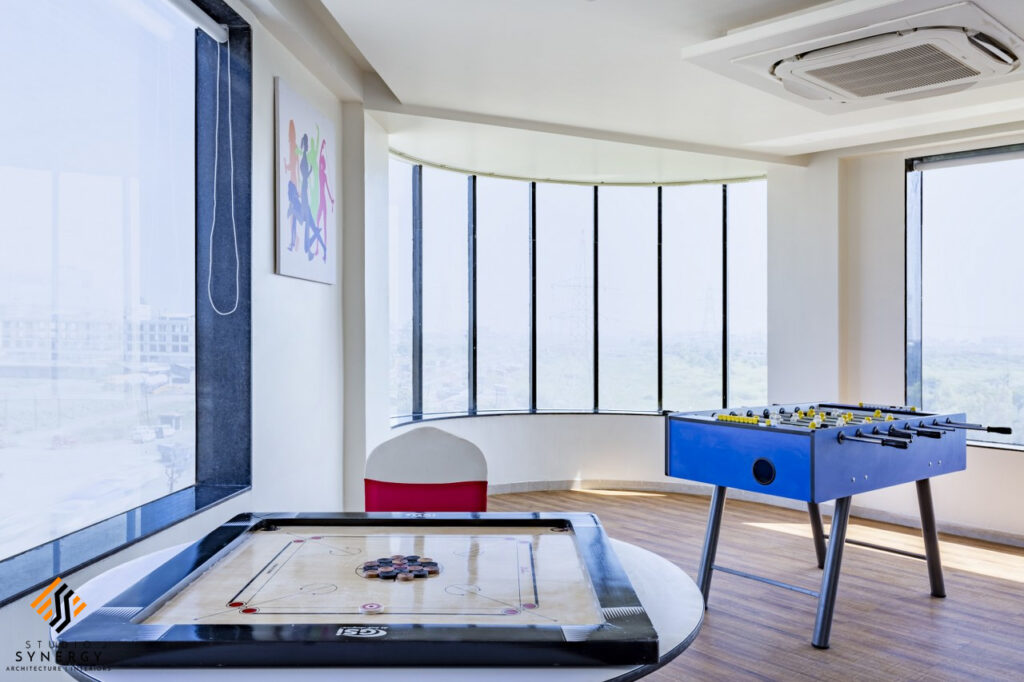 The playroom consists of a carrom board, table tennis, foosball and a choice selection of indoor games to hang out for a fun rainy afternoon.
The boardroom along with a lounge area along with twin bedrooms on the third floor are perfectly placed for maximum convenience.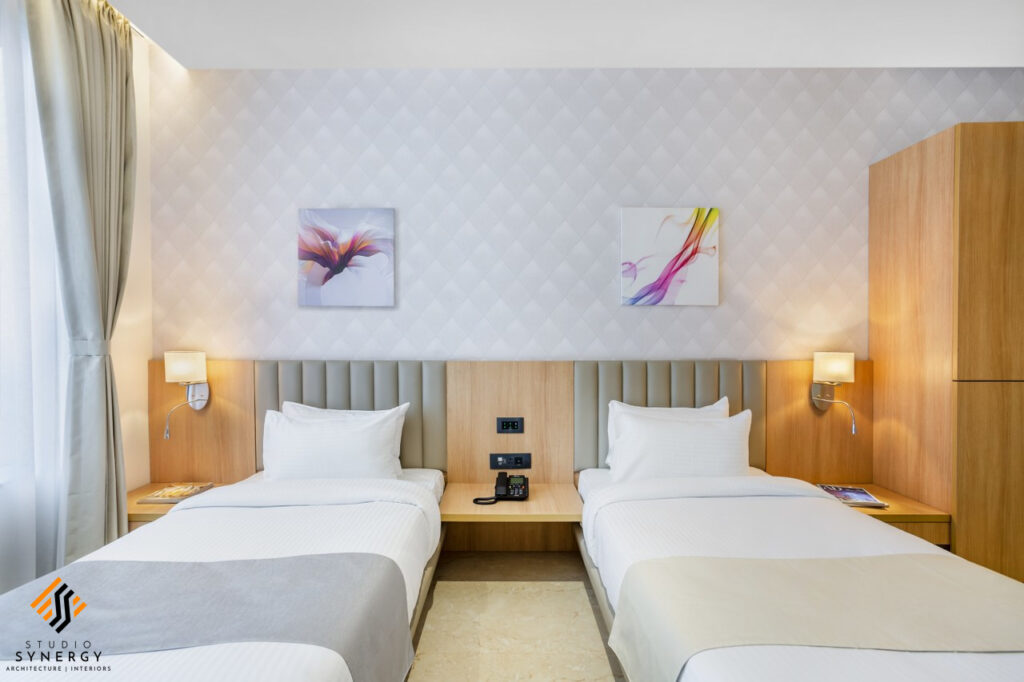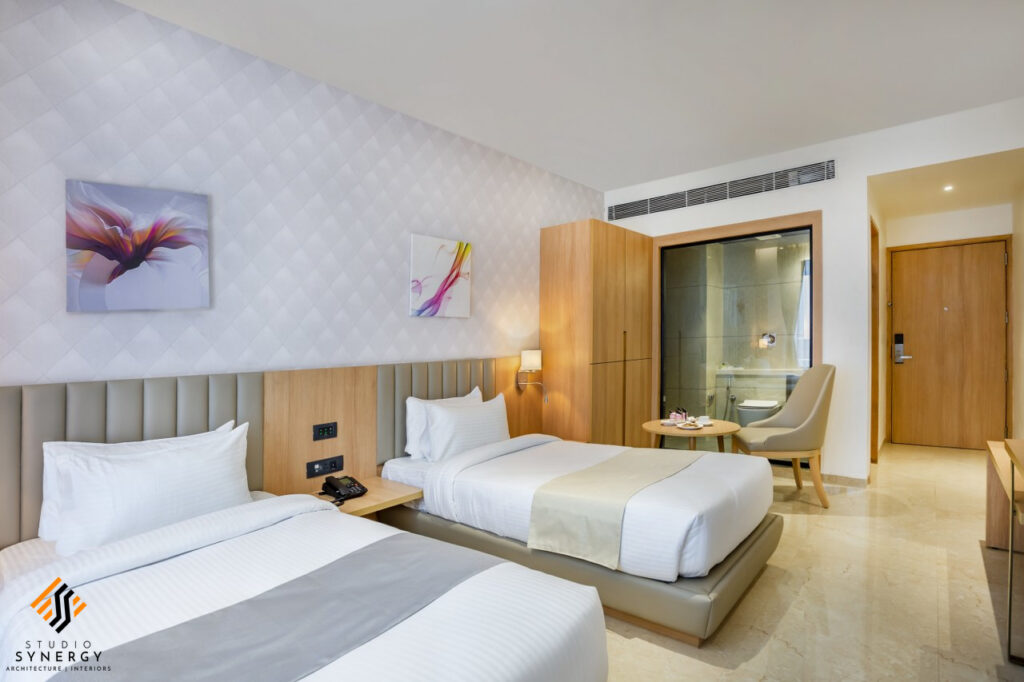 The hotel has twin rooms as well as deluxe rooms and suites to support all customers ranging from business associates to couples and families.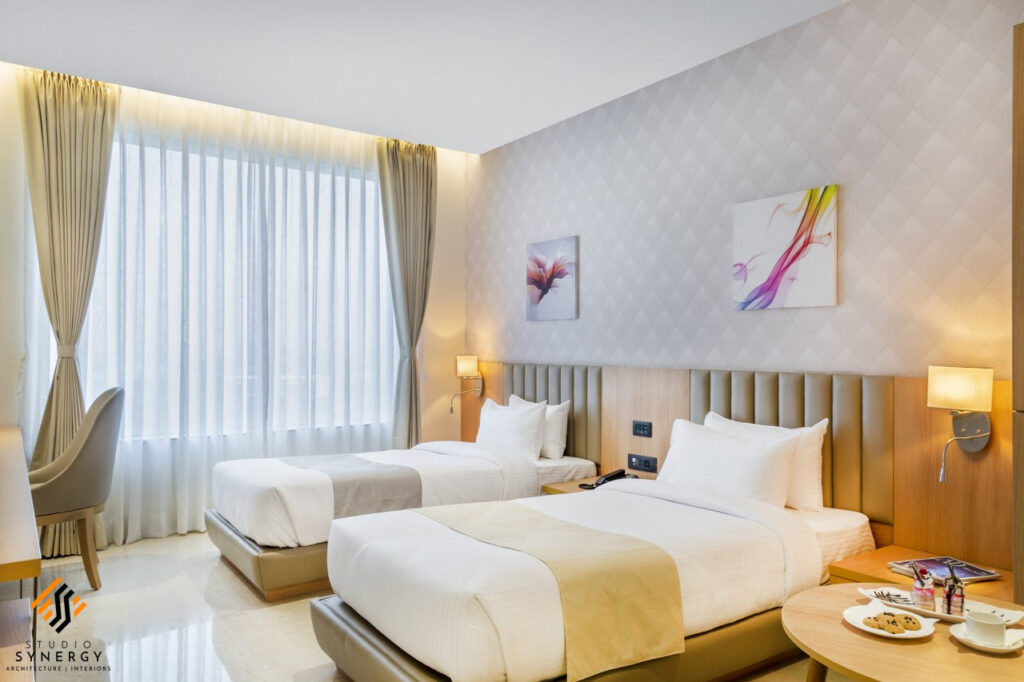 FACT FILE
Designed by : Studio Synergy
Project Type : Commercial Building
Project Name : Luxy Hotel
Location : Bharuch
Year Built : 2022
Duration of the project : 3 Years
Plot Area : 4190 sq.mt
Built-up Area : 5575 sq.mt
Project Size : 60000 sq.ft
Principal Architect : Ar. Umesh Choudhary
Team Design Credits : Vishangi Modi, Manali Patel & Priya Patkar
Photograph Courtesy : Pixellus Photography
Products / Materials / Vendors : Finishes – Veneer, Rustic Texture, Wallpapers / Lighting – Philips Lighting / Doors and Partitions – E-Zone / Sanitaryware – Kerovit by Kajaria / Facade Systems – Saint Gobain / Windows – Telesia Windows / Furniture – Sumer Interiors Pvt. Ltd. Vadodara / Flooring – Simpolo / Paint – Asian Paints / Artefacts – Sumer Interiors Pvt. Ltd. Vadodara / Wallpaper – Sumer Interiors Pvt. Ltd. Vadodara / Hardware – Haffle.
Firm's Instagram Link : Studio Synergy
For Similar Projects >> A WELCOMING AND RELAXING ATMOSPHERE FOR GUESTS AT THE LUXURIOUS HOTEL RAMADA KATESAR
The post Luxy Hotel In Bharuch, Located In Dahej, An Industrial Business Hub | Studio Synergy appeared first on The Architects Diary.