Dermatology clinics are often boring, cold spaces with lacklustre decor and the challenge was to create a space that breaks the paradigms of this stereotype. Based in Salt Lake, the La Derma Hair and Skin Clinic is envisioned as a space where patients can experience technically advanced, refined and sophisticated restorative procedures that resonate a therapeutic semblance. The 1200 sq ft La Derma Hair and Skin Clinic design creates a soothing ambience for the patients and effectively communicates and aligns with the brand's vision, focusing on circadian lighting, indoor air quality and biophilic design elements for a sense of holistic well-being. The end-to-end execution of the project happened over a period of just 45 days.
La Derma Hair And Skin Clinic Design Creates A Soothing Ambience For The Patients | Mansioners
Visit : Mansioners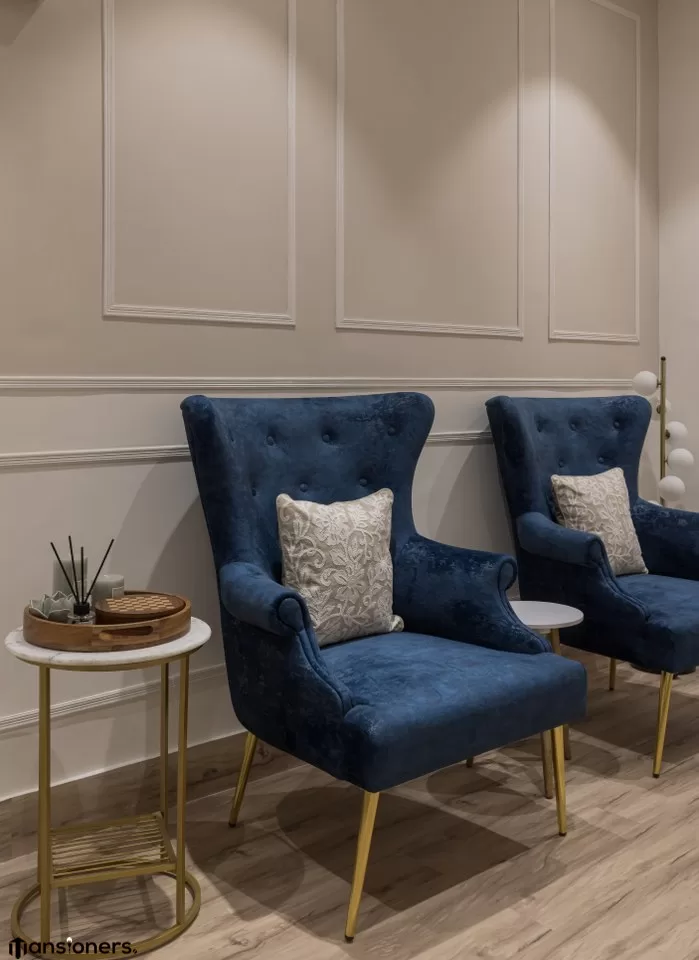 Each room is equipped with furniture to complement various functions, such as seating in the entrance cum waiting room, salon room with a hair wash room area and three rooms for facial purposes. Continuity is maintained in the design for a cohesive look. There is also a fourth resting room for the staff and a fifth office space.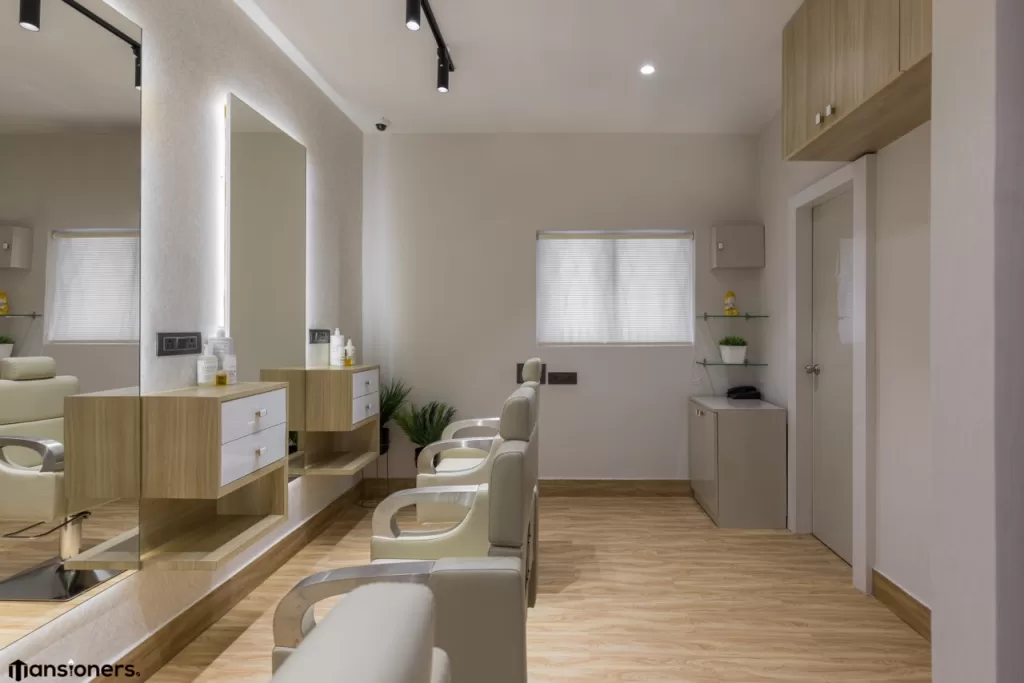 For the client, Dr. Khushbu Tantia, the interior and décor of an aesthetic clinic is integral to the overall patient experience. Having worked with The Mansioners before a few times, she left the interior design scheme to the team, only specifying functional requirements.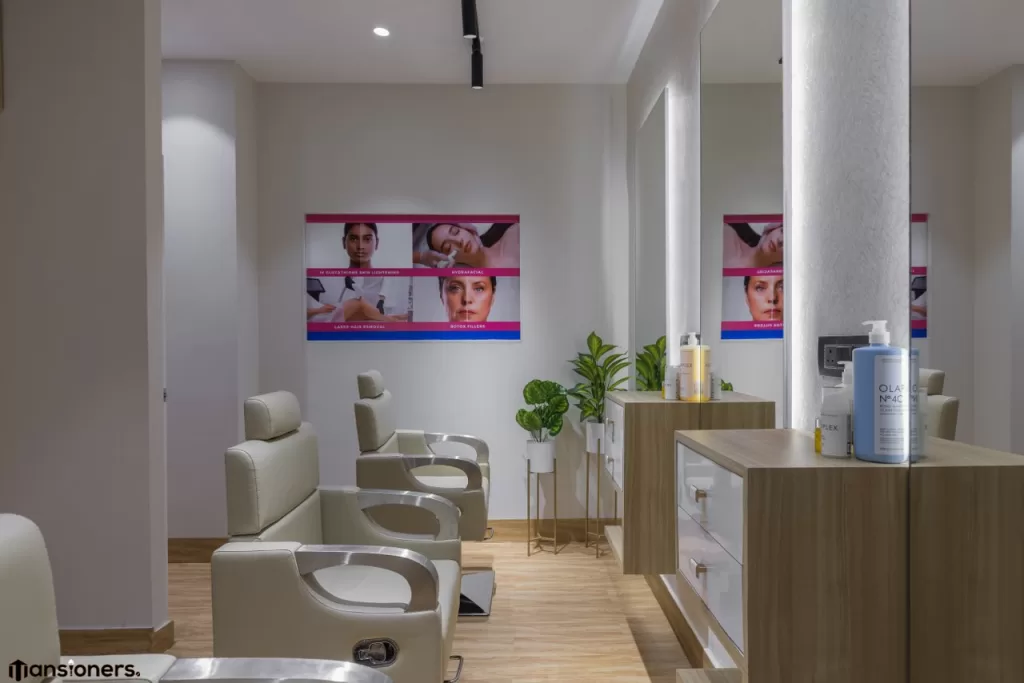 Adhering to the client's brief of keeping, the decor is pristine, crisp, and minimal interior instilled with fluidity and transparency, immaculately instilling a refined hospitality-based experience. The earlier design grammar was dark and moody, and thus the entire area needed a complete overhaul.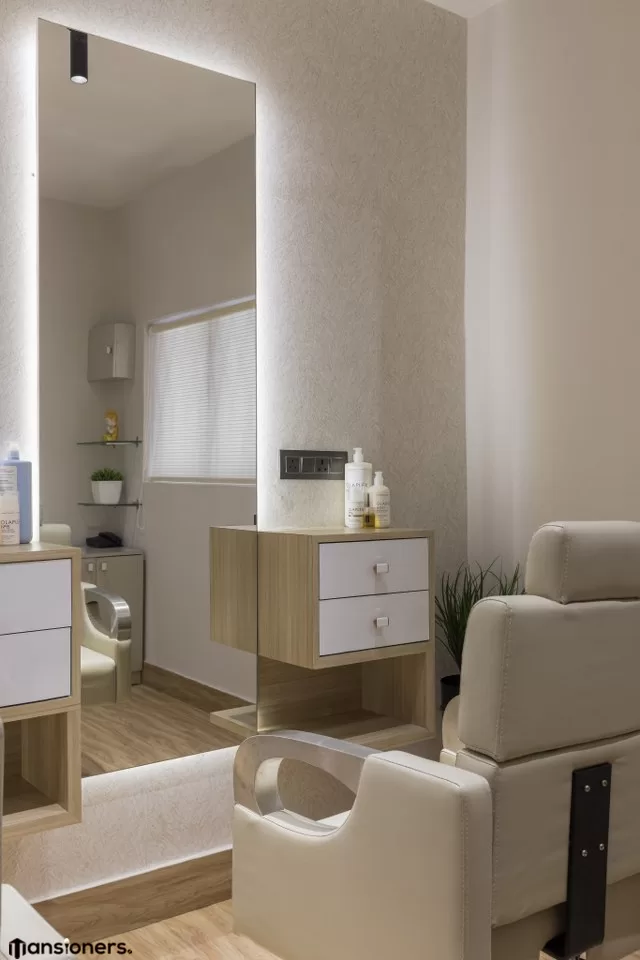 While the design intends to create a rich, vibrant and dynamic ambience, it was equally important that the material palette be low-maintenance and durable. A melange of vinyl flooring, wall moulding and wallpapers helped accomplish the same.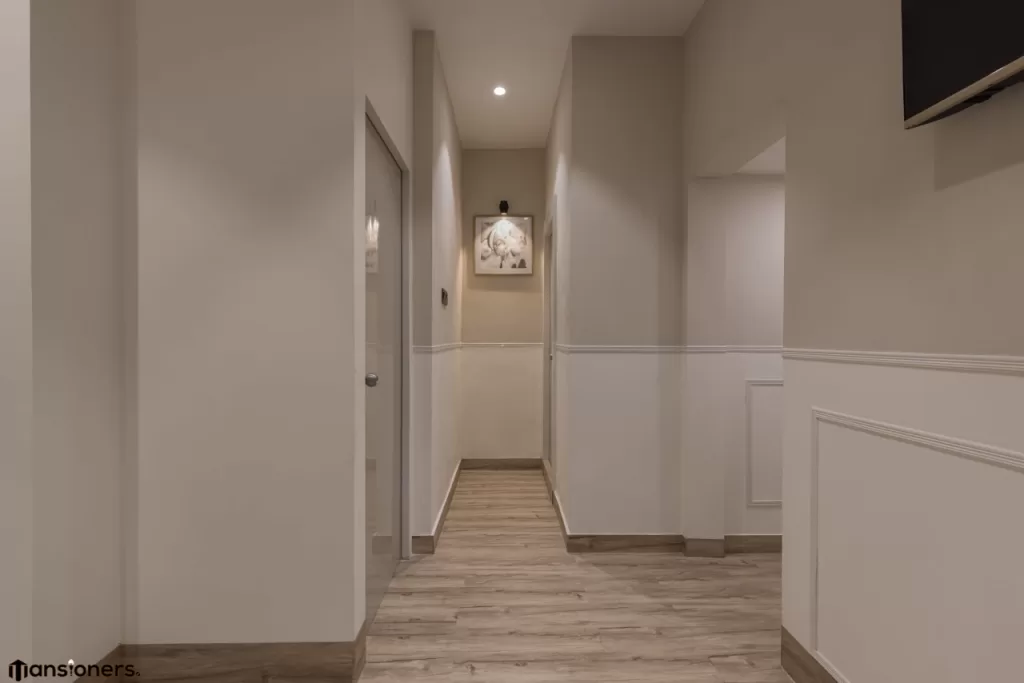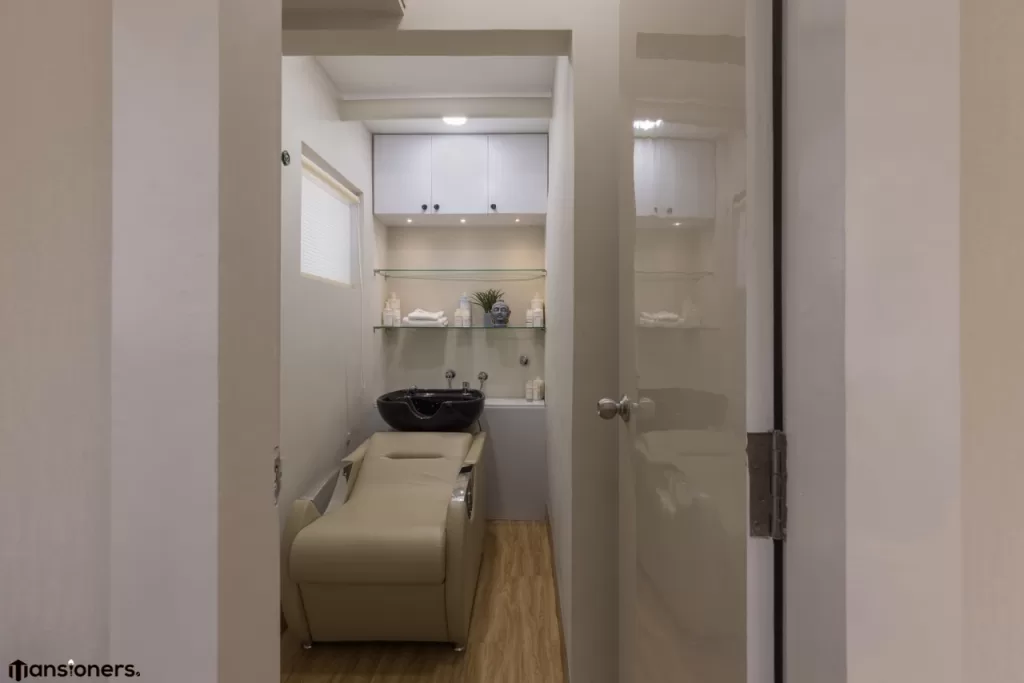 Since the square footage was also limited, each room needed to appear visually light and spacious. The clinic is divided into eight sections excluding a storage room, washroom and passage. White interspersed with wood helps to create a warm and inviting hospitality space and also helps reflect light.
In particular, the choice of lighting was critical since the clinic should be well-lit but not appear stark. Muted tones of soft beige, white and wood adorn the different areas. Moulding on the walls, especially in the corridors, adds a Parisian vibe to this space.
Though most areas are white, varying textures in the interior design scheme add warmth and delicateness, resulting in an all-encompassing hospitality space.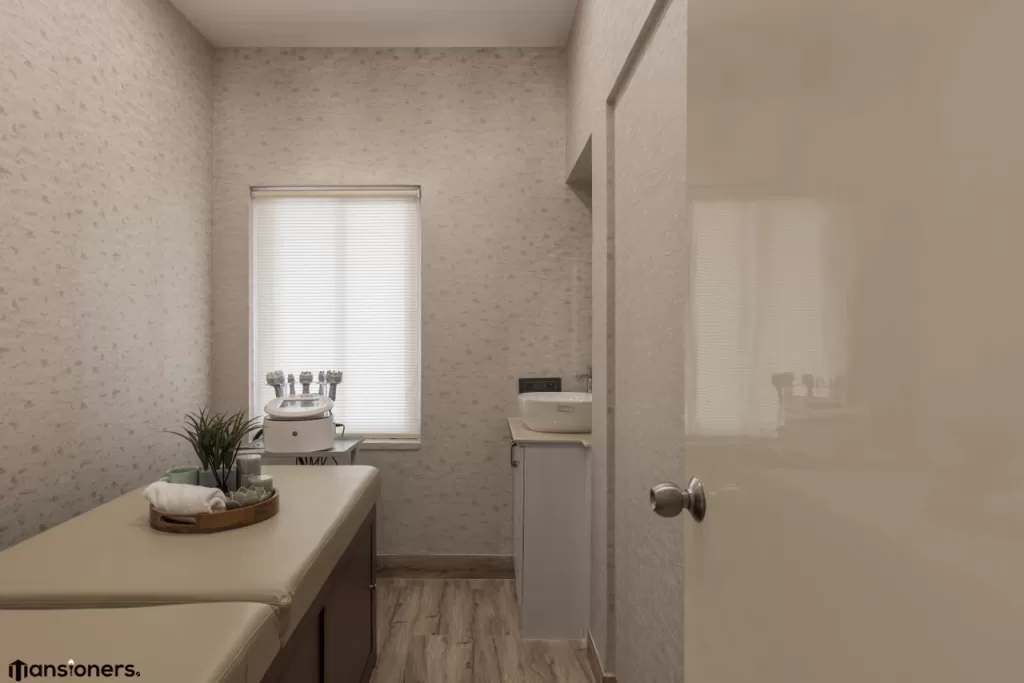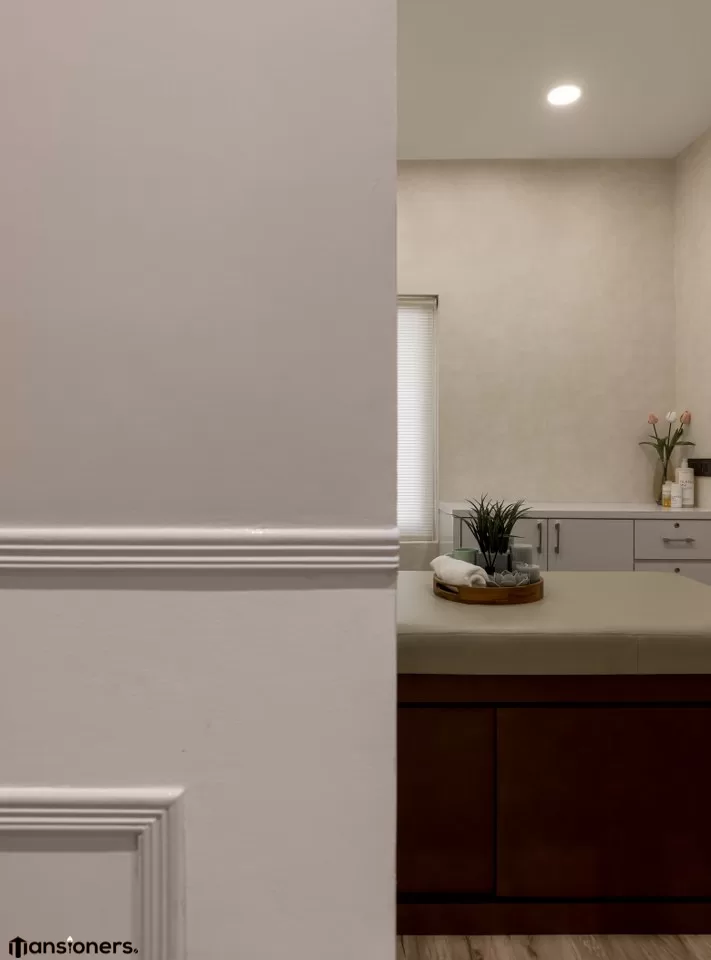 Fact File
Designed by : Mansioners
Project Type : Skincare clinic Design
Project Name : La Derma Clinic
Location : Kolkata
Year Built : 2023
Duration of the project : 45 days
Project Size : 1200 Sq.ft
Principal Designer : Shreya Jalan
Photograph Courtesy : Prachi Khasgiwala
Products / Materials / Vendors : Wallcovering / Cladding – wall molding / Lighting – Havells and emporium / Sanitaryware – Jaguar / Windows – Jindal aluminum / Furniture – Orchid / Flooring – vinyl Paint – Asian paint/ pu polish / Wallpaper – orchid / Hardware – Hafele.

Firm's Website Link : Mansioners

Firm's Instagram Link : Mansioners

Firm's Facebook Link : Mansioners

For Similar Project >> Sparsh Skin Clinic Office Interior Design In Nashik, Maharashtra
The post La Derma Hair And Skin Clinic Design Creates A Soothing Ambience For The Patients | Mansioners appeared first on The Architects Diary.