Client's brief (our AIM): The requirement was very simple: the client needed a Jewelry Boutique at Indore designed by Vastu Vistara, in a way that he could interact with his customers one-on-one. So our whole design concept is based on our client's requirements. There were some key points that we worked on.
Jewelry Boutique At Indore Designed By Vastu Vistara | Vastu Vistara
visit : Vastu Vistara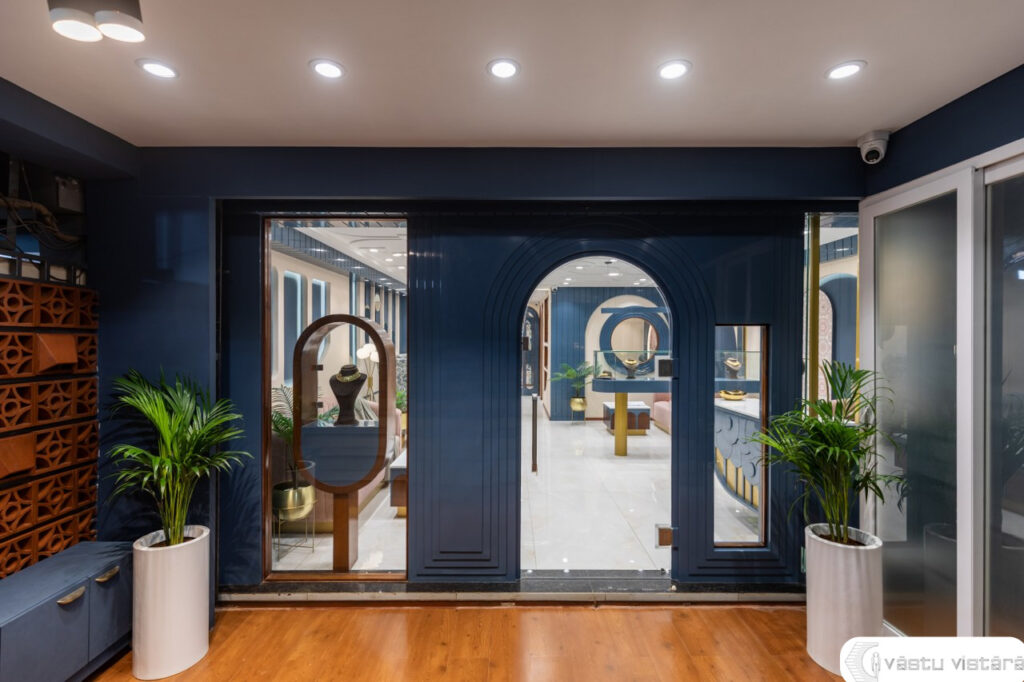 Round the corner display: A very exclusive center exhibit area with a round the corner glass displays. We bent a glass of 12 mm thickness with security glass on it into a 180-degree bend with an 8″ radius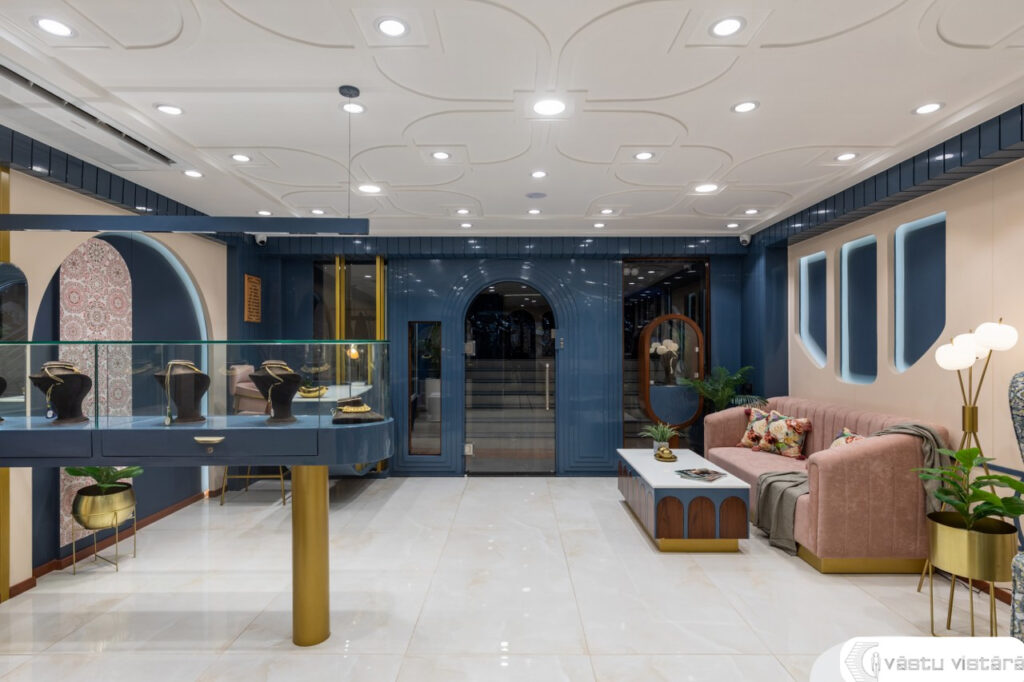 Our personal favorite design element The cantilever reception table: True beauty is attributed to the fineness of the design. Its floating appearance makes the surrounding area lighter and complements it perfectly.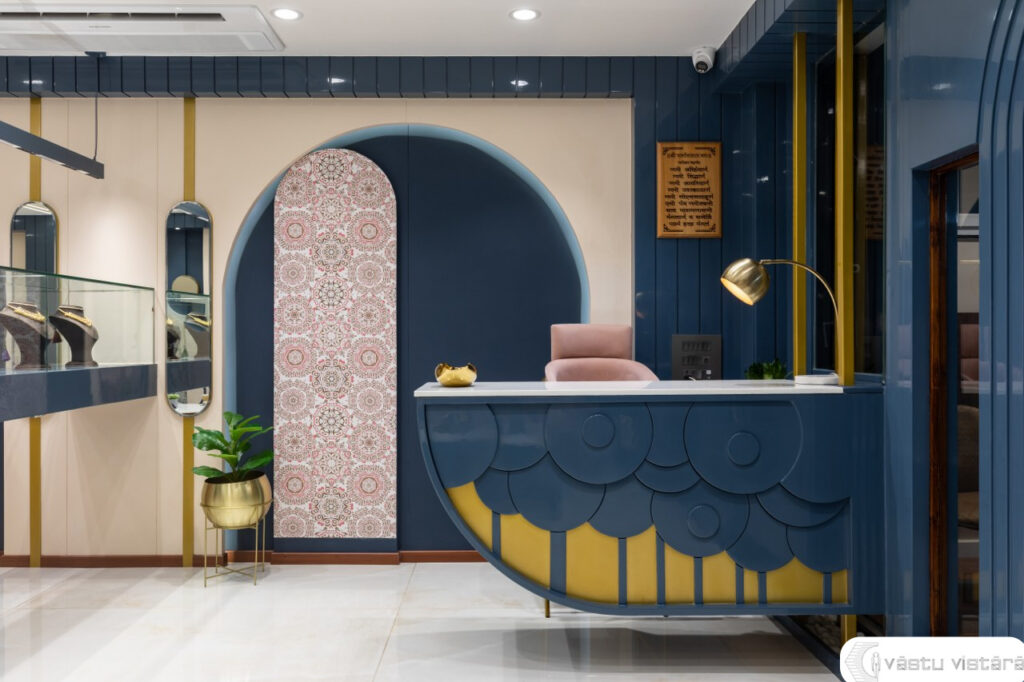 Lounge: We styled three individual lounge spaces with sofa sets and high-back chairs, arranged in an exclusive manner to make the customer's presence very special and also ease one-on-one interaction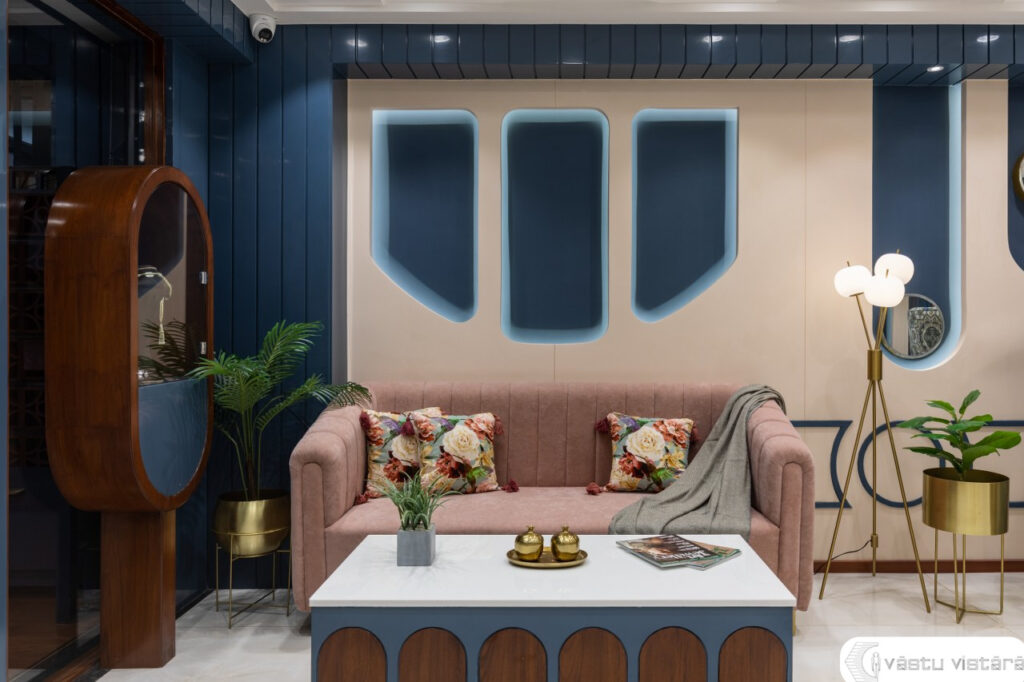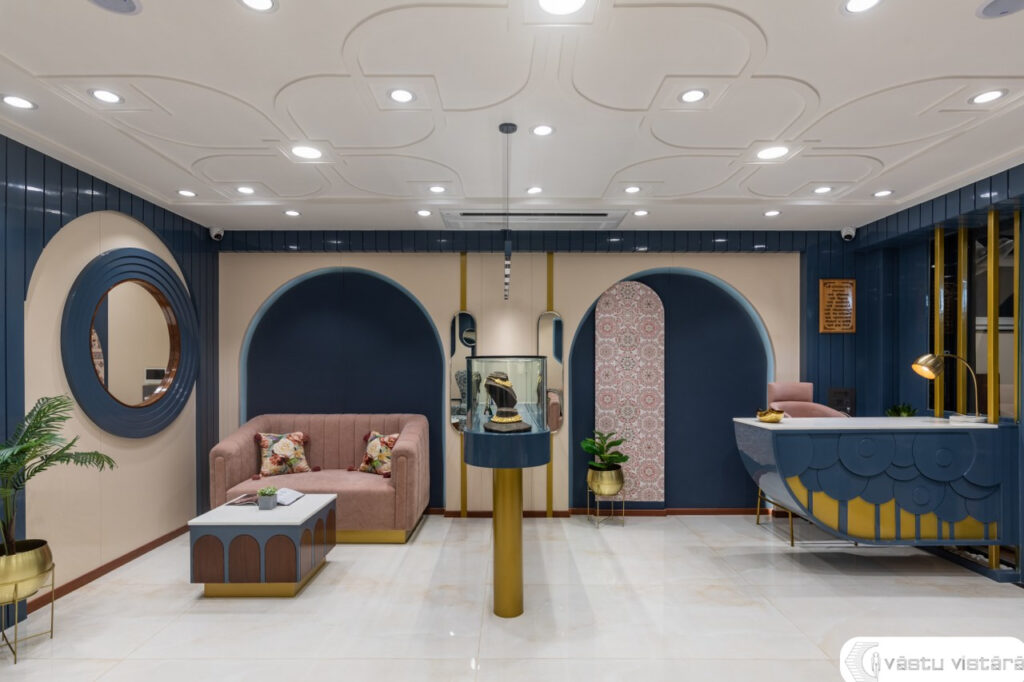 Minimum display: We designed a minimal display area so that customers always focus on what they see on the table, not like conventional displays of jewellery either on the front table or on the wall behind the desk.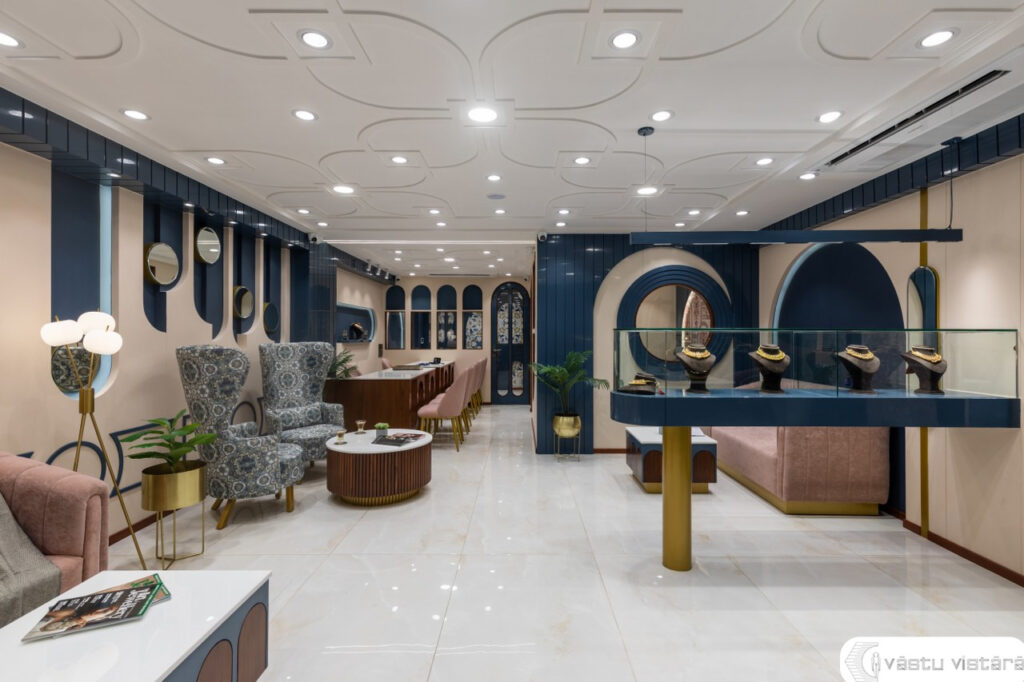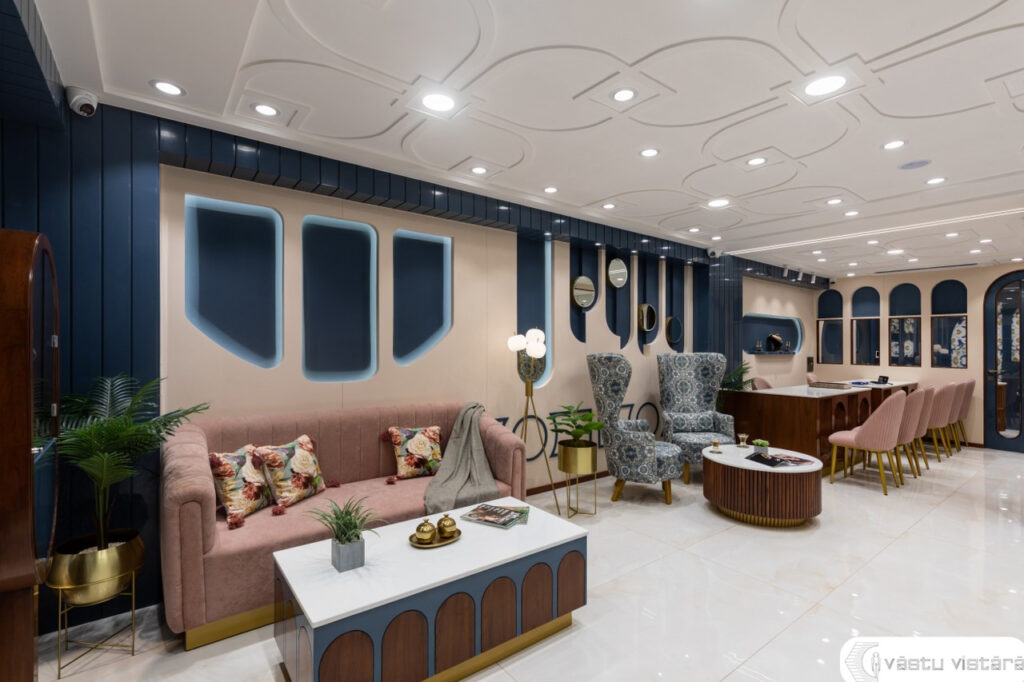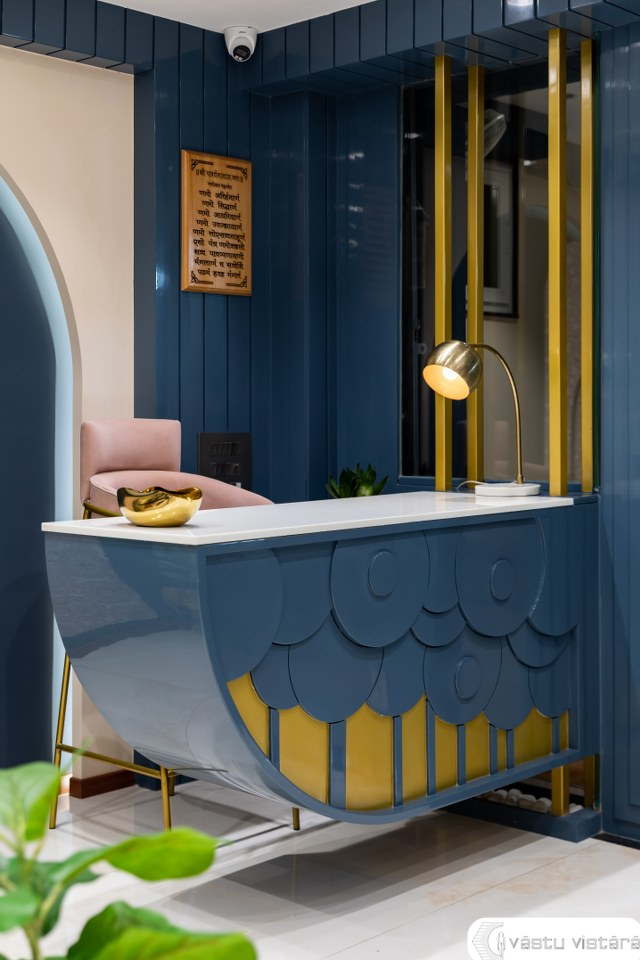 Counter: We designed different counters for routine customers and were exhibiting the live handcrafting of jewellery there.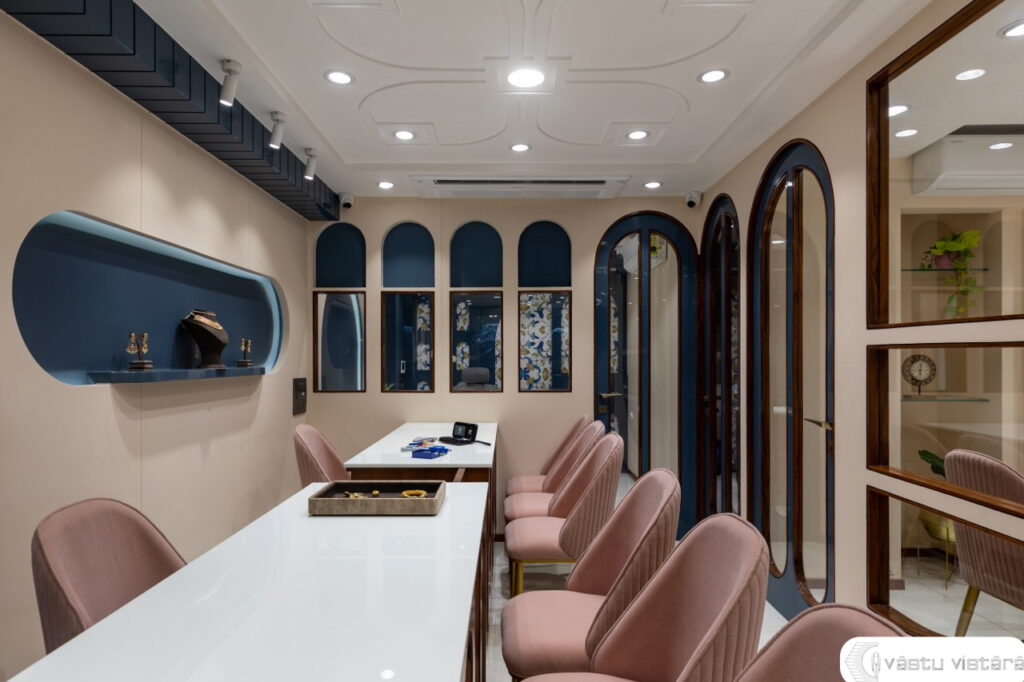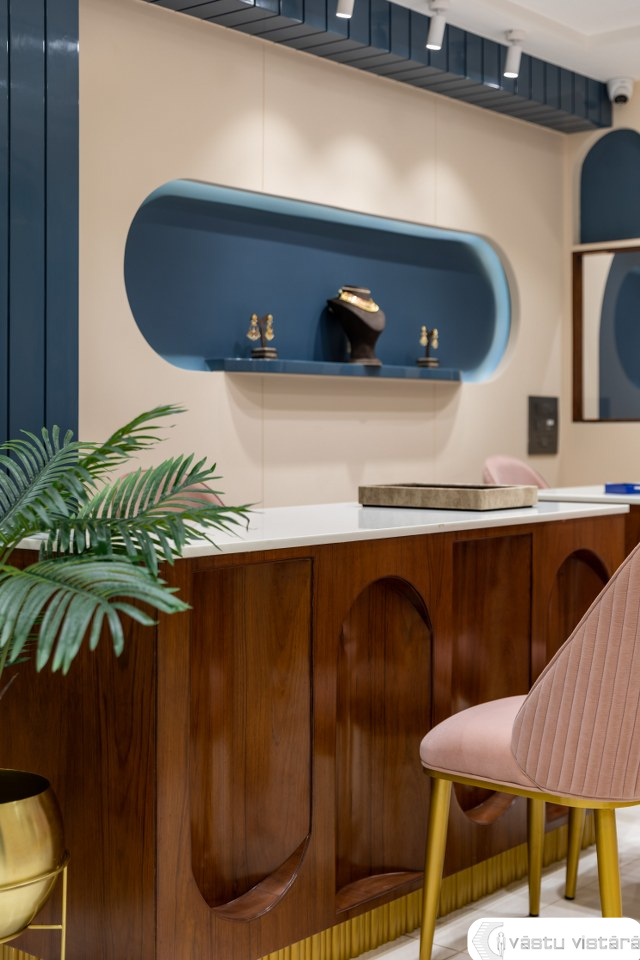 Cabin: To display exclusive Jadau jewellery and discuss made-to-order jewellery with customers.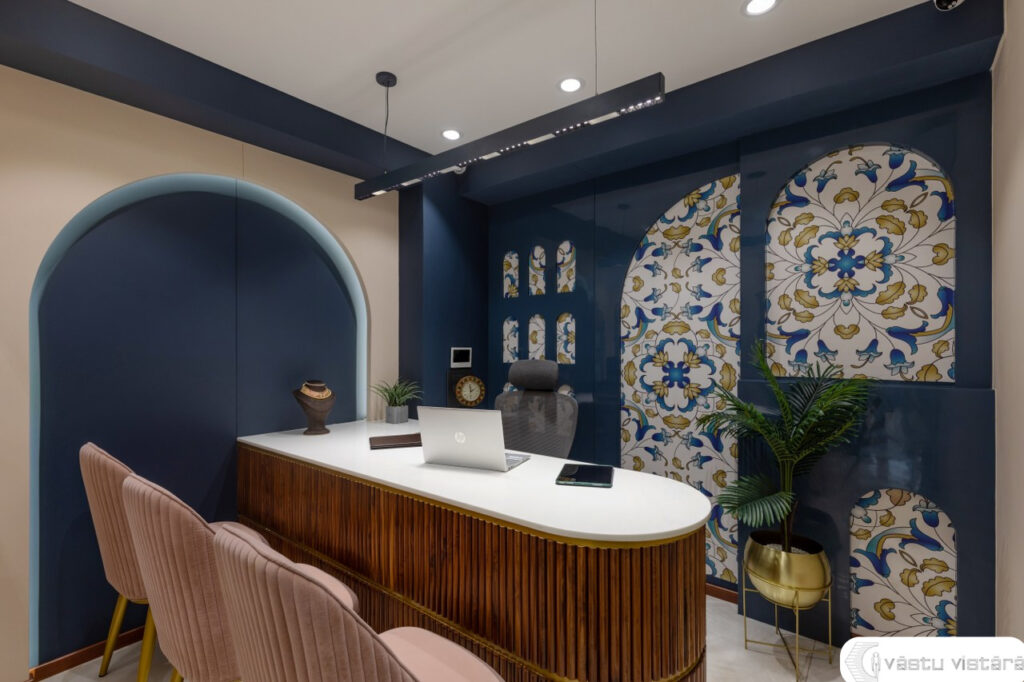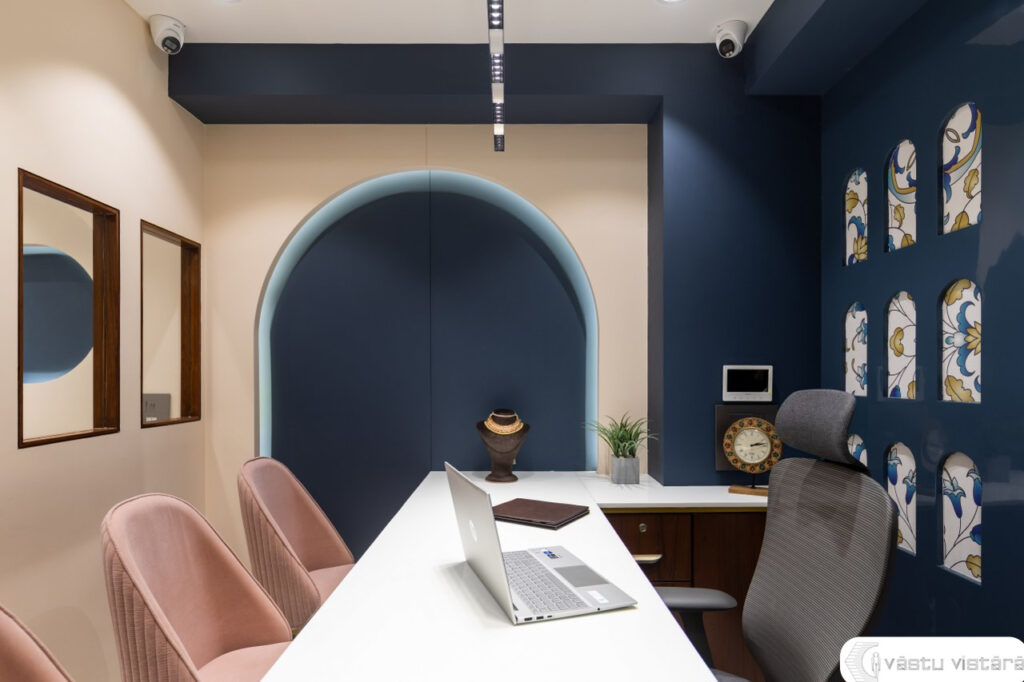 Arched frameless glass front door: We must reflect the delicacy of the work that is on display at the boutique. So the boutique's entrance is styled with an arched frameless glass door, which is where we got the real challenge.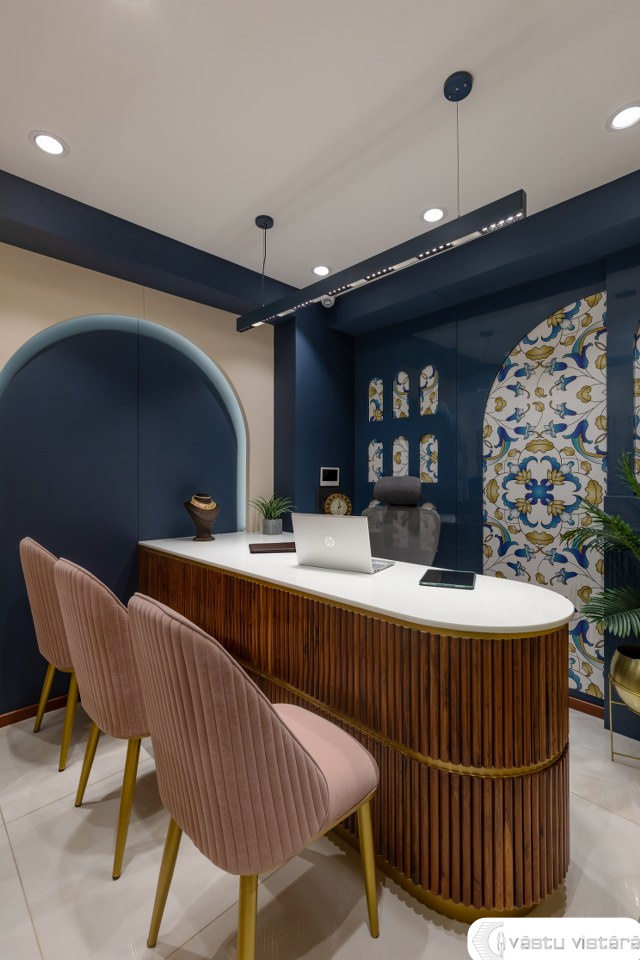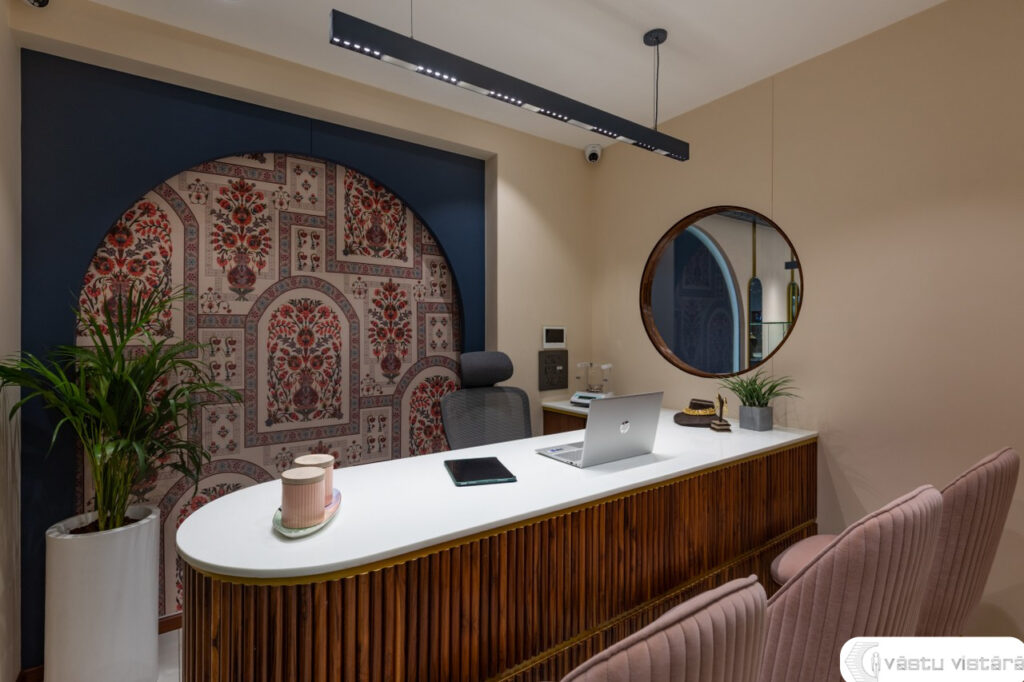 All doors need a door closer, but arched doors need a special one. Conventional door closers (piston and floor spring) work well with straight doors but not with arched ones.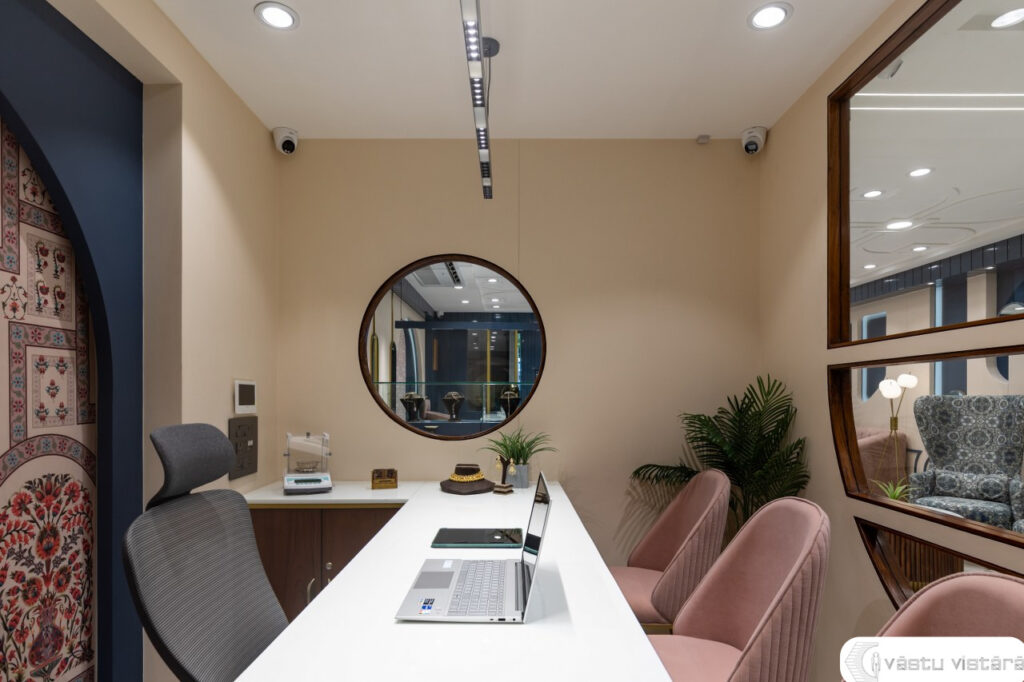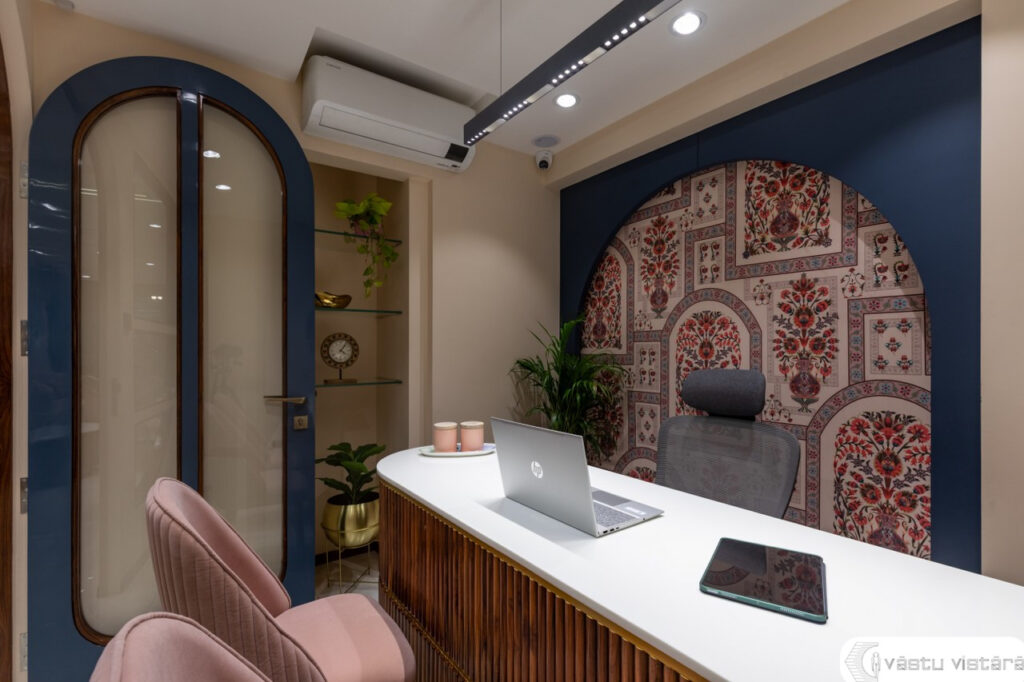 So we completely dropped the idea of getting a door closer and changed the hinge. We put Ozone 90-degree auto-soft-closing hinges, which maintain the function and beauty of the design as well.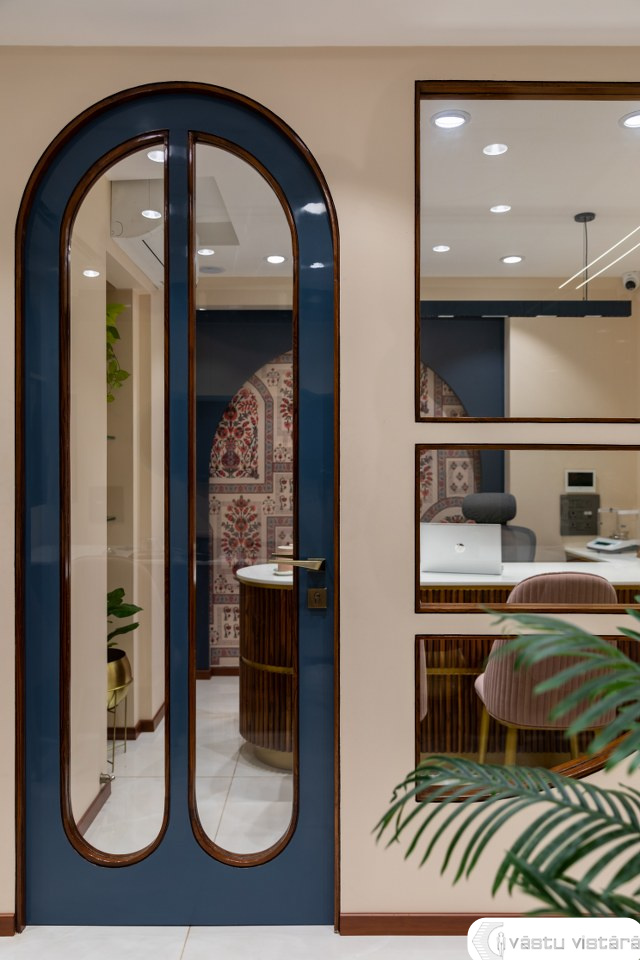 FACT FILE

Designed by : Vastu Vistara
Project Type : Jewelry Boutique (shop interior)
Project Name : Jadau
Location : Indore (M.P.)
Year Built: 2022
Duration of the project : 1 year
Project Size : 800 Sq.ft
Project Cost : 50 lakhs
Principal Architect : Ar. Mayur Jain
Photograph Courtesy : Ruuhchitra
Products/Materials/Vendors : Finishes – PU finished / Wallcovering / Cladding – Ply, Hdf with PU, covering to get custom made cladding / Construction Materials – Ply generally because it's an interior project, stone on the table top, wood for frames / Lighting – Jaguar lights / Doors and Partitions – wood and ply / Sanitaryware – jaguar / Furniture – custom made / Flooring – kajaria tiles / Paint – ICA for PU and asian paints for wall / Artefacts – Westside home living / Wallpaper – Anubhav (all wallpaper are custom design) / Hardware – labacha and hafele hardware.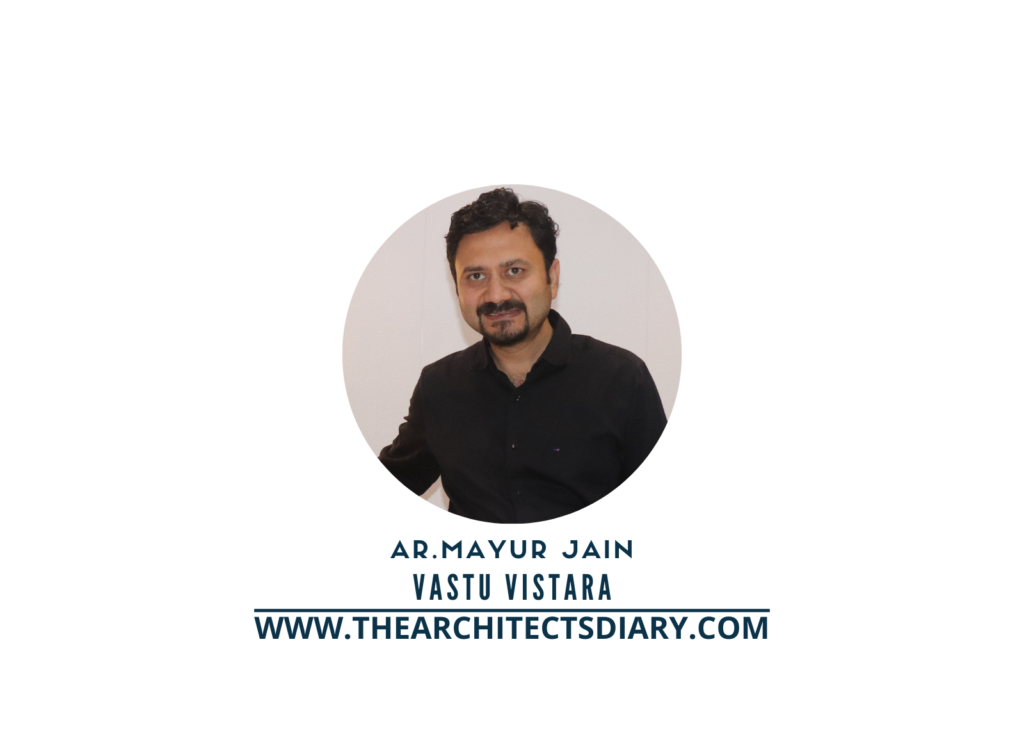 Firm's Instagram Link : Vastu Vistara
For Similar Projects >> MONOCHROMATIC SHOWROOM AT SURAT
The post Jewelry Boutique At Indore Designed By Vastu Vistara | Vastu Vistara appeared first on The Architects Diary.