In an increasingly global economy, the power of remote work is on display like never before. It is not uncommon for professionals to have multiple teleconferences each day with colleagues on the other side of the planet. With this trend comes an increased demand for home offices, with the number of people working primarily from home multiplying many times over in the past few years. To help create an office that effectively blends into the home while providing the optimal professional ambiance, keep reading for 7 Innovative Building Materials For Your Home Office of 2023.
Sound Mitigation Panels
One of the primary concerns of creating a functional home office is ensuring the highest sound quality. Not only is it important to guarantee that frolicking children and rowdy neighbors don't interrupt workflow, but reducing echo to optimize sound quality during recordings and video conferences is equally essential.
To this end, there are many types of decorative acoustic panels that can absorb sound far more effectively than the traditional drop-ceiling insulation found in most commercial offices. The best acoustic panels come in a wide variety of colors and designs and mount on the wall similar to a hanging picture. Offering a noise reduction coefficient (NRC) of up to .95 per inch, the best acoustic panels are sleek and understated to blend in with any office design theme as seamlessly as possible.
Polished Concrete Floors
When working from home, it is important to create an environment that maximizes focus on professional responsibilities and reduces time spent on custodial and maintenance work. Polished concrete floors make for a great option in this regard. They can be finished in a number of attractive designs that promote the ambiance of the space. In addition, they are durable enough to remain undamaged by rolling office chairs and sliding furniture and can easily be cleaned with a broom and wet mop.
Sliding Pocket Doors
Space is of the essence in home office design. While CEOs and other leadership roles receive the large corner office in a traditional commercial office setting, remote professionals can't simply give themselves a bigger office every time they receive a promotion. They are stuck with what they have. Therefore, to maximize space in a home office, it is a great idea to install a sliding pocket door in place of a traditional hinged door. The space saved from a door that doesn't have to swing open can add a bit of square footage to accommodate a small bookcase or guest chair.
Textured Accents
Many studies show that the boring gray walls and cookie-cutter cubicle designs of the commercial office impede professionals from being at their creative best. As such, many office buildings are adding plants, quaint furniture, and open flex spaces to help professionals get into their optimal creative flow. It is important to mimic this concept in home office design as well. An easy way to give an office some character is to add a stone facade or white shiplap accent wall that provides a warming texture to the space. 
Wooden Blinds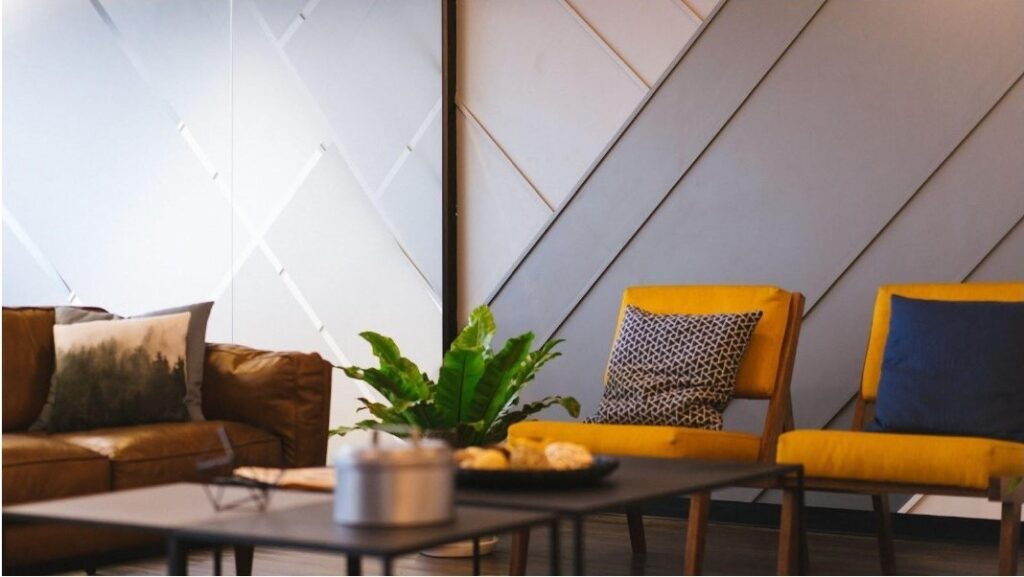 Speaking of creative bests, the presence of natural sunlight cannot be understated. Natural light does wonders for promoting positive endorphins that are important for getting in the right work mindset. However, there will be times throughout the day when the angle of the sun makes it difficult to see the computer screen, making window treatments essential in home office design. Wooden blinds are the best bet because they mesh well with a warm ambiance, are easily adjusted without rising from the chair, and can be manipulated to allow the perfect amount of light into the office. 
Eco-Friendly Desks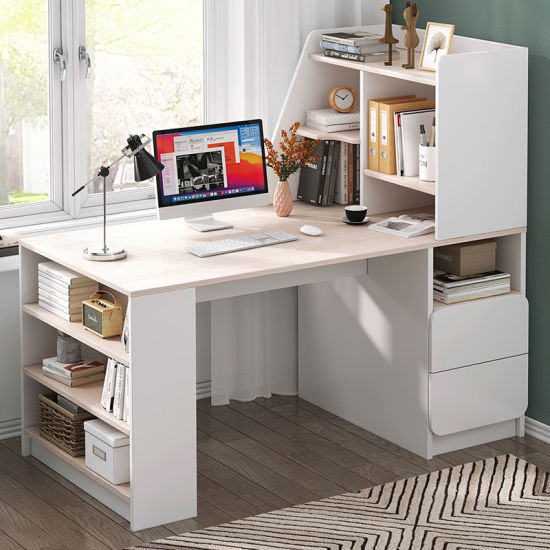 Environmental friendliness is a top priority in all walks of life and should be a primary concern in home office design as well. One of the easiest ways to add a touch of eco-friendliness to the office is through a mindfully sourced desk. There is no shortage of reclaimed wood and sustainably-harvested bamboo desk products on the market to help make your office as environmentally friendly as possible. 
Dual Purpose Furniture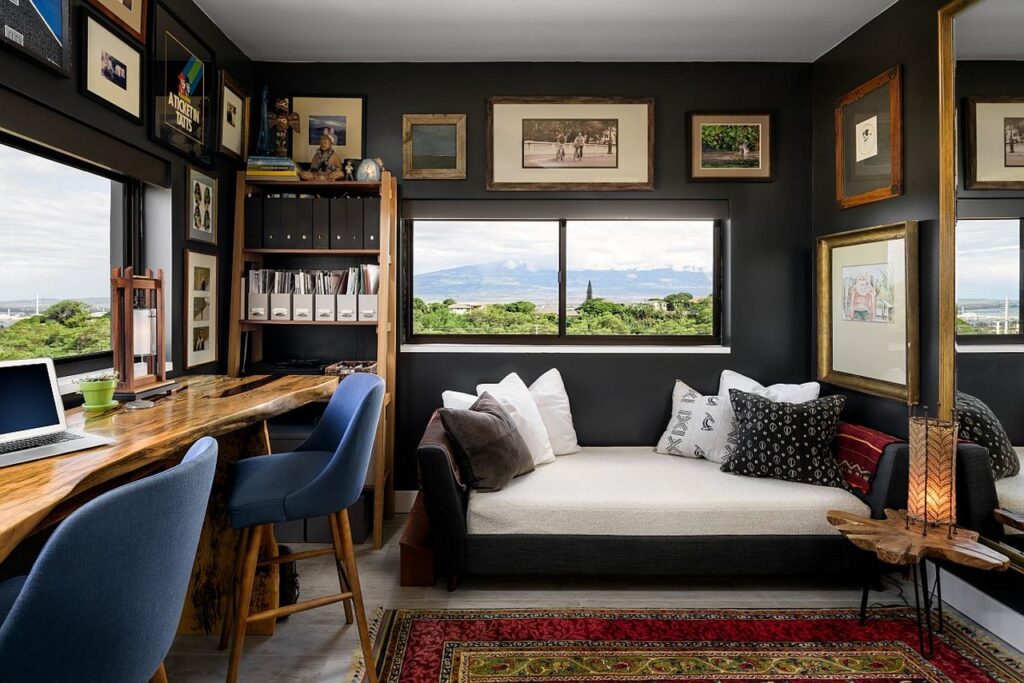 For those homeowners with more humble space accommodations, there is a good chance that the home office is shared with another room. As such, if the office needs to transform after hours, it is a great idea to choose versatile furniture. Cabinets and wardrobes that balance the lines between bedroom and office are a strong choice. A high-quality futon that can accommodate office visitors during the day and pull out into a bed at night is another great idea. Flexible partitions that can segment space as needed also help promote versatility. 
Go the Extra Mile in Home Office Design
Creating an elite home office requires balancing the lines between stunning home ambiance and professional work environment. From high-quality sound mitigation panels to dual purpose furniture, choose from any of the innovative materials listed above to create the ideal home office today.
Stephanie Rogers is a freelance writer that loves sharing her passion for writing with others. She lives in her hometown of Phoenix, Arizona where she enjoys spending time with her husband and dog and going on hikes.
The post Innovative Building Materials For Your Home Office appeared first on The Architects Diary.