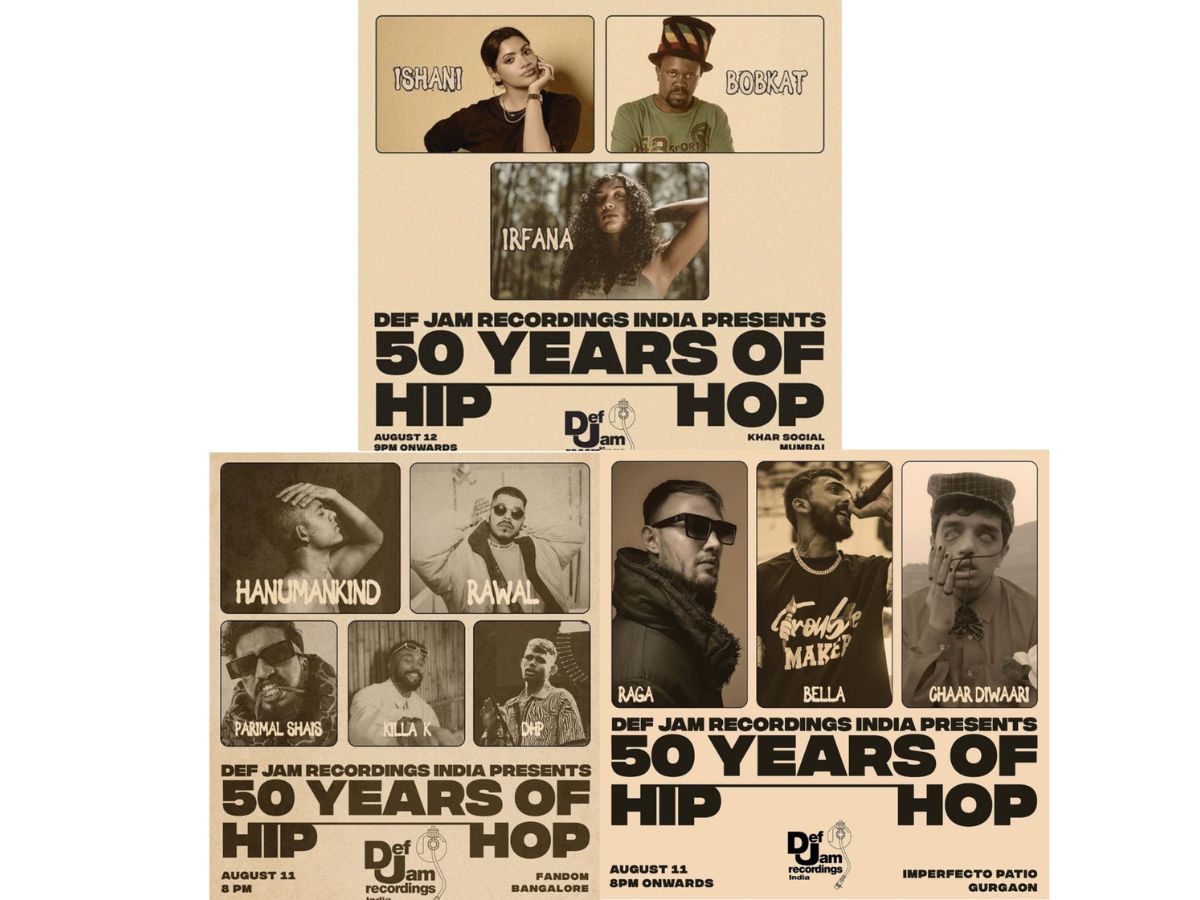 Featuring Raga, HanumanKind, Bella, Rawal, Bobkat, Killa K, Irfana, Chaar Diwaari, Parimal Shais, DJ Ishani and DHP
New Delhi (India), August 10: To honour and celebrate the 50th birth anniversary of Hip-Hop, Def Jam Recordings India is thrilled to announce a grand celebration with a series of rap concerts across three major cities – Delhi, Mumbai, and Bengaluru on 11th and 12th August 2023.
The label, which has sincerely strived to push the burgeoning Hip-Hop culture in India by supporting various hard-hitting bodies of work and in honour of this significant milestone, Def Jam Recordings India is teaming up with top Indian rappers and record producers from Delhi, Mumbai, and Bengaluru for an unforgettable experience.
The stellar line-up includes Def Jam India's signed emcee Raga, Bella, and Chaar Diwaari in Delhi-NCR; HanumanKind, Rawal, Parimal Shais, Killa K, and DHP in Bengaluru; and Def Jam India's  Rapper Irfana, DJ Ishani and Bobkat in Mumbai.
The multi-city concerts, titled "Def Jam India Presents 50 Years of Hip-Hop," will take place on 11th August 2023 in Delhi and Bengaluru at Imperfecto Patio, Gurugram and Fandom respectively and 12th August 2023 in Mumbai at Khar Social. 
Besides the artists, who will together represent the most vivid gathering in Hip-Hop on the historic day, performing their biggest hits during the event, some of them will preview and perform unreleased bodies of work for the attendees. Further, one may anticipate star-studded guest appearances at event across Delhi-NCR, Mumbai and Bengaluru. 
Sanujeet Bhujabal, EVP and Head of Content, Universal Music Group India, shared "At the Universal Music group both globally & here in India, Hiphop is a huge priority for us as its one of the fastest growing genres in the youth & we've already done some incredible work in the past 4 years across multiple labels. Since our foray into mainstream indigenous hip-hop we've published more than 150 songs from some of India's hip-hop elite like Divine, Badshah, Ikka, Raja Kumari, Dino James, Wazir Patar, Raftar & Paradox to name a few. At Def Jam India, we carry on the storied history of the world's most well-known hip-hop label & its legacy and so it's our duty to celebrate the most awaited moment in hip-hop history. Celebrating 50 years of hip-hop with our artist & fans is the only natural thing for us to do & I can't wait for our communities to help us throw the largest & loudest celebration in recent times."
Hip-Hop's journey began on August 11th, 1973, when DJ Kool Herc laid its earliest foundation during a dance party in The Bronx, New York. Since then, the genre has grown into one of the most influential forms of artistic expression worldwide, becoming a global culture and transforming performing arts and entertainment on an unprecedented scale.
Def Jam Recordings played a pivotal role in cementing rap music in the West and beyond by signing iconic Hip-Hop acts like Beastie Boys and LL Cool J in 1984. Founded by legendary Hip-Hop composer and record producer Rick Rubin, along with African-American entrepreneur Russell Simmons, Def Jam has been instrumental in representing some of the most influential Rap Artists of our times. From historic rap duo Public Enemy to artists like Kanye West, LL Cool J, Rihanna, and more, the label's diverse roster has left an indelible mark on global Hip-Hop culture.
Universal Music India's intent in HipHop from early 2019 was to expand its presence in the South Asian subcontinent and promote the genre's growth in India. Bringing down Mass Appeal and collaborating with artists like Divine, Ikka, Raja Kumari, Gully Gang, etc., showed their commitment to nurturing the Indian Hip-Hop scene. 
With the recent establishment of Def Jam Recordings India in February 2023, Universal Music continues to uphold this legacy, fostering a diverse catalogue of Hip-Hop music in India. The label has collaborated with various Hip-Hop artists such as Badshah, Ikka, and Dino James, along with Punjab's Wazir Patar, GD 47, Ellde Fazilka, and Tricksingh, Delhi-NCR's influential rap artists Paradox, Bella, Fotty Seven, Raga, and Aghor, Kolkata's J Trix, Mumbai's hard-hitting rapper Sambata, and southern India's Hanumankind and Irfana Hameed, and others, highlight their dedication to supporting the vibrant Hip-Hop culture across the entire country.
"It's important to celebrate a culture that has given so many people around the world a space to express themselves and speak their truth. It has given me so much through the course of my life. The Hip-Hop scene in India is still young but a fast-evolving and diverse scene. Celebrations and events such as this one are important to me as they provide a great opportunity to invite more and more people to experience the culture and become a part of it themselves." shares Raga.
Def Jam Recordings India is committed to elevating Hip-Hop culture and looks forward to an unforgettable celebration of 50 years of Hip-Hop at the upcoming multi-city concerts.
If you have any objection to this press release content, kindly contact pr.error.rectification@gmail.com to notify us. We will respond and rectify the situation in the next 24 hours.