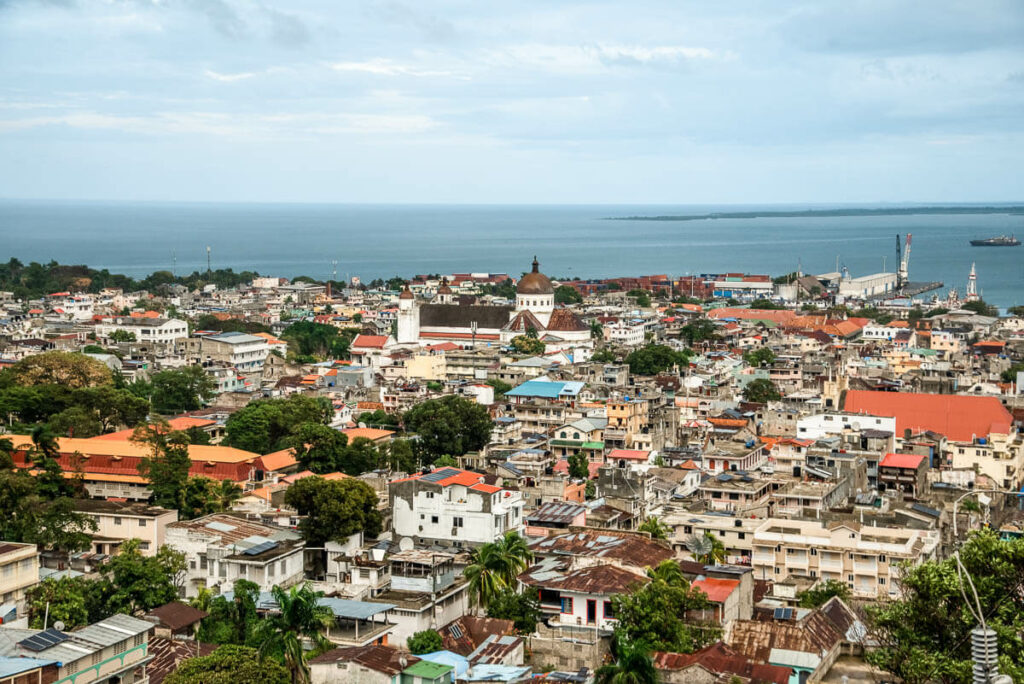 I traveled in Haiti independently for 10 days, traveling from Cap-Haïtien to Port-au-Prince and a few places in between, always with local transportation and hitchhiking, but also took a small domestic flight.
It was a great trip, and I recommend visiting Haiti to anyone looking for an unrivalled offbeat adventure in the Americas.
This updated and comprehensive travel guide to Haiti will show you everything you need to know on safety, top experiences, getting there and more.
In this Haiti travel guide, you will find
eSIM card for browsing when traveling in Haiti
With Holafly, you can now get an electronic SIM card for Haiti from home with just 2 clicks.
5% discount with the following code:
AGAINSTTHECOMPASS
Why travel to Haiti?
Haiti is a Caribbean country that occupies one third of La Española (Hispaniola), an island that it shares with the Dominican Republic.
Everyone knows about Dominican Republic and its dreamy beaches but few know about traveling in Haiti.
The first thing you need to know about it is that Haiti was the first country to ever be liberated by slaves, in 1803.
By that time, Haiti was ruled by the French, who had spent the previous decades importing hundreds of slaves from West Africa, mainly from Mali and Benin, to work on their sugar plantations.
The peculiarity about Haiti is that when it got its independence, many of those slaves had been born in Africa but they became Caribbean overnight and that is the number one reason for visiting Haiti, a purely Caribbean country that still keeps its African culture, traditions and essence.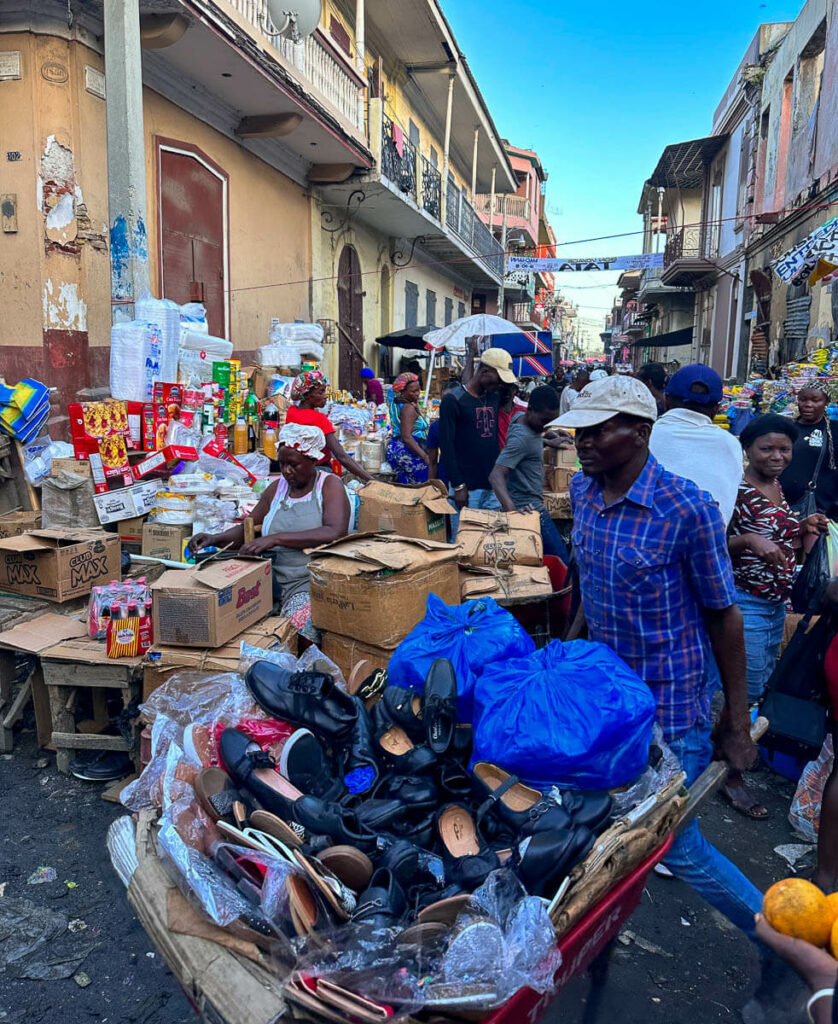 Traveling in Haiti truly feels like traveling in West Africa, with all that default chaos intrepid travelers feel attracted to, but also when it comes to their art, music and religion.
Add to this world-class Caribbean beaches and landscapes, and the result is, perhaps, the most gorgeous and fascinating off the beaten track destination in the American continent.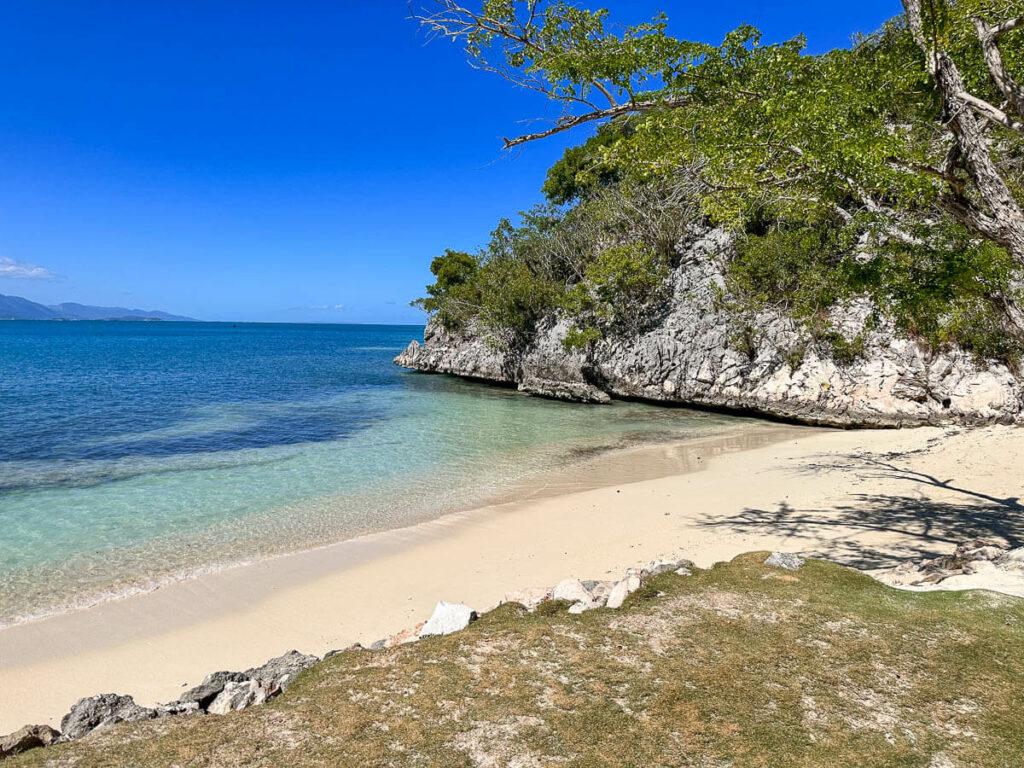 The problems with cruising in Haiti
Not many people travel to Haiti and, most of the few people who do it, tend to do it on one of those massive cruise ships sailing across the Caribbean, doing hop-on and off in the main resorts from the main islands.
In Haiti, near Cap-Haïtien, there's one place in the area of Labadee where cruise ships stop. People who are not in that cruise – and that includes foreigners too – are not allowed to enter that in that touristic bubble and those who are in that cruise ship are told that anywhere outside that bubble is extremely dangerous, so you won't see any of them in the nearby areas.
I often wondered if those cruise people did even know they were in a country named Haiti.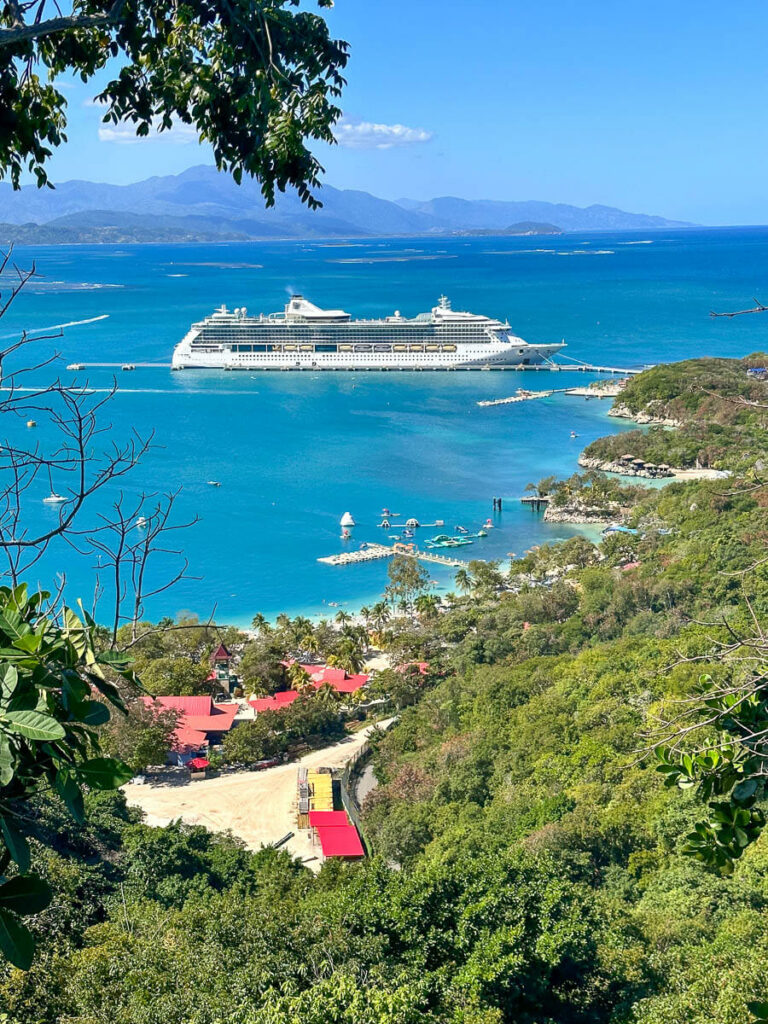 Visiting Haiti: what's the current situation
Economically-speaking, Haiti has always struggled but today, it is also going through some pretty dark periods of extreme violence.
When I first visited Haiti in January 2023, the country was taking the covers and headlines from all reputable international newspapers.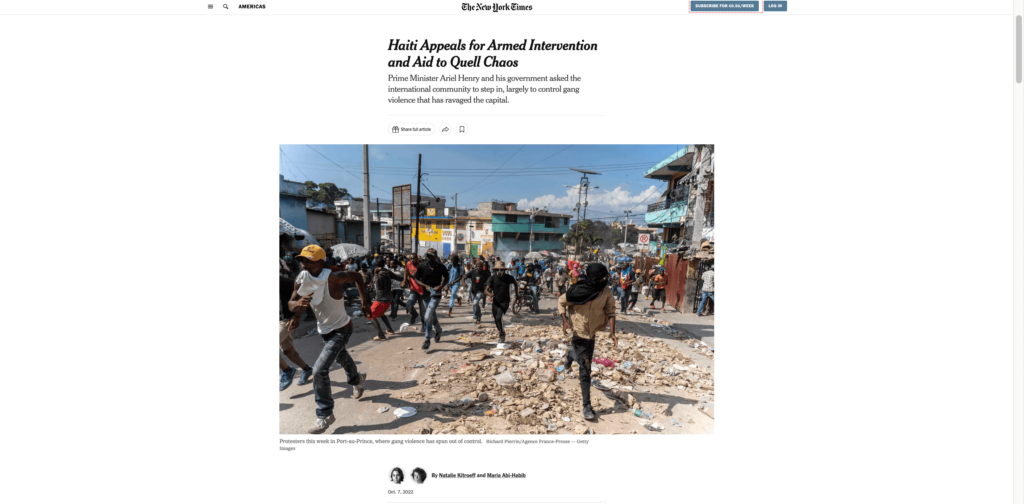 What happened?
Well, Haiti was going through an episode of real anarchy since Haitian President Jovenel Moïse had been murdered in 2021.
Since then, different gangs had taken the streets of Port-au-Prince, the capital of Haiti, with violence escalating to unprecedented levels.
Kidnappings, murderers and street shootings are happening every single day, a conflict that has already caused more than 200,000 internally displaced people.
At the time of writing, the situation for traveling in Haiti remains pretty much the same and such is gravity that many Governments are already referring to Haiti as a failed state – a pretty harsh term typically used for countries like Yemen or Libya – while asking for foreign intervention as well.
The earthquake from 2010
In 2010, a 7.0 earthquake shook the capital of Haiti for 35 seconds, killing thousands of people and leaving 1/3 of Port-au-Prince's population completely homeless. By that time, Haiti was already one of the poorest countries in the world, so you can imagine how devastating this natural disaster was for Haitians. In fact, they say that the country has never recovered from it and, with all its current social and political issues, the result is one of the most fragile countries in this planet.
Is it safe to travel to Haiti right now?
Let me put this into perspective.
I have been backpacking solo in Afghanistan, Iraq, Syria, and Somaliland, just to name a few.
I rarely get worried when traveling there, mainly because I have a lot of contacts in those countries, and also because I have good experience traveling in those regions.
My visit to Haiti, however, was a different story:
It was my first time traveling in the Caribbean
I didn't have any contacts
All I knew about Haiti was what I saw in the news
I didn't know of any traveler who had visited Haiti during this anarchic era
Additionally, the Haiti travel advice according to FCDO didn't look great either, firmly advising against all travel to Haiti due to the volatile security situation.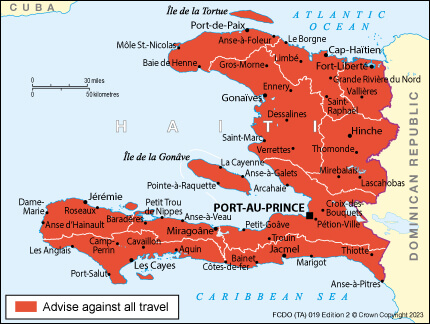 I had all the odds against me but that made me feel particularly excited, plus if there's something I've learnt during my travels is that things look very different from what you see in the news.
Yes, that extreme violence is actually happening but the truth is that this conflict is exclusively focused on Port-au-Prince.
In fact, it's focused on certain areas of Port-au-Prince, in the areas controlled by the different gangs.
Is Cap-Haïtien safe?
Outside of those areas, Haiti is OK to travel, especially in Cap-Haïtien and surroundings.
Things I did around Cap-Haïtien:
Hitchhiking around the area
Walking through a slum on my way by foot to Labadee
Walking around at night, in the middle of the dark.
All I can say is that that part of Haiti was extremely peaceful.
Is Port-au-Prince safe?
Port-au-Prince, however, is a different story but you can still travel there, as long as you have the right contacts and stay in the right area, like in Pétionville.
In Pétionville, you can still wander and walk around alone at night, no problem about that.
As per the dangerous part of Port-au-Prince, I did go to downtown and even to Cité de Soleil, the largest and poorest slum in the Americas, and one of the main violence hubs in the city.
Nevertheless, I went there with a local fixer who is specialized in taking journalists into conflict areas.
That man knew what he was doing, plus he was a personal, old friend of the gangs.
Nevertheless, going to that part of Port-au-Prince doesn't come without risk, especially from straight bullets, but that's something travelers must assume. Definitely, not an adventure for everyone.
Important: I won't be sharing the fixer's contact, so don't bother asking me for it. As mentioned, this activity doesn't come without risk and, if travelers start venturing in such areas, someone will eventually get shot and I don't want to be part of that.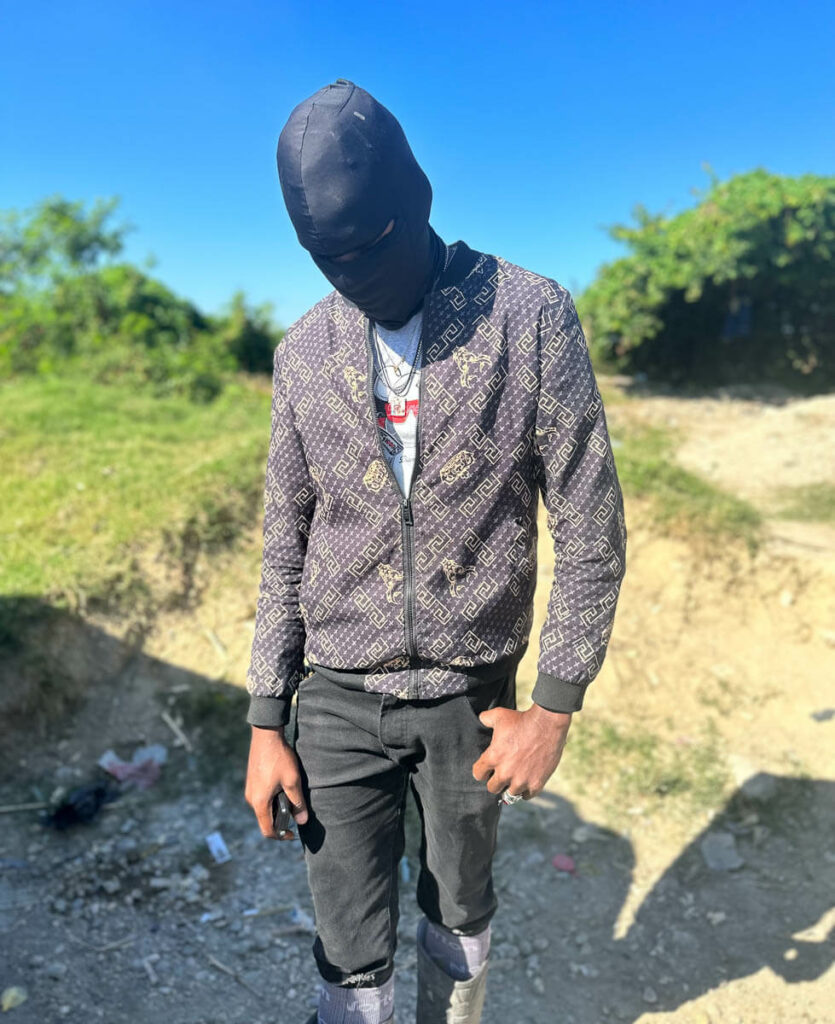 How to get a visa for Haiti
You don't need a visa to visit Haiti but you just get a free stamp upon arrival in the country.
This rule applies to both airport and land borders.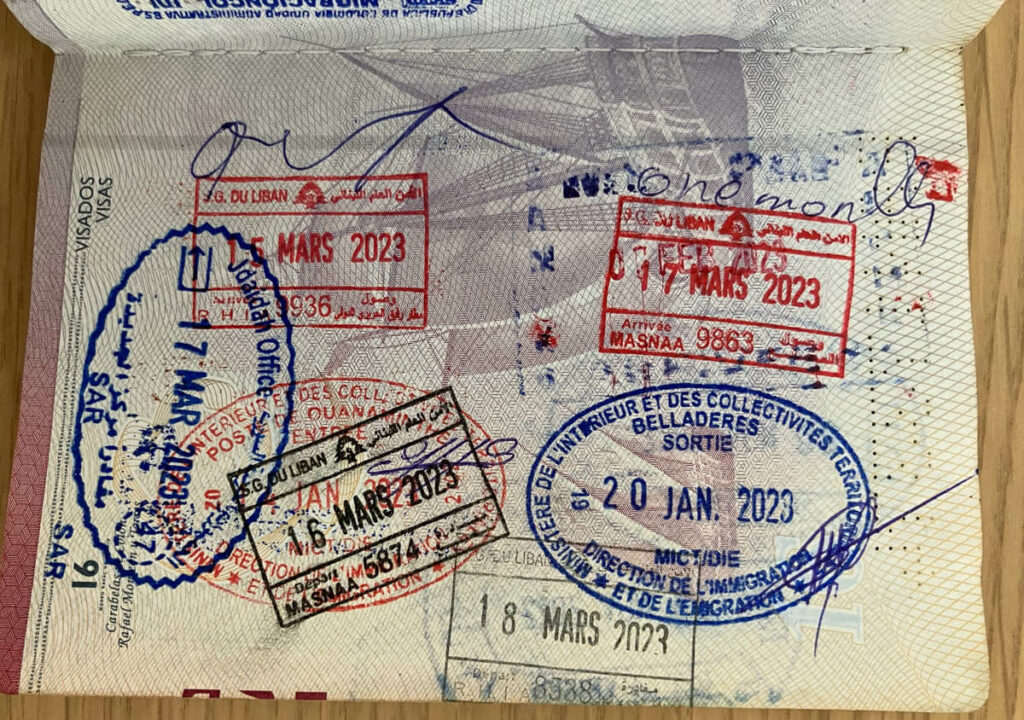 Travel Insurance for Haiti
Get travel insurance for travel in Haiti.
Reason why I recommend IATI:
Many different plans for all types of travelers
Avaiability of low, basic plans
Covers senior citizens too
Readers of this blog can get an exclusive 5% discount.
When to travel to Haiti
Traveling in Haiti is highly seasonal.
Best season to travel to Haiti
The best season to travel in Haiti is from November to March.
That's the dry season.
In February, there's the worldwide famous Carnaval of Jacmel but you'll have to be lucky, since the Carnaval is locally organized, and dates always change, but it tends to always be celebrated between the end of February and beginning of March.
Worst season to travel in Haiti
The worst time to visit Haiti is from August to October, which is the rainy and potentially hurricane season.
Top 5 Experiences in Haiti
1 – Hiking up to Citadelle Laferrière
This is one of the best forts I have ever seen, and the views from there are gorgeous.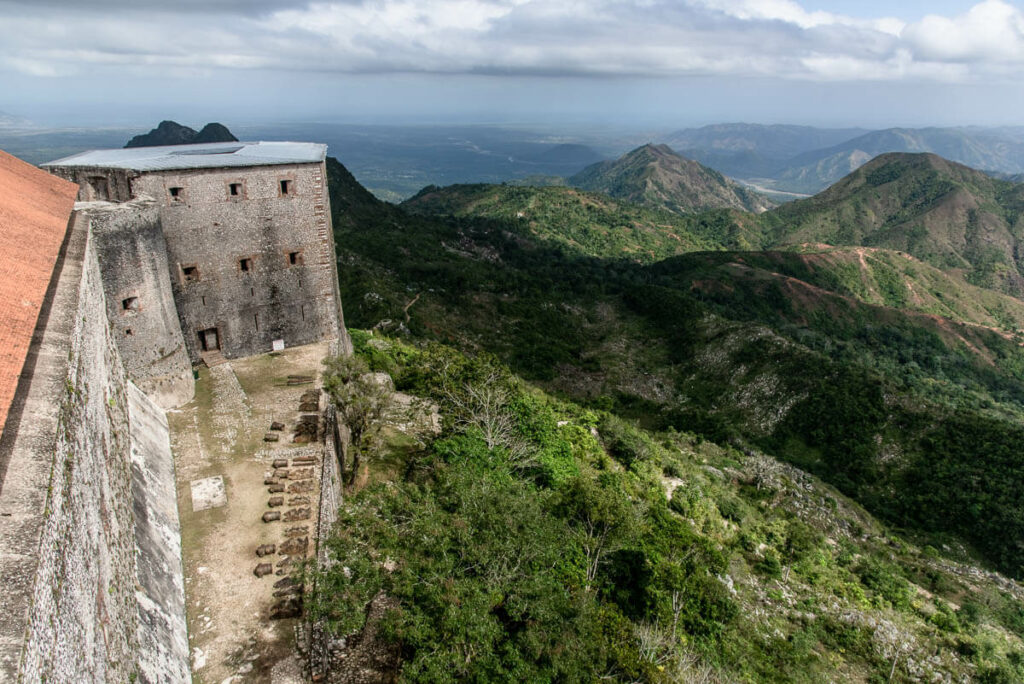 2 – Backpacking independently
No other country in the Americas feels as raw, chaotic and authentic.
Traveling in Haiti doesn't differ much from the rough backpacking you can do in Mali or Benin.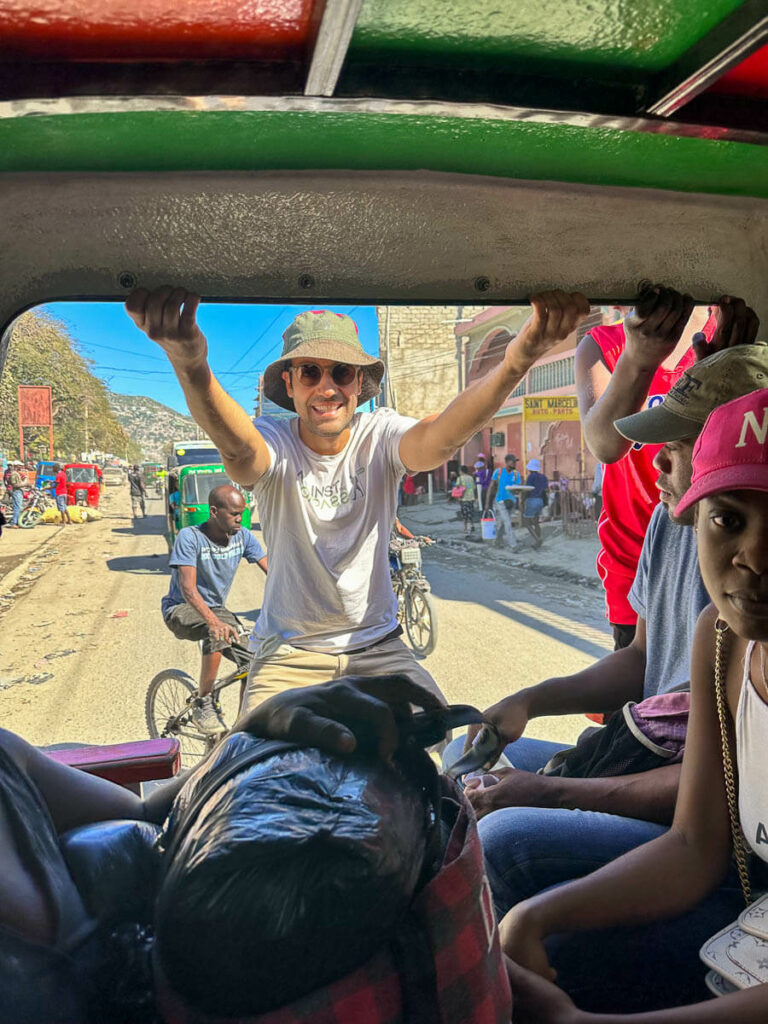 3 – Attending a voodoo ceremony
Voodoo ceremonies are performed every week a clear West African heritage.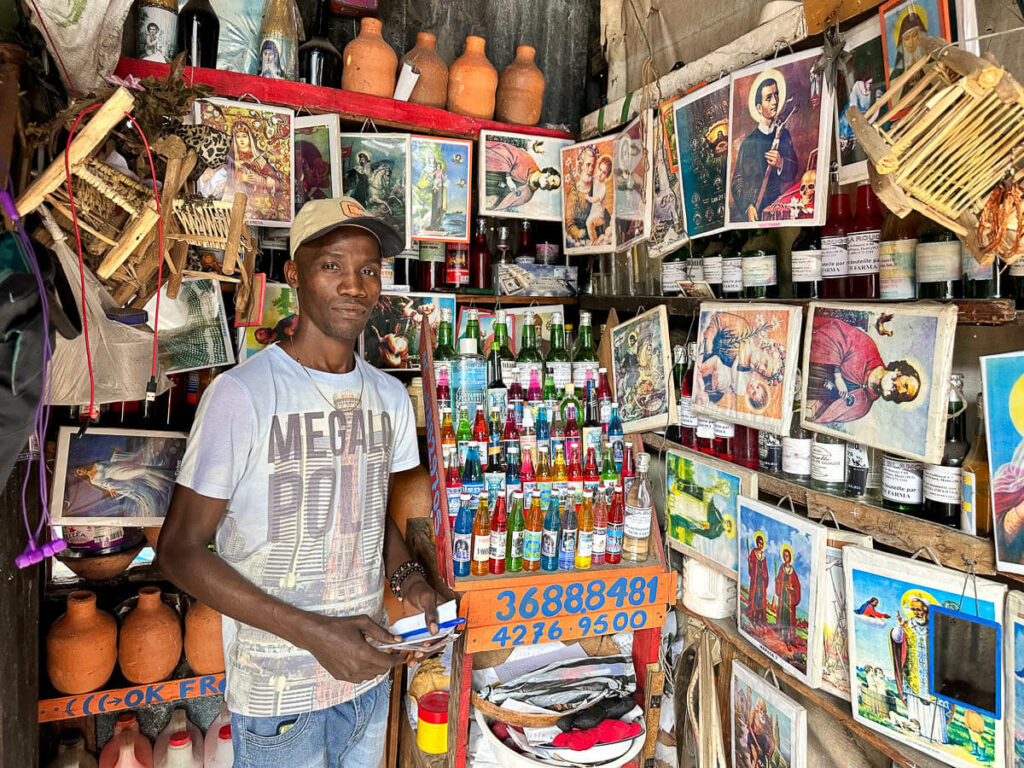 4 – The art scene in Pétionville
There's a lot going on in Port-au-Prince, and the art scene in the refined district of Pétionville is a must-see.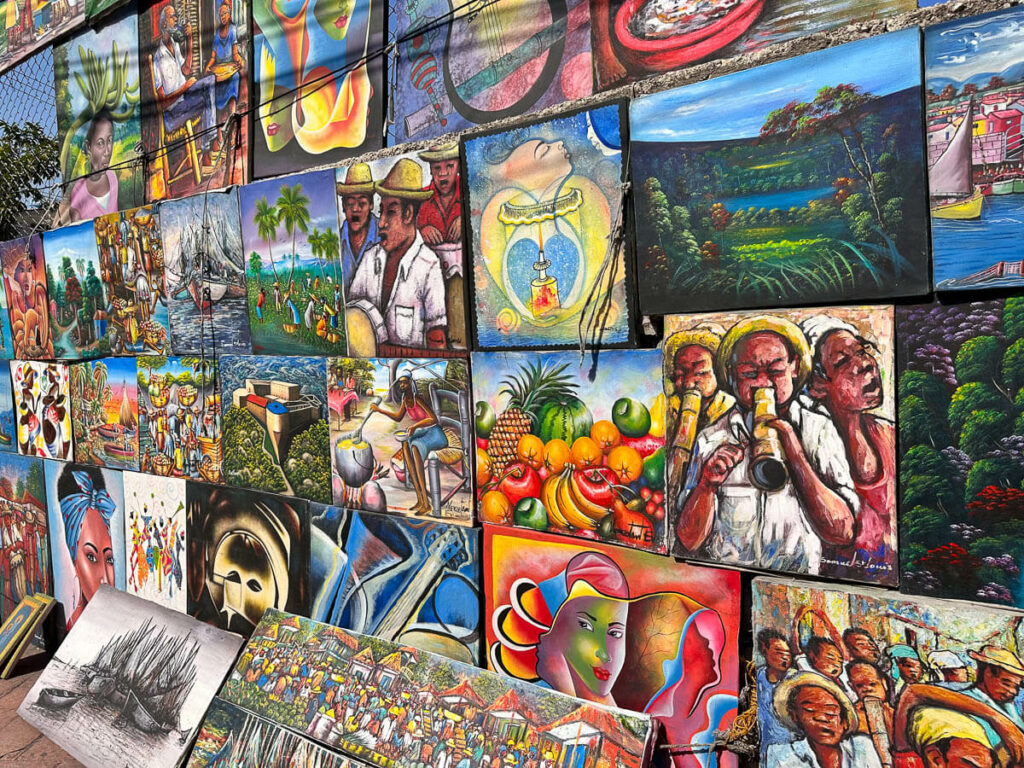 5 – The coast around Labadee
Haiti has the most beautiful coastline in the island, and Labadee has the cleanest shore and water.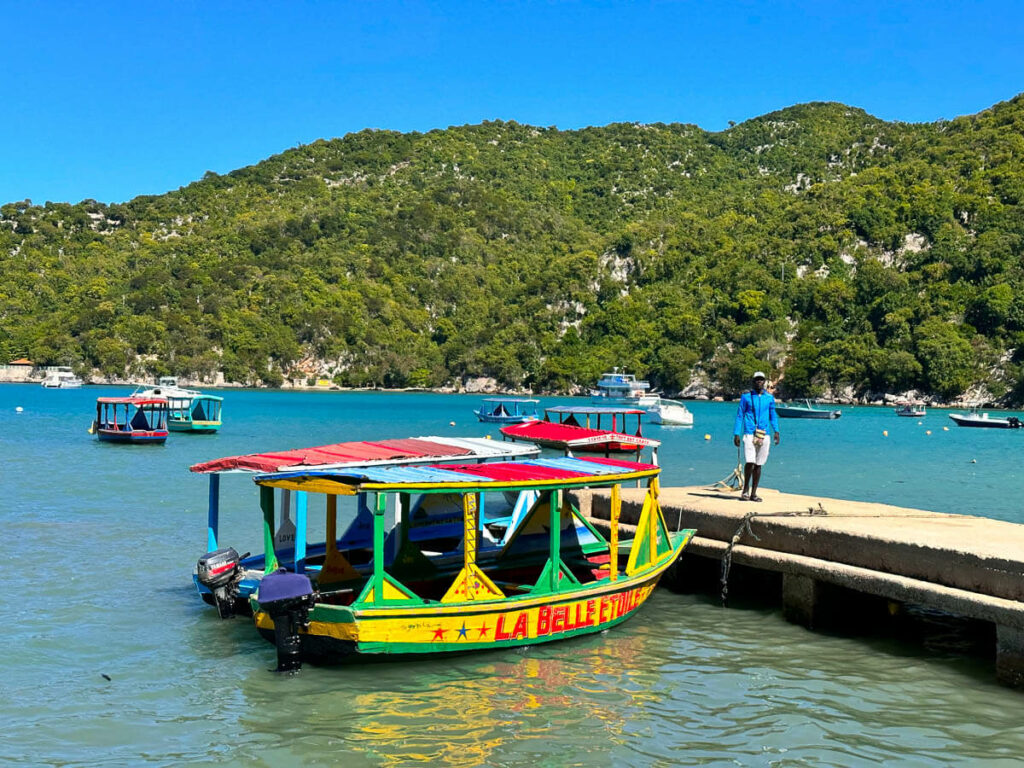 How to get to Haiti
Remember to get travel insurance for Haiti
IATI Insurance is one of the very few that covers travel in Haiti+ COVID-19
5% discount if purchasing via this link
How to travel to Haiti by air
The easiest way to fly to Port-a-Prince is from Miami (MIA) or Fort Lauderdale (FLL), but also New York City (JFK).
Which Airlines fly to Haiti?
Jet Blue Airways and American Airlines have daily flights into Port-au-Prince.
How to get to Haiti from Dominican Republic – By land,
best choice
I personally believe that traveling to Haiti from Dominican Republic is a much better option, for 3 reasons:
Flights to Santo Domingo or Punta Cana are much cheaper, plus you have endless connections with many cities around the world
If you haven't visited Dominican Republic, you can visit both countries in one single trip
Traveling in Haiti is actually pretty rough so after some days of hard backpacking, traveling in Dominican Republic might be highly pleasant and rewarding.
For going Haiti from Dominican Republic, you can take one of the daily buses connecting Santo Domingo with either Port au Prince or Cap-Haïtien.
The company running such trips is called Caribe Tours, and it departs from this terminal.
I strongly recommend going to the terminal at least 1 day in advance to book your tickets, since tickets sell out.
The bus departs. between 7am and 8:30am but do confirm the departure time upon booking your tickets.
A one-way ticket costs around 30-35 USD.
Additionally, you will have to pay 37 USD for exit/border fees. This amount is usually paid before boarding into the bus, not when booking your ticket.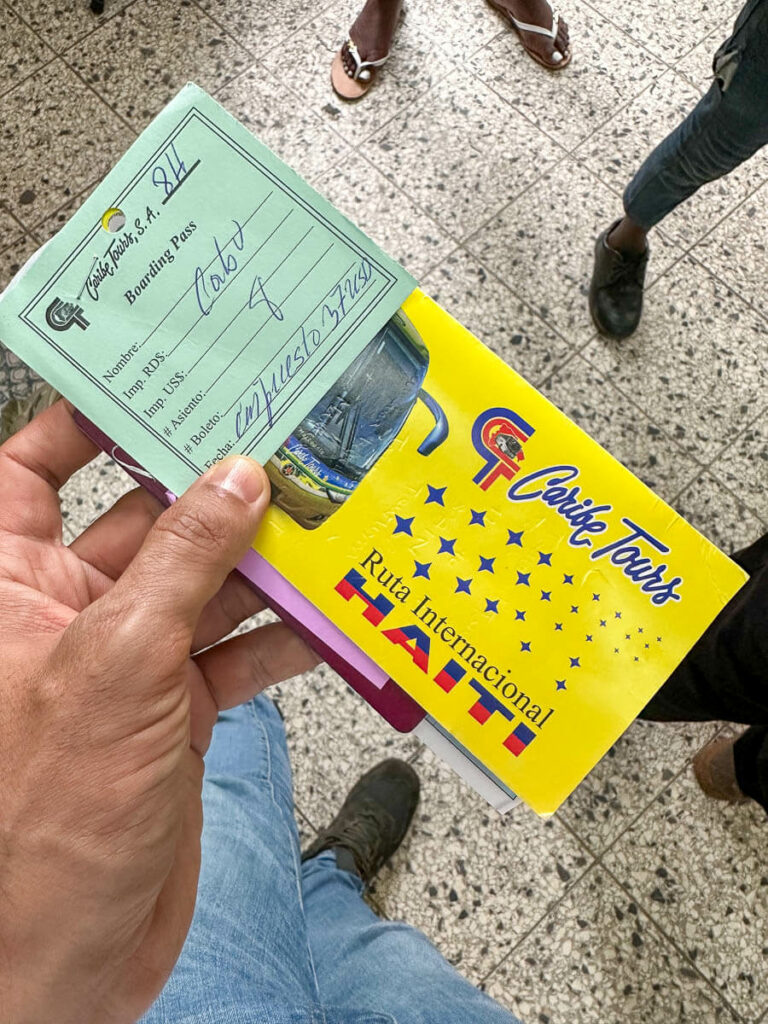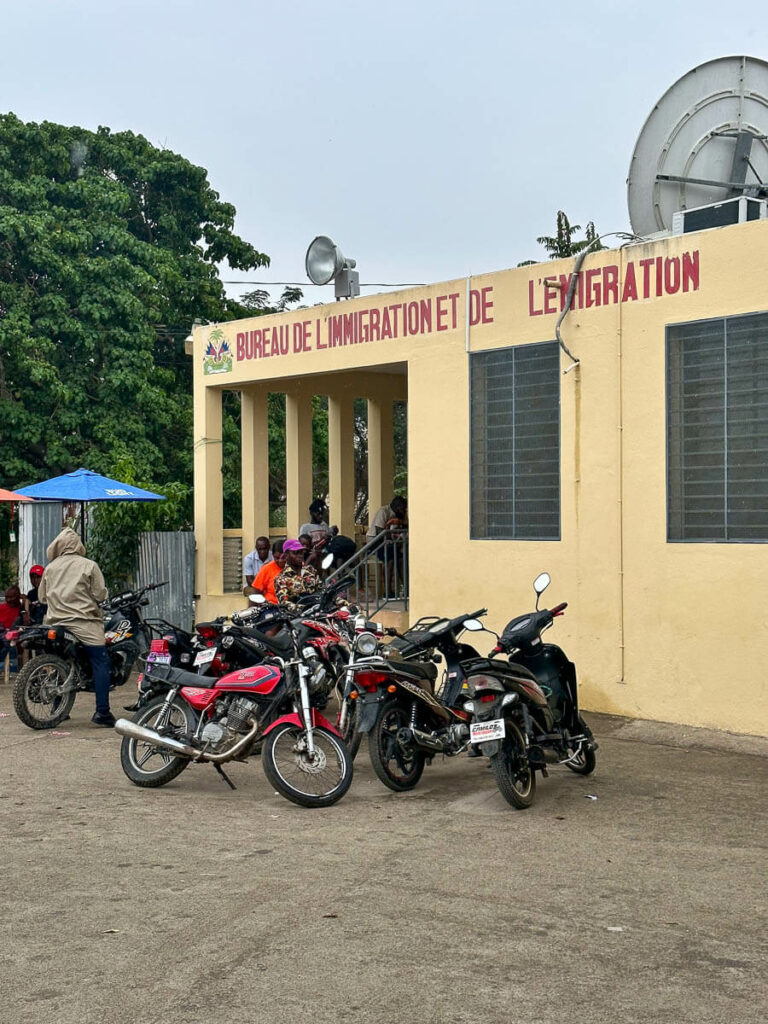 The whole ride from Santo Domingo to either Cap-Haïtien or Port-au-Prince can take from 8 to 12 hours. The bus has unreliable Wi-Fi, and they provide a very awful, meat-based meal on board.
The border crossing is pretty chaotic, but there will be an attendant on the bus who will assist you with all the procedures.
My experience entering and exiting Haiti
I took the bus from Santo Domingo to Cap-Haïtien but, on the way back, I came from Port au Prince independently, meaning that, instead of taking a direct bus, I took different minibuses and tap-taps to the border, and crossed on foot into Dominican Republic. Once in Dominican Republic, you can find transportation to several other cities. It's a slower option but more adventurous, perfect for those wanting to explore beyond the main cities. If going to Cap-Haïtien you cross at Dajabon. If going to Port-au-Prince, you cross at Comendador.
How to travel around Haiti
Moving around Haiti by tap tap
The official, local transportation is the tap-tap, a pick-up truck ornately decorated that won't leave until filled with passengers, and passengers can get off at any point during the ride.
Traveling in Haiti by tap tap is ridiculously cheap, and you may use it to get to nearby sights and villages.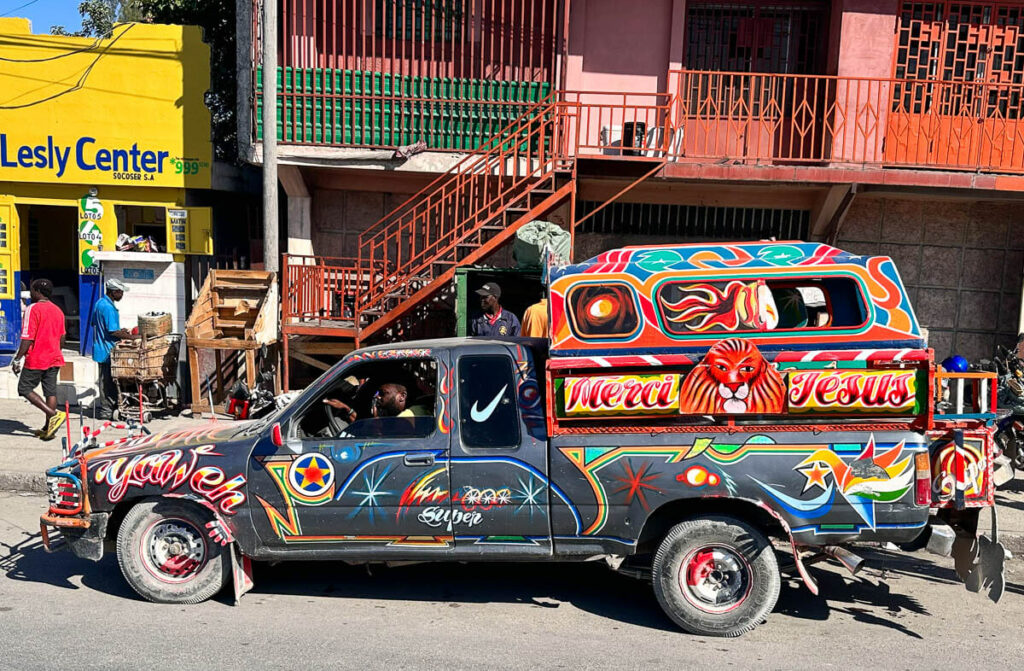 Travel around Haiti by minibus
For longer distances, Haitians travel by minibus.
Traveling around Haiti by air
Haiti is a tiny country but but small domestic planes run between major cities.
The local airline is Sunrise Airways.
I did take a 25-minute flight from Cap-Haïtien to Port-au-Prince and the reason was that everyone in Cap-Haïtien told me it wasn't possible to travel there by bus, claiming that the road section close to Port-au-Prince was taken by gangs.
Upon arrival at the capital, I learnt that this wasn't true, that buses were simply taking a different, longer route so, on the way back, I did take the bus.
In any case, taking a Sunrise Airways flight was a lot of fun, since they use those small, 20-seat planes where there's no door between the passengers and the pilots.
Moreover, the airport of Cap-Haïtien was so small, that you could literally get to the airport 15 minutes before departure and still make it on time to catch your flight.
A one-way ticket from Cap Haïtien to Port-au-Prince cost me 125 USD.
Money and budget when traveling in Haiti
In Haiti, they use the Haitian Gourde and, approximately:
1 USD = 135 HTG
Exchanging money in Haiti
Certain banks do exchange currency but I used to exchange mine at the hotel in Cap-Haïtien, Habitation des Lauriers.
They prefer US dollars but I believe Euros can be exchanged too.
Card payment and ATM in Haiti
Unlike countries like Syria or Iran, Haiti is not a country under sanctions, so you can easily withdraw money from certain ATMs and even pay your hotel by card.
For the rest, Haiti is pretty much a cash economy.
How much does it cost to travel in Haiti?
Haiti is actually pretty expensive, much more than Dominican Republic.
How much does accommodation cost in Haiti?
Accommodation isn't great in Haiti and expect to pay a minimum of 50 to 70 USD for a basic room.
Rooms are basic but those hotels are relatively decent, meaning that they have services, speak English and are used to deal with foreigners.
However, you might be paying 60 USD for a very basic room with no AC and where water and electricity issues are pretty common.
I heard that some travelers were staying in hotels cheaper than that, where local Haitians stay, but expect their facilities to be beyond basic.
How much does food cost in Haiti?
Food in Haiti can be pretty expensive too.
A meal in a restaurant will cost something around 10 USD, up to 20 USD in nicer restaurants.
Local street food is obviously much, much cheaper – maybe 1 USD for a meal – but it's not great.
How much does transportation cost in Haiti?
Local transportation is particularly cheap, like you can expect in any country of this kind.
A tap tap ride will rarely exceed more than 50 cents and a minibus between cities will always cost a couple of USD.
Backpacking budget for Haiti
From 85USD a day
How to deal with extreme poverty when visiting Haiti
Haiti is the poorest country in the American continent and within the 25 poorest nations in the world, according to all rankings.
The extreme poverty and lack of proper infrastructure can be seen anywhere in Haiti, including in areas of Port-au-Prince which are supposed to be good.
There are absolutely massive piles of burning trash in every corner, no electricity at night and too many people are looking so poor and miserable.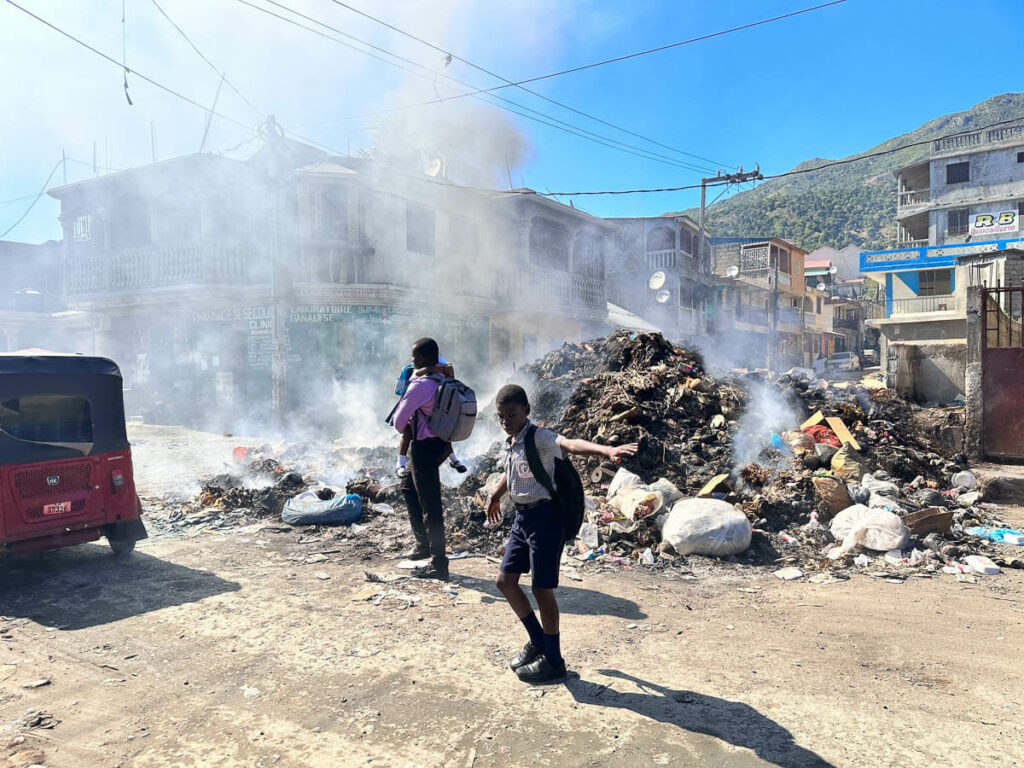 Foreign travelers stand out a lot, and do expect to be stared at by everyone.
Like in all the countries I have been to, most people you meet in Haiti are nice and pleasant, but I also found some beggars to be particularly intense and aggressive, so be mentally prepared to handle such situations.
Getting ripped-off when traveling in Haiti
Getting ripped-off isn't the general norm but once in a while, some people may try to overcharge you.
It happened to me several times when taking a tap tap, and in local bars, as well. A bottle of Prestige – the Haitian beer – will never be more than 1 USD in a bar of that kind, but I often paid nearly 3 USD, totally my fault for not asking their price first.
Haiti: people and religion
Today, Haiti is a Caribbean country where the vast majority of people are descendants of former black African slaves.
Note that the Taíno were the indigenous people to the island but Columbus and his Spanish crew exterminated them in a matter of years.
Some former French colonists also left their descendant through having children with their slaves, originating into a lighter-skinned Haitian called mulatto. Nowadays, mulattos form most of the Haiti's elite, political and economic class.
The few remaining Haitians are mainly from Arab descent, from Lebanon and Syria, and you may see them hanging out in the wealthiest areas of Port-au-Prince.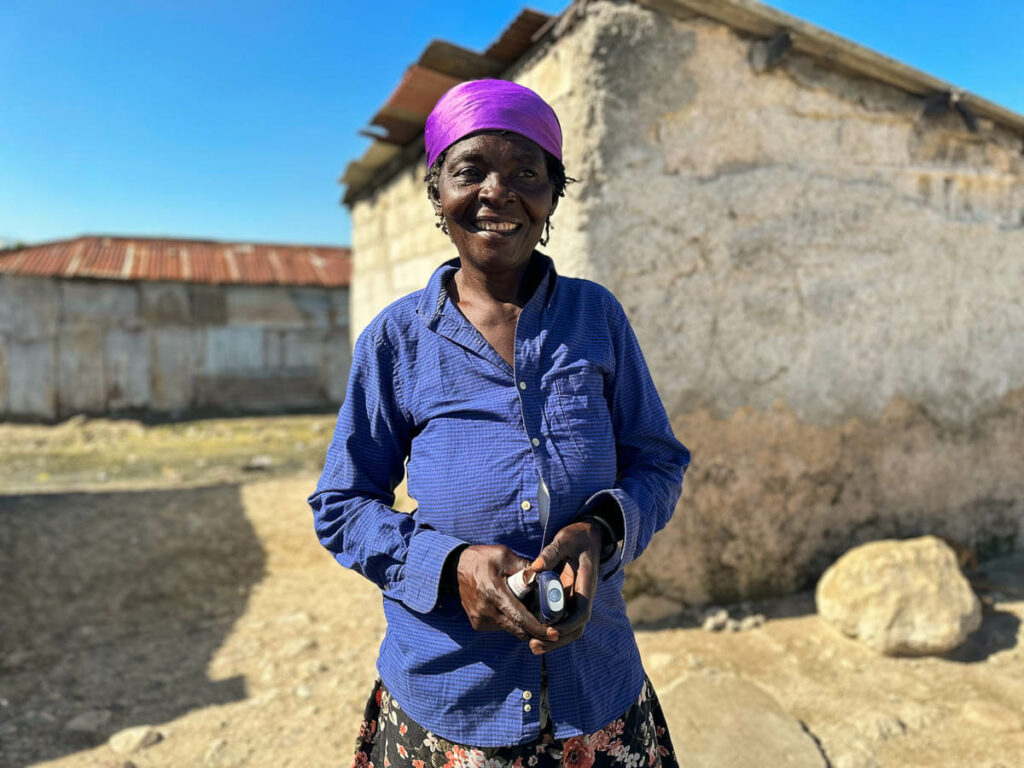 Religion in Haiti
Haiti is a very religious country and such is the influence from their West African ancestors that Vodou is recognised as the official religion of the state, along with Catholicism.
Churches are always packed on Sunday but Haitian Vodou also plays a significant role and attending a ceremony is one of the highlights of backpacking in Haiti but you need to be lucky.
Unfortunately, I wasn't able to attend one but I did visit a Vodou temple, a workshop where they sold Vodou-related artifacts and also a market.
Haitian Vodou revolves around spirits known as Iwa and here you can know more about it.
These 2 pieces of Vodou art can be found in Atis Rezistans, a workshop that creates art out of garbage. This place was one of the best places I saw during my trip to Haiti.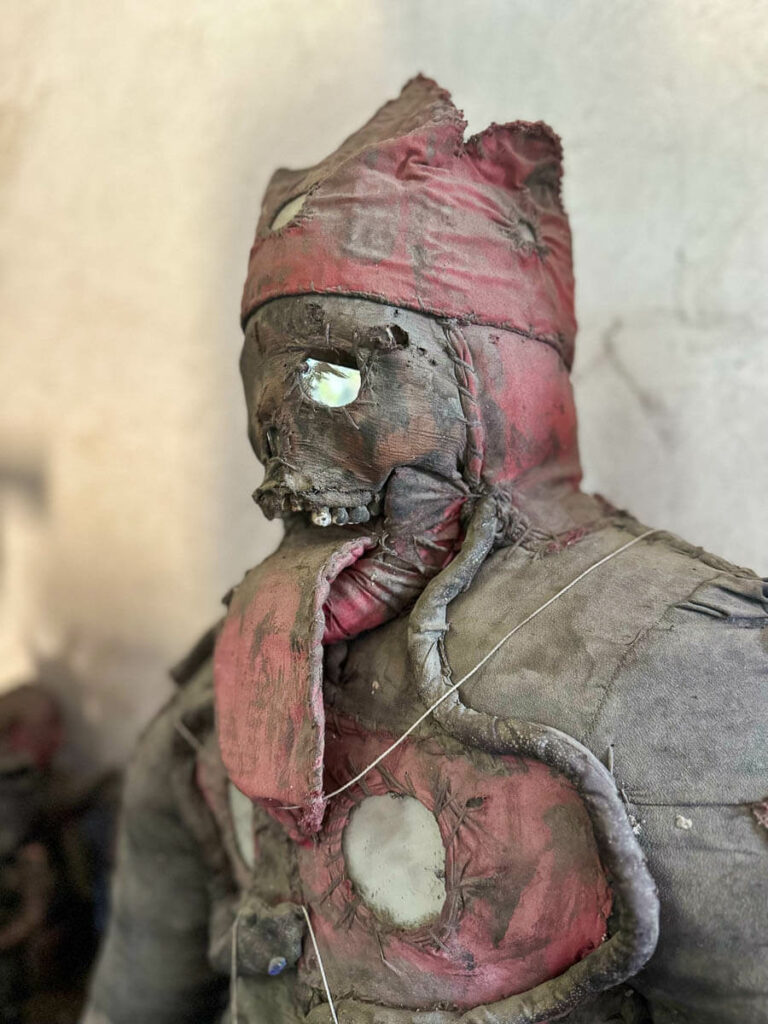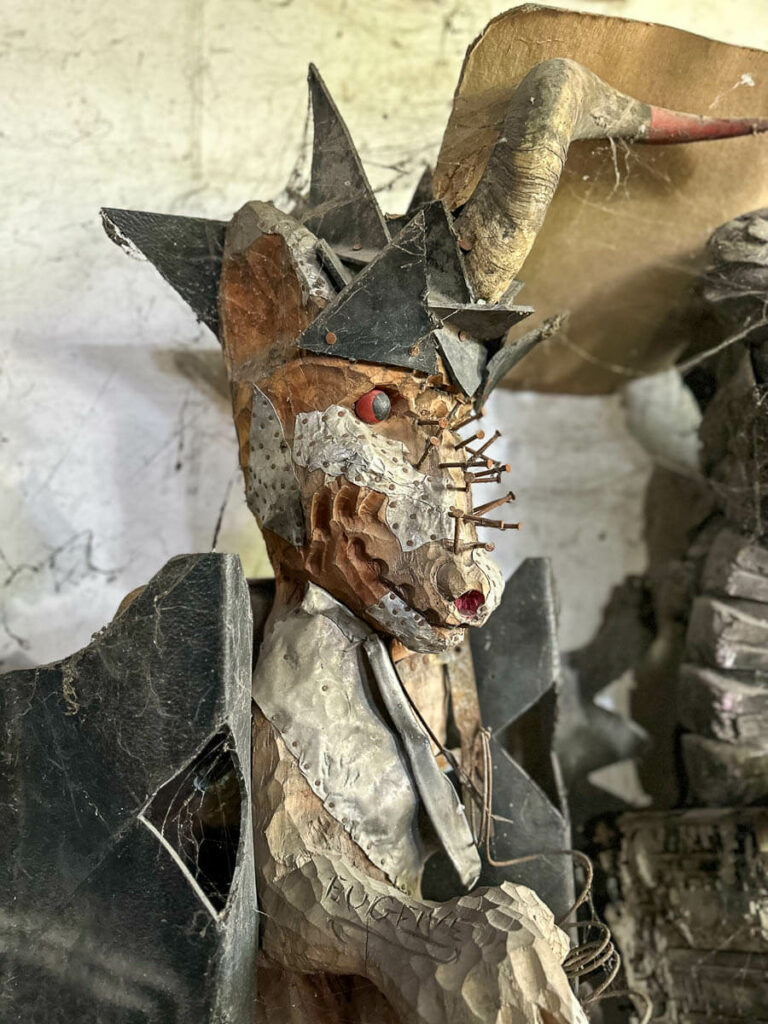 Taking photos of people when traveling in Haiti
I think Haitians are the most camera-shy people I have ever met in my travels.
They are so shy that you might even be yelled at for taking a picture of a street, without pointing your camera to any face in particular.
They just don't like it and when wandering around markets for example, always ask for permission but believe me that you'll rarely get it granted, unless you've been interacting with them prior to ask for it.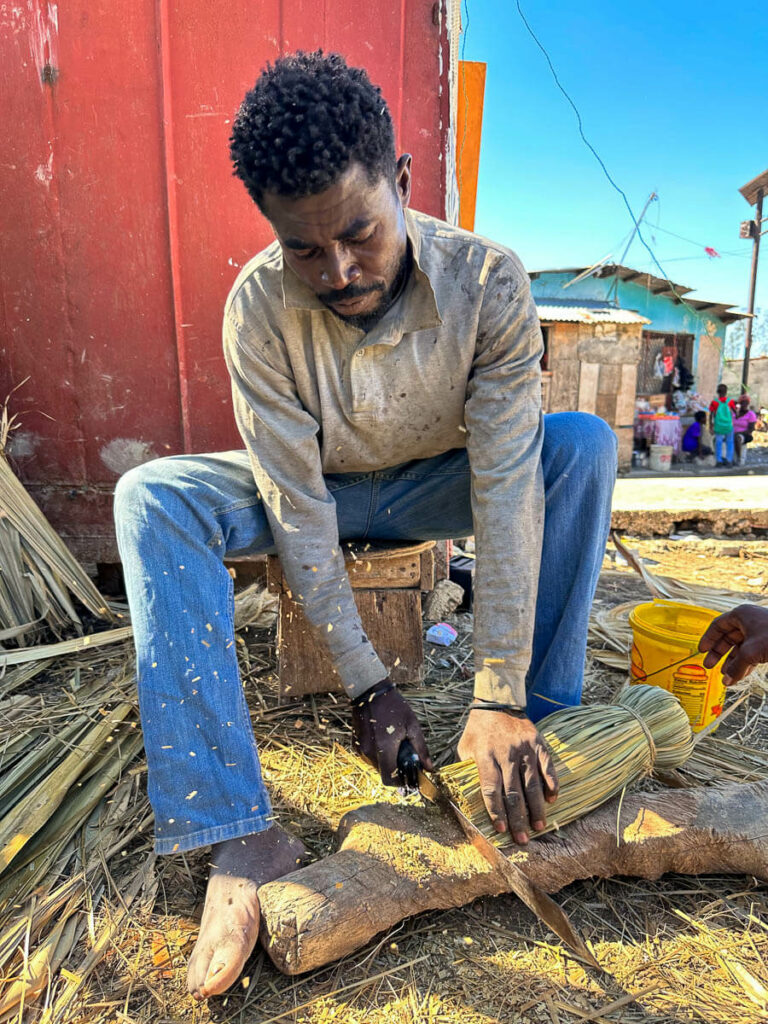 Language in Haiti
Both Creole and French are the official languages in Haiti.
French is the language used by the Administration and Haiti's elite.
Creole is used by everyone else, and it's a peculiar mix of French, Spanish, English and even Taíno, they claim.
However, French-speaking people won't be able to understand Creole, and typically, lower-educated people don't speak French either.
English is also little spoken in the streets.
Haitian cuisine
I will never be a fan of Caribbean food.
I find it bland and boring, but it can be eaten.
Typically, all restaurants will serve a portion of protein served along fried plantain and rice mixed with black beans.
Protein can be anything from grilled fish (pwason poukannen) to pork (griot), chicken and even lobster, if you go to the right place.
Except for one or two days, I had any of the above combinations in absolutely every meal.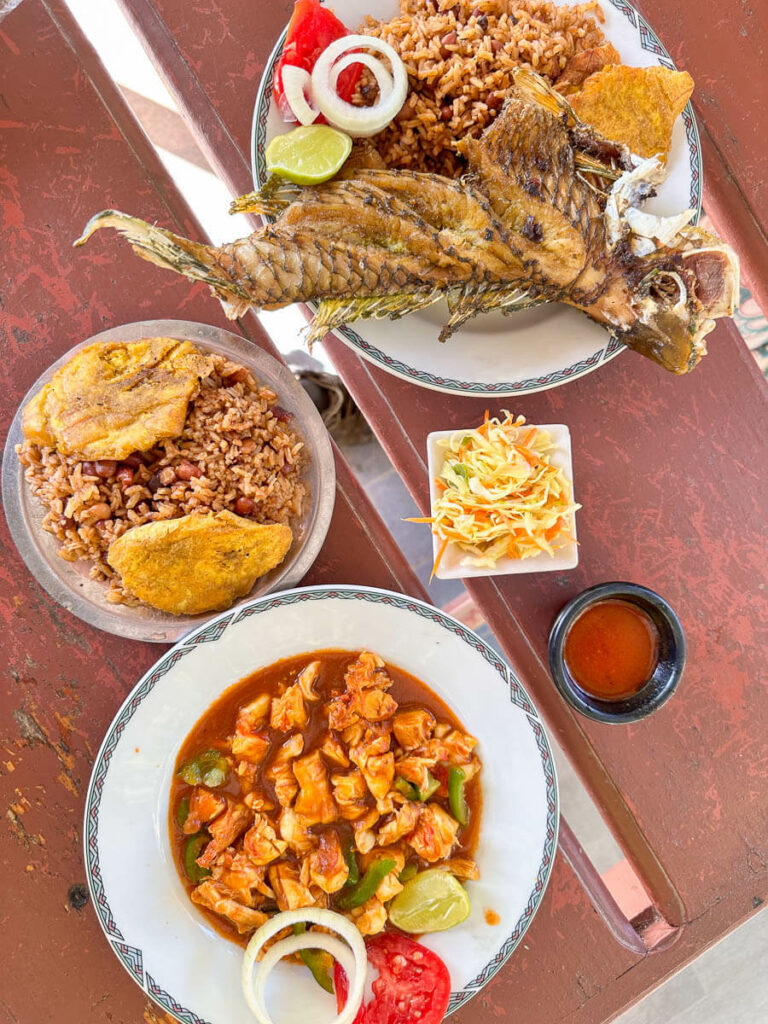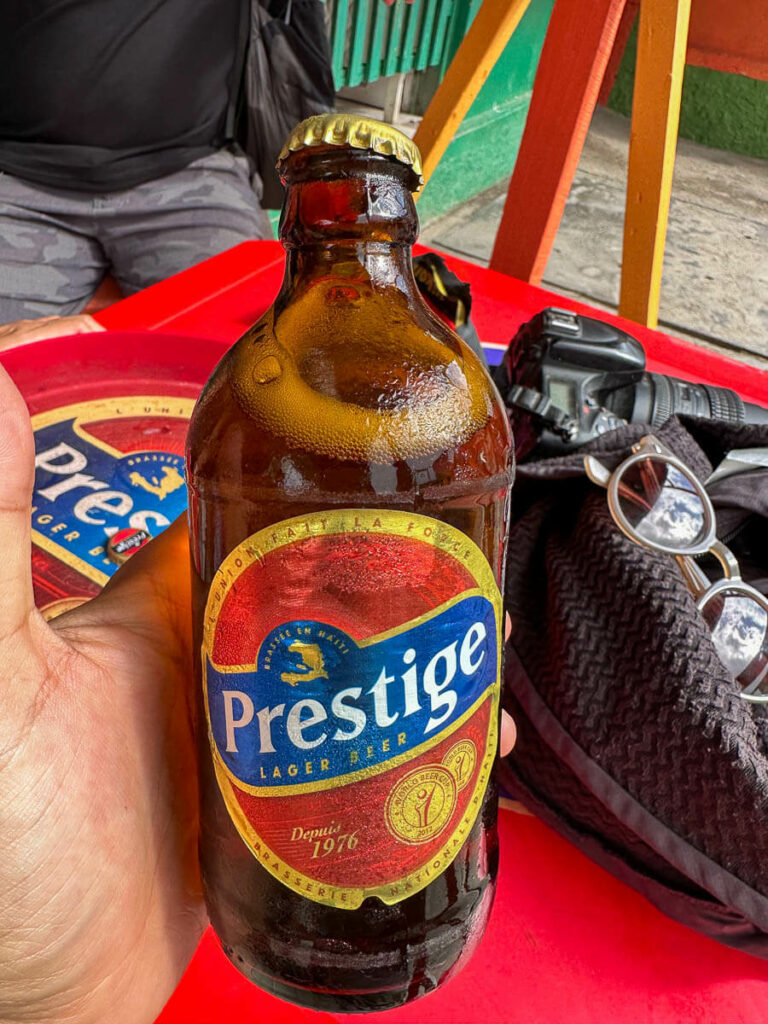 Alcohol in Haiti
The national beer is called Prestige. They sell it everywhere and Haitians can drink it at any time during the day.
Haitians are also very proud of their locally produced rum, the best brand being Barbancourt.
Internet in Haiti
Generally-speaking, Wi-Fi is pretty awful across Haiti, so I strongly recommend getting a SIM card, which works relatively well.
eSIM for browsing, calling and traveling in Haiti
Basically, an eSIM is a regular SIM card with a digital format that works like a normal physical SIM card, with the added benefit that you can buy it from home before the beginning of your trip, hence avoiding the hassle of buying it at your destination.
With Holafly, you can get a SIM Card for a wide range of destinations, including Haiti.
Moreover, you can benefit from a 5% discount with the following code: AGAINSTTHECOMPASS
Get a VPN for traveling in Haiti
You should always use a VPN when you travel, especially when you connect to public Wi-Fi networks.
Your connection will be much safer.
Moreover, you will be able to access content which is typically censored in Kazakhstan.
I recommend ExpressVPN – Extremely easy to use, fast and cheap.
If you want to learn more about VPN, check: Why you need a VPN for traveling.
More information
In my Travel Resources Page you can find the list of all the sites and services I use to book hotels, tours, travel insurance and more.
Check travel tips to the following offbeat countries: