It's easy to get bored with being surrounded by the same decor in your living space for years on end. However, redecorating can be expensive, especially with the high cost of living. Luckily there are plenty of ways to brighten and liven up your living space for under $500. Let's go over some of the best budget-friendly ways to improve your living area.
Highlight your art
If you've got pictures and artwork on the walls, it can be easy for them to fade into the background. Installing effective art lighting can make a huge difference and really bring out the full potential of these pieces. This will immediately make your living area more interesting, and it doesn't have to be a huge expense. Great lighting can also highlight and help you really appreciate your favourite art, photographs, and posters.
Add new pieces to make a gallery wall
While we're talking about art, you can always consider adding some new pieces. It doesn't just have to just be paintings of course. You can add all sorts of pieces to make a gallery wall, including photographs, pictures, posters, and even items like scarves or fabric wall hangings. Arranging a distinctive gallery wall can really transform a room.
Use throws and cushions to brighten up your sofa
You might be tired of how your sofa looks, or your sofa might be tired-looking. Either way, buying a new sofa or reupholstering your current one can be expensive. However, you can give it a quick and effective facelift with throws and cushions in a new colour or pattern. You can even get stretchy cushion covers for sofas if you want an easy way to change upholstery. Plus, most of these can be washed easily in the case of an accident.
Try a fresh coat of paint
Changing your room colour is one of the simplest ways to brighten a room. You can pick any colour that suits the space, or focus on a feature wall. Painting a feature wall is cheaper and quicker than painting a whole room, and it can still make a striking difference in how your living area feels.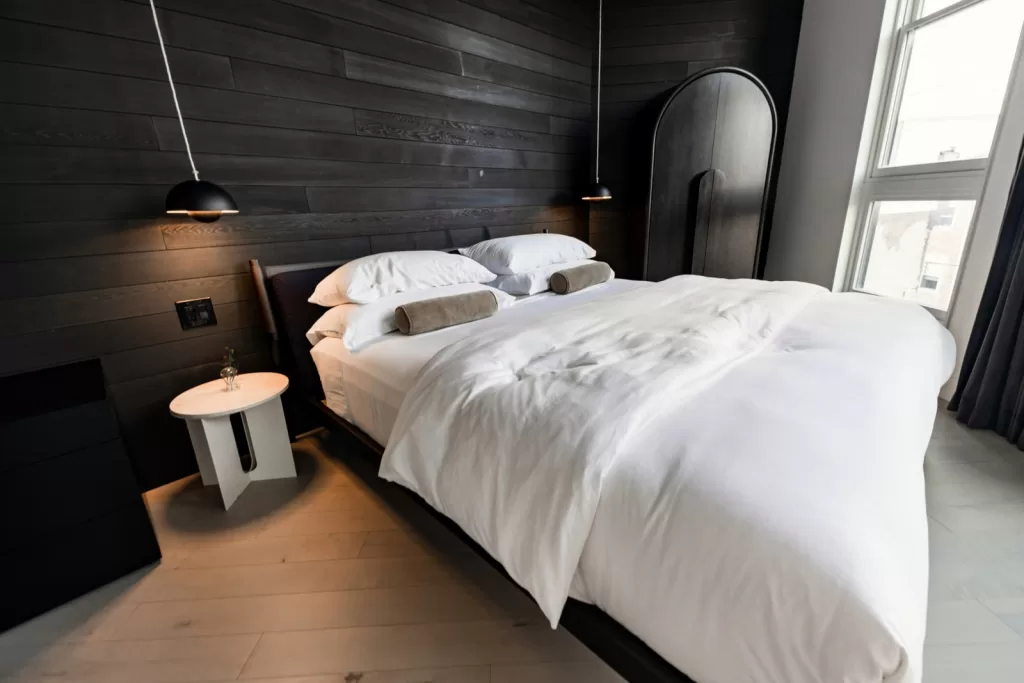 Bring the outdoors indoors
Plants not only look great, but they can also help boost your mood and improve air quality indoors. You can start small with a few potted plants on shelves, or you can look into larger free-standing plants. Whatever you pick, plants can help brighten up your living room, and they go with just about every decor scheme.
Move things around and change them up
One of the cheapest ways to change how your home looks is to simply move things around. You could shift the focal point of your room, shift furniture to a new position, or move furniture between different rooms. All of this can help update the look and make a new and exciting space for you to enjoy.
Check the second-hand market
If you're looking at changing your living room on a budget, then the second-hand market is ideal. You can find lots of great pre-loved items, including furniture, artwork, throws, lampshades, and even paint. Getting some of your new items for less means that you can focus spending on a few specific pieces that you really want for your living area.
Get a rug, or get many rugs
A rug instantly changes how a room feels. Don't be afraid to layer up rugs either, or have many shapes and rug textures in one room. This can create some great looks and can really liven up a space.
Look at new blinds or curtains
Blinds or curtains are also an important part of a room. While we rarely look directly at the curtains, they can have a big impact. Getting new curtains or blinds can be expensive, but it can make a room feel airier, cosier, sleeker, or more modern, depending on what you pick. This is one of the areas where you might want to direct more of your budget.
Make your own art
If you've got an artistic side, why not try making your own art? There are plenty of ways to do simple yet effective stencil art or abstract pieces if you're handy with a paintbrush. Or, if you're crafty, try sewing a wall quilt or weaving a wall hanging. You can get the materials for much less than a new piece of art would cost.
Livening up your living space on a budget: Summary
It can be expensive to update a room, but it doesn't have to be. You can easily change how your living room by first assessing what you have, and then making the most of it with better lighting. Add new art, new cushions, or paint a feature wall. All of this will help you liven up a space without having to buy many new items. When you do need a new piece, be sure to look for second-hand options to lower the cost.
The post How to liven up your living space for under $500 appeared first on The Architects Diary.