A gigantic arch elevates this house's contemporary living room, along with interesting detailed surroundings.
Reworking an old space with a modern touch can breathe new life into it and create a stylish, contemporary atmosphere.
Gigantic Arch Beautifies this Contemporary Living Room | Naksh Design Studio
Designing the entrance to a living room is crucial as it sets the tone for the entire space. This small pocket of space transformed into a cute and cozy corner, adds charm and functionality to it.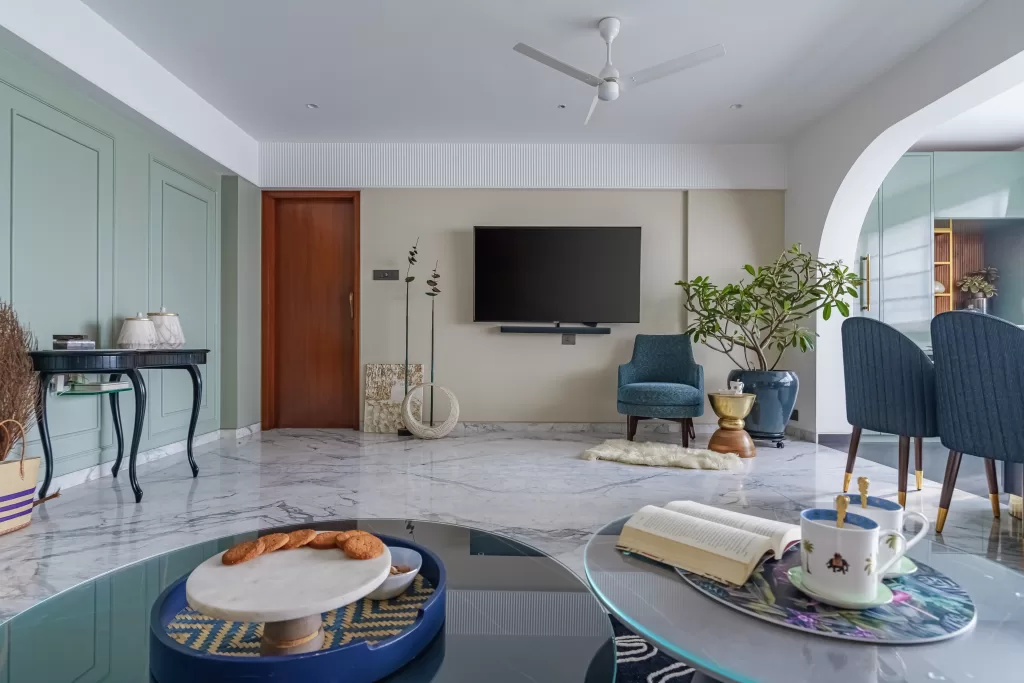 Flushed cupboard storage is for maximizing storage space in this tight and small area. It helps to keep the room clutter-free and to maintain a clean and minimalist aesthetic. In addition of an antique telephone with a stand is there as a décor to add vintage charm and nostalgia to the space in a wonderful way. Furthermore, incorporating quirky décor pieces such as a coat hanger and a rattan chair into your home can add personality. It also adds fun and a touch of whimsy to the space.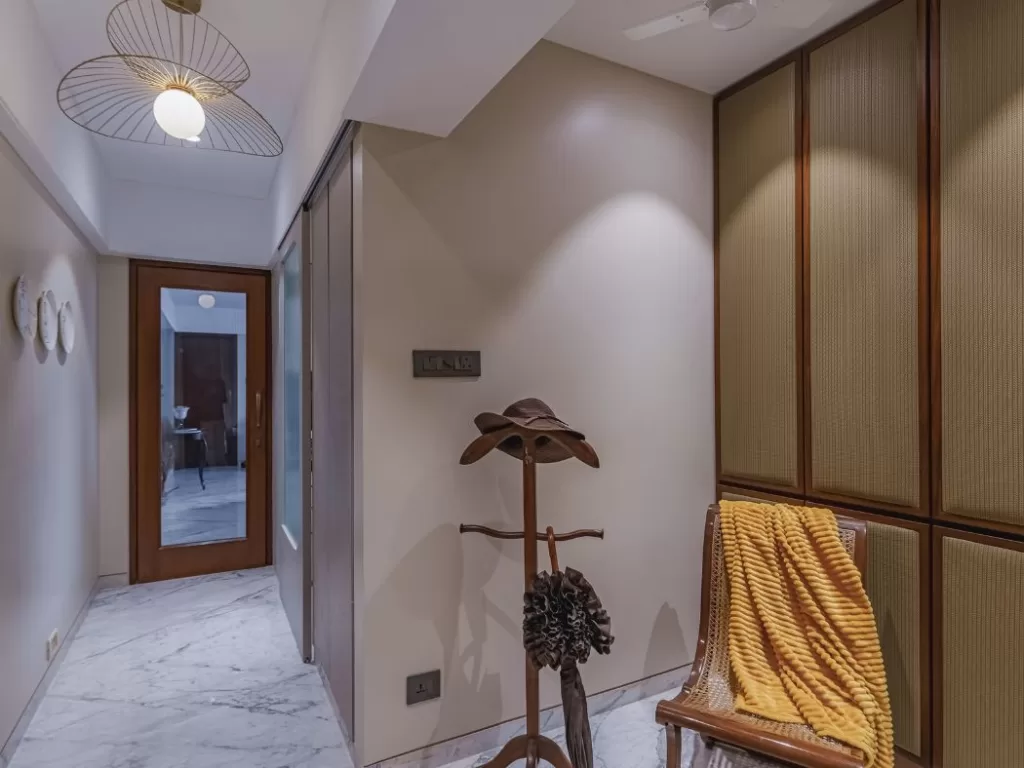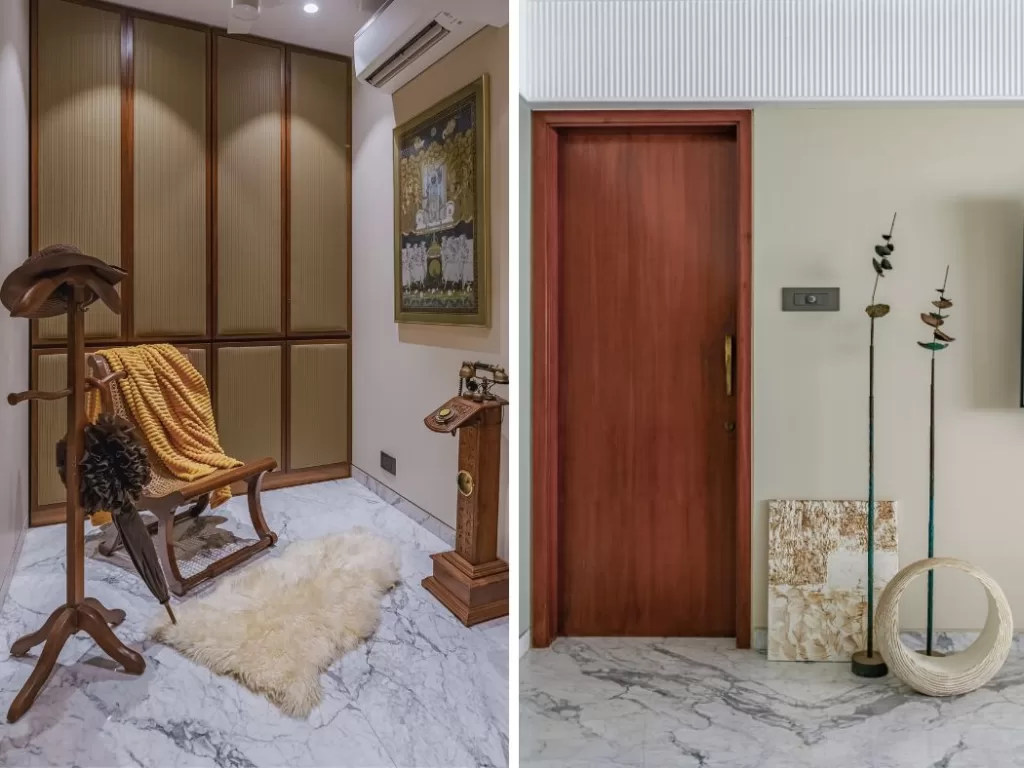 A sliding door with concrete formica and fluted glass panel leads to the kitchen entrance. A sliding door is an excellent choice for adding privacy to a space while also optimizing floor space.
The gigantic arch:
Coming to the living room, the white marble flooring covers most part except the dining and bar. The dining and bar is having a black tile flooring to separate the space and highlight it. The same black tiles are used to create a cutwork panel behind the swing to make it look extremely eye-catching. Turned the beam into an arch in a great way to add architectural interest and elegance to the space.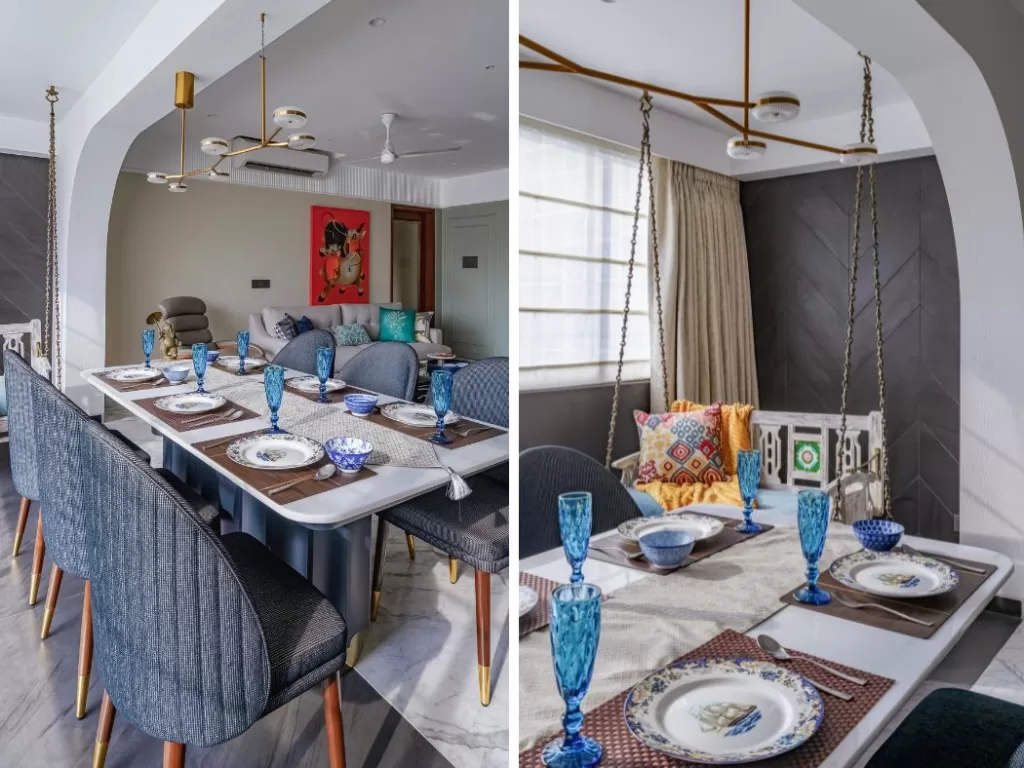 A marble dining table top is a luxurious and elegant addition to the dining room. The focal point here is the dropdown hanging light. A drop-down hanging light is a popular and versatile lighting option for various spaces in your home.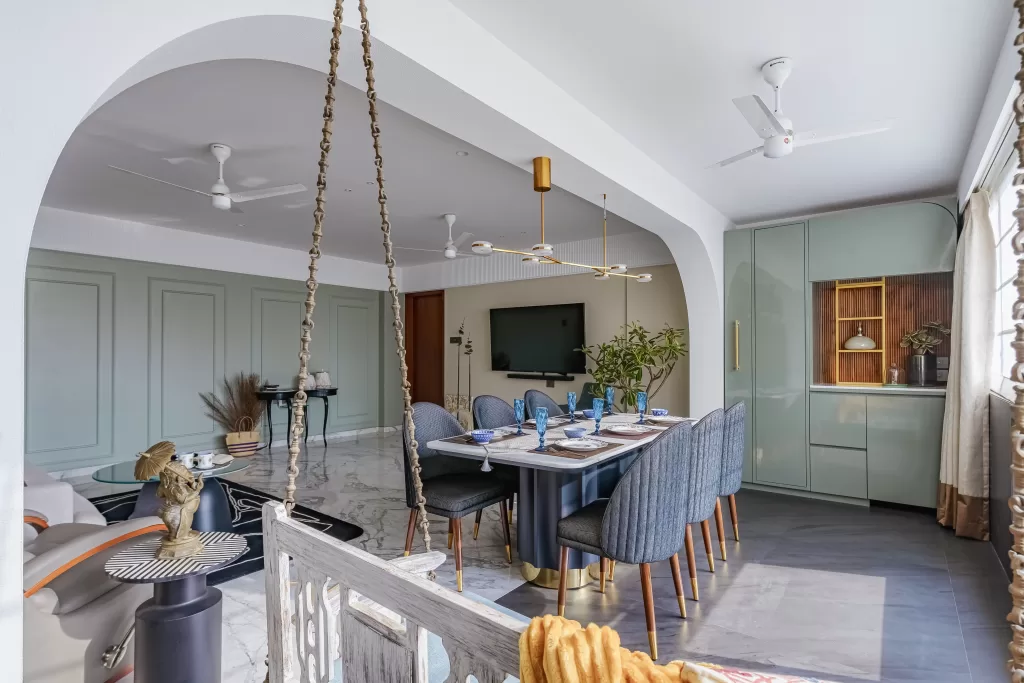 This is the concealed bar and storage unit. A niche of beautiful wooden fluting and a metal framing is a clever addition to display various artefacts. The rest of the unit showcases a subtle yet striking light green PU. PU finishes provide a smooth, glossy surface that is scratch and stain-resistant, making it ideal for indoor furniture.
Swivels for storing bottles is a clever and practical storage solution that allow easy access to bottles without taking up much space.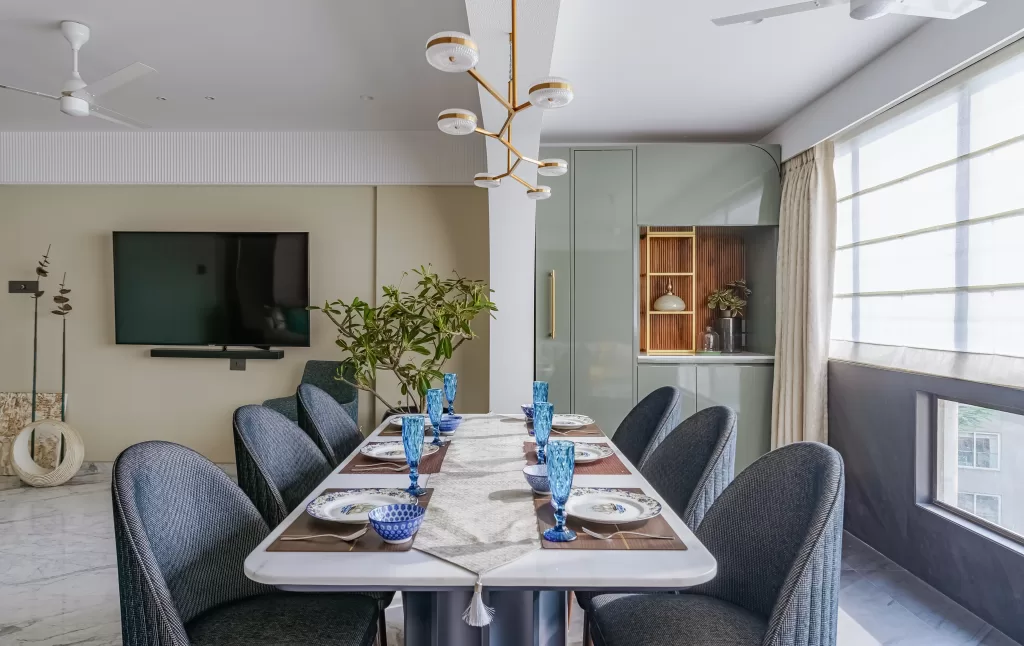 Accent furniture pieces such as the sofa, the center table and the armchair serve as the focal points and enhance the overall décor of the space. To enhance the aesthetics of the area, adding a huge black and white rug is smart. This also makes the room much more cozier and comfortable.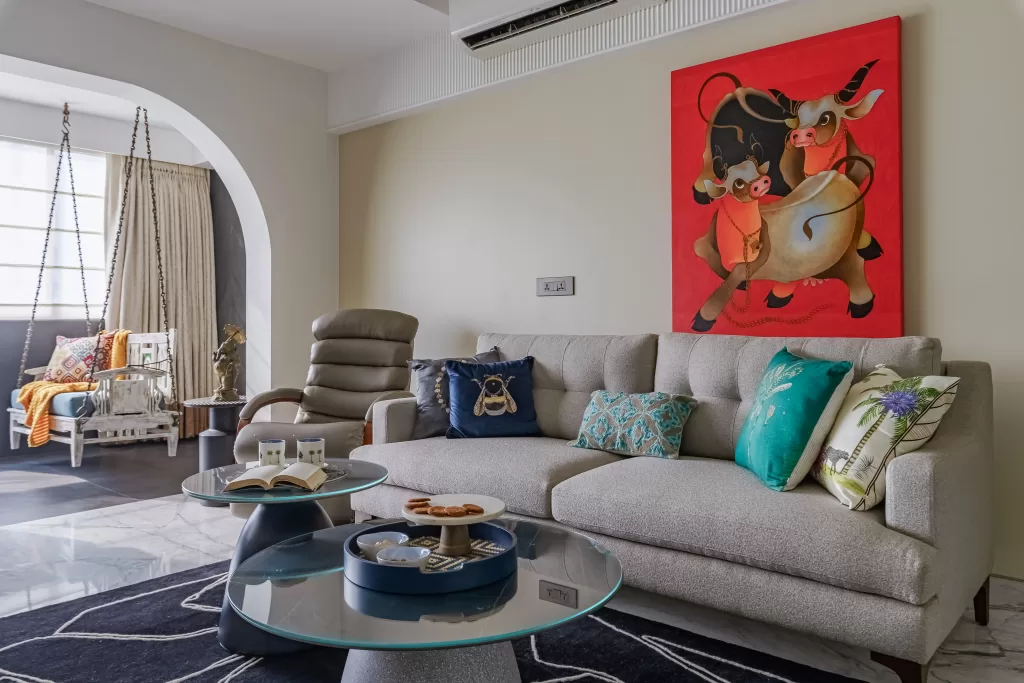 Details:
A typical HR Das painting hangs above the sofa to add a pop of color in this otherwise subtle space. And on the three sides of the entire living space, right below the ceiling, white fluted panels add depth to the flatness of the walls.
Wall moldings add character and charm to the room, giving it a custom and finished appearance. Whereas, the green moldings made of POP here generates a French look.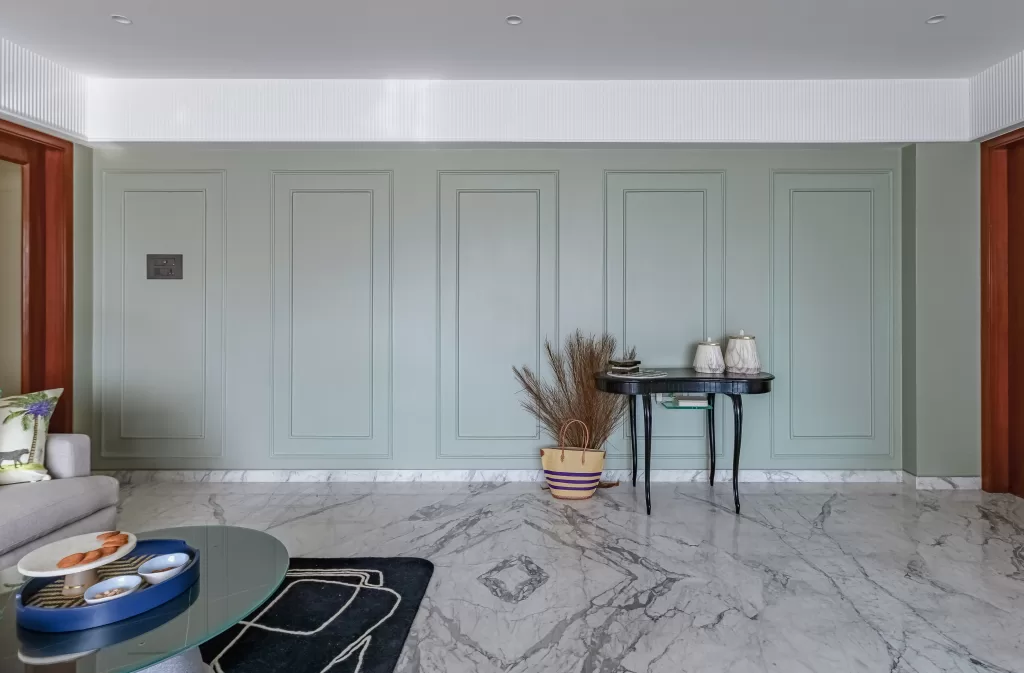 The antique console table in black kept in the living room has its own charm. The table mainly portrays the display of artefacts and other antique furnishings. Next to it lies a champa tree, as a decorative element in the living room. That not only adds natural beauty but also a delightful fragrance.
A small coffee table in the living room is a practical and stylish addition to the area. It serves as a functional surface for placing drinks, snacks, and books. Also decorative items while also adding visual interest and completing the overall look of this contemporary living room.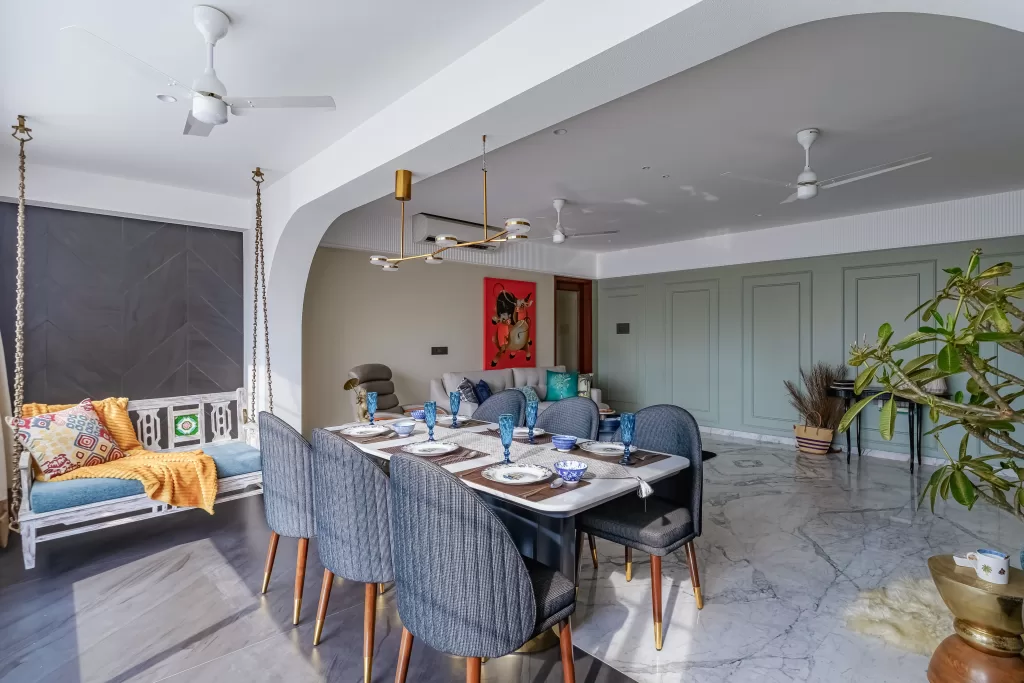 Fact File
Designed by: Naksh Design Studio
Project Type: Residential Interior Design
Project Name: Meher
Location: Mumbai
Principal Designer: Shibani Mehta
Photography Courtesy: ARCHCEPTIONS by Nisheet Dodia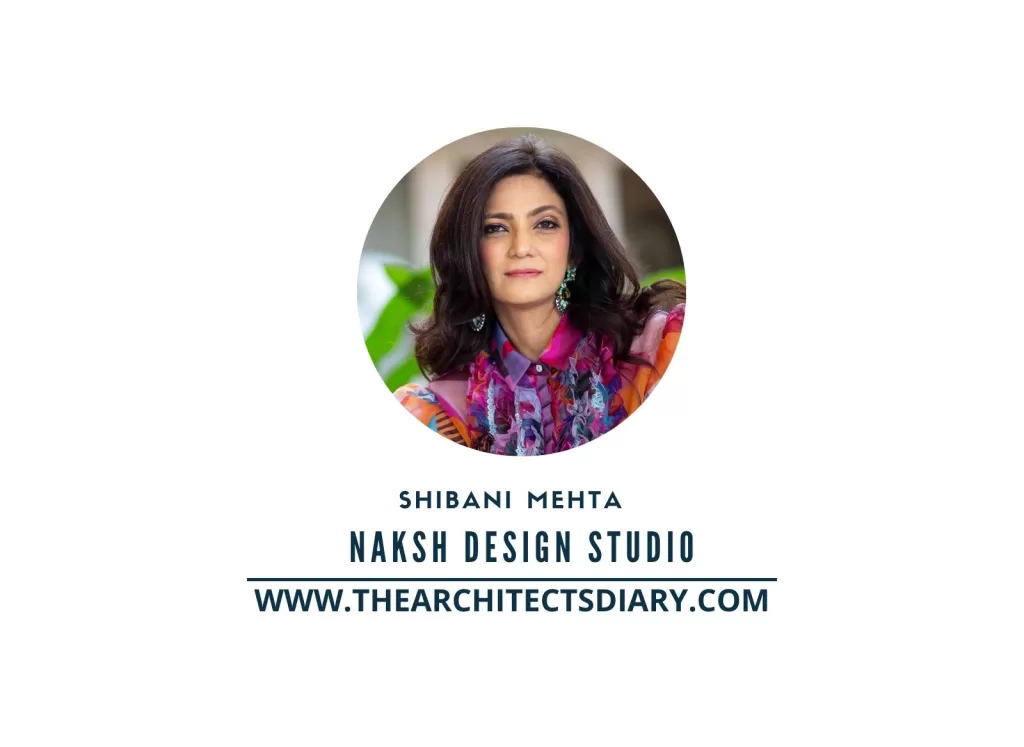 Firm's Website Link: Naksh Design Studio
Firm's Instagram Link: Naksh Design Studio
For Similar Projects >> A Fusion of Minimalism, Muted Tones and Contemporary Aesthetics
The post Gigantic Arch Beautifies this Contemporary Living Room | Naksh Design Studio appeared first on The Architects Diary.