When one thinks about commercial architecture, what comes to mind essentially is a "place for business". Though these are designed to serve their intended use, they end up becoming a mundane juxtaposition of cabins and cubicles. Working with architecture thoughtfully can generate a commercial design which has operational and aesthetic considerations and redefines human perception about the space. Located in a commercial complex, the new 2200 sq. ft dental clinic in Surat, Gujarat is designed such that the dental practice takes precedence and transport an individual from the fast paced cityscape to calming acoustics. The Four Seasons Dental Clinic in Surat is an epitome of aesthetic and functional commercial design.
Four Seasons Dental Clinic In Surat Is An Epitome Of Aesthetic And Functional Commercial Design | D'WELL
Visit: D'WELL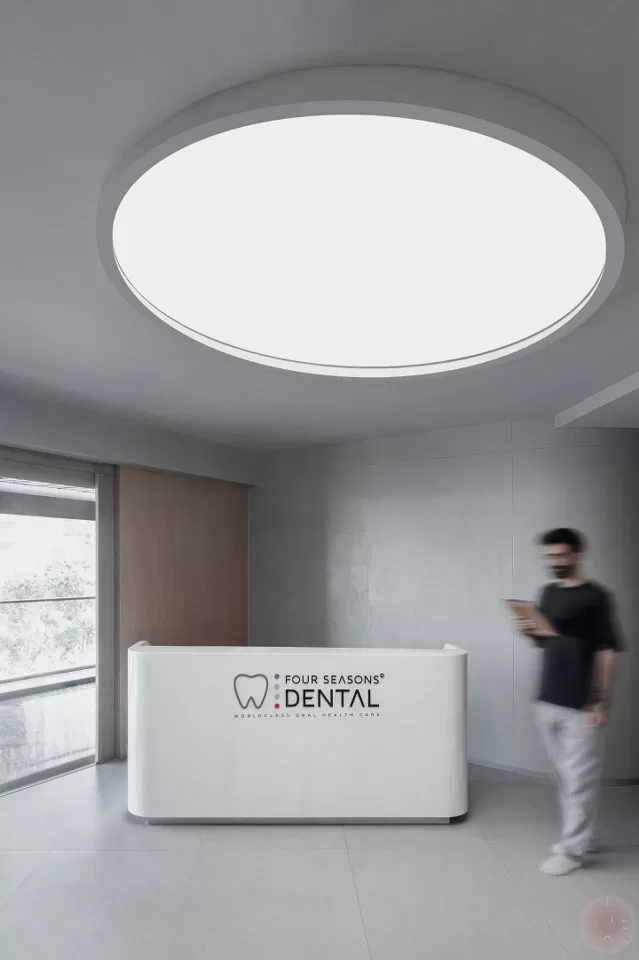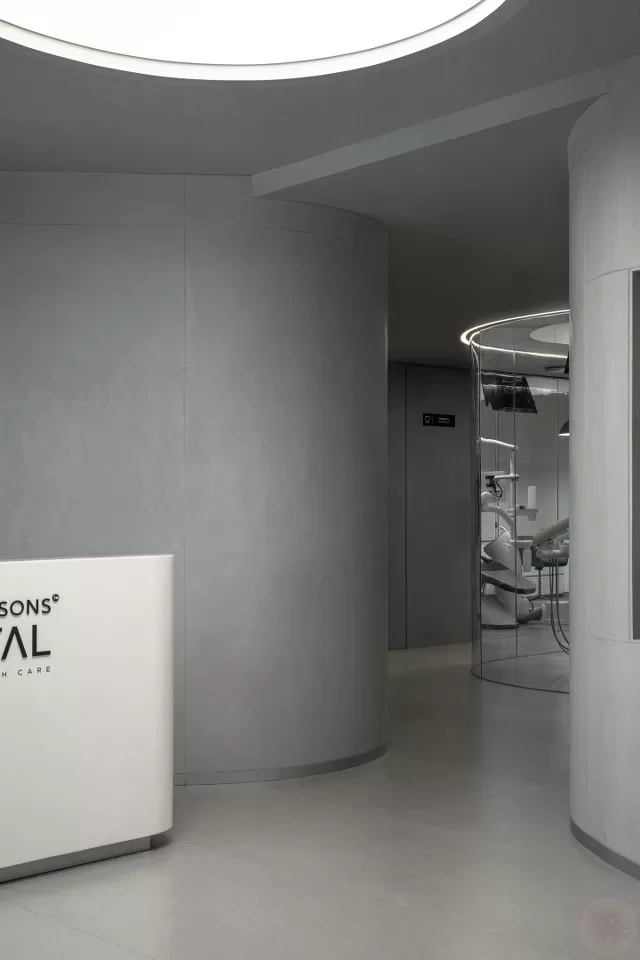 One encounters the reception area upon entering. This is a monolithic space in grey lime texture accentuated with a diffused light. A waiting area has been carved out using the side converging walls wrapped in light wooden finishes. This space manages to create a buffer from the outside conundrum, encouraging the visitor to slow down and unwind.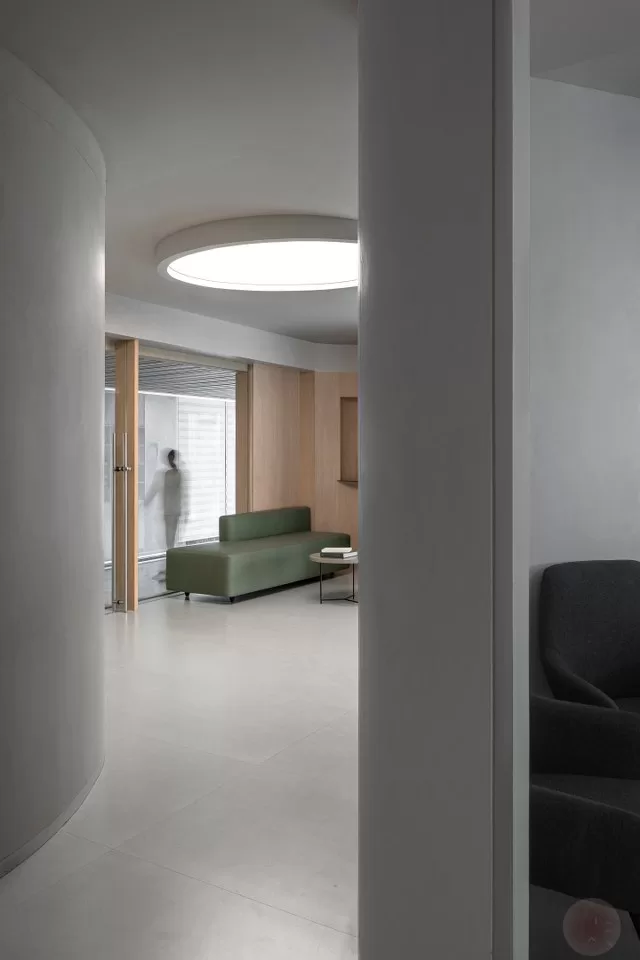 The functional areas have been laid out using a composition of three curved masses. Their obliterated intersection forms the circulation and also creates an intentional pause between the public and private. The cylindrical operatory walled in glass provide the opportunity for a visiting patient to establish a visual connection with the services offered.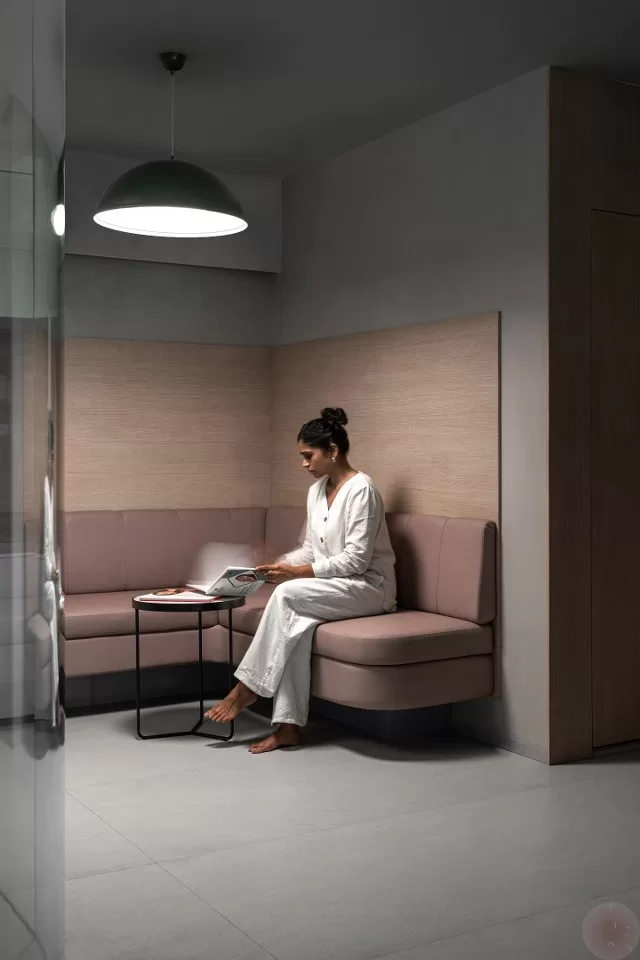 The movement has been kept simply directional such that it is effortless on the mind. The architecture of the glass curve in the center helps in the smooth transition of an individual on both the sides of this irregular shaped floor plan.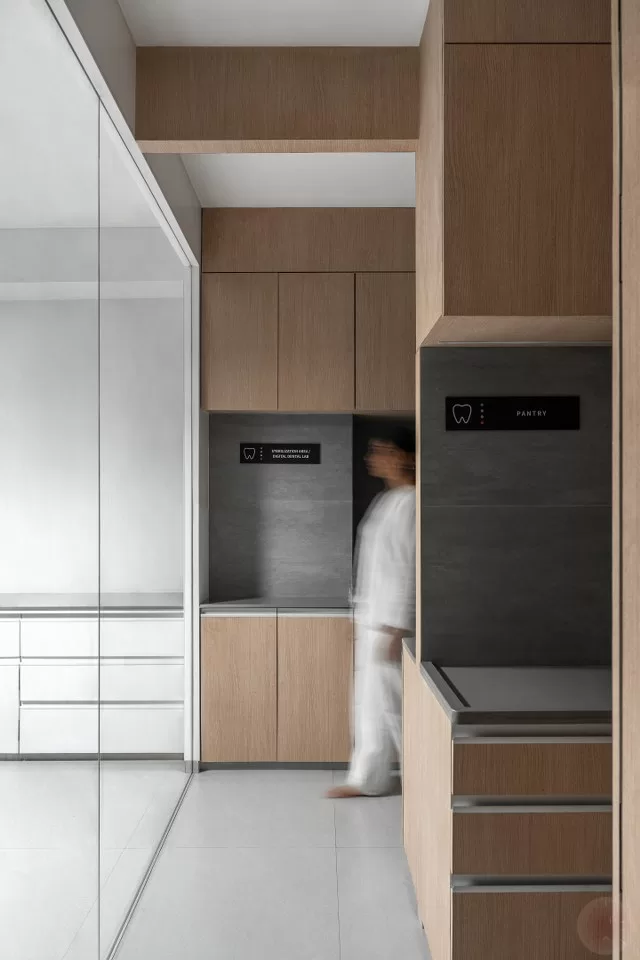 Further, a passage leads to the inter-connected areas like the consulting room, photography room and operatories, as well as the ancillary services like the sterilization room and pantry.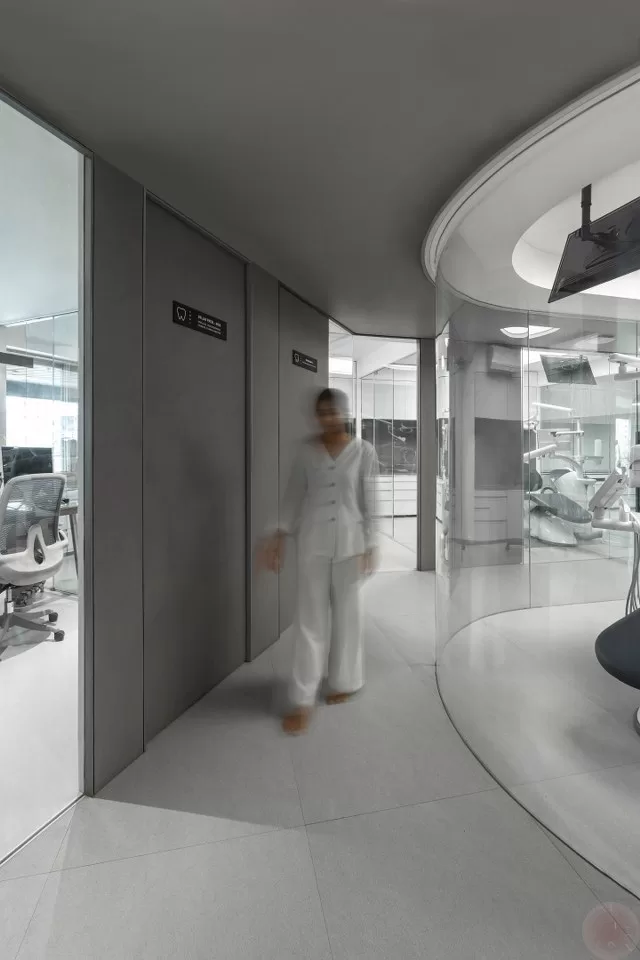 The passages have been kept dark to highlight the evenly lit operatories which have been illuminated with stretched fabric lights. The substantially-sized operatories are laminated in minimal white finishes, evoking a tranquil atmosphere to resonate with the patient on a deeper level.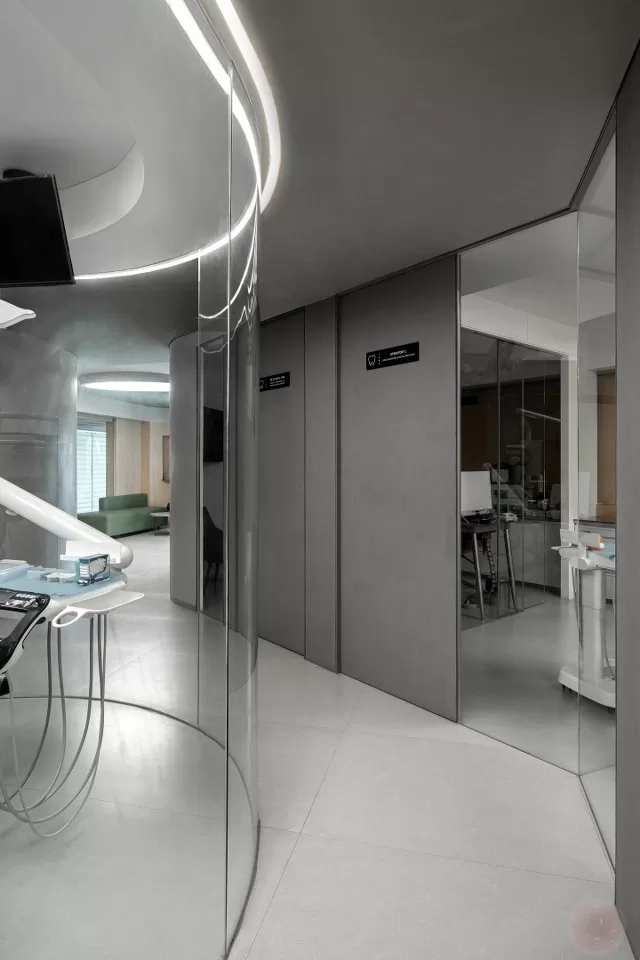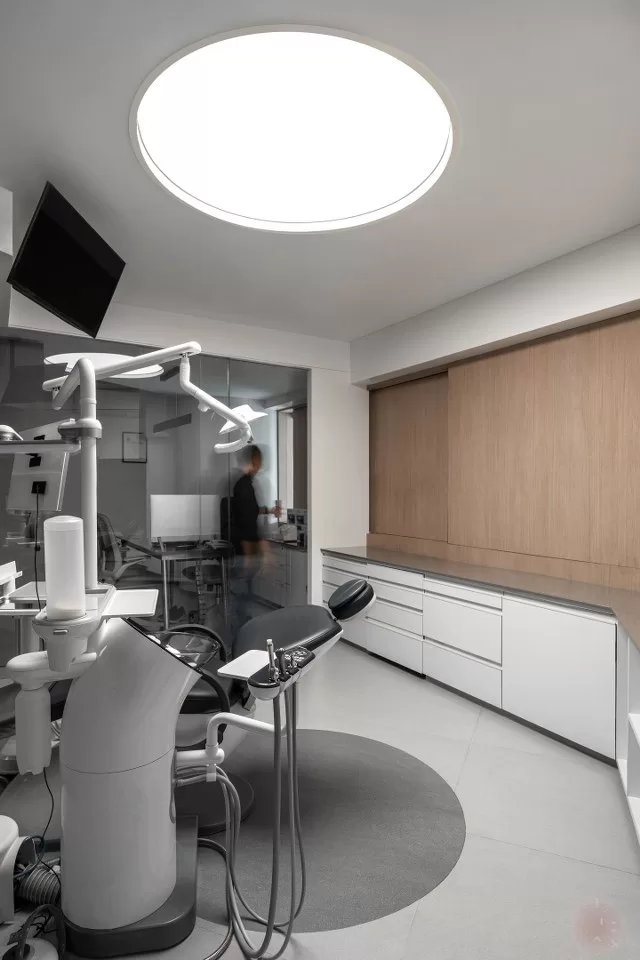 The architecture plays on the sensations and feelings that the selected materials like light wood, lime textured wall and ceiling with diffused lighting provides a comforting framework around its functions.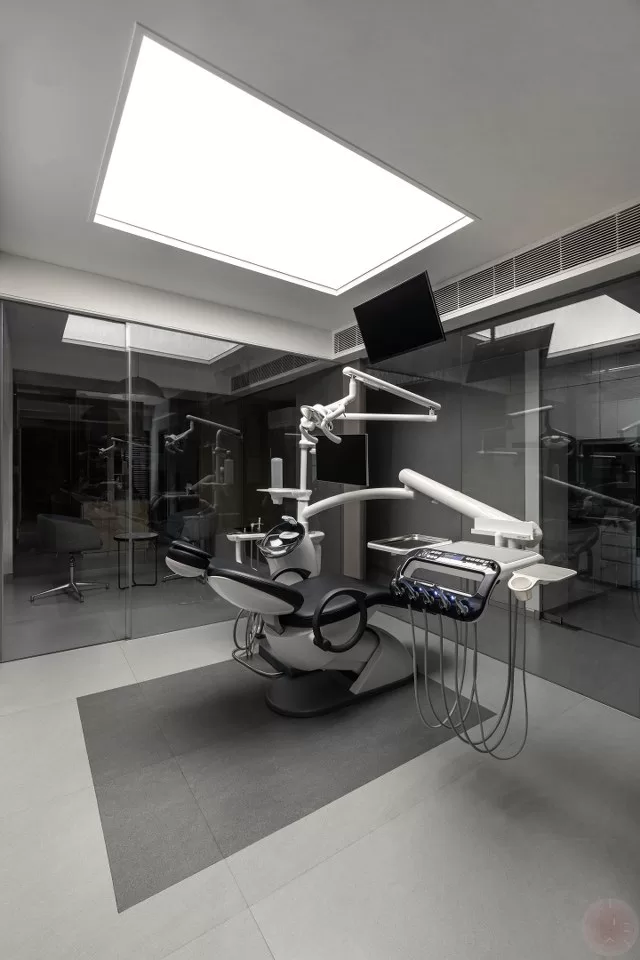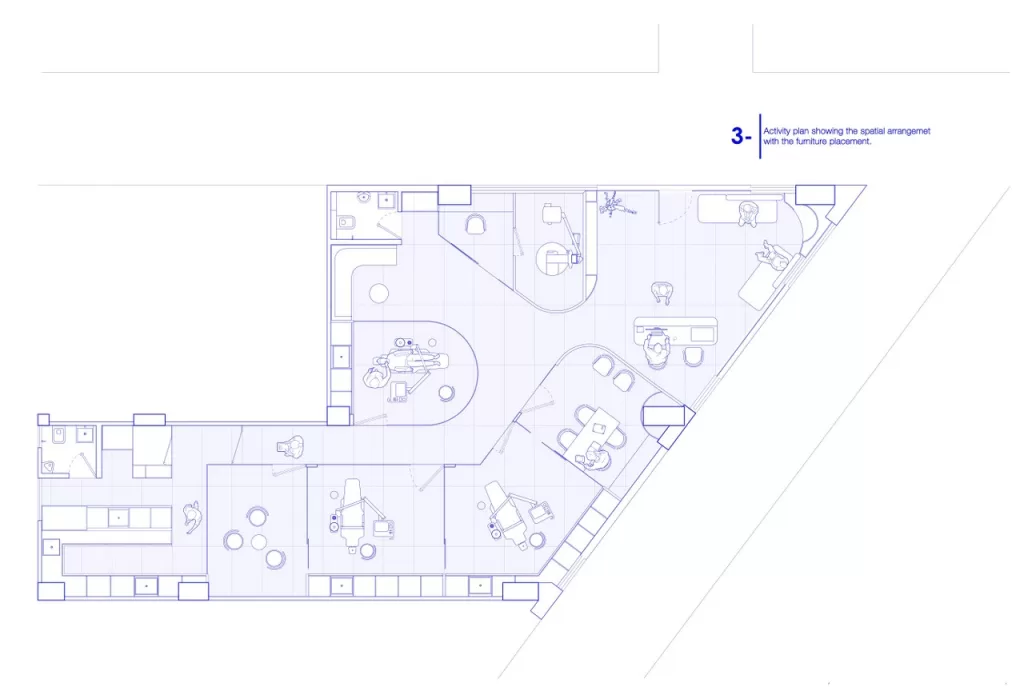 Fact File
Designed by: D'WELL
Project Type: Office Interior Design (Dental Clinic)
Project Name: Private Dental Clinic
Location: Surat, Gujarat
Year Built: 2023
Project Size: 2200 Sq.ft
Principal Architects: Ar. Jhanvi mehta & Ar. Rakshit Shah
Photograph Courtesy: Ar. Manan Surti
Text Credits: Anahita Goel
Firm's Instagram Link: D'WELL
For Similar Project >>> The Interior Of This Dental Clinic Is A Perfect Balance Of Minimalism And Functionality
The post Four Seasons Dental Clinic In Surat Is An Epitome Of Aesthetic And Functional Commercial Design | D'WELL appeared first on The Architects Diary.